We're hitting you with our second recipe from our deviled egg trio, and this is my personal favorite. You might have been able to guess this, but we've got the easiest, tastiest Curry Deviled Eggs recipe just for you! Curry powder is something we always have in our house. We even buy a new container of it before the other one runs out. We love adding it to burgers, chicken, cauliflower and more. It kicks the flavor up several notches on any meal!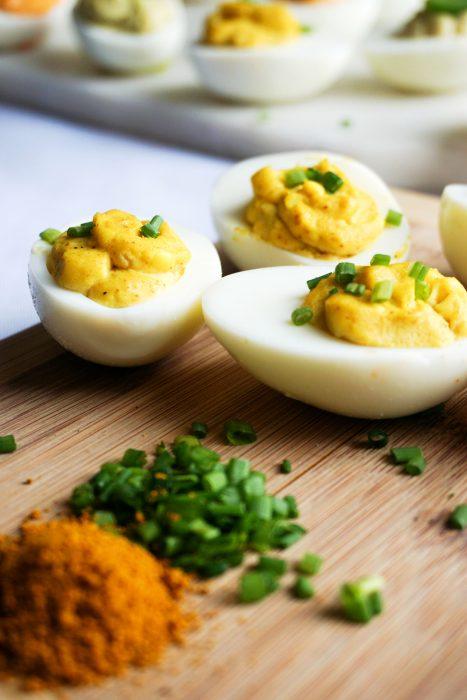 Easy Deviled Eggs
What makes this recipe, and any deviled egg recipe at that matter so easy is the minimal ingredients. If you can hard boil an egg, you can make deviled eggs! Some recipes use mustard as I'm sure you've seen, but we've decided to omit this ingredient because we find the curry powder steals the show, and that's exactly what we want. Just a teaspoon of curry powder and your mouth is having an Indian party! The beauty about curry powder is that it is a blend of several different spices, so if you buy this one herb you're actually buying several at a cheaper cost!
FREE PRINTABLE: Keto Food List
Join 150,000 others to get a FREE keto food list and new recipes every week!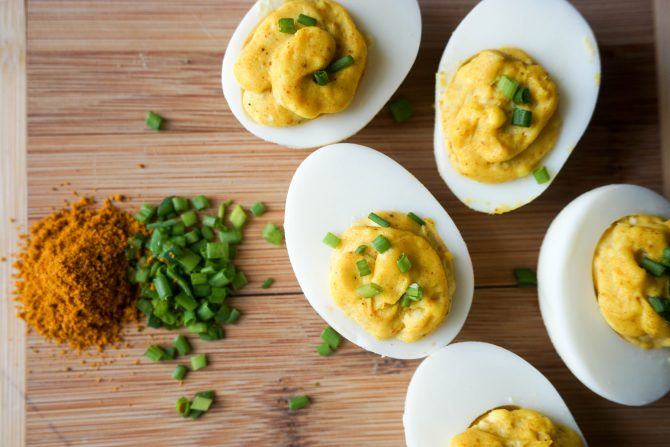 Recipe For Deviled Eggs
Making deviled eggs was always a daunting task for me, until recently. The part I was most nervous about was the yolk mixture that makes this recipe deviled. How did you know how much of each ingredient? Why did all sites have different ratios? I could never find consistency so I never made them out of fear that they would turn out bad. But, the honest truth about a deviled egg recipe is that the ratios are all up to you! No matter what you decide to use you can't go wrong with mayo and egg yolks. Throw in a little or a lot of curry powder and you're in business!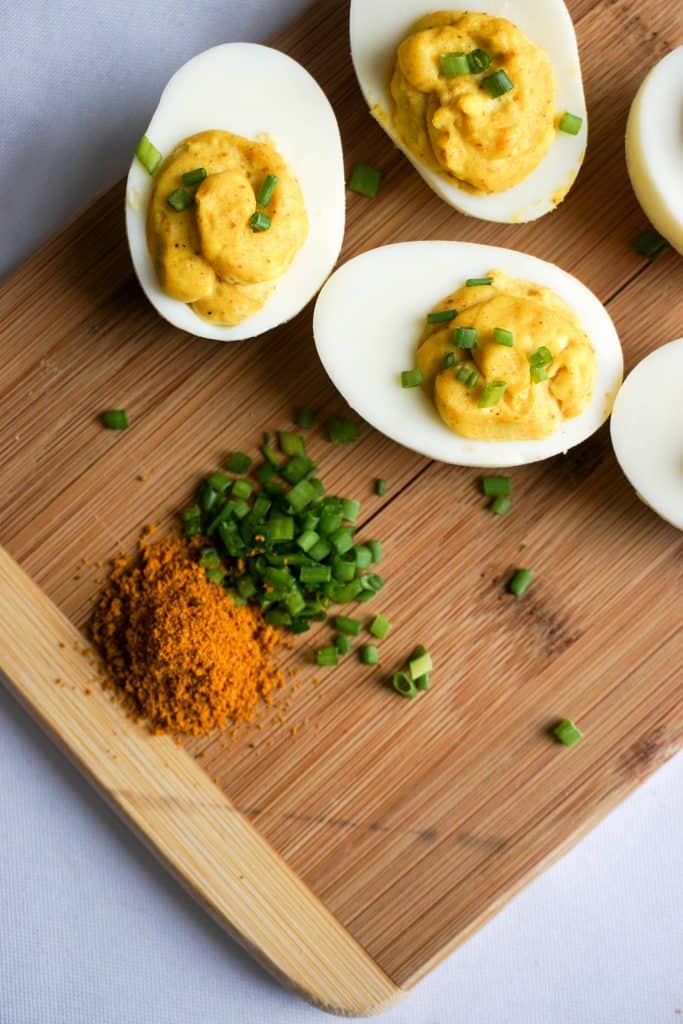 Curry Deviled Eggs
Curry deviled eggs is surely not the first recipe we've used curry powder in. It's truly a staple in our household and always an option for when cooking meals. We can almost guarantee that you'll love it if you've never tried it, and if you have, you know exactly what we are talking about! If you want to give it a try or already love it you should absolutely make our Coconut Curry Chicken recipe. Also, if you are looking for a recipe to add curry powder to we think a curry variation on our Crispy Oven Chicken Wings would be great! Even if you're not a fan of curry, we know these curry deviled eggs will be a hit at your next event!

Recipe can be quickly added to MyFitnessPal – Search "KetoConnect – Curry Deviled Eggs"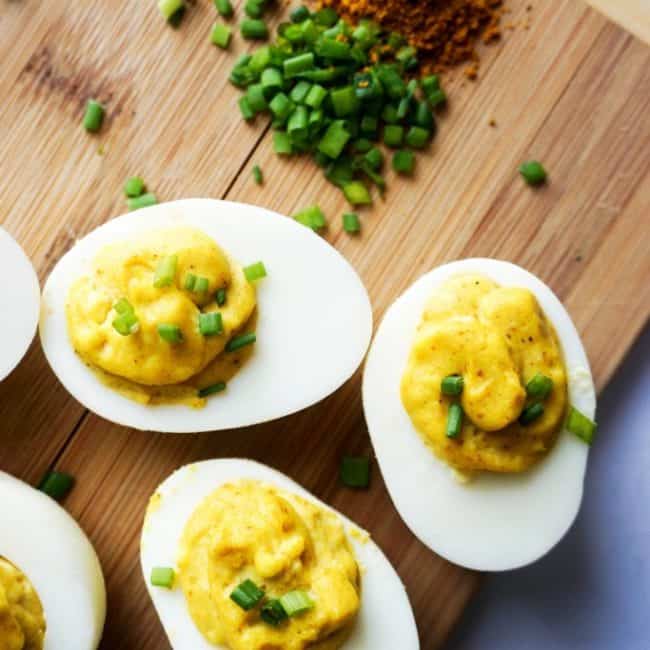 Curry Deviled Eggs
Try these delicious curry deviled eggs instead of plain hard boiled!
Total Time 35 minutes
Servings 2 servings
Calories per serving 236.5kcal
Prep Time: 25 minutes
Cook Time: 10 minutes
Instructions:
Cut 4 hard boiled eggs in half resulting in four halves.

Scoop the yolks out of the halves into a separate bowl and places whites aside

Add mayo, curry powder and salt to yolks and combine well.

Scoop the yolk mixture evenly into the egg whites.

Store in fridge and enjoy!
Nutrition Facts
Curry Deviled Eggs
Amount Per Serving
Calories 236.5 Calories from Fat 176
% Daily Value*
Fat 19.5g30%
Carbohydrates 2g1%
Fiber 1g4%
Protein 12.5g25%
* Percent Daily Values are based on a 2000 calorie diet.