I can't believe I have never thought to combine the freshness of a salad and the flavors of a taco casserole until now. This Keto Taco Salad Casserole whips up in under 30 minutes and can last you all week long as your new favorite meal prep!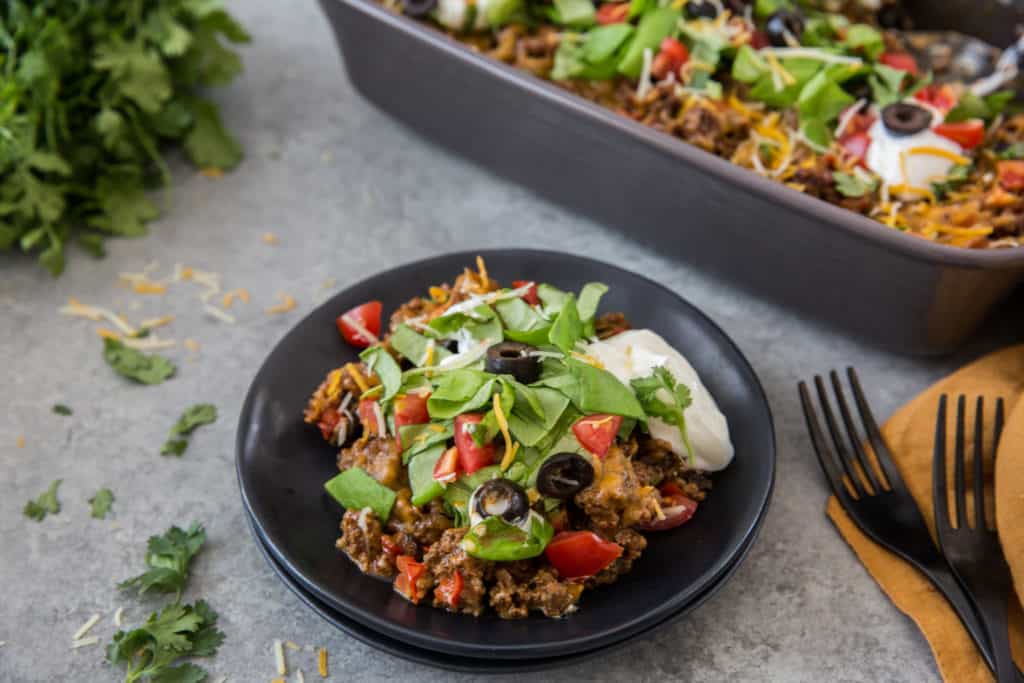 Our Favorite Weekly Meal Preps!
Meal prep has always been a big part of our keto routine. We've been doing it since day one and it has honestly been the number one thing that has kept us on track. While our eating styles have changed over the years, meal prepping has remained constant.
Some of our favorite breakfast meal preps to make and that reheat great are:
Diner Style Blueberry Pancakes (Meghas' Fave!)
Some of our favorite lunch and dinner meal preps to make and that reheat great are:
Some of our favorite dessert meal preps to make and that reheat great are:
Chewy Chocolate Chip Cookies (these freeze great!)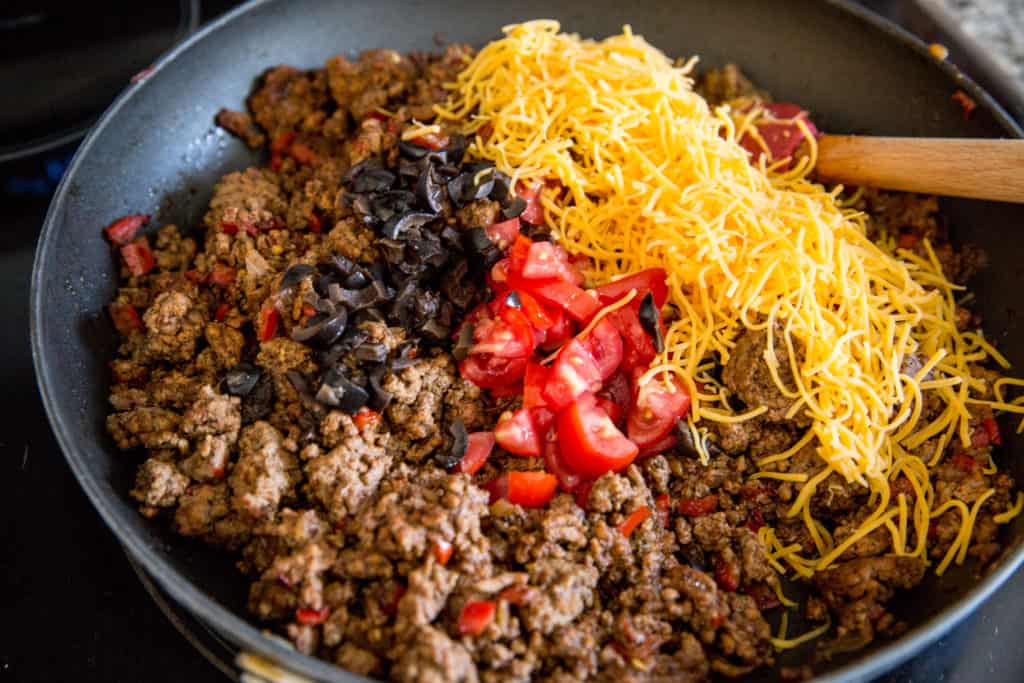 How Many Carbs Are In A Beef Taco Salad?
The beauty to this keto taco salad casserole recipe is that you can easily increase or decrease the carbs based on what you have on hand or what you want to put in it! The carbs are going to come from the veggies you use. So, for example, if you are anything like me you'll have a higher carb version from the extra onions, but if you're like Matt you'll have a lower carb version by omitting the onions and bell peppers altogether!
You can also cook up the seasoned ground beef and make the casserole with just the cheese, and then serve the cooked veggies on the side so you can add it as you go for your weekly meal prep!
What Mexican Dishes Are Keto Friendly?
That's a great question and one that I ask myself often. Mexican is one of our favorite cuisines and at times it feels impossible to really enjoy it because a lot of it is comprised of carbs from tortillas and rice.
Since we love it so much we had to find a work around, and we did just that! You'll be surprised how easily you can come up with some replacements if you just think a little outside of the box. You can start with these recipes: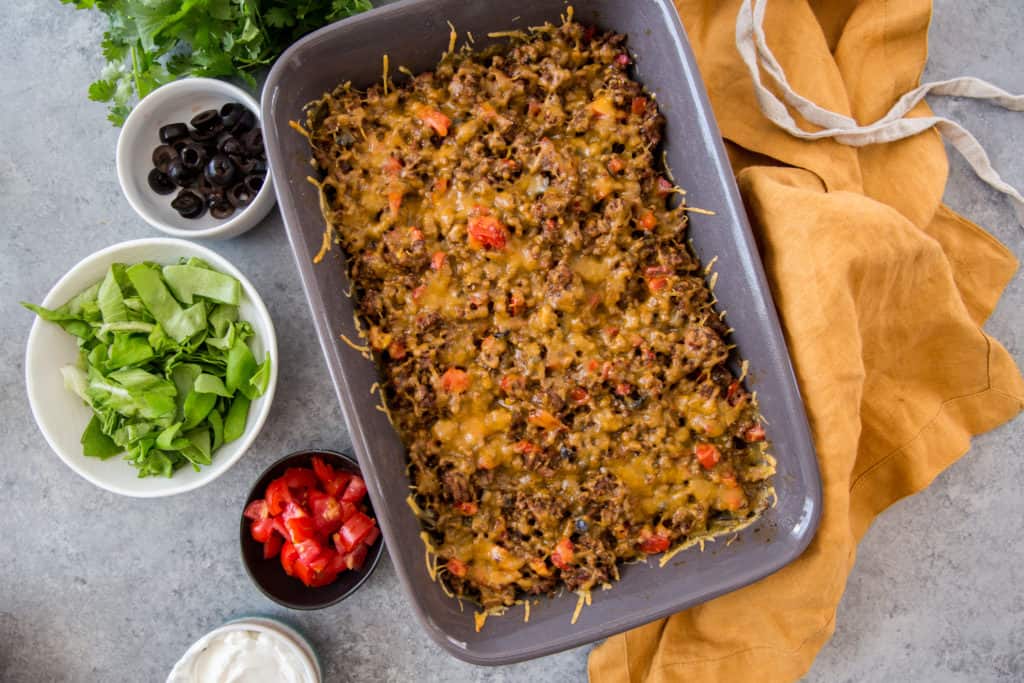 Storing And Reheating
When it comes to meal prepping recipes like this keto taco salad casserole I like to know how long it will last in the fridge, if it will freeze well and the best way to store it to ensure freshness.
This recipe compared to something like a breakfast casserole will last a lot longer in the fridge and even freeze well. Eggs can be tricky and won't stay as fresh for long so I would put a hard 5 day limit on egg anything in the fridge. This casserole on the other hand will last at least 10 days in an air tight container and reheat great in the microwave! You can even freeze it for up to one month.
For any fresh toppings (lettuce, sour cream, cheese, etc) I would pack those separately and top your heated casserole each time you eat it. This will make sure nothing goes soggy and you get the fresh feel with every bite!
Easy Keto Taco Salad Casserole
Whether you make this for a family of six or meal prep it for two you can't go wrong. Even your picky, non-keto family members will enjoy this and not feel slighted in the least with the lack or carbs. If you want to quickly cook up a side of rice to serve alongside you can satisfy everyone without too much extra work. If you make this keto taco salad casserole let us know below how you change it up!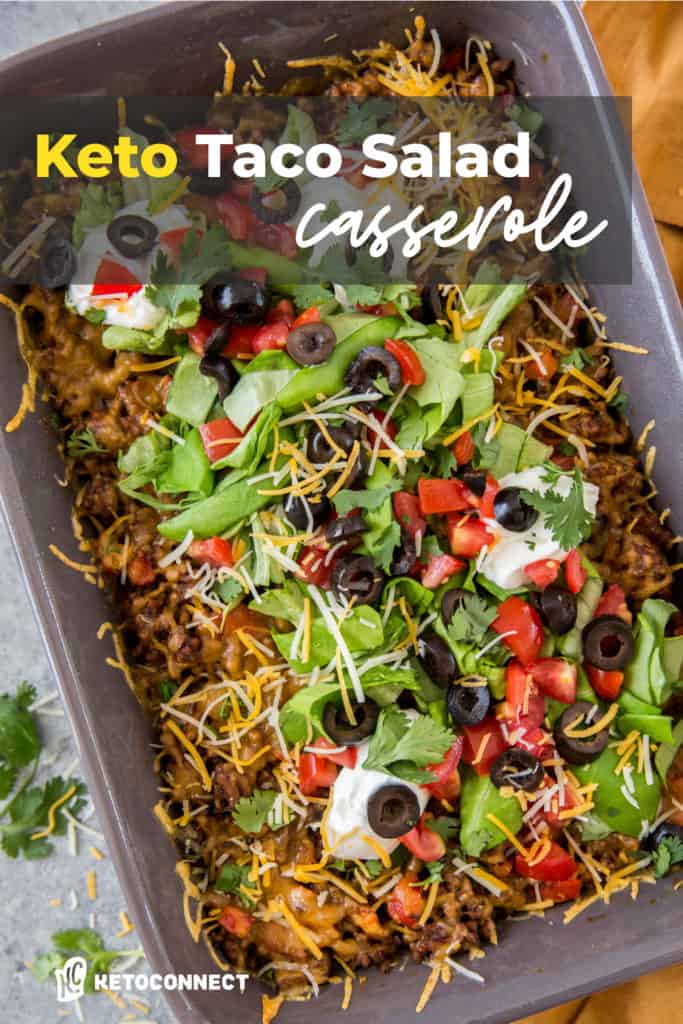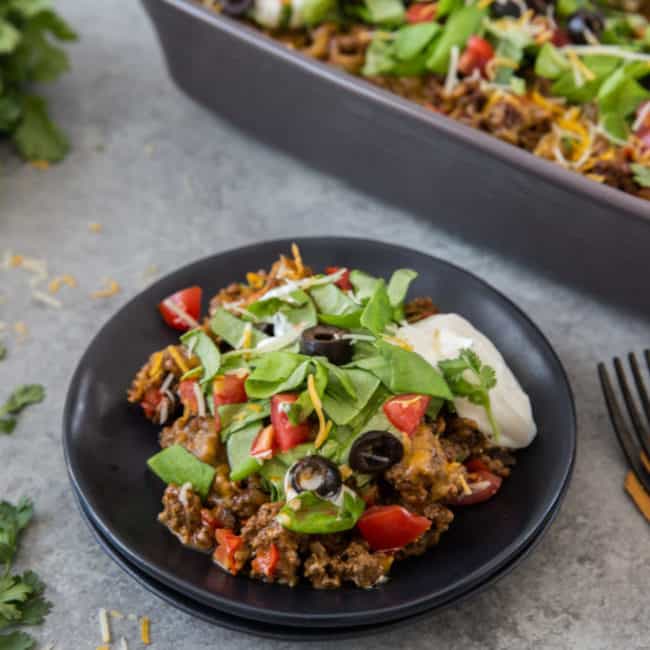 Keto Taco Salad Casserole
This easy Keto Taco Salad Casserole combines the freshness ingredients and the flavors of hearty tacos for the perfect weeknight dinner!
Total Time 25 minutes
Servings 8 servings
Calories per serving 370kcal
Prep Time: 5 minutes
Cook Time: 20 minutes
Ingredients:
Topping:
1/2 cup shredded lettuce
1/4 cup shredded Mexican cheese
1/4 cup tomatoes, diced
sour cream (optional)
Instructions:
Preheat oven to 350°F and heat a large skillet set over medium-high heat.

Add the round beef, onion, and bell pepper. Cook until meat is no longer pink and veggies are tender.

Season with chili powder, salt, cumin, garlic powder, oregano, red pepper flakes, and pepper. Combine using a spoon until seasoning is fully incorporated and then remove from heat.

Transfer meat mixture to a 9×13 baking dish. Add the diced tomatoes, black olives and cheese and mix until well combined.

Bake for 10 minutes until cheese is fully melted and flavors are incorporated.

Top with remaining tomatoes, black olives, cheese, shredded lettuce, and serve immediately!

Best stored in an air tight container in the fridge up to 10 days. Keep fresh topping separate if you intend on storing leftovers!
Notes
Net Carbs: 3g
Yields: 8 servings
Nutrition Facts
Keto Taco Salad Casserole
Amount Per Serving
Calories 370 Calories from Fat 234
% Daily Value*
Fat 26g40%
Carbohydrates 5g2%
Fiber 2g8%
Protein 28g56%
* Percent Daily Values are based on a 2000 calorie diet.
Written By