I'll be honest, fish recipes haven't always been our most liked, but this changes the game! I get it, I would also rather make and eat a dessert recipe, but this keto salmon curry is going to elevate your taste buds. It is absolutely one of our best recipes and takes under 30 minutes to make!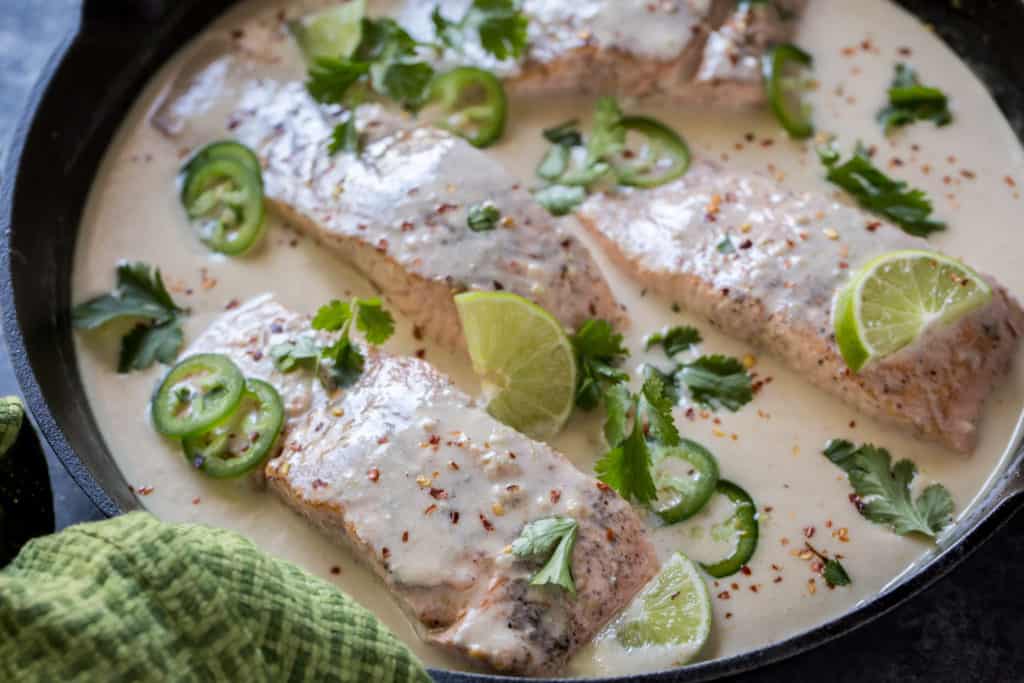 Must Try Keto Seafood Recipes!
Before I met Matt I didn't like seafood one bit. I tried and tried, but it never stuck! However, with the help of Matt and the keto diet I've grown to love all seafood, especially salmon. Some of my favorite seafood recipes are ones we've made not only because they are super easy to make, but also jam packed with flavor.
If you're looking to mix things up int he kitchen you should give the following a try:
A good starting place if you are new to cooking seafood is shrimp. You can buy it deveined and without the shell so the prep is already done for you! It only takes a couple minutes to cook through and it takes on any flavor you coat it in. Don't worry, you can't mess up!
Is Salmon Good For Keto?
Salmon is not only GREAT for keto, but great for you on any diet! It's the perfect source of dietary fat in the form of omega 3's – something we should get more of, but struggle to do with the abundance of foods high in omega 6's.
When we buy our salmon we like to get it with the skin on for multiple reasons. The first is that skin on means higher in fat, and the second is that when you pan sear it (which we often do) it crisps up nicely and add a nice little crunch to each bite!
The other factor to consider when purchasing salmon is the quality. If possible, wild caught is going to be best for it's omega 3 source, but for also for sustainability reasons!
What Carb Goes With Salmon?
Salmon packs a lot of flavor whether it's served on its own with a simple salt and pepper season or in a recipe like this keto salmon curry. So, any carb or side dish will perfectly compliment a nice piece of salmon.
Some of our favorite carbs or veggies to pair salmon with is oven zucchini noodles, roasted broccoli or cauliflower rice. All three can be whipped up in under 15 minutes making this the easiest and tastiest dinner ever!
Some other great side dishes to serve alongside salmon are:
Cold Cauliflower Salad (the perfect replacement for potato salad!)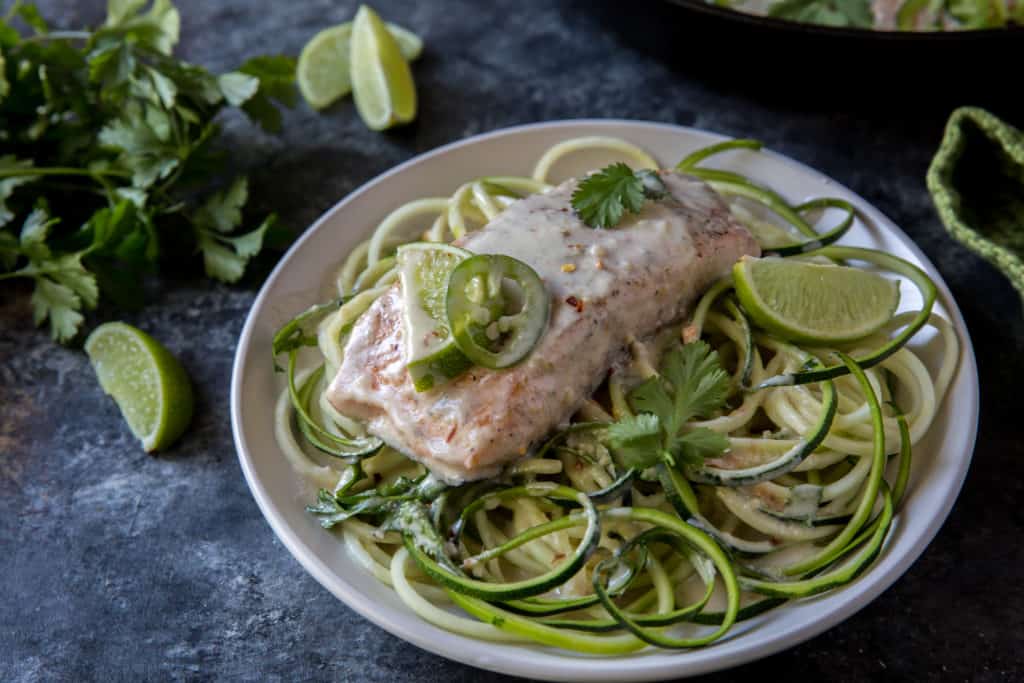 Easy Ingredient Swaps
The major components of many recipes are going to be the meat and sauce/marinade. The sauce adds all the flavor so you want to make sure its just right.
In the recipe below we give you the exact measurements for an incredible red thai curry sauce and it's even dairy free. However, if you prefer to use dairy or don't have any canned coconut milk or salmon on hand this recipe can be made with a couple quick swaps!
Easy Swaps:
Canned Coconut Milk — Heavy Cream
Salmon — Boneless, Skinless Chicken Thighs
Red Curry Paste — Red Curry Powder (or curry powder for an Indian twist)
Easy Keto Salmon Curry
I'm going to say it one more time. This is one of our best dishes and I think you should make it asap! The rich curry flavor and tender, high omega 3 salmon is a great dish to add to your weekly rotation. It will even be devoured by those who don't love seafood.
Let us know what you think about this keto salmon curry recipe in the comments below and don't forget to tag us on Instagram when making any of our recipes!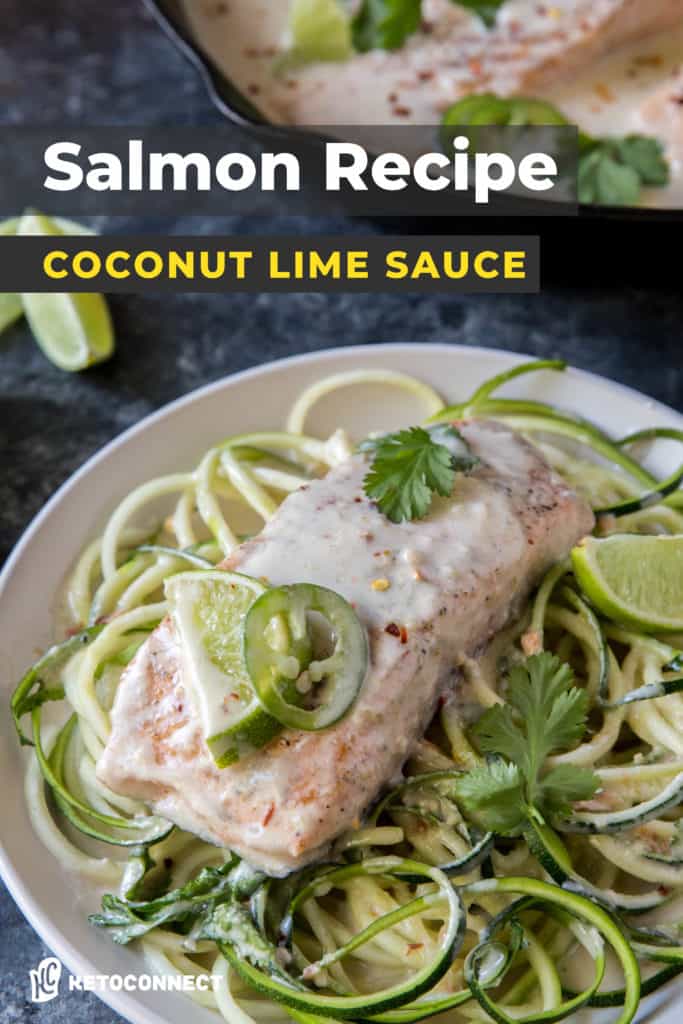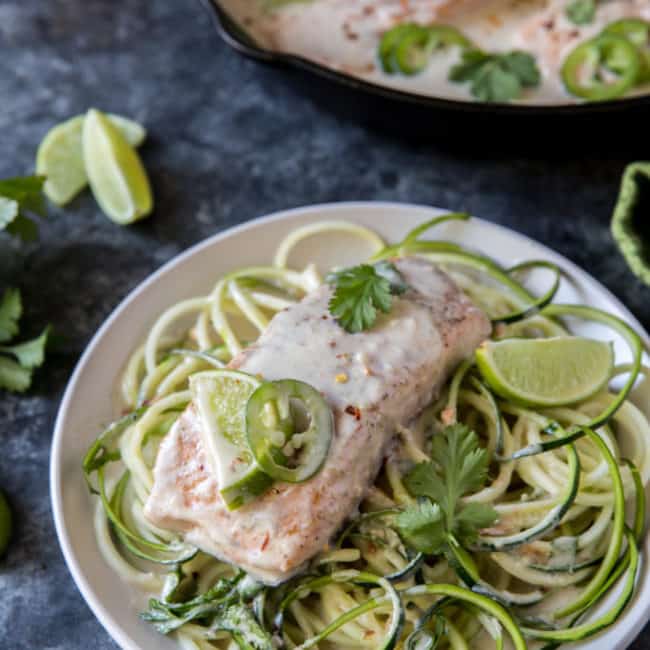 Keto Salmon Curry
This Keto Salmon Curry combines the flavors of red curry and fresh lime juice for the perfect dairy free dinner!
Total Time 20 minutes
Servings 4 servings
Calories per serving 462kcal
Prep Time: 5 minutes
Cook Time: 15 minutes
Instructions:
Season salmon with salt and pepper.

Heat 1 tbsp oil in a non stick pan or well seasoned skillet over medium high heat. Add salmon, skin side up, and sear for just 1 1/2 minutes until golden. Turn salmon and cook the other side just for 1 minute, then remove onto a plate (should still be raw inside).

Turn heat down to medium low and allow skillet to cool. Heat remaining 1 tbsp oil. Add garlic and ginger and cook 1 minute until fragrant and golden. Stir in chili paste.

Add coconut milk and stir, scraping the bottom of the skillet to dissolve any bits stuck on the base into the sauce.

Stir in the coconut aminos/soy sauce and the lime juice and zest. Increase heat to medium. Simmer for 2 minutes.

Place salmon into the sauce, lower heat and simmer gently for 4 minutes, or until salmon is cooked to your desired liking.

Serve salmon and curry over zoodles or cauliflower rice. Garnish with cilantro and jalapeños, if desired.
Notes
Net Carbs: 2g per serving Yields: 4 servings
Nutrition Facts
Keto Salmon Curry
Amount Per Serving
Calories 462 Calories from Fat 288
% Daily Value*
Fat 32g49%
Carbohydrates 2g1%
Fiber 1g4%
Protein 34g68%
* Percent Daily Values are based on a 2000 calorie diet.
Written By