Matt and I love snacks and these Low Carb Cheese Crackers might just be our new favorite keto snack to indulge in! They are quick to whip up and will satisfy all your keto and non-keto family and friends. Make these as an appetizer this holiday season or as a snacks to have on the counter for your hungry to kids to grab and go. Watch Matt walk you through how to make these crackers step by step below!
The Ultimate Cheese Crackers Recipe!
What makes this the ultimate cheese crackers recipe is the fact that they are mostly made of cheese and they taste like soft Cheez-Its, and whose favorite non-keto snack isn't Cheez-Its. Just like Cheez-Its, theses low carb cheese crackers are rich in flavor, and addictive-ly good! They are great for the whole family and on the go. If you are looking for a cracker recipe that not only fits your keto needs, but will satisfy your kids and pack perfectly in their school lunch boxes, this recipe is for you!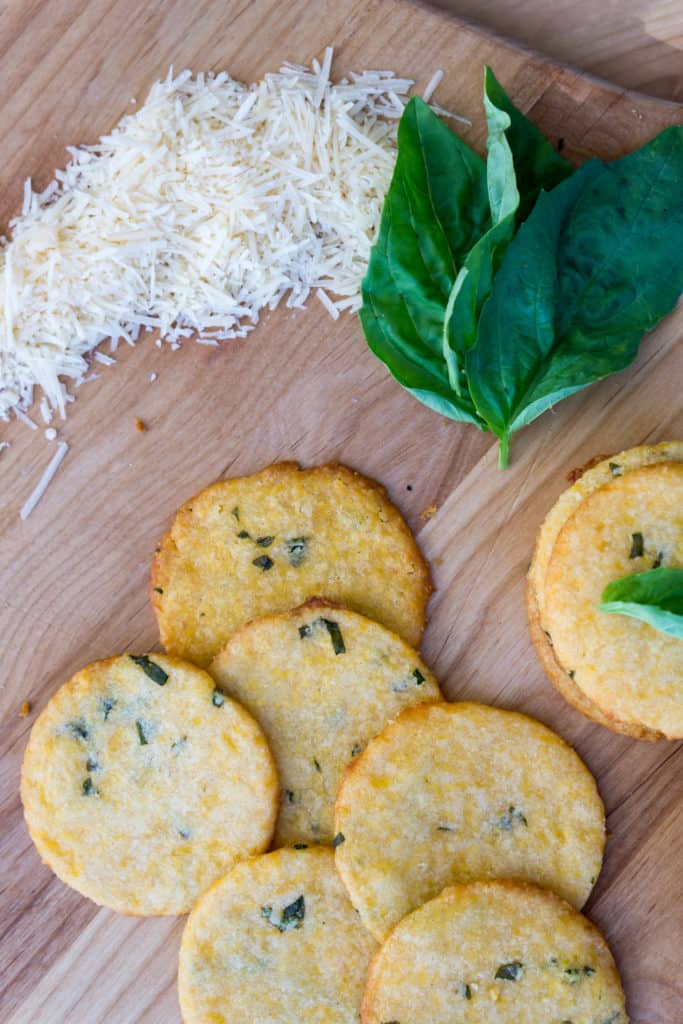 FREE PRINTABLE: Keto Food List
Join 150,000 others to get a FREE keto food list and new recipes every week!
The Best Low Carb Snack Ideas
Snacks are a big part of our lives. Whether you are watching Netflix or standing around in the kitchen a snack always comes in handy and makes the experience better. Since we love to snack so much we are always looking for homemade, keto snack options! We don't love how expensive keto snacks can be to buy nor do we like consuming a lot of processed foods. If you are at all the same or are trying to find better low carb snack ideas for you family we've got plenty more on our food blog, such as low carb beef jerky, sugar free graham crackers, flax seed crackers and buffalo chicken dip!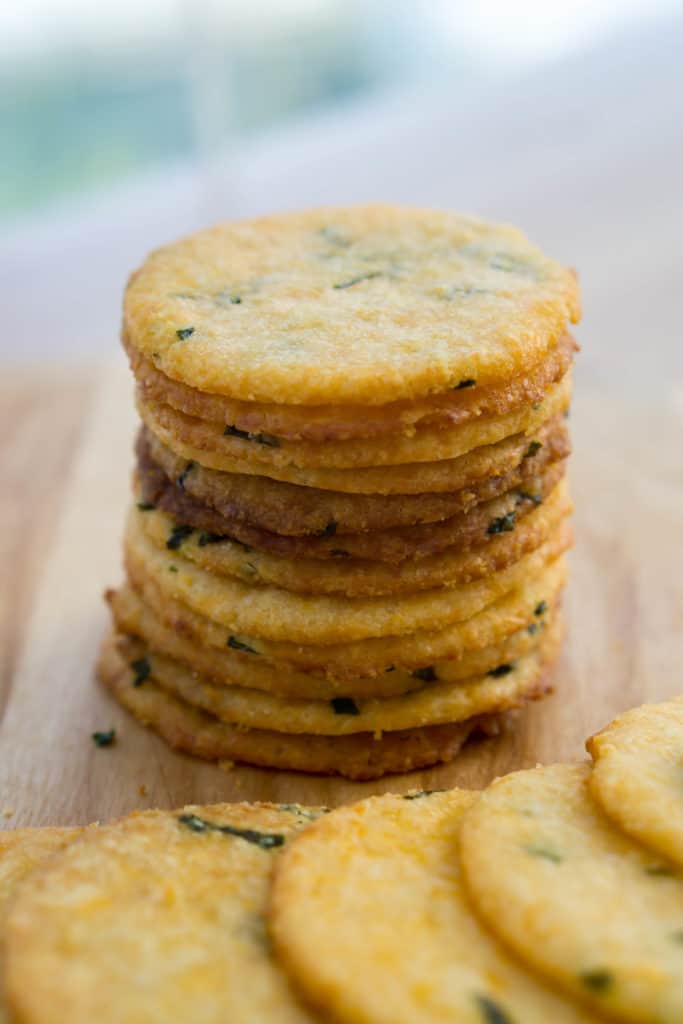 Low Carb Cheese Crackers
You can never have too many appetizers at a party or during the holidays, and it always seems like we are underestimating how much our family and friends can actually eat. So, if you don't want to risk running low on snacks to occupy your guests as you scramble to prepare the meal or you want a healthy, low carb snack to pack in your kids or spouses lunch box, let these low carb cheese crackers save the day!

Recipe can be quickly added to MyFitnessPal – Search "KetoConnect – Low Carb Cheese Crackers"
Nutrition (per cracker)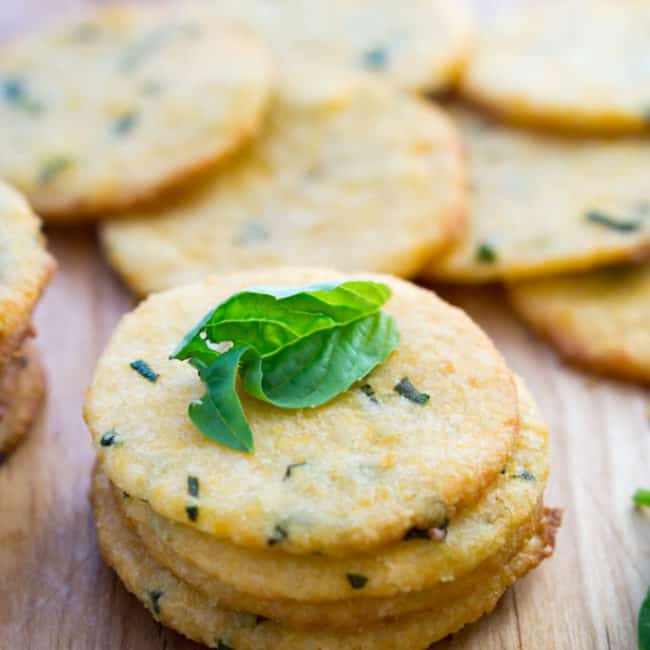 Low Carb Cheese Crackers | Cheddar Basil Bites!
Total Time 47 minutes
Servings 24 bites
Calories per serving 58kcal
Prep Time: 15 minutes
Cook Time: 12 minutes
Instructions:
Preheat the oven to 325 and line two baking sheets with parchment paper.

Put the soft butter in a medium mix bowl, add heavy cream and combine using a hand mixer.

Add the cheddar and Parmesan cheese and combine using a spatula. Add the coconut flour and combine with the spatula.

Fold in the basil, using your hand to full incorporate the mixture if necessary.

Lay out a piece of parchment paper on your counter top and place the cheese dough in the center, forming it into a ball with your hands.

Place another piece of parchment paper over top and roll out the mixture to 1/4 inch thick. Using a cookie cutter, cut out 24 crackers. Remove the cut outs gently and place them onto the baking sheets. They will may be difficult to remove so be gentle or they will break. You likely won't get 24 from the first roll out so you can re-roll out the remaining dough and cut more crackers.

Bake for 12 minutes.Towards the end keep an eye on them to make sure they don't over cook/burn.

Note:: Do not use the finely shredded cheddar for this recipe. Make sure the cheddar is the large shred so it will result in more cracker like bites!
Nutrition Facts
Low Carb Cheese Crackers | Cheddar Basil Bites!
Amount Per Serving
Calories 58 Calories from Fat 45
% Daily Value*
Fat 5g8%
Carbohydrates 0.9g0%
Fiber 0.4g2%
Protein 1.7g3%
* Percent Daily Values are based on a 2000 calorie diet.