I've never met a person who doesn't love blueberry muffins. That's why we created these Low Carb Muffins using fresh blueberries! Matt is a die hard Otis Spunkmeyer fan, while I tend to favor the delicious Dunkin Donuts blueberry muffin. While our loyalties are divided, we both agree, it's time to create a keto muffin recipe to once again enjoy our favorite breakfast pastry.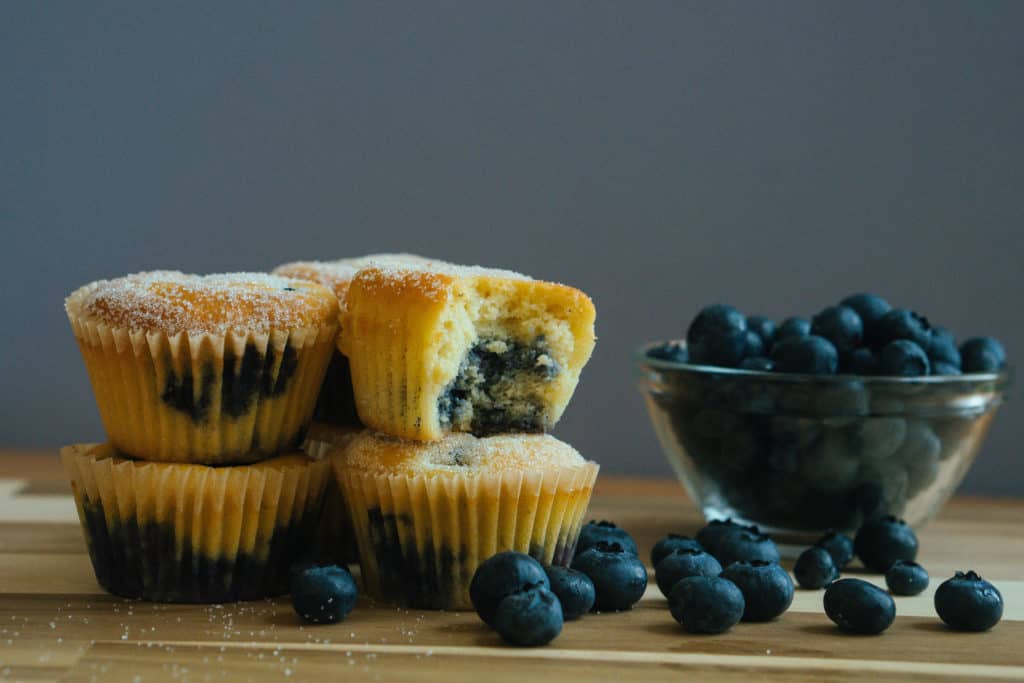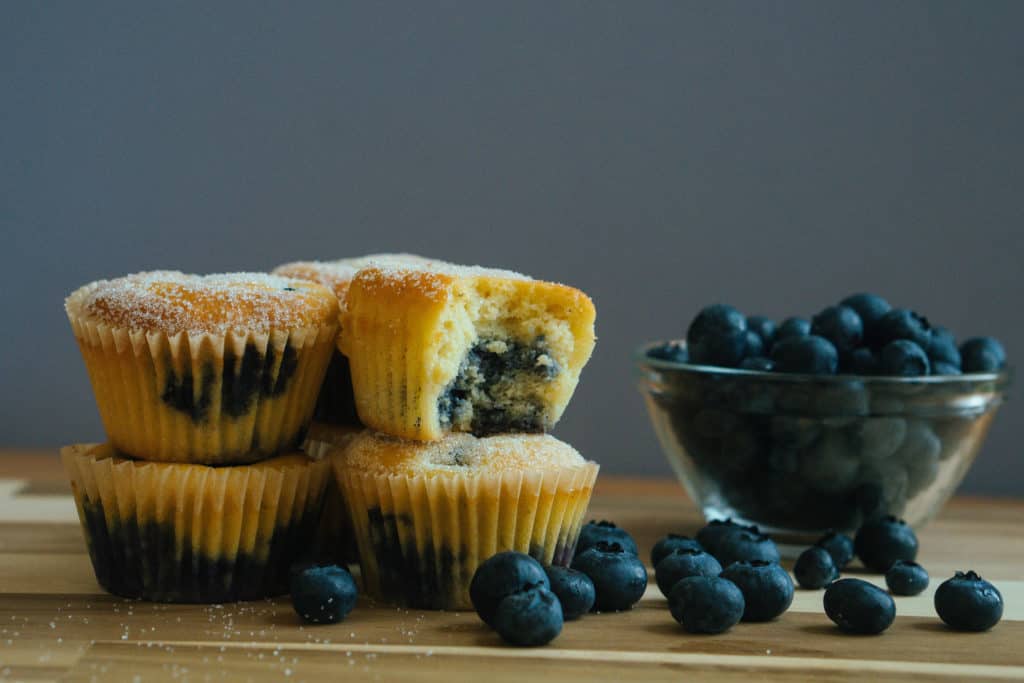 Are Blueberry Muffins Easy to Make?
While normal blueberry muffins have multiple steps such as preparing wet and dry ingredients, our keto blueberry muffins are super simple and ready in under an hour. This recipe is gluten free because we use almond flour. Now the batter can not be overworked like normal gluten flours. That skips the separating step and instead of having dry ingredients AND wet ingredients, there is only the need to dirty one bowl.
Blueberries on Keto?
I'm sure the burning question for many people is, "Are blueberries keto? " Technically blueberries in moderation are keto friendly. Keto blueberry muffins are refined sugar free and only 4g total carbs/ 3g net carbs per muffin. Too many blueberries are not keto as they have a higher amount of sugar and calories than most berries. However this recipe is only using a few in each muffin so the carbs are low enough that they still fit within keto macros.
Benefits to Blueberries
Blueberries have tons of health benefits such as high levels of antioxidants and potassium. They are also rich in vitamin C and phytoflavinoids (compounds which protect and defend our bodies from stress) (1). Blueberries can also help reduce inflammation and fight illnesses. Their defensive properties against illness is thanks to the high levels of vitamin C they contain.
These keto blueberry muffins are not only good for a low carb lifestyle, but also for protecting your body from illness. With that in mind, it's safe to say you can eat a couple keto blueberry muffins a day to keep the doctors away!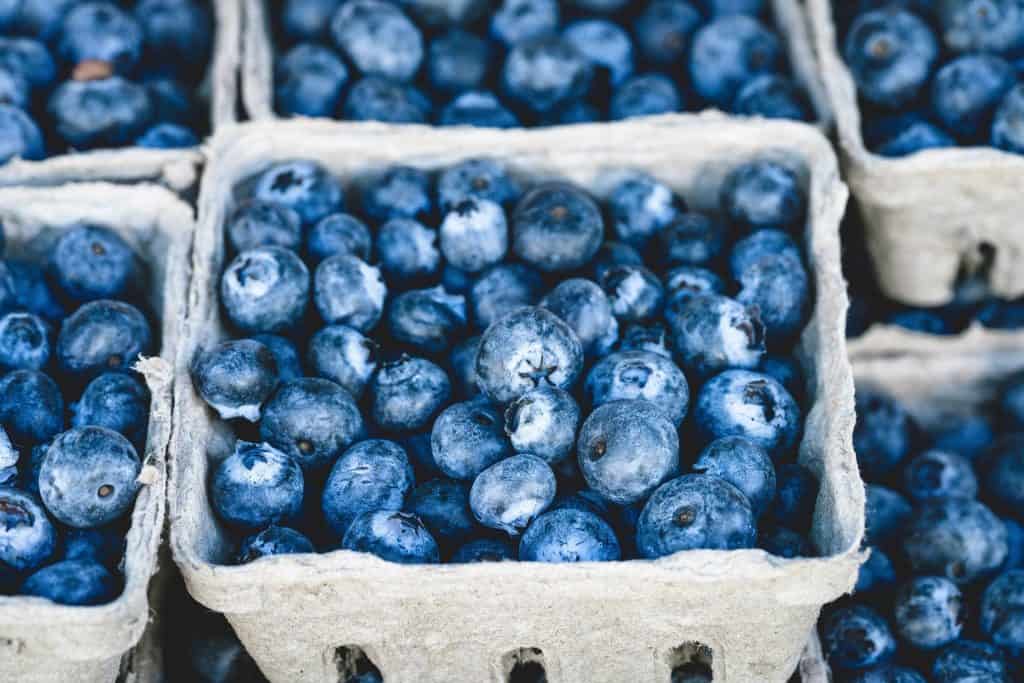 How to Make Keto Blueberry Muffins
Ready to learn how to make the perfect keto blueberry muffins? We're going to break down the best ingredients like almond flour, sugar free sweeteners, and more. As well as walk you through step by step in making the best refined sugar free keto blueberry muffins.
Tools:
There are a few tools we recommend to make the best muffin recipes. Here is what we used for this recipe and what we recommend you have on hand:
Muffin Tin: A muffin tin or muffin pan as some call it, is essential to this recipe. Without a quality muffin pan these wouldn't bake or remove properly.
Hand Mixer: While not essential, we strongly recommend purchasing a hand mixer. We use our hand mixer more often than a stand mixer, and this one specifically allows for easy compact storage of all the attachments and cords.
Ingredients:
Delicious treats are made with the best ingredients, and these keto recipes always prioritize quality.
Dry Ingredients:
Wet Ingredients:
1/4 cup butter, melted– Butter brings moisture to this muffin recipe so they stay moist and flavorful for days. If you are dairy free, coconut oil would work in place of the butter in this recipe. Just know coconut oil doesn't have a traditional muffin taste and will be a little more coco-nutty in flavor than butter.
2 tbsp almond milk- You can use any type of milk substitute such as coconut, macadamia, cashew, or even flax milk. If you don't have any milk substitutes you are welcome to use heavy cream but know it will change the macros.
2 large eggs- We found 1 to be too few and 3 large eggs to be too many. Two was the perfect in-between!
20 drops liquid stevia– Stevia is another natural sugar free sweetener that is known for being very concentrated. We love a mix of erythritol and stevia because we find them to complement each other in sweetness, while also preventing any digestive distress that sugar alcohols can bring.
70 grams fresh blueberries- We always go fresh whenever possible with these muffins. While you can use frozen blueberries, we don't recommend it. Frozen blueberries will have a fair amount of excess water. This water may make the batter too wet and not able to bake evenly. If you do choose to use frozen blueberries make sure to let them defrost and drain any excess liquid before adding them to the batter.
1 tsp vanilla extract– A little vanilla extract goes a long way so don't leave it out!
Instructions:
Now that you have your ingredients ready to go we can begin baking the keto blueberry muffins. Follow along with these tips and directions to have your muffins come out perfect every time.
To begin, grease a muffin tin or line it with muffin cups and preheat your oven to 350 degrees F- If you plan on making muffins in a muffin liner, use paper cups as they stick less than the aluminum ones. If you do use aluminum you will want to grease those as well.
In a large mixing bowl melt the butter in the microwave, make sure to go in 20-30 second intervals so the butter doesn't get too hot and pop in the microwave.
Now add in the remaining ingredients, minus the blueberries and combine using a hand mixer or a whisk until uniform in consistency (as seen in video)- Make sure the almond flour has no clumps, and the vanilla extract & baking powder is evenly distributed.
Once combined, you can gently fold in the blueberries.
Evenly divide the batter throughout 8 muffins in a muffin tin, and then bake for 22-25 minutes. You'll know the muffins are done when a toothpick comes out clean.
Allow to cool for 5-10 minutes prior to handling. If you remove them too early they will stick to the tin and wrappers, or crumble and fall apart.
The best keto blueberry muffins should be stored in a zip top bag or air tight container in the fridge for up to 5 days. Enjoy with some butter for a quick grab and go breakfast!
How to Store Low Carb Muffins
Be sure to store these in the refrigerator. They will be good for 7-10 days out of the fridge. With pretty much all keto recipes you want to store them in the fridge due to their high moisture content compared to traditional pastries and baked goods. Freezing these is not the best idea because you will lose the soft muffin texture when frozen.
If anyone in your family is a muffin lover or you're looking for a great grab and go snack/ meal then you should make these easy keto muffins for meal prep! These low carb muffins will remind you of your favorite blueberry muffins you used to eat pre-keto. So do yourself a favor and go make them!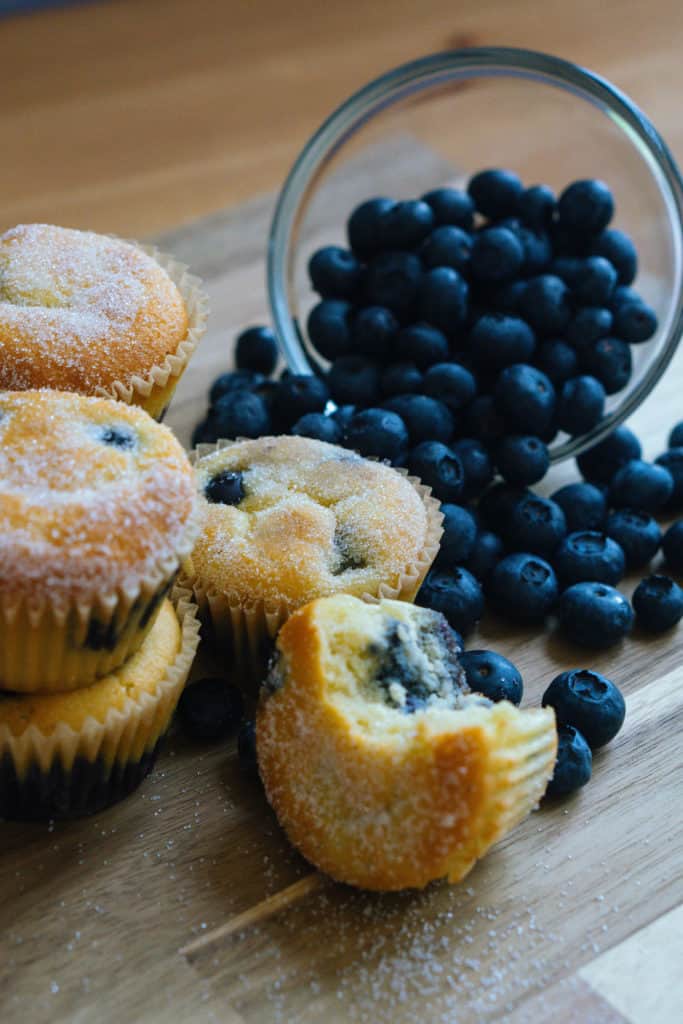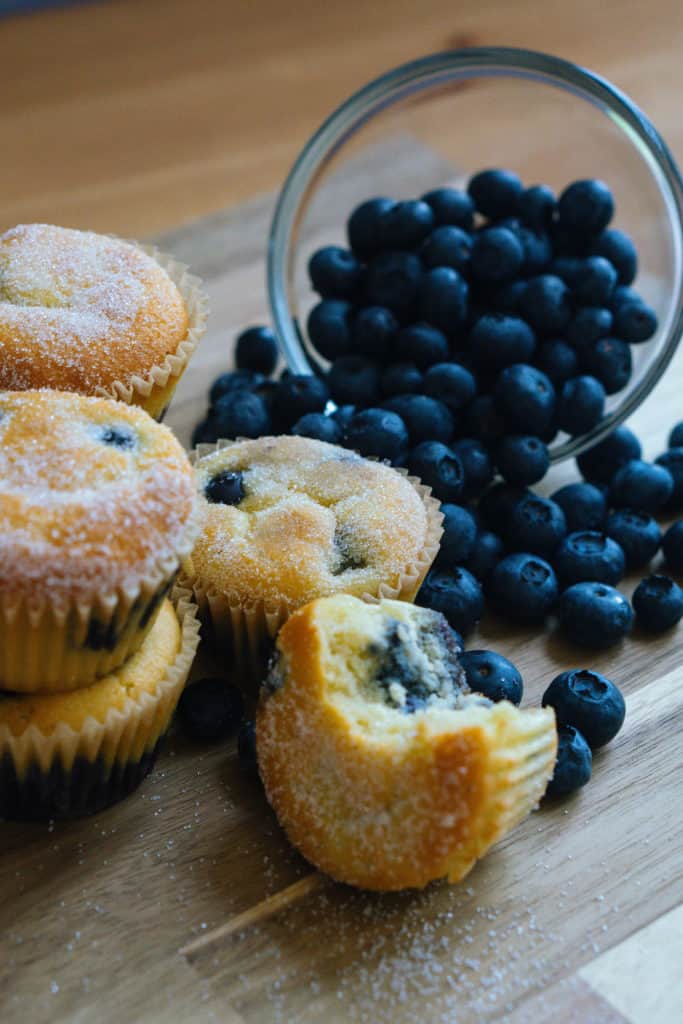 Tips for Making Low Carb Blueberry Muffins
Our preferred way to make these would be in bulk on a Sunday morning. Not only will you have a mid-day Sunday snack or post dinner dessert ready to dig into, but you'll have a grab and go breakfast or snack for the entire week!
Almond Flour vs Coconut Flour
For this recipe we're going with almond flour since it better compliments the blueberry flavor and results in a traditional muffin texture. Coconut flour won't have the same effect and is not a suitable substitute for almond flour in this recipe.
Pro Tip: The more finely ground the almond flour you use, the better results you will have with this recipe. Using almond meal, or a more coarsely ground almond flour means low carb muffins won't be quite as fluffy.
Use Fresh Blueberries
Nothing compares to a blueberry muffin made with fresh blueberries that are in season. Blueberry season is from April to October in the United States. If you plan on making these muffins outside of those months, it is probably best to get berries that were picked and frozen during blueberry season. Just make sure the berries are at room temperature and any excess liquid is removed before adding to the muffin batter.
Use Almond Milk or Heavy Cream
A bit of additional liquid is called for in this recipe. Recommended liquids are: unsweetened almond milk or heavy cream. If you don't have either of those then any kind of milk alternative will work. This could be coconut milk, flax milk, cashew milk or macadamia nut milk. If you're unsure about your batter try and compare it to the thickness we achieve in the recipe video at the top of this blog post.
Dip Muffins in Erythritol
This creates the classic sugar topping that most people expect from a blueberry muffin. Use granular erythritol to achieve this effect in a keto friendly fashion. If you are new to keto baking then read up on our post about keto sweeteners and which are the most suitable for a ketogenic diet.
Pro Tip: Allow the muffins to cool for 3-5 minutes before dipping them in the erythritol topping. This will bring the muffins to the perfect temperature for the erythritol to stick without dissolving!
Change Up the Flavor of Your Keto Muffins
You can take two of these to work with a couple tablespoons of butter and have a desk snack that everyone will be jealous of. Change up the flavors and have assorted muffins for the entire family. My favorites would be:
Cinnamon Swirl (warmed up with some butter)- Try adding 1-2 tsp of cinnamon to half the batter. Using equal parts swirl the plain and cinnamon batters together before baking.
Pecan Pie- Instead of regular butter use browned butter and mix in chopped up pecans
Lemon Poppy Seed (using lemon juice and zest along with poppy seeds) or you can make the ones we have on our food blog already!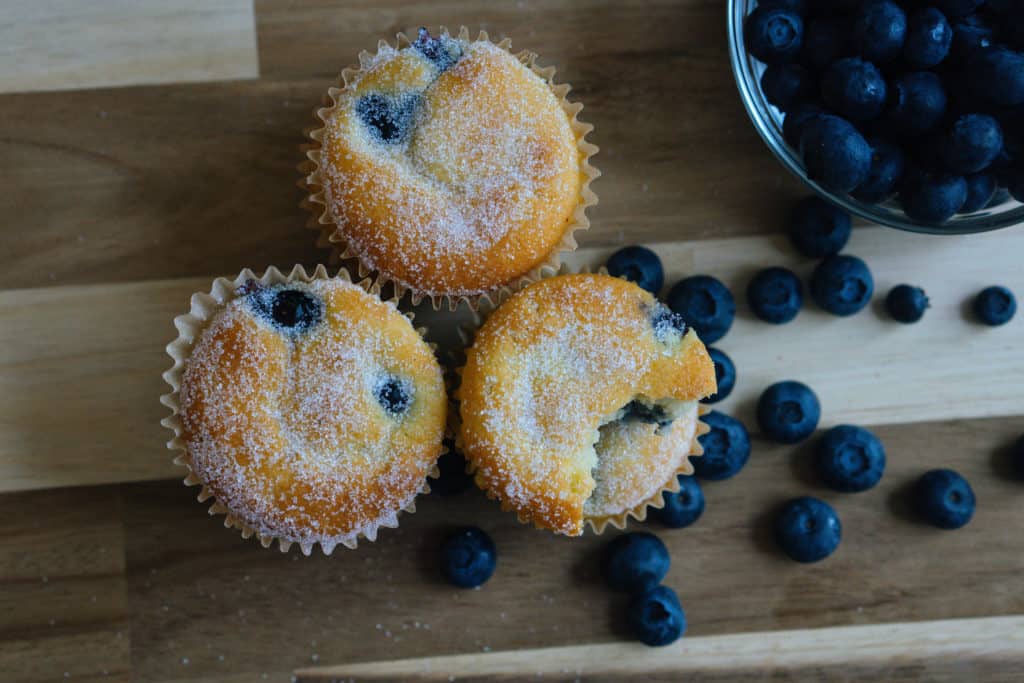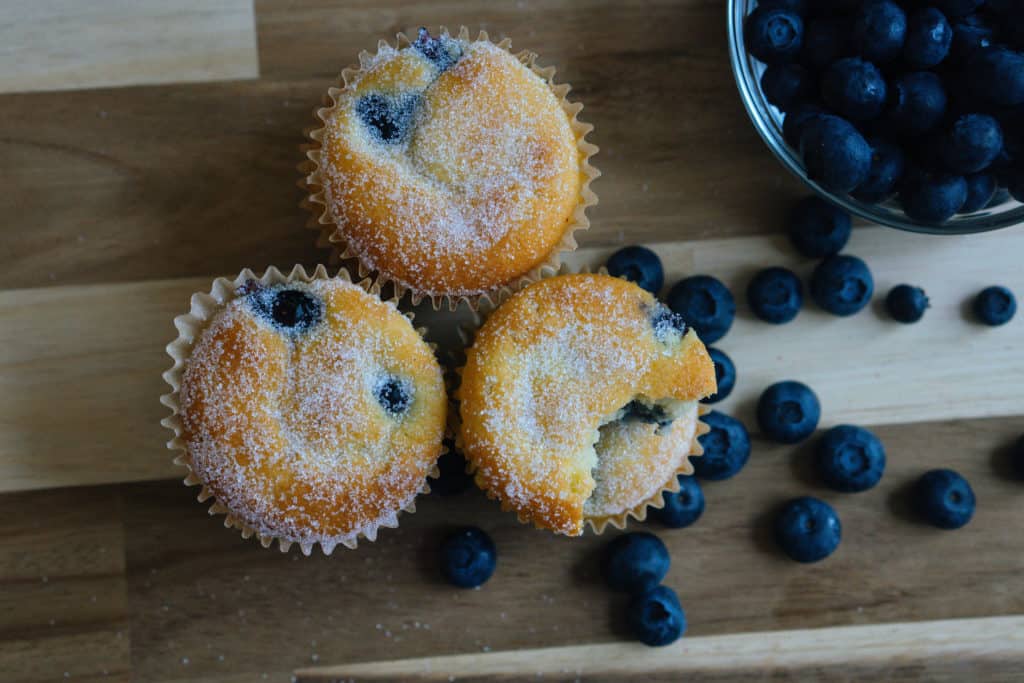 I'm Muff'in Without Recipes!
Looking for more delicious muffin recipes? All our muffins are gluten free and low in net carbs. Keto blueberry muffins are always a hit but try our:
If you love testing new recipes give these a try! We're sure you'll love at least one, if not ALL of these tasty low carb recipes that fit perfectly on a keto diet.
Easy Blueberry Mug Muffin Recipe!
Sometimes you're just hankering for a blueberry muffin, but don't have the patience or time to whip up a batch of these delicious low carb muffins. In that instance, try our low carb blueberry mug cake recipe! It takes less than two minutes to make and will absolutely satisfy your muffin cravings! In case you didn't know Matthew and I are mug cake aficionados. We make mug cakes everyday and we've even included six never before seen mug cake recipes in The Fat Bomb Bible!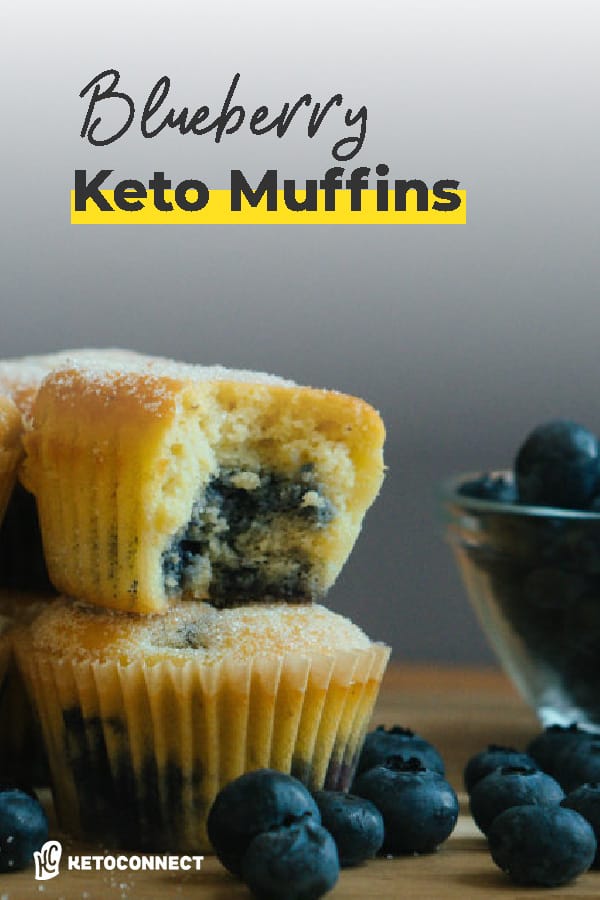 Recipe can be quickly added to MyFitnessPal – Search "KetoConnect – Low Carb Blueberry Muffins"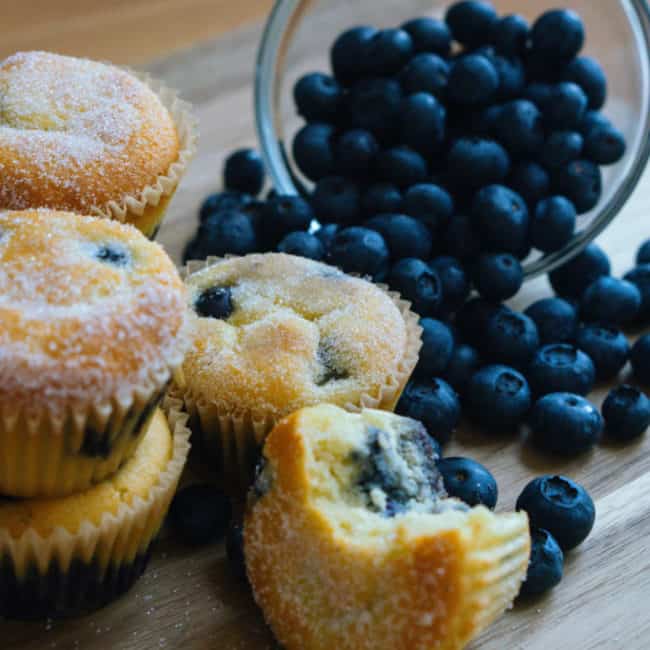 Low Carb Blueberry Muffins
Moist muffins stuffed with sweet blueberries and baked to perfection.
Total Time 30 minutes
Servings 8 muffins
Calories per serving 154kcal
Prep Time: 5 minutes
Resting Time: 10 minutes
Cook Time: 25 minutes
Instructions:
Grease a muffin tin or line it with muffin cups (and grease those if not suing parchment paper cups) and preheat your oven to 350 degrees F.

In a large mixing bowl melt the butter in the microwave.

Add in the remaining ingredients, except for the blueberries and combine using a hand mixer or a whisk until uniform in consistency (as seen in video).

Gently fold in your fresh blueberries.

Evenly divide the batter throughout 8 muffins and bake for 22-25 minutes.

Allow to cool for 5-10 minutes prior to handling.

Best stored in a zip top bag or air tight container in the fridge up to 5 days. Enjoy with some butter for a quick grab and go breakfast!
Notes
Net Carbs: 3g
Serving Size: 1 Blueberry Muffin
Nutrition Facts
Low Carb Blueberry Muffins
Amount Per Serving
Calories 154 Calories from Fat 117
% Daily Value*
Fat 13g20%
Carbohydrates 4g1%
Fiber 1g4%
Protein 4g8%
* Percent Daily Values are based on a 2000 calorie diet.
Written By