One of our favorite go-to, quick to whip up keto snacks are these Parmesan Crisps! We like to have a container filled with them in our fridge in case we are feeling snacky, but don't want the guilt. At only 1.5 net carbs for four crisps you really can't beat that. Personally, I like to dip them in sour cream or guacamole to give me the real chip feel. I dare you to give it a try!
Low Carb Chips
The one thing I miss the most on my ketogenic journey is chips. Salty, oily, crispy and flavorful bites of heaven. But, these Parmesan crisps bring me back to the days of eating chips at every lunch. Yes, we've tried flax seed crackers, pork rinds and even veggies as chip replacements, but these Parmesan crisps are by far the best! They taste even better after they sit out over night. You can leave them on the counter or store them in the fridge and they will crisp up even further.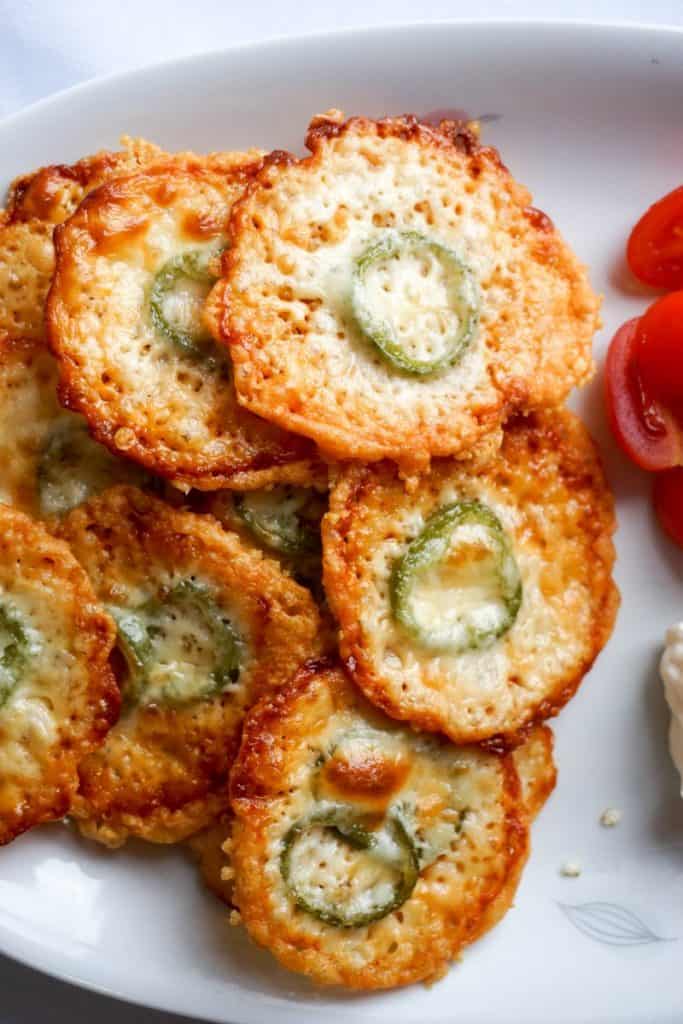 FREE PRINTABLE: Keto Food List
Join 150,000 others to get a FREE keto food list and new recipes every week!
Cheese Crisps with Jalapeno
We like to toss a jalapeno in the middle for some spice, but you can opt to leave it out or even get a little wild and toss on a pepperoni. The best part about adding something additional to the cheese is that whatever you use will give off extra flavor! When the Parmesan bakes up the jalapeno spice and flavor spreads throughout the entire crisp.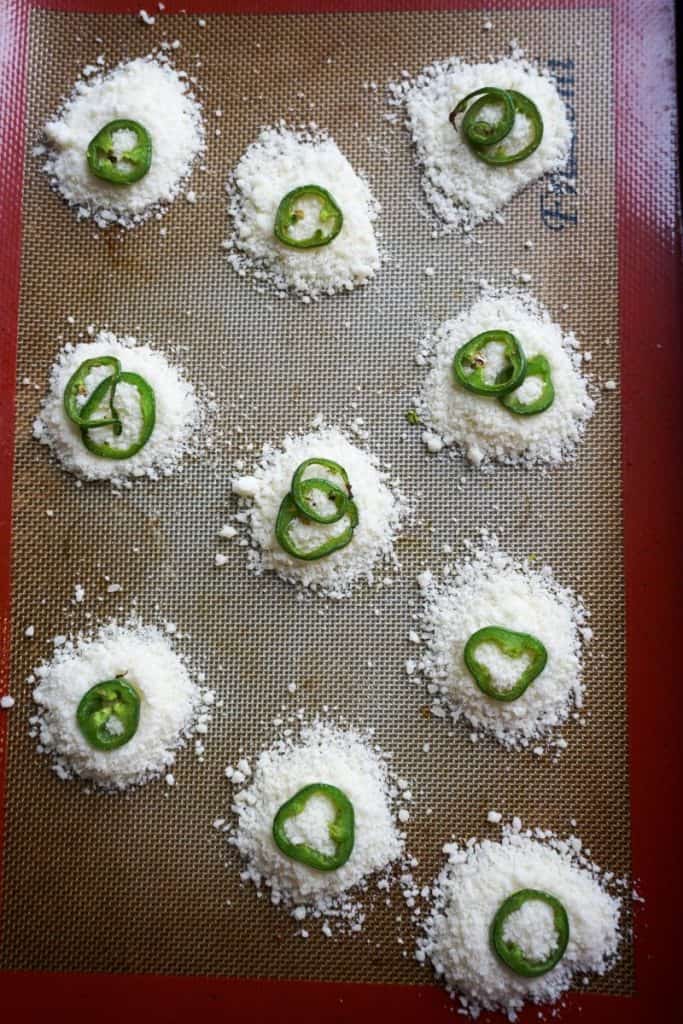 Parmesan Crisps
We want you to know these crisps are your chance to get a little wild. Throw on some crazy cheeses like blue or gouda – don't be scared! If you are a cheese lover you should also give our Zucchini Fries and Easy buffalo Chicken Dip a try. Those two cheesy recipes, along with these Parmesan Crisps will be appetizer hits at your next gathering, and no one will even know they are low carb.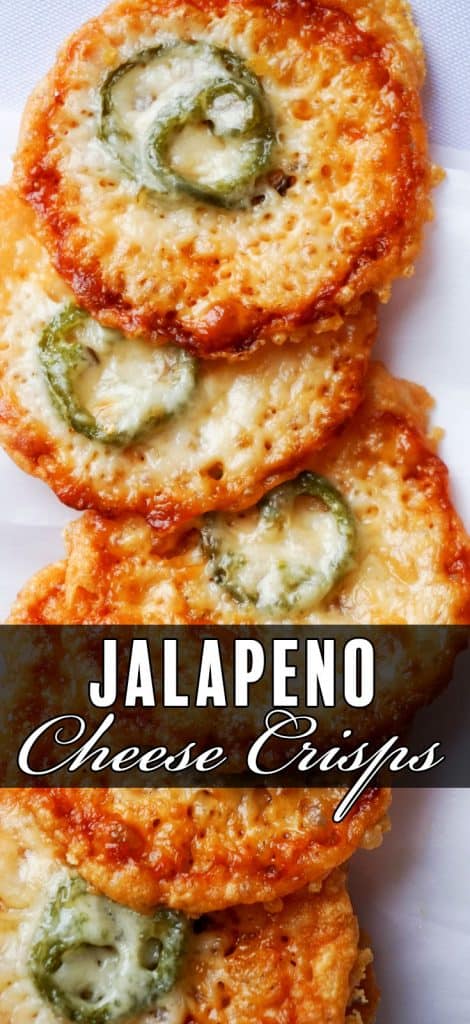 Recipe can be quickly added to MyFitnessPal – Search "KetoConnect – Parmesan Crisps"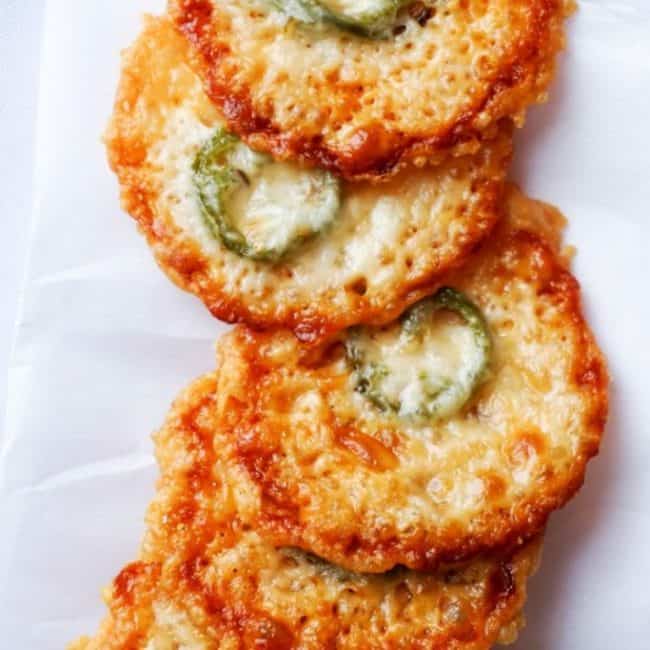 Parmesan Crisps
Total Time 19 minutes
Servings 2 servings
Calories per serving 162kcal
Prep Time: 10 minutes
Cook Time: 9 minutes
Instructions:
On a baking mat or parchment paper make eight 1tbsp mounds of Parmesan cheese an inch apart form one another.

Slice up the jalapeno as thin or thick as you like, lay them on a baking sheet and bake them for 5 minutes at 425 degree Fahrenheit.

Once the jalapenos are out of the oven and have cooled lay each one onto a mound of Parmesan slightly pressing it down.

Split each provolone slice into 4 pieces for a total of 8 and lay each piece on top of the jalapeno and Parmesan.

Bake at 425 degrees Fahrenheit for 9 minutes.
Nutrition Facts
Parmesan Crisps
Amount Per Serving
Calories 162 Calories from Fat 90
% Daily Value*
Fat 10g15%
Carbohydrates 1.5g1%
Protein 14g28%
* Percent Daily Values are based on a 2000 calorie diet.