Hummus is one of my favorite snacks to have in between meals or even as a meal served up with some low carb crackers and veggies! This easy cauliflower hummus is going to be the hit at your next gathering and spice up your work lunches all week long.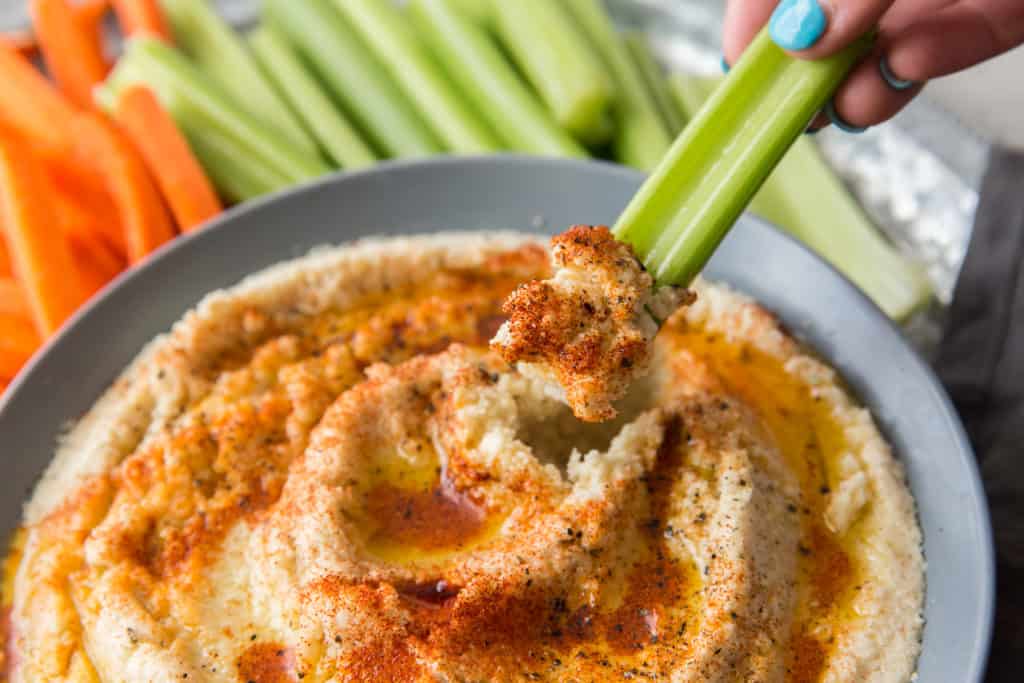 Dips That Entertain!
Whether you are hosting a big group of family and friends or having a small game night at home, keto dips are the way to go! I would much rather have a plate of delicious dips for snacking on than a big meal that will just weigh me down when hosting is at the top of my list!
Some of our fan faves are:
French Onion Dip (with low carb tortilla chips)
Pimento Cheese Dip (Megha's Fave!)
Buffalo Chicken Dip (tried and true)
Don't stop there because the list of dips goes on. We've got every dip you can imagine, and if we are missing one, let us know down below and we WILL recreate it!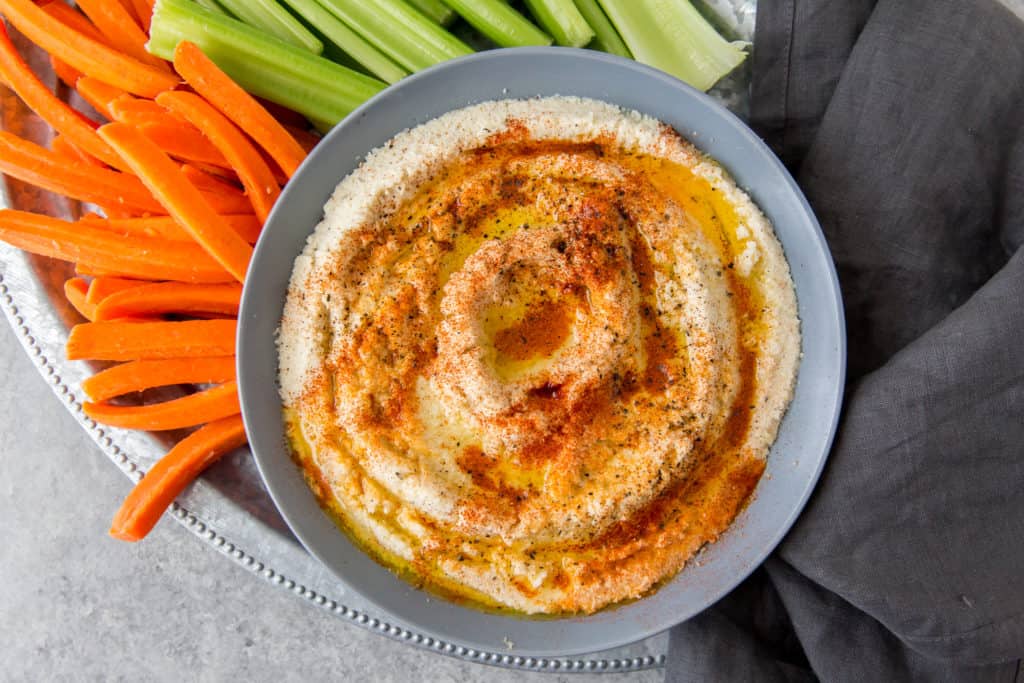 Roast Your Veggies
Roasting your cauliflower and garlic, while isn't necessary, adds an incredible depth of flavor! Its the easiest route to softening your cauliflower and packing the cauliflower hummus with flavor without a lot of work.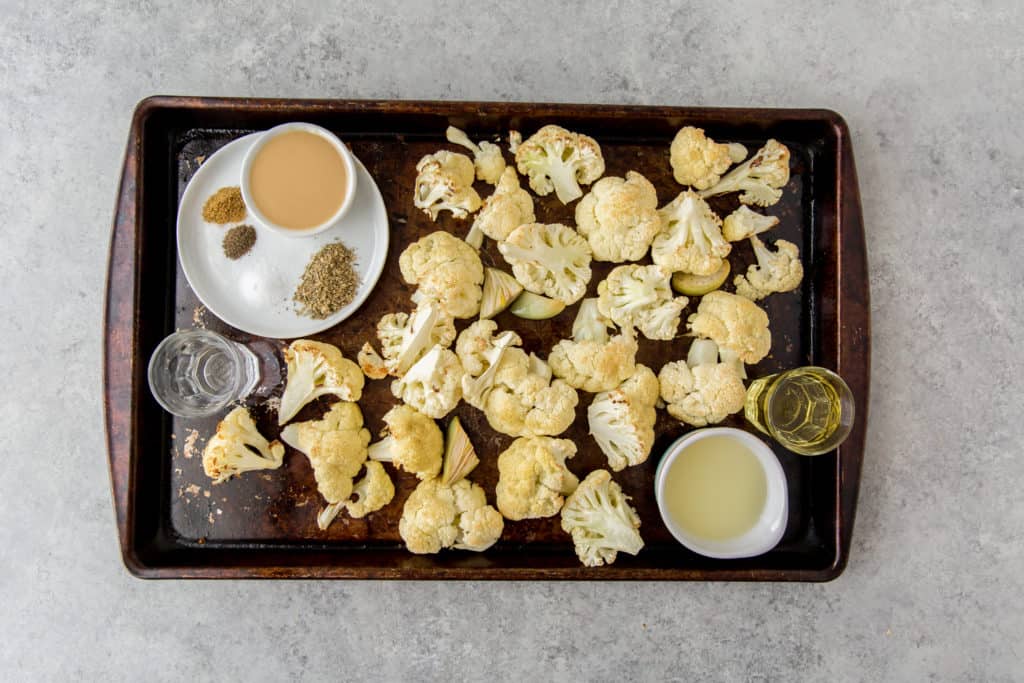 However, if you prefer not to go that route you can also steam or boil your cauliflower until fork tender so that it will easily puree in the food processor!
Why Should I Make It At Home?
While not terribly high in carb when using standard chickpeas, the downside to all store bought hummus (and trust me i've looked!) is that they use bad oils. Canola, sunflower, soybean are the main ones you'll see. Ideally, there would be an avocado or olive oil based hummus and I would go to town!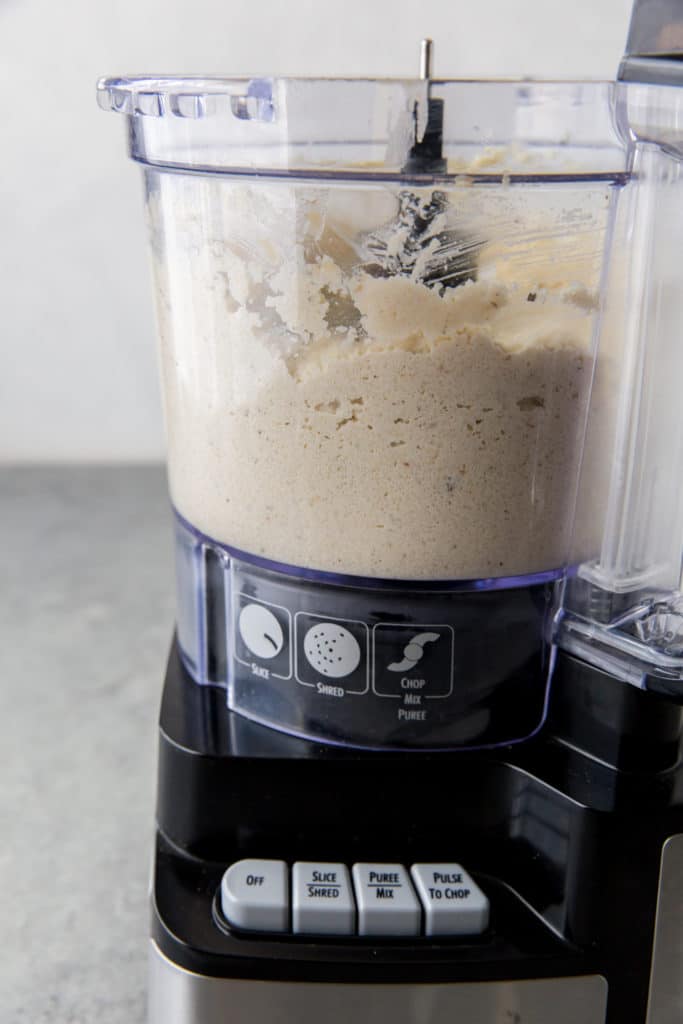 Making it home gives you the option to add your preferred ingredients, like good oils, lower carb veggies like cauliflower and even up the seasoning to your preferred taste level. It's easy, quick and can be made in bulk for up to two weeks!
Easy Cauliflower Hummus
I know hummus is abundant in stores and sometimes grabbing some to serve for friends and family is so much more convenient. I also know that sometimes we have so many other things on our plate that prepping a dip isn't at the top of our priority list.
However, I also know the health of my family, especially my son, is the most important thing to me and that entails feeding him healthy oils and ingredients every single day. Make this easy cauliflower hummus ahead of time and serve it on demand. You won't regret it!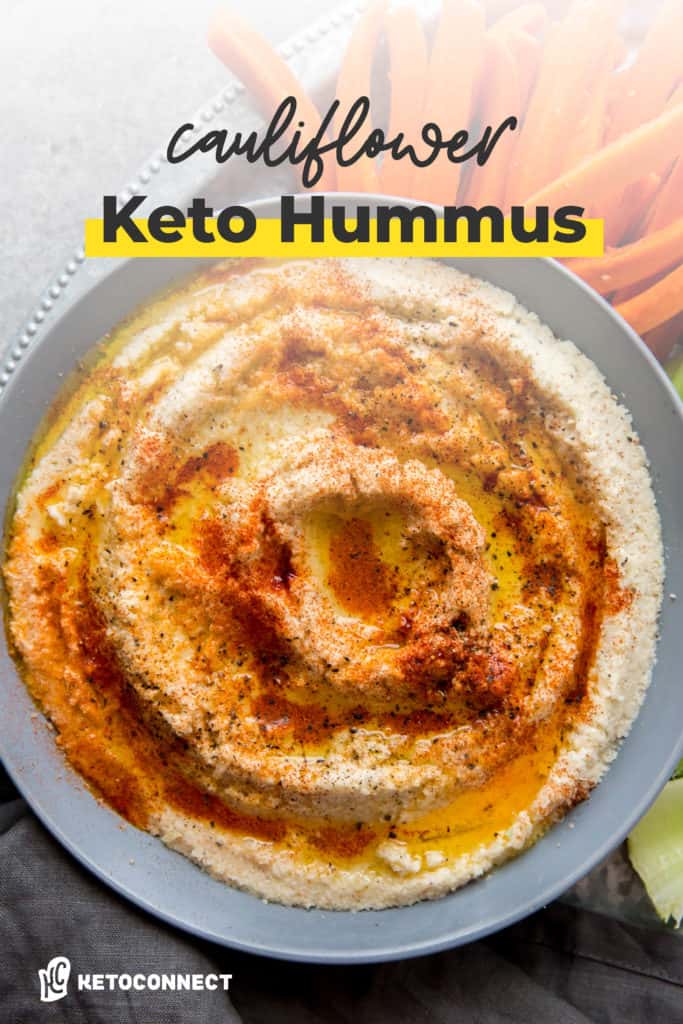 Cauliflower Hummus
This easy cauliflower hummus transforms your traditional high carb dip using low carb ingredients and good oils!
Total Time 30 minutes
Servings 6 servings
Calories per serving 159kcal
Prep Time: 10 minutes
Cook Time: 20 minutes
Instructions:
Preheat your oven to 400°F. Place cauliflower florets and garlic cloves on a baking tray and drizzle with 1 tablespoon avocado oil; toss to combine. Roast for 15-20 minutes, then allow to cool.

Combine the cauliflower, garlic, remaining avocado oil, lemon juice, tahini, water, and seasonings into a blender or food processor and blend until mostly smooth, adding water or additional oil until a desired consistency is reached.

Taste and adjust seasoning as necessary.

To serve, place the hummus in a bowl and drizzle with olive oil and a sprinkle of paprika. Serve with low carb crackers, carrot sticks, celery sticks, or other veggies.

Best stored in an air tight container in the fridge up to 2 weeks.
Notes
Net Carbs: 4g per serving Yields: 6 servings
Nutrition Facts
Cauliflower Hummus
Amount Per Serving
Calories 159 Calories from Fat 135
% Daily Value*
Fat 15g23%
Carbohydrates 6g2%
Fiber 2g8%
Protein 3g6%
* Percent Daily Values are based on a 2000 calorie diet.
Written By