We've got some fabulous low carb rolls for you! Everyone misses the basket of dinner rolls that is passed around the table when they start a ketogenic diet. With these low carb dinner rolls you no longer have to miss out!
How To Make Low Carb Rolls
These low carb rolls come out to be very soft in the middle with a light crust. They can also be used as hamburger or sandwich buns and in addition to being keto friendly, they also pack in some fiber!
Combine Coconut Flour and Psyllium Husk Powder
The combination of coconut flour and psyllium husk powder is what creates the soft texture in these low carb rolls. If you've never worked with these ingredients before then you may want to get used to them. They are used frequently in ketogenic baking.
Pro Tip: Some psyllium husk powders will turn baked goods purple in color. It won't change the flavor, but the color can be off-putting. We use Now Foods brand psyllium husk powder and have never run into this problem.
Form the Low Carb Dinner Rolls by Hand
This is important. The dinner rolls should be able to be formed by hand. They should be slightly sticky but still easy to work with. If your dough is too sticky then add a pinch of extra coconut flour. If your dough is too dry then add a bit more water.
Baking the Rolls
The baking time for these is something I'd encourage you to play around with. You can go as little as 20 minutes and come out with a soft and chewy roll, bordering on under-cooked. On the flip side you can also go as high as 35-40 minutes to get a more firm and crunchy crust on the roll. I personally like to go about 25 minutes to achieve a soft texture. As pictured in the video we use a silicon baking mat for these low carb rolls.
Store in the Fridge
As with all keto baked goods you are going to want to store these in the fridge. The high moisture content of these keto dinner rolls means they will go bad very quickly if kept on the counter-top. The rolls will last 7-10 days in the fridge.
Pro Tip: To bring the flavor back to life after a few days in the fridge, cut a roll in half, brush with butter or olive oil and toast in a stove-top skillet. These crispy rolls go great with a ketogenic breakfast of eggs and bacon.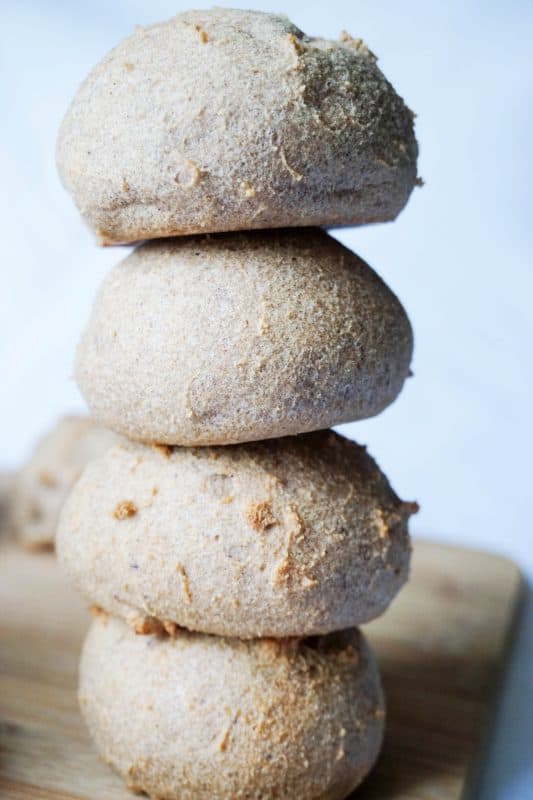 Coconut Flour Dinner Rolls!
To date most of our recipes use almond flour, and we've always been partial to it since we've found it easier to work with. Recently we've made it a goal of ours to master baking with coconut flour. We've made some really good progress so far. It turns out that psyllium husk powder is great in conjunction with coconut flour to create a gluten free alternative to a dinner roll. Our next mission is to continue creating psyllium husk powder recipes as it adds a much need softness to low carb baking!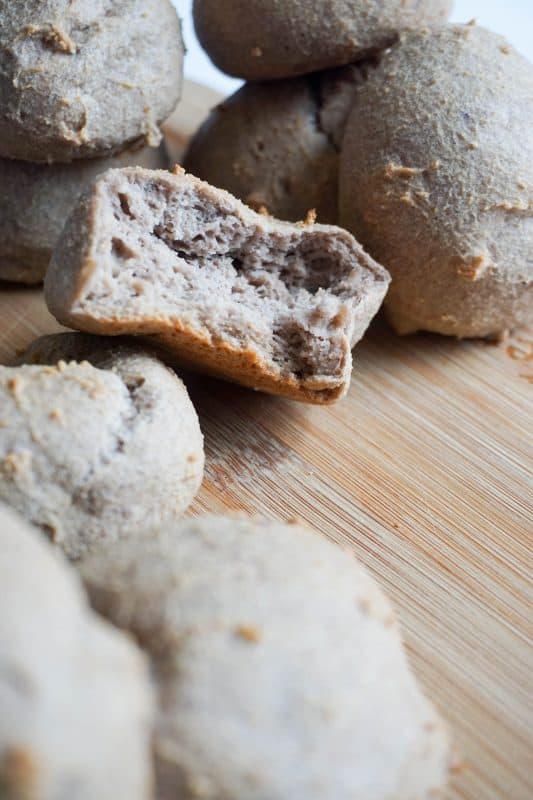 How Many Carbs In Keto Rolls?
This recipe can throw some people off because of the carb count for psyllium husk powder. It is nearly entirely fiber which does not impact the body in the same way starches and sugars do. Therefor we subtract fiber when calculating net carbs, and adding up the carb count for this recipe. Each roll clocks in at just over 1 gram of net carbs (1.3g).
If you're skeptical of the idea of net carbs, do some additional reading to understand why we don't include fiber in the carb count of our recipes.
Keto Dinner Rolls or Keto Biscuits?
Are you a dinner roll person or a biscuit person? It's a tough question, but the good news is you don't have to choose. We have great recipes for low carb biscuits if the family is getting tired of dinner rolls. Give either these 3 Minute Low Carb Biscuits or these Cheddar Jalapeno Biscuits a try and see which one you like the best!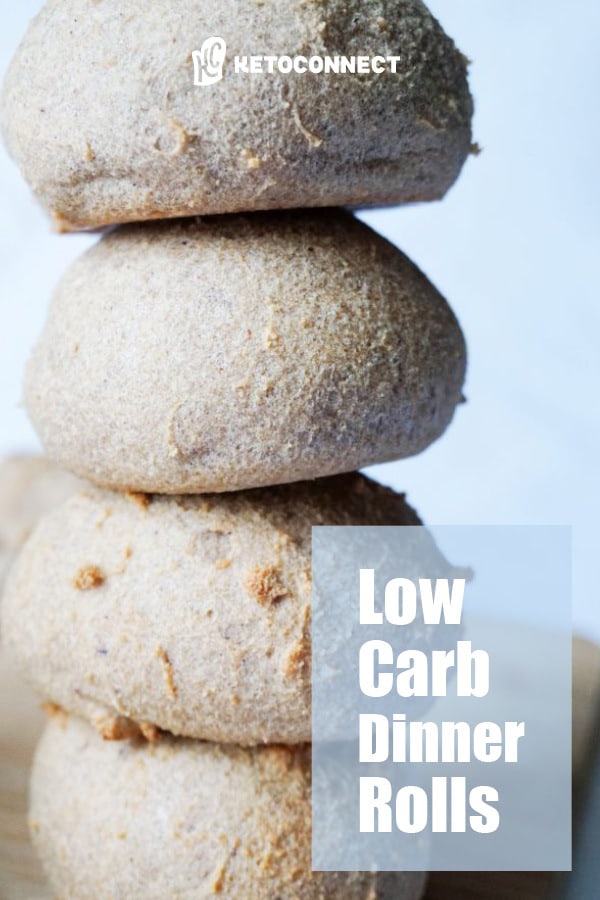 Search "KetoConnect – Dinner Rolls | 1.3g Net Carbs" On MyFitnessPal.com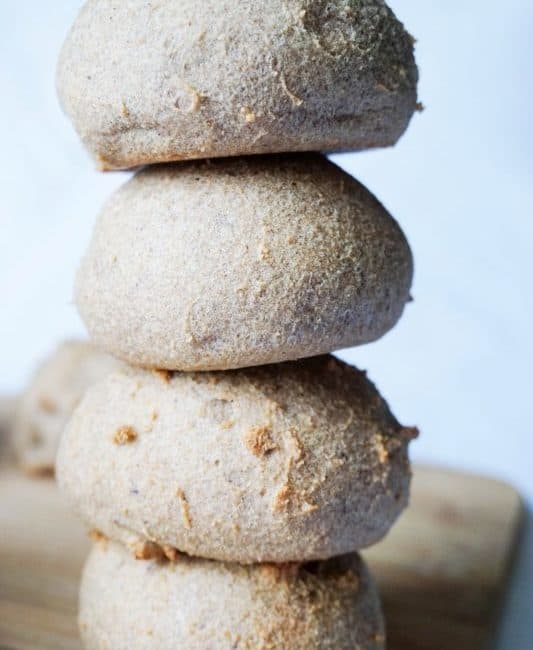 Low Carb Rolls
Total Time 30 minutes
Servings 10 rolls
Calories per serving 102kcal
Prep: 5 minutes
Cook: 25 minutes
Instructions:
Start by combining all of the dry ingredients(coconut flour, psyllium husk powder, baking powder, salt) and mixing thoroughly.

In a separate bowl start beating the eggs with a hand mixer. Add in melted butter and water and continue to mix until combine.

Pour the dry ingredients into the wet and continue mixing until the dough becomes thick and well mixed. If dough is not easily shapable by hand continue adding more psyllium husk powder until it is less sticky. For the desired consistency see the video above!

Form into 10 dinner rolls and place on a greased baking sheet or

silicon baking mat

. Larger rolls can be made if desired, just add a few minutes onto the baking time.

Bake for 30-35 minutes at 350 degrees. Enjoy!
Nutrition Facts
Low Carb Rolls
Amount Per Serving
Calories 102 Calories from Fat 63
% Daily Value*
Fat 7g11%
Carbohydrates 5.8g2%
Fiber 4.5g18%
Protein 3g6%
* Percent Daily Values are based on a 2000 calorie diet.