Oven Chicken Wings That You'll Think Were Deep Fried!
You didn't think it was possible, did you? Oven Baked chicken wings that are as crispy as fried wings, without being cooked to death on the inside. Let me tell you, it is possible! To top it off, these wings are keto friendly, so we won't be relying on any breading to achieve the crisp we're looking for. I do have a trick or two up my sleeve though. Keep reading to learn how to make the crispiest oven chicken wings you've ever had!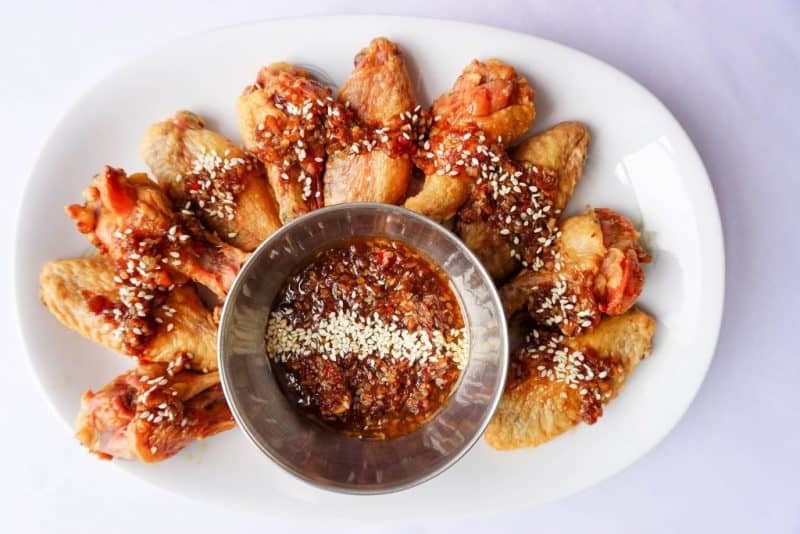 I Got Baking Powder, I Got Baking Powder!
I know in the song it's "Baking Soda" but we're not whipping up kilo's over here, we're making exceptional chicken wings, both of which will have your friends coming back for more. (Drugs are bad!). That's the big secret to achieving the crispy oven chicken wings of your dreams – baking powder! Before we get to the baking powder, you're going to want to set your wings out. Pat the wings dry with a paper towel, dust them with salt, and leave them out on a cutting board for an hour. This will accomplish two things.
It will bring the wings up to room temperature, which is where we want the wings to be before we put them in the oven.
Also, the salt will draw all the moisture out of the skin. This is good! The lack of moisture will allow the skin to become super crispy.
After an hour, pat the wings dry one more time with a paper tower making sure they are as dry as you can get them. Place the wings into a zip top bag.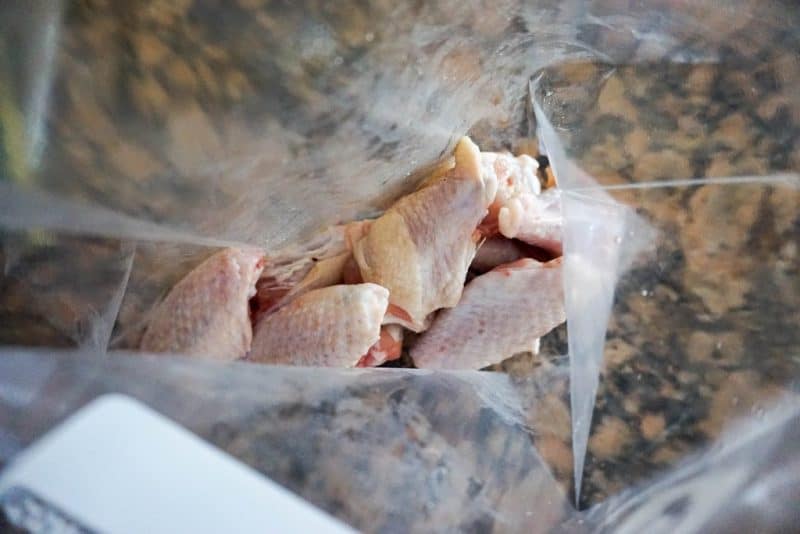 Now, we add the secret ingredient! For every 10 wings you want one tbsp of baking powder and one tsp of salt. (Salt can be adjusted to taste). Add the salt and baking powder to the bag with the wings and shake it up to evenly coat the wings. Place the coated wings on a greased baking sheet. If you have a baking rack place the wings on that, but it's not necessary, the wings will be crispy without it as well!
Two-Part Baking Method
This is another key step on the path to crispy oven chicken wings. We're going to bake these puppies in two parts. The first 30 minutes will be at 250 degrees. I know, that's extremely low, but hear me out. As discussed, the enemy of crispiness is moisture. This first 30 minutes will get every last drop of moisture out of the skin, setting the stage for Dr. Crispy to come by for a house call. After the first 30 minutes you will notice the wings are already starting to get crispy, and they are still nice and tender on the inside.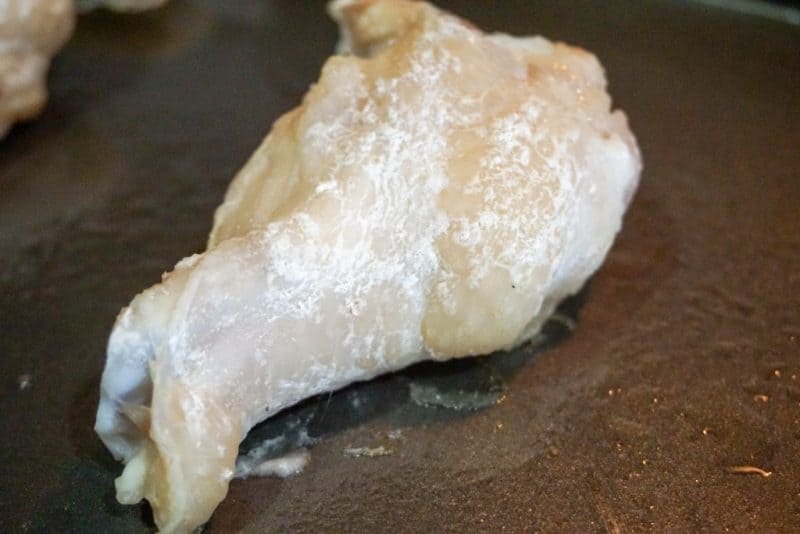 This is what they should look like after baking at 250 degrees for 30 minutes (above). Now crank the oven up to 450 degrees! Put the wings back in at 450 for 30-40 minutes depending on the size of your wings. If you got some big pterodactyl size wings, they might need 5-10 minutes extra. The cook time here is for small-medium sized wings. Here is what they will look like when you pull them out after 30-40 minutes at 450.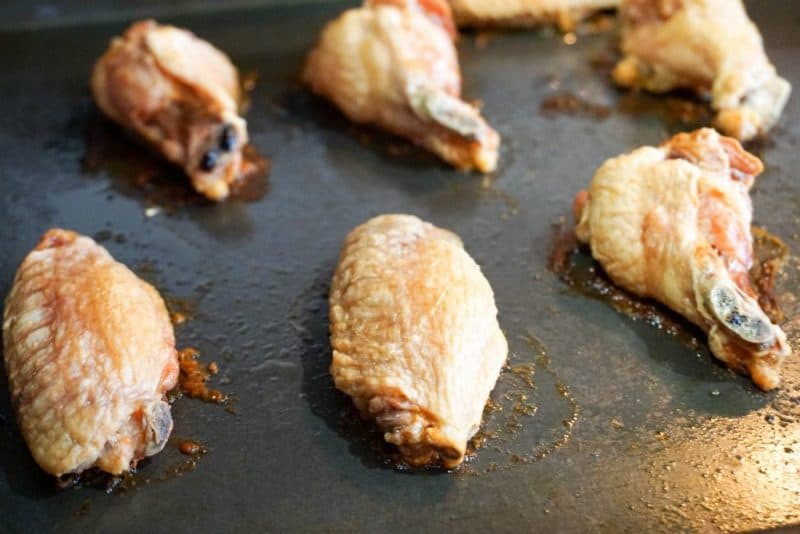 Sauce 'Em Up
Reserve the saucing of the wings for after they are done baking. Saucing them during the cooking process will cut down on the crispness, and no one wants that. I like to put the wings in a Tupperware container with some sauce and shake them up. That's the best way to evenly coat the wings.
Keto Sauce for A Keto Boss
I'm of the opinion that there are two sauce varieties that really matter. You've got your Buffalo sauces, and your Asian sauces. Now you won't have much trouble finding a zero-carb Buffalo sauce. A lot of the store bought Buffalo sauces are actually really good, so I've never felt much of a need to make my own homemade version. If you want a good Asian sauce however, you're not likely to find anything in the grocery store approaching keto friendly macros. That's why I've developed this incredible Asian Wing Sauce over the course of the last few football weekends. This is what you've been looking for if you've been trying to find an asian wing sauce. It's comparable to teriyaki sauce, but less sweet and more spicy. Give it a try!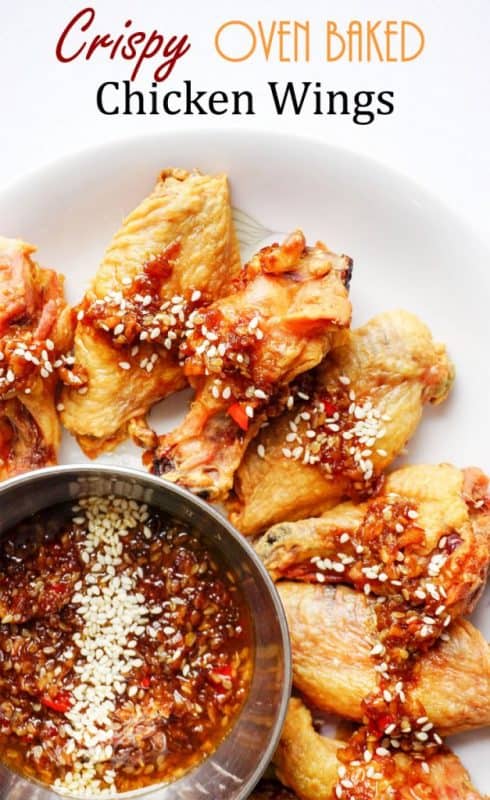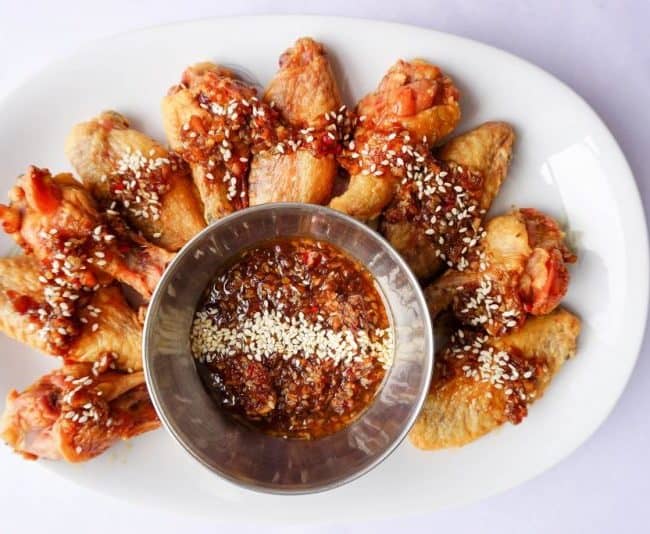 Oven Chicken Wings
Crispy oven chicken wings you won't believe aren't deep fried.
Total Time 2 hours 10 minutes
Servings 10 Wings
Calories per serving 61kcal
Prep Time: 10 minutes
Cook Time: 1 hour
Instructions:
Pat wings dry with a paper towel and place on a cutting board. Sprinkle with salt on both sides and leave out for 1 hour.

After 1 hour there should be some water on the surface of the wings. Again, pat this dry with a paper towel and place the wings in a ziploc bag.

Add 1 tbsp of baking powder and 1/2 tsp of salt to the bag for ever 10 wings. Shake the bag to evenly coat the wings with baking powder/salt.

Place wings on a greased baking sheet. If possible do not have the wings touching.

Bake at 250 degrees for 30 minutes

Turn the oven up to 450 degrees and bake for an additional 30-40 minutes. (Time will vary depending on the amount and size of wings)

Remove wings from oven, allow to rest for 5 minutes. Toss in sauce of your choice and enjoy!
Nutrition Facts
Oven Chicken Wings
Amount Per Serving
Calories 61 Calories from Fat 36
% Daily Value*
Fat 4g6%
Saturated Fat 1g5%
Cholesterol 22mg7%
Sodium 285mg12%
Potassium 121mg3%
Protein 5g10%
Calcium 52mg5%
Iron 0.1mg1%
* Percent Daily Values are based on a 2000 calorie diet.