Chicken tenders aren't just for kids. Enjoy our delicious keto chicken tenders in all their juicy meat and crispy breaded glory.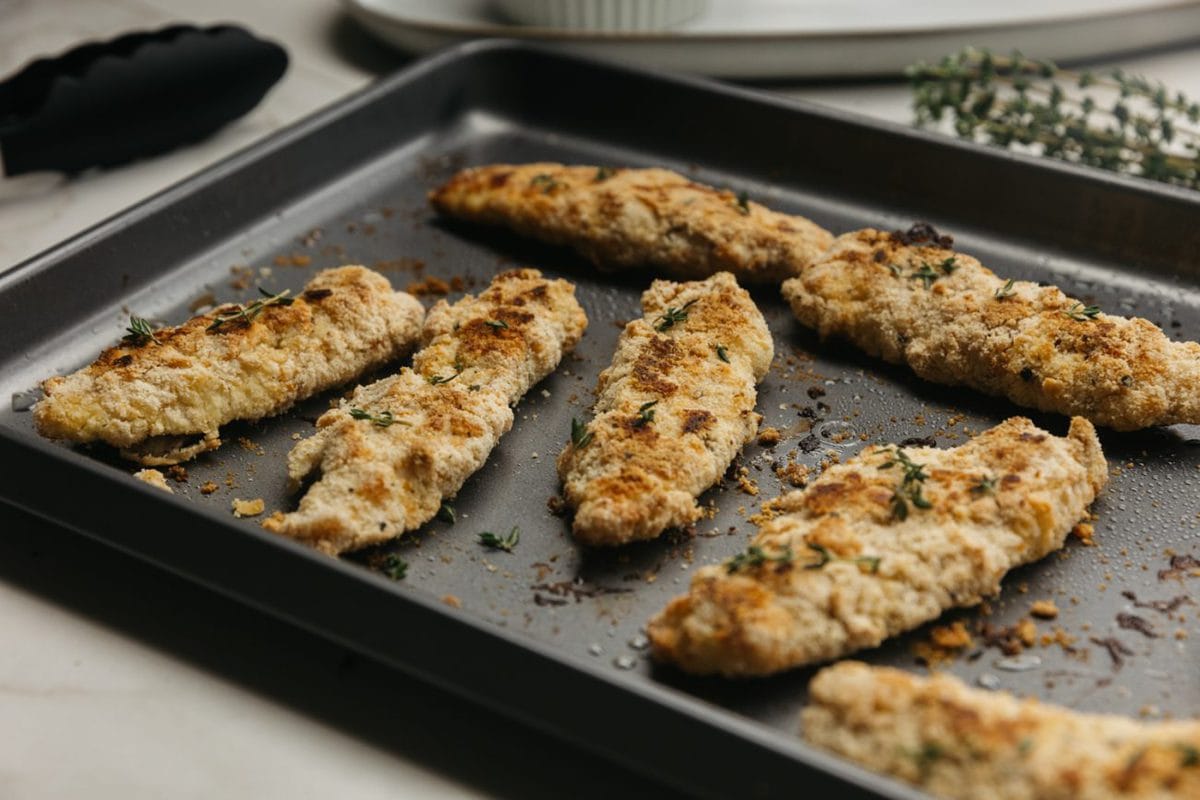 Are Chicken Tenders Keto?
Traditional chicken tenders or chicken strips are NOT keto. Low carb keto recipes are ideally below 10 net carbs a serving. Most chicken strips you get at restaurants have 10 carbs a tender.
While it does depend on how much breading they use, most companies are using a thick batter before frying to get it extra crisp.
Chicken Tenders are also made with wheat flour or white flour that contains gluten thus making the tenders not keto friendly.
Can I Eat Gluten Free Chicken Tenders on Keto?
While regular flour for sure makes chicken strips unavailable on keto, so does some gluten free flour variations.
If it is a gluten free flour based on starches like rice, tapioca, cassava, or corn it is not keto approved. These cheap bulking flours are carb heavy and often have the same amount of carbs as regular flour, just without any added fiber.
Our keto chicken tenders however are another story. We use high quality ingredients like almond flour as the breading to keep the net carbs down and the fiber high.
This way you can eat lots of chicken tenders 100% guilt free, knowing all the protein and fat will help keep you full for hours.
Are Tysons Chicken Tenders Keto?
Again this one varies based on the tenders you buy. Costco for example sells two variations, one breaded and one just grilled.
The breaded chicken tenders recipe would not be keto, but the grilled keto chicken strips would be low carb approved.
Their grilled chicken recipes usually have between 1-4 grams of carbs because they use a bit of fillers and a lot of flavorful spices.
Baked vs. Fried Keto Chicken Tenders
A question that we get a lot about keto chicken strips is whether they should be baked or fried? Like most low carb recipes it is really up to the chef how they want to prepare the final product.
Fried Chicken Tenders
It is important to know different cooking methods will not yield the same results. Frying in a lot of oil tends to make a crispier batter, but it also means you'll be creating excess calories you could have avoided by baking.
The other downside to frying is that it's quite messy, but again the payoff is super delicious and highly palatable chicken tenders that taste like the real thing.
Baked Keto Chicken Tenders
Like we said above frying can be messy and calorie dense which is why we normally bake our chicken tenders. The recipe itself is made with baking directions not frying directions because we find it easier.
The texture is different when baked though because air cannot fully flow around the low carb chicken tenders to give an even bake. This is why it is super important to leave plenty of space between each tender on a cookie sheet to prevent overcrowding.
While the oven baked tenders might not be as crispy as fried chicken, they are still super delicious!
Can I Cook Chicken Tenders in the Air Fryer?
This is another question we know we are going to get asked. In the age of the air fryer everyone is cooking everything, from frozen pizza to mug cakes and cookies. So why wouldn't you want to make chicken tenders keto in the air fryer?
We think the air fryer is a great option for those that don't want to turn on the oven, but also don't want to deal with hot oil.
The texture will end up at a stage between oven and fryer where it is crispy, but less golden than hot oil. Our normal low carb keto chicken tenders temperature for cooking is 400 for 8-12 minutes. Check with a meat thermometer to ensure it has reached 165 degrees before removing chicken from the basket.
Can I use Coconut Flour Instead of Almond Flour?
Where are our nut free kiddos!? It can be super frustrating when most keto recipes use nut based flours instead of coconut flour. However, while it may seem easy to just swap out the almond for coconut flour, it isn't recommended.
Coconut flour is low in net carbs thanks to all the fiber, but tends to be a lot drier in low carb recipes. This can mean the flour will suck out all the chicken's moisture, and make it a pain to enjoy a single chicken tender without needing a monster glass of water.
If you can't have nuts, we instead recommend trying crushed pork rinds in place of almond flour. Simply blend up a bag of pork rinds and then use them as your new nut free breading.
Pork rinds are 0 net carbs, high fat, and taste extra good when mixed with a little parmesan cheese.
How to Reheat Keto Chicken Tenders
Did you fill a baking sheet with baked chicken tenders and now have too many left for yourself? Have no fear, our keto chicken strips store great in the fridge for up to a week and reheat even better.
To reheat the chicken tenders place them back onto a baking sheet and heat in a 350 degree oven until crispy, usually (4-8 minutes).
For an even faster reheat pop them into the air fryer at 400 degrees for 3-6 minutes, and voila an easy keto chicken tender snack.
Freezing Low Carb Chicken Tenders
Once again these keto chicken tenders store fantastically in both the fridge, and freezer. To prepare the chicken tenders for freezing bake the whole recipe, and then allow the chicken tenders recipe to fully cool.
Place the cooled keto chicken tenders into a zip top freezer bag and freeze lying flat to ensure none of the tenders stick together.
To reheat: Set the oven to 375 and bake for 10-15 minutes, or until the chicken tenders have baked and re-crisped.
What to Serve With Keto Chicken Tenders
Chicken tenders are a perfect main dish full of protein, fat, and fiber; but sometimes putting together a full meal can seem like a daunting task. Thankfully these chicken tenders go with just about anything, the breading helping them to become an open canvas for many sides.
Some of our favorite sides are:
Don't get hung up on the fact these are chicken tenders. Who said you can't have classy sides with your chicken strips? Have some fun and make a fancy side from our site with all the time you saved having your main meal be chicken tenders.
Tips to Make the Best Keto Chicken Tenders
Need help perfecting your keto chicken tenders? Don't fret, we've got you with all our best chicken cooking tips and tricks.
To make the best low carb chicken strips:
Always use a wet hand and a dry hand– Not only will this make the breading process smoother (aka no breaded hands), but it will also allow the low carb coating to stick more evenly for a nicer bake.
Add a little cheese– This isn't in the recipe itself as it's not traditional for keto chicken tenders, but adding a little parmesan cheese will bring this recipe up a notch. Parmesan cheese will add a little extra salt and crispiness when it bakes.
Don't overbake the chicken– There is really nothing worse than chicken breast and tenders that are overcooked. Since the breast does not have fat it dries relatively easy and can quickly turn your mouth into the Sahara Desert.
Don't bake past golden brown– While frying requires a deeper golden color to form before the inside is cooked, the same can't be said about baked chicken. Gluten free keto tenders will overcook inside before the outside is fully golden so keep that in mind while baking.
Avoid changing flours– While it can be tempting to try new keto blends, the tried and true is usually almond flour. Even though we dabble in pork rinds from time to time, it's not recommended to just sub the almond flour willy- nilly for products like gluten free keto cauliflower flour.
These are our best tips for creating tasty keto chicken tenders, but feel free to experiment in order to create the recipe that works best for you.
How to Make Keto Chicken Tenders
Ready to make some delicious keto chicken tenders for the whole family? Get out your keto recipe card and let's get to cooking!
Ingredients
For these keto friendly chicken tenders you will need 5 basic ingredients. For the egg mixture you will need eggs and good quality heavy cream.
As for the dry ingredients you will need almond flour (pork rinds crushed if nut free), salt, pepper, and whatever spices you enjoy. You can make your keto chicken tenders as basic, or as flavorful as you want. Some ideas for extra spices are garlic powder, onion powder, chili powder, paprika, and cayenne.
Finally you will need chicken tenderloins. They sell these pre packed in the fresh chicken section of your local grocery store. If for some reason they are out, you do have another option. Slice chicken breasts into chicken tender sized pieces and prepare the same way.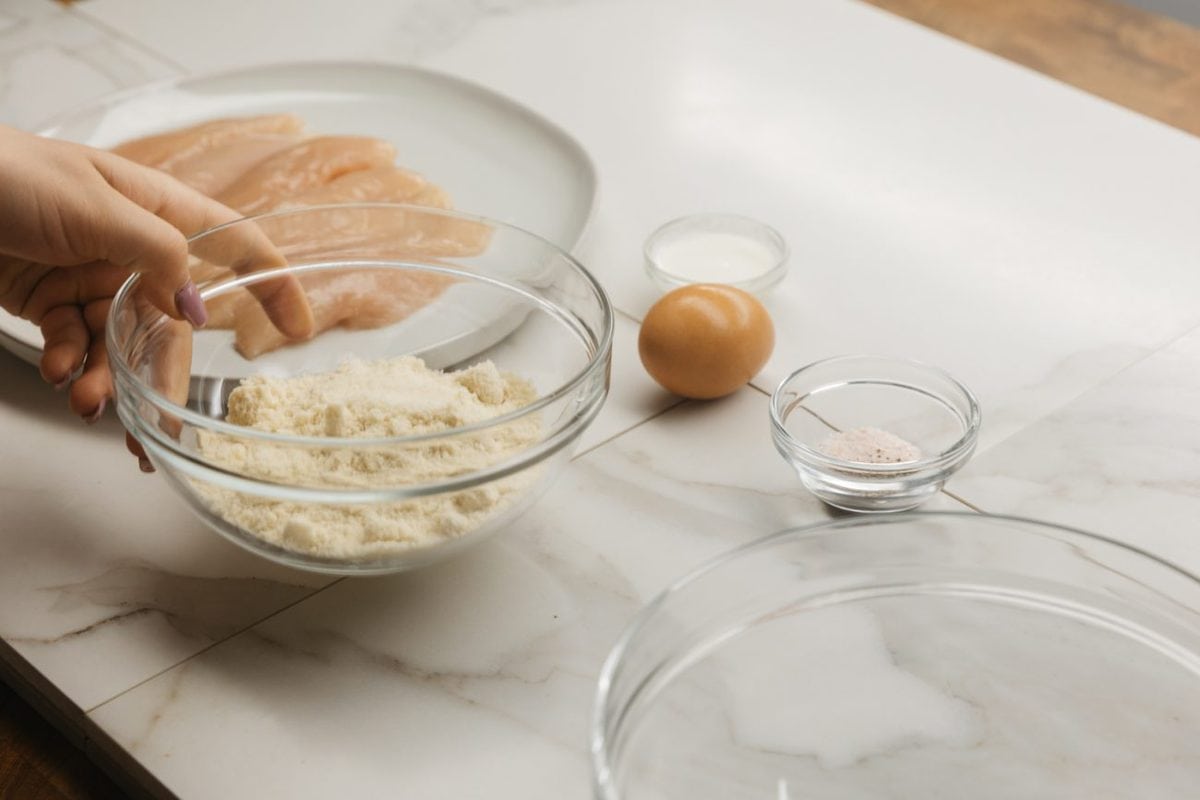 Making Keto Chicken Tenders
To make your low carb chicken tenders preheat the oven to 350 and mix together all your spices.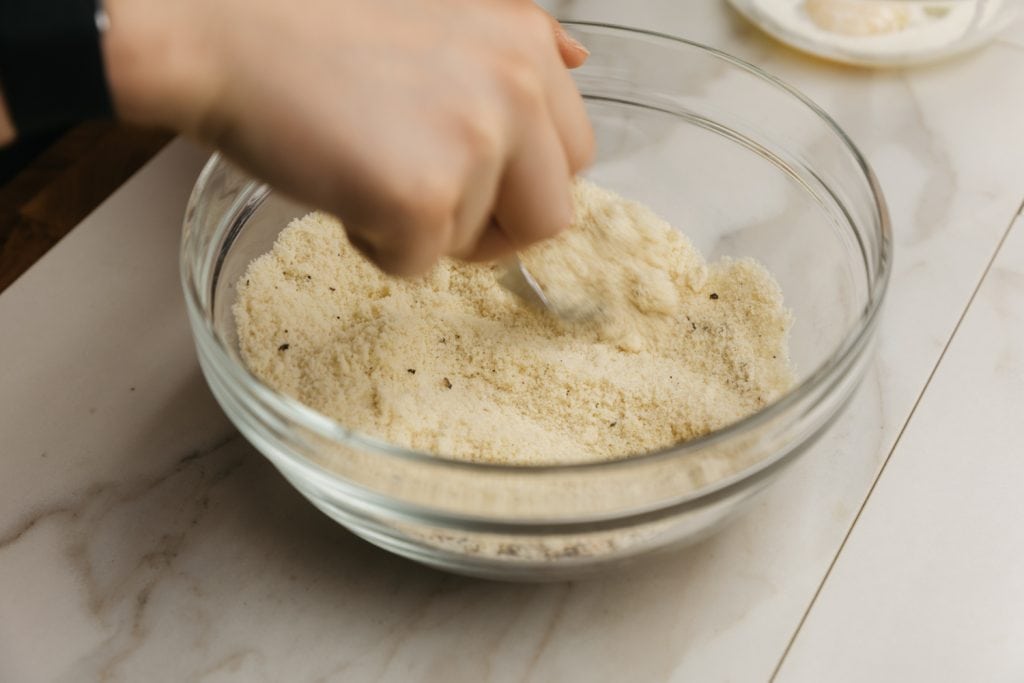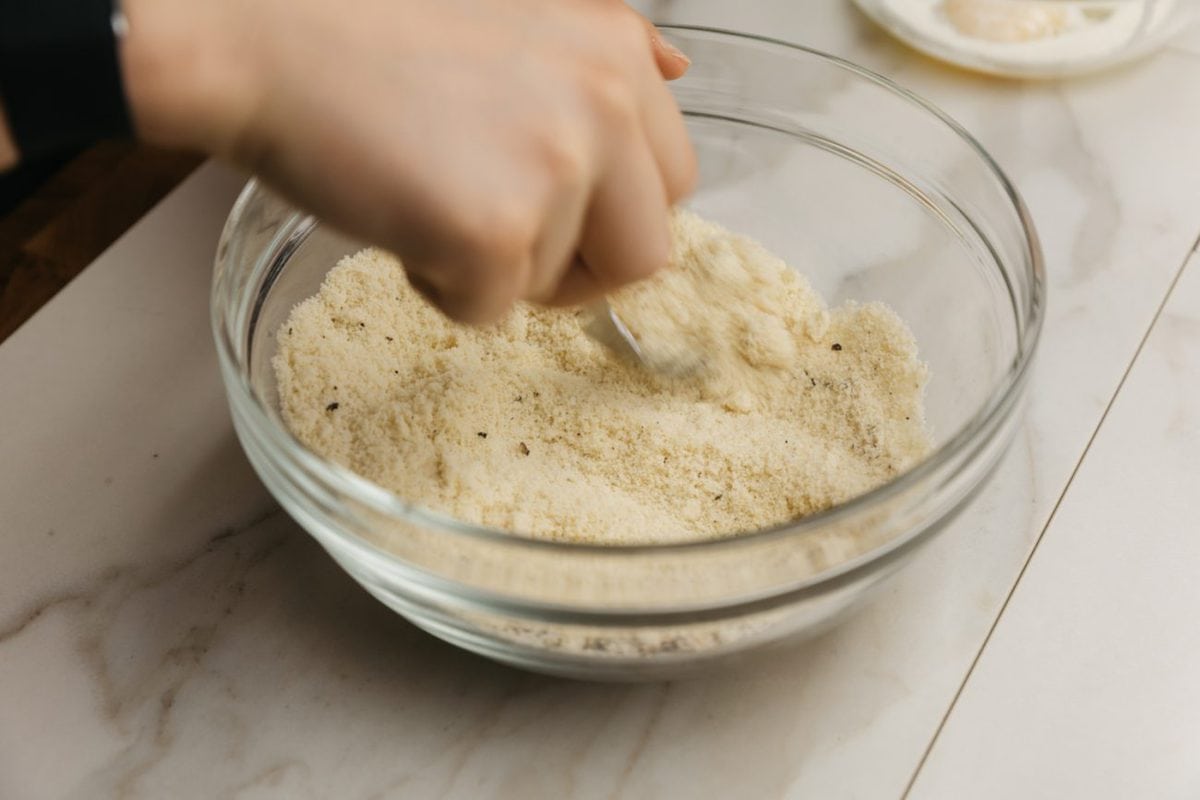 Now mix together the egg and heavy cream until well combined.
Dip the chicken tenderloins (or sliced chicken breast) first into the eggs and then into the dry ingredients. Use one hand to dip into the wet and one into the dry.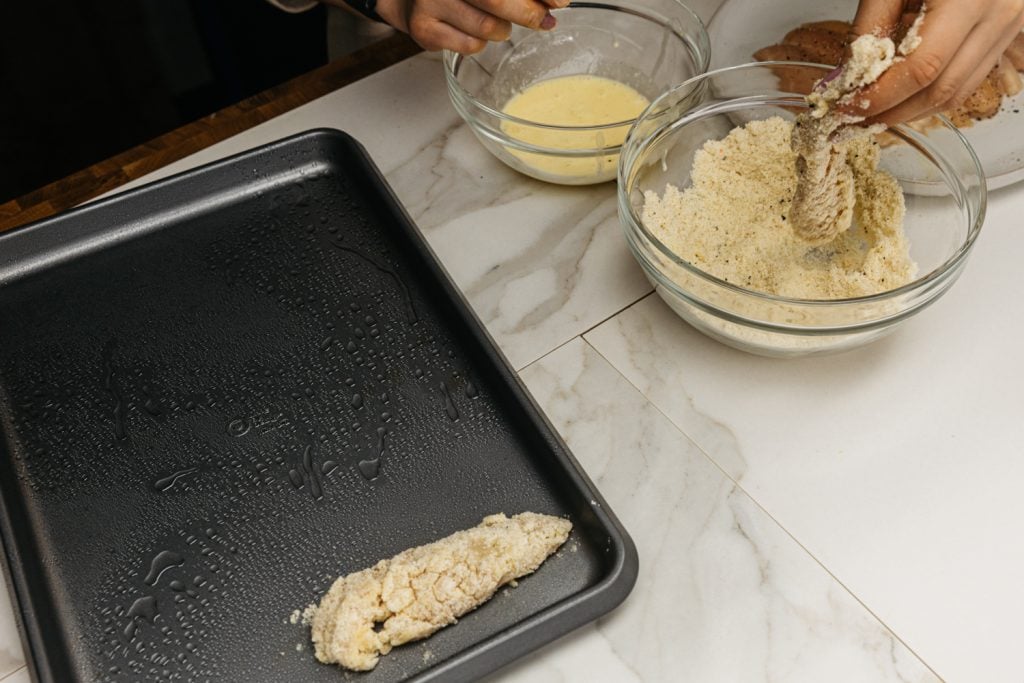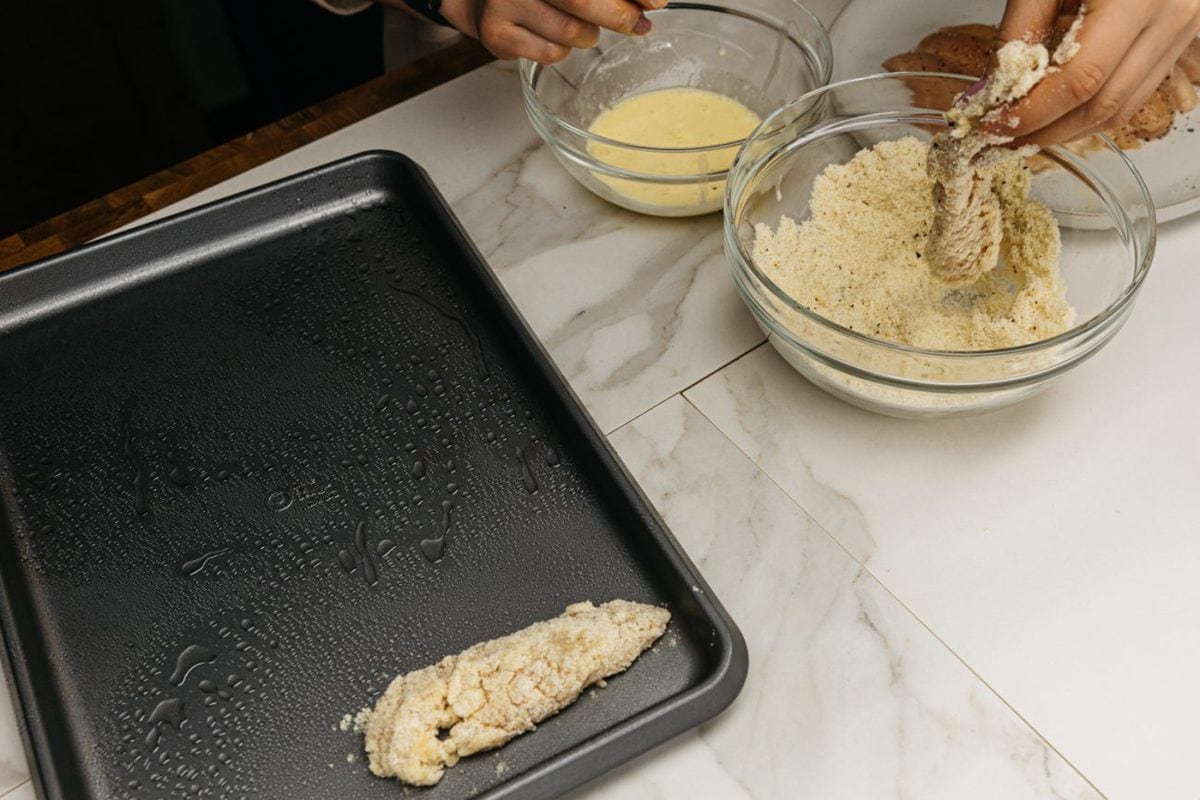 Place the easy keto breaded chicken onto a baking sheet and repeat with the remaining chicken.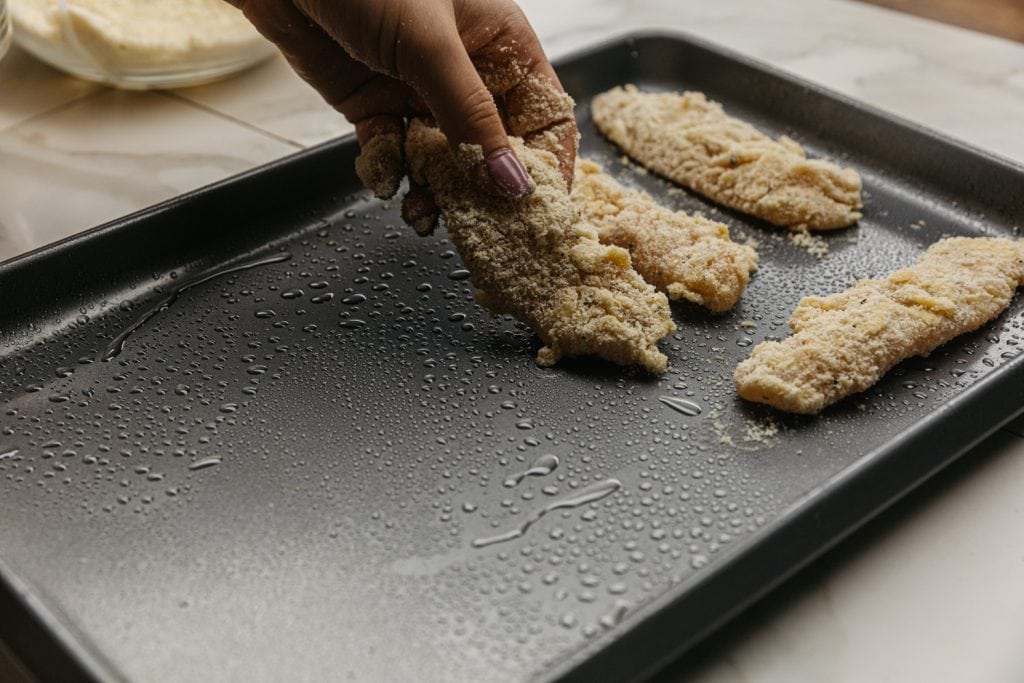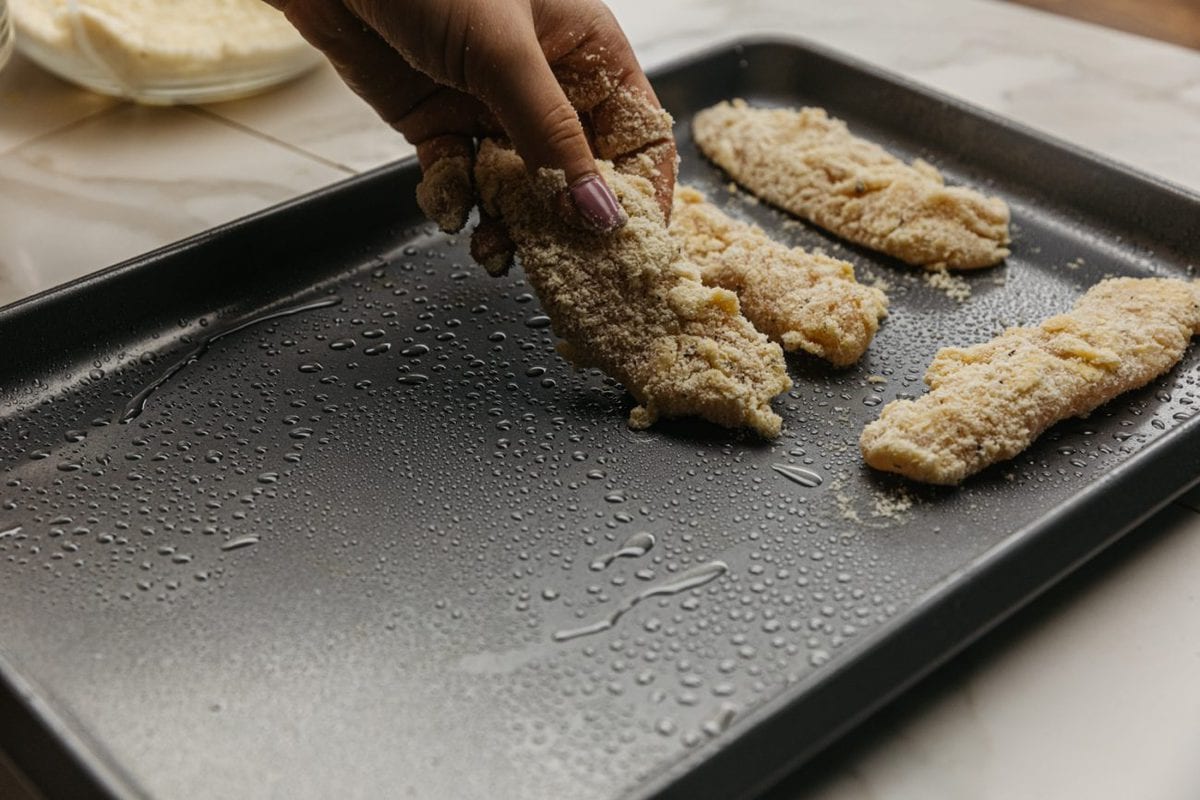 Once finished, bake your low carb chicken strips for 30 minutes; or until they reach 165 degrees. Make sure to flip halfway. If you want them crispier simply broil for 2-3 minutes.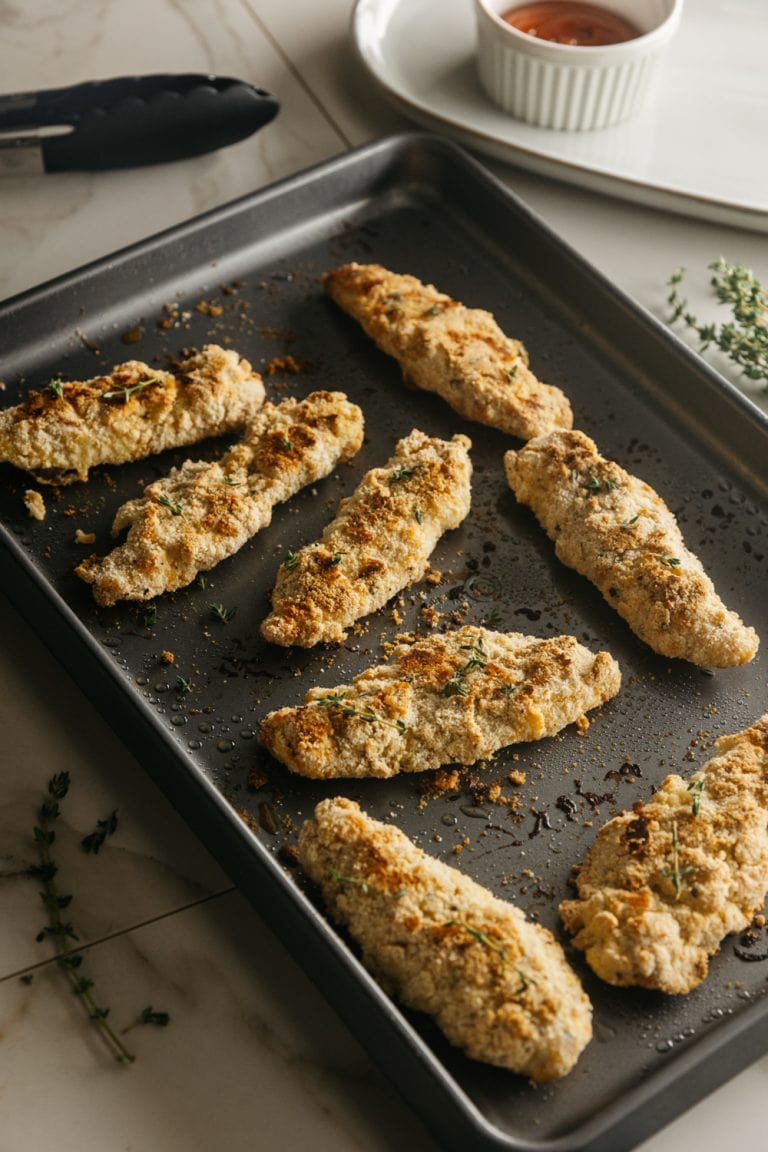 The Best Keto Dipping Sauces
This recipe is a must make for the whole family. Not only is the nutrition information show stopping, but it also can cook in under 30 minutes and be served with whatever dipping sauce you like.
Picking a quality dipping sauce can be tricky on keto because most sauce companies are using lots of sugar and low quality vegetable oils. That's why we normally make our own sauce and then share the recipe here.
Some of our favorite keto sauces are:
Low Carb BBQ Sauce – BBQ sauce is a chicken tender classic with a hint of sweetness and a lot of southern twang.
Ranch Dressing – My Midwesterners out there know ranch dressing is where it's at! It's light, creamy, and full of fresh herbs.
Keto Ketchup – Another family friendly dip that's hard to find someone who isn't a fan. Sugar free ketchup also has a hefty serving size before you start accumulating any real number of carbs.
These are just our top three but there are tons more keto friendly sauces out there to try. The most important thing is that the nutrition information will fit your keto diet, and the ingredients are something you can feel good about.
More Low Carb Chicken Recipes
Now that you're pounding healthy chicken tenders and sauce you are going to need more chicken recipes to fill your cravings. Our favorite keto chicken recipes are:
Easy keto chicken recipes are our favorite because we can enjoy something that tastes just like the carb version without having to ruin our diets. For even more easy keto chicken recipes check out the chicken section of our blog.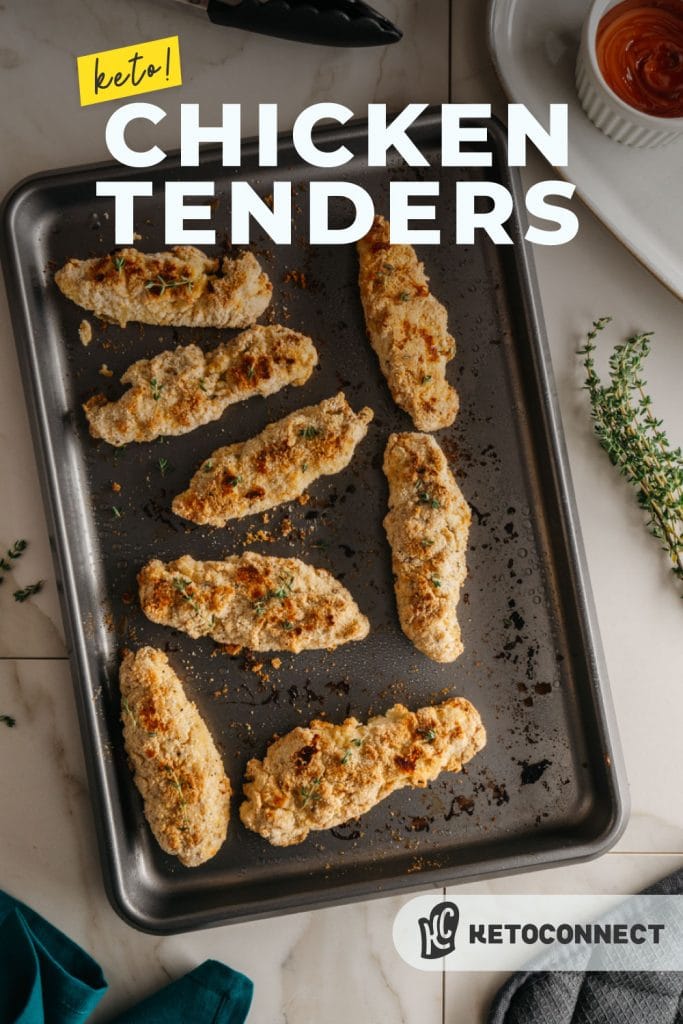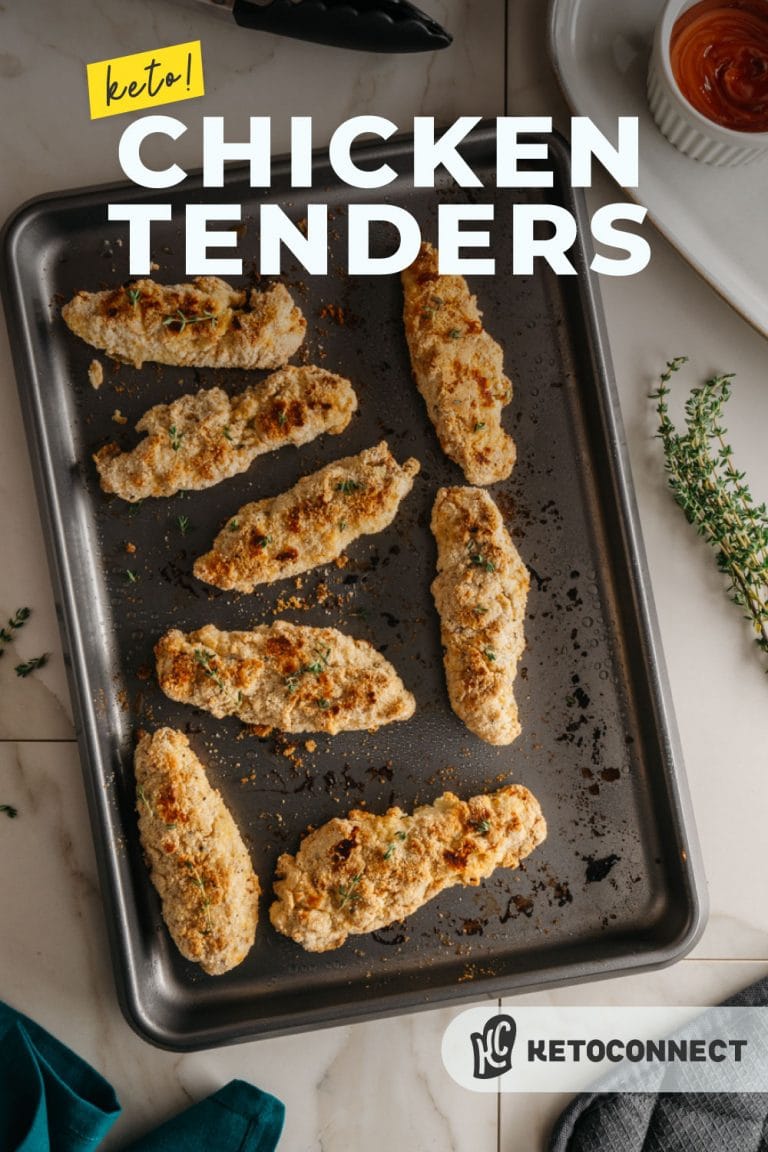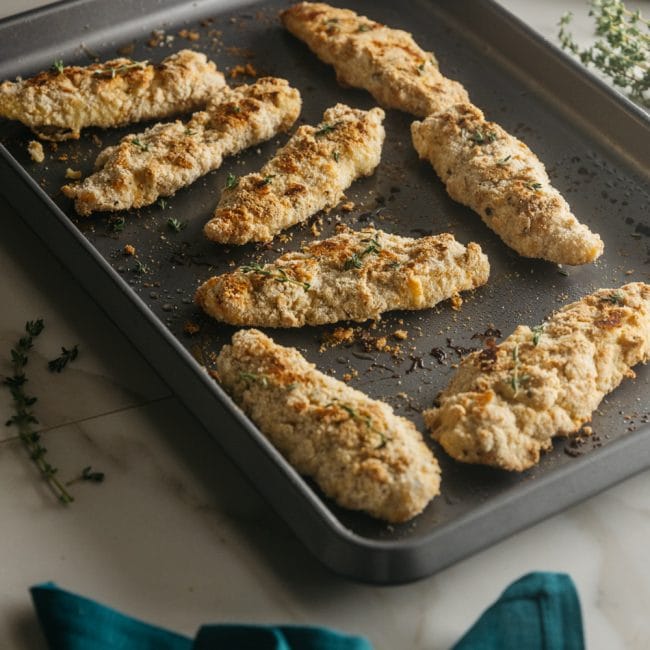 Baked Keto Chicken Tenders Recipe
If you've been looking for the perfect buffalo keto chicken tender recipe for your keto diet, look no further!
Total Time 40 minutes
Servings 6 Tenders
Calories per serving 212kcal
Prep Time: 10 minutes
Cook Time: 30 minutes
Instructions:
Preheat oven to 350 degrees.

Season chicken tenders with salt and pepper. Season the almond flour generously with salt and pepper.

Beat 1 egg together with 1 tbsp of heavy cream.

Dip each tender first in the egg wash and then into the seasoned almond flour. We like to place the tenders in a Tupperware container with the almond flour and shake to coat. A Ziploc bag also works well.

Place tenders on a lightly greased baking sheet. Bake for 30 minutes. If they are not as crispy as you would like you can additionally broil them for 2-3 minutes.

Allow tenders to cool for 5 minutes before enjoying.

Store in the refrigerator for up to 5 days.
Nutrition Facts
Baked Keto Chicken Tenders Recipe
Amount Per Serving
Calories 212 Calories from Fat 117
% Daily Value*
Fat 13g20%
Saturated Fat 2g10%
Trans Fat 1g
Polyunsaturated Fat 1g
Monounsaturated Fat 1g
Cholesterol 83mg28%
Sodium 100mg4%
Potassium 293mg8%
Carbohydrates 4g1%
Fiber 2g8%
Sugar 1g1%
Protein 21g42%
Vitamin A 104IU2%
Vitamin C 1mg1%
Calcium 49mg5%
Iron 1mg6%
* Percent Daily Values are based on a 2000 calorie diet.
Written By