I am a huge fan of dips, cold or hot. I don't even need chips, but veggies, flackers, pork rinds don't hurt! I'm one to also just dig in with a spoon, right out of the fridge most often. There is something about artichokes that I love so much and is hard to put into words, so instead I put it into food, and created this Easy Spinach Artichoke Dip. You have to try it!
Hot Spinach Artichoke Dip
This is definitely a dip that can be eaten cold, and as I mentioned above often is by me, but mostly because I have no self control. However, the best way to eat this dip, in my opinion, is served hot. Now, doesn't a hot spinach artichoke dip just sound divine. The cheese is gooey and melty and the spinach and artichoke blend together like two peas in a pod. And, the cheeses we've used are subtle enough in taste that they don't overpower the stars of the show, spinach and artichoke.
Dip Recipes
This isn't the first dip we've created or that you can try. If you're a dip love like me and want to make a quick snack or appetizer you should give our Easy Buffalo Chicken Dip and our Pizza Dip a try. You can even make your very own Flax Seed Crackers for dipping!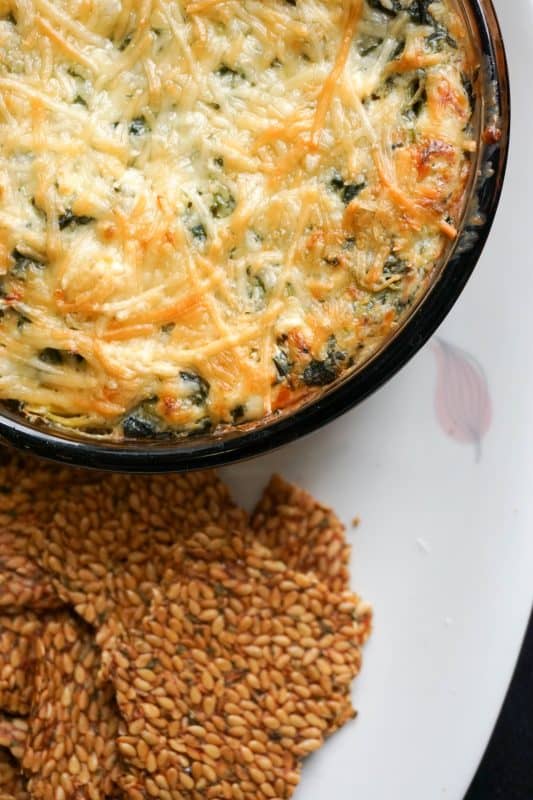 Easy Spinach Artichoke Dip
What makes this dip so easy is that besides mixing and heating everything all the ingredients are prepared. We've used frozen spinach so all you have to do is thaw it out or microwave it and drain any excess water, and we've used canned artichokes so all you have to do is chop. The steps are simple: mix, heat and eat. Could it get easier? This dip will be the perfect pair alongside your breakfast eggs or to serve to house full of hungry guests. This easy spinach artichoke dip is by far my favorite dip recipe we've made!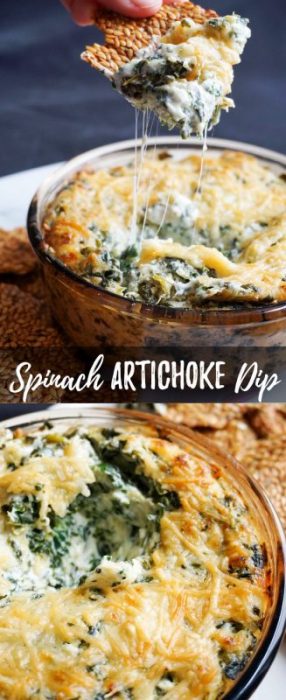 Recipe can be quickly added to MyFitnessPal – Search "KetoConnect – Easy Spinach Artichoke Dip"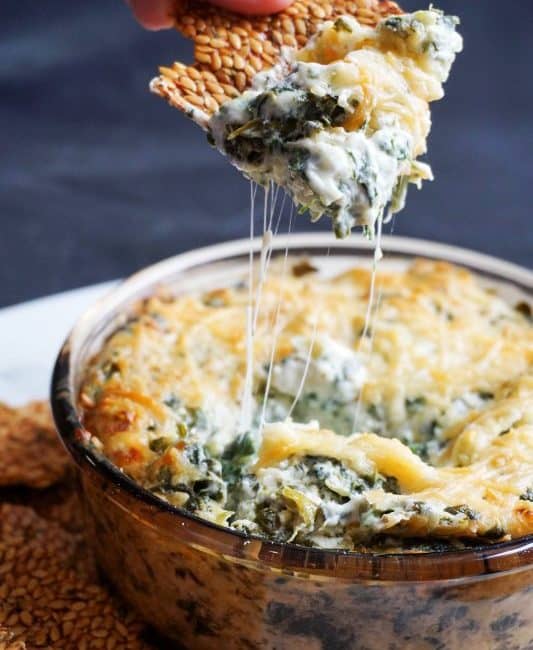 Easy Spinach Artichoke Dip
Total Time 40 minutes
Servings 4 servings
Calories per serving 218.25kcal
Prep Time: 5 minutes
Cook Time: 35 minutes
Instructions:
Thaw and drain frozen spinach and set aside.

In another bowl combine room temperature (or microwaved) cream cheese, sour cream, parmesan, garlic, salt and pepper.

Add spinach and drained and chopped artichoke to cream cheese mixture and combine well.

Pour mixture into a baking dish and sprinkle with additional parmesan cheese on top.

Bake at 350 degrees for 30 minutes and broil for 3-5 minutes until cheese turns golden brown.

Serve warm with flackers or veggies and enjoy!
Nutrition Facts
Easy Spinach Artichoke Dip
Amount Per Serving
Calories 218.25 Calories from Fat 169
% Daily Value*
Fat 18.75g29%
Carbohydrates 5g2%
Fiber 1.25g5%
Protein 5.25g11%
* Percent Daily Values are based on a 2000 calorie diet.
Written By