Your dreams are now reality with this amazing Chicken Crust Pizza recipe. It sounds too good to be true, but believe us when we say this is the best keto pizza crust we have ever created. All you need is three ingredients, 15 minutes, and all of your favorite keto low carb toppings.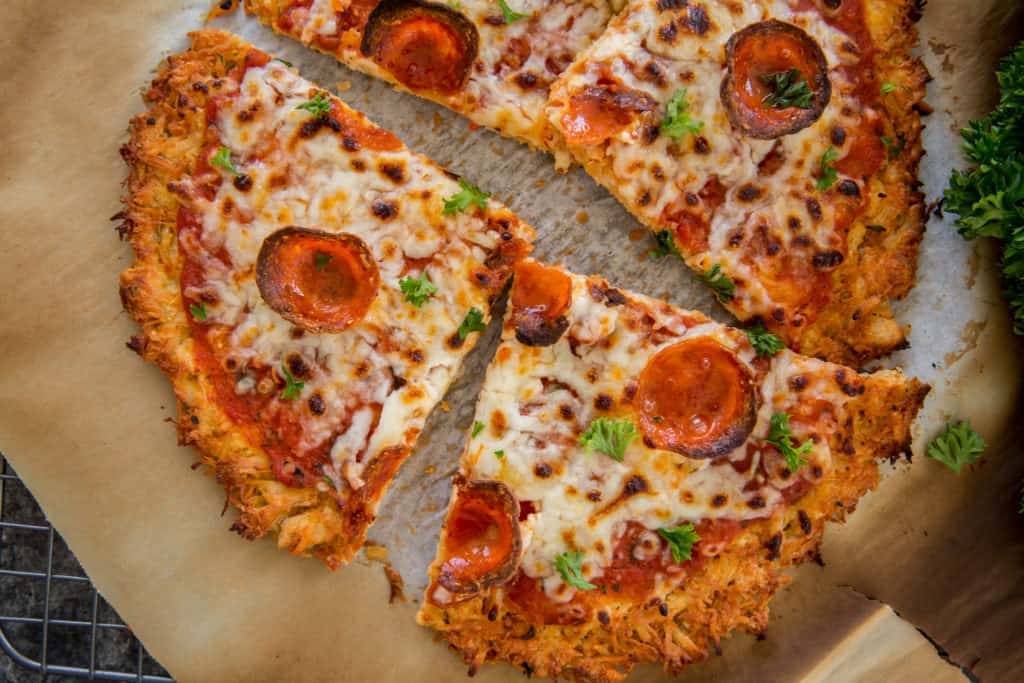 While our keto bread recipe was a minor miracle at just 1.25g carbs per slice, this is a whole other level. Clocking in at just 1g of net carbs for THE ENTIRE PIZZA CRUST recipe, this promises to be lowest carb pizza you will ever make.
Chicken Crust Pizza or Fathead Crust?
Whether you're new to the keto diet, or a long-time veteran, you've most likely heard of fathead dough, which is a blend of almond flour, cream cheese, shredded cheese and egg. What is the keto chicken crust pizza made with? Chicken, egg and a tiny bit of Parmesan cheese.
We strongly prefer this chicken pizza crust for a number of reasons, but if you're going purely for taste, then that will be a personal preference. One reason you might opt for a fathead pizza is because it is a bit easier to make than this low carb chicken pizza crust.
Chicken Pizza Crust is Lower Carb
There are a couple carbs from the egg and cheese, but other than that this crust is essentially zero carb. Fathead crust is made from almond flour, cream cheese, egg, and shredded cheese which can add up to quite a few carbs, especially when you're topping it with lots of veggies and tomato sauce. It's always nice to start with a crust that is lower in carbs because it leaves you with more options for toppings!
There is Too Much Cheese on Fathead Pizza
Everyone loves cheese on top of their pizza, but then you're essentially eating a cheese crust topped with MORE cheese. The keto chicken crust pizza recipe is great because there is only a small amount of cheese added to the crust, leaving you with plenty of room for more cheese on top.
Fathead is Higher in Calories
Much higher! Not everyone counts calories when on a keto diet, but if you are, then the chicken breast pizza crust is a far better option than the fathead pizza. Almond flour is very calorie-dense and cheese is one of those foods that you can eat a lot of without realizing it. If you're using a ketogenic diet for weight loss then you definitely want to opt for the low carb keto chicken crust pizza.
Chicken Crust is More Filling
The crust of this pizza is essentially pure protein, making it extremely filling in comparison to the cheese and almond flour fathead dough. Top it with some fat of your choice like pesto, cheese, or sausage and you have an easy keto meal that satisfies for hours. Bodybuilders love this protein pizza crust as well!
Nut Free Pizza Crust
This chicken pizza crust is nut free, unlike a lot of the alternatives you will find on the internet. Using a simple combination of chicken, cheese, and egg, this crust is the ideal option for those of you on a nut free keto diet.
How to Make the Chicken Pizza Crust
Making a chicken crust pizza is very straightforward, and there is a video included in this recipe post for your convenience. We'll share some of our tips for making this recipe as simply and as tasty as possible here.
Choose Your Chicken
This is the most important step to this recipe. Your options when it comes to chicken are ground chicken and canned chicken. There are pros and cons to each, but we strongly prefer using good quality canned chicken over raw ground chicken for this recipe because you will get a much crispier keto chicken pizza crust.
Ground Chicken
This is NOT recommended, although if it's all you have then raw ground chicken will suffice. The downside with using ground chicken or even ground turkey is that you do not get anything that remotely resembles a pizza crust. If you want something similar to a New York style pizza crust then you're going to want to skip the ground chicken and move on to our recommended option…
Canned Chicken
Now you may not even be aware that canned chicken exists, but don't be scared off! Canned chicken absolutely makes the best chicken crust pizza. It is easier to remove the moisture from by baking in the oven for a few minutes prior to assembling the crust, which makes it much more crispy.
Another benefit is that your finished pizza doesn't have a strong chicken flavor to it. Remember… we are trying to recreate an actual pizza, not create a whole new thing that is loosely related to pizza 🙂
Note: When buying your chicken be sure to read the ingredients label. The cheaper, lower quality options have fillers in them like tapioca starch, rice starch and maltodextrin. Also be sure to get chicken breast in water, as opposed to the different oils they will commonly contain.
Here is an example of a good canned chicken option. They can be found in the canned meats section near the sardines and tuna.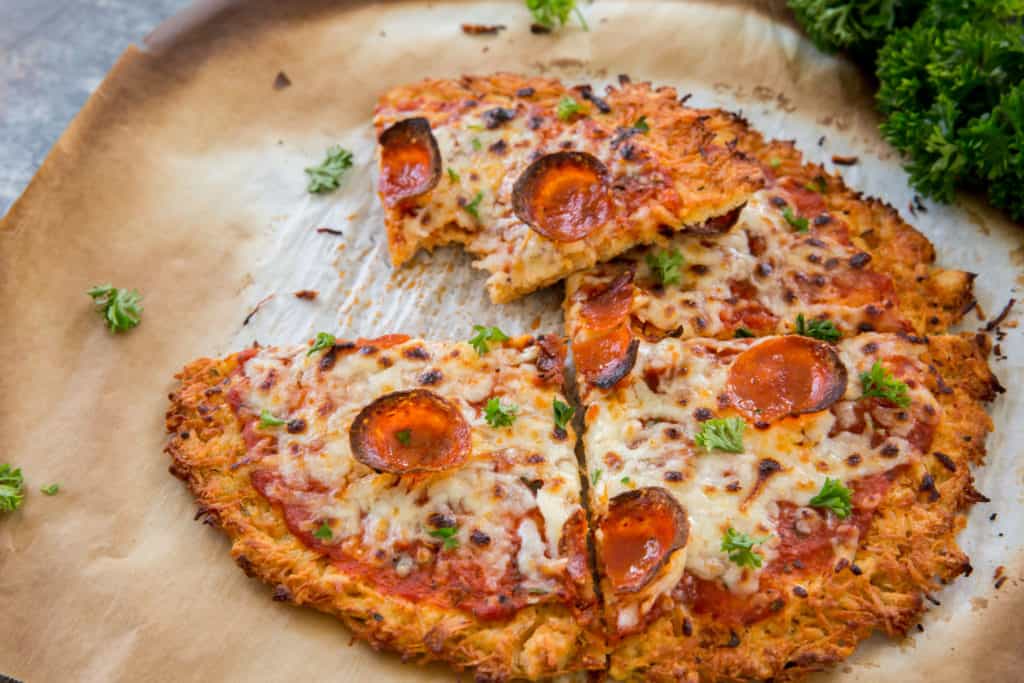 Eliminate as Much Moisture as Possible
This gets you the crispy crust that we are so desperately pursuing. The big step here is to dry out your chicken in the oven for 5-10 minutes prior to assembling the rest of the ingredients. Drying out chicken doesn't sound like the recipe for a tasty meal, but trust us! If you fail to remove some of the moisture from the chicken you will end up with a floppy crust.
Add Egg and Cheese While the Chicken is Warm
Make sure the chicken is not too hot, but is warm enough to melt the cheese and allow everything to combine together into a homogeneous mixture. Beat the egg prior to adding it in with the rest of the ingredients. You can use a variety of different types of Parmesan cheese, but your best bet will be to use grated Parmesan cheese.
Add Seasonings… if You Want
You can add whatever seasonings you like to your chicken breast pizza crust, but we recommend an Italian blend or even some basil to give it that Italian touch every pizza should have. This step is fun because you can alter the seasonings and make some really crazy flavored pizzas if you want. Add in some curry powder and make an Indian chicken pizza…why not?
Use Parchment Paper to Shape the Crust
When working with tough to handle dough like this one, parchment paper can be your best friend. If you place the dough mixture between two pieces and then use a rolling pin to flatten out the low carb pizza crust you will easily be able to form the dough to your liking.
Thinner is Better
While you might be a deep dish die hard, the best way to make this keto chicken pizza crust is as thin as possible. This will get you the most pizza-like experience by crisping up the crust enough so it doesn't get soggy when you add the toppings. I will usually flatten it as much as I can by applying pressure with a rolling pin until it looks good. If you want to take it to the next level you can use a pizza stone for baking this pizza.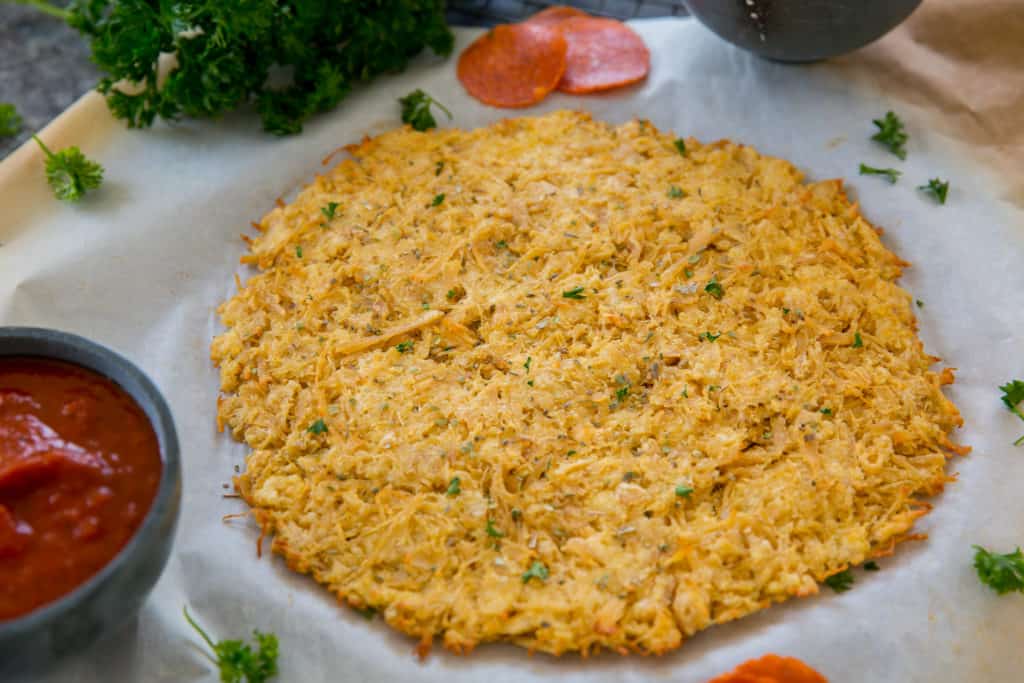 Toppings for a High Protein Pizza
We hate to break it to you, but if you like pineapple on pizza, you're going to have to cut it out or at least cut back when you're making a keto pizza. Don't worry, there are plenty of low-carb toppings you are going to love.
Low-Carb Pizza Sauce Options
BUY NO SUGAR ADDED PIZZA SAUCE
All pizza sauce is going to have some amount of sugar just because tomatoes have naturally occurring sugars in them. The best you can do is find an option with no added sugar. The brands that are widely available, and that we usually opt for are as follows:
Try our homemade keto tomato sauce if you have a few extra minutes to spare.
You're usually looking at 3-4 grams of carbs per 1/4 cup of sauce, which isn't too bad if you use less than 1 cup per pizza.
PESTO SAUCE
Pesto sauce is actually going to be your best option when it comes to keto pizza sauce. It's typically made with a combination of oil, nuts, cheese, herbs and spices. Pesto sauce packs more flavor than traditional pizza sauce – so a little will go a long way.
The carb count on pesto will always be lower than normal pizza sauce. You just want to check and make sure the pesto is made with good fats (typically olive oil) and not with harmful vegetable oils (like canola or soybean oil). Here is some of our favorites:
NO SAUCE
You can always opt to skip the sauce. When we don't have sauce at home and don't feel like taking the time to make some from scratch, we will often just drizzle some olive oil on the keto chicken pizza crust and fill it up with toppings.
Low Carb Pizza Toppings
Pepperoni
Bacon
Salami
Chicken
Sausage
Onion
Bell Pepper
Jalapeno Pepper
Mushrooms
Our Favorite Keto Pizza Toppings
Toppings mostly come down to personal preference, but you'll be happy to know that just about every traditional pizza topping is keto friendly. Some of our favorite keto pizza toppings are:
Pesto sauce with fresh mozzarella cheese.
Classic cheese and pepperoni.
Prosciutto, olive oil and walnuts (when we're feeling fancy).
The topping combinations are truly endless. We hope you take this chicken crust pizza recipe and make it your own. Experiment with different flavors and toppings. Make mini crusts and let the whole family choose their own toppings.
Low Carb Keto Pizzas for Everyone
At KetoConnect, we pride ourselves on making the most delicious keto recipes we possibly can. We are strong believers that by creating tasty keto recipes, such as this No Carb Pizza Crust, and making them simple and straightforward, we make a ketogenic diet easier to follow. That is our mission. This crust is one of our strongest contributions toward that mission so far.
The ingredients are as simple as can be, the steps are easy to follow, and the end product is truly sensational. With that being said, you might be looking for a different keto crust recipe. We've told you our favorite recipe, now it's time to let you decide on your favorite. Try our very popular fathead pizza recipe and let us know which keto pizza takes the crown!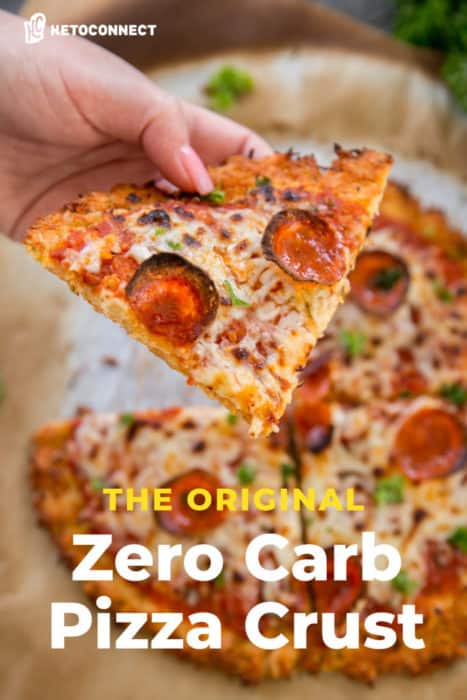 For easy adding to MyFitnessPal search – "KetoConnect No Carb Pizza Crust"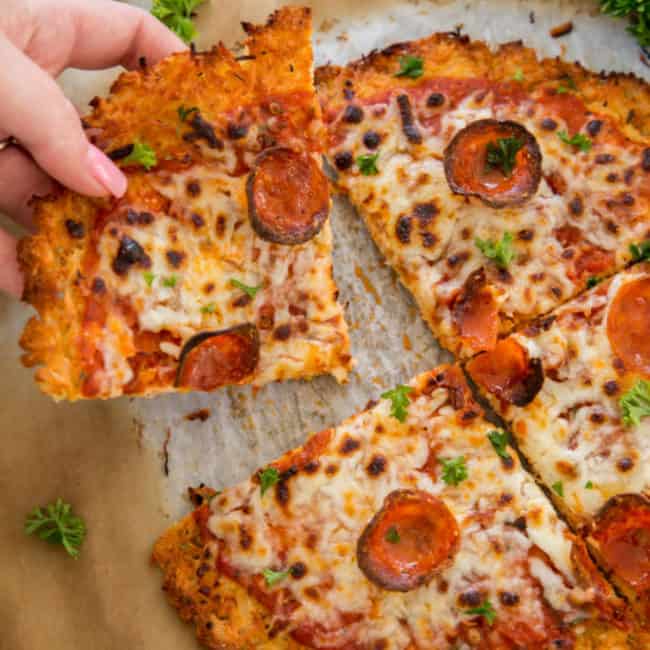 Chicken Crust Pizza Recipe
This entire chicken pizza crust clocks in at under 1g of TOTAL CARBS! It goes great with a high fat pesto sauce for a fun keto dinner.
Total Time 30 minutes
Servings 1 8-10 Inch Crust
Calories per serving 408kcal
Prep Time: 5 minutes
Cook Time: 25 minutes
Instructions:
Thoroughly drain the canned chicken, getting as much moisture out as possible.

Spread chicken on a baking sheet lined with a silicon mat. Bake at 350 for 10 minutes to dry out the chicken.

Once chicken is done baking for 10 minutes remove and place in a mixing bowl. Increase heat of oven to 500 degrees.

Add cheese and egg to the bowl with chicken and mix.

Pour mixture onto baking sheet lined with a silicon mat and spread thin. Placing parchment paper on top and using a rolling pin makes this easier.

Optional: With a spatula, press the edges of the crust in to create a ridge for the crust. This is beneficial is you're using toppings that may slide off (i.e. eggs).

Bake the crust for 8-10 minutes at 500 degrees Farenheit.

Remove crust from oven. Add desired toppings and bake for another 6-10 minutes at 500 degrees. Toppings will dictate final cooking time.

Remove from oven and allow to cool for a few minutes. Your life is now changed. Enjoy!
Nutrition Facts
Chicken Crust Pizza Recipe
Amount Per Serving
Calories 408 Calories from Fat 153
% Daily Value*
Fat 17g26%
Carbohydrates 1g0%
Protein 61g122%
* Percent Daily Values are based on a 2000 calorie diet.
Written By