We've turned dreams into reality with this amazing No Carb Pizza Crust recipe! It's truly exceptional in every way. All you need is three ingredients, about 15 minutes, and a bunch of delicious toppings of your choice. We know you hate reading, so we put together a quick keto pizza crust recipe video here to show you exactly how to make this.
Not Your Typical Cheese Crust Pizza
You're probably thinking this is just a normal, flimsy cheese crust pizza right? I mean, how else would you make a no-carb pizza crust? Well, let me tell you a bit of an origin story for what is the definitive best keto pizza crust recipe we've ever tried.
We contacted Real Good Pizza to do a review of their low-carb pizzas. We did the review which can be found here(YouTube Review, Blog Post Review), and we loved them. They are unique in the fact that the crust is made out of chicken! This blew our minds and got us in the mood to experiment with our own chicken pizza crust recipe. Real Good Pizza is awesome if you're in a time crunch, but the downside is that they are quite costly. We decided we owed it to our viewers and reader to make our own version! And that's exactly where this No-Carb Pizza Crust recipe came from!
Keto Pizza Ingredients
Check it out! This crust only requires three ingredients. You need a can of chicken (I know...), parmesan cheese, and an egg. When you're looking for canned chicken it's important to read the label. A lot of them will be full of starches, maltodextrin and other preservatives. It is possible to find some that are only chicken, water and salt though! If you can score one of those, definitely pick it up!
Here is an example of a good option.
Here is an example of a not so good option.(It's still ok if you can't find anything better though)
We've found freshly grated parmesan cheese adds to the overall flavor and texture of this crust, but it's not required. If all you can get is the can of grated parmesan, that's fine. This can even work with shredded or shaved parmesan, but grated is preferred.
It's a No-Carb Pizza Crust
This is a Pizza crust! It's not one of those "meatza" behemoths that you've seen on the internet, although those are cool too. This is an actual pizza crust that you can put toppings on and enjoy like you would a normal pizza. There is a clear distinction between the toppings and the crust in the final product. What more is there to say? Go make this crust. You'll thank us later!
Carb-Free Pizza Doesn't Mean Flavor Free Pizza
At KetoConnect we pride ourselves on making the most delicious keto recipes we possibly can. We are strong believers that by creating tasty recipes, such as this No-Carb Pizza Crust, and making them simple and straightforward, we make a ketogenic diet easier to follow. That is our mission! This No-Carb Pizza crust is one of our strongest contributions toward that mission so far.
The ingredients are as simple as can be, the steps are easy to follow, and the end product is truly sensational. We've got a couple other keto pizza recipes you can check out if you're interested in figuring out for yourself which one's the best.
Feel free to comment below and let us know which one's your favorite. This No-Carb Pizza Crust is officially ours!
For easy adding to MyFitnessPal search - "KetoConnect No Carb Pizza Crust"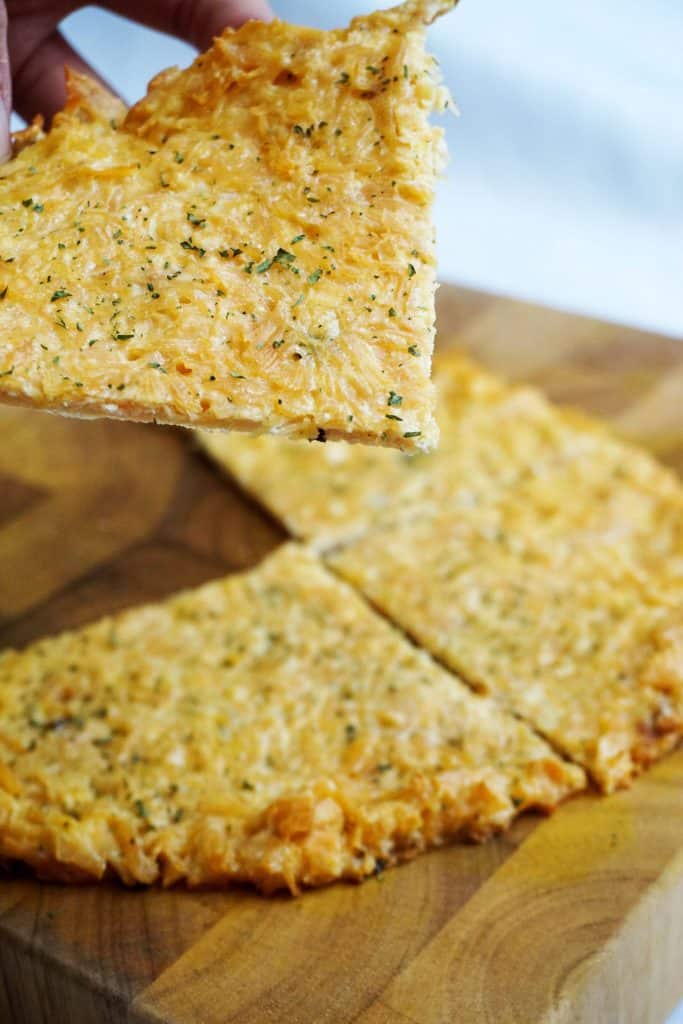 No Carb Pizza Crust
Servings:
1
8-10 Inch Crust
Print Recipe
Instructions
Thoroughly drain the canned chicken, getting as much moisture out as possible.

Spread chicken on a baking sheet lined with a

silicon mat

. Bake at 350 for 10 minutes to dry out the chicken.

Once chicken is done baking for 10 minutes remove and place in a mixing bowl. Increase heat of oven to 500 degrees.

Add cheese and egg to the bowl with chicken and mix.

Pour mixture onto baking sheet lined with a silicon mat and spread thin. Placing parchment paper on top and using a rolling pin makes this easier.

Optional: With a spatula press the edges of the crust in to for a ridge for the crust. This is beneficial is you're using topping that may slide off(i.e. eggs).

Bake the crust for 8-10 minutes at 500 degrees.

Remove crust from oven. Add desired toppings and bake for another 6-10 minutes at 500 degrees. Toppings will dictate final cook time.

Remove from oven and allow to cool for a few minutes. Your life is now changed. Enjoy!
Nutrition
Calories:
408
kcal
|
Carbohydrates:
1
g
|
Protein:
61
g
|
Fat:
17
g