There is always an occasion throughout the year where a quick, go-to appetizer recipes can come in handy. In which case, at the very least you will be probably be making this Bacon Keto Jalapeno Poppers recipe 8 times a year!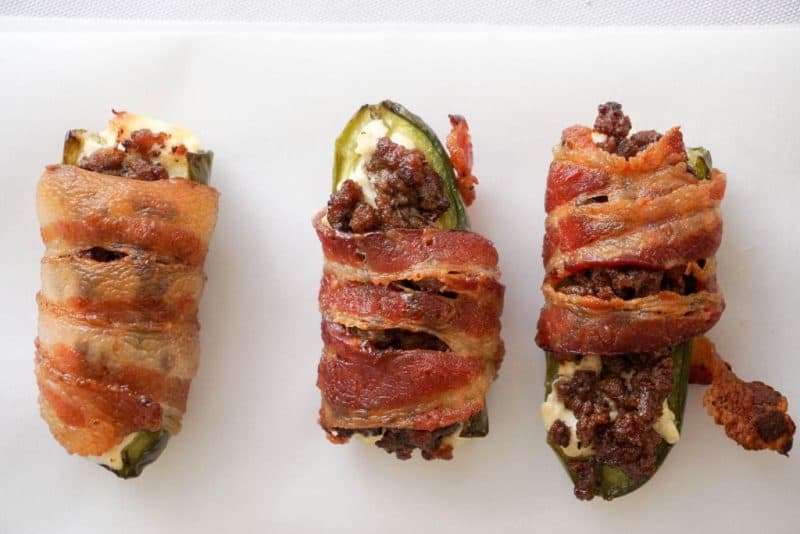 Are Jalapenos ok on Keto?
Our keto jalapeño poppers are made with regular green jalapenos that you can find in almost any grocery store. Jalapenos are a low carb keto friendly vegetable with only 0.5 grams of net carbs a pepper.
Being that they are a vegetable, jalapenos are gluten free and have a bit of fiber to help lower the total carbs from 0.9 grams a pepper to 0.5 grams of net carbs.
They make the perfect easy keto boat for fillings and dips without adding many carbs per serving, which is why we definitely recommend enjoying them on a keto diet if you already like hot peppers.
Are There Carbs in Jalapenos?
As stated above, even though jalapenos are a vegetable; they do still have carbs. Each pepper contains 0.9 grams of total carbs per serving and 0.4 grams of fiber. Meaning the net carbs lower to 0.5 and allow you to eat a large portion without any real carb repercussions.
How Many Carbs are in Keto Jalapeno Poppers?
Although the changes you make in the filling will alter the nutrition below, the base of this appetizer – meat, cheese, and bacon is extremely keto friendly, therefore low carb and high fat!
There will be no need for guilt with each popper you eat because you know they fit into your macros with ease. Plus you even get the bonus of a delicious party appetizer that tastes even better than you could have hoped.
Per popper (1 serving size) there are 57 calories, 4.6 grams of fat, 3.5 grams of protein, 0.8 grams of carbs, and 0.6 grams of net carbs. Jalapeno peppers are truly the perfect low carb boat for delicious keto fillings.
Are Jalapeno Poppers Really Spicy?
This is a great recipe for so many occasions because it has a super flavorful filling and is a great finger food. That being said, this may not be the perfect food for those adverse to spice.
Most of the spice in jalapenos lives in the seeds and membrane. The membrane or ribs is what contains the most concentrated dose of capsaicin and the seeds are touching it which is what gives them that spicy kick.
However, when you remove the seeds and ribs you take away about 80% of the jalapeños spice. Plus, after they have baked they have even less spice. Now, this isn't to say they will have no spice, just less.
If you love spice, leave the ribs in. If not, you may want to take out every possible bit of seeds and membrane.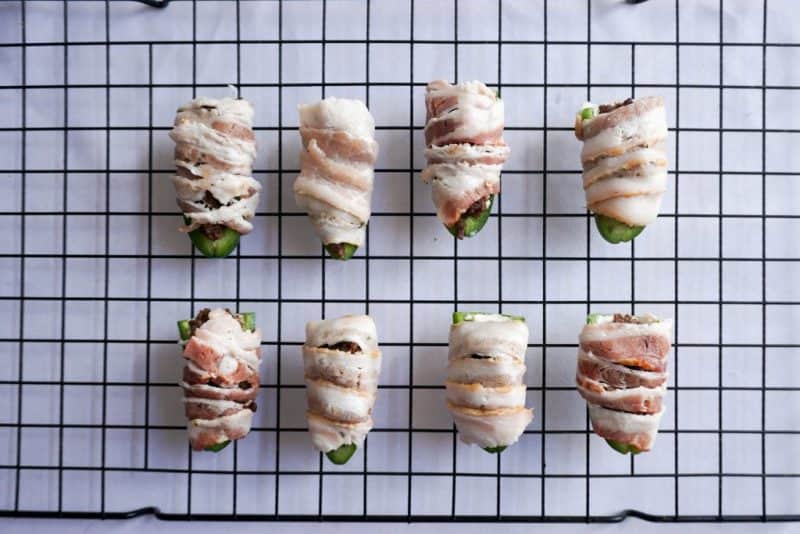 Avoiding Injury- Fresh Peppers are Spicy!
One of our biggest pro tips to avoid eye irritation is wearing gloves. Disposable plastic gloves are a must have for anyone that makes a lot of poppers, or recipes with jalapeno peppers.
The capsaicin in peppers, especially their seeds is known for causing skin irritation from all the spice. So while making a small bowl of filling for your jalapeno halves might not seem like much contact, filling peppers alone is enough to get some capsaicin on your fingers and burn later.
By wearing disposable gloves the capsaicin doesn't get trapped in your skin folds and bother you later when you go to touch your eyes, nose, or mouth. Once you put them into the oven to bake there is less of an issue with spicy hands, but during the pepper prepping stages it's super important to cover up.
How to Make Keto Jalapeno Poppers
When you are ready to spice up your party and make a super delicious keto friendly appetizer, it's time to break out the keto jalapeño poppers.
This is one of the easiest low carb recipes to make that takes barely any time but tastes delicious. So, preheat the oven and let's make this recipe the best keto appetizer of all time!
Ingredients
To make low carb jalapeño poppers you will need cream cheese (we used the full fat variety), jalapenos, bacon, ground beef, salt and pepper.
Making Keto Jalapeño Poppers
You're going to be shocked at just how easy it is to make jalapeno poppers keto! Start by preheating your oven to 400 degrees before preparing the filling.
Start by cooking the ground beef in a pan on medium heat until fully cooked. Season with salt and pepper to taste.
Now cut the jalapenos in half and remove the seeds and membranes. Jalapeño peppers seeds and membranes are what hold the most spice so if they aren't hot enough for you, just leave the seeds in next time!
Fill the pepper insides with cream cheese. Make sure not to overfill or you won't be able to fit in any ground beef!
Now top with the beef and prepare your bacon. To make bacon wrapped jalapeno poppers you will need to cut the bacon in half lengthwise and wrap it around your filled poppers. We use about 1/2 a slice of bacon for each jalapeno popper.
Place the poppers onto a baking rack on top of a baking sheet and then cook for 30 minutes. Optionally you can top the poppers with shredded cheddar cheese before bacon wrapping for extra cheesy goodness.
How to Store Keto Jalapeño Poppers
Made a few too many party snacks for your last get together? No worries, these popper store well in the fridge for about a week.
Place them into an airtight container and reheat in the microwave for 30 seconds when ready to eat again.
How to Freeze Jalapeño Poppers
If you want to make a bulk batch of a keto snack food this is the perfect recipe. These bacon wrapped poppers store great in the freezer for up to two months!
To freeze the poppers first allow the cooked ones to cool completely. Then freeze them on a baking sheet until chilled all the way through.
Once they have frozen on the baking sheet place them into a freezer safe zip top bag. These jalapeño poppers will store well for 1-2 months.
Reheating Low Carb Jalapeño Poppers
To reheat these jalapeno poppers place 2-3 on a plate and microwave for 20-30 seconds. You want them hot, but not so hot the cream cheese explodes.
From Frozen: Reheating anything from frozen is a different ballgame. You want to make sure the outside AND inside is evenly hot.
It is best to reheat frozen jalapeño peppers in the oven at 350 until heated throughout (10-15 minutes). Or you can use the air fryer for a faster reheat (400 for 7-10 minutes).
Changing up the Fillings
These are pretty darn spicy so if you don't love spicy foods go heavy on the cream cheese! Feel free to use other kinds of jalapeños too – the yellow and orange ones tend to be sweeter.
We love getting crazy with our fillings; finding that you can go pretty traditional, or pretty wacky and still have your keto jalapeño poppers taste good.
Some of our favorite low carb jalapeno popper fillings are:
Chicken and Cheddar Cheese– This can be made with regular shredded chicken or even Mexican seasoned pulled chicken.
Chorizo and Queso Fresco– Another Mexican take on the recipe that makes show stopping jalapeno poppers keto. Try it with a squeeze of lime and then dipped in guacamole for added flavor.
The Vegetarian– Now we aren't normally vegetarians, but for this variation we'll make an exception. Stuff your low carb keto jalapeno poppers with mushrooms, onions, and of course cheese! If you feel like dipping into the meaty realm, wrap this recipe in bacon.
The possibilities are truly endless because bacon wrapped anything is always delicious!
If you aren't sure how to adapt the recipe an easy way is to remove the seeds and membranes, and then fill them with a cream cheese mixture that has your desired mix-ins minus the cheese. Top with whatever cheese you prefer, bacon wrap if desired, and bake.
All those super tasty mix-ins will be hiding to surprise you in the cream cheese filling!
Using Beef vs. Sausage
We've talked about big ingredient changes and flavor changes to the poppers, but not really traditional substitutions for recipes like the type of meat used.
If you don't have beef, or aren't a fan of it, sausage is a great filling option that's still super low carb. It's not normally in traditional jalapeno popper recipes, but is a great flavor change up from beef.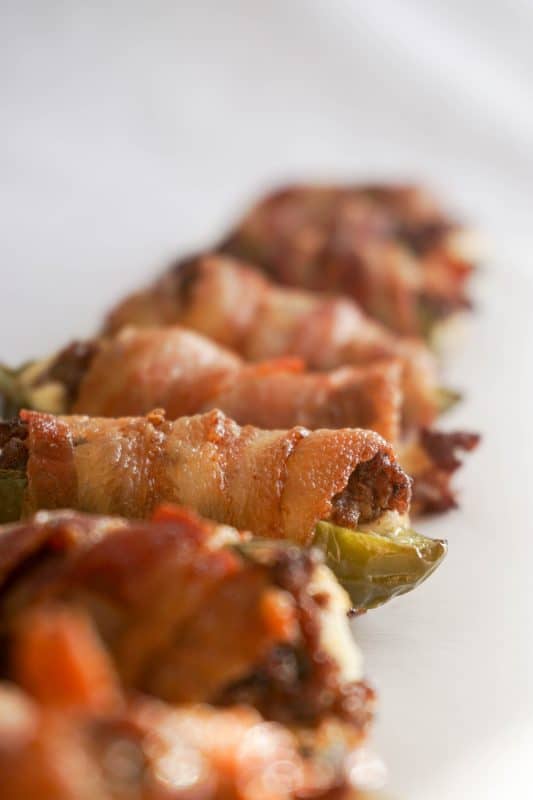 More Keto Party Snacks
Couldn't get enough of these keto jalapeno poppers and want to make more tasty keto appetizers? Some of our favorite recipes are:
We have tons of healthy low carb appetizers on our site to enjoy, these are just a few of our tastiest!
Keto Jalapeno Poppers
What makes this recipe so easy to make, but complex taste wise, is all the layers. Each bite is different, sometimes heavier on the cream cheese, sometimes heavier on the ground beef! It's fun to put together and present beautifully. Anyone who sees these will not only be impressed, but also excited to dig in!
So, if you're planning your next big party, or small family gathering don't forget to add these to the menu and watch them be devoured by both keto and non-keto family and friends alike.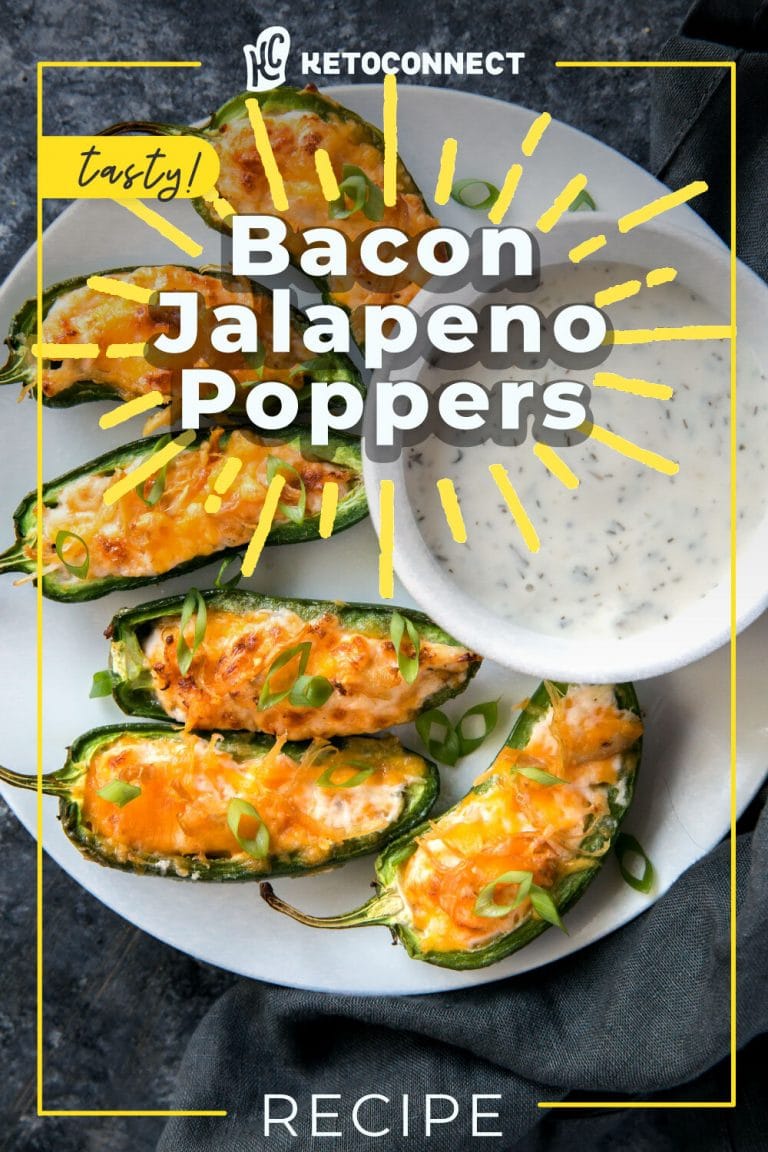 Search "KetoConnect – Bacon Jalapeno Poppers" on MyFitnessPal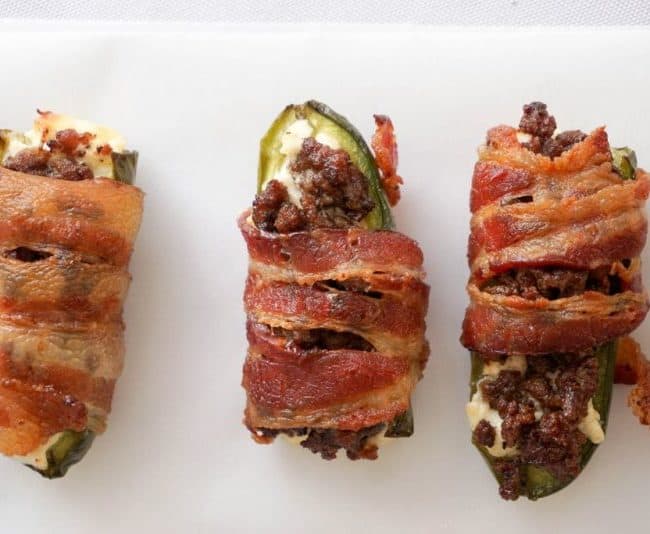 Bacon Keto Jalapeno Poppers Recipe
There is always a time throughout the year where this bacon jalapeno popper appetizer recipe can come in handy!
Total Time 45 minutes
Servings 16 poppers
Calories per serving 56.9kcal
Prep Time: 5 minutes
Cook Time: 40 minutes
Ingredients:
8 medium jalapenos
6 oz ground beef
8 slices bacon
2 oz Cream Cheese
Salt + Pepper
Instructions:
Place ground beef in a pan on medium heat and allow it to fully cook. Season with salt and pepper and set aside to cool.

Cut jalapenos in half lengthwise and remove the seeds.

Spread cream cheese inside each jalapeno half. Don't overfill with cream cheese or it will be hard to fit the ground beef in!

Add the ground beef on top of the cream cheese.

Cut each slice of bacon in half length-wise. Wrap the bacon around the jalapeno, being sure to trap all of the fillings in. We use 1/2 slice of bacon per popper.

Place poppers on a baking rack and bake at 400 degrees for 30 minutes. If you do not have a baking rack a simple baking sheet will work. Enjoy!
Nutrition Facts
Bacon Keto Jalapeno Poppers Recipe
Amount Per Serving
Calories 56.9 Calories from Fat 41
% Daily Value*
Fat 4.6g7%
Carbohydrates 0.8g0%
Fiber 0.2g1%
Protein 3.5g7%
* Percent Daily Values are based on a 2000 calorie diet.
Written By