There is always a time throughout the year where a quick, go-to appetizer recipe can come in handy. New years party, Super Bowl party, Valentines dinner, Easter dinner, Fourth of July party, Halloween party, Thanksgiving and Christmas. Not to mention all the other events and party's you'll be having between holidays. So, at the very least you can make this Bacon Jalapeno Poppers recipe 8 times a year!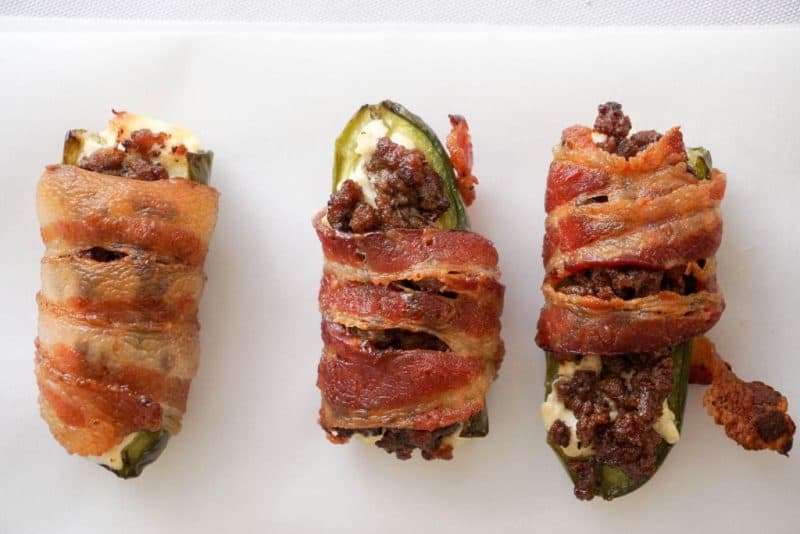 Bacon Jalapeno Poppers: Guaranteed To Satisfy
What makes this recipe so easy to make, but complex taste wise is the layers. Each bite is different, sometimes heavier on the cream cheese, sometimes heavier on the ground beef! It's fun to put together and presents beautifully. Anyone who sees these will not only be impressed, but excited to dig in!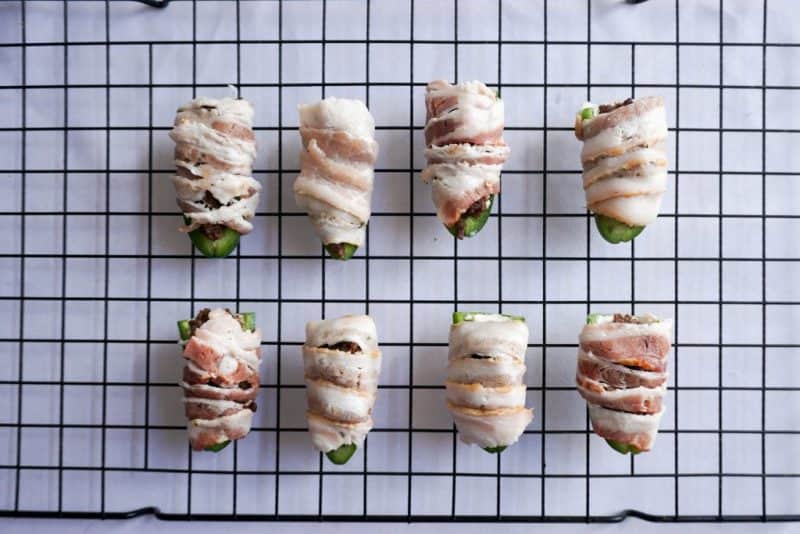 Get Crazy With The Fillings!
With this recipe you can keep it simple and go with the filings we've given you or you can change it up! You can fill the poppers with chicken and cheddar cheese, chorizo and queso fresco, or make it vegetarian with some mushrooms and onions. The possibilities are truly endless because bacon wrapped anything, even dirt, is delicious ?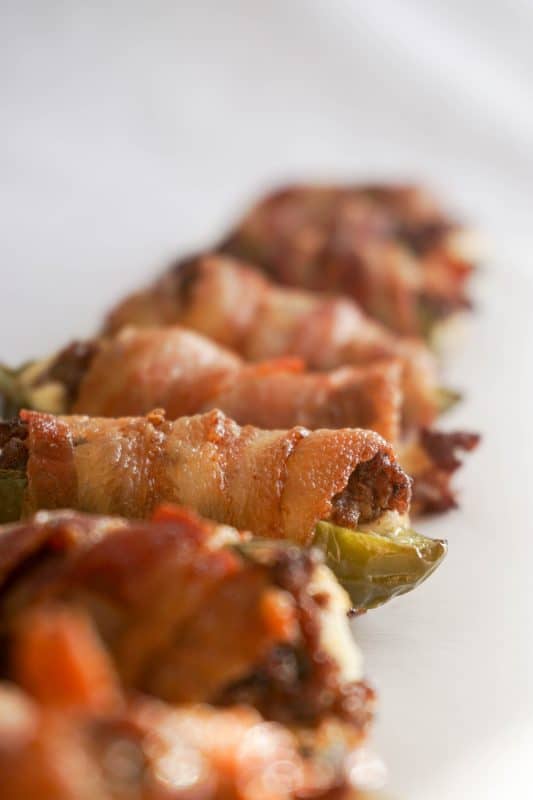 Although the changes you make in the filling will alter the nutrition below, the base of this appetizer – meat, cheese, and bacon is extremely keto friendly, therefore low carb and high fat! There will be no guilty feeling with each popper you pop even though you'll get the delicious party appetizer taste you are expecting! Now, isn't that the best feeling haha. So, if you're planning your next big party, or small family gathering don't forget to add these to the menu and watch them be devoured by keto and non-keto family and friends.

TIP: These are pretty darn spicy so if you don't love spicy foods go heavy on the cream cheese! Feel free to use other kinds of jalapeons too – the yellow and orange ones tend to be sweeter.
Search "KetoConnect – Bacon Jalapeno Poppers" on MyFitnessPal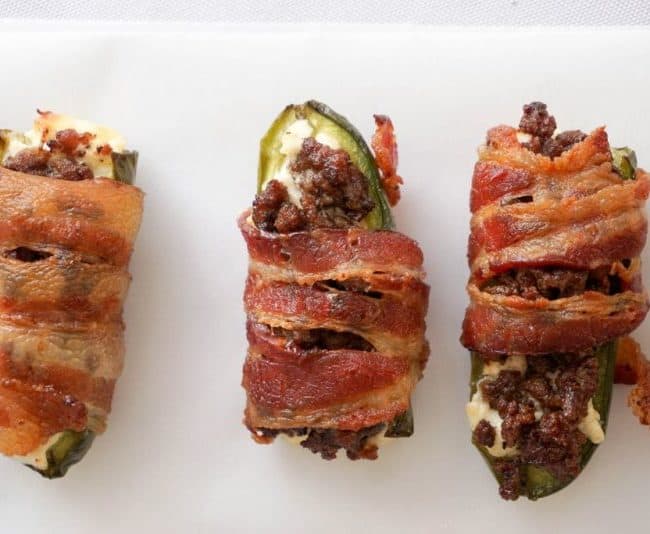 Bacon Jalapeno Poppers
There is always a time throughout the year where this bacon jalapeno popper appetizer recipe can come in handy!
Total Time 45 minutes
Servings 16 poppers
Calories per serving 56.9kcal
Prep Time: 5 minutes
Cook Time: 40 minutes
Ingredients:
8 medium jalapenos
6 oz ground beef
8 slices bacon
2 oz Cream Cheese
Salt + Pepper
Instructions:
Place ground beef in a pan on medium heat and allow it to fully cook. Season with salt and pepper and set aside to cool.

Cut jalapenos in half lengthwise and remove the seeds.

Spread cream cheese inside each jalapeno half. Don't overfill with cream cheese or it will be hard to fit the ground beef in!

Add the ground beef on top of the cream cheese.

Cut each slice of bacon in half length-wise. Wrap the bacon around the jalapeno, being sure to trap all of the fillings in. We use 1/2 slice of bacon per popper.

Place poppers on a baking rack and bake at 400 degrees for 30 minutes. If you do not have a baking rack a simple baking sheet will work. Enjoy!
Nutrition Facts
Bacon Jalapeno Poppers
Amount Per Serving
Calories 56.9 Calories from Fat 41
% Daily Value*
Fat 4.6g7%
Carbohydrates 0.8g0%
Fiber 0.2g1%
Protein 3.5g7%
* Percent Daily Values are based on a 2000 calorie diet.