I am a dip fanatic! It's one of those foods I have no guilt in over eating. You can really never know what a proper serving size is when your just shoveling it into your mouth so why not just enjoy. This French Onion Dip using fresh herbs and caramelized onions to take your dip status to the next level!
Holiday Appetizers
Celebrating the holidays with loved ones is one of the best times of the year, but what makes it even more special is the delicious food that comes along with the celebration! From appetizers to desserts, there is plenty to go around. And, if you're looking for some low carb appetizers for this year, we've got you covered!
Check out our dips:
Check out our finger foods: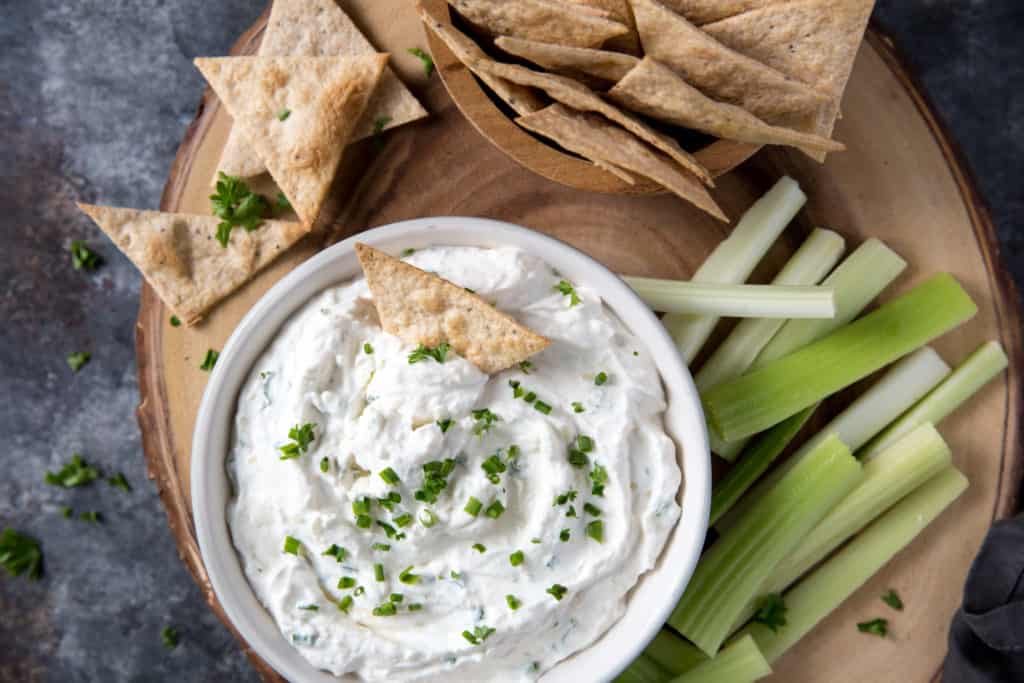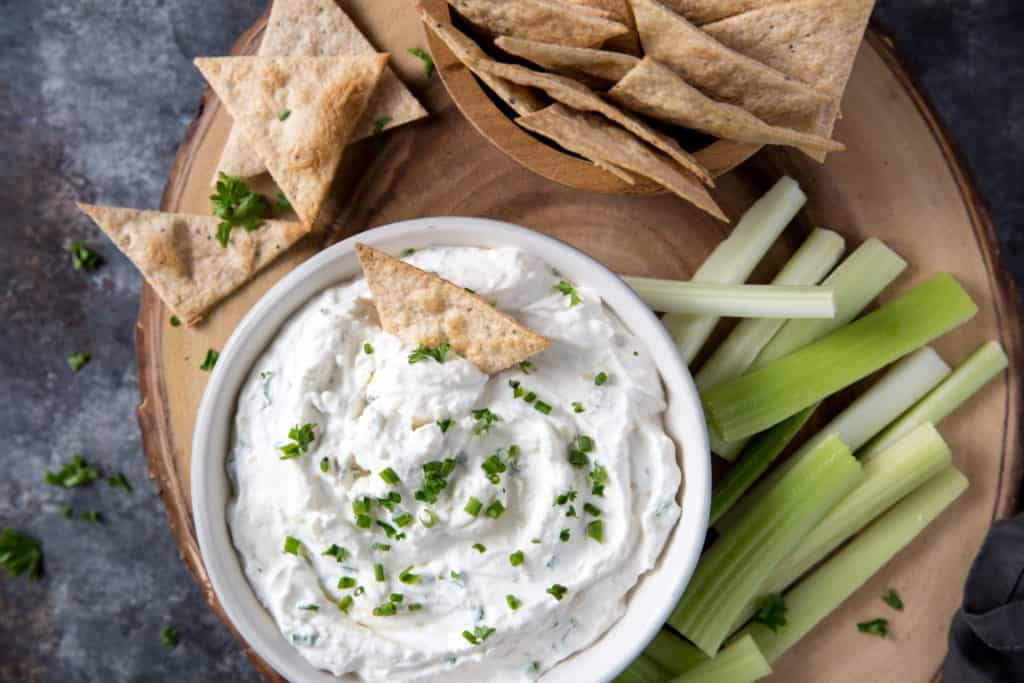 Assembling The Dip
When assembling any dip, whether cold or hot, you always want room temperature ingredients. If the cream cheese in this recipe was cold it wouldn't incorporate into the sour cream smoothly and you would be left with cream cheese chunks . Since some of the ingredients will be room temperature you'll want to make sure you make it ahead of time so you have time to refrigerate it prior to serving!
Serving The Dip
You can't serve a dip without dippers. For all your high carb friends and family options are endless, but tortilla chips or pita chips will always do the trick. But what about for us low carbers? Well, in this recipe I made a really quick low carb chip recipe using low carb tortillas that I will detail below. You can also serve it with an array of veggies or flax seed crackers!
Make The Low Carb Tortilla Chips
Preheat your oven to 350 degrees F and line a baking sheet with parchment paper.
Cut your low carb tortilla up into triangles and place them onto the baking sheet so they aren't touching one another.
Spray both sides with coconut oil spray and bake for 5-7 minutes (watch them because they will burn quickly if left unattended).
Turn the heat to broil for 1-2 minutes, while keeping an eye on them, for a crispy, browned tortilla chip.
Serve immediately! Best stored in a zip top bag on the counter.
Easy French Onion Dip
With how easy it is to make low carb tortilla chips you have no excuse this holiday season. Veggies can get boring and flax seed crackers don't taste as good, but now you have a real chip for your dip! Make this French (caramelized) onion dip in a double or triple batches for holiday gatherings and store it in the fridge in an air tight container for a quick snack or serving option!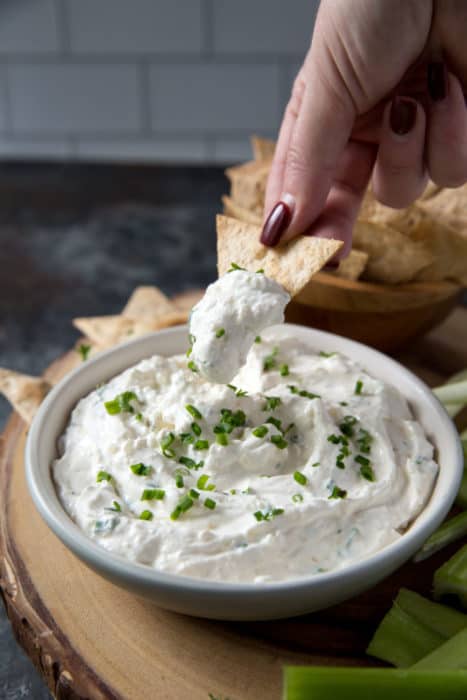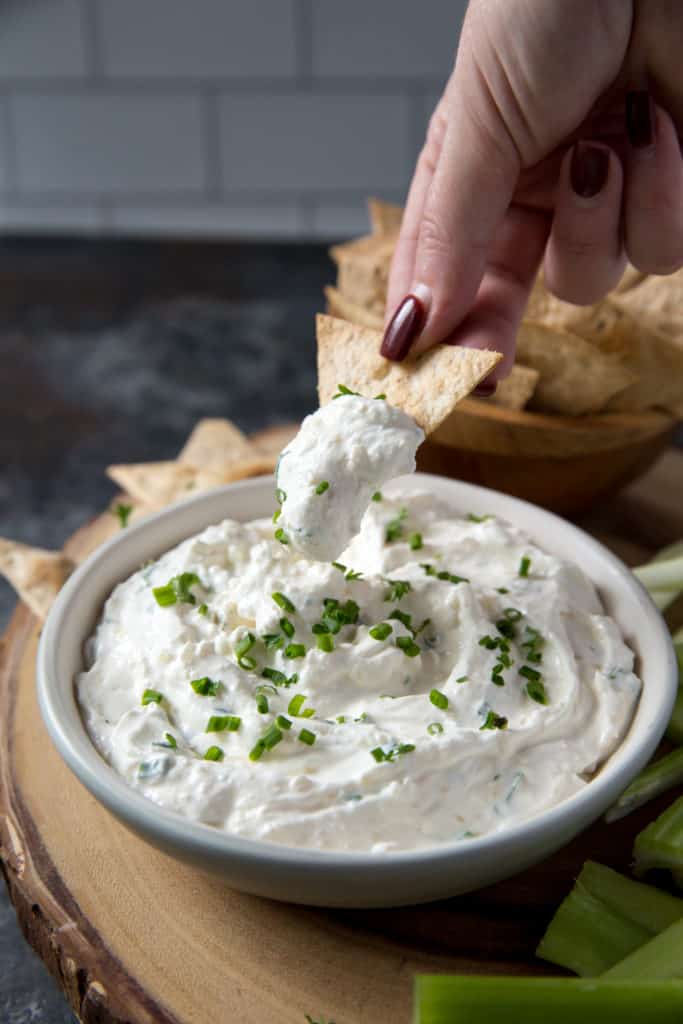 More Holiday Recipes!
We always get bombarded with holiday recipe requests because it's this time of year that is hardest for people to stay on their diets. We are here to remind you that you can indulge in delicious holiday recipes and stay on track without skipping a beat. Check out our food blog for all your holiday favorites! Some of my top recipes to make for family gatherings are:
And, that's only the holiday side recipes! Check out the dessert section for pies, cookies and more!
Recipe can be quickly added to MyFitnessPal – Search "KetoConnect – French Onion Dip"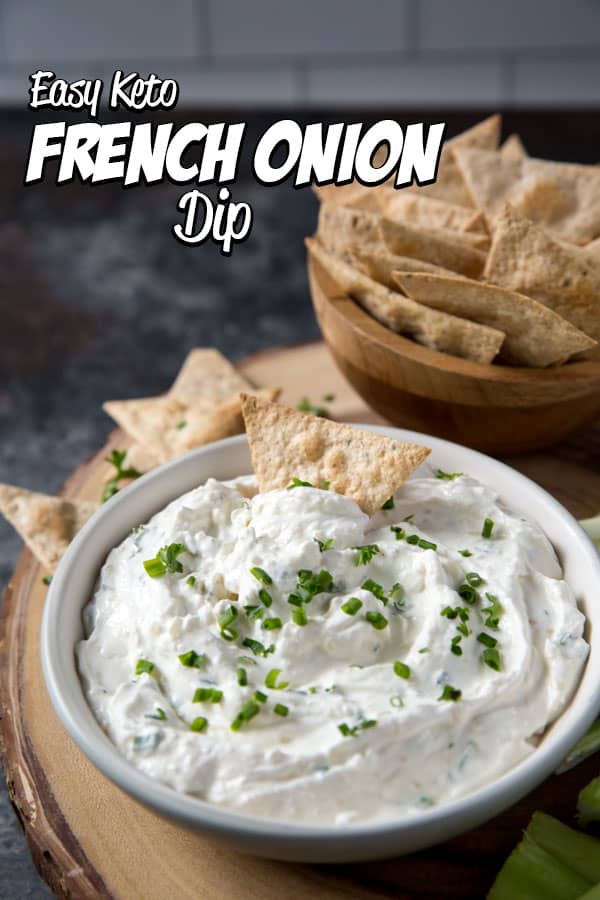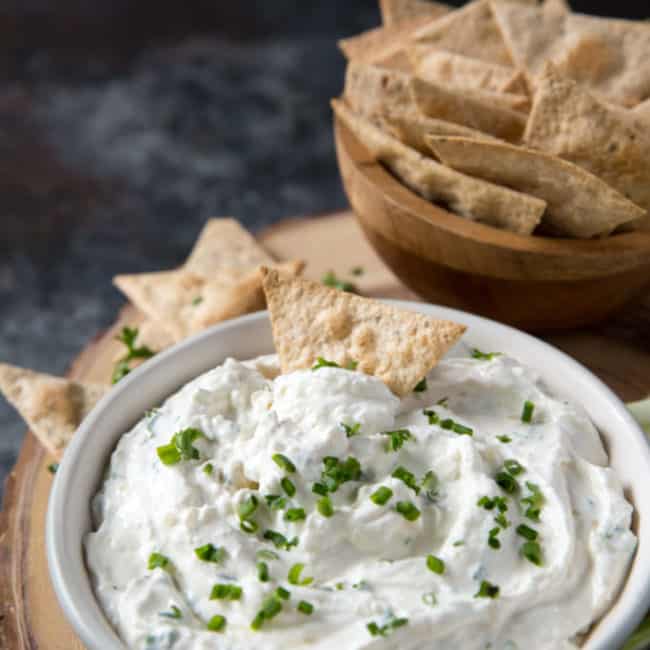 French Onion Dip
A quick keto appetizer dip made with sour cream, cream cheese, garlic, and seasonings.
Servings 6 Servings
Calories per serving 145kcal
Prep Time: 5 minutes
Cook Time: 15 minutes
Instructions:
Heat a medium skillet over medium-low heat and add 1 tbsp butter.

Once the butter has melted, add in the sliced onions and stir using a wooden spoon until all the onions are coated in butter. Allow to cook for 10-15 minutes until browned and soft.

Transfer the onions to a bowl and set aside while you make and refrigerate the dip.

Combine sour cream and cream cheese in a mixing bowl, blending well.

Add chives, parsley, garlic powder, salt, and pepper. Mix until well combined, adjusting seasonings as desired.

Refrigerate for at least 30 minutes to allow flavors to combine. Top with caramelized onions, and serve immediately with veggies and low carb crackers.

Best stored in an air tight container in the fridge up to 7 days.
Notes
Net Carbs: 2.5g Serving Size: 1/6 of the dip
Nutrition Facts
French Onion Dip
Amount Per Serving
Calories 145 Calories from Fat 135
% Daily Value*
Fat 15g23%
Carbohydrates 2.5g1%
Protein 2g4%
* Percent Daily Values are based on a 2000 calorie diet.
Written By