Bacon is a keto delicacy, but what if we told you it could be made in 10 minutes and didn't splatter all over your stove?… This air fryer bacon has a super easy cleanup while still being just as crispy as the regular stovetop bacon. Yet again the air fryer will steal your heart with this recipe!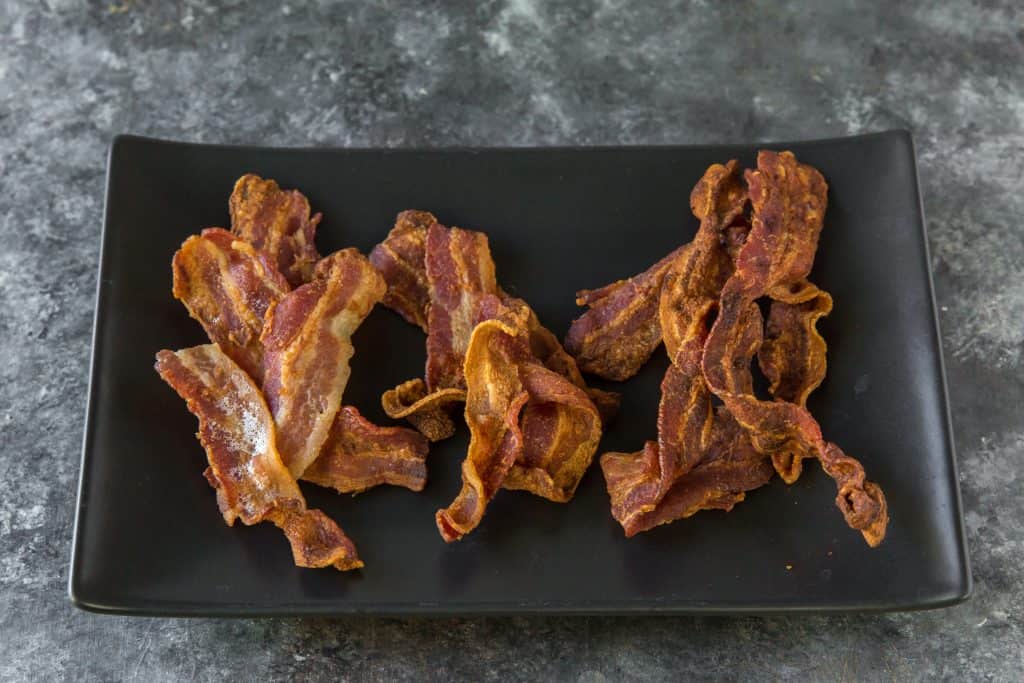 Picking an Air Fryer
The size and type of air fryer you choose really depends on what you want to do with it. If you are purchasing an air fryer with family cooking in mind, it makes sense to get a larger air fryer. We would recommend a 6 qt and above. For a couple or single person 5.8qt and below should be sufficient.
The round egg or square shaped air fryers work best for this recipe. If you use a toaster oven style air fryer it may be more difficult to clean the inside grease that is leftover from the bacon.
Is Cooking Bacon in the Air Fryer Safe?
Yes, cooking bacon in the air fryer is safe as long as you take the necessary precautions. Whenever cooking a food that will create hot grease it's important to prepare and not let that grease get too hot. We always start by saying whatever cooking you do always have baking soda by the stove or nearby to pour overtop if a grease fire starts. So what should you know when cooking air fryer bacon?
Always remove the hot grease in between batches. If you want to cook multiple batches of bacon at a time that's fine. However, you must properly dispose of the hot grease that is currently in the basket or save it for cooking use later.
If you see smoke from the air fryer, open it. That may mean pausing your air fryer first if it locks, but make sure the air fryer is opened and given a moment. There could be bacon stuck in the upper fan, or you may have too much grease heating inside. Fat and oil oxidizes when heated, smoke is just part of the natural oxidation process. If your air fryer is continuously smoking it may be time to give it a deep clean with a towel and degreaser (WHEN COOLED).
You can cook bacon in the air fryer, but it is important to make sure you are following safety precautions when cooking anything greasy to prevent a fire.
How to Make Air Fryer Bacon
Read our tips to find out how to make perfectly crispy air fryer bacon every time.
Ingredients and Tools
This recipe is oh so simple, all you're going to need is two things! For starters you'll need an air fryer for air frying the bacon. We got ours off of amazon, but you can get them at most appliance stores now.
The only ingredient this recipe requires is bacon. The bacon you use is all up to preference. We used uncured regular bacon, but you can use cured thick cut bacon if you prefer. Thick cut bacon may take a minute or two longer in the air fryer than thinner bacon. So if thick cut bacon is your jam, make sure to set the fryer for an extra two minutes and check on it occasionally.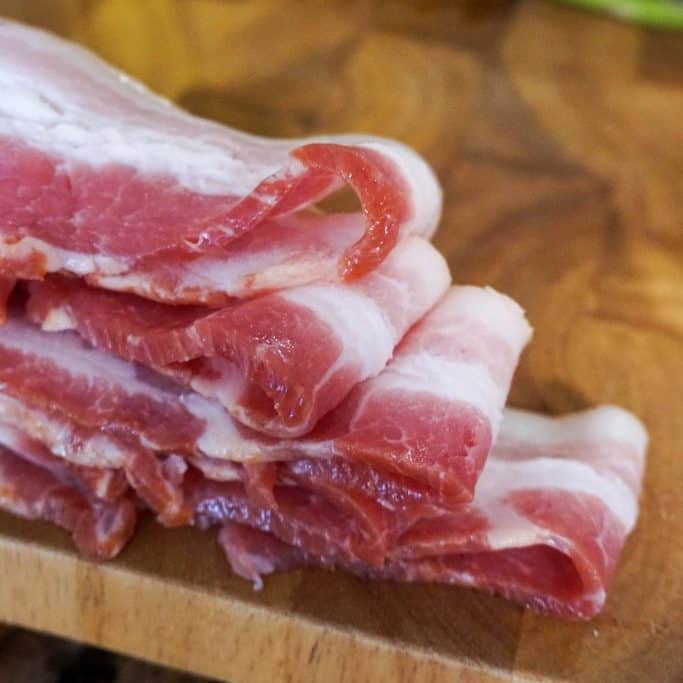 Makin Bacon
The total time for this recipe is only 13 minutes, so what are you waiting for? To begin preheat your air fryer basket to 400F for 3-4 minutes. Remove the air fryer basket and place the bacon in a single layer inside. No need for any parchment paper here.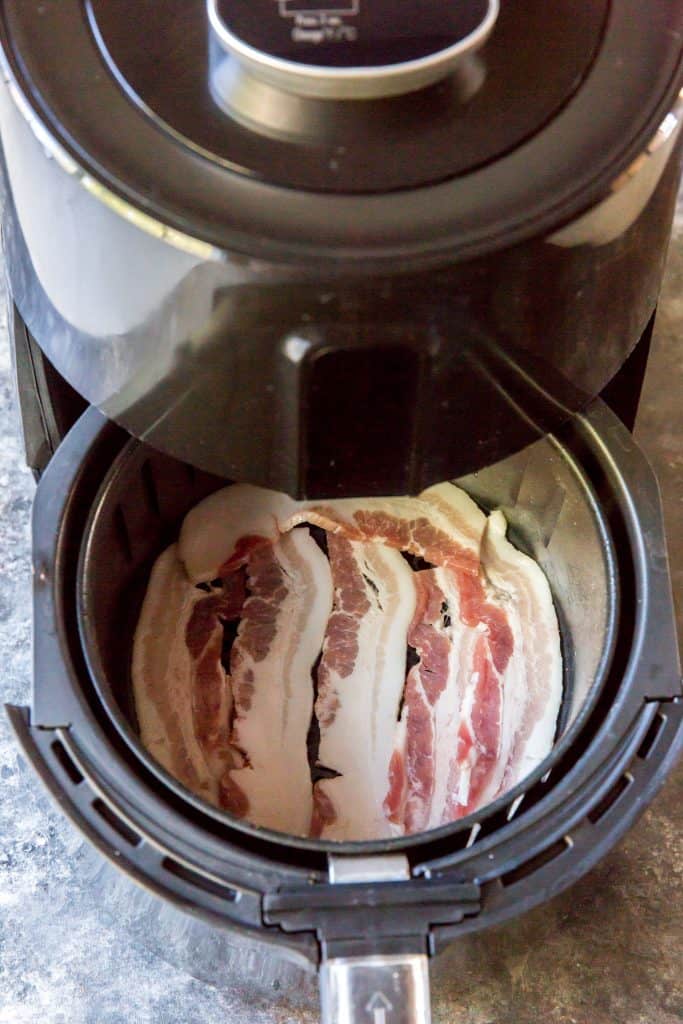 Cook the bacon for 10 minutes or for thicker bacon 12-13. If the air fryer is smoking at all while making the recipe pull open the basket and check there is no bacon in the fan. This smoke is usually caused by the fat oxidizing, so it is important you keep the air fryer clean. You want to make sure you are wiping down the air fryer with paper towels AFTER cooking the bacon. It must be cool while doing so, as to not burn yourself.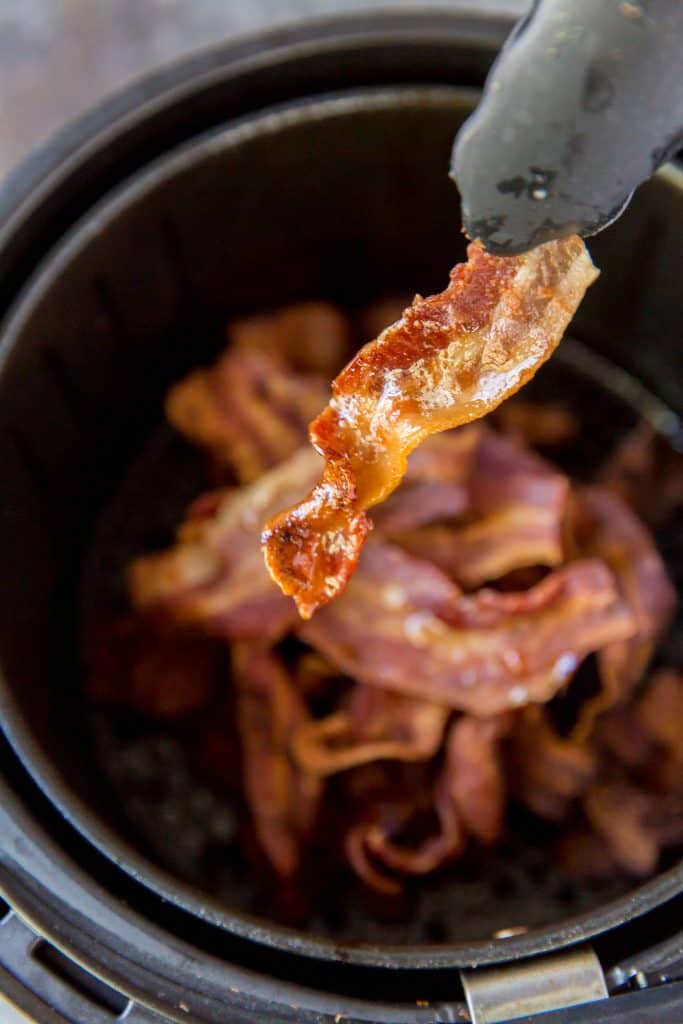 Feel free to place cooked bacon on paper towels to soak up grease in between batches!
Help! My Air Fryer is Smoking
If you want to cook bacon in the air fryer, but see it smoking don't worry. As stated above, bacon grease just like any oil will oxidize and smoke when bacon is cooked. To prevent this you may need to wipe down your air fryer when it's cooled to keep it clean. Don't let old oil heat and re heat. You can also try dropping down the heat to 350 to prevent it from getting too hot inside.
Makin Bacon… but Fancy
If you want to upgrade this recipe and cook bacon that's a little extra delicious try our tasty tricks. Use a small amount of brown sugar erythritol with a pinch of salt sprinkled on the bacon before cooking. This candied cooked bacon is a game changer in the sweet and salty world.
You can also try a bit of sweet sugar free BBQ sauce smeared on top before cooking bacon in the air fryer. If you want to air fry bacon with extra flavor this is certainly the way to do it!
The Perfect Bacon Pairing
Everyone knows the iconic keto duo is bacon and eggs. With this recipe you can have your air fryer bacon and eggs in under 10 minutes! We have plenty of different egg recipes on our blog for you to try out and pick your new go to:
There are tons of low carb and keto options to make the perfect breakfast recipes using an air fryer. Paired with eggs your breakfast with be filling and super nutritious (1).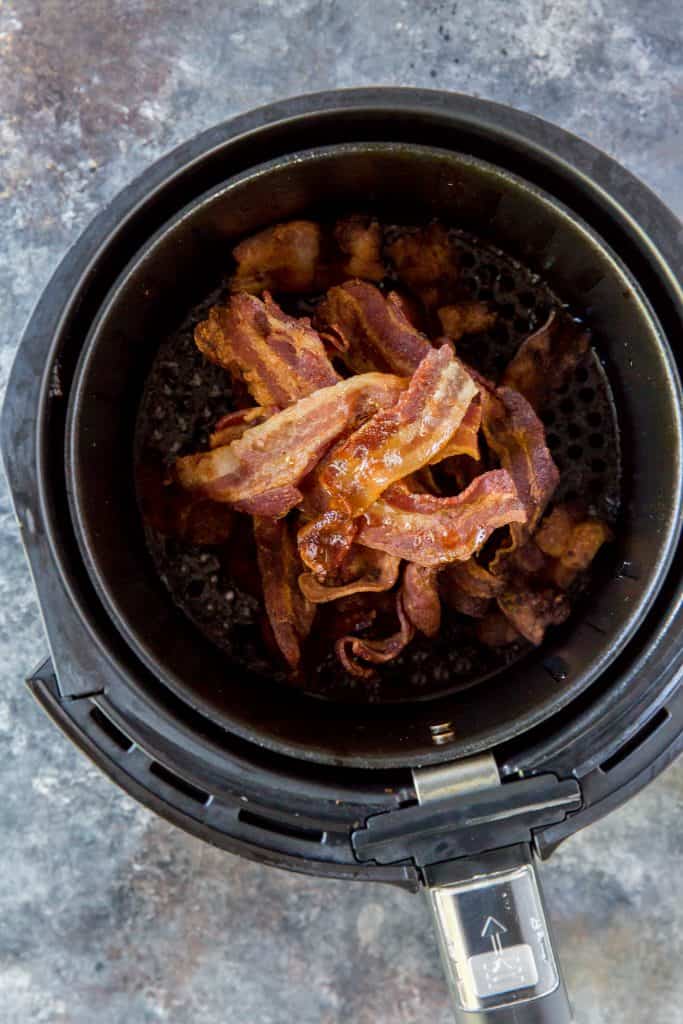 More Air Fryer Recipes
An air fryer is super versatile and can be used to make many different recipes other than just bacon. It makes cooking easy and cleanup minimal. Any recipes with lots of grease will crisp as the air fryer oil falls into the bottom basket. Some of our favorite air fryer recipes are:
Keto Air Fryer Bacon
Crispy air fried bacon is both delicious and nutritious. If you didn't love cooking bacon before because of the mess, we're sure you'll love it now. Cook this recipe for your whole family to have a delicious brunch this week. Trust us, cooking bacon like this is so easy you'll want to start making it everyday.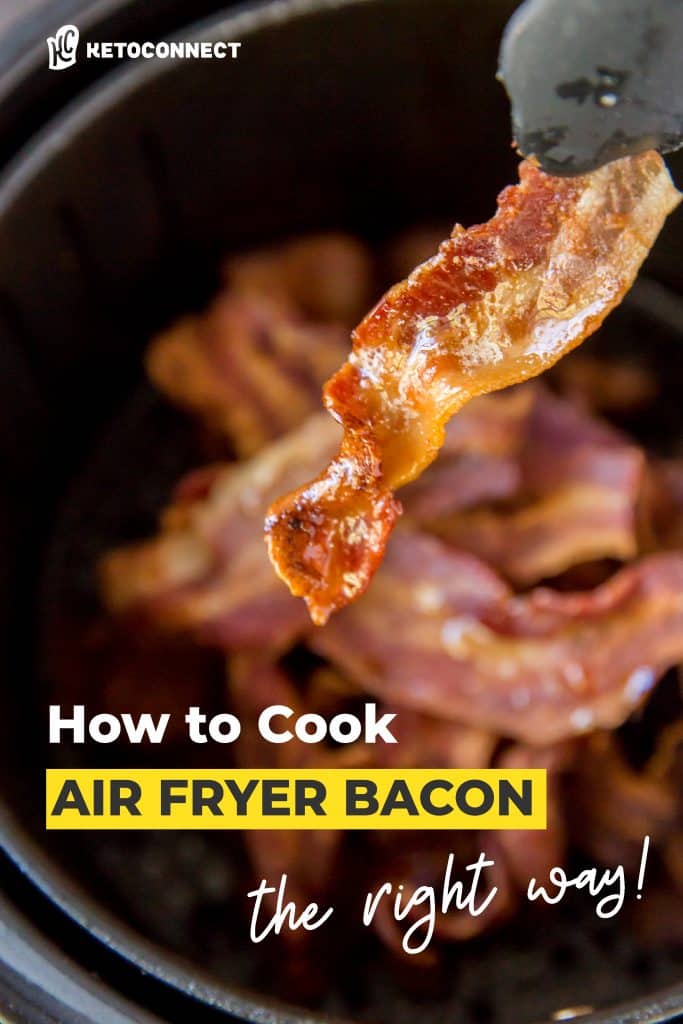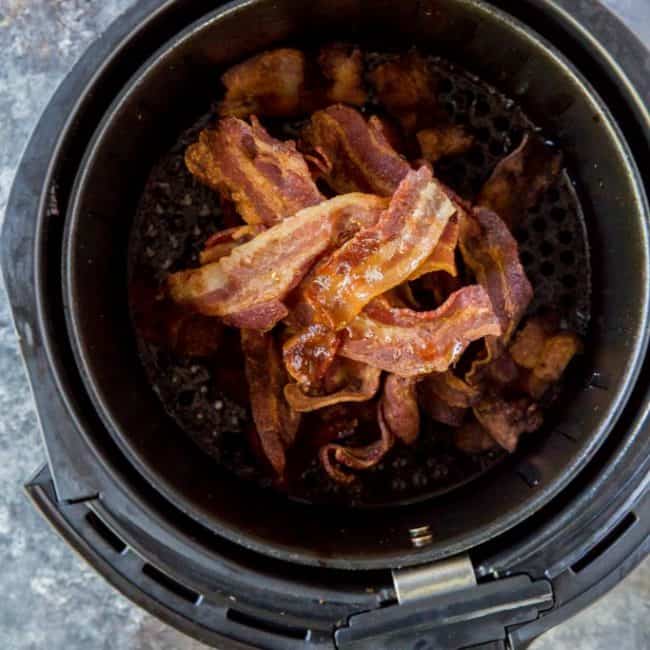 Air Fryer Bacon
This crispy bacon is done in minutes, making it the perfect easy side to your meal. Breakfast, brunch, even Brinner (breakfast for dinner), can now be done quickly and deliciously.
Servings 4 People
Calories per serving 236kcal
Prep Time: 2 minutes
Cook Time: 10 minutes
Ingredients:
1 Package Bacon We used uncured
Instructions:
Preheat your air fryer to 400°F

Place bacon in a single layer in the air fryer basket. Cook for 10 minutes

Serve warm and make extra batches if needed.
Notes
Tips:
You can turn over the bacon at 7 minutes for an extra crispy texture.
If you have thicker bacon cook for an additional 1-2 minutes.
If you choose to do multiple batches you can take 1 minute off cook time as the air fryer is already warm
Net Carbs: 1
Nutrition Facts
Air Fryer Bacon
Amount Per Serving
Calories 236 Calories from Fat 207
% Daily Value*
Fat 23g35%
Saturated Fat 8g40%
Cholesterol 37mg12%
Sodium 375mg16%
Potassium 112mg3%
Carbohydrates 1g0%
Protein 7g14%
Vitamin A 21IU0%
Calcium 3mg0%
Iron 1mg6%
* Percent Daily Values are based on a 2000 calorie diet.
Written By