Cake is my favorite dessert and this blueberry walnut pound cake is no exception! Our keto pound cake recipe is dense and buttery, packed with vanilla blueberry flavor.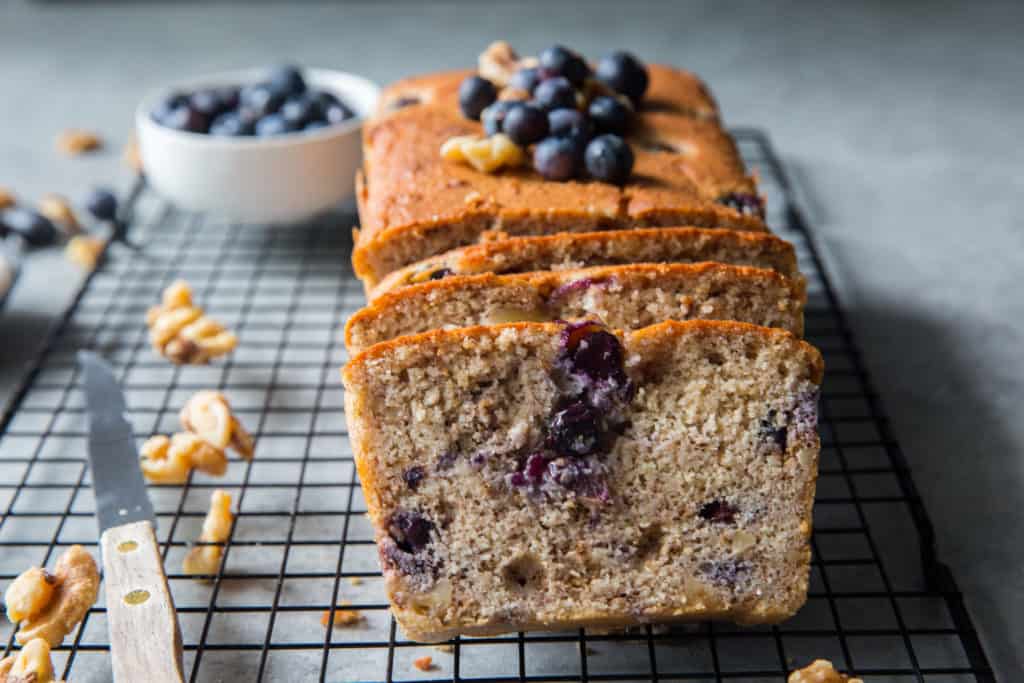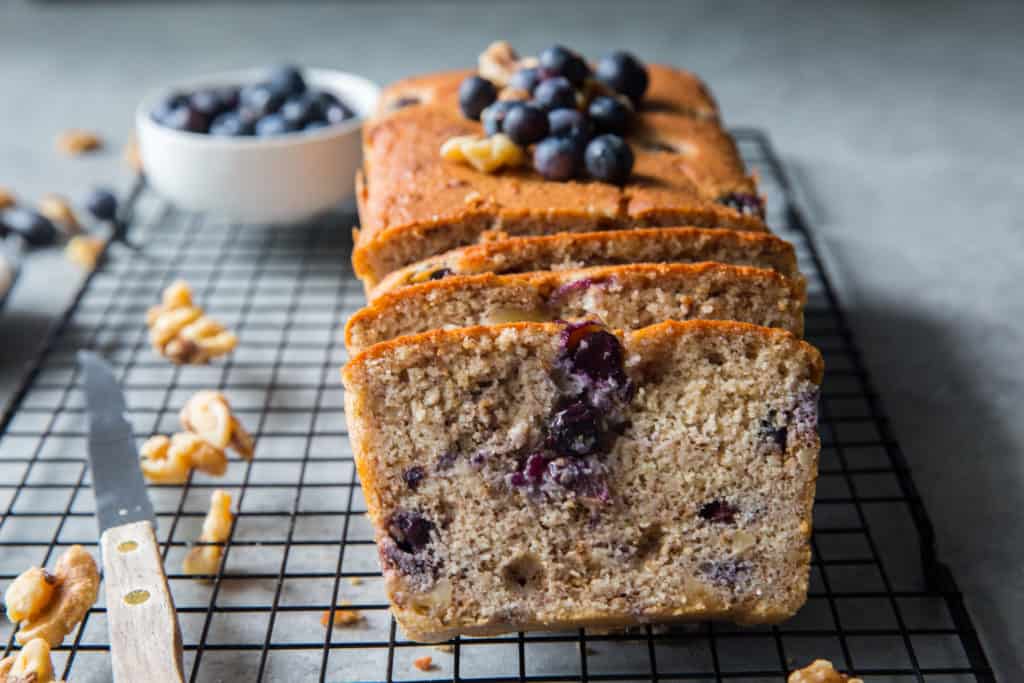 Why is it Called Pound Cake?
Pound cake is a traditional American dessert. It's buttery, dense, and tastes great both alone and in recipes. A typical pound cake recipes uses a full pound of each sugar, butter, eggs, and flour. While that is certainly delicious, it isn't keto. We changed the ratios slightly as keto ingredients such as almond and coconut flour cook differently. However, all in all it uses the same ingredients you know and love, just a little healthier.
But Pound Cake Doesn't Have Leaveners?
That's right, a traditional pound cake recipe does not call for leaveners! This low carb keto pound cake recipe is different though. Almond flour is heavier than white flour so it won't rise and expand the same way. Instead, we add a bit of baking powder to help give it a smidgen of rise like in the original recipe.
Gluten Free Pound Cake
Our low carb keto pound cake recipe is gluten free and sugar free. We are able to make this recipe gluten free and low in net carbs by swapping the traditional all-purpose flour for almond flour. Almond flour is high in fiber making the total net carbs low and easy to add into a low carb diet(1). Keto cake recipes that use just almond flour and no coconut flour are often very dense. However, in this case that is the desired result so don't worry about a heavier batter!
Can I sub Coconut Flour for Almond Flour?
Almond flour should NOT be subbed for coconut flour. There are a few reasons why these low carb flours are not interchangeable.
You need a lot less coconut flour than almond. A common ratio is 1/3 of the amount of almond flour is what you will need in coconut flour. However, in this cake the almond base adds a lot of bulk which would be 2/3's less overall flour if you choose coconut.
Unlike an almond based flour, coconut flour is very dry and absorbent. You will need a lot less of it to make the same dish.
Coconut flours are a lot drier and can result in a dry end product. We want to make sure the cream cheese and room temperature butter do their job in keeping our keto cake recipes moist!
If you don't have almond flour, but do have almond meal that should work too. The next time you make this recipe feel free to test out different keto friendly flours and share your experiences below!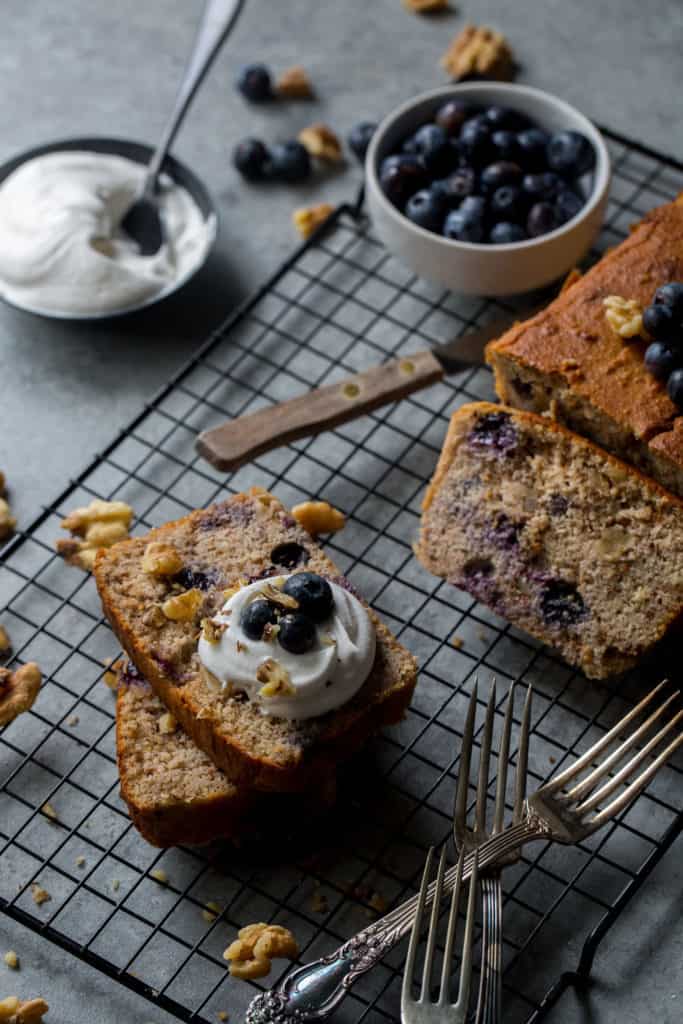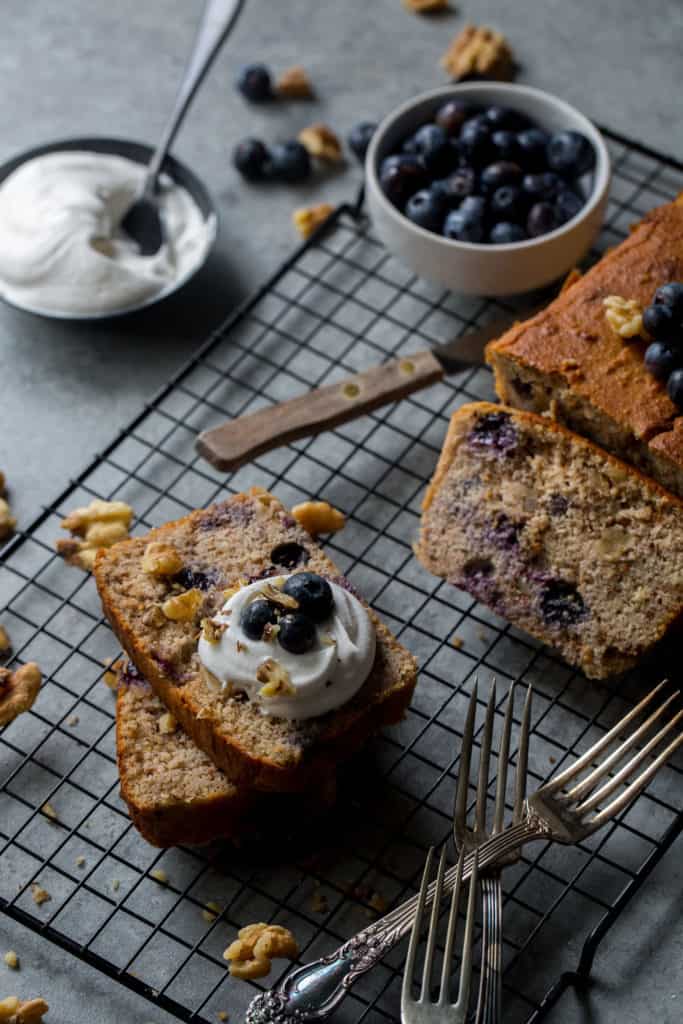 Keto Sweeteners
The best keto pound cake has to have a perfect balance of sweetness, without it overpowering the vanilla base. To do this we include a blend of erythritol and liquid stevia in our recipe. We find erythritol to taste the most similar to sugar in keto recipes while still having low net carbs. When consumed in excess, it can cause stomach distress; which is why we mix it with liquid stevia. Together they will make the best low carb pound cake recipe. If you don't have erythritol you can try other sugar free sweeteners. Some sugar free keto friendly options we recommend are:
Allulose– Allulose is a granular sugar free sweetener that will substitute well with erythritol. It is low in net carbs and perfect for any keto cake or dessert recipe. The one thing to note is that it is a bit more expensive than regular erythritol.
Monk Fruit– This will work well in place of the liquid stevia. It has a slight sugar free keto vanilla flavor. However, it pairs really well with the fresh blueberries and walnuts in this pound cake.
Monk Fruit Erythritol Blends– This is a great in-between for an expensive high quality sweetener like allulose. It is a step up from plain erythritol without being super expensive. It's still completely sugar free and will make the best keto pound cake for you to enjoy.
When making keto pound cake and picking a low carb sweetener, it really just depends on your budget and preferences. If you have the money to spend, allulose is a new and interesting healthy sweetener. If you want to keep it traditional keto though, any of these other sweeteners are great options.
Can I Make Dairy Free Almond Flour Pound Cake?
This keto pound cake recipe is tricky to try and make dairy free. While possible, it will require extra shopping and searching for ingredients. The substitutions you will need to make are:
Butter– Sub butter for coconut oil or vegan butter. While vegan products are not ideal, in this case it will have a more accurate flavor to the original than coconut oil would.
Cream Cheese– Again there is really no way to avoid adding cream cheese except by using a vegan cream cheese. It will have a similar taste and texture if you purchase a plain original vegan variety. Make sure to check the label for hidden carbs and account for that in your macros.
Sour Cream– Finally we used sour cream. This ingredient is not in traditional pound cake, however we think it adds a ton to our keto pound cake recipe. It will bring in moisture to the cake that typical butter and cream cheese can't. There are vegan sour cream options, but you can also try regular dairy free yoghurt. Make sure it is plain or a keto vanilla variety. It should also be sugar free in order to fit keto macros.
These are all the ingredients that include dairy and how to substitute them. However, we always have to disclaim when switching so many items the recipe may not taste the same as it should. It was created to be a low carb keto vanilla pound cake that tastes as close to the original as possible. Any ingredient changed leaves room for a change in taste or texture.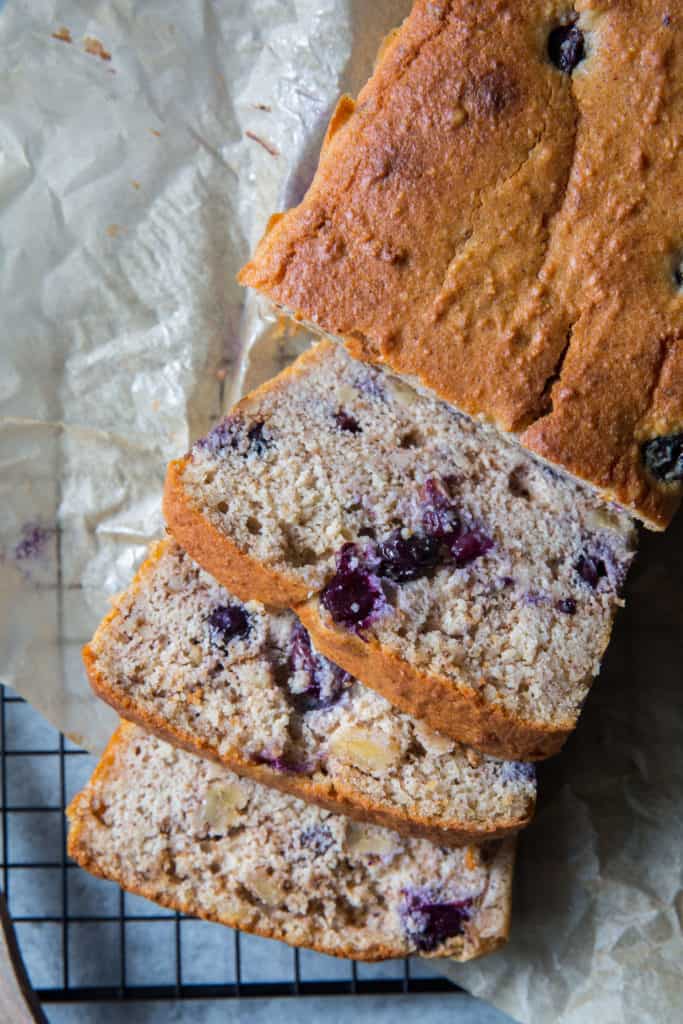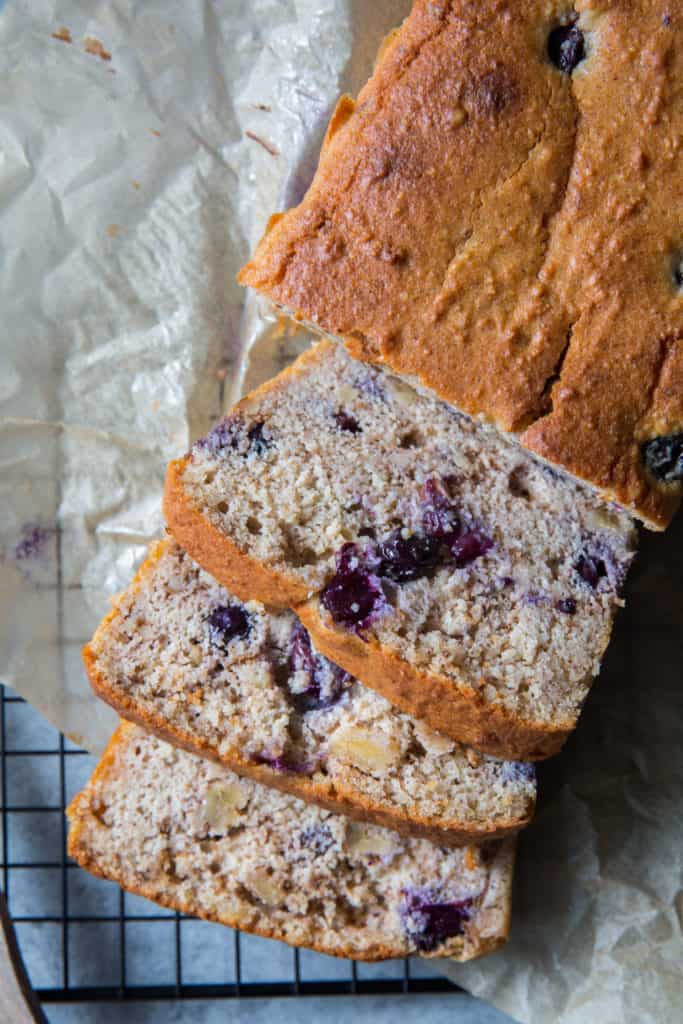 Keto Pound Cake Mix-ins
In our keto pound cake recipe we use blueberries and chopped walnuts. However, those aren't the only possible combinations. Get creative and try out a few of our other keto mix-in options:
Lemon Pound Cake– Try adding in the juice and lemon zest of a small lemon for a delicious lemon pound cake recipe. You can also add lemon extract instead of lemon juice. For a quick glaze mix some water, confectioners erythritol, and lemon extract. (Note: You may want to add a bit more almond flour or coconut flour if the cake batter is too runny)
Coffee Cake Pound Cake– Add some cinnamon and keto brown sugar to the low carb pound cake base. Then mix a little extra cinnamon, sweetener, and almond flour in a bowl. Sprinkle that on top of the keto pound cake before putting it into the oven.
Pb&J Pound Cake– This one is for all the peanut butter and jelly lovers! Pour your mixed batter into the lined loaf pan and swirl in a few tablespoons of melted peanut butter and sugar free jelly. Bake and enjoy with extra peanut butter and jam!
The possibilities for keto pound cake really are endless. Get creative and add fresh berries, chocolate chips, nutter butter swirls, ect.! This recipe is for a plain vanilla pound cake until you spice it up. And we definitely recommend spicing it up! Our choice of blueberries and walnuts is just the beginning!
How to Make Keto Pound Cake
If you're ready to make some pound cake, round up your keto ingredients and let's get started!
Ingredients
For the dry ingredients of this recipe you are going to need almond flour, baking powder, ground cinnamon, and pink himalayan salt. While baking powder is not a traditional pound cake ingredient, it is definitely needed in our keto variation for that extra rise. The last dry ingredients are erythritol for sweetness, and blueberries with walnuts to mix in.
The wet ingredients to make pound cake keto are: softened cream cheese, unsalted butter (softened), vanilla extract, sour cream for moisture, and liquid stevia. You will also need four large eggs to mix into the batter.
Making Low Carb Pound Cake
To make low carb pound cake begin by preheating your oven to 350 degrees F. Then grease an 8.5 x 4.5 loaf pan with your oil of choice. We love using spray avocado oil or olive oil. You can also line the pan with parchment paper for easier removal.
Then in a mixing bowl combine all dry ingredients MINUS the erythritol, blueberries, and walnuts. You can stir using a mixer or whisk.
In a separate bowl beat together the butter, erythritol, and cream cheese. Once fluffy add the vanilla, sour cream, and stevia; mixing thoroughly.
Add the eggs one at a time beating until all the wet ingredients are combined with no chunks of cream cheese or butter. Add the dry ingredients in two batches mixing until there are no clumps.
Fold in your mix- ins we used blueberries and walnuts. Then bake for 50-60 minutes, or until a toothpick comes out clean. If the top is browning too quickly, you can cover it with aluminum foil and continue baking.
Allow to cool before slicing. Top with whatever you prefer, we love fresh blueberries and whipped cream!
Storing and Freezing
Keto pound cake freezes very well and also lasts a while in the fridge. To store this pound cake place the remaining loaf into the fridge in an airtight container. OR, you can freeze single slices in zip top bags for longer storage. Simply defrost the cake in the fridge, or microwave warm from frozen.
Tips for Making the Best Keto Pound Cake
Don't Over bake– No one likes a dry cake. Make sure to not let your keto pound cake recipe cook too long and dry out.
Cover if Brown– If your keto pound cake is getting too brown in the oven don't worry! Almond flour tends to brown much faster than coconut flour or white flour. Simply place some aluminum foil on top to protect it from the direct heat.
Line the Pan With Parchment Paper– If you are worried about this almond flour pound cake recipe sticking, use parchment paper! Parchment paper makes removing the pound cake from your loaf pan quick and easy. Plus it also makes cleaning the loaf pan easier.
What to do With Leftover Pound Cake
If you have leftover pound cake and don't want to freeze it there are plenty of other uses! Some options include:
Adding in a slice or two with our mason jar ice cream! Break up a piece of keto pound cake and shake it in with some keto ice cream. There will be delicious bits of this keto cake recipe in every bite.
Make a plain keto pound cake and then top it. Instead of adding mix -ins to the low carb pound cake recipe, make a plain vanilla extract based pound cake. Then you can top it with strawberries and keto whipping cream for the ultimate strawberry shortcake!
Keto cake pops or balls. Mix some crumbled up keto pound cake with our sugar free frosting recipe. Roll it into balls and then freeze them. Dip into sugar free melted chocolate chips and voila, keto cake bites.
Each of these quick recipes have minimal prep time and total time with no extra added cook time! That means you can adjust and change this easy keto pound cake recipe quickly to fit all your dessert making needs.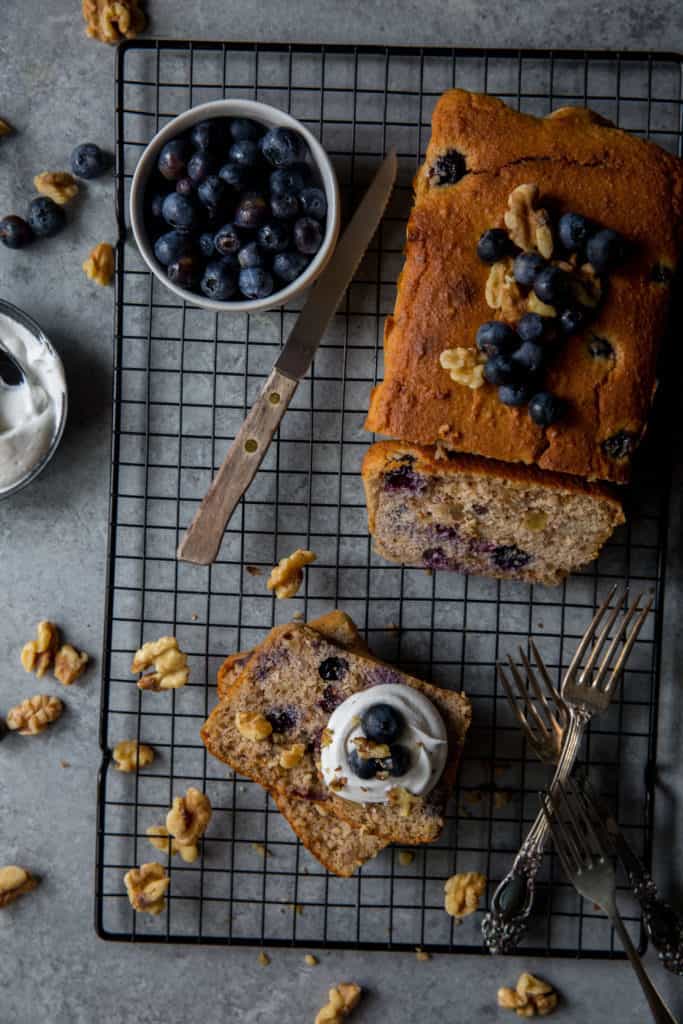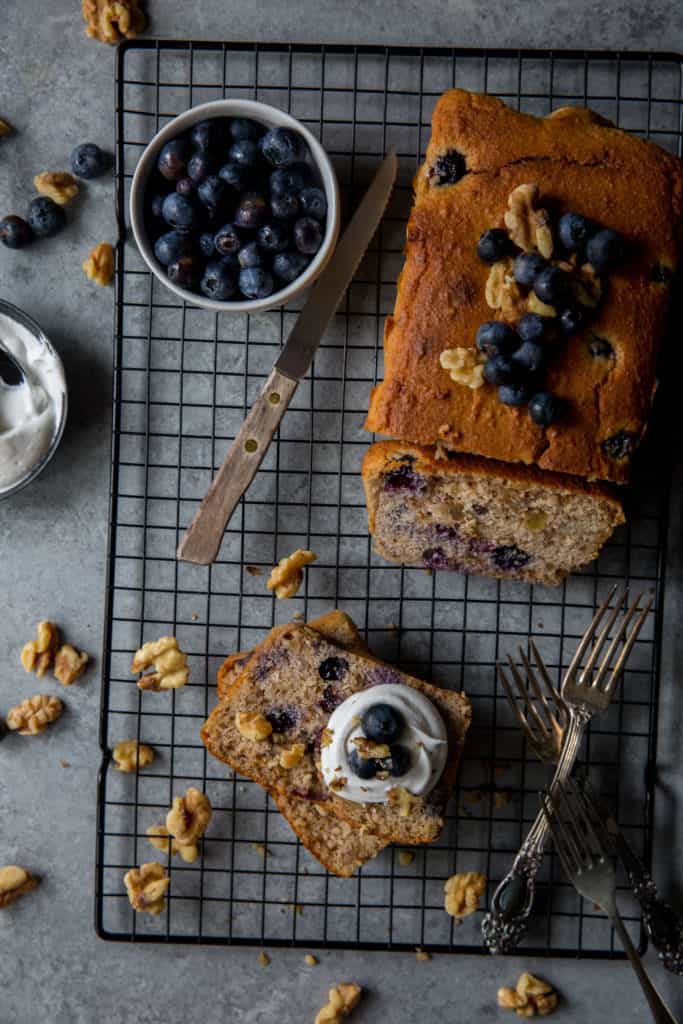 More Keto Cakes and Loafs
Looking for more keto cakes and loafs with minimal total time that also taste amazing with whipped cream? Look no further, because we have tons of delicious and simple keto dessert recipes on our blog for all your baking needs. Some of our favorite cake and loaf recipes are:
Keto Banana Bread– Who doesn't love a dense and nutty banana bread loaf? This is one of the best keto banana bread recipes out there and requires just a few minutes of hands on time.
Chocolate Chip Zucchini Bread– This loaf might as well be low carb pound cake. It's dense, sweet, and has that lovely vanilla flavor. Except it also has tons of nuts, chocolate, and zucchini!
Keto Coconut Cake– This cake can be made dairy free and is already 100% gluten free. It's low carb and super fluffy, filled to the brim with coconut flavor.
We make keto recipes flavorful and unique so you can enjoy your favorite foods without all the sugar and guilt. Try one of these recipes today and enjoy a treat with only 1-6 net carbs per serving!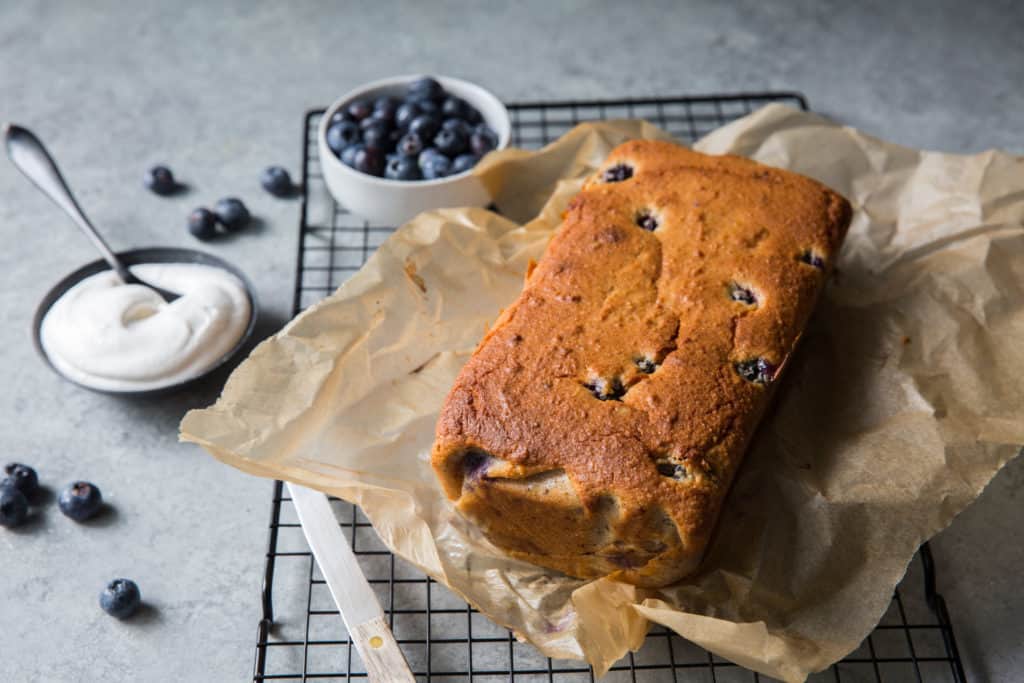 Keto Pound Cake | Blueberry And Walnut!
Low carb pound cake is delicious, but low carb pound cake loaded with blueberries and walnuts is even better! A dessert that tastes this decadent, but is still so simple deserves an award. Make this recipe for your next get together and enjoy all the positive feedback on how good of a baker you are. We promise if you follow along with the recipe and make pound cake keto you won't be able to tell a difference from the original!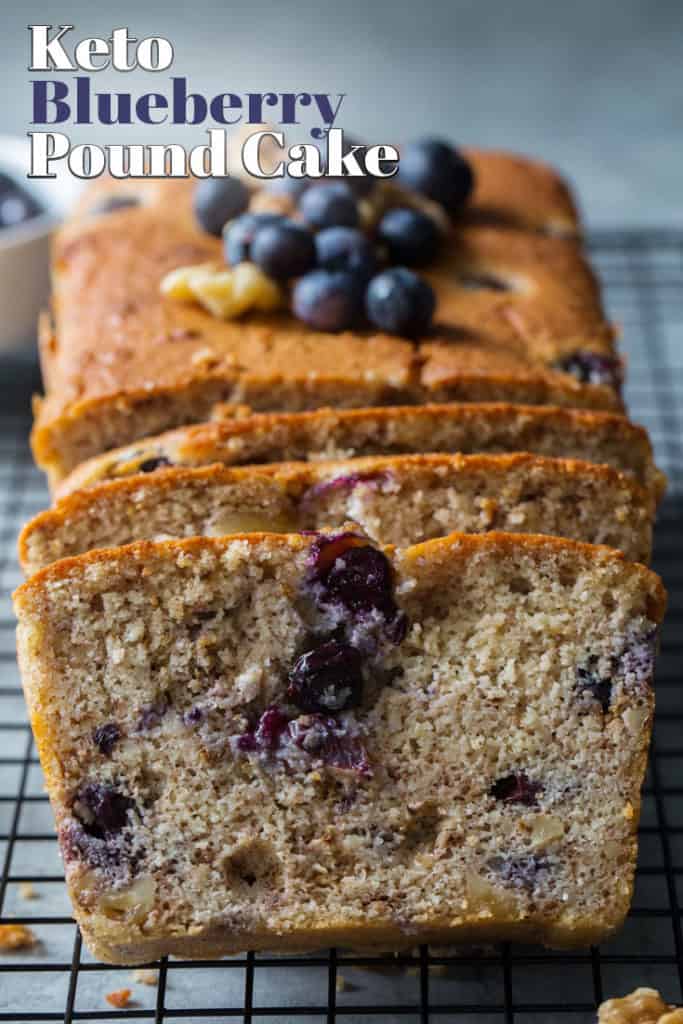 Recipe can be quickly added to MyFitnessPal – Search "KetoConnect – Keto Pound Cake"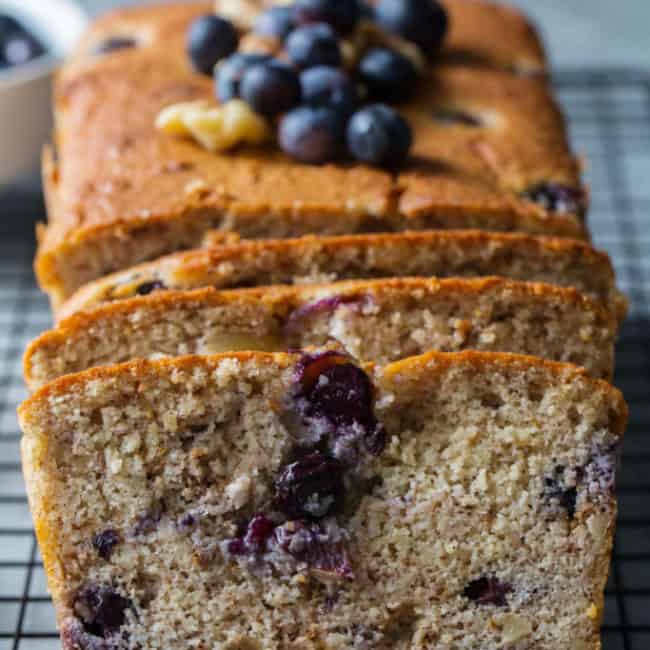 Keto Pound Cake | Blueberry And Walnut!
A dense poundcake filled with sweet blueberries and walnuts.
Servings 10 slices
Calories per serving 297kcal
Prep Time: 10 minutes
Resting Time: 15 minutes
Cook Time: 50 minutes
Instructions:
Preheat oven to 350 degrees F.

Spray a 8.5 x 4.5 bread loaf with oil of choice. Can also line with parchment paper for easier removal.

In a medium bowl add almond flour, baking powder, cinnamon, and salt. Combine using a hand mixer until fluffy and incorporated.

In another large bowl, add the cream cheese, butter, and erythritol. Beat until well combined.

Add vanilla, sour cream, and stevia and mix well. Add eggs and beat well until fully incorporated.

Add the dry ingredients in 2 batches to the wet ingredients ad combine one last time using the hand mixer.

Fold in the blueberries and walnuts.

Bake for 50-60 minutes until a toothpick comes out clean. Remove from oven and allow to cool in the pan for 10-15 minutes, then transfer to a cooling rack. Slice into 10 pieces and top with whipped cream and fresh blueberries, if desired.

NOTE: Oven temps vary so be sure to check on the pound cake starting at 40 minutes. If it's browned all over and a toothpick comes out clean it should be fully cooked through!
Notes
Net Carbs: 6g Serving Size: 1 slice (pound cake yields 10 slices)
Nutrition Facts
Keto Pound Cake | Blueberry And Walnut!
Amount Per Serving
Calories 297 Calories from Fat 243
% Daily Value*
Fat 27g42%
Saturated Fat 8g40%
Carbohydrates 9g3%
Fiber 3g12%
Protein 9g18%
* Percent Daily Values are based on a 2000 calorie diet.
Written By