Ever wondered what's the perfect dish to enjoy with your whole family, even those who are not on keto? This is it – this keto friendly taco soup is warm, comforting and packed with healthy, low carb ingredients.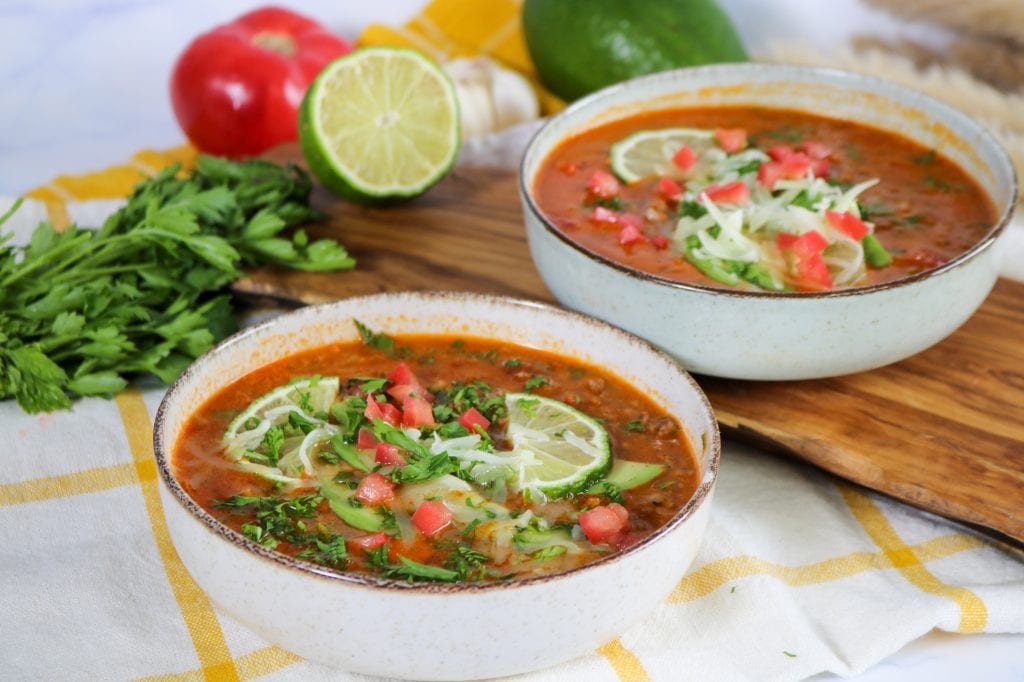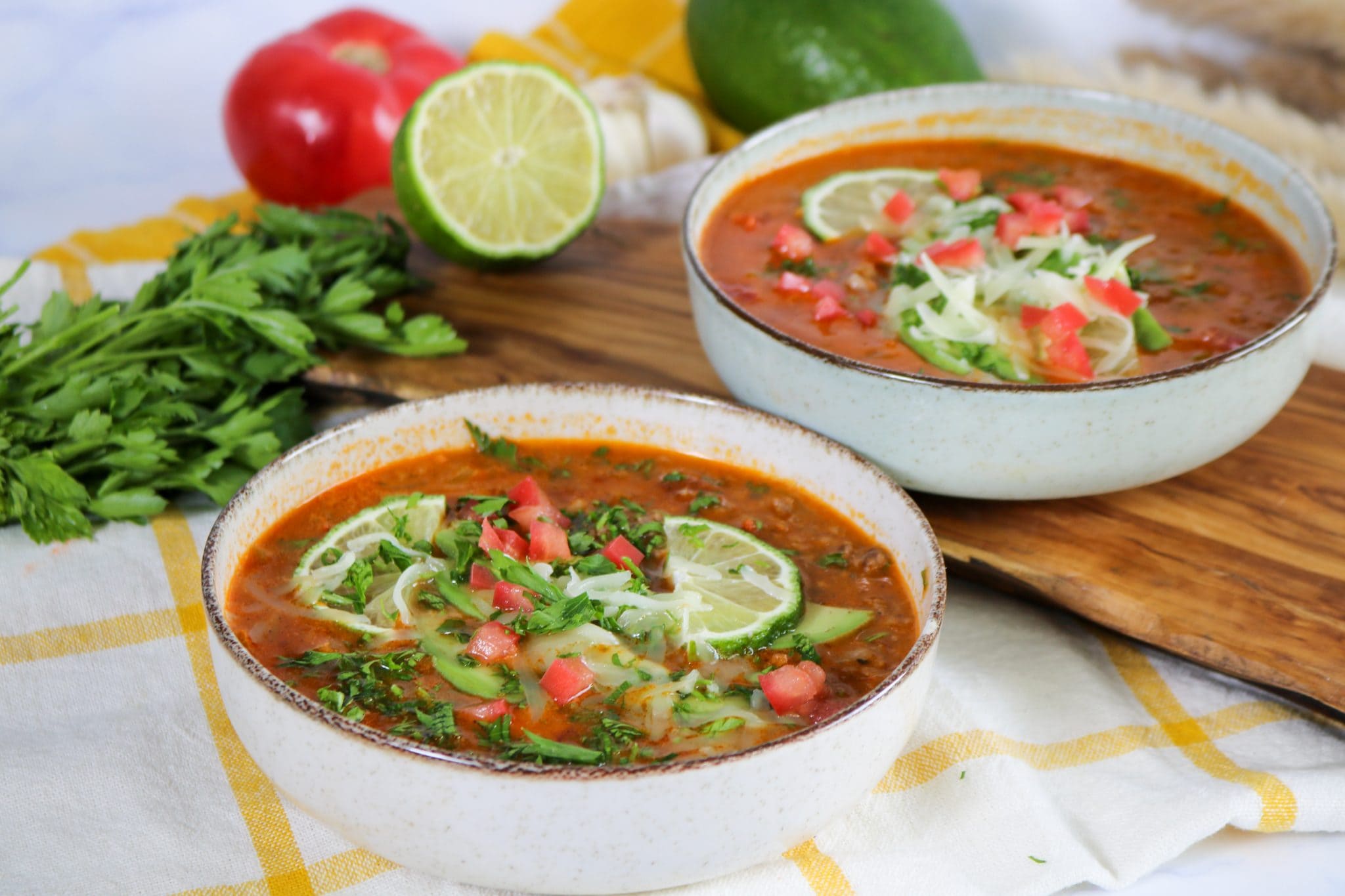 This easy taco soup is always on top of my list whenever I'm cooking dinner and I know we'll have family or friends over. Top it with your favorite low carb taco soup ingredients such as avocados, diced tomatoes, onions, parsley or even cilantro.
Ready to make it in under 30 minutes? Let's go!
How to make the Keto Taco Soup Recipe
Ingredients
Ground beef
You can also use ground turkey or ground chicken if that's what you prefer. Since we're making a soup here, it's important you pick really lean ground meat with as little fat as possible.
Green bell pepper
Green bell peppers are an excellent source of vitamin A, vitamin C, and potassium. They are also low in calories, so you can eat lots of them and not worry about the weight.
When it comes to carbohydrates, it's not something you need to worry about either. They only have 3g of net carbs per 100g!
Tomato
I like to mix fresh tomatoes into my Keto Taco Soup to give it more of an authentic feel and a "bite". If you don't have fresh tomatoes on hand, you can simply use canned diced tomatoes and then just add less tomato sauce.
Tomato sauce
We're adding half a cup of tomato sauce here, but as I mentioned above you can just use canned diced tomatoes and add less of the sauce.
Make sure to pick the sugar free kind since lots of grocery options are filled with sugars. Although tomatoes are fine on the keto diet, but a bit higher in carbs than other vegetables, you can still use them here since this Keto Taco Soup recipe is large enough for four people.
Onion
Onions are one of the most versatile vegetables, and they're also a staple in many keto recipes. They're an excellent source of vitamins C, B6 and thiamine.
They also contain phytochemicals called flavonoids, which have been shown to have antioxidant properties. Although they're a bit higher in carbs, you can still use them in this keto soup recipe.
Garlic cloves
One of my favorite ingredients to add in any kind of dish! It's super anti-inflammatory, great for the immune system and of course, adds a powerful and flavorful kick to any dish – especially our Keto Taco Soup.
I highly recommend you use fresh garlic cloves instead of swapping it for garlic powder. It's still a great alternative, but there's nothing that compares to the taste of fresh garlic cloves.
Olive oil
We use olive oil here to brown ground beef, onions and garlic cloves. You can swap it for coconut oil if you want to (although this may change the taste a bit), use tallow or butter. Any neutral-tasting fat here will be fine.
Heavy cream
We used heavy cream here to make this keto taco soup recipe more creamy and rich. Once you cook it and simmer it, it will slowly begin to thicken. If you want to make it even more hearty, just swap heavy cream for softened cream cheese.
Beef broth
You can use either beef, vegetable or chicken broth – it's up to you. I like to use beef broth since it has more depth and is more flavorful than other broths.
You can also make your own at home, and if you have an excess – freeze it! It's always good to have it nearby when you need it.
Taco seasoning
This Keto Taco Soup Recipe wouldn't exist without this seasoning! Pick an organic kind of a simple taco seasoning without any sugars added. Read labels carefully and watch out for any maltitol, sucrose, plain sugar, dehydrates syrups etc.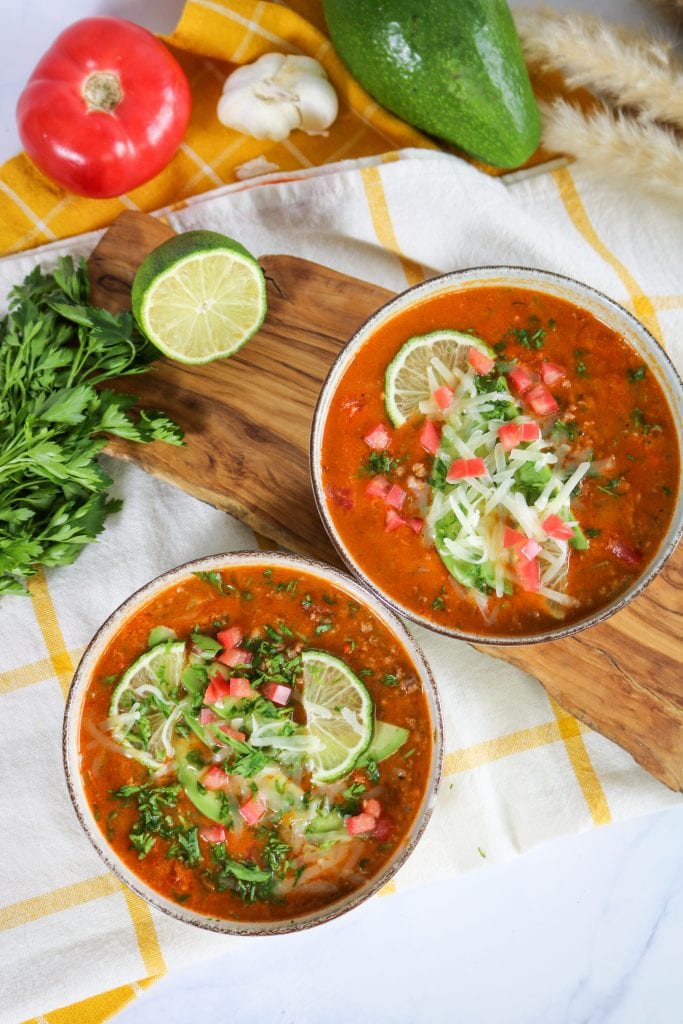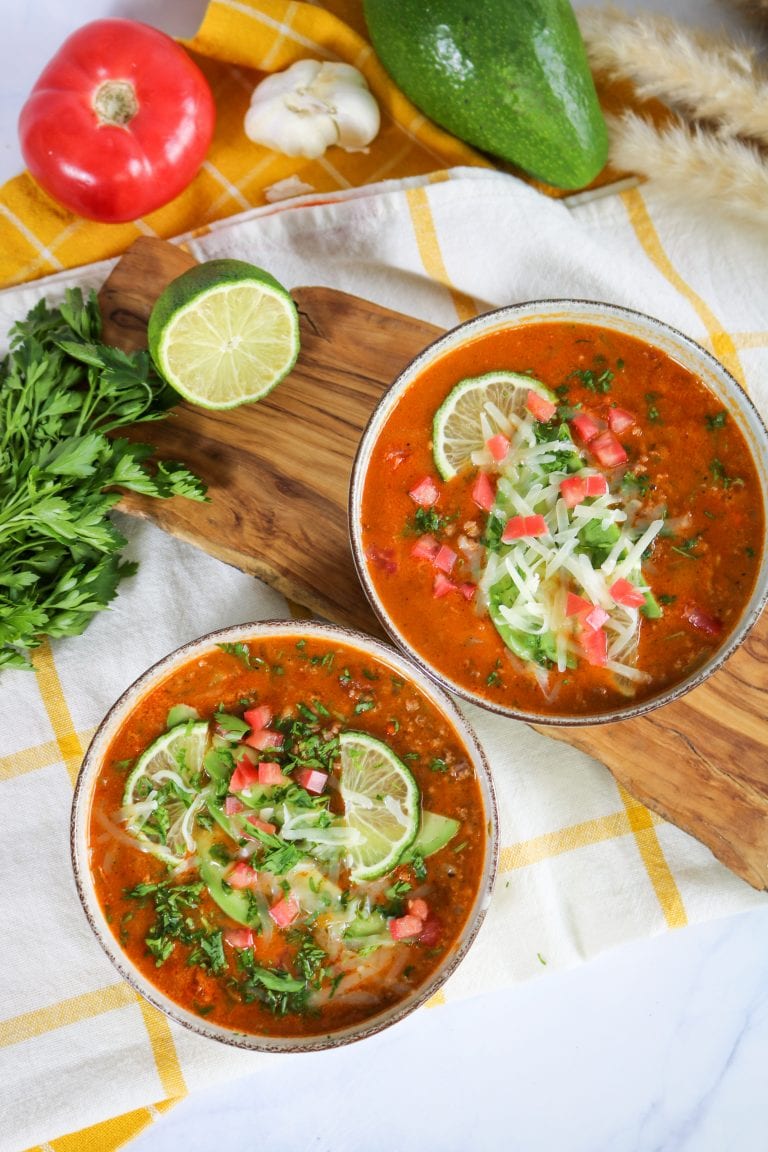 Avocados
One of my favorite taco toppings hands down! Since avocados are full of healthy fats, there are several, huge health benefits of why you should be eating them.
From being beneficial for the gut health and weight loss, to reducing heart disease risk and providing your body with tons of different nutrients, avocados got it all.
Parsley
Parsley is an aromatic herb that's used in many types of cooking. It has a distinctive flavor and aroma, so it can really enhance the taste of your dishes.
Parsley is rich in vitamin K, which plays an important role in blood clotting. It's also a good source of vitamin C and other antioxidants that help reduce the risk of serious health conditions like diabetes, stroke, heart disease and cancer.
Lime
Lime adds a lot of flavor to anything, but I can't imagine eating a Keto Taco Soup without it! It will give it that tangy flavor with a Mexican-inspired flare.
Grated cheese
What you use here is totally up to you! You can use cheddar cheese or Mexican cheese. I found these two work best when it comes to the taste.
I also highly recommend making your own freshly grated cheese – it's more delicious, doesn't have a powdered coating (!) and is much cheaper.
P.S. These garnish options are just our suggestions, but you can use any of your favorite taco toppings. As long as they're approved on the keto diet of course!
Make it in just 7 easy steps!
This keto taco soup is easy to make, and takes around 30 minutes to make from start to finish! It's a great recipe for the whole family, especially since it doesn't taste like your typical keto, low carb dish.
Prepare all ingredients
I always start off with preparing all of my ingredients and pots. Take out a large pot, then peel and dice the onion, mince your garlic cloves, dice the green pepper into cubes and do the same with the tomato.Prepare all the garnishes as well – dice the avocado, tomato, slice up some lime, prepare the shredded cheese and chop all the parsley (you can also use cilantro here).
Brown beef, onion and garlic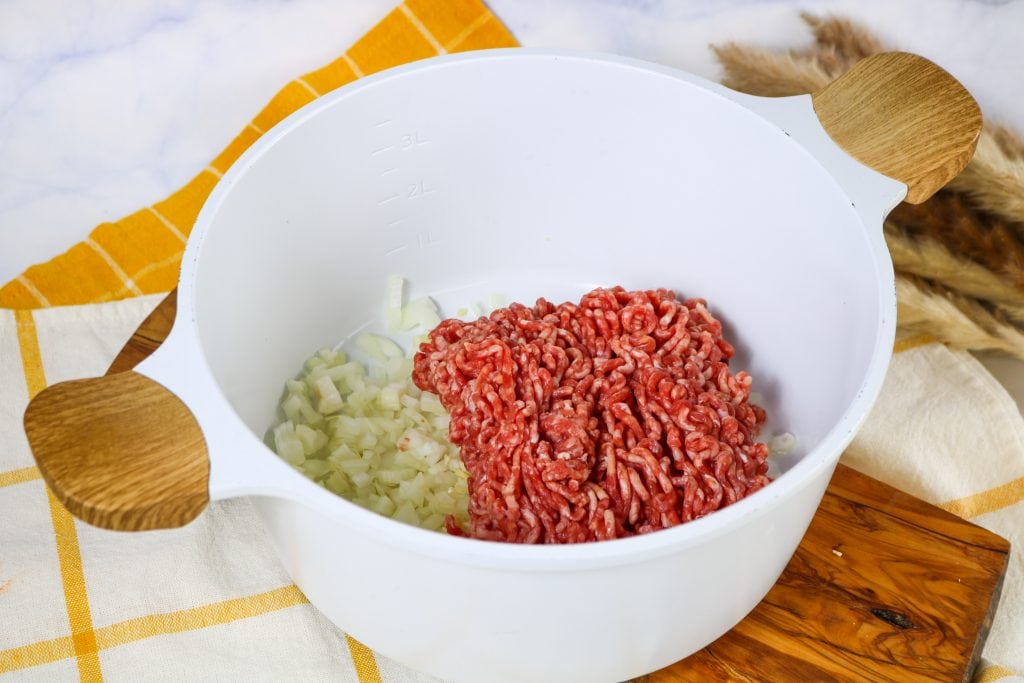 Heat up olive oil in a large pot over medium heat and add diced onions, minced garlic and ground beef. Brown it for about 2-3 minutes until onions are getting a little translucent and ground beef is starting to get a golden, brownish color.
Add bell pepper and seasoning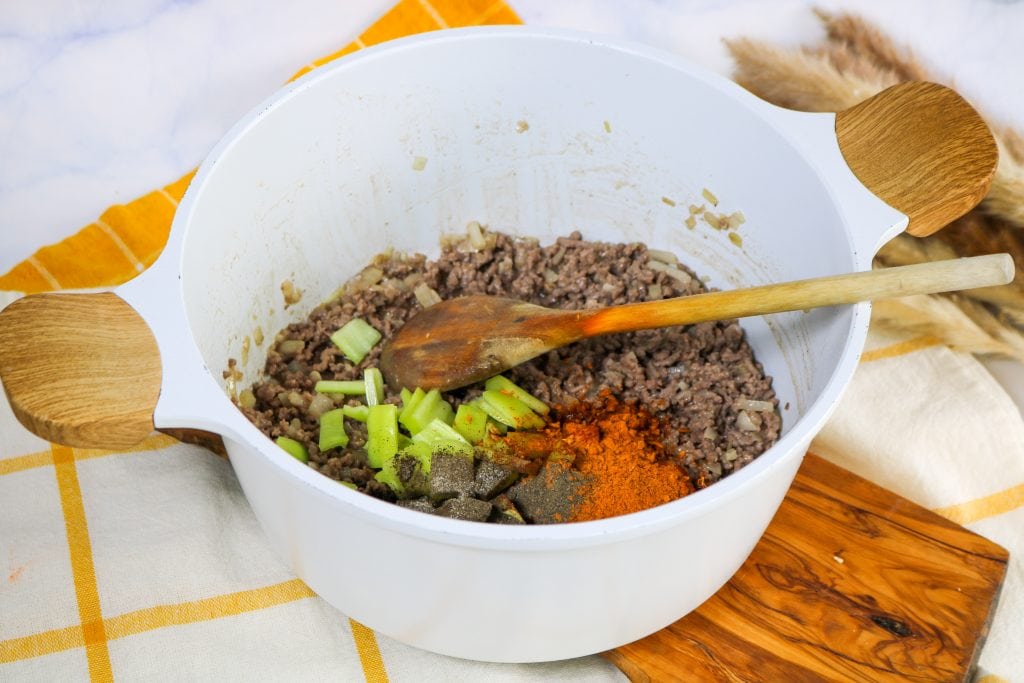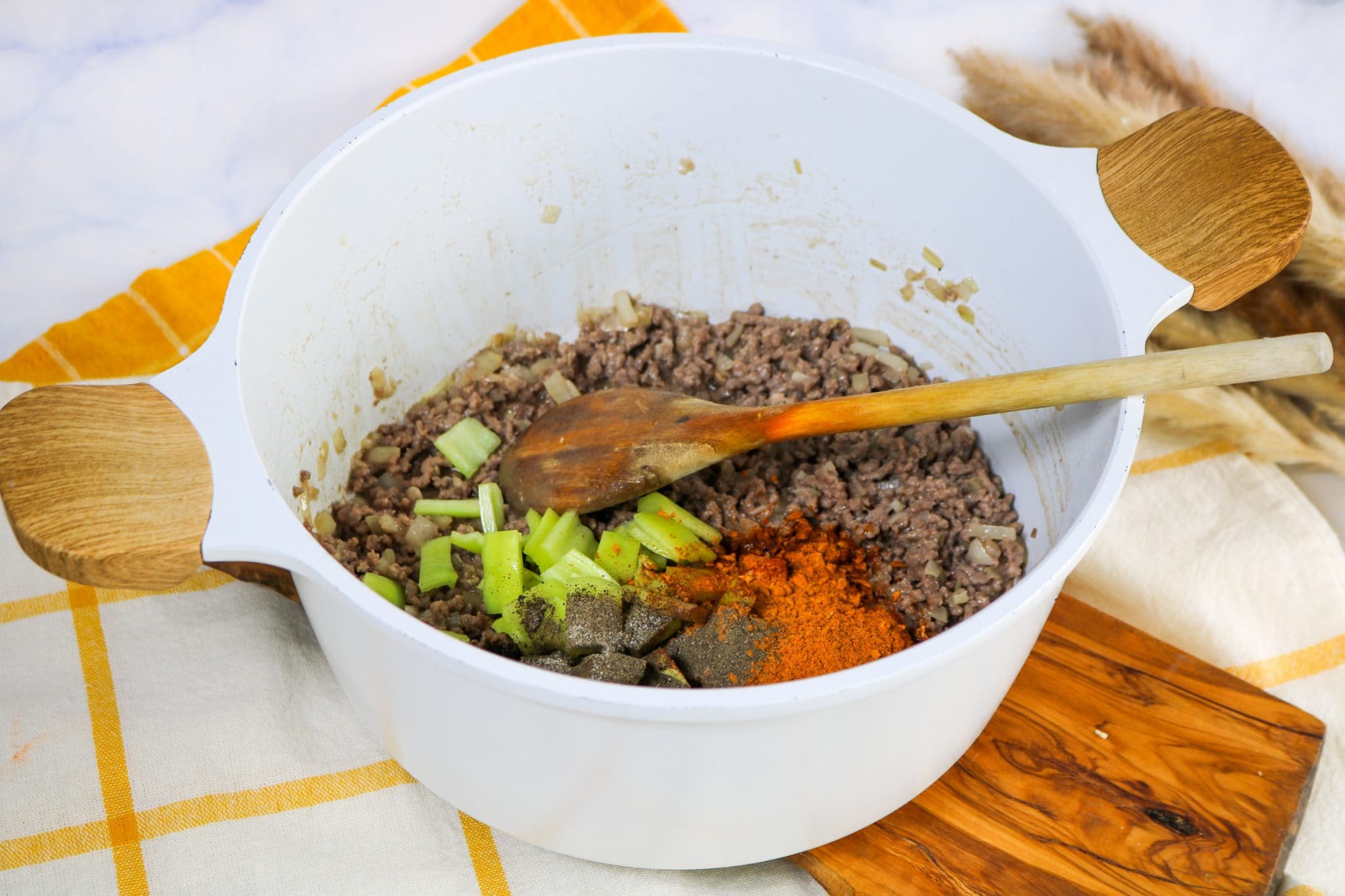 Once ground beef is browned, add diced peppers, season with salt and pepper to taste, then add the taco seasoning and mix well until combined.
Add tomato and tomato sauce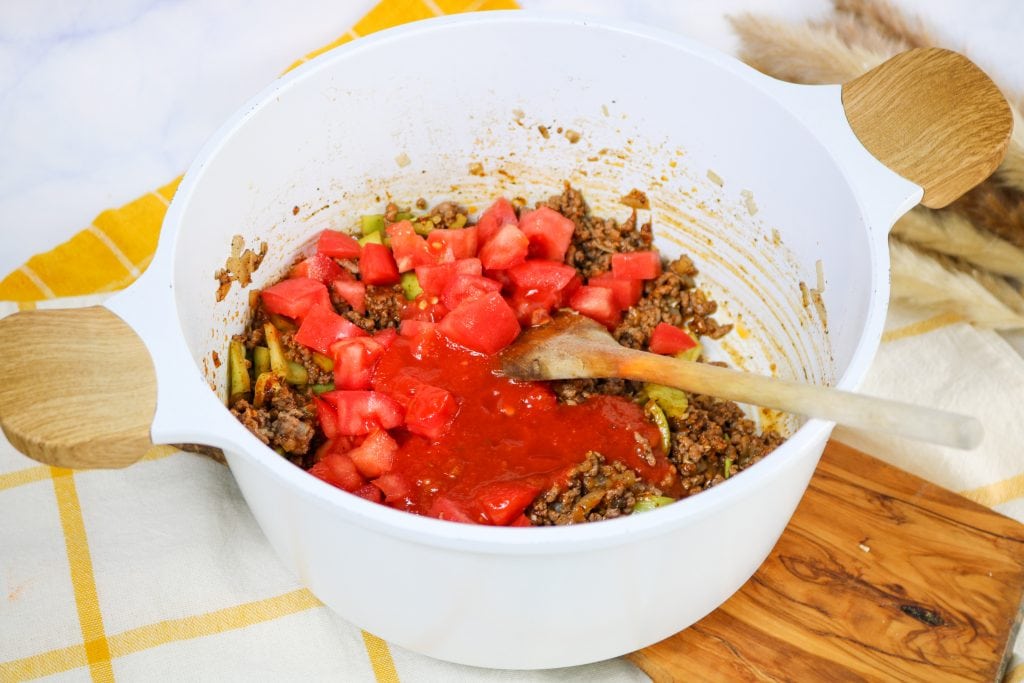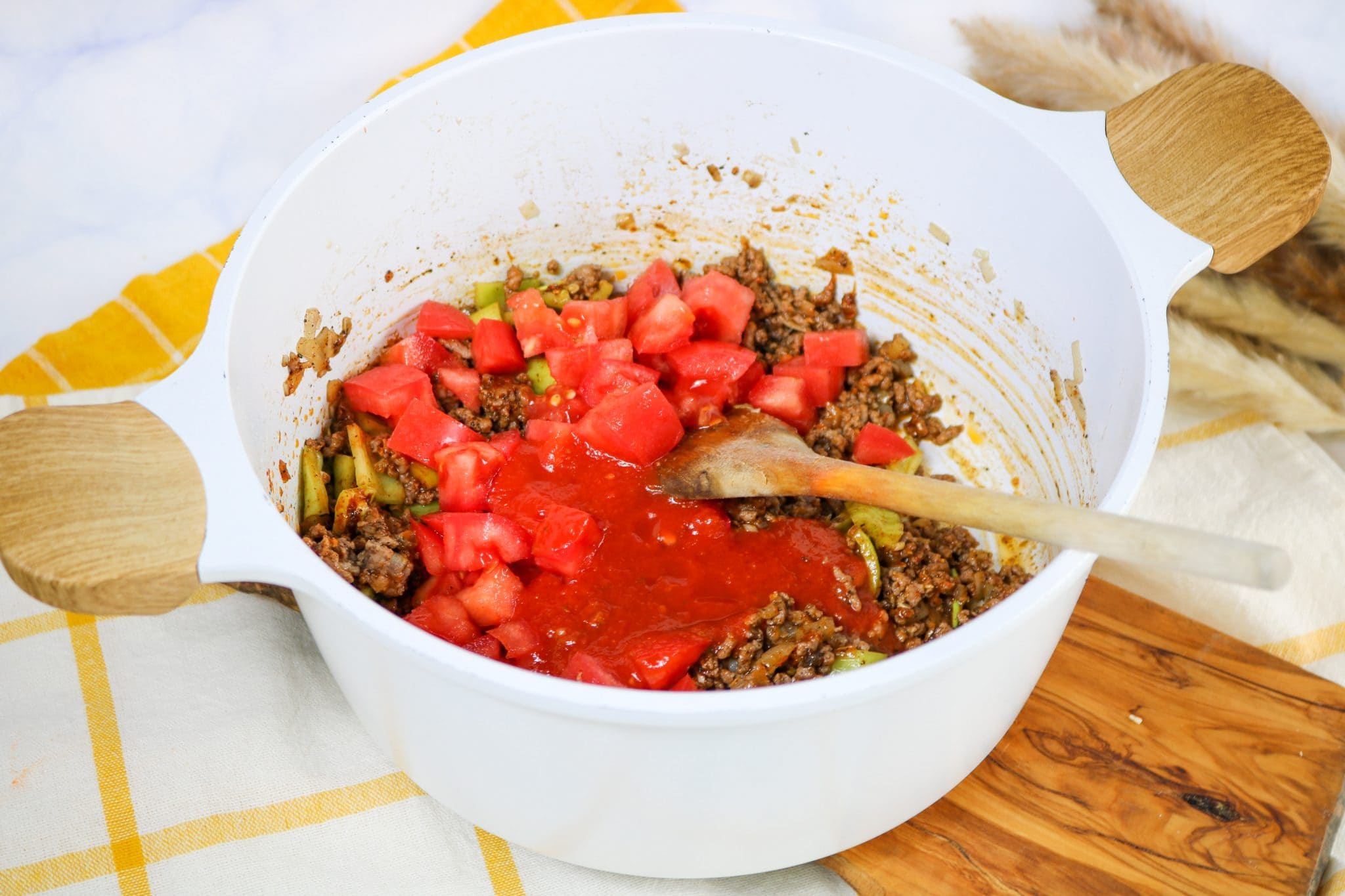 Next, add fresh, diced tomatoes and the tomato sauce. Cook everything for about 5 minutes and mix throughly.
Pour in liquid ingredients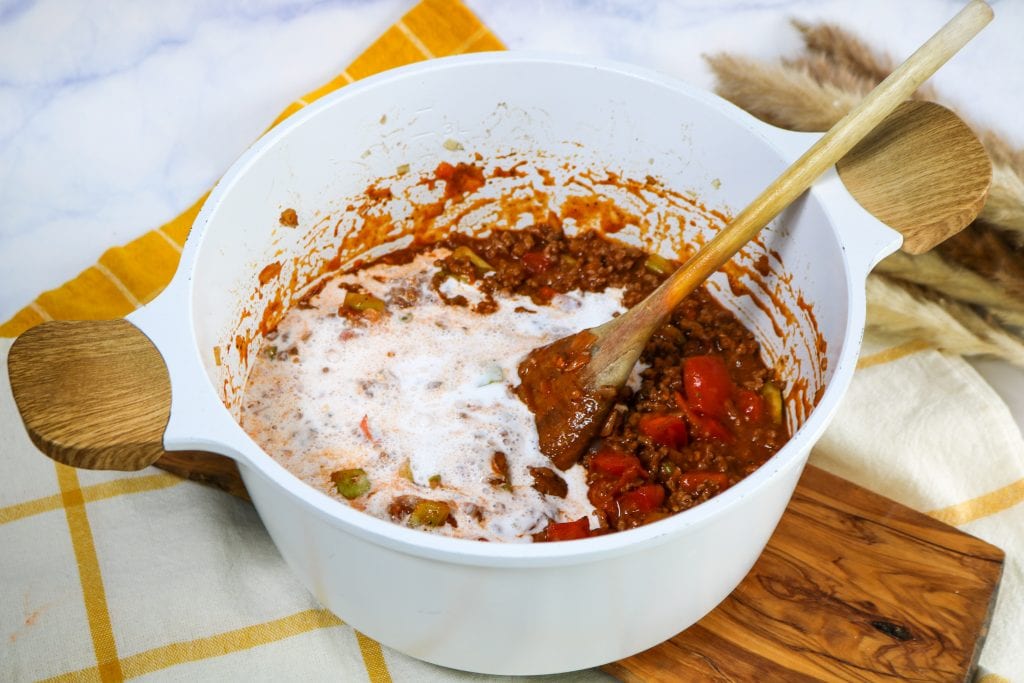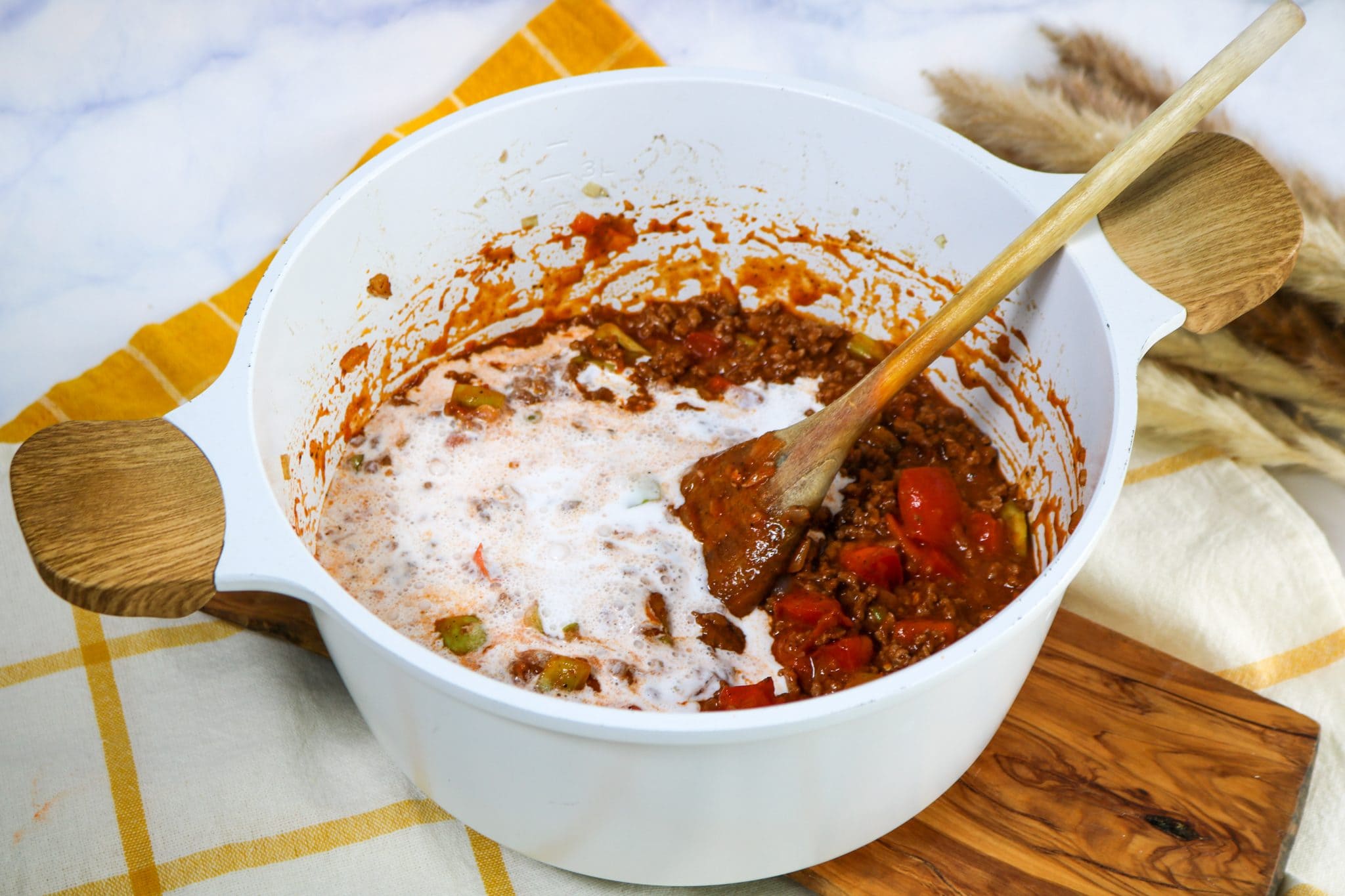 Once done, pour in heavy whipping cream (or add softened cream cheese) along with the beef broth and stir well until combined.If you're using cream cheese, make sure it's room temperature – otherwise, it might break up into small pieces in the soup and then it will be quite hard to fix it.
Cook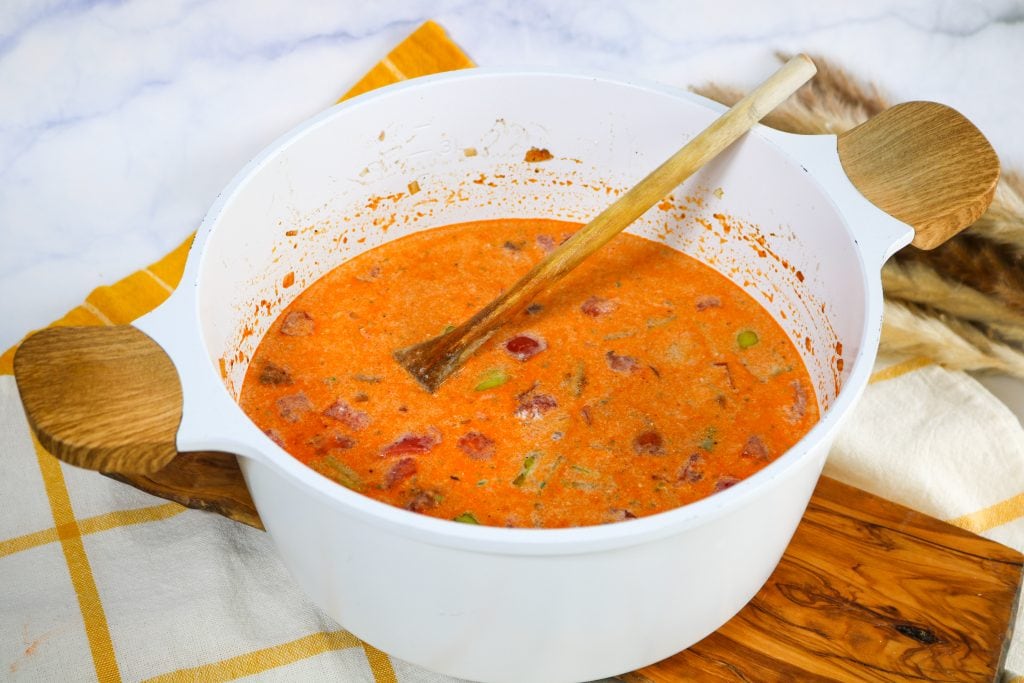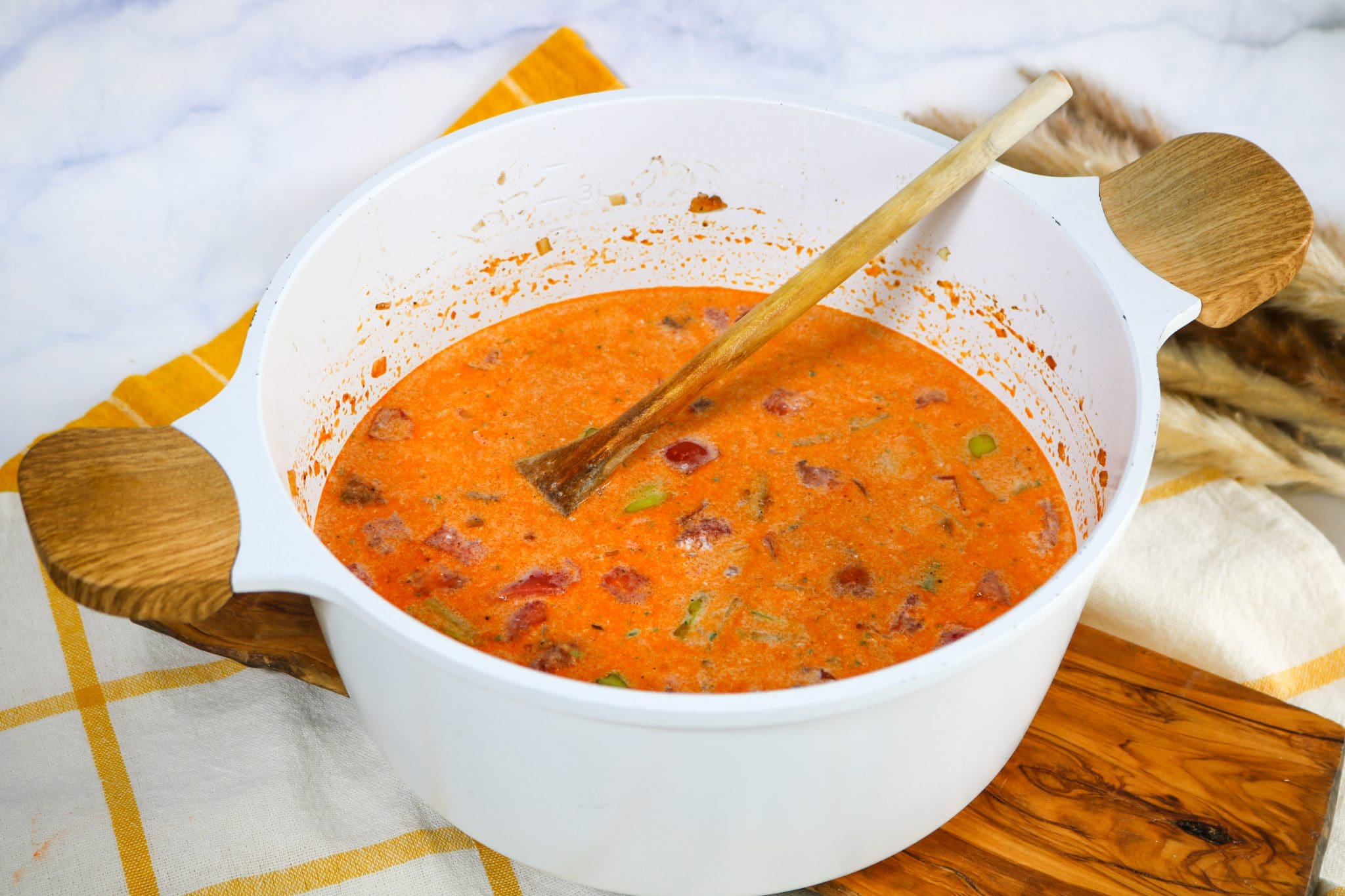 Cook your creamy Keto Taco Soup for about 10 minutes until it begins to slightly thicken. You can additionally cook it for another 3-5 minutes, stirring constantly, if you want to make it even thicker and heartier.
Garnish and serve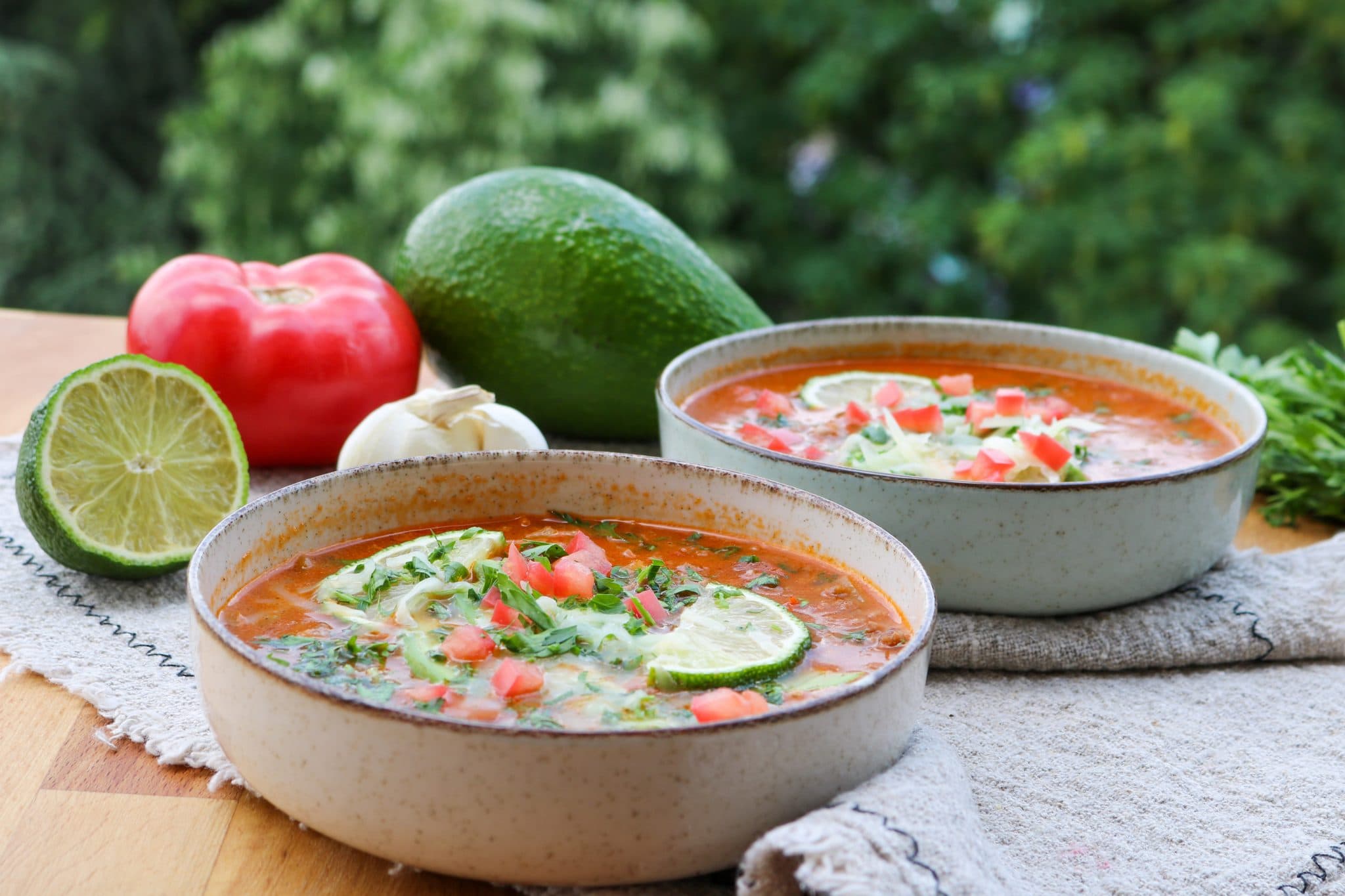 Almost done! While I love all the cooking and stirring, this is my favorite part. This easy taco soup recipe wouldn't be a hit without all the absolutely delicious toppings.
Transfer your creamy keto taco soup to a bowl and garnish with diced avocados, lemon slices, diced tomatoes, shredded cheese and chopped parsley. Enjoy!
FAQs
Can I use cream cheese instead of heavy cream?
Yes, but keep in ming that cream cheese tastes a bit different than heavy cream and it is quite different in texture. I don't mind the taste, but if you've never tried making keto taco soup before, you may want to stick with the original recipe first.
Also, if you are lactose intolerant, changing the heavy whipping cream to non-dairy alternatives such as coconut cream will completely change this dish around. It's not a substitute you should be making.
How do I make homemade taco seasoning?
Some store-bought taco seasonings contain sugar and artificial ingredients, so if you can't find an organic version, it might be a good idea to make it at home.
Thankfully it's a really easy recipe. You can make your own taco seasoning mix with the following ingredients: 1 teaspoon of paprika, 1 teaspoon of oregano, 1 teaspoon of chili powder, 1/2 teaspoon each of cumin and garlic powder.
Can I freeze the keto taco soup?
You sure can! Just make sure to freeze it before you add in any dairy such as heavy cream or softened cream cheese. Very cold temperatures cause dairy to separate and it will never really taste quite the same.
Freeze your keto taco soup in an airtight container for up to 6 months and enjoy it all year long.
To reheat, simply thaw in the fridge overnight and re-heat on the stove or in a slow cooker until warmed through. Then you can add all the dairy you want to, garnish with additional sour cream, avocado slices, tomatoes and cilantro and make your keto taco soup recipe shine!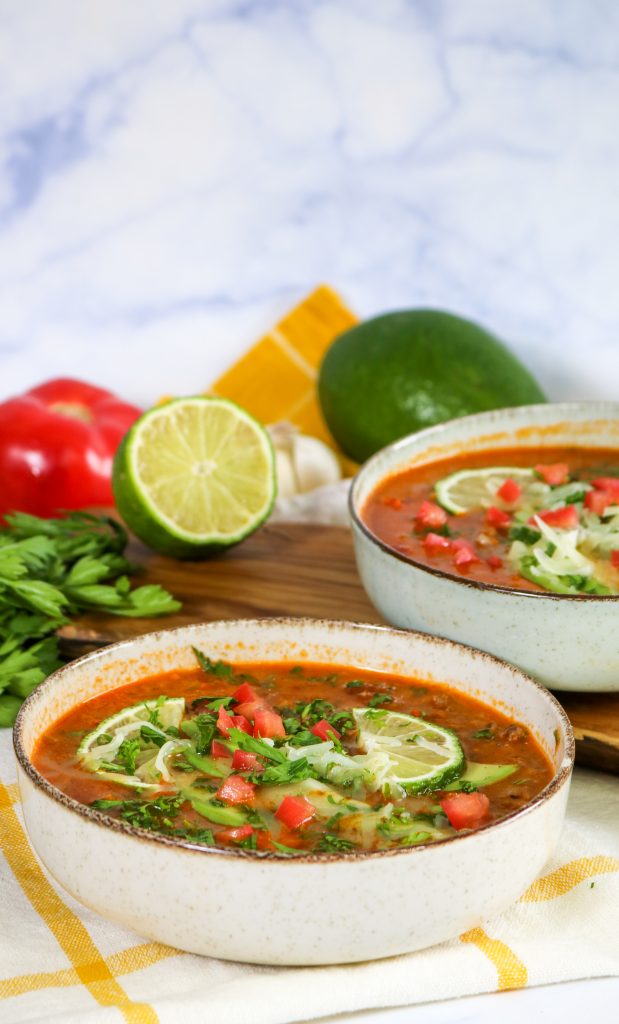 More low carb, keto soup recipes
Still in the mood for a soup, just not the Keto Taco Soup? We've got three amazing recipes for you that our readers swear by.
Have you tried our creamy Keto Taco Soup?
Drop a comment below if you liked it! Maybe you added green chilis to it or shredded chicken? Added your own twists? Let us know!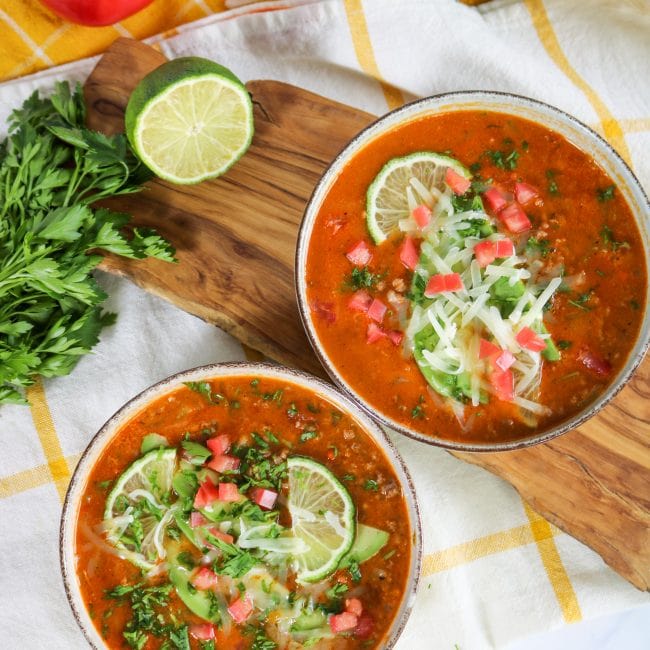 Keto Taco Soup
This keto friendly taco soup is warm, comforting and packed with healthy, low carb ingredients.
Total Time 35 minutes
Servings 4 people
Calories per serving 574kcal
Prep Time: 15 minutes
Cook Time: 20 minutes
Ingredients:
2 tbsp olive oil
1 onion medium-sized, peeled and diced
3 garlic cloves minced
1/2 lb ground beef
1 green pepper diced into cubes
1 tomato diced into cubes
1/2 cup tomato sauce
1 cup heavy cream
1+1/2 cups beef broth
2 tbsp taco seasoning 
salt and pepper to taste
1 Avocado diced, for garnish
Parsley for garnish
1 small tomato diced
lime slices for garnish
1/4 cup grated cheese for garnish
Instructions:
In a large pot over medium heat warm the olive oil and stir in the diced onion, minced garlic, and ground beef.

Brown the beef and onion for about 2-3 minutes.

Stir in the diced pepper, season with salt and pepper to taste, taco seasoning and mix until combined.

Add in the diced tomato, and tomato sauce and mix until combined. Cook for about 5 minutes.

Pour in the heavy cream and beef broth and mix until combined.

Cook the Keto Taco soup for about 10 minutes or until it thickens slightly.

Serve in serving bowls with avocado slices, lemon slices, diced tomato, shredded cheese, chopped tomato, and chopped parsley. Enjoy.
Nutrition Facts
Keto Taco Soup
Amount Per Serving
Calories 574 Calories from Fat 450
% Daily Value*
Fat 50g77%
Saturated Fat 21g105%
Trans Fat 1g
Polyunsaturated Fat 3g
Monounsaturated Fat 21g
Cholesterol 113mg38%
Sodium 1645mg69%
Potassium 917mg26%
Carbohydrates 15g5%
Fiber 5g20%
Sugar 6g7%
Protein 19g38%
Vitamin A 1640IU33%
Vitamin C 40mg48%
Calcium 152mg15%
Iron 3mg17%
* Percent Daily Values are based on a 2000 calorie diet.
Written By