Just because you're following a keto diet doesn't mean you have to give up your favorite childhood snack. These Keto Chocolate Chip Cookies are CHEWY and gooey just like the ones your mom used to bake after school. Indulge in a freshly baked bite of nostalgia for only 1.7g net carbs per chocolate chip cookie.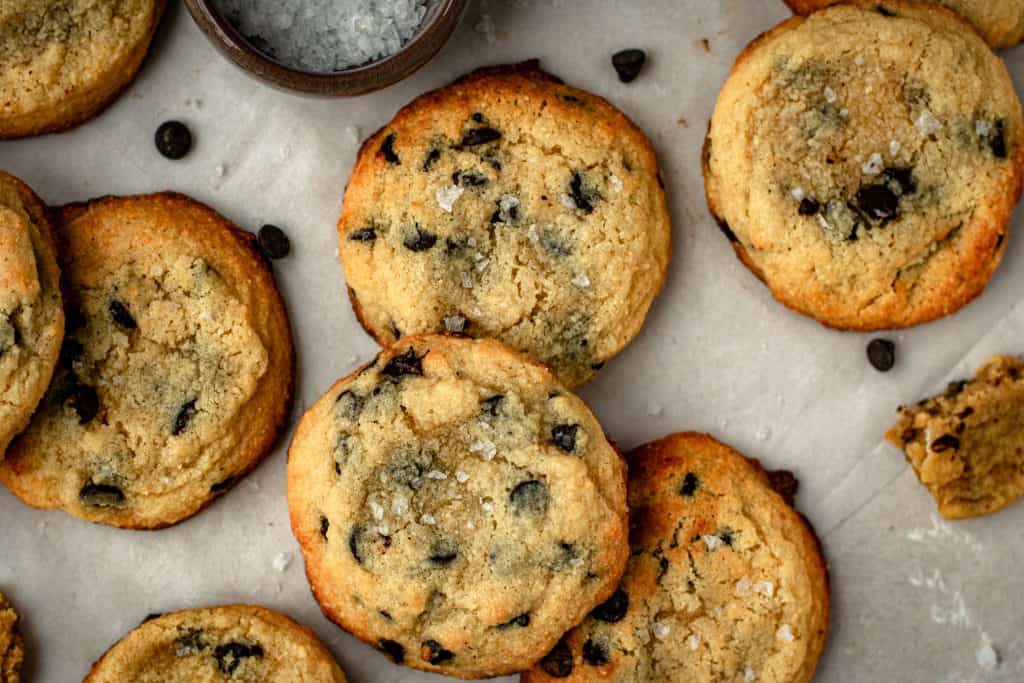 Follow the recipe video below or continue reading to learn how to make the best keto chocolate chip cookies ever.
Picking a Low Carb/ Keto Chocolate Chip
You can't make chocolate chip cookies keto without sugar free chocolate. There are many brands online that make keto chocolate chips. If you search keto chocolate chip on amazon you'll find hundreds. However, we have specific standards when picking a chocolate chip for our keto cookies. It must be sugar free made with either erythritol, stevia, monk fruit, or allulose. Anything with maltitol sends us off running.
When we search keto chocolate chip, we always choose the Lily's brand for it's quality ingredients and delicious flavor. They use a blend of stevia and erythritol, two high quality sweeteners perfect for a keto diet.
Almond Vs. Coconut Flour
There are two main flours normally used in a keto recipe, coconut or almond. For the original easy to make keto cookie recipe we used almond flour. We just found it to give the most similar texture to normal cookies, while still keeping flavor in this recipe traditional.
If you are nut free or just prefer coconut flour we do have a version below for nut free keto cookies. While that recipe requires a few more ingredients, it's equally as good. Both flours are keto and gluten free so they will make a delicious recipe either way!
Making Chocolate Cookies Sugar Free
The most important thing in order to make sugar free chocolate chip cookies is that you pick a low carb sweetener. We're going to breakdown everything you need to know about sugar free sweeteners, but if you want more information on specific keto sweeteners check out our blog post for the Best Sugar Substitutions on Keto.
Picking a Keto Sweetener
The sweetener you choose depends on what type of cookie you're trying to achieve.
Depending on the sweetener you use you may need to add a little more or a little less to get the right sweetness ratios. Check out our sweeteners guide to find the perfect ratio for you.
If you like a sweeter chocolate chip cookie feel free to add a little extra sweetness with stevia or erythritol. We also enjoy mixing some stevia and some brown sugar substitute (in place of erythritol) in these cookies for a sweet and chewy cookie recipe that has the original cookie's toffee notes.
Health Benefits to Keto Cookies
I'm sure you're wondering what benefits there are to a dessert recipe, well my friend you've come to the right place.
Almonds
This recipe uses "flour" made from almonds, which means you're mainly eating ground up almonds. Almonds are rich in vitamin E as well as fiber that can help to keep you full and nourish your hair, skin, and nails (1).
Almonds have also been known to help manage blood sugar because of their high fiber count and low glycemic index. One study even showed eating a handful of almonds before a carb heavy meal caused a 30% reduction in post meal glucose levels for type two diabetes patients (2).
Erythritol
While erythritol doesn't really give any health benefits, it does take away from the negative effects of normal cookies. Normal cookies use sugar, aka a blood sugar bomb. Sugar is a 65 on the glycemic index versus erythritol which is 0. This means that unlike regular sugar, erythritol will not raise your blood sugar causing a crash later.
The more sugar you consume the more your pancreas has to work to pump insulin in order to bring your blood sugar back down(3). That is why making a simple sub of erythritol for sugar is super beneficial for your health when picking a dessert recipe.
There are tons more benefits to eating keto and choosing this easy to make dessert recipe, but these are just a few.
Carbs in Keto Cookies
While we did make chocolate chip cookies low carb, we know the burning question is how low carb are they really. For each serving (1 Cookie): Calories- 130, Fat- 12.5g, Protein- 3g, and Carbs… ONLY 1.7 net carbs per cookie! They have 5 grams of total carbs minus the 3.3g of fiber for a total of only 1.7 net carbs.
This great recipe can certainly fit in your low carb diet with ease. Next time you make the recipe make sure to pull out an ice cream scoop. Why? Because you'll have so many carbs left you could even make in ice cream cookie sandwich!
Dunkable Cookies
There's nothing better than a fresh, warm, chewy chocolate chip cookie dipped in milk, or is there?… No matter how you take your cookies you'll need a quality beverage to enjoy them with. We have a variety of drinks on our blog but some of our favorites are:
How to Make Keto Chocolate Chip Cookies
Many keto chocolate chip cookies are too crunchy for our liking. We prefer chewy cookies. Don't get us wrong, we love our crunchy maple macadamia nut cookies and Nutter Butters, but there's something so indulgent about soft and chewy chocolate chip cookies. So let's breakdown how to make the best keto cookies:
Ingredients for Chewy Keto Chocolate Chip Cookies
This simple recipe doesn't require any crazy kitchen gadgets or absurd ingredients, but if you're low in almond flour and erythritol then head to the grocery store with our Keto Shopping List and stock up on some keto baking essentials.
For the dry ingredients you will need Almond Flour, Erythritol, Baking powder, our SECRET INGREDIENT, and Low-Carb Chocolate Chips. Almond flour is going to be the base for this recipe and combined with the other dry ingredients like erythritol for sweetness and baking powder for rise. For this recipe, we chose not to use coconut flour and only to use almond flour. Almond flour provides a nice nutty flavor while still being neutral. Almond flour is also gluten free so those who are gluten sensitive don't have to worry.
For the wet ingredients you'll need butter or coconut oil. (Note: coconut oil will give a bit of a different flavor), an egg, and vanilla extract. We chose not to use liquid stevia in this recipe, but if you have a sweet tooth feel free to add a couple drops of liquid stevia to make the cookies sweeter.
What is the Secret Ingredient?
After speaking to our friend Deana, the founder of Good Dee's baking mixes, we learned beef gelatin powder is her secret keto baking ingredient. Beef or pork gelatin powder gives cookies and other keto baked goods a chewy texture, and you can easily find it at your local grocery store or online.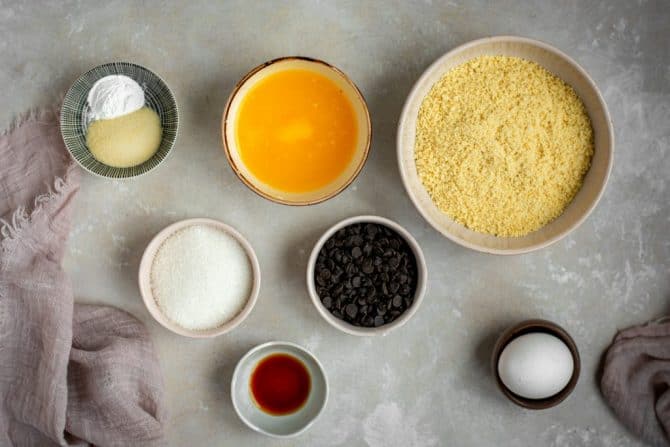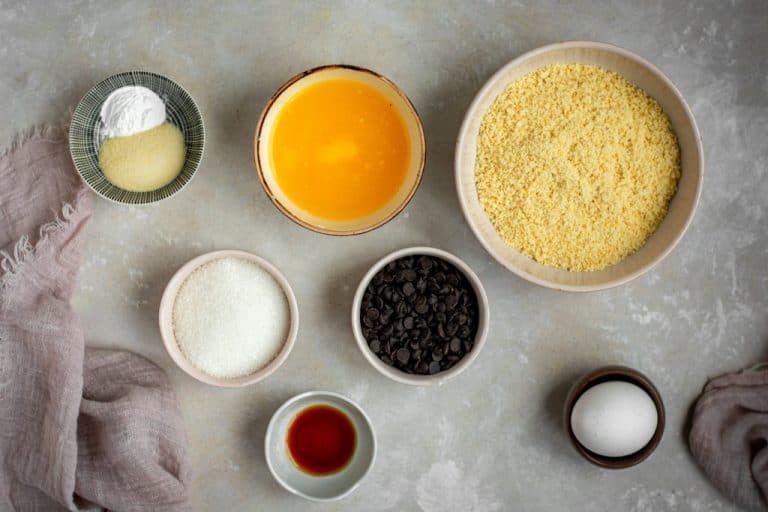 Plus gelatin is gluten free and sugar free so no keto concerns there. Most keto cookie recipes do not use gelatin, but we think it's definitely necessary to make the best keto chocolate chip cookies.
Making the Keto Chocolate Chip Cookies
Like any good cookie recipe, start by preheating your oven to 350 degrees F. Next line two cookie sheets or a large baking sheet. We like to use a silicon mat for lining, but parchment paper will work just as well.
Next, you're going to combine the dry ingredients in a small mixing bowl, making sure there are no clumps in the almond flour. By keeping the wet and dry mixtures separate(4), you ensure everything is evenly incorporated. Mix together the almond flour, erythritol, baking powder, and beef gelatin then set it aside.
Create the Wet Mixture
A quick note on butter: We like to use unsalted butter for baking recipes then add pink Himalayan salt when needed. Salted butter can potentially make your cookie recipe a tad too salty.
Begin by melting the butter on the stove or in the microwave. Now combine the vanilla, egg, and melted butter to a mixing bowl. Whisk the wet ingredients until they are all smooth and well combined.
Pro Tip! Be careful when adding a raw egg to melted butter. If the butter is too hot, it will cook the egg and that will ruin the cookie dough. To avoid cooking the egg, allow the butter to cool off for a few minutes BEFORE combining.
Combine Dry and Wet Mixtures
In two parts, add the dry mixture to the wet mixture. Combine using a whisk or mixing spoon. The dough will come together like the cookie dough that you are used to, not runny or lumpy.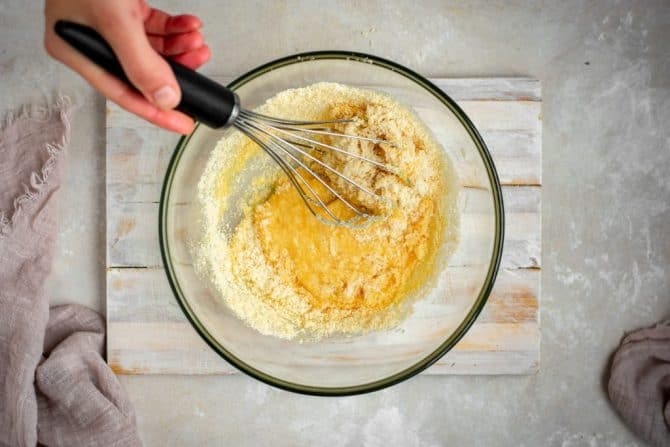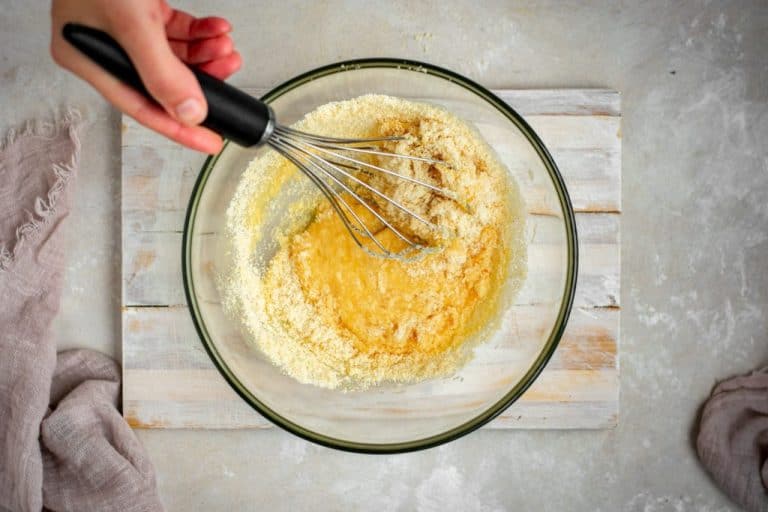 Want Edible Keto Cookie Dough?
If you prefer to eat keto chocolate chip cookie dough, rather than bake it into keto chocolate chip cookies, then you're in luck. We have a Keto Cookie Dough recipe that's high in fat and only 1g net carbs per cookie dough serving. These tasty cookie dough bites are a great dessert or fat bomb snack.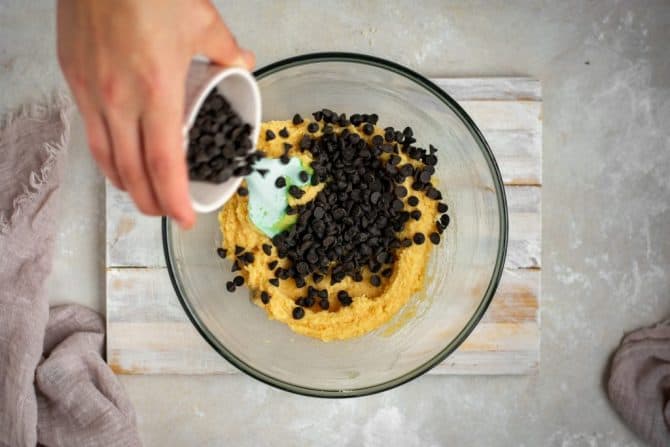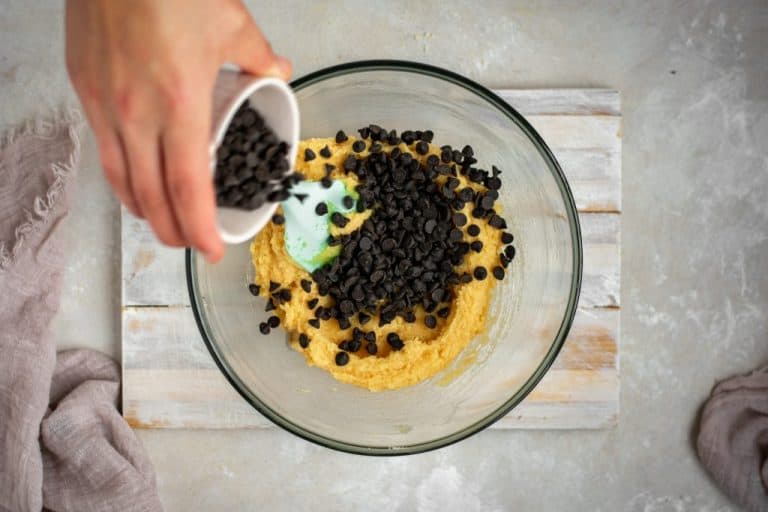 Fold in the Sugar Free Chocolate Chips
Using a spatula or spoon, fold in the low-carb chocolate chips. We love sugar free chocolate chips like the dark chocolate or milk chocolate chips from Lilys. When shopping for chocolate chips, look for brands sweetened with stevia, erythritol, or monk fruit. Avoid brands that use maltitol as a sweetener or IMO fiber, since those will increase blood sugar and hinder ketosis.
We used these Lily's Baking Chocolate chips which are sweetened with stevia and erythritol. For more info, read our full Guide to Keto Sweeteners.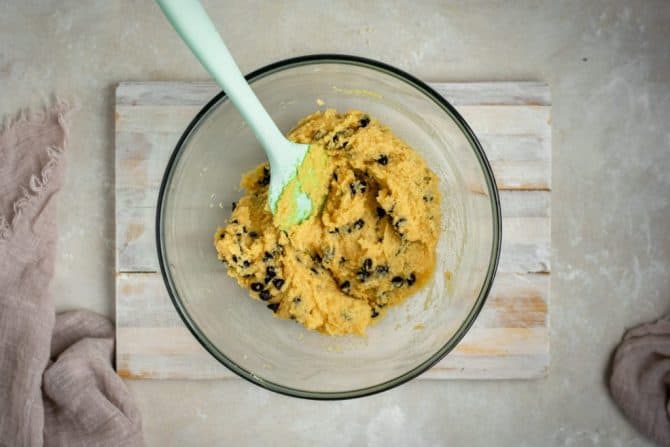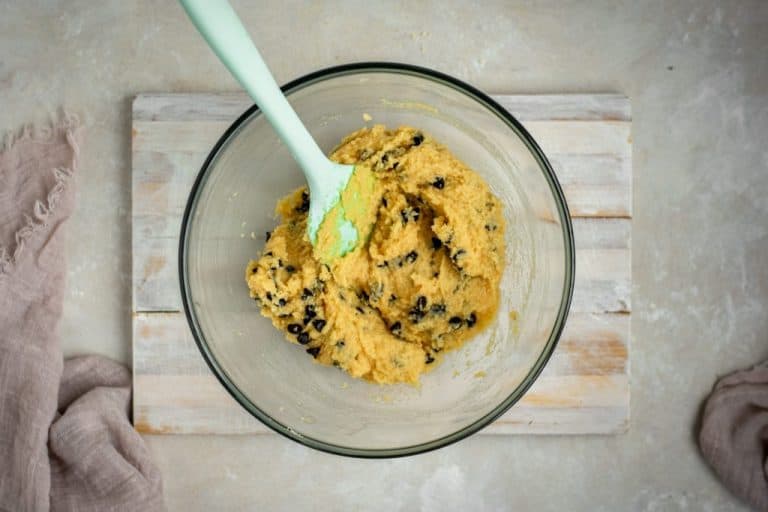 Bake Until Golden Brown
Using a cookie scooper or a spoon, scoop the cookies onto your prepared cookie sheet. The recipe will yield 16-20 low carb cookies depending on the size of your cookies. Bake for 15 minutes or until golden brown on top. Then let the chocolate chip cookies cool for 20 minutes before eating.
We know it's difficult, trust me, but if you pick up these cookies too early they're bound to break. Like most keto recipes made of almond flour, they need time. Sometimes in order to make the best low carb cookies you need to make sacrifices.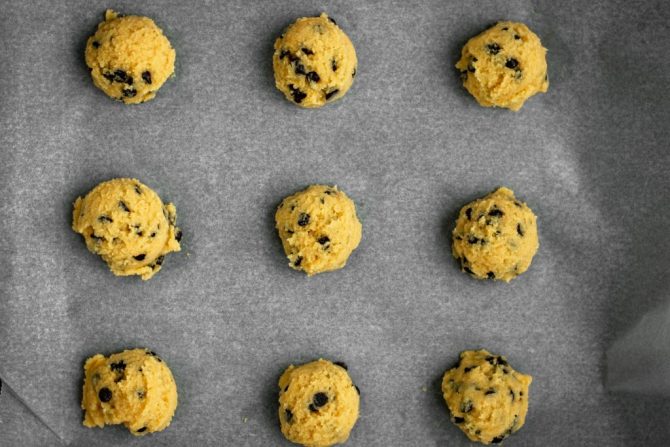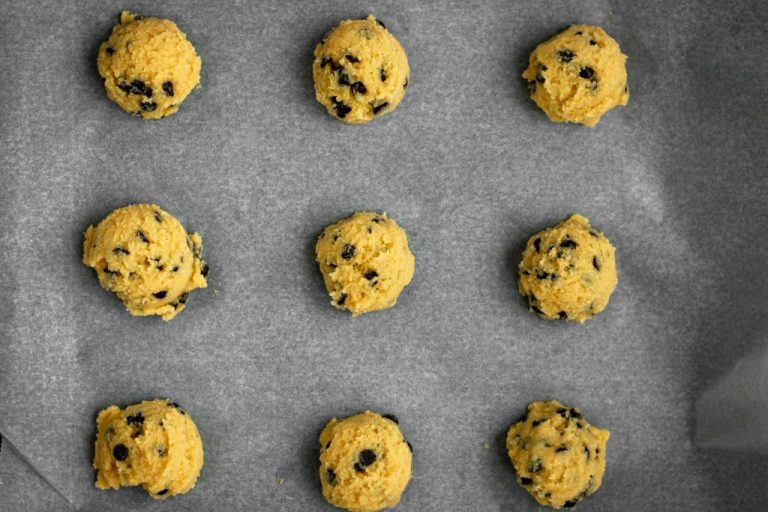 TIP: If you don't have Lily's chocolate chips at home, you can use chopped up 100% cocoa Baker's Chocolate and liquid stevia (30 drops) to replace the chocolate chips in these keto cookies!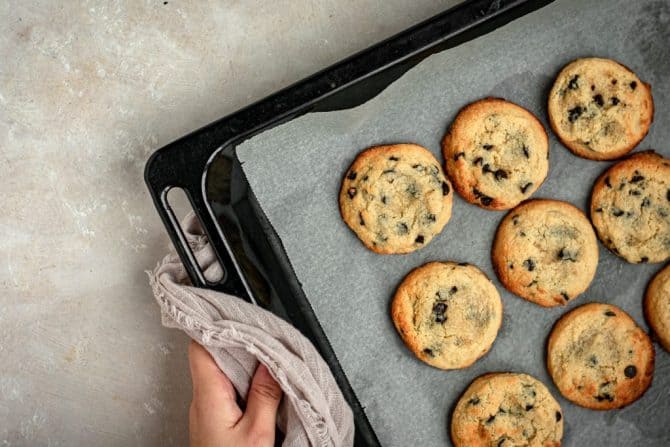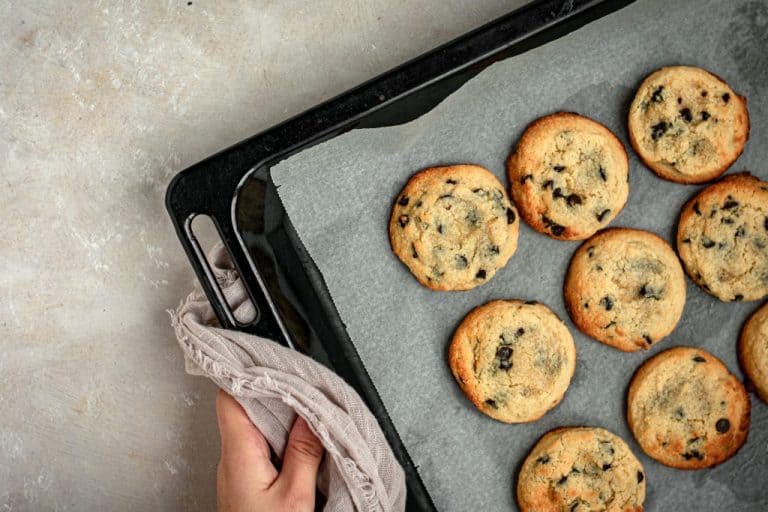 Make Them Low Carb Coconut Flour Chocolate Chip Cookies
With just a few substitutions, you can make this recipe with coconut flour instead of almond flour. We love the recipe with almond flour, but know not everyone can eat nuts, or even likes almond flour in the first place. To make these low carb chocolate chip cookies gather the following ingredients:
Wet Ingredients
5 tbsp Butter- You can sub this ingredient for coconut oil, however it changes the flavor so we feel the best low carb/ keto cookies are made with butter.
1 large Egg
1 tsp vanilla extract- Vanilla extract should never be skipped in a keto cookie's recipe. It is an easy keto way to add in a ton of extra flavor to your cookies.
1 tbsp Cream Cheese- Net carb counts on cream cheese tend to change a lot based on brand. Try and find the lowest carb cream cheese you can, or at least one with very few ingredients.
2 tbsp Heavy Whipping Cream- Heavy cream unlike milk is very keto friendly. We recommend organic dairy when possible for the best flavor, but it is not necessary.
Dry Ingredients
6 tbsp Coconut flour– A low carb/ keto substitution for nut based flours, coconut flour will provide structure to these keto cookies.
1/2 cup erythritol– This is going to be our sugar substitute. Erythritol is a keto friendly sweetener that we use a lot in keto recipes. You can also do half brown sugar swerve and half regular erythritol for more depth in flavor.
1 tbsp beef gelatin powder- The secret ingredient to these cookies. Beef gelatin is keto friendly and gives that extra chewy texture.
1 tsp Baking powder- This will give the cookies a little rise so they can expand and be a little fluffy inside.
1/4 cup Lily's Chocolate Chips– If you're looking for a low carb/ keto chocolate chip Lily's chocolate chips have you covered. They are sugar free, keto friendly, and have a super low net carb count.
Putting Together Nut-Free Chocolate Chip Cookies
Now that you have all your ingredients together it's time to work on these nut free keto chocolate chip cookies.
Instructions
Preheat the oven to 350 degrees F and line a baking sheet with parchment paper.
Put the butter and cream cheese in a large bowl and microwave for 20-30 seconds, until soft. Whisk together until uniform. Now add the eggs, heavy whipping cream and vanilla extract and whisk.
In a separate bowl, combine the coconut flour, erythritol, beef gelatin powder and baking powder. In two batches add the dry to the wet as you combine.
Once the dough has come together fold in your sugar free chocolate chip of choice. Using a cookie scooper or a spoon, make 10-12 cookies on the parchment paper. The dough will not spread in the oven so flatten out the cookies to the desired size you would like them.
Bake at 350 for 17 minutes or until golden brown. Allow them to cool for at least 20 minute before handling. Enjoy!
Nutrition info: Serving size 1 cookie (Nut and Gluten Free): 8g fat, 1.4g protein, 4.2g carbs, 2.1g fiber, 2.1g net carbs.
Storage
These cookies are so good you'll wish you had leftovers. Better yet, just make sure the next time you make keto chocolate chip cookies there's a double batch in the oven. To store these low carb chocolate chip cookies place them in an airtight container in the fridge for up to 12 days.
Tips for the Best Keto Chocolate Chip Cookies
If you're unsure what you can do to make these cookies perfect every time, read our list of the best tips for keto chocolate chip cookies.
Sweet and Salty
The best baked goods have some element of sweetness and some element of saltiness. We love using big flakey sea salt to top our cookies ensuring there is a sweet and salty combo in every bite.
Scrape Down the Bowl
Whenever you're mixing anything make sure you're scraping down the sides of your bowl. Almond flour and baking powder tend to shift to the sides which can result in uneven baking and rising. A good rule of thumb is to scrape down the sides of your bowl in-between every 2-3 ingredients you add.
Use the Right Almond Flour
Almond flour in this case does matter, so don't confuse flour for meal. Almond meal has a much larger grain size and can cause these cookies to bake incorrectly. Stick to almond flour (preferably blanched and finely ground).
Need More Keto Desserts?
We have a brand new recipe eBook with 30+ Keto Dessert recipes, from pies and cakes, to loaves and muffins. All of which are sugar and gluten free! Or head over to our blog where we have all types of desserts to satisfy your cravings. Interested in more almond flour baking? We have an array of recipes made with different low carb baking ingredients. From brownies to cheesecake, all the way to low carb ice cream we've got you covered with tons of delicious recipes.
The Best Keto Chocolate Chip Cookie Recipe
Whether or not you like cookies low carb, we highly suggest you make these keto chocolate chip cookies for your next get-together (or night in…) so you can share the delicious love. Plus with only 20 minutes total time you'll be eating this chocolate chip cookie recipe before you know it.
Big shoutout to Deana at Gooddees Baking Mixes for allowing this great recipe to be possible! She introduced us to the absolute necessary, secret ingredient of beef gelatin to make the perfect chewy cookie! Check out her mixes – they are the best keto baking mixes on the market!
Recipe can be quickly added to MyFitnessPal – Search "KetoConnect – Keto Chocolate Chip Cookies"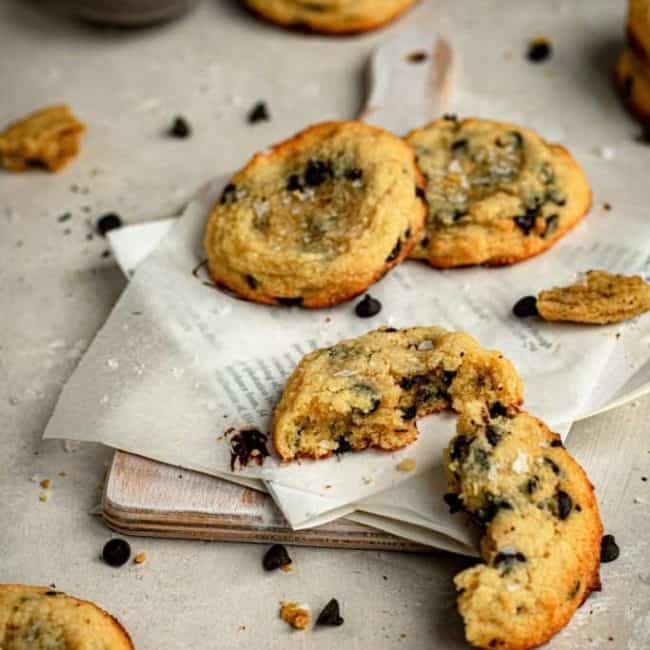 CHEWY Keto Chocolate Chip Cookies
The ultimate chewy keto chocolate chip cookie recipe. Don't forget the secret ingredient that makes these cookies chewy!
Total Time 20 minutes
Servings 16 cookies
Calories per serving 130kcal
Prep Time: 5 minutes
Cook Time: 15 minutes
Instructions:
Preheat your oven to 350 and line two baking sheets with parchment paper.

Combine the almond flour, beef gelatin, erythritol and baking powder in a small bowl and set aside.

In a large bowl combine the melted butter, egg, and vanilla extract using a whisk. In two batches add the dry ingredients to the wet and combine until uniform.

Fold in the chocolate chips. Using a cookie scooper or spoon scoop out 16-20 cookies onto your baking sheets, depending on your cookie size preference!

Bake the cookies at 350 for 15 minutes or until golden brown on the top. Allow to cool for at least 20 minutes prior to consuming! Enjoy!
Nutrition Facts
CHEWY Keto Chocolate Chip Cookies
Amount Per Serving
Calories 130 Calories from Fat 113
% Daily Value*
Fat 12.5g19%
Carbohydrates 5g2%
Fiber 3.3g13%
Protein 3g6%
* Percent Daily Values are based on a 2000 calorie diet.
Written By