This is the most popular keto cookie recipe on our website! Everyone loves a good chocolate chip cookie, and what really sets these apart from most keto cookies is the fact that they're chewy! That's right, this recipe is going to walk you through the process of making chewy keto chocolate chip cookies with a top secret ingredient.
How To Make Chewy Chocolate Chip Cookies
Use Almond Flour
While you can make some tasty keto chocolate chip cookies using coconut flour, to achieve the ultimate chewy cookie almond flour is required. Almond flour results in a traditional texture, much like what you would find with flour based chocolate chip cookies. Coconut flour will result in a bread-like texture, which is still good, but not quite what we're going for with this recipe.
Gelatin: The Secret Ingredient
This recipe calls for beef gelatin which is what makes these keto chocolate chip cookies chewy. If you cannot find beef gelatin this recipe works just as good with store bought brands of gelatin (usually made from pork).
Find Low Carb Chocolate Chips
Low carb chocolate chips are available at most grocery stores in the United States now. The most popular brand is Lily's Chocolate Chips. To get the flavors right in this recipe it is important to use a type of chocolate chips that have sweetness added to them, otherwise this recipe will not be very sweet. If for example you wanted to use unsweetened chocolate, it would be necessary to increase the sweetener in the recipe to compensate for the lack of sweetness in the chocolate chips.
Butter > Coconut Oil
Butter is always going to reign supreme when it comes to chocolate chip cookies, even if you're on a keto diet. Coconut oil will add some unwanted coconut flavor to this recipe and you don't get the same golden brown color.
Don't Overcook Them
A lot of people tend to overcook things when they first begin baking on a keto diet. Most keto desserts will appear to be underdone when you take them out of the oven. That is normal. As these cookies cool they will begin to firm up. It's a good rule of thumb to err on the side of under cooking when it come to baking on a keto diet.
Why We Love Cookies on Keto
We prefer cookies over things like cakes and pies because with cookies you can store them in the freezer and they will basically last forever. This comes in handy when you have a food blog and you can't eat your way through all of the different recipes you make each day. Storing these in the refrigerator is great if you think you will eat them in 2-3 weeks, but we prefer to store them in the freezer where they will keep for a few months.
How Many Carbs in Keto Chocolate Chip Cookies?
In this recipe there are less than 2 grams of net carbs per cookie. We strive to keep every recipe on our website as low in carbs as possible, which is why we do not use any maple syrup or molasses in our recipe like most of the other recipes you see do.
Want More Keto Desserts?
Cookies not your dessert of choice? Head over to our blog – we have all types of desserts to satisfy your desires, from brownies to cheesecake, and even low carb ice cream! Whether or not you like cookies we highly suggest you make keto chocolate chip cookies for your next family/friend gathering so you can share the delicious love!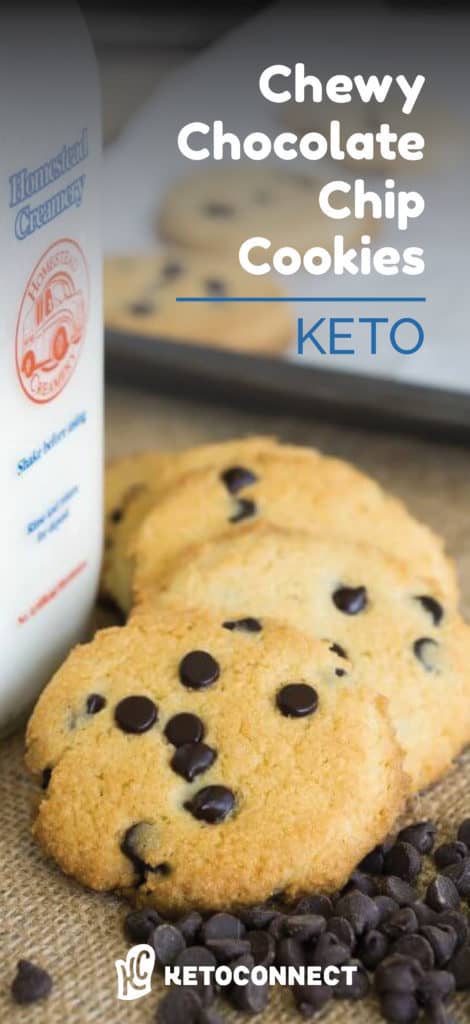 Recipe can be quickly added to MyFitnessPal – Search "KetoConnect – Keto Chocolate Chip Cookies"
Big shoutout to Deana at Gooddees Baking Mixes for allowing this recipe to be possible! She introduced us to the absolute necessary, secret ingredient of beef gelatin to make the perfect chewy cookie! Check out her mixes – they are the best keto baking mixes on the market!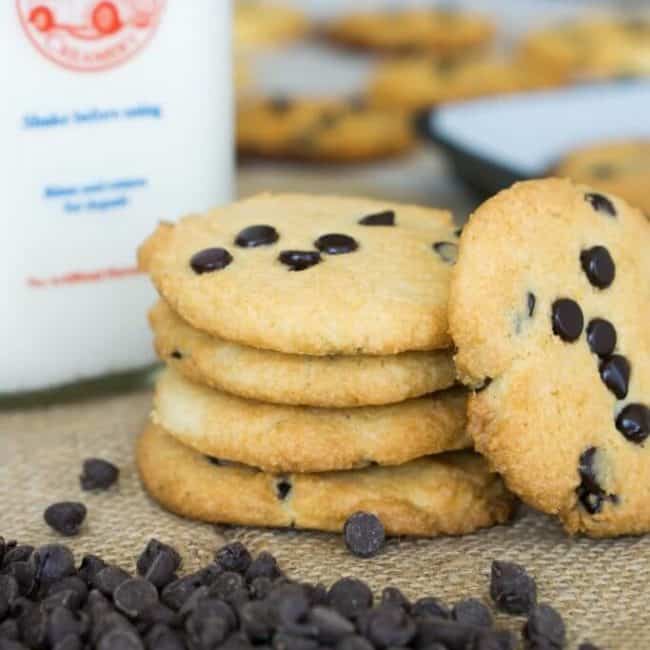 Almond Flour Chocolate Chip Cookies | Chewy!
Total Time 20 minutes
Servings 16 cookies
Calories per serving 130kcal
Prep: 5 minutes
Cook: 15 minutes
Instructions:
Preheat your oven to 350 and line two baking sheets with parchment paper.

Combine the almond flour, beef gelatin, erythritol and baking powder in a small bowl and set aside.

In a large bowl combine the metled butter, egg, and vanilla extract using a whisk. In two batches add the dry ingredients to the wet and combine until uniform.

Fold in the chocolate chips. Using a cookie scooper or spoon scoop out 16-20 cookies onto your baking sheets, depending on your cookie size preference!

Bake the cookies at 350 for 15 minutes or until golden brown on the top. Allow to cool for at least 20 minutes prior to consuming! Enjoy!
Nutrition Facts
Almond Flour Chocolate Chip Cookies | Chewy!
Amount Per Serving
Calories 130 Calories from Fat 113
% Daily Value*
Fat 12.5g19%
Carbohydrates 5g2%
Fiber 3.3g13%
Protein 3g6%
* Percent Daily Values are based on a 2000 calorie diet.