Just because you're following a keto diet doesn't mean you have to give up your favorite childhood snack. These Keto Chocolate Chip Cookies are CHEWY and gooey just like the ones your mom used to bake after school. Indulge in a freshly baked bite of nostalgia for only 1.7g net carbs per cookie.
Follow the recipe video below or continue reading to learn how to make the best keto chocolate chip cookies ever. If you're ready to conquer keto baking, take our Keto Baking Course and download our Keto Baking Cheat Sheet.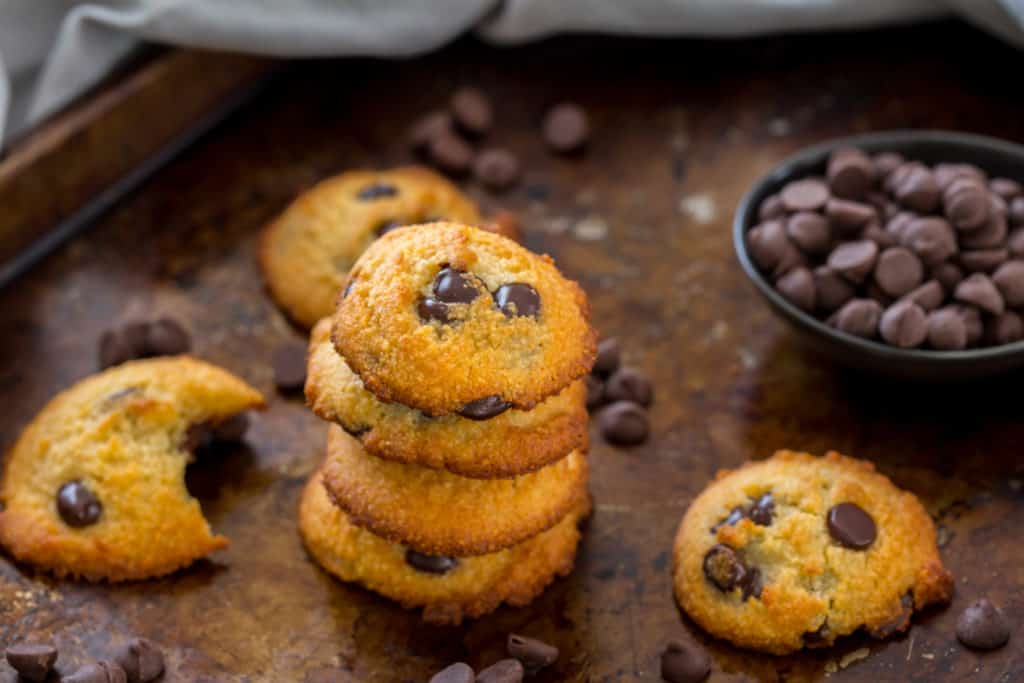 The Best Keto Chocolate Chip Cookie Recipe
Many keto chocolate chip cookies are too crunchy for our liking. We prefer chewy cookies. Don't get us wrong, we love our crunchy maple macadamia nut cookies and Nutter Butters, but there's something so indulgent about a soft and chewy cookie. Here's how to make them.
Ingredients for Chewy Keto Chocolate Chip Cookies
This simple recipe doesn't require any crazy kitchen gadgets or absurd ingredients, but if you're low in almond flour and erythritol then head to the grocery store with our Keto Shopping List and stock up on some keto baking essentials.
Butter
Egg
Baking powder
Vanilla extract
SECRET INGREDIENT
What is the Secret Ingredient?
After speaking to our friend Deana, the founder of Good Dee's baking mixes, we learned beef gelatin powder is her secret keto baking ingredient. Beef or pork gelatin powder gives cookies and other keto baked goods a chewy texture, and you can easily find it at your local grocery store or online.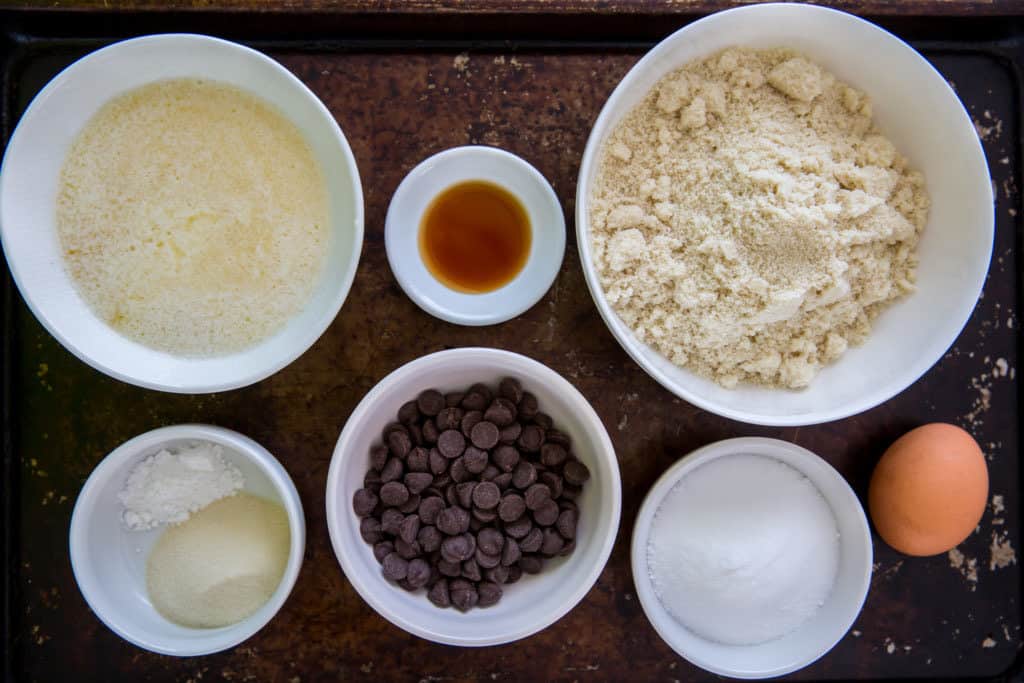 How to Make Keto Chocolate Chip Cookies
Start by preheating your oven to 350 degrees F.
Line two cookie sheets. We like to use a silicon mat, but parchment paper will work just as well.
Next, you're going to combine the dry ingredients in a small mixing bowl. By keeping the wet and dry mixtures separate, you ensure everything is evenly incorporated. Mix together the almond flour, erythritol, baking powder, and beef gelatin and set aside.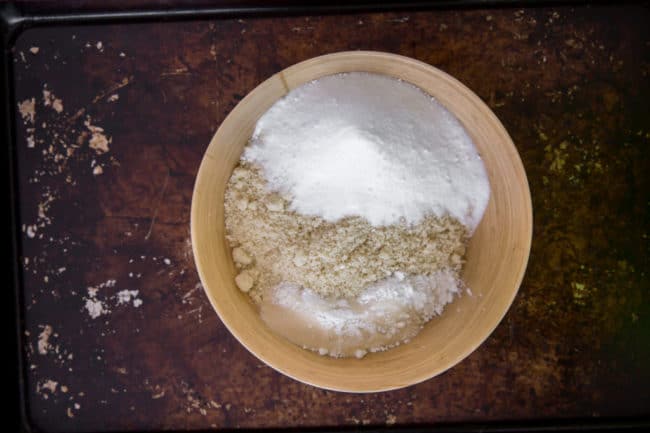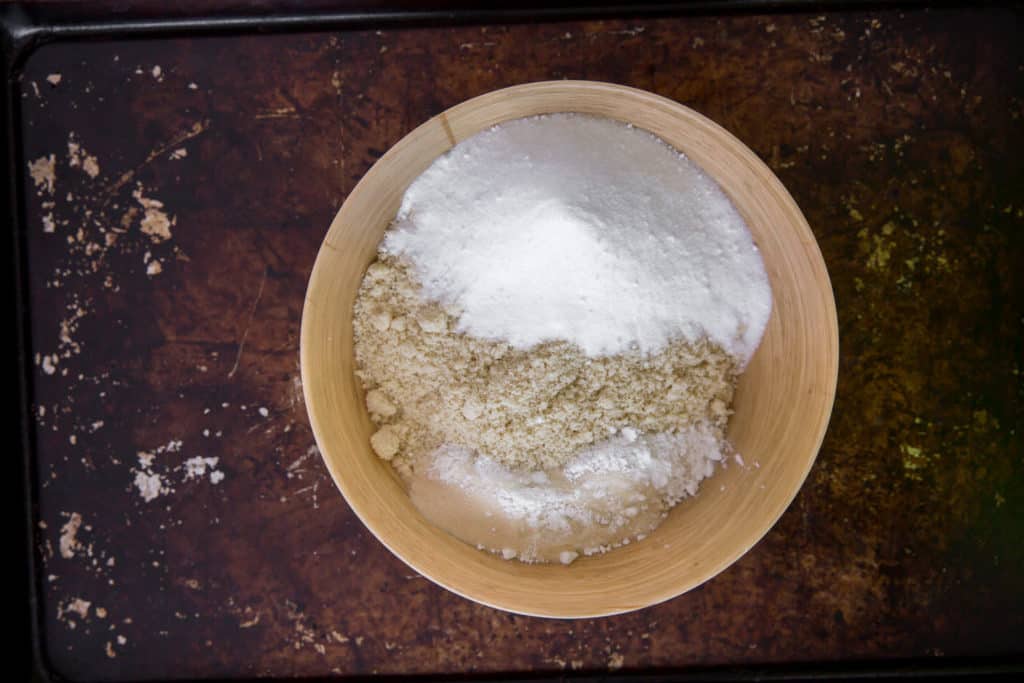 Combine the Wet Ingredients
A quick note on butter: We like to use unsalted butter for baking recipes then add pink Himalayan salt when needed. Salted butter can potentially make your cookies a tad too salty.
Melt the butter on the stovetop or in the microwave.
Add the vanilla, egg, and melted butter to a mixing bowl.
Whisk the wet ingredients until smooth.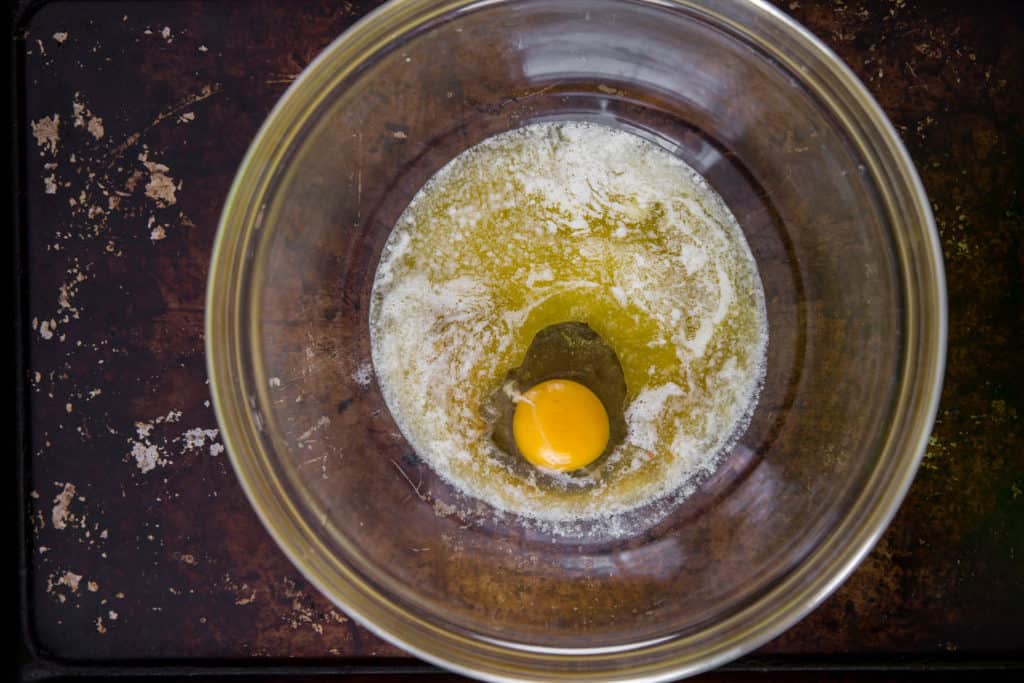 Pro Tip! Be careful when adding a raw egg to melted butter. If the butter is too hot, it will cook the egg and that will ruin the cookie dough. To avoid cooking the egg, allow the butter to cool off for a few minutes.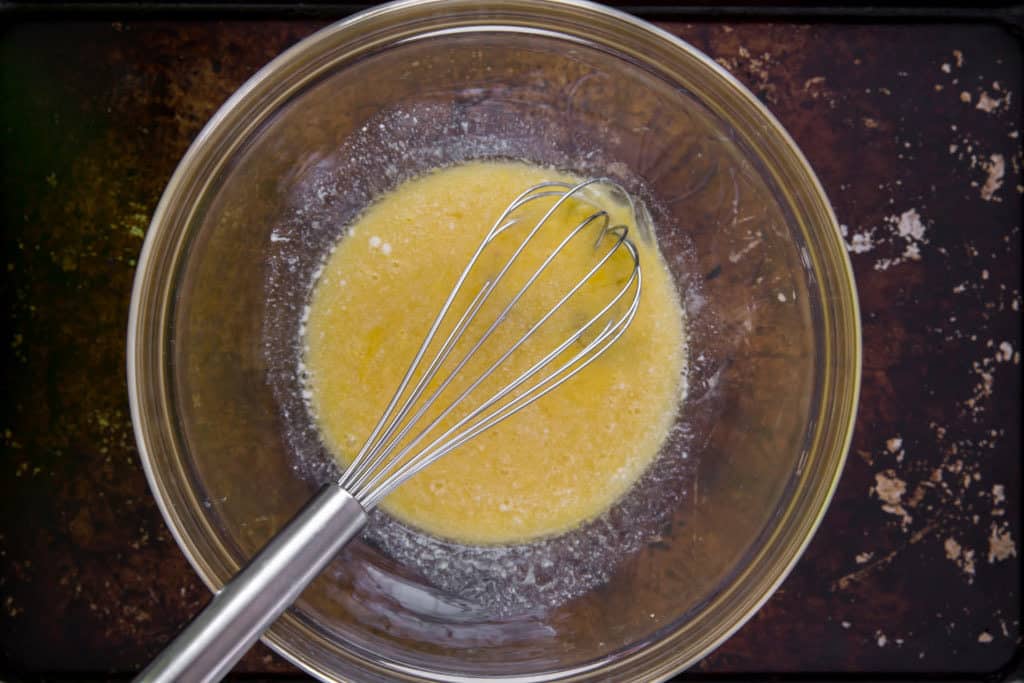 Combine Dry and Wet Mixtures
In two parts, add the dry mixture to the wet mixture. Combine using a whisk or mixing spoon. The dough will come together like the cookie dough that you are used to, not runny or lumpy.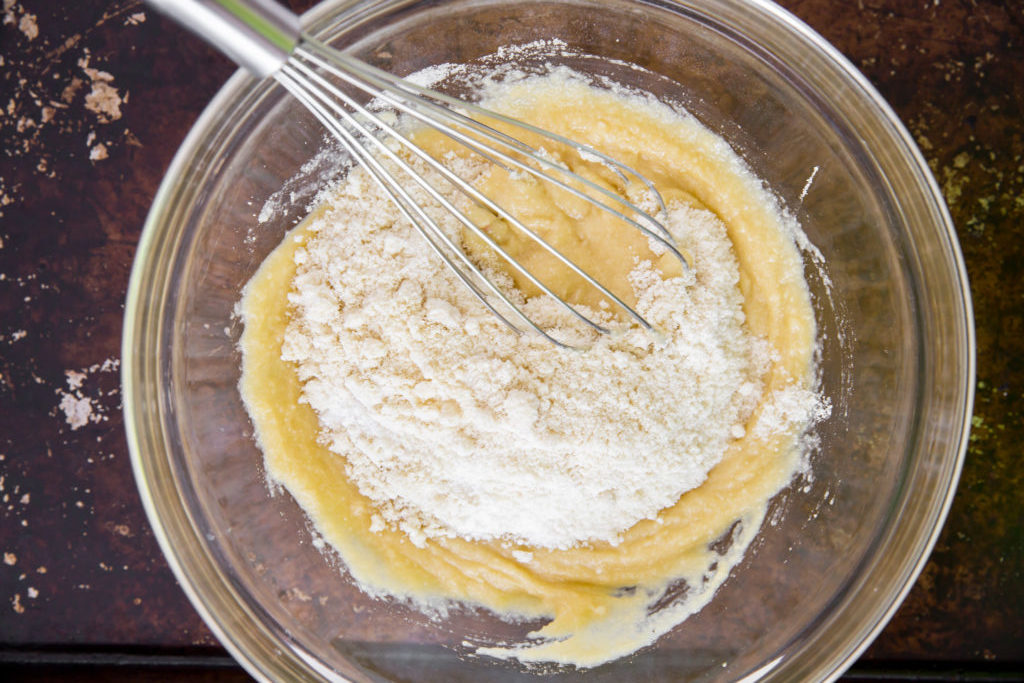 Edible Keto Cookie Dough
If you prefer to eat cookie dough, rather than bake it into keto chocolate chip cookies, then you're in luck. We have a Keto Cookie Dough recipe that's high in fat and only 1g net carbs per serving. These tasty cookie dough bites are a great dessert or fat bomb snack.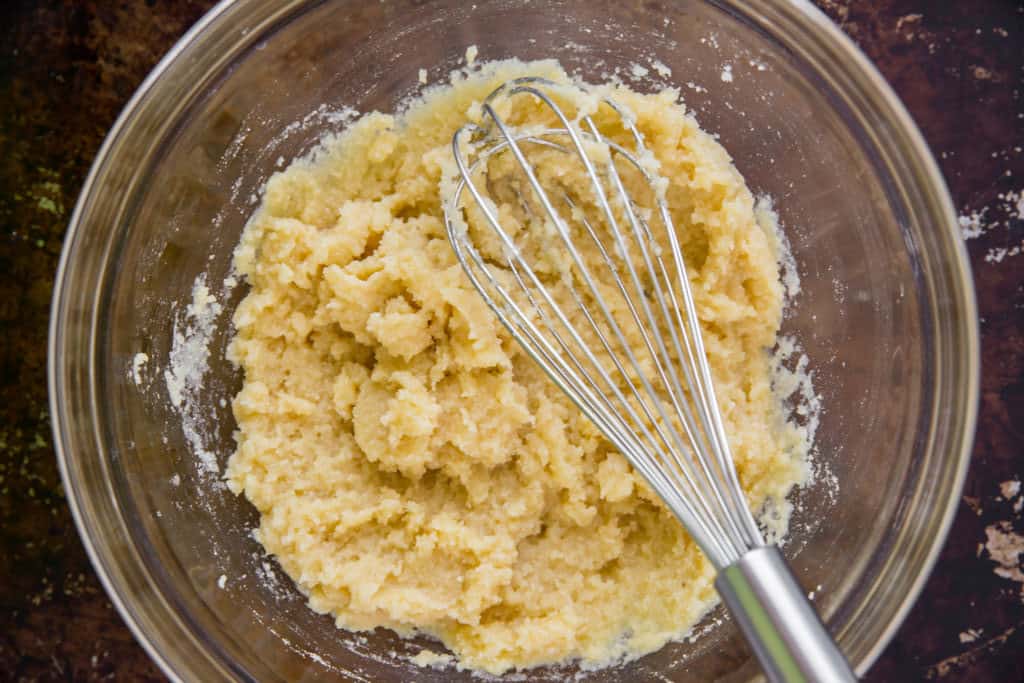 Fold in the Chocolate Chips
Using a spatula or spoon, fold in the low-carb chocolate chips. When shopping for chocolate chips, look for brands sweetened with stevia, erythritol, or monk fruit. Avoid brands that use maltitol as a sweetener or IMO fiber, since those will increase blood sugar and hinder ketosis.
We like to use Lily's Baking Chocolate chips which are sweetened with stevia and erythritol. For more info, read our full Guide to Keto Sweeteners.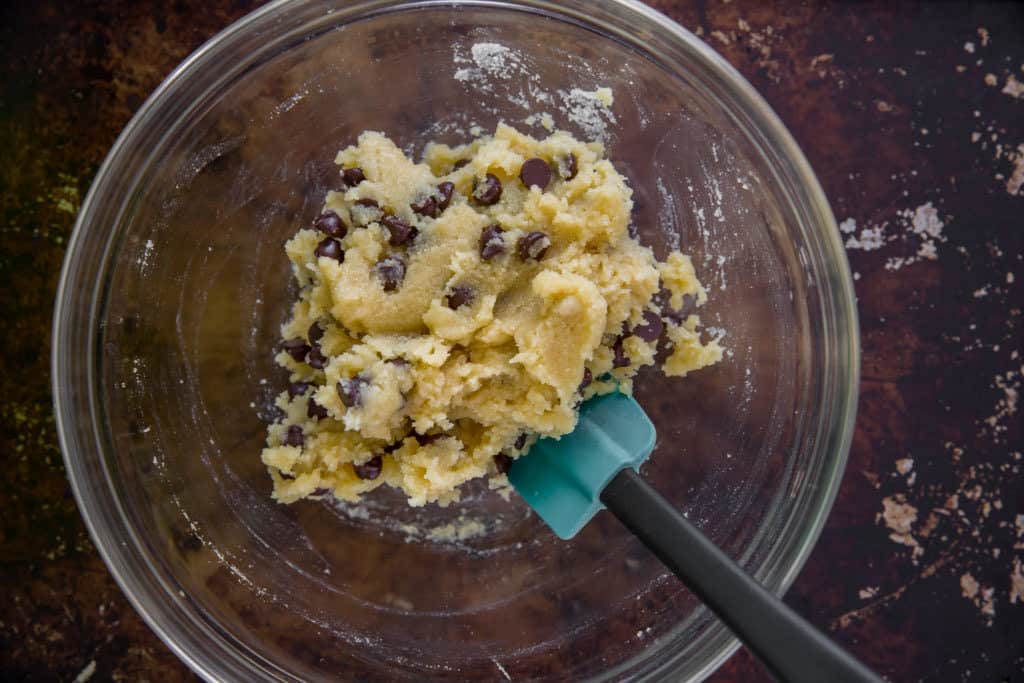 Bake Until Golden Brown
Using a cookie scooper or a spoon, scoop the cookies onto your prepared cookie sheet.
The recipe will yield 16-20 cookies depending on the size of your cookies.
Bake for 15 minutes or until golden brown on top.
Let cool for 20 minutes before eating.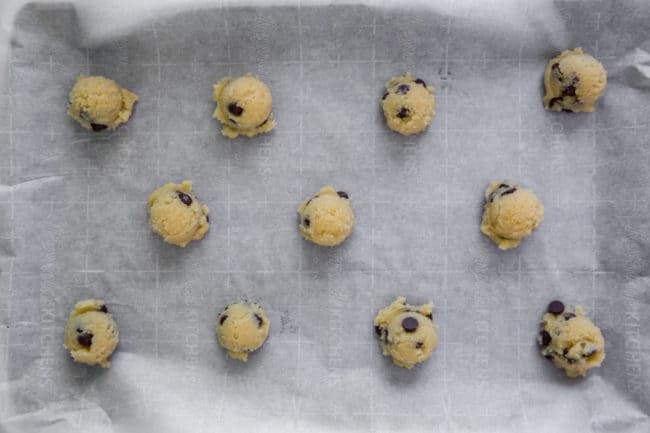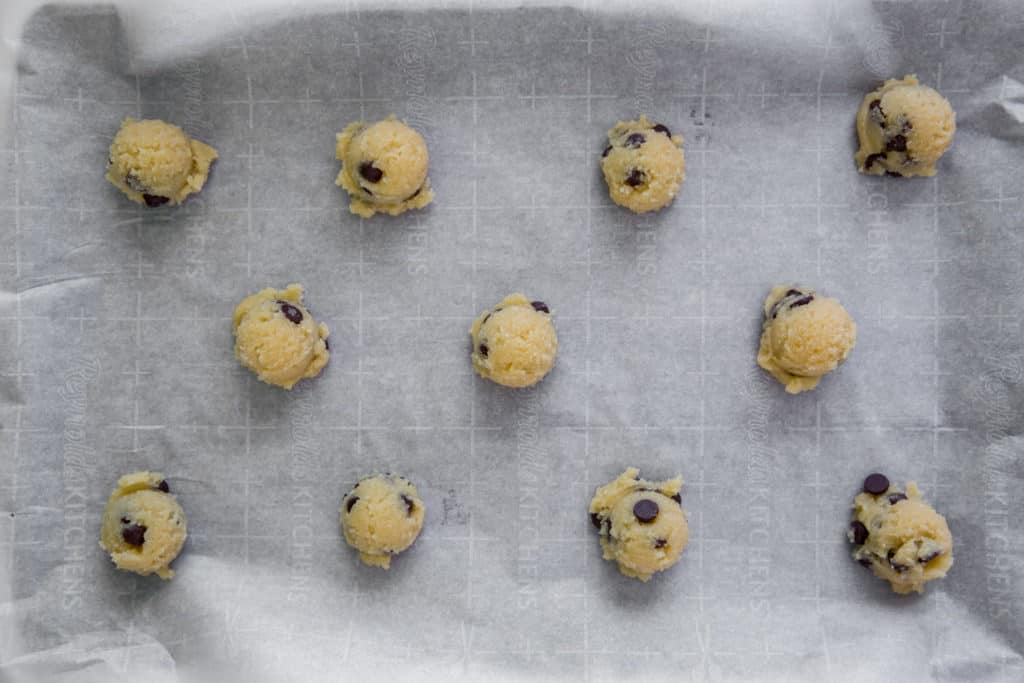 TIP: If you don't have Lily's chocolate chips at home, you can use chopped up 100% cocoa Baker's Chocolate and liquid stevia (30 drops) to replace the chocolate chips!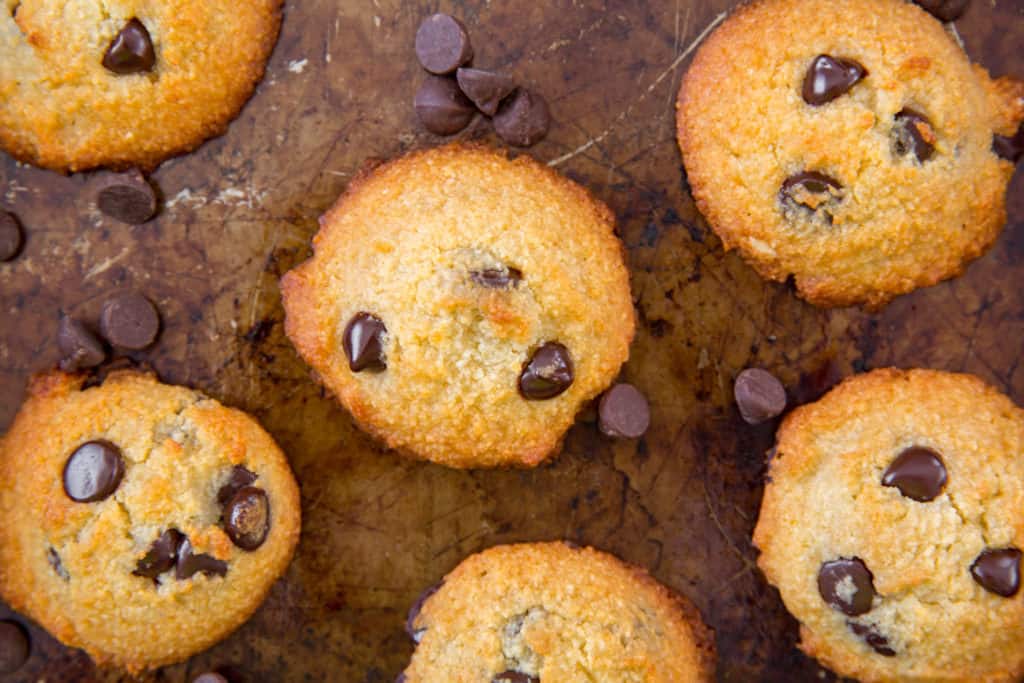 How to Make Nut-Free Keto Chocolate Chip Cookies
With just a few substitutions, you can make this recipe with coconut flour instead of almond flour. Gather the following ingredients:
Nut-Free Instructions
Preheat the oven to 350 degrees F and line a baking sheet with parchment paper.
Put the butter and cream cheese in a large bowl and microwave for 20-30 seconds, until soft. Whisk together until uniform. Add the eggs, heavy whipping cream and vanilla extract and whisk.
In a separate bowl, combine the coconut flour, erythritol, beef gelatin powder and baking powder. In two batches add the dry to the wet as you combine.
Once the dough has come together fold in the chocolate chips. Using a cookie scooper or a spoon, make 10-12 cookies on the parchment paper. The dough will not spread in the oven so flatten out the cookies to the desired size you would like them.
Bake at 350 for 17 minutes or until golden brown. Allow them to cool for at least 20 minute before handling. Enjoy!
Nutrition info per Nut-Free cookie: 8g fat, 1.4g protein, 4.2g carbs, 2.1g fiber, 2.1g net carbs.
Need More Keto Desserts?
We have a brand new recipe eBook with 30+ Keto Dessert recipes, from pies and cakes, to loaves and muffins. Or head over to our blog where we have all types of desserts to satisfy your desires, from brownies to cheesecake, and even low carb ice cream!
Whether or not you like cookies, we highly suggest you make keto chocolate chip cookies for your next get-together (or night in…) so you can share the delicious love.
Big shoutout to Deana at Gooddees Baking Mixes for allowing this recipe to be possible! She introduced us to the absolute necessary, secret ingredient of beef gelatin to make the perfect chewy cookie! Check out her mixes – they are the best keto baking mixes on the market!
Recipe can be quickly added to MyFitnessPal – Search "KetoConnect – Keto Chocolate Chip Cookies"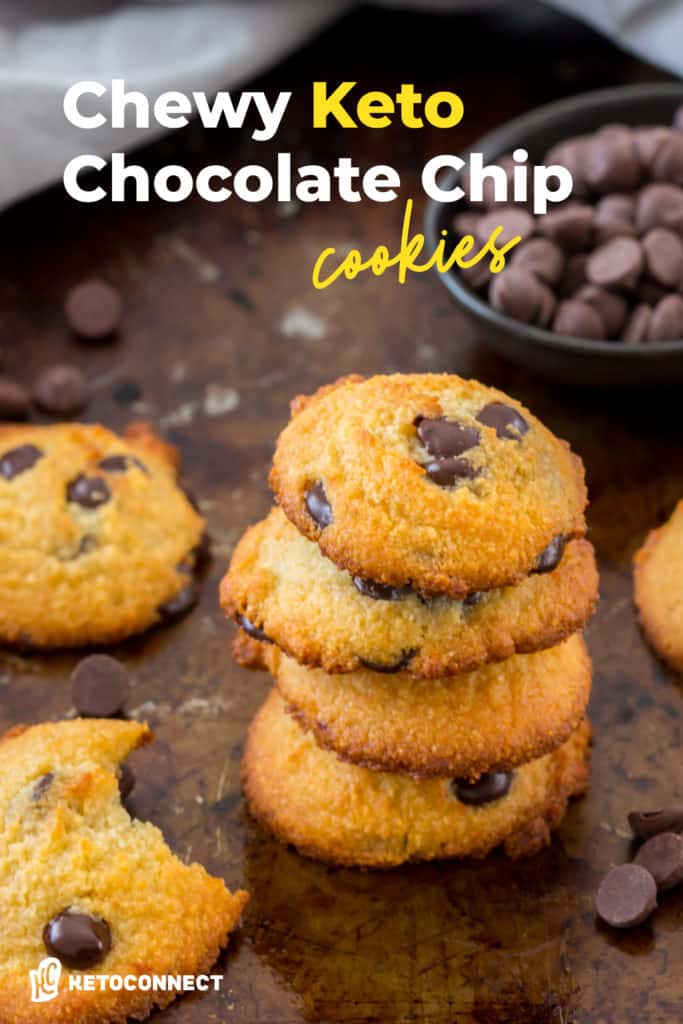 CHEWY Keto Chocolate Chip Cookies
The ultimate chewy keto chocolate chip cookie recipe. Don't forget the secret ingredient that makes these cookies chewy!
Total Time 20 minutes
Servings 16 cookies
Calories per serving 130kcal
Prep Time: 5 minutes
Cook Time: 15 minutes
Instructions:
Preheat your oven to 350 and line two baking sheets with parchment paper.

Combine the almond flour, beef gelatin, erythritol and baking powder in a small bowl and set aside.

In a large bowl combine the melted butter, egg, and vanilla extract using a whisk. In two batches add the dry ingredients to the wet and combine until uniform.

Fold in the chocolate chips. Using a cookie scooper or spoon scoop out 16-20 cookies onto your baking sheets, depending on your cookie size preference!

Bake the cookies at 350 for 15 minutes or until golden brown on the top. Allow to cool for at least 20 minutes prior to consuming! Enjoy!
Nutrition Facts
CHEWY Keto Chocolate Chip Cookies
Amount Per Serving
Calories 130 Calories from Fat 113
% Daily Value*
Fat 12.5g19%
Carbohydrates 5g2%
Fiber 3.3g13%
Protein 3g6%
* Percent Daily Values are based on a 2000 calorie diet.