Yes, these Keto Chocolate Chip Cookies are our second go at chocolate chip cookies, and I might add, you should expect a third made of coconut flour! Here is the thing, chocolate chip cookies are the perfect cookie and probably the most liked by people everywhere, so of course it had to be done, again. The reason we have multiple is that the population is probably split between crunchy and chewy - we already did crunchy so we had to run it back and do chewy! It's a simple recipe, with a secret ingredient to give it the chew. Watch below to see what it is!
The Best Chewy Chocolate Chip Cookie Recipe!
To make the best chocolate chip cookie chewy and crisp you need a secret ingredient - beef gelatin powder. If you don't have it in your cupboard now is the time to purchase it so you can make these cookies as soon as possible! We struggled for a while only able to create a crunchy cookie, from our crunchy maple macadamia nut cookies to our last version of chocolate chip cookies! It was after speaking to Deana, the founder of Good Dee's baking mixes that we learned what beef gelatin powder does to baked goods. We had only been using it in our coffee all this time, but now its a staple in our cookies too!
Who Doesn't Love Chewy Cookies!
I can almost guarantee if we took a poll of the entire nation that more than 50% of the population would vote in favor of chewy cookies over crunchy cookies. That being said, why not make all your cookies chewy moving forward. Just toss in some beef gelatin powder and eat the nations favorite type of cookies! You can even just omit the chocolate chips from this dough and toss in pumpkin pie spice, nuts or seeds, or even some ginger and turmeric to get a little wild! We've provided the perfect chewy cookie base so all you have to do is make it, add your favorite fillings, and love your keto life just a little more!


Keto Chocolate Chip Cookies
Not a fan of chewy cookies? Give our low carb chocolate chip cookies a try for some crunch, also made with almond flour! Cookies not your dessert of choice? Head over to our blog - we have all types of desserts to satisfy your desires, from brownies to cheesecake, and even low carb ice cream! Whether or not you like cookies we highly suggest you make keto chocolate chip cookies for your next family/friend gathering so you can share the delicious love!
Recipe can be quickly added to MyFitnessPal - Search "KetoConnect - Keto Chocolate Chip Cookies"
Big shoutout to Deana at Gooddees Baking Mixes for allowing this recipe to be possible! She introduced us to the absolute necessary, secret ingredient of beef gelatin to make the perfect chewy cookie! Check out her mixes - they are the best keto baking mixes on the market!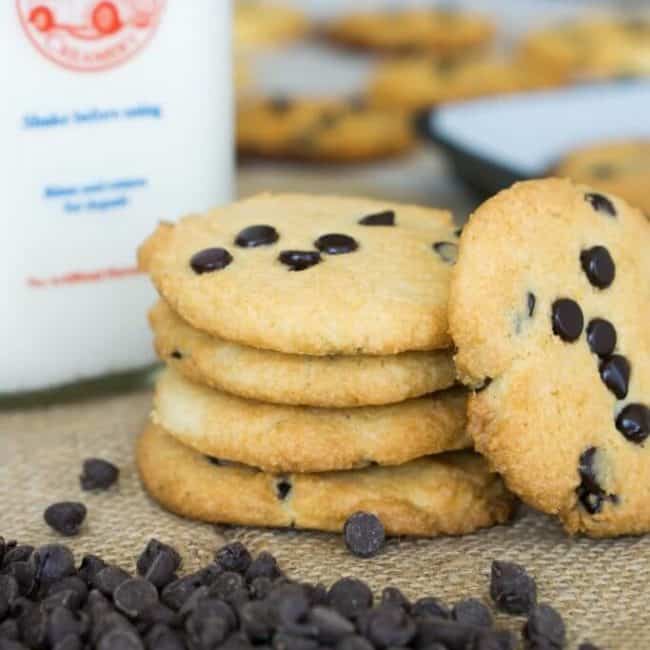 Almond Flour Chocolate Chip Cookies | Chewy!
Total Time 20 minutes
Servings 16 cookies
Calories per serving 130kcal
Prep: 5 minutes
Cook: 15 minutes
Instructions:
Preheat your oven to 350 and line two baking sheets with parchment paper.

Combine the almond flour, beef gelatin, erythritol and baking powder in a small bowl and set aside.

In a large bowl combine the metled butter, egg, and vanilla extract using a whisk. In two batches add the dry ingredients to the wet and combine until uniform.

Fold in the chocolate chips. Using a cookie scooper or spoon scoop out 16-20 cookies onto your baking sheets, depending on your cookie size preference!

Bake the cookies at 350 for 15 minutes or until golden brown on the top. Allow to cool for at least 20 minutes prior to consuming! Enjoy!
Nutrition Facts
Almond Flour Chocolate Chip Cookies | Chewy!
Amount Per Serving
Calories 130 Calories from Fat 113
% Daily Value*
Fat 12.5g19%
Carbohydrates 5g2%
Fiber 3.3g13%
Protein 3g6%
* Percent Daily Values are based on a 2000 calorie diet.