You probably thought it was impossible, but give this Keto Enchilada recipe a try before you continue to have your doubts. Made with simple, whole foods ingredients, this classic Mexican recipe will leave you speechless.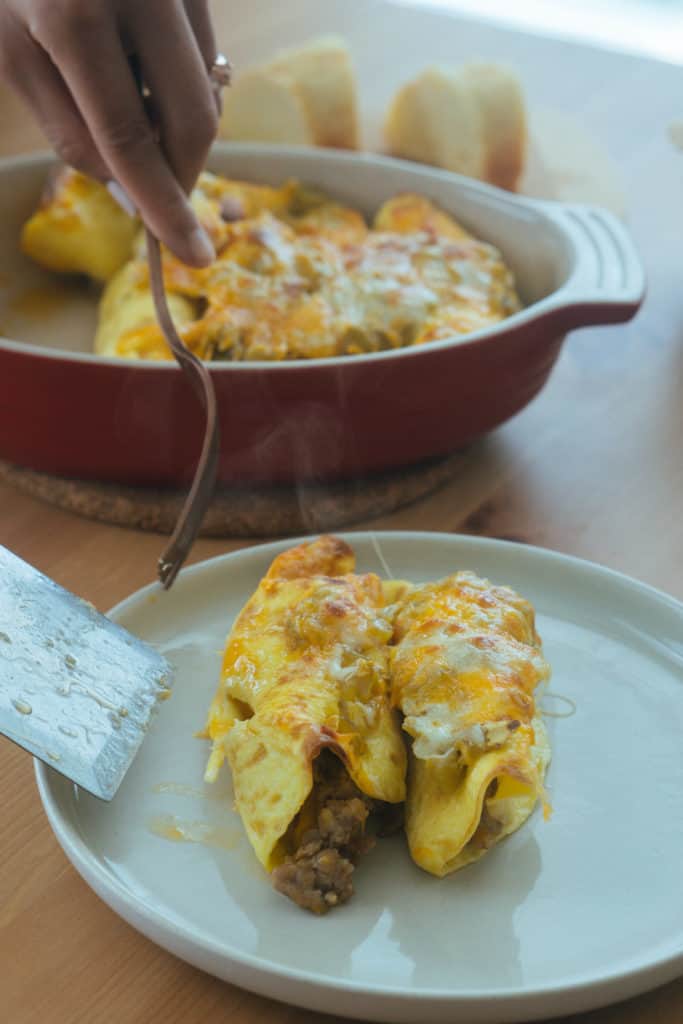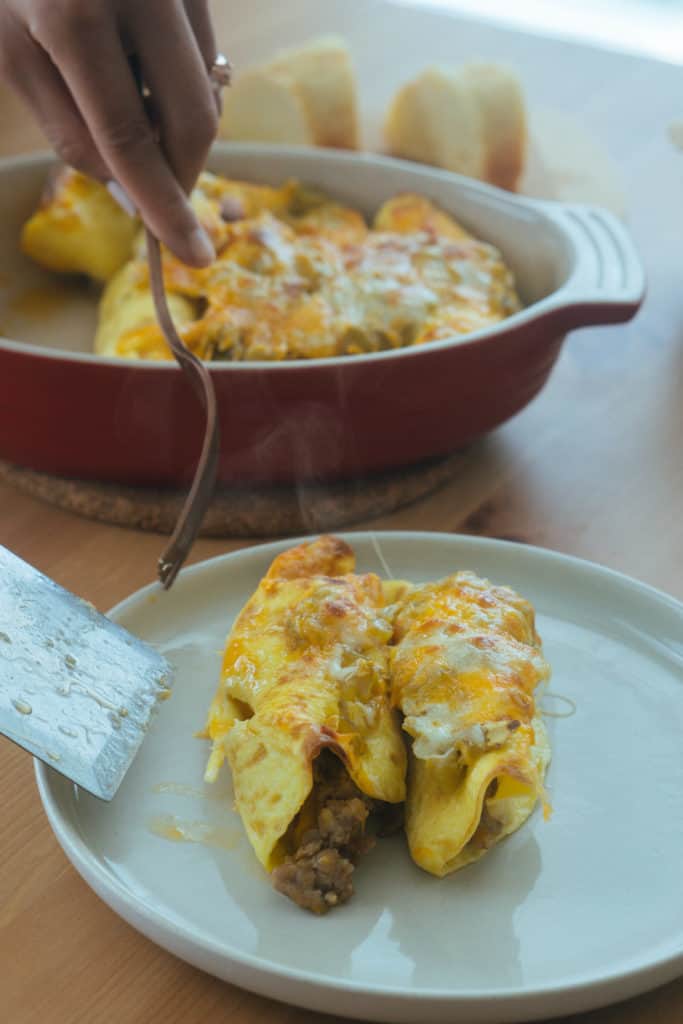 The video above shows you step-by-step how to make keto enchiladas, but don't play it safe. Throw in your own twists with different fillings and toppings!
Tips for Making Keto Enchiladas
Make the "Tortillas"
While we do have a very good keto tortilla recipe you can try, we changed it up slightly for the low carb enchiladas because we needed a sturdier tortilla. These tortillas are simply eggs, a splash of heavy cream, and some herbs and spices.
Pro Tip: If you are having trouble working with the tortillas or they keep breaking on you, a trick is to cook them in a skillet with the lid on. You can even add a tablespoon on water to the pan to help the tortillas steam. When the top of the tortillas steam they become easier to work with.
Keto Enchilada Filling
This is really up to you as most enchilada fillings are keto friendly. Chicken enchiladas are a very popular variety, but in this recipe we are going to walk you through making a breakfast enchilada. This compliments the fact that the tortillas are made from eggs, so the flavors go together perfectly. Some other fillings you could try are:
Chicken
Steak
Ground beef
Cheese
Vegetables
Tightly Pack Enchiladas Into A Casserole Dish
This helps make sure that the enchiladas remain rolled up when they bake, and it also makes for a beautiful presentation. This is the traditional way enchiladas are baked. Depending on the size of casserole dish you use, you may need to place the enchiladas in all different directions. That's perfectly fine, it will look beautiful at the end no matter how disorganized it look before it goes into the oven.
Top With Enchilada Sauce and Chese
The trademark of any good enchilada is the sauce. It is very distinct in flavor and it is what makes the dish stand out from other classic Mexican dishes. When it comes to the cheese you have more wiggle room. Use your favorite type of cheese and make this recipe your own! We use full fat cheddar cheese because we like the contrast it gives to the enchilada sauce. Some other good cheese options are:
Cotija Cheese
Monterey Cheese
Pepper Jack Cheese
Manchego Cheese
Is Enchilada Sauce Keto Friendly?
Why yes it is! Depending on the brand of enchilada sauce you buy it will vary in quality of ingredients, as well as carb and sugar count. Typically you will find the carbs in enchilada sauce to be around 3 grams per 1/4 cup. That means this entire recipe will have under 10 grams of carbs coming from the enchilada sauce.
For sauces we like two options: canned enchilada sauce OR canned green chilis.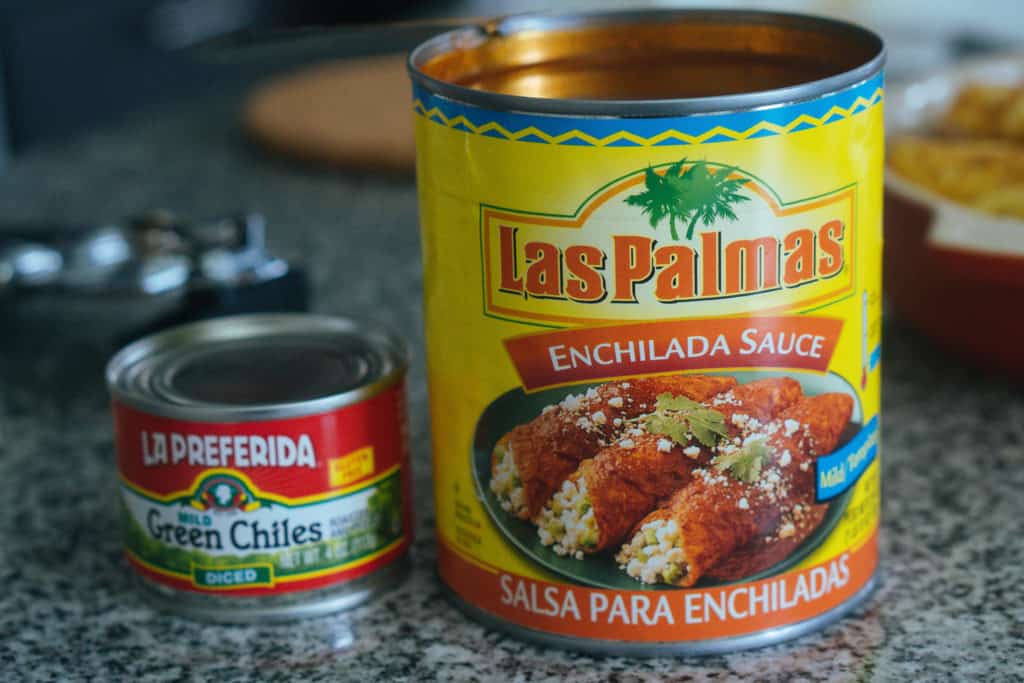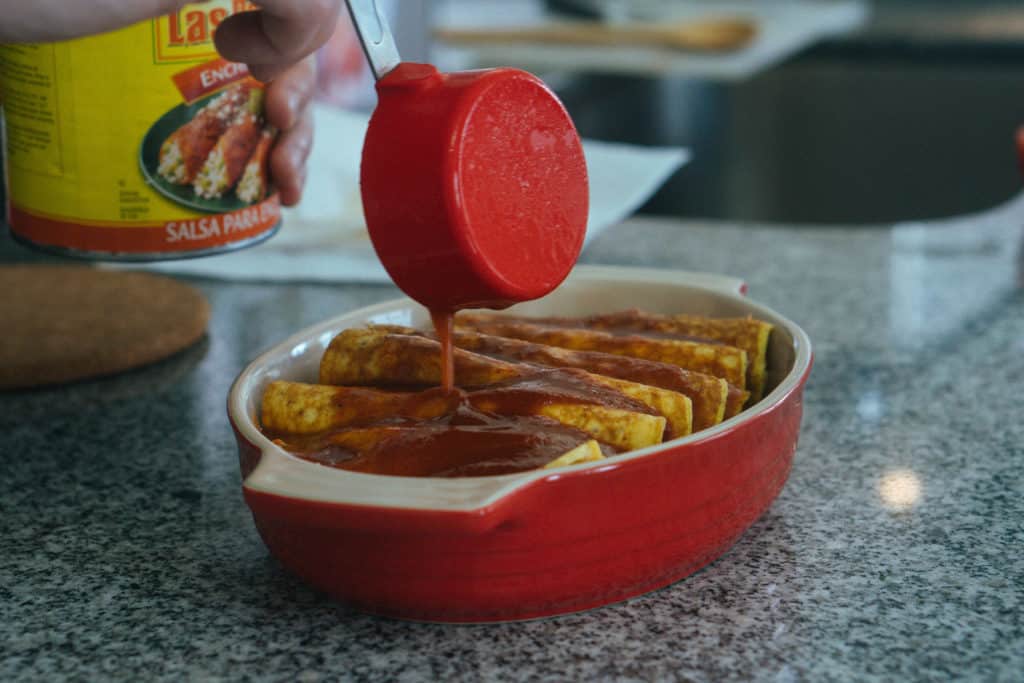 We'll Turn You into a Homemade Enchilada Lover
Enchiladas are one of the meals we miss the most. You can pack them with delicious ingredients and then top then with even more delicious ingredients without feeling bad, because that's how enchiladas should be eaten.
This isn't an easy enchilada recipe by any means, but if you're a Mexican food lover like us, then you'll become a convert. You can officially have your cake (low-carb enchiladas) and eat it too (low-carb style)!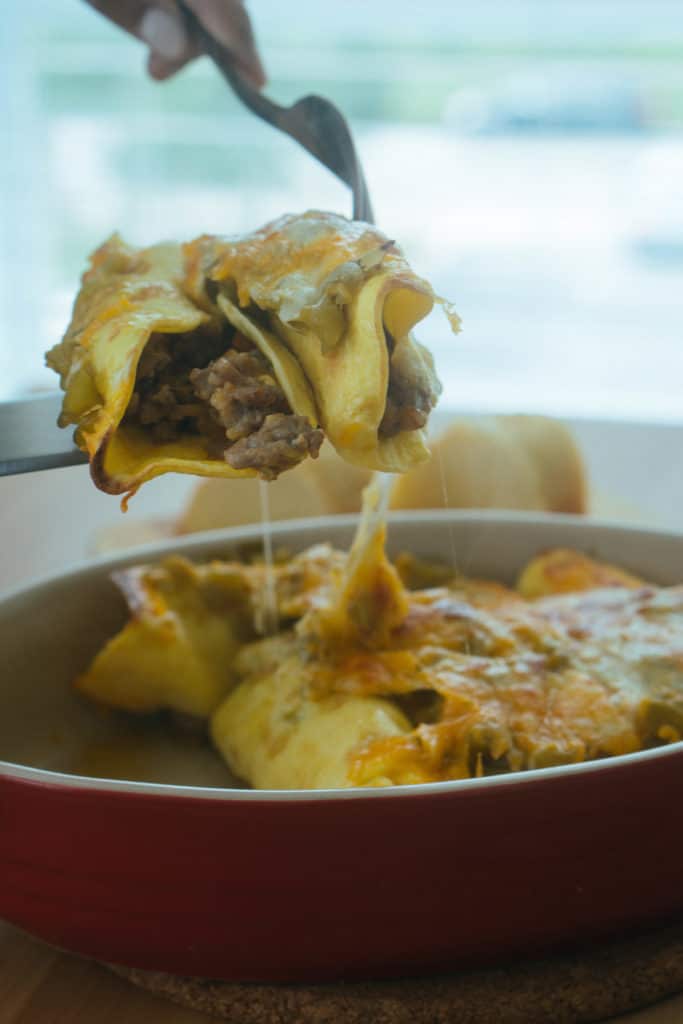 Low-Carb, Keto Enchiladas!
When you make these delicious, low-carb enchiladas, make sure to go all out with the fillings and toppings. But, a big tip is to check the nutrition labels of any enchilada sauces you buy. A lot of canned, store-bought sauces can have sneaky, added sugars. You could even try your hand at a homemade sauce, if time permits. Either way you make these Keto Enchiladas, make sure you take a picture and tag us on Instagram to show us your yummy work of art!

Recipe can be quickly added to MyFitnessPal – Search "KetoConnect – Breakfast Enchiladas"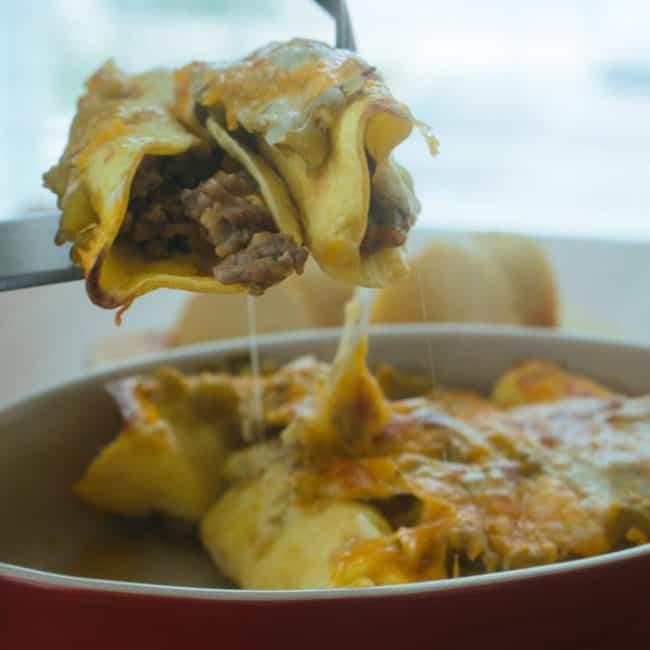 Keto Enchiladas
A spicy dish of low-carb, sausage enchiladas covered in enchilada sauce and cheese.
Total Time 35 minutes
Servings 4 servings
Calories per serving 477kcal
Prep Time: 30 minutes
Cook Time: 5 minutes
Instructions:
Tortillas
Add all the ingredients to a large mixing bowl and whisk to combine.

Heat a small (6 inch) skillet to medium-low heat and grease with coconut oil spray.

Use a 1/4 measuring cup to pour the batter into the heated pan and cover with a lid to cook through for 2-3 minutes.

Repeat process until all tortillas are cooked (we made 7).
Enchiladas
Preheat your oven to 400 degrees.

Turn the heat up to medium-high and add the ground sausage. Break apart into crumbles until it cooks through completely.

Remove from heat and set aside.

Make your enchiladas: Place some meat and cheese into each wrap. Wrap loosely and place into the casserole dish. Repeat until all enchiladas are in casserole dish.

Top with enchilada sauce and additional cheese. Bake for 10-12 minutes until cheese is fully melted. Enjoy!

Best stored in a sealed container in the fridge, up to 5 days.
Nutrition Facts
Keto Enchiladas
Amount Per Serving
Calories 477 Calories from Fat 333
% Daily Value*
Fat 37g57%
Saturated Fat 16g80%
Cholesterol 373mg124%
Carbohydrates 5g2%
Protein 28g56%
* Percent Daily Values are based on a 2000 calorie diet.
Written By