I cant express or put into words how delicious and easy this recipe is. Officially my favorite breakfast and is great for big weekend brunches for the whole family and meal prep just for one! These Sheet Pan Pancakes will make it so that you never have to toss the first burnt pancake again. You'll have perfectly fluffy, golden brown pancakes every time.
Easy Low Carb Breakfasts
This Sheet Pan Pancakes recipes is absolutely my favorite low carb breakfast, but if pancakes aren't your thing or you prefer savory to sweet we get it! Here are some of our favorite low carb breakfasts that you'll want to make for your family this weekend:
McGriddle remake Keto Quiche (Matt's favorite!)
Fathead Dough Everything Bagels (serve up toasted with cream cheese)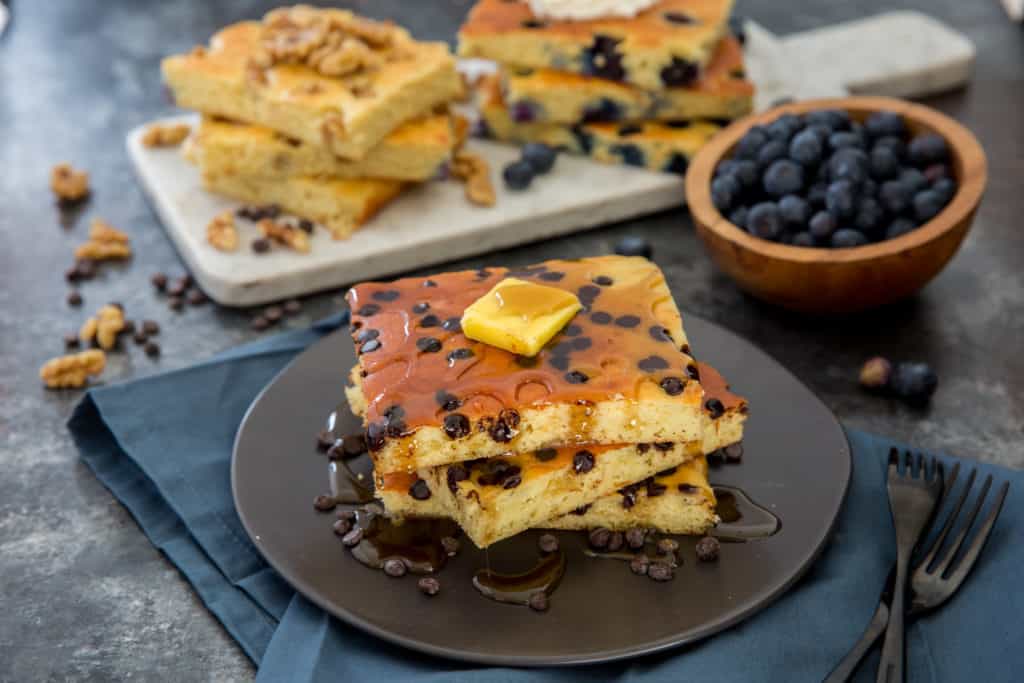 Curdle The Nut Milk
We didn't think it was even possible, but trust us on this because it makes all the difference. If you want your pancakes to rise, and yield a more fluffy instead of dense pancake, allowing the lemon juice to sit in the nut milk is key. That being said, if you opt not to do it or don't have lemon/vinegar on hand you'll still get a delicious sheet pan pancake to indulge in with family and friends.

Note: you'll be able to tell once the milk has "curdled" by the swirls in the milk.
Line The Sheet Pan With Parchment Paper
This is an absolute must. I promise you there is no amount of spray or grease that will allow the pancakes to come off as clean as it will if you use parchment paper.
Think back to the old days of when you would make pancakes on a skillet (I say old days because sheet pan pancakes are in right now!), and if you weren't using non skillet how much of a pain it was?! We stopped using nonstick to reduce the intake of unnecessary chemicals and now cook everything in our cast iron skillet! It's the best when it comes to cooking meats, veggies and casseroles, but not pancakes! If you are still looking for the best pan for your needs, make sure to take a look at this cast iron griddles guide!
Easy Sheet Pan Pancakes
Breakfast couldn't get any easier than this sheet pan pancake recipe! No more flipping, burning and being the last to eat (if you are the flipper). If you make these sheet pan pancakes for breakfast or dinner everyone will get a perfectly browned and delicious pile of pancakes. Serve them up with some of our favorites – zero carb maple syrup and kerrygold butter!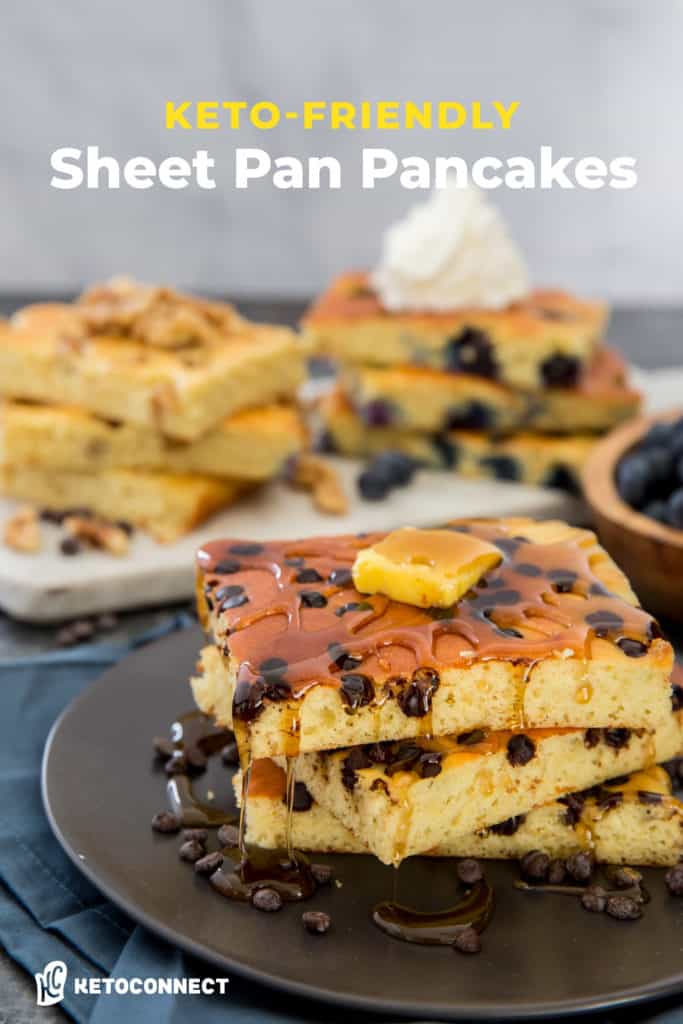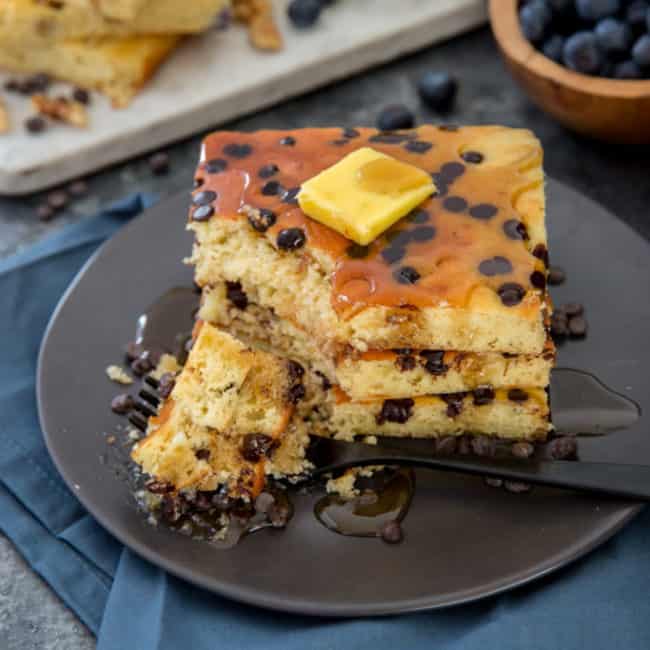 Sheet Pan Pancakes
Low-Carb Pancakes made in the oven on a sheet pan – no flipping on the griddle necessary.
Servings 12 servings
Calories per serving 304kcal
Prep Time: 10 minutes
Cook Time: 15 minutes
Instructions:
Preheat oven to 425°F and line an 18×13 baking sheet with parchment paper.

Stir lemon juice into milk and let sit for 10 minutes.

Once curdled (as shown in video) whisk in the eggs, melted butter, erythritol, stevia and vanilla until fully incorporated.

Add the flours, baking powder, and salt and whisk until fully incorporated switching to a spatula when necessary. The batter should be thick and smooth.

Pour into the prepared baking sheet and use a spatula to spread it out evenly.

Top each third with chocolate chips, blueberries, pecans, or your favorite low carb toppings.

Bake for 10-13 minutes, or until a toothpick inserted into the center comes out clean.

Cut into 12 slices. Enjoy with butter, low carb maple syrup, whipped cream, or your favorite toppings.

Best stored in a zip top bag in the fridge up to one week.

Note: Nutrition may vary depending on the toppings you use!
Notes
Net Carbs: 5g
Serving Size: 1 Piece
Yields: 12 Pieces
Nutrition Facts
Sheet Pan Pancakes
Amount Per Serving
Calories 304 Calories from Fat 252
% Daily Value*
Fat 28g43%
Carbohydrates 9g3%
Fiber 4g16%
Protein 10g20%
* Percent Daily Values are based on a 2000 calorie diet.