If there ever was a recipe that could be described as a labor of love, it's tamales. From preparing the corn husks to creating the perfect filling, each step is 100% worth it for the delicious end result. And if you've switched to a low-carb diet, this is one ritual you'll never have to miss out on again thanks to our Keto Tamales recipe made with almond flour! Because while corn might be off the menu for keto, no one said anything about a corn husk, right?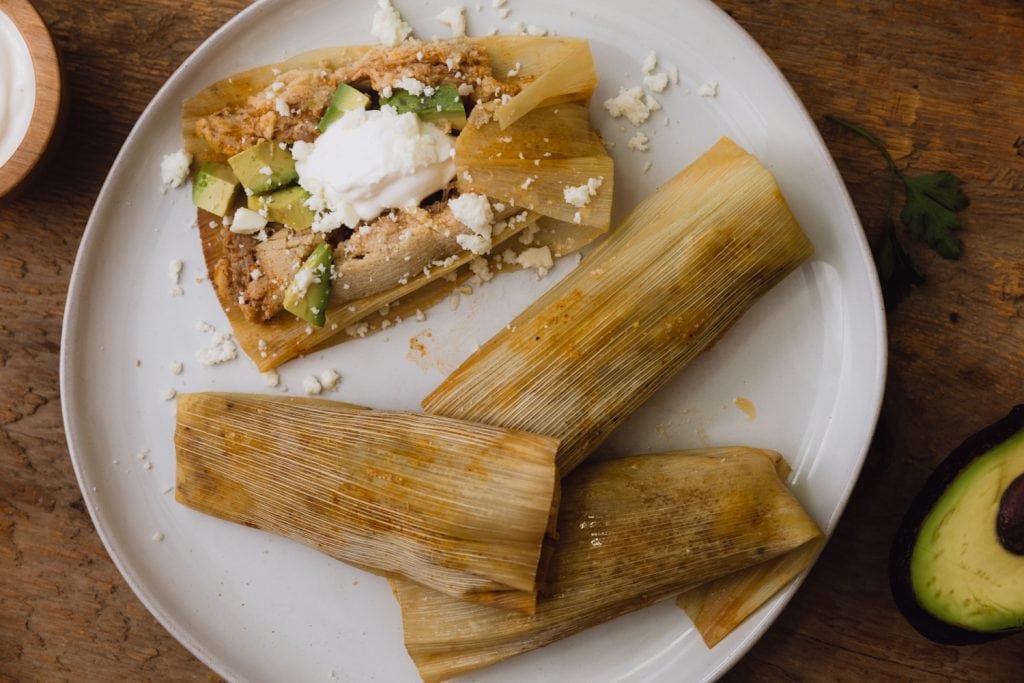 What You'll Need
Tamales might seem like a complicated recipe, but that couldn't be further from the truth. You should already have everything you need on hand.
A baking dish
A large pot or saucepan
A steamer insert that fits over your pot
A large mixing bowl
A spoon
A meat thermometer (optional)
The best part about this recipe is that it uses all-natural corn husks for cooking so you can keep the dishes low. That means more time eating and less time washing up!
Simply throw the corn husks away when you're done, or let them decompose in a compost system.
How to Make Our Keto Tamale Recipe
Many people avoid making their own tamales, as they're quite time-intensive. But trust us: they're worth the effort! Grab some corn husks and let's get started.
Step 1: Prepare the Pork
Preheat the oven to 350 degrees. Place the pork loin into a baking dish and season with salt, pepper, garlic powder, cumin and chili powder. Pour the entire can of enchilada sauce over the meat, making sure it's covered in sauce.
Step 2: Cook the Pork
Bake the pork loin at 350 degrees for 40 minutes to one hour. If you have a meat thermometer, take the pork out once it reaches 165 degrees.
Step 3: Rest the Pork
Once the pork is cooked, remove it from the oven and leave it to rest for 15 minutes.
Step 4: Shred the Pork
Pull the meat apart using forks, a tong, or gloved hands if it isn't too hot.
Step 5: Season the Pork
Add the xanthan gum to help thicken the enchilada sauce, then season with more salt and pepper to taste. Make sure the xanthan gum and seasonings are well mixed through the shredded pork. Set aside for later.
Step 6: Prepare the Corn Husks
Boil the corn husks in a large pot for 20 minutes. This will allow them to soften, which will make them easier to roll.
Step 7: Prepare the "Masa"
In a large mixing bowl, add the almond flour, butter, psyllium husk, salt, pepper, cumin, garlic powder and baking powder. Mix thoroughly to combine until a dough texture forms.
Step 8: Remove the Corn Husks
Once the corn husks have softened, remove them from the water and pat dry.
Step 8: Form the Tamales
Lay one corn husk down on the bench. Using a spoon, spread out ⅙ of the masa flour across the corn husk. Press it into the corn husk using the back of the spoon until a thin square has formed.
Step 9: Add the Filling
Add a small amount of the meat onto the center of the masa, leaving some space on each side.
Step 10: Roll the Tamales
Roll the tamales, making sure to tuck in one end and leave the other open as you go.
Step 11: Cook the Tamales
Place the tamales into your steamer and cook over boiled water by steaming them open side up for around 45 minutes.
Step 12: Enjoy!
Serve your Keto Tamales right away, or store and enjoy later.
Common Questions
Tamales might not be as complicated as they seem, but they are a little trickier to nail than most Mexican food recipes. Take a look at these commonly asked questions so you can become a Keto Tamales master in no time.
Are Tamales High in Carbs?
Traditional recipes for tamales are made using masa dough, which is very high in net carbs. That's because it's made from maize, which is a starchy grain.
That's why we made our very own Keto Tamales recipe using high-fat, low-carb almond flour dough inside each corn husk parcel.
Is Corn Husk Low-Carb?
Corn might be a little too high-carb for keto – but when it's used as a serving dish, you can have all the corn you like!
Tamales are considered a staple of the traditional Mexican diet. But while the classic maize dough is too high-carb for a keto diet, the corn husks used to wrap each Keto Tamale bring a nice traditional touch to this modern, low-carb interpretation.
However, we wouldn't recommend trying to eat them. Think of them as a serving dish, not a tortilla!
Which Mexican Dishes Are Keto-Friendly?
Great news: Mexican food is one of the most adaptable cuisines for a keto diet. Not to mention all the delicious high-fat toppings – namely, guacamole!
Whether you're cooking at home or ordering out at a restaurant, choose these dishes to keep things low-carb:
Taco bowls or salad
Ceviche
Carnitas
Fajitas
Whatever you end up picking, make sure to omit the high-carb items. These are:
Beans
Tortillas
Rice
Corn chips
Queso can sometimes have added carbs, too, so avoid unless you're making it yourself. In other words, order double guacamole or sour cream!
Make sure to check out our comprehensive guide to Everything Keto at Taco Bell.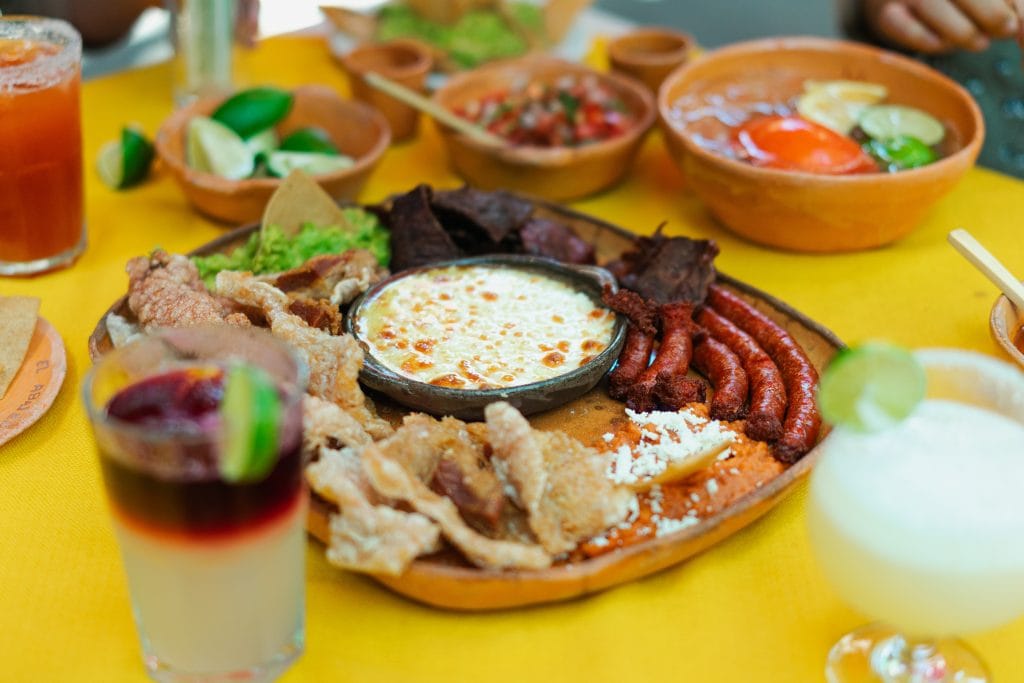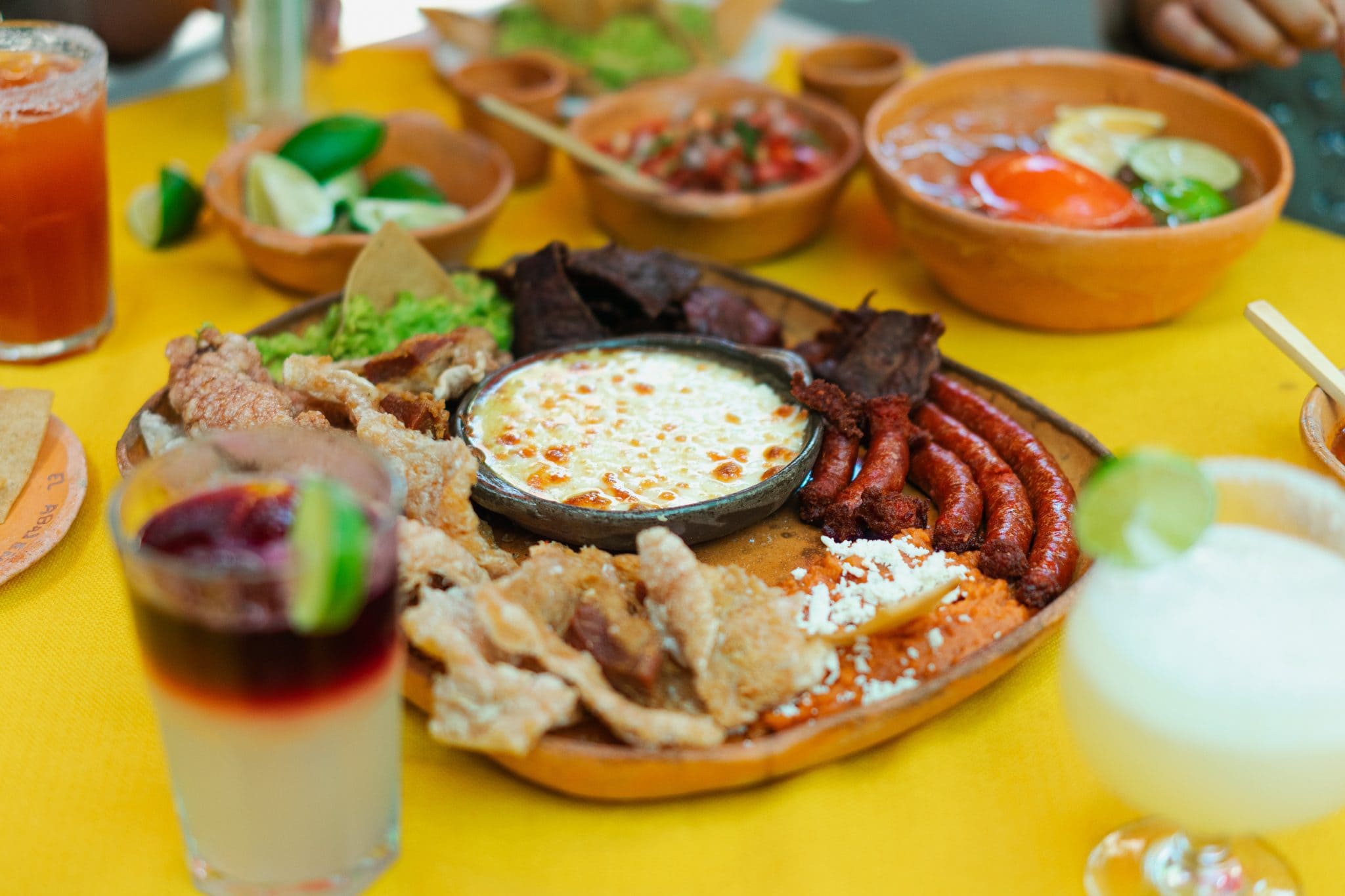 Why Is My Almond Flour Dough Crumbly?
Is your almond flour masa dough a little crumbly? No worries – this is quite normal, even when using traditional maize flour.
Masa dough is traditionally quite light and almost crumbly. This is why a keto flour, like almond flour, works so well as a substitute.
Almonds are also very nutritious. Just one ounce of almonds provides 20% of the recommended daily intake of magnesium – an electrolyte that's super important to keep up on a keto diet.
We've added psyllium husk to this recipe, which will help to bind the almond flour masa dough together. If you're really struggling with the texture, leave the dough to sit for just a little while. The psyllium husk will absorb more of the liquid and take on more of a gelatinous texture, which will make it easier to work with,
What Enchilada Sauce Should I Use?
As with everything on keto, make sure to read the ingredients label and nutrition info on the package. What you're looking for is an enchilada sauce with little to no added sugar
Don't forget: sugar can have many names, and enchilada sauce already has a few carbs from the tomatoes. To be safe, compare the net carbs on the nutrition panel to make sure they're not too high.
Check out our Keto Enchiladas recipe here for our top store-bought sauce recommendations.
What Should I Serve With My Low-Carb Tamales?
Our Keto Tamales are absolutely mouthwatering, but you can make them even more amazing with the right toppings!
Toppings are also a great way to add a little extra fat to your keto tamale – and diet.
Here are our recommendations for toppings:
Avocado or guacamole
Queso fresco
Sour cream or greek yogurt (with no added sugar)
Low-sugar salsa
Freshly-chopped cilantro
Once you've mastered the keto almond flour masa dough, feel free to experiment with different fillings. Try shredded chicken, ground beef, or even something sweet like low-carb berries or dark chocolate!
A sweet, berry-stuffed Keto Tamale with dollops of heavy cream on top? Now that's a Mexican dessert we could get behind.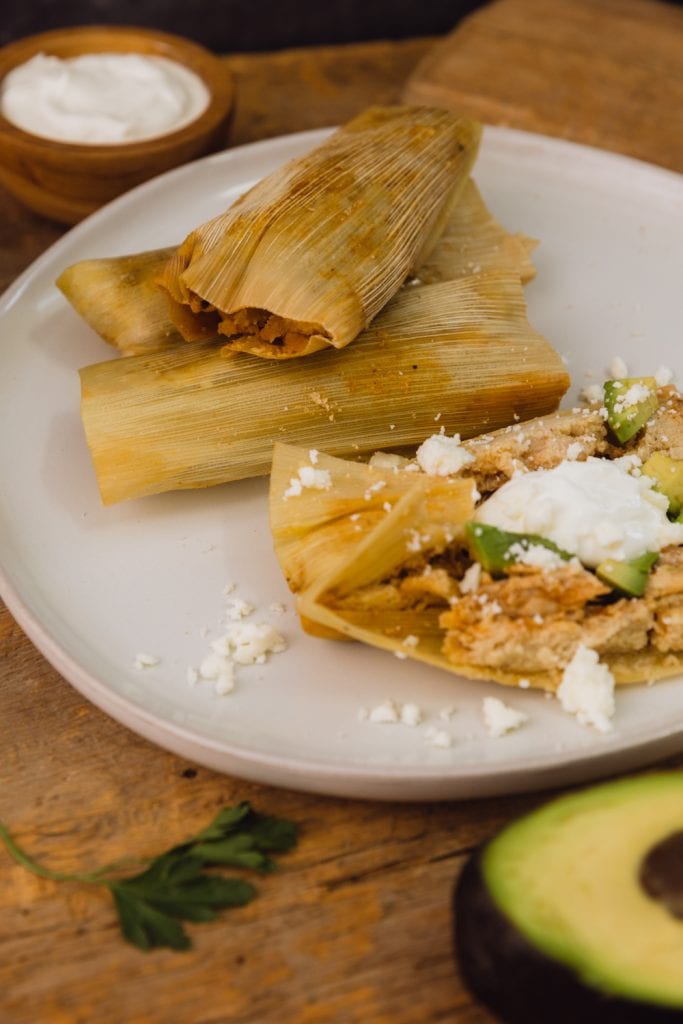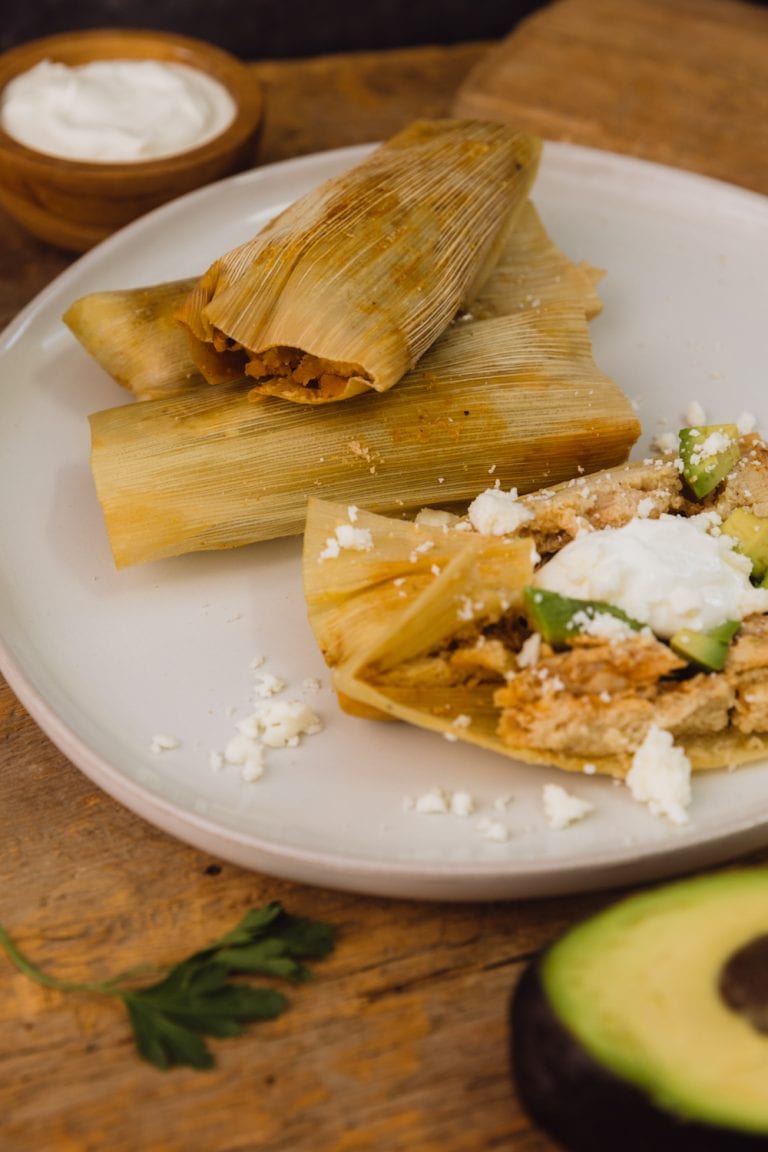 How to Store Your Keto Tamales
Store your Keto Tamales in an airtight container in the fridge for up to a week.
You can also freeze your tamales for up to two months.
More Keto Recipes Like This
Everyone loves Mexican food. Seriously – everyone. And if you've successfully taken on the Keto Tamale, you're definitely able to handle the most complex recipe.
While most of our recipes are pretty simple, they're also super low-carb and keto-friendly. Looking for another delicious Mexican dish? We've got you covered:
Enjoy Your Keto Friendly Tamales
Thought corn was too high-carb for keto? Think again! This Keto Tamales recipe puts corn back on the menu – and saves the washing-up — with the mighty corn husk that helps keep this classic Mexican dish low-carb and delicious.
Got a handy tip to make rolling a Keto Tamale easy as pie? We'd love to hear it! Share your thoughts in the comments below, and be sure to tag us in your KetoConnect creations on social media.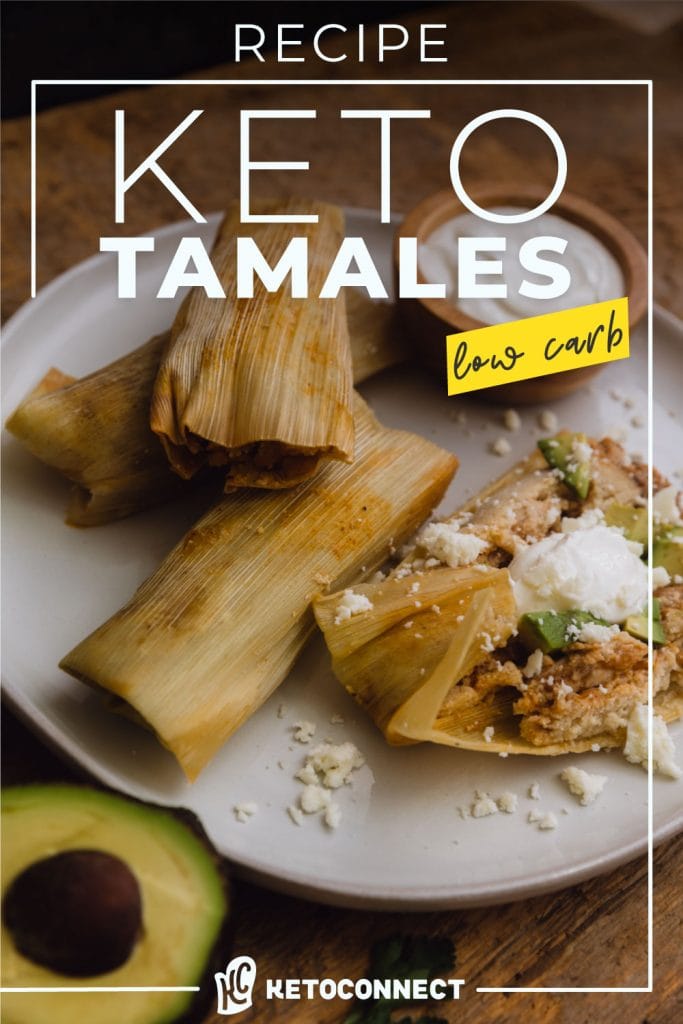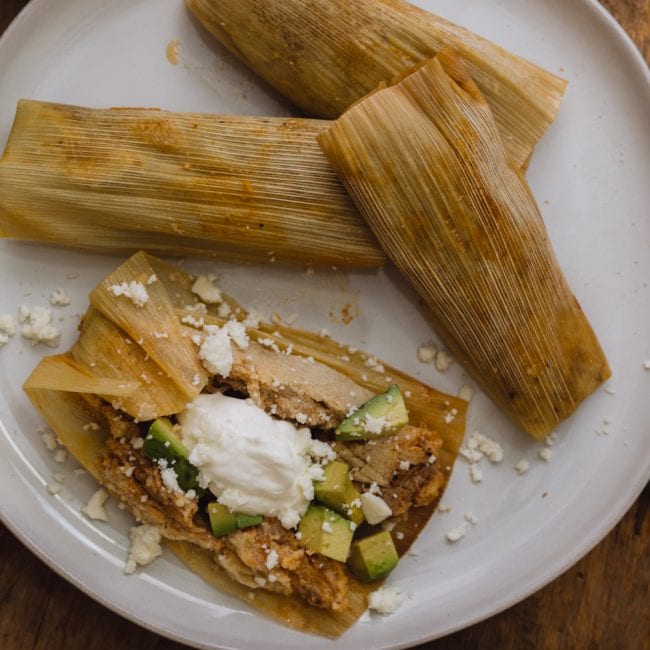 Keto Tamales Recipe | Easy & Gluten Free
Warm keto tamales made with a tender spiced pork filling. This is the perfect recipe for taking your keto cooking to the next level.
Total Time 1 hour 45 minutes
Servings 6
Calories per serving 508kcal
Prep Time: 15 minutes
Cook Time: 1 hour 30 minutes
Ingredients:
Optional Toppings
1 large Avocado
1/4 cup Queso fresco
1/4 cup Sour Cream
Instructions:
Preparing the Pork
Add the pork loin to a baking dish. Season with salt, pepper, garlic powder, cumin, and chili powder. Pour the cans of enchilada sauce overtop.

Cover with foil and bake in a 350 degree oven for 40 minutes to an hour, or until the meat reaches 165.

Let rest for 15 minutes then pull apart and add xanthan gum to thicken the sauce. Season with extra salt and pepper to taste.

Set aside.
Making the Tamales
Boil the washed corn husks for 20 minutes until they begin to soften.

While the husks cook prepare the keto masa. Combine the almond flour, butter, psyllium husk, salt, pepper, cumin, garlic powder, and baking powder in a large bowl.
Forming the Tamales
Lay down a boiled corn husk and fill it with 1/6 of the "masa". Press out the masa into a thin square and then fill it with a bit of the meat.

Roll up the tamale making sure to tuck in one end while rolling.

Steam the tamales, open side up for 45 minutes

Serve now, or store in an airtight container in the fridge for up to a week.
Nutrition Facts
Keto Tamales Recipe | Easy & Gluten Free
Amount Per Serving
Calories 508 Calories from Fat 351
% Daily Value*
Fat 39g60%
Saturated Fat 12g60%
Trans Fat 1g
Polyunsaturated Fat 1g
Monounsaturated Fat 6g
Cholesterol 112mg37%
Sodium 978mg41%
Potassium 492mg14%
Carbohydrates 11g4%
Fiber 6g24%
Sugar 1g1%
Protein 34g68%
Vitamin A 558IU11%
Vitamin C 1mg1%
Calcium 112mg11%
Iron 3mg17%
* Percent Daily Values are based on a 2000 calorie diet.
Written By