If you haven't heard of an egg loaf you've missed the boat! The egg loaf recipe became popular on Instagram by @keto.sam.iam and took the gram by storm. It's a simple, filling meal that can be made for breakfast lunch or dinner. All you need is three or four ingredients to create this delicious, delicious egg loaf.
Sweet Low Carb Breakfasts
If you're anything me than you prefer a sweet to savory meal for breakfast. Matt could eat bacon and eggs all day long, but I need something sweet every now and then. Muffins, pancakes with sugar free syrup, or egg loaf! Some of my other favorite sweet breakfasts are:
Tip: you can make a double or triple batch and meal prep it for the week ahead. We promise you won't get tired of it!
Room Temperature Ingredients
This step is important because you don't want clumps of cream cheese all throughout your loaf. Making sure the ingredients are room temperature will ensure a smooth, uniform consistency of your batter once whisked together! If you forget to put your butter and cream cheese out, just pop them in the microwave at a low level of heat for a couple minutes. We usually do level 3 for two minutes. And, for your eggs you can put them in some warm water to bring them up to room temperature.
Bake And Serve
There isn't much to this recipe as far as steps go. The ingredients are minimal and so is the preparation. Once you've transferred the batter to a pan (make sure it's greased) all you have to do is bake and serve!
One thing to note is that the egg loaf will rise when baked, but once pulled out and slightly cooled it won't stay puffy. The egg loaf is dense and creamy. My preferred way to serve it is with some low carb syrup, while Matt enjoys to eat his warmed up with some butter to top. You can eat this for breakfast or dessert!
Note: this recipe is best stored in an air tight container in the fridge up to one week, if it makes it that long!
Egg Loaf For An Easy Meal
We're always looking for easy meals that take no real thought and everyone in the house will love. This egg loaf recipe is just that. You always have eggs, butter and cream cheese in the fridge, who are we kidding, so bust them out for a quick dinner after a long day of work. You can jazz it up with different spices and fillings (think nuts and chocolate chips) so you never get bored of it.
Want More Easy Meals?
You can check out our latest cookbook, Keto Made Easy: Fat Adapted 50 Day Guide, available on Amazon, or in stores at Costco and Barnes and Noble or you could check out our food blog. Some of our easy, go to recipes are:
Let us know in the comments below your favorite way to make and eat this easy egg loaf recipe!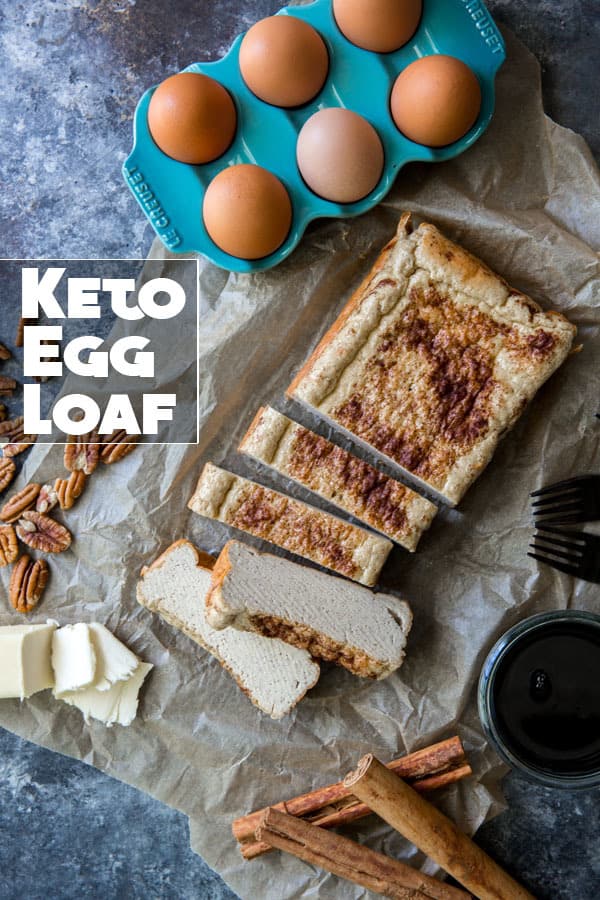 Recipe can be quickly added to MyFitnessPal – Search "KetoConnect – Egg Loaf"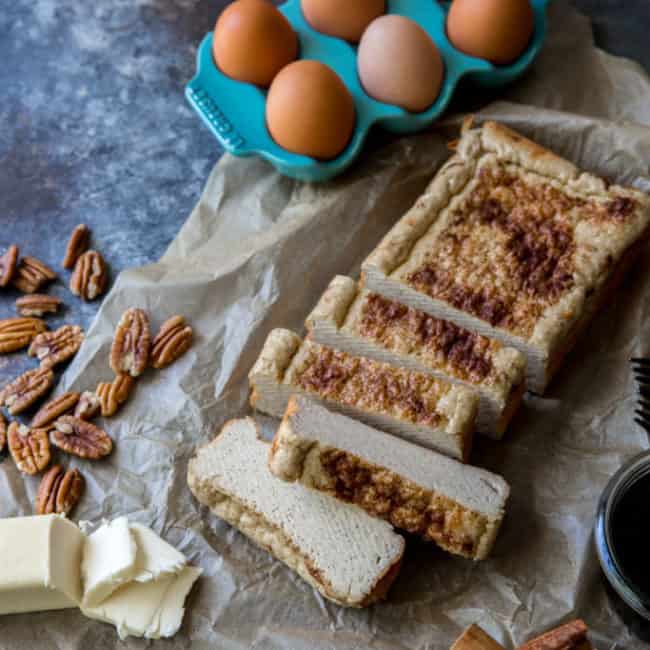 Egg Loaf
A high fat, high protein loaf that resembles cinnamon french toast when topped with sugar-free maple syrup.
Servings 8 Servings
Calories per serving 281kcal
Prep Time: 5 minutes
Cook Time: 30 minutes
Instructions:
Preheat your oven to 350°F and grease a brownie pan using coconut oil spray.

Combine all the ingredients in a blender until smooth in consistency.

Pour the batter in the brownie pan and sprinkle additional cinnamon on top, if desired.

Bake for 25-30 minutes (time will vary depending on your oven). It will puff up when baked, but fall once out of the oven and cooled for a couple minutes.

Allow to cool for 5-10 minutes prior to slicing and serving.

Best stored in an air tight container in the fridge up to 5 days.
Notes
Net Carbs: 1g Serving Size: 1 Slice Yields: 8 Slices
Nutrition Facts
Egg Loaf
Amount Per Serving
Calories 281 Calories from Fat 243
% Daily Value*
Fat 27g42%
Carbohydrates 2g1%
Fiber 1g4%
Protein 9g18%
* Percent Daily Values are based on a 2000 calorie diet.