If you haven't heard of a keto egg loaf you're missing out! It's a simple, filling meal that can be made for breakfast, lunch, or dinner. Spice it up right and you can also make it into keto french toast! All you need is three or four ingredients to create this delicious egg loaf.
How to Make a Keto Egg Loaf
If you're looking to make a delicious breakfast that will last all week we've got you covered. I'm going to breakdown step by step how to make a keto egg loaf, as well as some tips below for making the best keto egg loaf. It makes 8 servings (calories 281 , and only 2g carbs a piece).
What You Need:
You don't need much for this keto egg loaf recipe other than a few simple tools. Thankfully recipes like this make the keto diet super easy, and absolutely delicious!
8×8 Brownie Pan– This is going to be the most important tool so you can actually bake the keto egg loaf recipe. If you would prefer the traditional loaf shape (will take longer to bake) use an 8×4 loaf pan. We buy most of our pans from amazon. Make sure whichever loaf pan you use is well greased.
A Blender or Food Processor– Most people already have a blender, but if you don't use a food processor. This will help to create the most uniform batter for the keto egg loaf recipe. You can try a hand or stand mixer instead if you don't have a blender, but it may still be chunky.
Making this keto recipe requires very few tools which is one of the reasons we love it so much. It cooks quickly, has easy clean up, and tastes delicious!
Pro tip- Want even easier clean up? Line the baking pan with parchment paper to prevent any sticking without having to worry about the pan getting dirty. Parchment paper is normally heat resistant up to 400 degrees. Check the label on your parchment paper to ensure it's oven safe.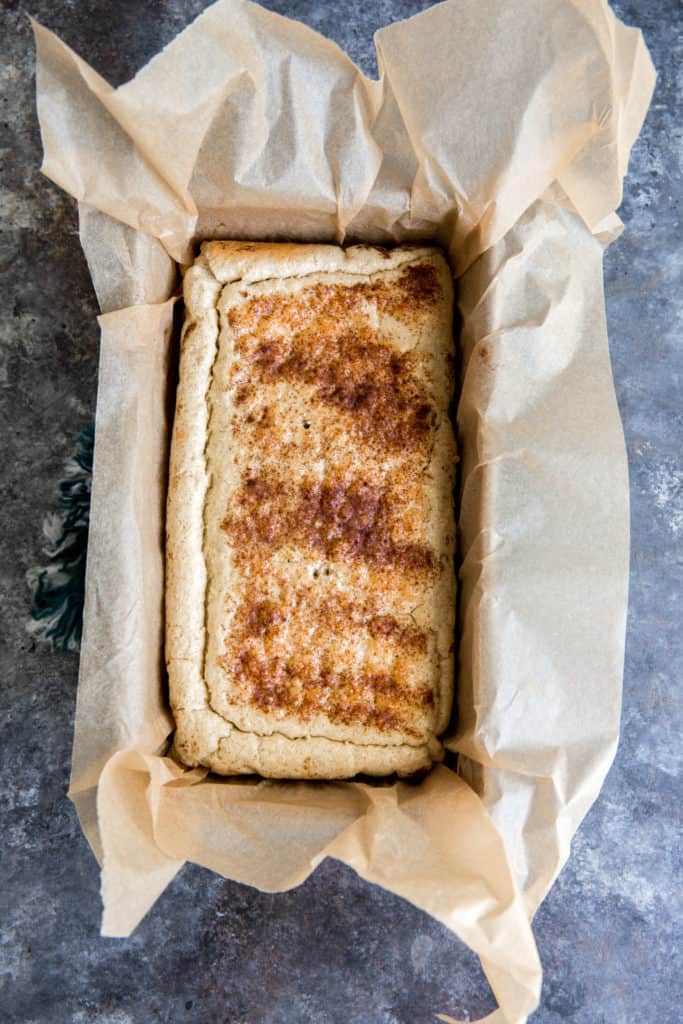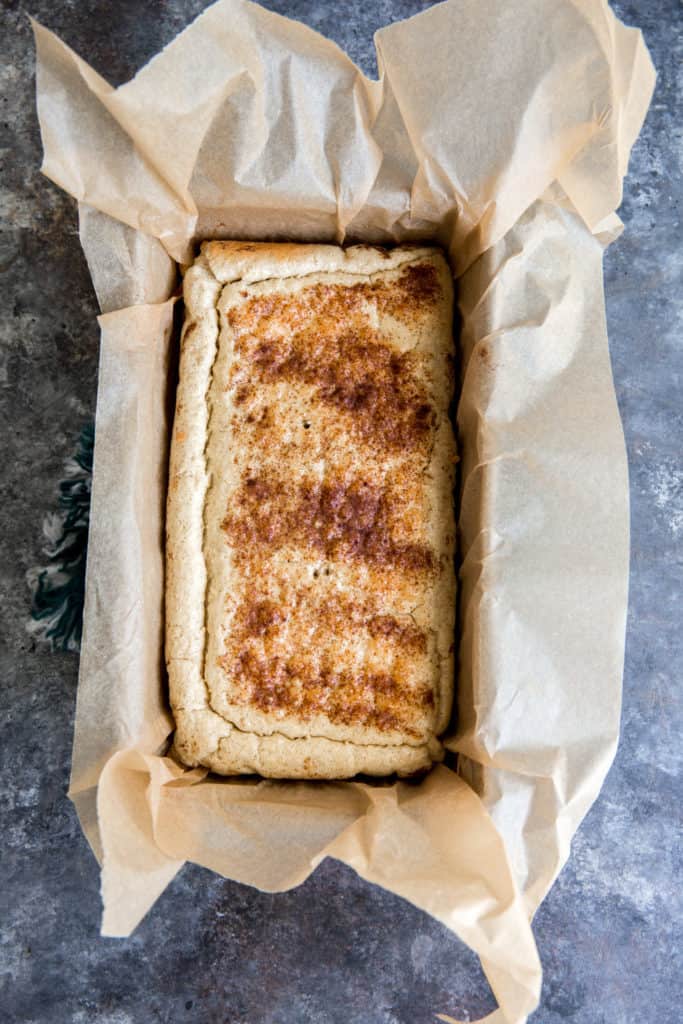 Ingredients:
The nutrition facts of your keto egg loaf recipe is directly linked to the ingredients you use. While there are only a few ingredients we find that depending on the brand, carbs in cream cheese can vary quite a bit. Make sure to read the label of your ingredients ahead of time to know your specific net carbs count.
8 tbsp butter– Butter helps keep this keto egg loaf rich and filling. Butter has about 100 calories per tablespoon and 14g of fat. All this fat will keep you satiated longer than if you ate the same number of calories in carbs. We recommend room temp or melted butter for this recipe so it blends evenly.
8 oz cream cheese softened- Similar to what I said above, cream cheese can vary quite a bit in carb counts so it's important to look at the different options in your grocery store and really read the label. Look for one with as few ingredients as possible, and that's *usually* the one with the lowest carb count.
8 large eggs- It wouldn't be a keto egg loaf recipe without the eggs!
Optional but Highly Recommended
1/2 tsp cinnamon- This helps the recipe to taste like french toast. We use cinnamon in the base and sprinkle a little on top when it's done!
1/4 tsp ground nutmeg– Like all spices, nutmeg is sugar free and fairly low in carbs. The amount we use will be negligible in the carb count, but really adds a lot of flavor.
*Sugar free syrup*- Sugar free syrup is optional, but highly recommended. Sugar free syrup makes this egg loaf keto french toast in seconds.
We chose not to use coconut flour or baking powder in this recipe because we felt adding coconut flour might make the recipe too dry, and baking powder might take away from the dense french toast like texture. All that means for you is, less work, less ingredients, and faster cooking!
Tip: (8 oz cream cheese= 1 block)
Instructions:
Once your ingredients are out it's time to start baking. This recipe has a total time of 35 minutes and only 2 total carbs. To make keto friendly recipes you just need a little time and patience. Let's get started!
Preheat your oven to 350°F and grease a brownie or loaf pan using coconut oil spray. You can also line the pan with parchment paper instead.
Combine all the ingredients in a blender and blend until smooth in consistency. You want to make sure the eggs, cream cheese, and butter have been out to soften first for an even blend.
Pour the batter in your brownie/ loaf pan and sprinkle additional cinnamon on top, if desired. We recommend a little extra cinnamon if you really want that french toast flavor.
Bake for 25-30 minutes (time will vary depending on your oven and pan). It will puff up naturally (no need for baking powder). Once out of the oven and cooled for a couple minutes however, it will fall, this IS normal.
Allow to cool for 5-10 minutes in the loaf/bread pan prior to slicing and serving. Once mostly cooled remove from the pan and slice. Top with your favorite french toast ingredients, or just eat it plain!
Best stored in an air tight container in the fridge up to 7 days.
Tips for Making the Best Keto Egg Loaf
If you make keto recipes, you know the importance of following directions so they turn out properly. We've compiled some of our best tips for the keto egg loaf in order to make is as simple and delicious as possible every time.
Room Temperature Ingredients
This step is important because you don't want clumps of cream cheese all throughout your loaf. Make sure the ingredients are room temperature so they will ensure a smooth, uniform consistency of your batter once whisked together! If you forget to put your butter and cream cheese out, just pop them in the microwave at a low level of heat for a couple minutes. We usually do level 3 for two minutes. And, for your eggs you can put them in some warm water to bring them up to room temperature fast.
Spicing up the Recipe
This keto egg loaf recipe is super simple and after a while may be fun to change up. Some add-ins we love are:
Chocolate chips- A gooey chocolaty mess perfect for replacing your childhood chocolate french toast
Blueberries- Blueberries give the egg loaf a fresh blueberry pancake feel. Just make sure to bake it a little longer because blueberries have a lot of moisture.
Peanut Butter- Swirl some runny peanut butter in before baking for a egg loaf swirl
These are some of our favorite flavor combinations, but feel free to have fun and create your own next time. You could add spices, nuts, seeds, or whatever you fancy that morning!
Making Keto Egg Loaf French Toast
This keto loaf is already really similar to french toast. To make the loaf even more authentic, slice yourself a few pieces and cook them in a skillet with butter on medium heat. You want the pale sides to turn golden and then you'll know it's ready. Top with keto whipped cream and sugar free syrup!
Bake And Serve
There isn't much to this recipe as far as steps go. The ingredients are minimal and so is the preparation. Once you've transferred the batter to a pan (make sure it's greased) all you have to do is bake and serve!
One thing to note is that a keto friendly egg loaf will rise when baked, but once pulled out and slightly cooled, won't stay puffy. The egg loaf is dense and creamy. My preferred way to serve it is with some low carb syrup, while Matt enjoys to eat his warmed up with some butter to top. You can eat this for breakfast or dessert!
Note: this recipe is best stored in an air tight container in the fridge up to one week, if it makes it that long!
This recipe was adapted from keto.sam.iam – follow her on instagram for more recipe inspiration.
Sweet Low Carb Breakfasts
If you're anything like me, you prefer a sweet to savory meal for breakfast. Matt could eat bacon and eggs all day long, but I need something sweet every now and then. The best breakfasts to me are muffins, pancakes with sugar free syrup, or egg loaf! We have tons of different keto breakfast ideas on our blog. Some of my other favorite sweet breakfasts are: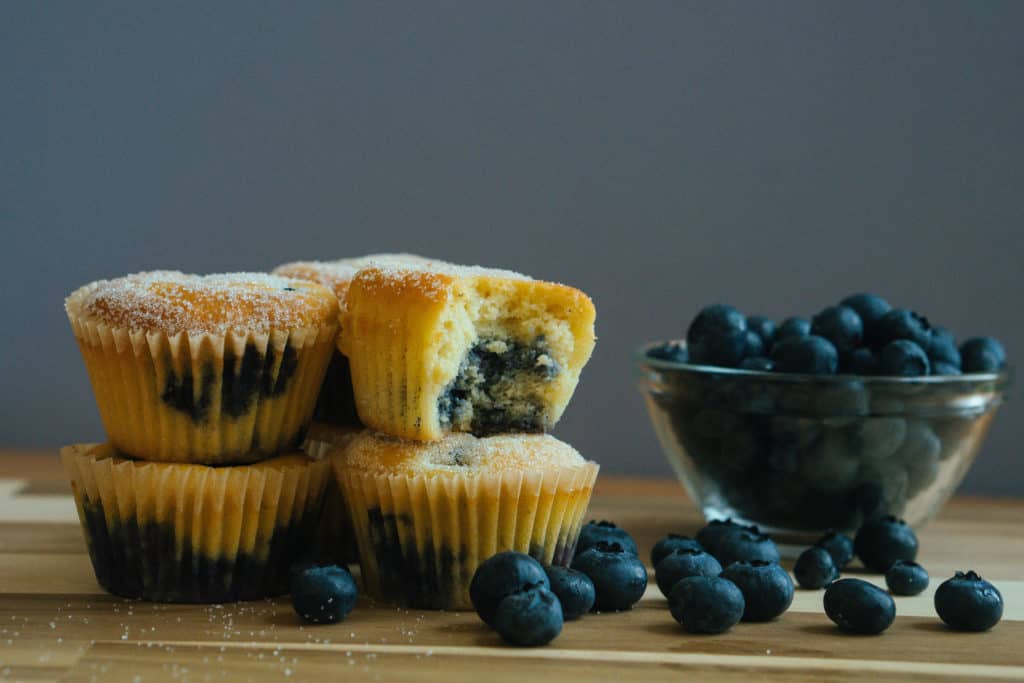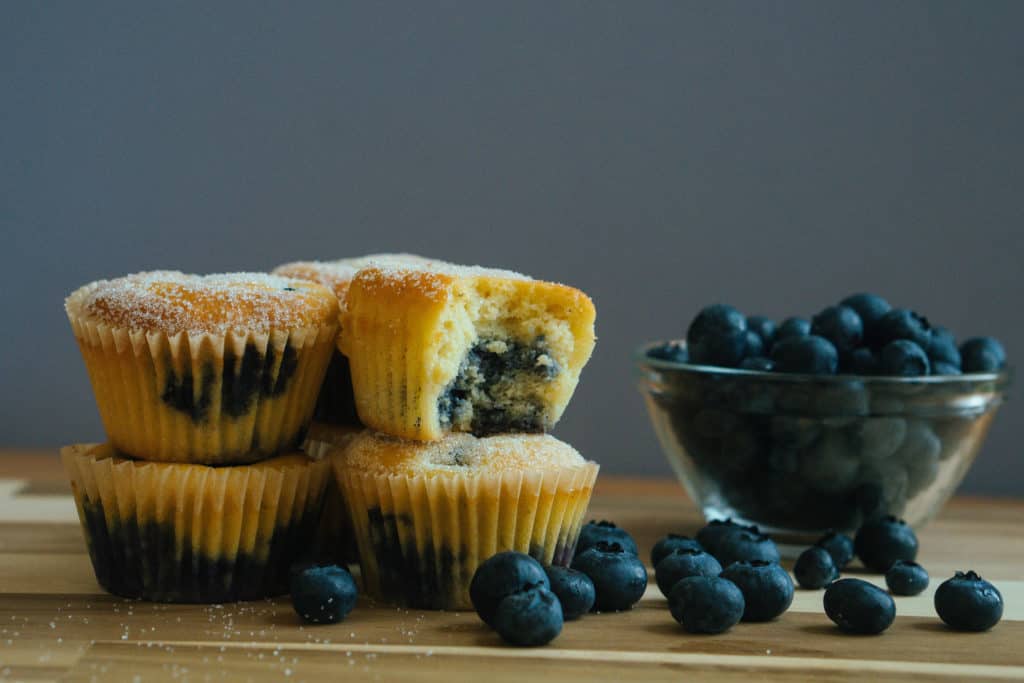 High Fiber Muffins– Before you make a face, hear us out. These high fiber muffins remind me of bran muffins growing up. The fiber will help keep your blood sugar stable, but everyone knows bran muffins were just a way to get your morning sweet fix "healthier". They are sweet, cinnamon-y, and buttery, perfect for an on the go breakfast.
Low Carb Blueberry Muffins– Blueberry Muffins are probably my favorite type of muffin. They are such a simple food, but taste SO GOOD. These muffins are perfect heated up and served with a pat of butter for a sugar free keto breakfast in the morning.
Diner Style Keto Pancakes– These are a classic take on the diner style pancakes you remember growing up. They're thick, fluffy, and don't taste remotely keto. They have a base of coconut flour and are 100% nut free. Plus top them with sugar free maple syrup and you've made a low carb breakfast that won't lead to a blood sugar crash.
Tip: You can make a double or triple batch of all these recipes and meal prep it for the week ahead. All the recipes are so tasty we promise you won't get tired of them!
Want More Easy Keto Recipes?
You can check out our latest cookbook, Keto Made Easy: Fat Adapted 50 Day Guide, available on Amazon. Or you could check out our food blog for more recipes in every type of cuisine. Some of our easy, go to recipes are:
No Carb Pizza– This pizza has a base made of chicken, parmesan, and an egg. This super easy crust will keep you full and in ketosis!
Chicken Thighs In Roasted Red Pepper Sauce– These chicken thighs only have 2g of carbs, 38g of protein, and 34g of fat per serving, macros perfect for a low carb/keto diet.
Egg Roll In A Bowl– This is one of our favorite keto recipes. It has a base of cabbage and ground pork, but after that the world is your oyster. Sometimes we add green onions or thinly sliced carrots, and other times we change the sauce a bit to be sweeter or spicier. This is a keto recipe that's super customizable to you.
These are just some of the easiest keto recipes, but if you're looking for more challenging recipes check out other keto meal ideas on our blog.
Egg Loaf For an Easy Meal
We're always looking for easy meals that take no real thought and everyone in the house will love. This egg loaf recipe is just that. You always have eggs, butter, and cream cheese in the fridge, so bust them out for a quick dinner after a long day of work. You can even jazz it up with different spices and fillings (think nuts and chocolate chips) so you never get bored of it. Plus using our notes you can even make a keto egg loaf recipe that tastes like french toast!
Let us know in the comments below your favorite way to make and eat this easy egg loaf recipe!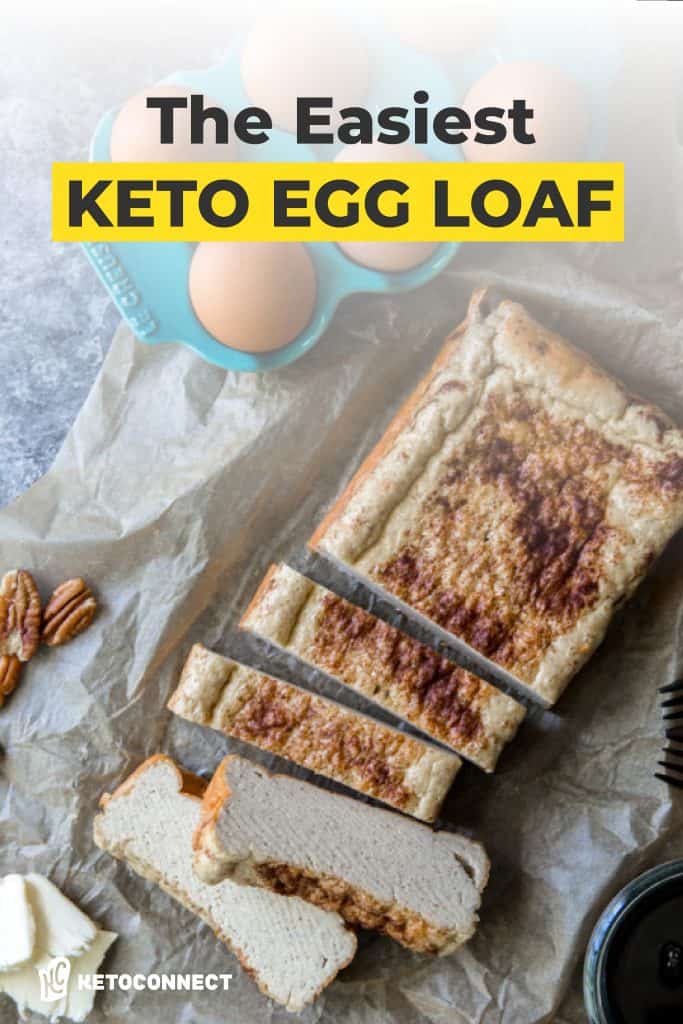 Recipe can be quickly added to MyFitnessPal – Search "KetoConnect – Egg Loaf"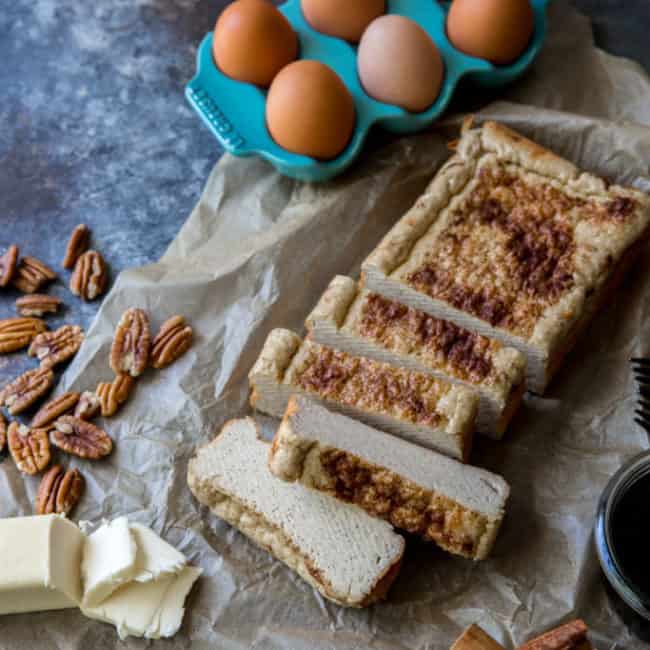 Keto Egg Loaf (1g Carbs)
A high fat, high protein loaf that resembles cinnamon french toast when topped with sugar-free maple syrup.
Total Time 35 minutes
Servings 8 Servings
Calories per serving 281kcal
Prep Time: 5 minutes
Cook Time: 30 minutes
Instructions:
Preheat your oven to 350°F and grease a brownie pan using coconut oil spray.

Combine all the ingredients in a blender until smooth in consistency.

Pour the batter in the brownie pan and sprinkle additional cinnamon on top, if desired.

Bake for 25-30 minutes (time will vary depending on your oven). It will puff up when baked, but fall once out of the oven and cooled for a couple minutes.

Allow to cool for 5-10 minutes prior to slicing and serving.

Best stored in an air tight container in the fridge up to 5 days.
Notes
Net Carbs: 1g Serving Size: 1 Slice Yields: 8 Slices
Nutrition Facts
Keto Egg Loaf (1g Carbs)
Amount Per Serving
Calories 281 Calories from Fat 243
% Daily Value*
Fat 27g42%
Carbohydrates 2g1%
Fiber 1g4%
Protein 9g18%
* Percent Daily Values are based on a 2000 calorie diet.
Written By