Mexican is always our go-to when we're craving something fresh, flavorful and low-carb, and these Keto Fajitas do not disappoint. Juicy flank steak, thinly sliced sautéed bell peppers and a magical combination of select spices make this a versatile and delicious dish you can throw together in minutes.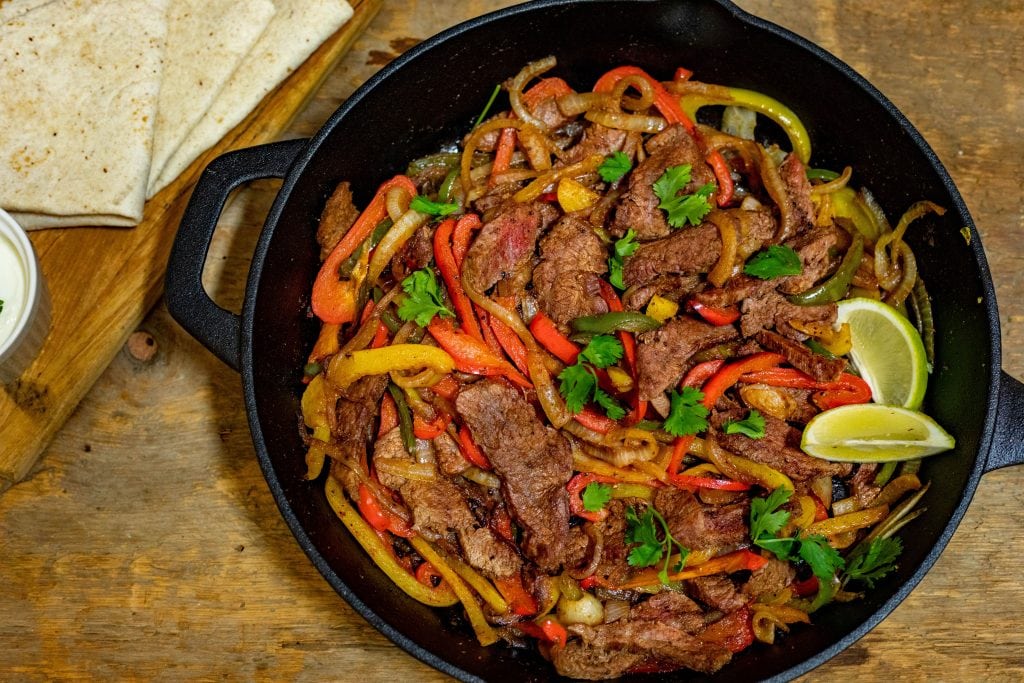 Plus, you can dress this recipe up or down with whatever low-carb and keto toppings you like – keep reading for our personal recommendations!
What You Will Need
We love our skillet, so we've used two for this low-carb Keto Fajitas recipe. What can we say – you just can't beat that chargrilled flavor.
Here's what you'll need:
A sharp knife
Two skillets
A pair of heat-proof tongs
If you don't have a skillet, feel free to use a large frying pan instead. However, you might want to invest in one – once you cook a steak in a skillet you'll never look back.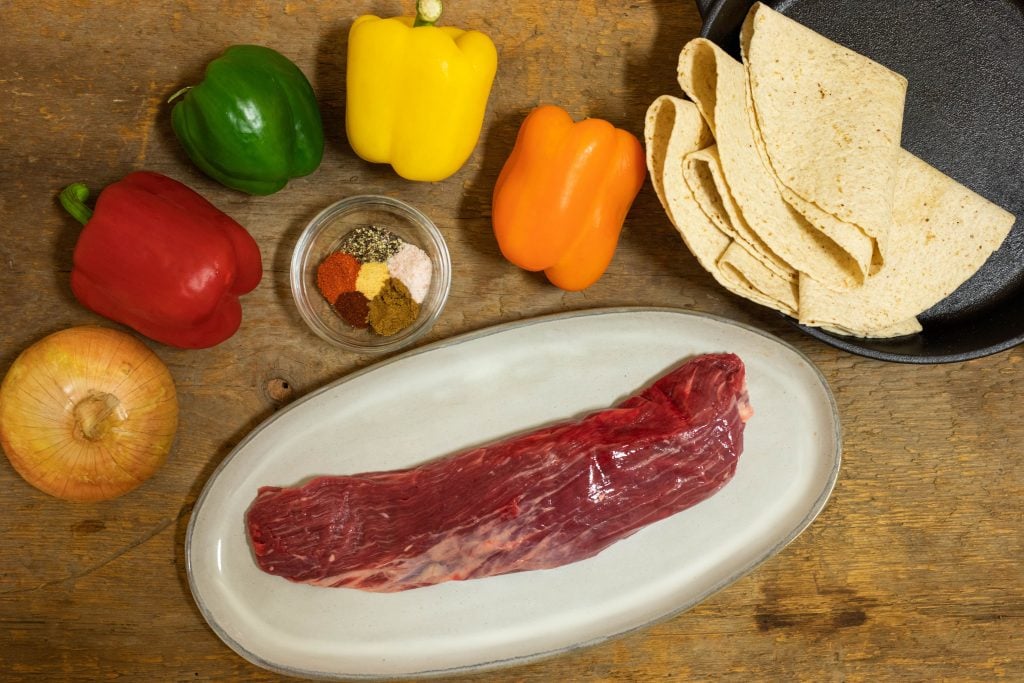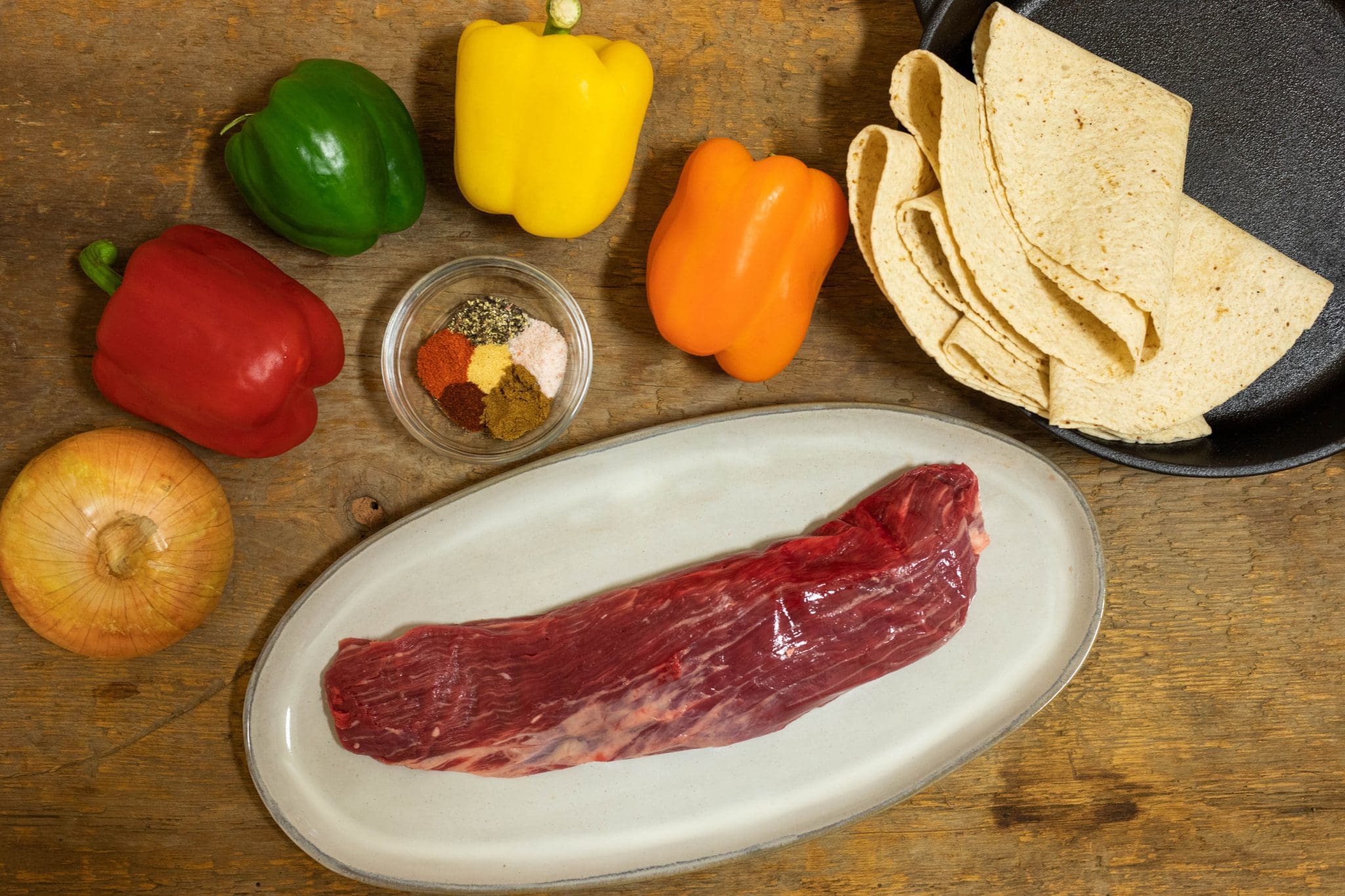 How to Make Keto Fajitas
Get ready to sizzle! You'll be turning up the heat for these frilled Keto Fajitas.
Heat the Skillets
Add a tablespoon of olive oil into each skillet and place over high heat. You'll want them to get nice and hot.
Cook the Bell Peppers and Onions
Add the sliced bell peppers, onions, spices and half the salt and pepper to one of the skillets. Set the remaining salt and pepper aside for the steak.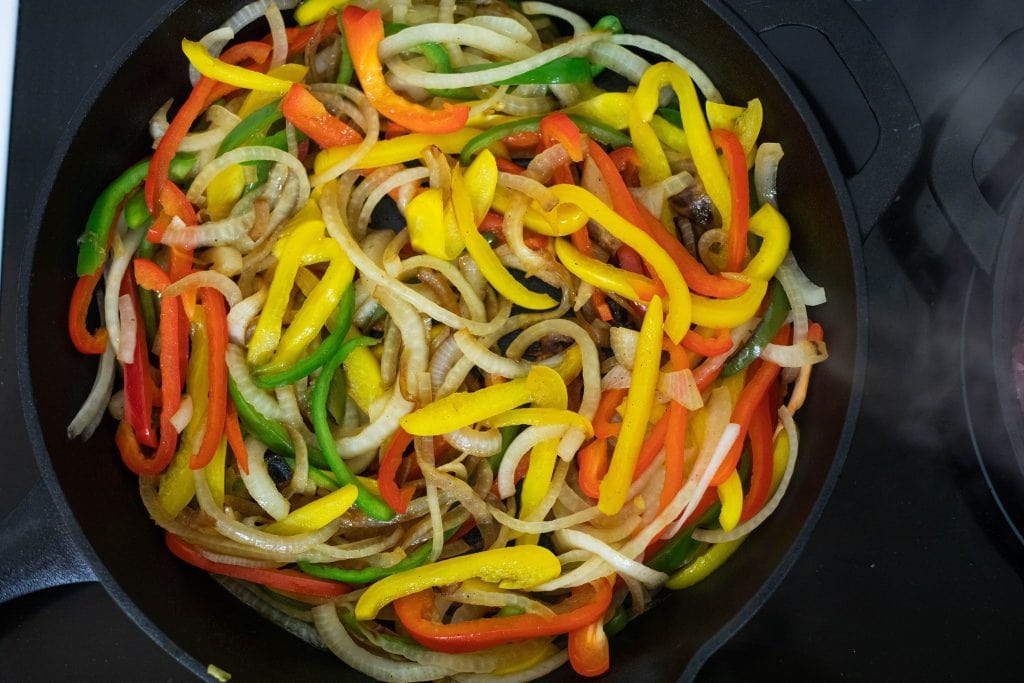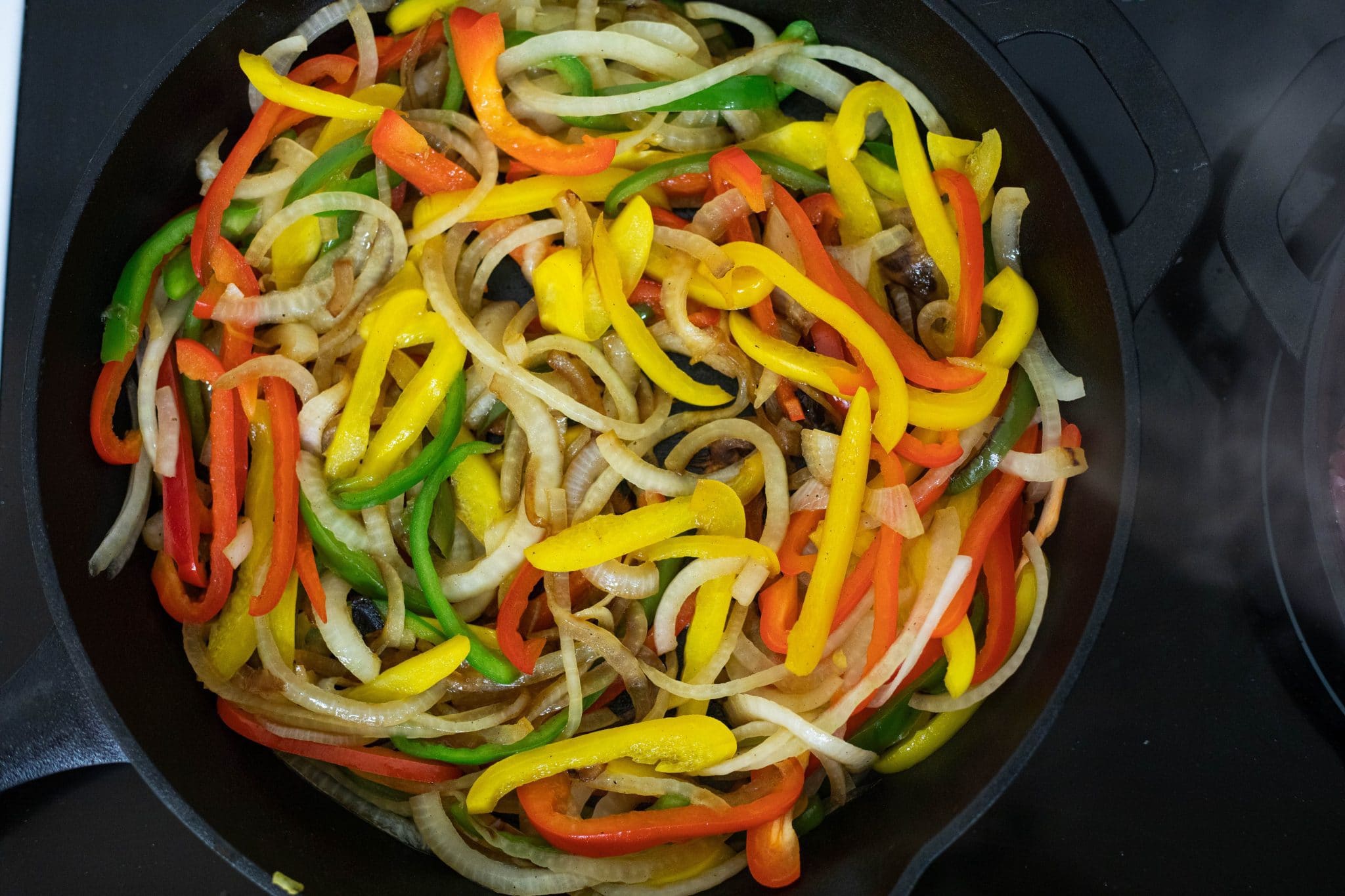 Slice the Steak
Using a very sharp knife, slice the steak into thin pieces. The trick here is to slice against the grain.
Add the Steak
Place the sliced steak into the other skillet. Season generously with salt and pepper and leave to cook over high heat, stirring occasionally.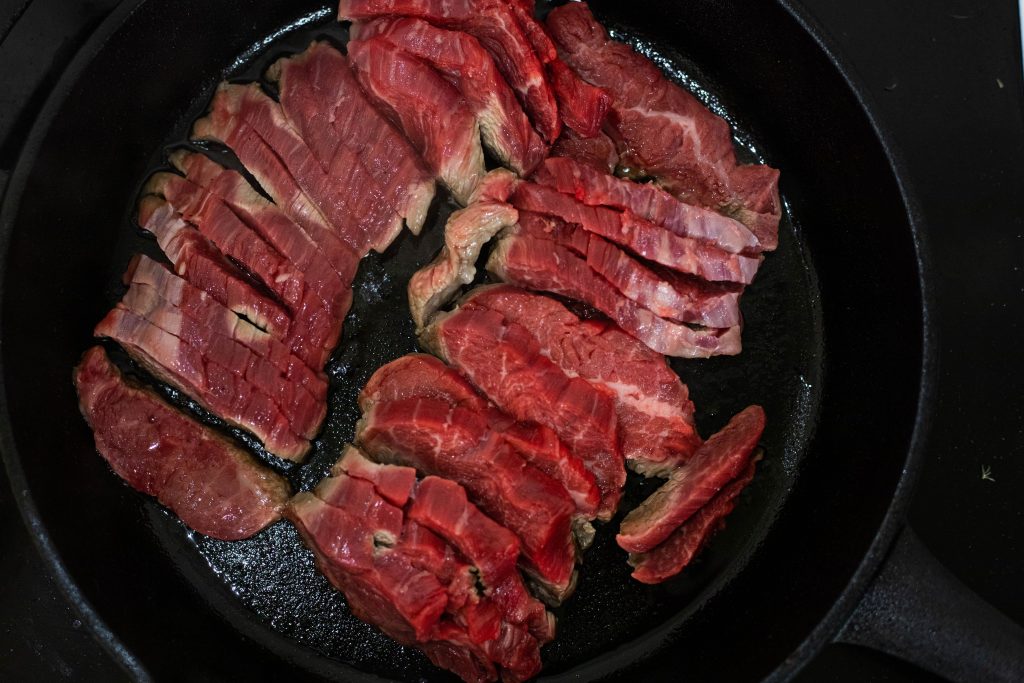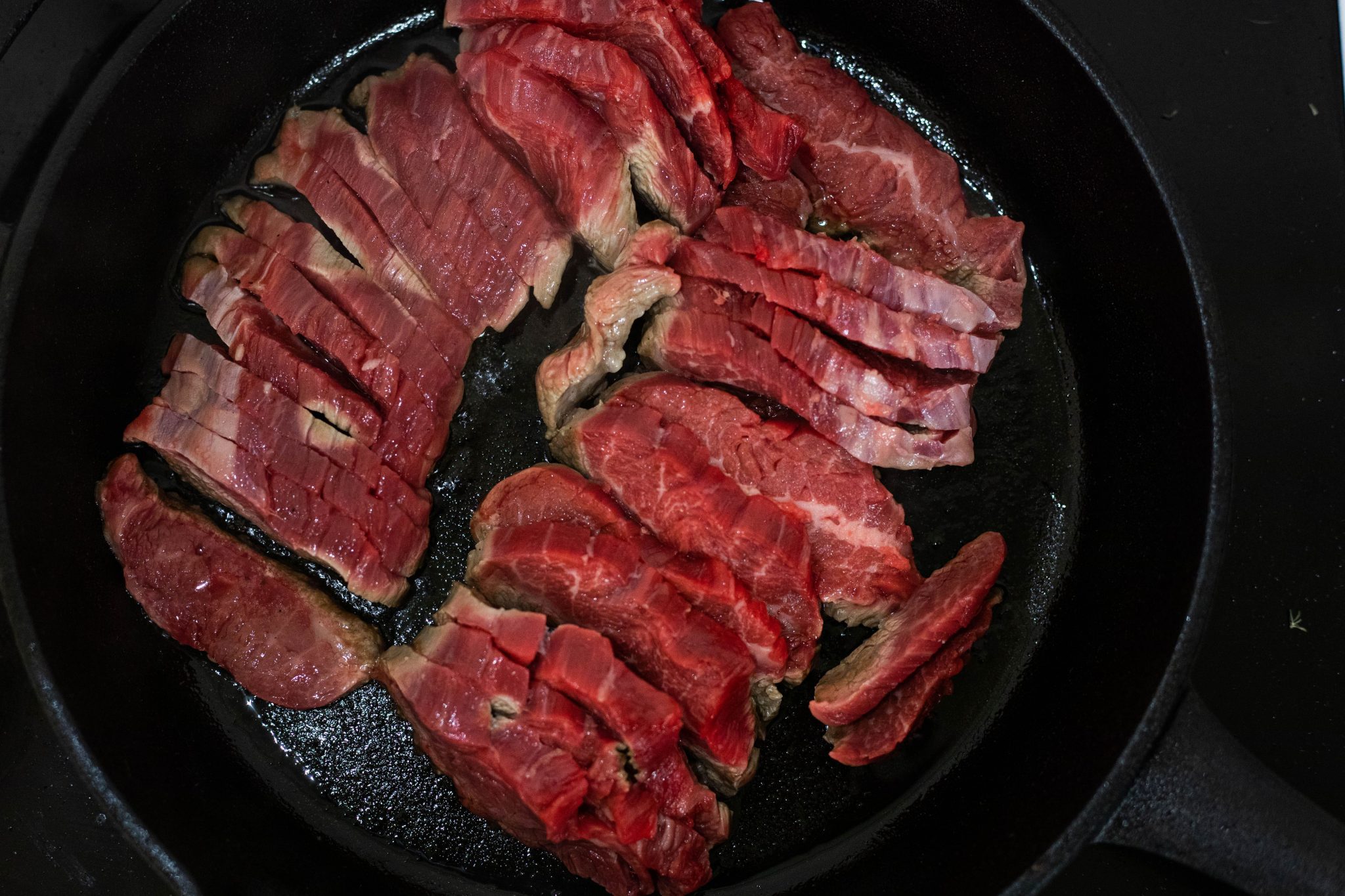 Cook the Vegetables
Continue to let the vegetables cook, keeping the heat high. Once they're slightly charred on the outside, reduce the heat to medium. Allow the vegetables to cook until softened, then remove from heat and set aside.
Cook the Steak
Cook the steak to your liking. This should be easy to monitor as the steak is sliced, allowing you to see how rare it is.
Add the Vegetables
Once the steak has reached a level you're happy with, add the vegetables and stir through. Remove from heat.
Serve and Enjoy
Serve with your low-carb base of choice. We love cauliflower rice or making a fajita salad with keto-friendly vegetables.
Common Questions
These low-carb fajitas may very well be the most simple Mexican recipe we have. But you might still have some questions. Luckily, we've got answers.
Can I Have Fajitas on Keto?
Yes! Fajitas are generally one of the most keto-friendly Mexican dishes – especially if you're following a recipe like this one.
But if you're ordering fajitas from a restaurant, there's a couple of high-carb things you'll want to avoid.
Fajitas are often served with tortillas and sometimes, beans (especially the refried variety). Make sure to double-check with the waiter and request these are left off your dish.
What Mexican Dishes Are Keto Friendly?
Mexican food isn't just delicious. It's also super easy to choose low-carb keto options even when dining out.
The most keto-friendly Mexican dishes are fajitas, carne asada, taco salad and ceviche.
You can easily order a "naked" burrito by choosing a taco salad without the usual carb-loaded add-ins. Instead, opt for meat, low-carb vegetables, and high-fat toppings.
Carne asada is grilled steak. Ceviche is simply fish and lemon served with tomatoes and onion – which in small amounts, don't have enough carbs to cause concern.
You might also consider ordering a taco without the tortilla. Like the sound of the carnitas taco with shaved red cabbage? See if you can order just the filling on a plate. Think of it as a bite-sized salad!
Again, you want to be mindful of any high-carb additions. These include:
Corn chips
Tortillas
Rice
Beans
Corn
And of course, don't forget to load up on the guacamole. Be wary of the queso, however. This can often contain hidden carbs.
Check out our guides on ordering keto at Chipotle and Taco Bell for more specific advice.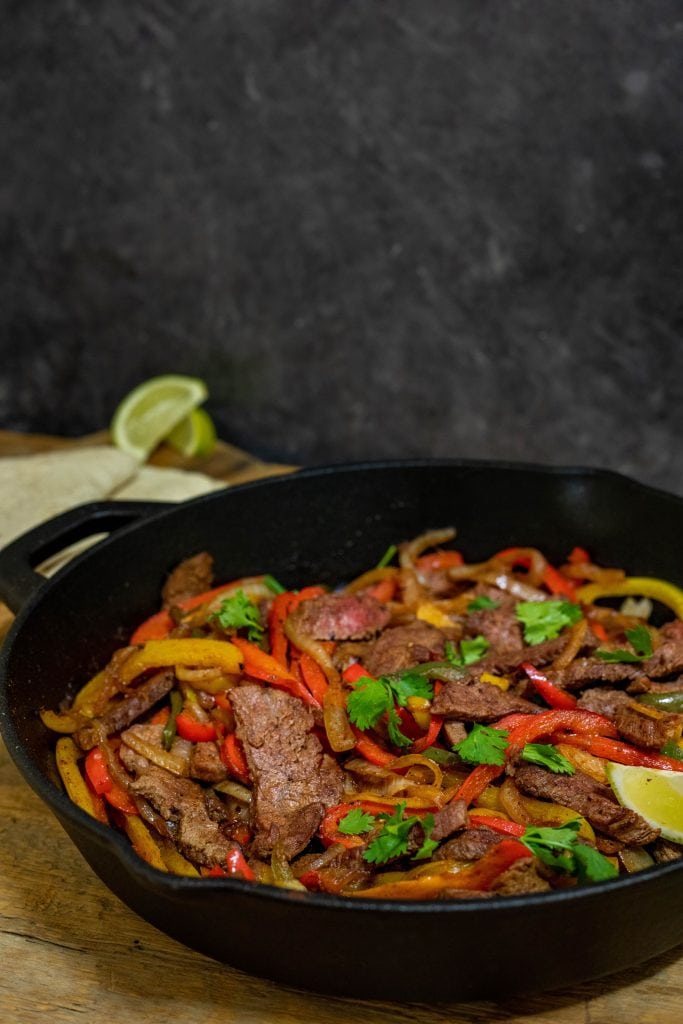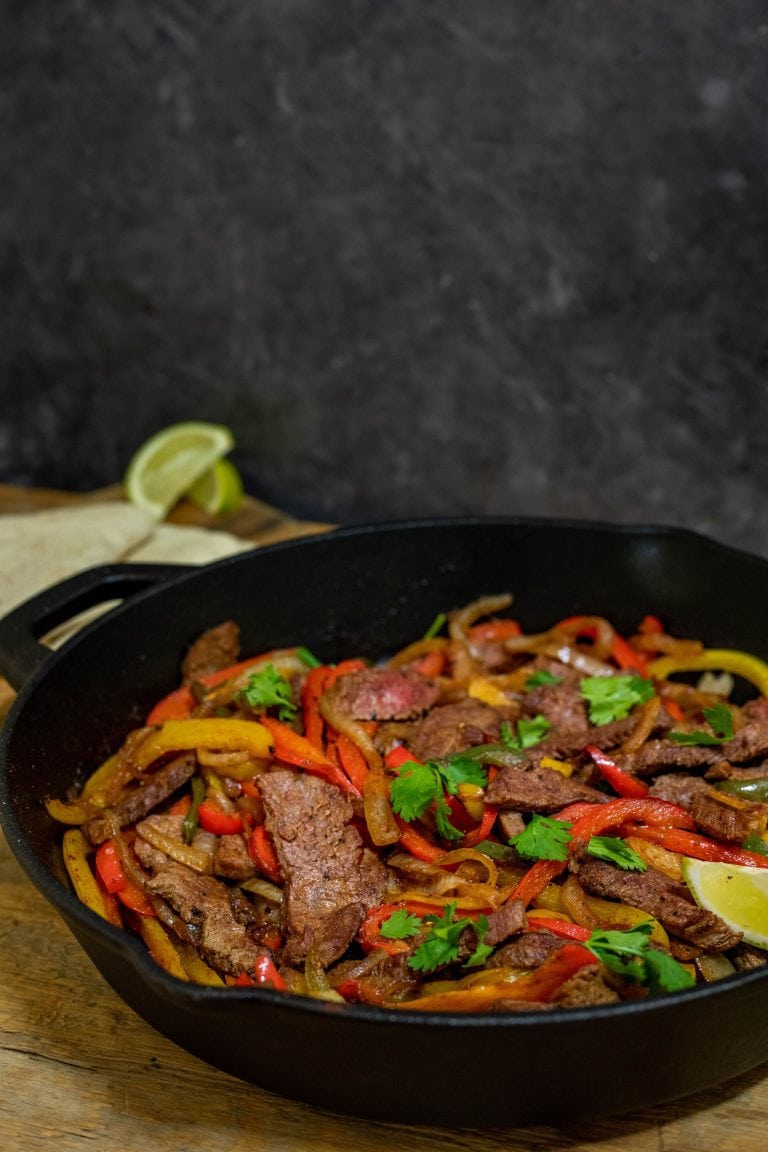 What's the Best Way to Serve Keto Fajitas?
This is a great, quick meal on its own. But our favorite part of this recipe is the fun you can have with all the add-ons!
Serve over a bowl of cauliflower rice and serve with a wedge of lime and a sprinkling of fresh cilantro for a delicious bowl of Tex-Mex comfort.
That's right – lime isn't just for margaritas.
If you're not a fan of cauliflower, try hearts of palm rice, or better yet, "miracle" rice made from low-carb konjac.
You could also create your own fajita salad with lettuce, avocado and some fresh tomatoes thrown in for an extra hit of flavor.
You might even want to try enjoying your fajitas in a wrap. Try low-carb tortillas, coconut wraps, or even large lettuce leaves. Crisp iceberg lettuce wraps are nature's low carb tortillas!
Finally, add some low-carb, high-fat toppings. Our picks are:
Pico de gallo
Grated cheese
Sugar-free salsa
Guacamole
Sliced avocado
Queso
Sour cream
Can I Have Tortillas on Keto?
Unfortunately your favorite corn and flour tortillas are not keto, but that doesn't mean you can't still enjoy a homemade or store bought low carb option.
Traditional corn tortillas have 17 net carbs for two, and a standard flour tortilla has about 34 net carbs a piece.
Try our healthy 2.75 net carb keto tortillas for an easy weeknight fajita dinner, or check out a few of our favorite store bought options:
Mr. Tortilla– These one net carb tortillas are super popular over social media, and for good reason. They taste just like a normal tortilla you'd buy at the Mexican market.
Mission Low Carb Tortillas- Mission Tortillas aren't the best tortilla ingredient quality wise, but they are super easy to find. Plus they are full of fiber so they only contain 4 net carbs a tortilla.
Tumaros– With only 3 net carbs a tortilla, these high fiber wraps make the perfect Mexican keto option.
Just because corn and flour aren't keto, doesn't mean you can't find a great low carb tortilla substitution! There are lots of brands now making healthy tortillas rich in fiber to keep the net carbs low, and your blood sugar stable.
Is Sour Cream Keto?
Sour cream is most definitely keto. It's high-fat and low-carb – and delicious.
Plus, the naturally occurring fats in sour cream can help your body to absorb the fat-soluble vitamins in the bell peppers and onions, such as Vitamin A and Vitamin E.
Can You Have Fajita Veggies on Keto?
You might be looking at this recipe and wondering why we've used such high-carb vegetables. Bell peppers? Onion? Aren't these high in natural sugars?
Thankfully, not really. Or at least, not in the amount we've used in this recipe.
If you like, you can opt to use lower-carb green bell peppers to limit your carbs as much a possible. However, with six servings in one recipe, the minimal carbs in these vegetables really aren't going to add up.
Plus, did you know onions are one of the richest sources of the cancer-prohibiting nutrient quercetin?
In other words, eat your vegetables!
Can I Make Chicken Fajitas Instead?
Sure! This Tex-Mex classic was originally made with steak, but over time chicken fajitas have become juts as popular.
If you're craving chicken fajitas, simply swap out the steak for chicken.
We recommend using skinless chicken thigh, as this will be the juiciest and most flavorful. Cut into chunks or strips and cook over medium-high heat until cooked through before adding to your vegetable mixture.
How to Store Your Keto Fajitas
Once your fajitas have cooled, store in a sealed container in the fridge for up to three days.
While you technically could freeze your Keto Fajitas, we wouldn't really recommend it. Bell peppers don't hold up too well when frozen and may have a strange texture after being defrosted.
And as for the steak? Nothing beats the taste of freshly grilled beef. And few things taste more disappointing than a perfectly cooked steak that's been frozen, defrosted and reheated.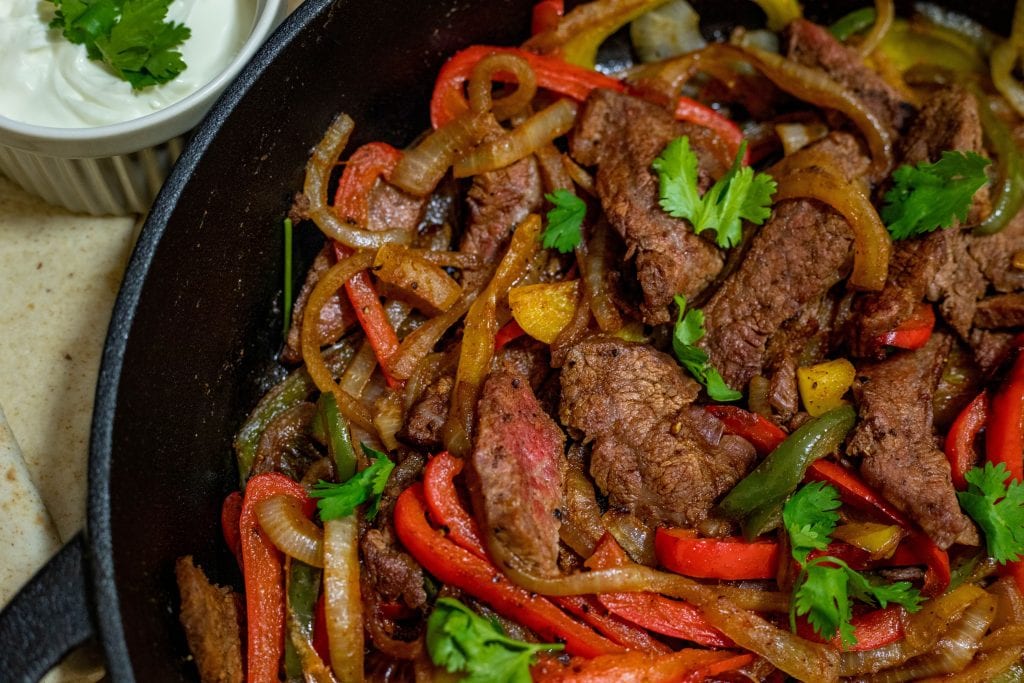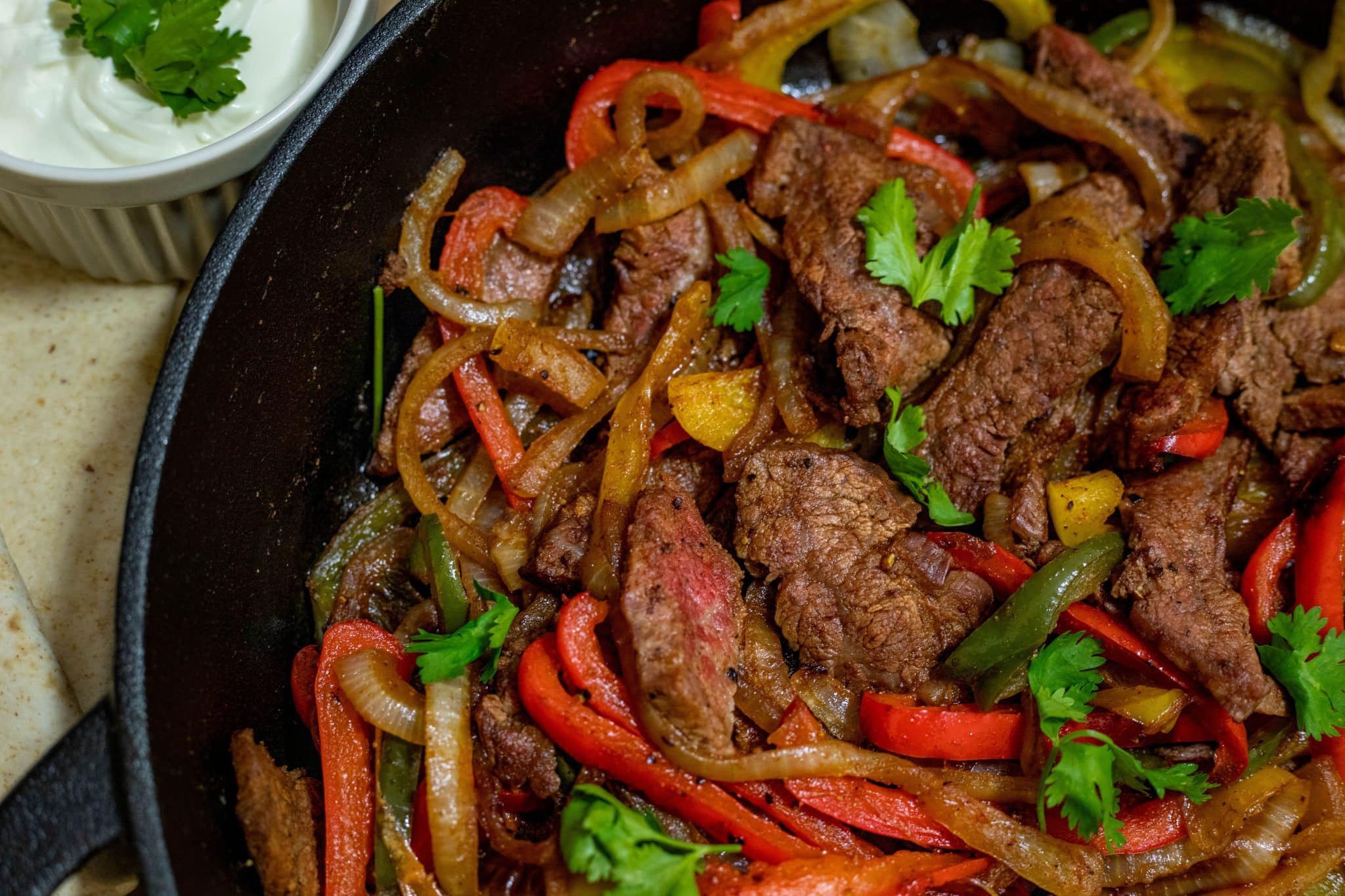 More Low-Carb and Keto Recipes Like This
Whether you're craving more keto-friendly Mexican food or want to find a new dish with similar ingredients, we've got plenty of low-carb and keto recipes to satisfy your cravings.
Conclusion
This Keto Fajitas recipe doesn't just prove how easy it is to stay keto while enjoying mouth-watering Mexican food. It's the perfect example of how cooking steak doesn't have to be intimidating. Just slice it up and throw it in a skillet with some tasty spices! Now that's a recipe for success.
Have you whipped up some of our delicious Keto Fajitas or any of our other low-carb Mexican-inspired recipes? Leave a comment below and let us know your thoughts!
Don't forget, we love to see your creations on social media. Take a photo and tag us in your creations. Bonus points if there's a margarita in the shot.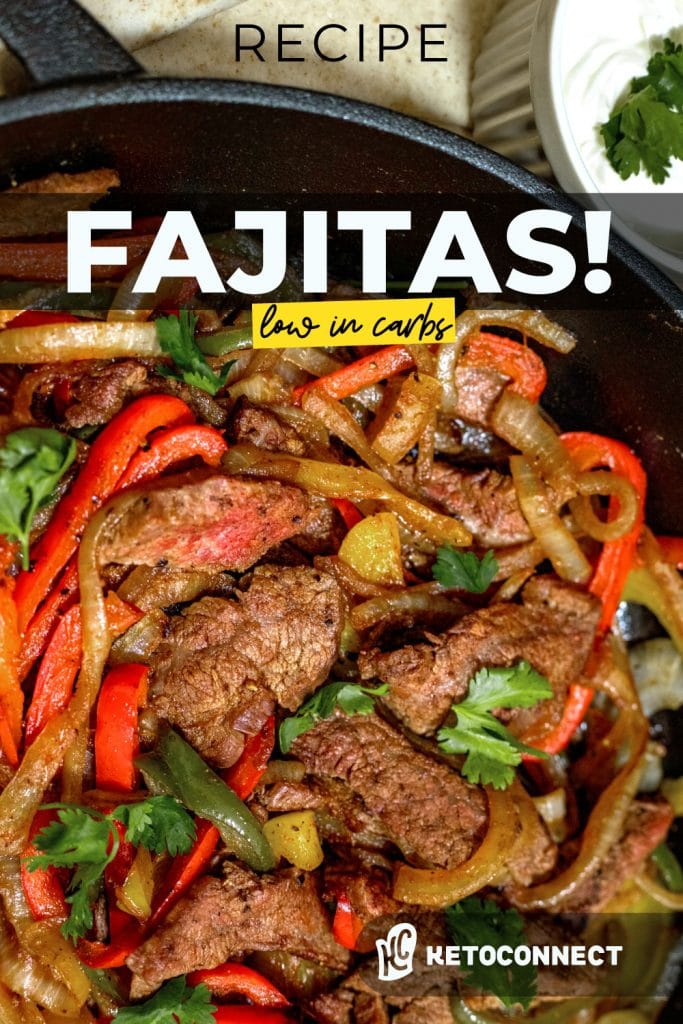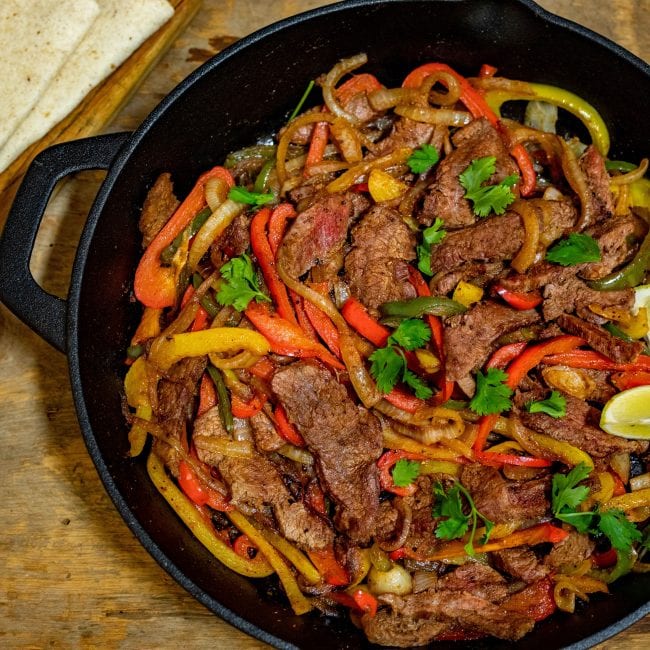 Keto Fajitas
Seared steak and sautéed vegetables served up with low carb tortillas and sour cream.
Total Time 35 minutes
Servings 6
Calories per serving 246kcal
Prep Time: 10 minutes
Cook Time: 25 minutes
Instructions:
Heat two separate skillets with a tablespoon of oil in each. In the first skillet add the peppers, onions, cumin, chili powder, garlic powder, salt and pepper.

Thinly slice the flank steak against the grain. This is cutting in the opposite direction of the muscle fibers.

Add the sliced steak into the second hot pan and sear it. Season with additional salt and pepper as it cooks.

Slightly char the vegetables on high heat and then cook them down on medium until tender.

Once the steak is cooked to preference add in the cooked vegetables and stir.

Serve over cauliflower rice or make into a fajita salad.
Nutrition Facts
Keto Fajitas
Amount Per Serving
Calories 246 Calories from Fat 99
% Daily Value*
Fat 11g17%
Saturated Fat 3g15%
Polyunsaturated Fat 1g
Monounsaturated Fat 6g
Cholesterol 68mg23%
Sodium 844mg35%
Potassium 654mg19%
Carbohydrates 10g3%
Fiber 3g12%
Sugar 6g7%
Protein 26g52%
Vitamin A 2705IU54%
Vitamin C 105mg127%
Calcium 48mg5%
Iron 3mg17%
* Percent Daily Values are based on a 2000 calorie diet.
Written By