Not a fan of casseroles? We are about to change that with this low carb casserole recipe using squash, egg, cheese and more! In short, the back story on making the recipe video was that Matt complained quite a bit prior to filming – he's not a fan of casserole or squash. But, he pushed through, did the recipe video and was surprised at how much he liked the final product. He said he would "add this to our weekly dinner rotation." Basically, if Matt approves, and he's a very picky eater, I think you will too!
Quick Keto Dinner Recipes
Some nights you just want to whip up something quick and easy for dinner. The perfect solution to this dilemma is casseroles of bakes! No need to worry about multiple sides or cooking a separate main when you can toss everything into one dish, pop it in the oven and serve immediately! If this casserole dish isn't doing it for you we've got plenty more on our blog you should try out, such as our:
Casseroles and bakes also work great for meal prep so you can save time all week by batch cooking the above recipes and storing them in easy grab and go containers for quick heat up at work!
Note: meal prep is best stored in air tight containers for five to seven days, depending on the recipe.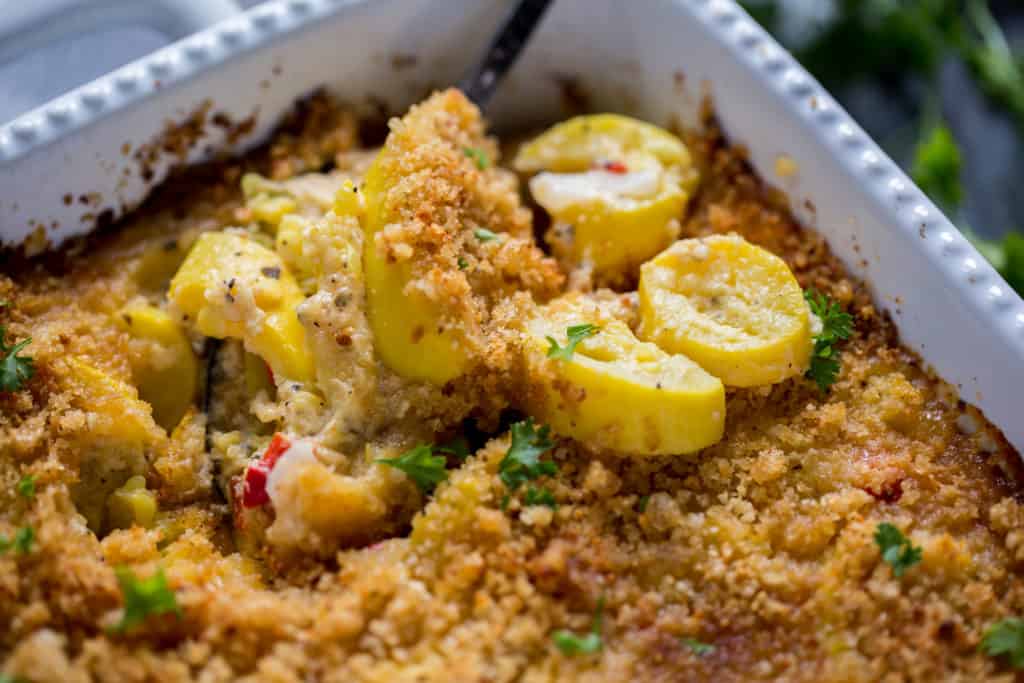 Prep Your Ingredients
Whenever bacon is involved you want to crisp it up in a pan prior to adding it to your casserole. This will maximize crunch and taste, but also make sure that the uncooked pork is fully cooked through once out of the oven.
This will also give you a nice fatty base to saute any veggies in, if you desire. For this recipe we sauteed the squash and onion in the bacon fat which not only prevents waste of a good source of nutrition, but ups the flavor and carmelization on the final product!
Aside from those basics, all that is left to do is combine everything in a big enough casserole dish, bake and serve. The ease to taste ratio is and off the charts win-win!
Crispy Topping
A crispy topping is always a great way to finish off a dish. You can make one for savory dishes, like the one used in this recipe, or for sweet dishes like you might find in our low carb pumpkin crisp recipe.
If cooked long enough and at high enough temperatures, cheese can easily crisp up and brown, but with the additions of crunchy pork rinds you'll achieve the perfect crispy topping for any casserole dish!
Note: If you don't eat pork, leave the pork rinds off and double the cheese. After the cook time is completed, leave it under the broiler for a couple minutes so the cheese can brown and crisp!
Low Carb Casserole With Squash And Bacon!
If you're a fan of casseroles this recipe is going to be your new favorite casserole recipe! It's packed with flavor and crunch, and a small portion goes a long way. It's great for meal prep or throwing together on a busy weeknight using whatever leftover meats and veggies you have in the fridge. Make it and let us know how much you loved it below in the comments section.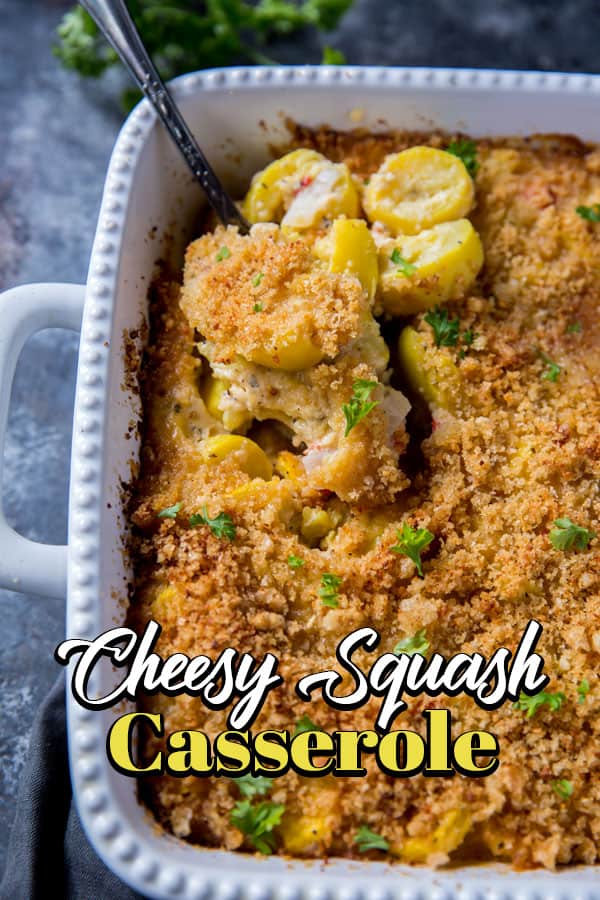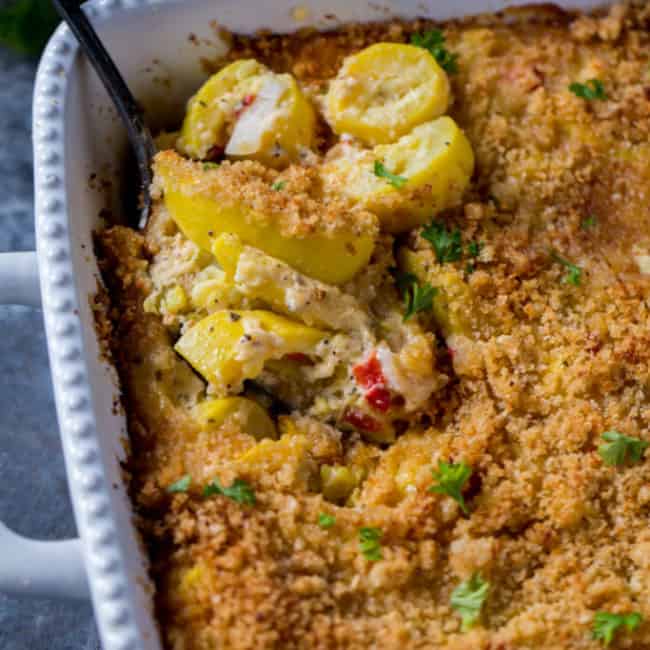 Low Carb Casserole | Squash, Bacon And Pimentos!
Easy low-carb casserole made with squash, bacon, and pimentos.
Servings 8 servings
Calories per serving 272kcal
Prep Time: 10 minutes
Cook Time: 50 minutes
Ingredients:
4 slices bacon, roughly chopped
2 lbs yellow squash, halved and cut into 1/2 thick slices
1 small white onion, chopped
1 tsp pink salt
1 cup cheddar cheese
1 cup pepper jack cheese (or cheese of choosing)
1/2 cup diced pimentos (jarred in water)
1/2 cup sour cream
1 tsp dried basil
1 tsp garlic powder
1/4 tsp black pepper
2 large eggs, beaten
1 cup crushed pork rinds
1/3 cup grated Parmesan
Instructions:
Preheat oven to 350 degrees F, heat a large skillet over medium high heat and coat an 8×8-inch casserole dish with cooking spray; set casserole dish aside.

Add the chopped bacon to the hot skillet, stir with wooden spoon and cook until partially cooked.

Add the chopped onion and squash and combine. Saute for 7-10 minutes, until onion and squash are fork tender.

Remove the skillet from the heat and add all of the ingredients, except for the, eggs, pork rinds and parmesan.

Once combined, mix in the eggs and then transfer the mixture to the casserole dish.

Top the mixture with the crushed pork rinds and grated Parmesan.

Bake, uncovered, for 35-40 minutes. Serve immediately.

Leftovers best stored in an air tight container in the fridge up to 5 days.
Notes
Net Carbs: 5g Serving Size: 1/8th of casserole Yields: 8 servings
Nutrition Facts
Low Carb Casserole | Squash, Bacon And Pimentos!
Amount Per Serving
Calories 272 Calories from Fat 180
% Daily Value*
Fat 20g31%
Carbohydrates 7g2%
Fiber 2g8%
Protein 16g32%
* Percent Daily Values are based on a 2000 calorie diet.
Written By