If you are looking for the best keto pancake you've found it! We put a twist on one of our favorite recipes from our first cookbook Keto Made Easy.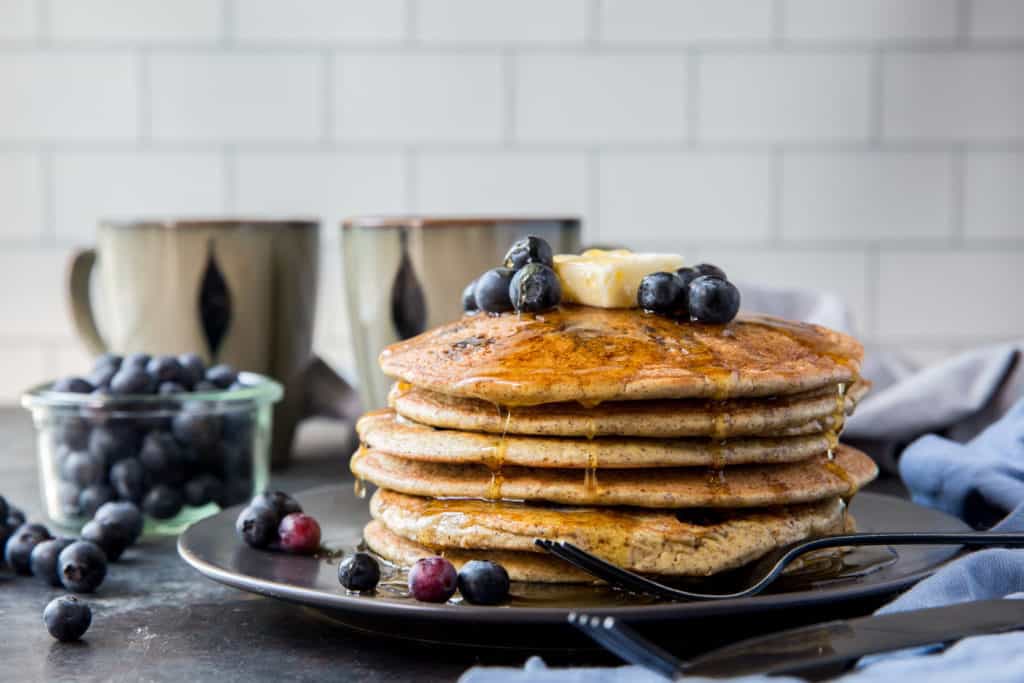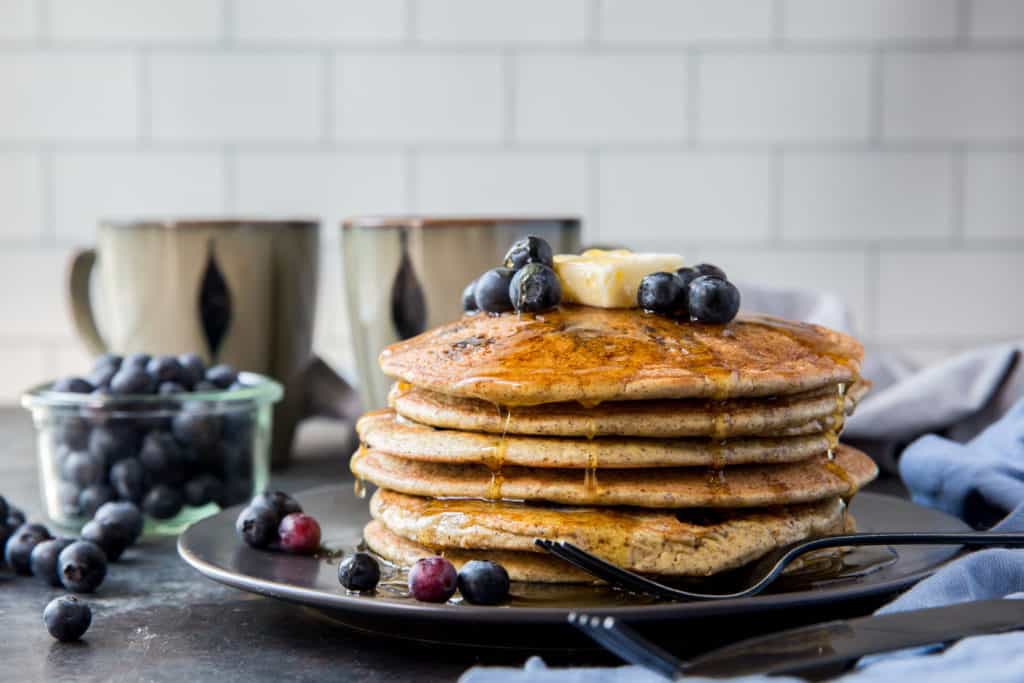 These Diner Style Keto Pancakes aren't thin and eggy, don't fall apart and definitely don't taste low carb. I always got pancakes with a hefty dose of maple syrup when I went to the diner with my family as a child, and these pancakes take me back every time!
Low Carb Breakfast Ideas
Eggs can certainly get boring so it's important you have some go to breakfasts in your back pocket in times of need. These easy keto pancakes are hearty and filling, perfect for Sunday brunch with the family. Some other great low carb/keto breakfast options are:
Breakfast doesn't have to boring and redundant. Make some of our best keto breakfast recipes for your family and let us know what they think!
These diner style pancakes will have you questioning whether you are even eating low carb! There is nothing like waking up to the smell of warm pancakes and freshly brewed coffee. The flavor of these pancakes is buttery, toasty, and warming. With an unmatchable thickness these pancakes are fluffy and filling, sure to compare the hotcakes you remember growing up. Don't fear the flour. The coconut flavor is very subtle and most of what you taste is just the sweet buttery base with hints of vanilla.
Want to complete the pair? Try our bulletproof coffee as the perfect side to these pancakes.
The Best Coconut Flour Keto Pancake
A common question we hear from our readers is, "can I use coconut flour in keto pancakes?" Coconut flour is a key ingredient in many keto recipes, adding delicious flavor while still maintaining a regular pancakes texture. Keto pancakes can often turn out a bit squishy and eggy instead of light and fluffy.
This is why I decided to create a coconut flour pancake, it gives extra body to our keto pancakes so they feel thick and substantial while still being low carb.
Unfortunately, coconut flour is very different from almond flour. Unlike coconut and almond milk, these two flours are not interchangeable.
Almond flour is less absorbent requiring more flour to make low carb pancakes with the same volume, this is why we prefer coconut flour. It is not only nut free, but compared to almond flour it's also cost effective!
Is Coconut Flour Healthy on Keto?
100%! This unique type of flour looks higher in carbs but actually has a great amount of fiber. More fiber means slower absorption of any sugars and carbohydrates to help manage blood sugar levels and even prevent type two diabetes(1)!
Plus if you are someone who tracks net carbs this is a great option as it only has 6 Net carbs for two medium sized pancakes unlike regular pancakes which can have up to 30 grams for only one.
The macros for these pancakes are fantastic. Only 416 calories, 6 net carbs, 34 grams of fat, and a whopping 15 grams of protein! Not to mention just two pancakes have 7 grams of fiber which is 28% of the daily recommendation, to help keep you satisfied and your blood sugar stable.
Dairy Free Options
I know it's no fun having food allergies and sensitivities, that's why we try to make easy keto recipes with delicious substitutions. By using coconut flour instead of almond flour in these low carb pancakes we are able to help with any nut allergies.
We also wanted to help with dairy intolerances, while still creating easy to make keto pancakes. If you are lactose sensitive try subbing ghee in this easy keto pancake recipe.
If you are trying to minimize all dairy you can use coconut oil, just know the flavor may be a little more coco-nutty. Substitutions for low carb/ keto recipes shouldn't be stressful. That's why we give many options and even cut out any chance of dairy like cream cheese being in this recipe.
How to Make a Keto Pancake
Don't let the the word keto scare you! These pancakes are simple, but will have you looking like an impressive chef to your family in no time!
Start by combining all the wet ingredients whisking until thoroughly mixed
In a large bowl combine the dry ingredients- If you are concerned about the batter ending up clumpy, feel free to sift your coconut flour for an even texture
Add the wet ingredients to the dry mixture and stir together until you have a uniform batter. Set aside for a couple minutes to allow it to thicken- The flour will thicken this recipe and help make the pancakes fluffy
Preheat a large skillet to medium low heat and grease using a spray, ghee or coconut oil- Try a cast iron if you don't have a nonstick pan
Once the batter has thickened fold in the blueberries.
After the skillet is heated, use a 1/4 measuring cup to add the batter in the skillet. Cook for 3-5 minutes and then flip, cooking for an additional 30 seconds. Work in batches until all the remaining batter has been used.
Serve immediately with desired toppings
Keto Pancake Fillings
Don't be scared to go overboard on the fillings. In my opinion you can never have enough and they won't change the cooking of these keto pancakes at all. All the steps are still the same except you'll have a more delicious breakfast afterwards. Some of the things I would add when making the best keto pancakes for myself:
Cooking Temperature for Keto Pancakes
Knowing what temperature to heat the skillet to and how long to cook the batter has always been a weak spot of mine. It wasn't until I met Matthew that I was finally able to make the first pancake without burning it.
The key in cooking low carb pancakes is not to over heat the skillet. Medium or medium low to start and then a gradual increase in heat as you see fit is the best approach. Also, let the skillet fully heat and once the batter is in place let it slowly cook to completion. Patience is key when making low carb pancakes!
Tip: grease the skillet with coconut oil or ghee to ensure no sticking and perfect pancakes every time! If you want feel free to use a non stick pan or a well seasoned cast iron.
When to Flip
Thankfully in this recipes we use coconut flour over almond flour which prevents the pancakes from getting too dark before the inside has cooked. When making the actual keto pancakes it's important to be patient as they cook. It wasn't until recently that I realized how important this was.
My first pancake was always extremely burnt so I had to hide it at the bottom and make sure no one else ate it. Instead of suffering through a burnt low carb pancake, take your time and you'll never have to eat one again. Follow these steps for a perfectly cooked easy keto pancake:
Heat the skillet to medium low heat.
Make sure the skillet is heated through and properly greased. Or feel free to use a non stick pan.
Once the batter is on the hot skillet allow it to cook through. This could take anywhere from 3-5 minutes. Patience is key!
Flip and cook for an additional 30 seconds.
Low Carb Pancake Toppings
Just like fillings keto toppings are essential. Whether you are just a butter and syrup person, or you want to get a little fancier we've got you covered. Our favorite keto toppings are: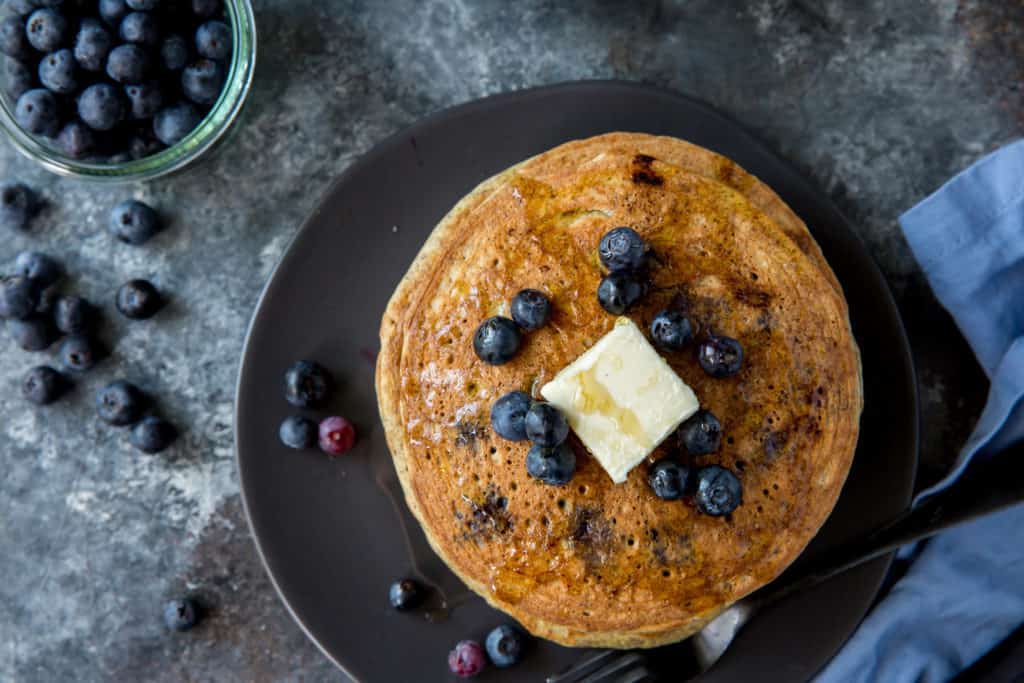 How to Store Keto Pancakes
These keto pancakes store well in the fridge for 3 to 4 days. Or freeze a big batch of them as a quick and easy keto breakfast on the go. Once frozen solid they will last about 3-4 weeks before texture and flavor is sacrificed.
Freezing Low Carb Pancakes
Prepare the recipe per instructions below
Allow the coconut flour pancakes to fully cool (10-15 minutes)
Using a baking tray lined with parchment paper, place all the pancakes in one even layer. Freeze for about 4 hours or until solid.
After they are frozen, remove from the pancakes from the freezer. Using scissors simply cut the parchment paper around the pancakes into rough squares. It does not need to be perfect! You just want squares of the paper to go with the pancakes in order to prevent any of them freezing together.
Place the pancake and parchment squares in a ziplock bag. Stacking is perfectly fine, just make sure the parchment is touching all pancakes so there's no sticking of pancakes.
How to Reheat Keto Pancakes
I love a good keto pancake, but don't always have the time to make them fresh. One of my favorite things to do is freeze and reheat them so that I can eat quickly on the go. There are a few good options for reheating low carb pancakes to help them taste fresh.
Reheat in the oven- This is one of the best ways to reheat as it helps prevent them from being soggy. Turn the oven to 350°F and place the pancakes on a parchment paper lined tray (Or if heating from frozen just use that stored parchment paper). Cook for about 7-10 minutes or until the pancakes are fully heated throughout
The Microwave- Microwaves can make the pancakes a bit soggy, but it is still a great option for a faster reheat. Place the pancakes on a plate and microwave in 30 second intervals until fully heated.
Airfryer- The Airfryer is another amazing option if turning on and waiting for the oven sounds like it takes too long. Simply heat the airfryer to 350°F and cook for 5-7 minutes. This will make a bit crispier pancake on the outside, which is great if you like topping with lots of syrup and don't want them soggy.
Remember with any reheat method you choose topping the pancakes with a little butter will help prevent any drying out, and add great flavor!
Are Keto Pancakes Kid Friendly?
YES! These are a great option to save your kids from breaking into the unhealthy high sugar high carb boxed pancake mixes.
Coconut flour is packed with fiber and free of refined carbs. This will allow your kids to be fuller longer! A great way to make these school friendly is to make and freeze mini pancakes.
When it's time to go early in the morning your kids can grab pre-made pancakes from the freezer. Simply toss them in the microwave, and run out the door with a zip lock bag of pancakes and a small cup of sugar free syrup!
Make it a Meal!
Thinking of making breakfast for dinner? These keto pancakes make the perfect main dish, however an easy upgrade is simply pairing it with some great sides.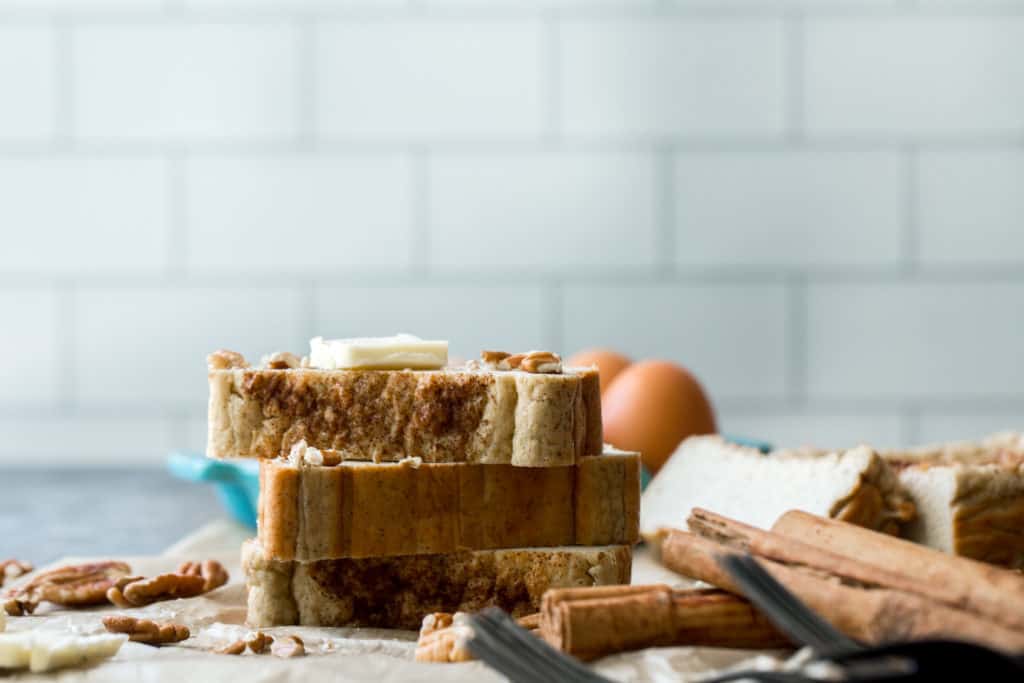 Your Favorite Easy Keto Pancake Recipe
These super easy keto pancakes will transport you back to your childhood of indulging in a thick stack of pancakes! Whether you make them for Sunday brunch or for a low carb dinner tonight, these are going to be your new favorite keto pancakes; so go ahead and memorize the recipe.
Tired of all gluten free pancake recipes being basic almond flour keto pancakes? Whether you are nut-free, gluten free, or just trying to eat lower carb, our site has a lot of other keto pancakes you can give a try! Check out these different low carb/ keto pancakes which are also almond flour free!
We love making easy keto breakfasts for dinner at least once a week. These low carb/ keto friendly pancakes fit right into our dinner routine.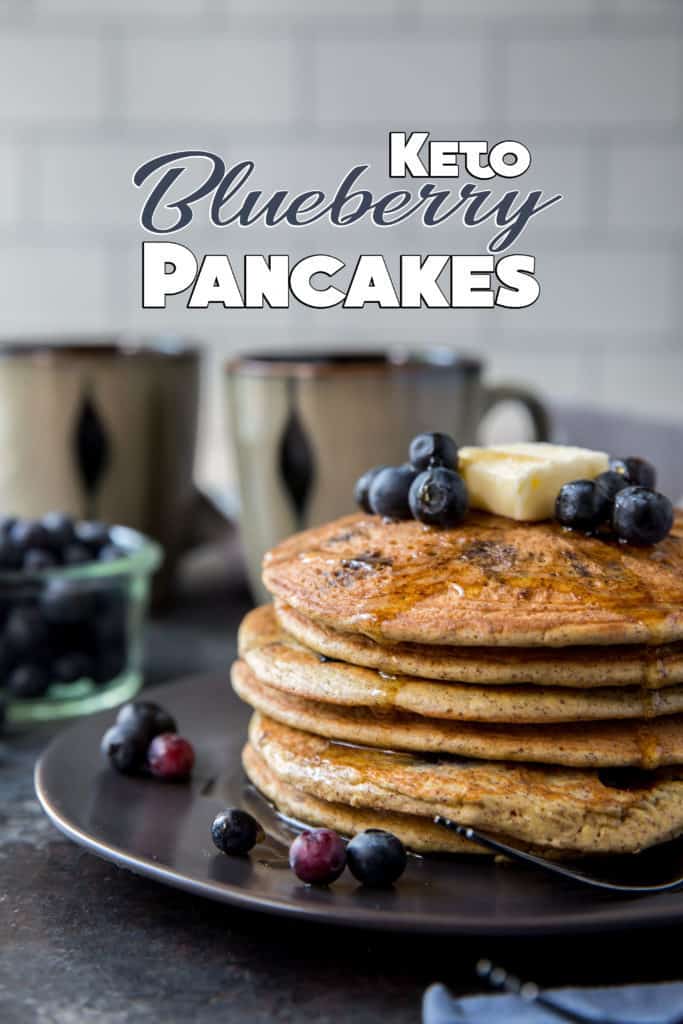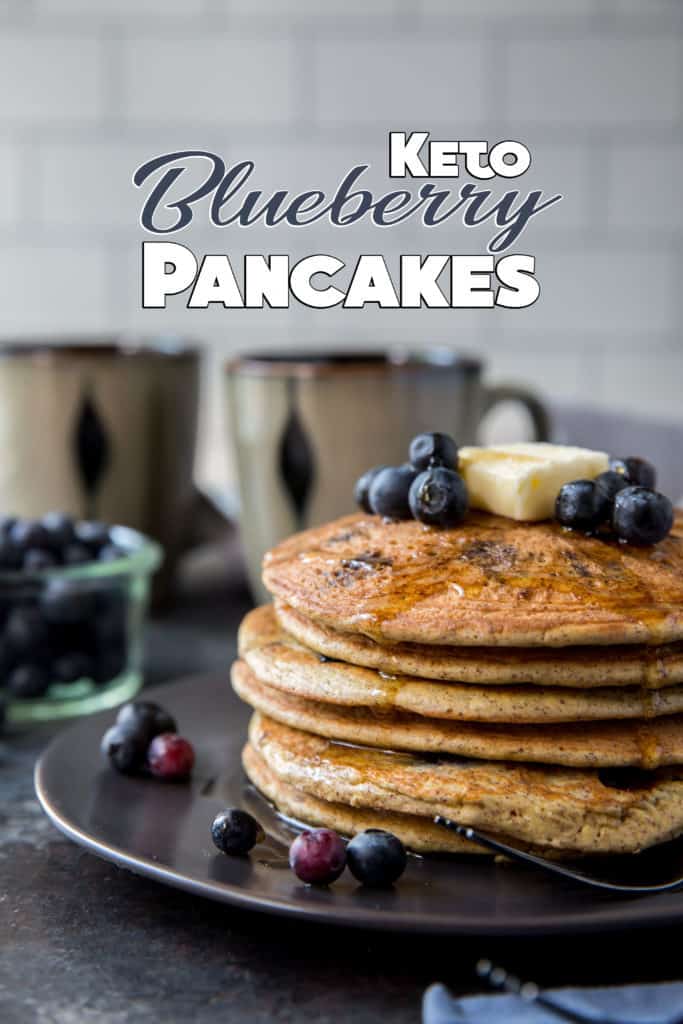 Our low carb recipes can be quickly added to MyFitnessPal – Search "KetoConnect – Keto Pancakes"
Blueberry Keto Pancakes
Fluffy low-carb pancakes made with coconut flour, flax seed, and blueberries.
Servings 4 servings
Calories per serving 416kcal
Prep Time: 5 minutes
Cook Time: 6 minutes
Instructions:
Combine the butter, vanilla extract, stevia, eggs and nut milk into a medium bowl and combine using a whisk until the thoroughly mixed.

In a large bowl combine the coconut flour, flax seed meal, salt and baking powder and combine using a spoon.

Add the wet ingredients to the dry mixture and whisk together until you have a uniform batter. Set aside for a couple minutes to allow it to thicken.

Preheat a large skillet to medium low heat and grease using a spray, ghee or coconut oil.

Once the batter has thickened fold in the blueberries.

When the skillet is heated, using a 1/4 measuring cup add the batter to the skillet. Cook on first side for 3-5 minutes and then flip and cook for an additional 30 seconds. This recipe will yield 8 medium pancakes. Work in batches until all the batter has been used.

Serve immediately with desired toppings, such as sugar free syrup or additional blueberries.

Best stored in a zip top bag or air tight container in the fridge up to 1 week.
Notes
Net Carbs: 6g
Serving Size: 2 medium pancakes
Yields: 8 medium pancakes
**Feel free to leave out the blueberries for a lower carb pancake recipe.
Nutrition Facts
Blueberry Keto Pancakes
Amount Per Serving
Calories 416
Calories from Fat 306
% Daily Value*
Fat 34g52%
Carbohydrates 13g4%
Fiber 7g28%
Protein 15g30%
* Percent Daily Values are based on a 2000 calorie diet.
Written By