We put a twist on one of our favorite recipes from our first cookbook Keto Made Easy. These Diner Style Keto Pancakes aren't thin and eggy, don't fall apart and definitely don't taste low carb. I always got pancakes when I went to the diner with my family as a child and these pancakes take me back every time!
Low Carb Breakfast
Eggs can certainly get boring so it's important you have some go to breakfasts in your back pocket in times of need. These keto pancakes are hearty and filling and perfect for Sunday brunch with the family. Some other great low carb breakfasts are:
Breakfast doesn't have to boring and redundant. Make some of our favorite low carb breakfast recipes for your family and let us know what they think!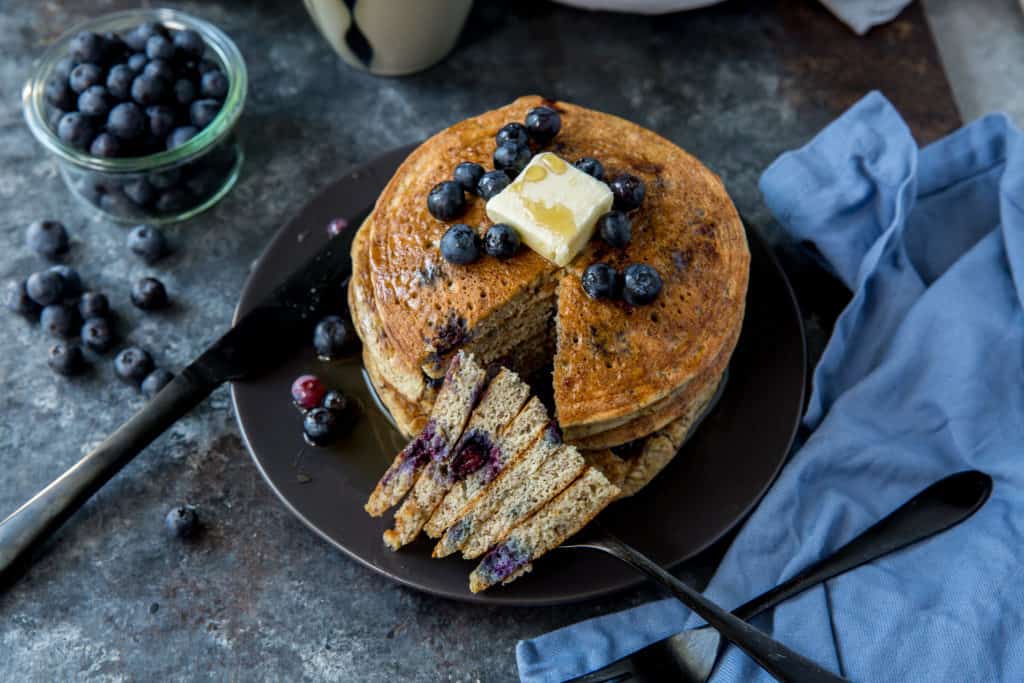 Preheat The Skillet
Knowing what temperature to heat the skillet to and how long to cook the batter has always been a weak spot of mine. It wasn't until I met Matthew that I was finally able to make the first pancake without burning it.
The key here is not to over heat the skillet. Medium or medium low to start and then a gradual increase in heat as you see fit is the best approach. Also, let the skillet fully heat and once the batter is in place let is slowly cook to completion. Patience is key when making pancakes!
Tip: grease the skillet with coconut oil or ghee to ensure no sticking and perfect flips every time!
Fillings Are Fun!
Don't be scared to go overboard on the fillings. In my opinion you can never have enough and they won't change the cooking of the pancakes at all. All the steps are still the same except you'll have a more delicious breakfast afterwards. Some things I would add if I were making them for myself would be:
Additional sweetener (so I don't have to top with any syrup – I like my pancakes sweet!)
Walnuts. I love a good crunch and it ups the fat on this meal.
Chocolate chips. Similar to the blueberries, the chocolate chips melt while the pancakes cook and stay warm so each bite is extra indulgent!
Low And Slow
When making the actual pancakes it's important to be patient as they cook. It wasn't until recently that I realized how important this was. My first pancake was always extremely burnt so I had to hide it at the bottom and make sure no one else ate it. Instead of suffering through a burnt pancake, take your time and you'll never have to eat one again. Here are some steps:
Heat the skillet to medium low heat.
Make sure the skillet is heated through and properly greased.
Once the batter is on the hot skillet allow it cook through. This could take anywhere from 3-5 minutes. Patience is key!
Flip and cook for an additional 30 seconds.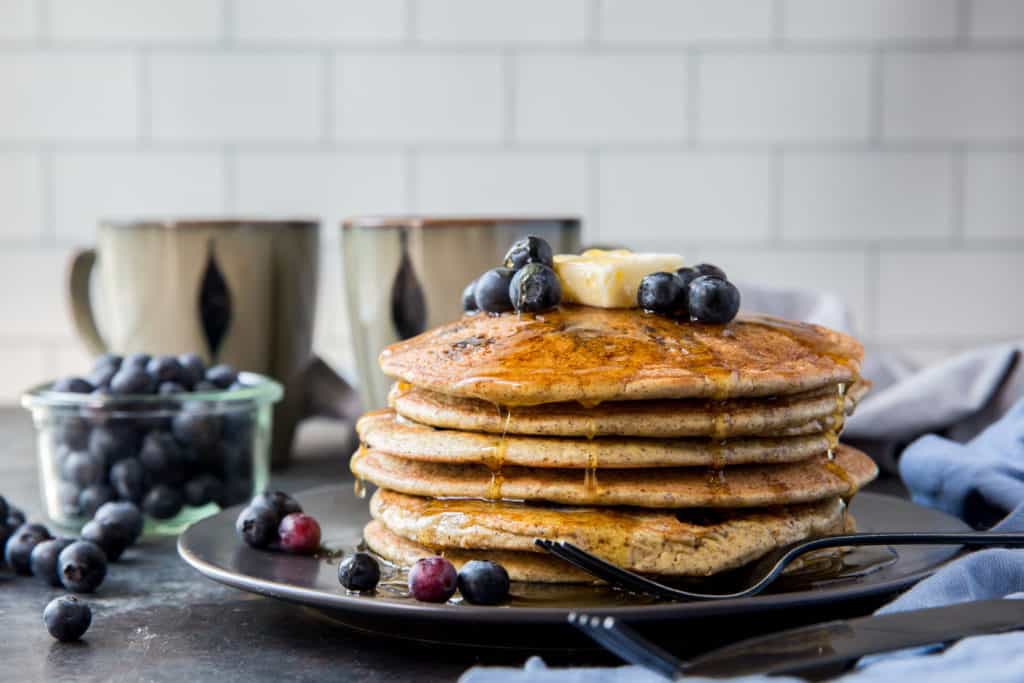 Your Favorite Keto Pancake Recipe
These pancakes will transport you back to your childhood of indulging in a thick stack of pancakes! Whether you make them for Sunday brunch or for dinner tonight, these are going to be your new favorite keto pancakes so go ahead and memorize the recipe. Our site has a lot of other pancakes you can give a try, such as:
We love making breakfast for dinner at least once a week and these keto pancakes fit right into our breakfast for dinner routine.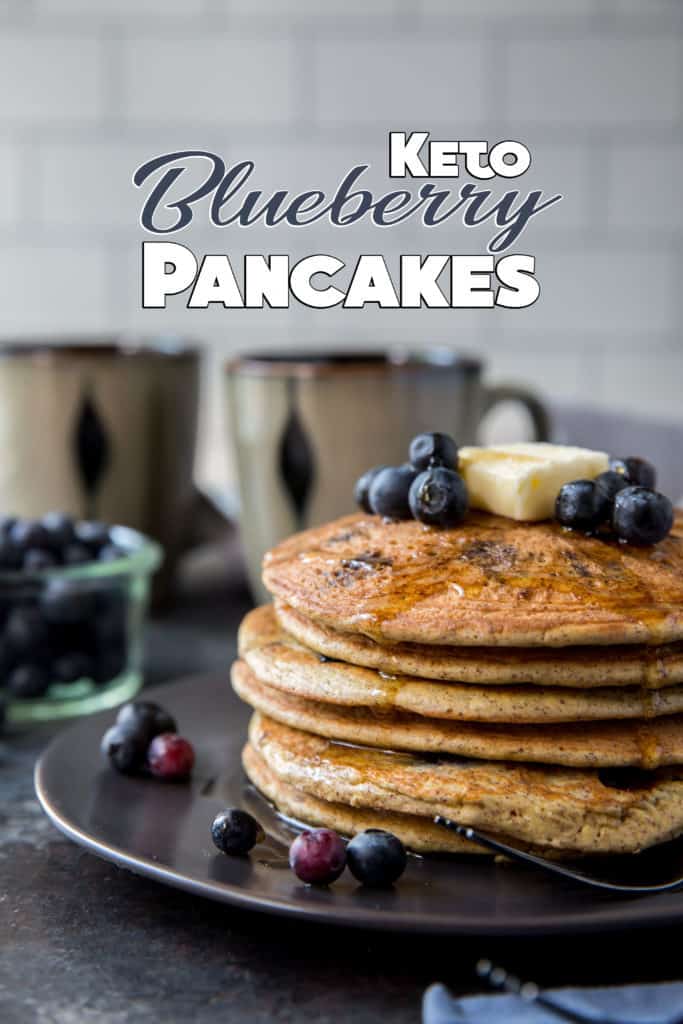 Recipe can be quickly added to MyFitnessPal – Search "KetoConnect – Keto Pancakes"
Blueberry Keto Pancakes
Fluffy low-carb pancakes made with coconut flour, flax seed, and blueberries.
Servings 4 servings
Calories per serving 416kcal
Prep Time: 5 minutes
Cook Time: 6 minutes
Instructions:
Combine the butter, vanilla extract, stevia, eggs and nut milk into a medium bowl and combine using a whisk until the thoroughly mixed.

In a large bowl combine the coconut flour, flax seed meal, salt and baking powder and combine using a spoon.

Add the wet ingredients to the dry mixture and whisk together until you have a uniform batter. Set aside for a couple minutes to allow it to thicken.

Preheat a large skillet to medium low heat and grease using a spray, ghee or coconut oil.

Once the batter has thickened fold in the blueberries.

When the skillet is heated, using a 1/4 measuring cup add the batter to the skillet. Cook on first side for 3-5 minutes and then flip and cook for an additional 30 seconds. This recipe will yield 8 medium pancakes. Work in batches until all the batter has been used.

Serve immediately with desired toppings, such as sugar free syrup or additional blueberries.

Best stored in a zip top bag or air tight container in the fridge up to 1 week.
Notes
Net Carbs: 6g Serving Size: 2 medium pancakes Yields: 8 medium pancakes **Feel free to leave out the blueberries for a lower carb pancake recipe.
Nutrition Facts
Blueberry Keto Pancakes
Amount Per Serving
Calories 416 Calories from Fat 306
% Daily Value*
Fat 34g52%
Carbohydrates 13g4%
Fiber 7g28%
Protein 15g30%
* Percent Daily Values are based on a 2000 calorie diet.