In celebration of the 420 holiday and just for the love of nachos we've repurposed the pork rind in an unimaginable to create these Pork Rind Nachos! The pork rind chips are dense, cripy, salty and perfect for holding all the essential nacho toppings like a chip. We've seen many people make keto nachos using normal pork rinds, but we wanted the real feel of eating nachos because there is no better munchies snack!
Keto Nachos Recipe
As you can see below from the picture, the pork rinds are unrecognizable. You may even be thinking its impossible to get a chip out of a pork rind, but we've done it for you and they came out even better than expected. The trick to these chips is process the pork rinds with Mexican frying cheese. You can use any kind, but we went for Queso Blanco and it came out perfect. This particular cheese isn't melty like the others we are used to so when you fry it up it binds everything together to create the chip. We also added a taco seasoning mixture to give it some kick. Even if all you had for a nachos topping was cheese, they would be just as delicious as the rest.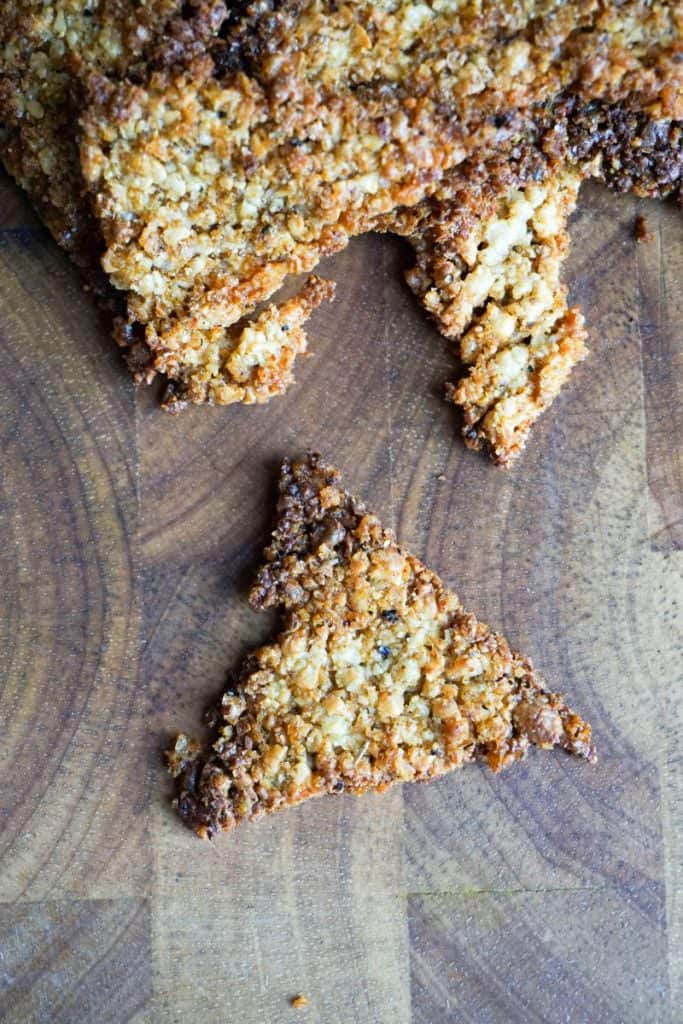 Easy Pork Rind Recipes
Pork rinds don't only make the best low carb chips, although this is definitely my favorite re-purpose thus far. They also make for a great breading for frying or baking basically any meat or vegetable as can be seen in our double crunch Low Carb Onion Rings, and for a crunchy topping on any side dish as seen in our Cauliflower Mac and Cheese.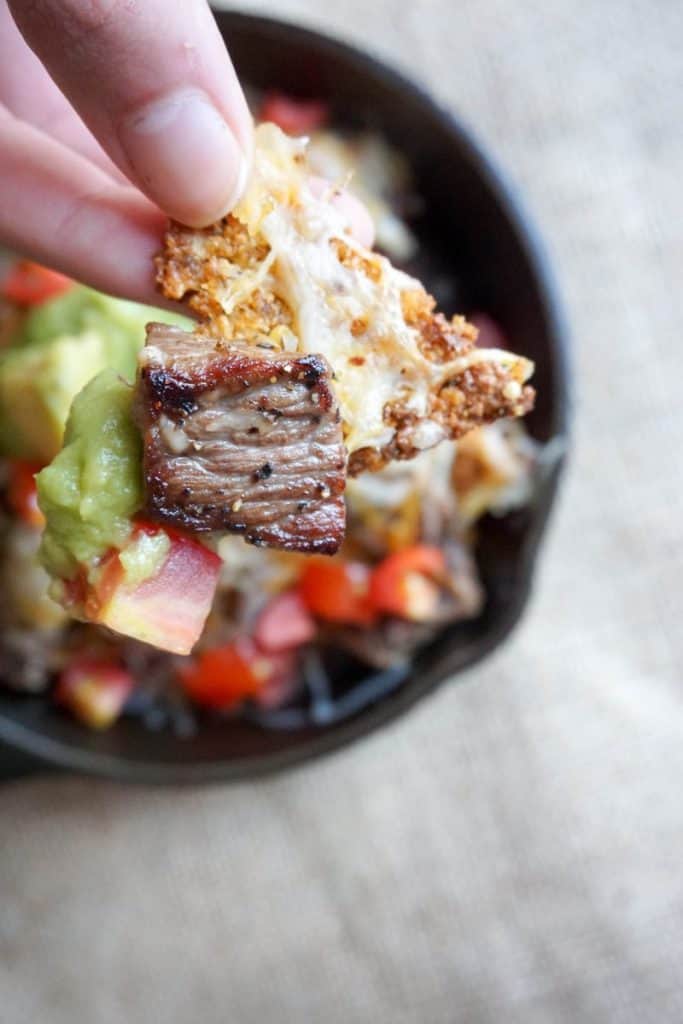 Pork Rind Nachos
The best part about this recipe is that since you are completely changing the form and flavor of these pork rinds, it doesn't matter what kind you use. Our personal favorite pork rinds are Mac's Pork Rinds, but when we make this recipe we use whatever cheap pork rinds we can find in our nearest grocery store! We wanted to keep it simple and easy for the sake of the holidays, but who wants boring nachos?! We had some short rib in the fridge that we cooked up and nachos are nachos without cheese, guacamole and some salsa or tomatoes. So there you have it, the best Pork Rind Nachos you'll ever eat.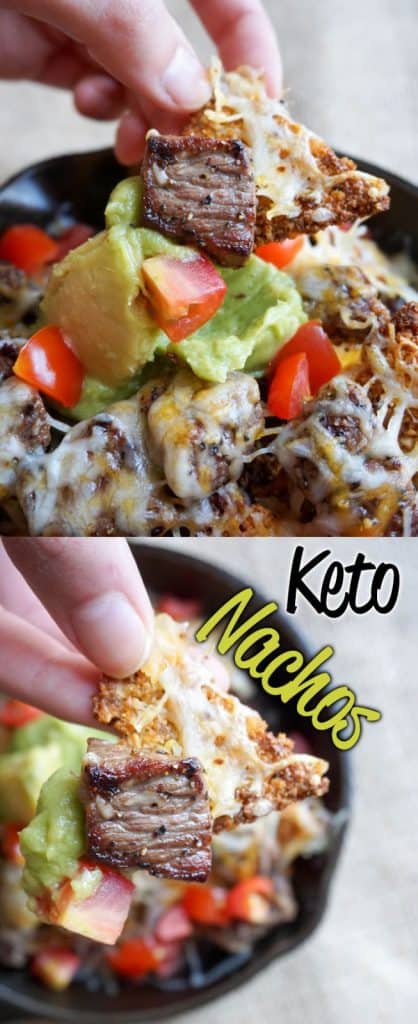 Recipe can be quickly added to MyFitnessPal – Search "KetoConnect – Pork Rind Nachos"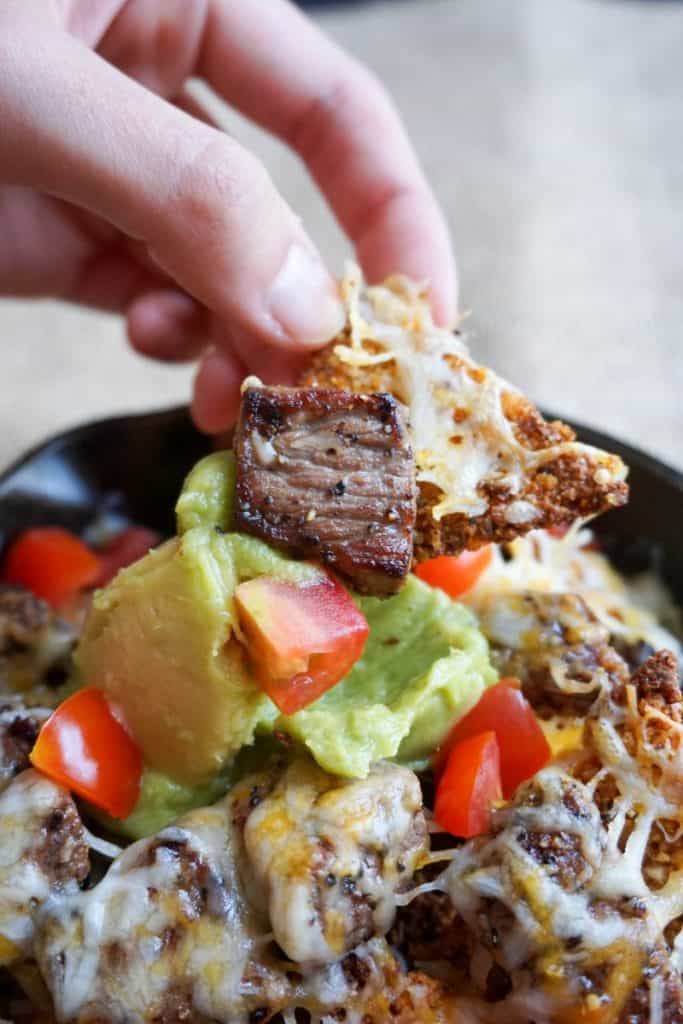 Pork Rind Nachos
Print Recipe
Instructions
Break cheese up into chunks and add it to a food processor. Add pork rinds and pulse together.

Add seasoning to processor and pulse until fully combined.

Pour out mixture onto a greased baking sheet or parchment paper and flatten out as thin or thick as you like. We like to keep ours a little on the thick side.

Bake for 5 minutes at 450 degree Fahrenheit. (Keep any eye on them as to not let them burn since ovens can vary in cook time!).

Remove from oven, cut into preferred chip shapes and bake for additional 10 minutes at 400 degrees Fahrenheit. (Keep any eye on them as to not let them burn since ovens can vary in cook time!). Remove and allow to cool.

Layer chips onto a plate or skillet. Layer on cooked meat and sprinkle with cheese.

Place into an oven on broil or into a microwave and remove when melted. Keep an eye on it so the cheese doesn't melt.

Add the guacamole and tomatoes, and enjoy!
Nutrition
Calories:
240
kcal
|
Carbohydrates:
1
g
|
Protein:
22.5
g
|
Fat:
16.5
g
Pork Rind Nachos
Print Recipe
Ingredients
Nachos Toppings Only
3

oz

Short Rib

(you can use any meat you want)

1/3

cup

Cheddar Cheese

2

oz

Guacamole

2

oz

Cherry Tomatoes
Nutrition
Calories:
271.5
kcal
|
Carbohydrates:
6
g
|
Protein:
11
g
|
Fat:
23.5
g
|
Fiber:
3
g