This Keto No Bake Cookies recipe is the ultimate summer dessert recipe. All you have to do is add everything to a bowl and then mix and form the cookies before popping into the freezer! It's extra fun to get your kids involved and creating new recipes with the fillings. Check out the video below to see how we make them!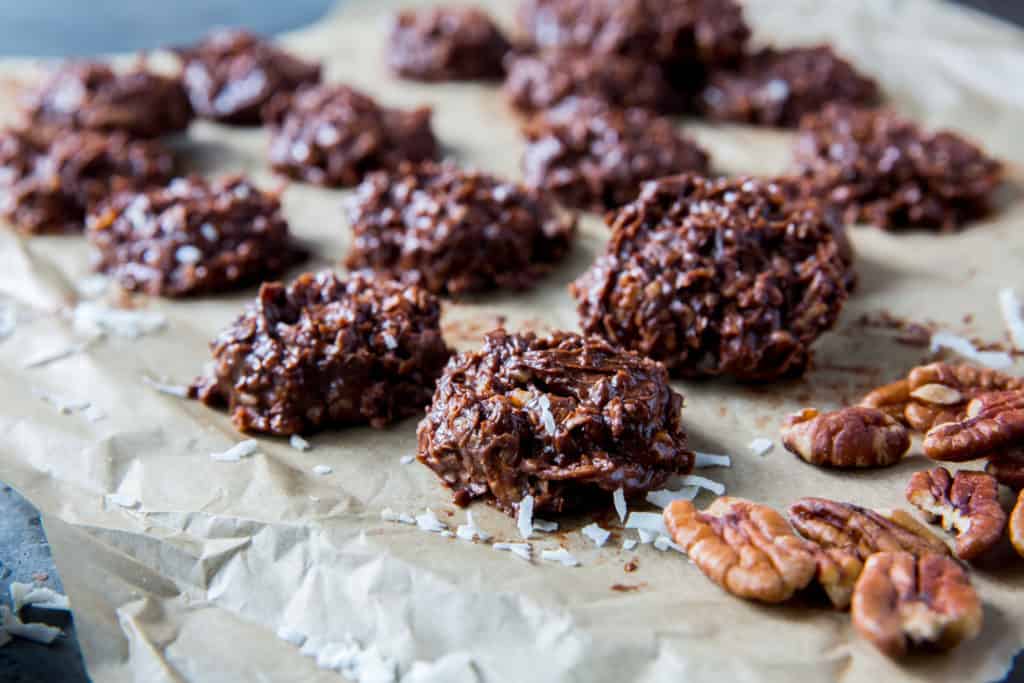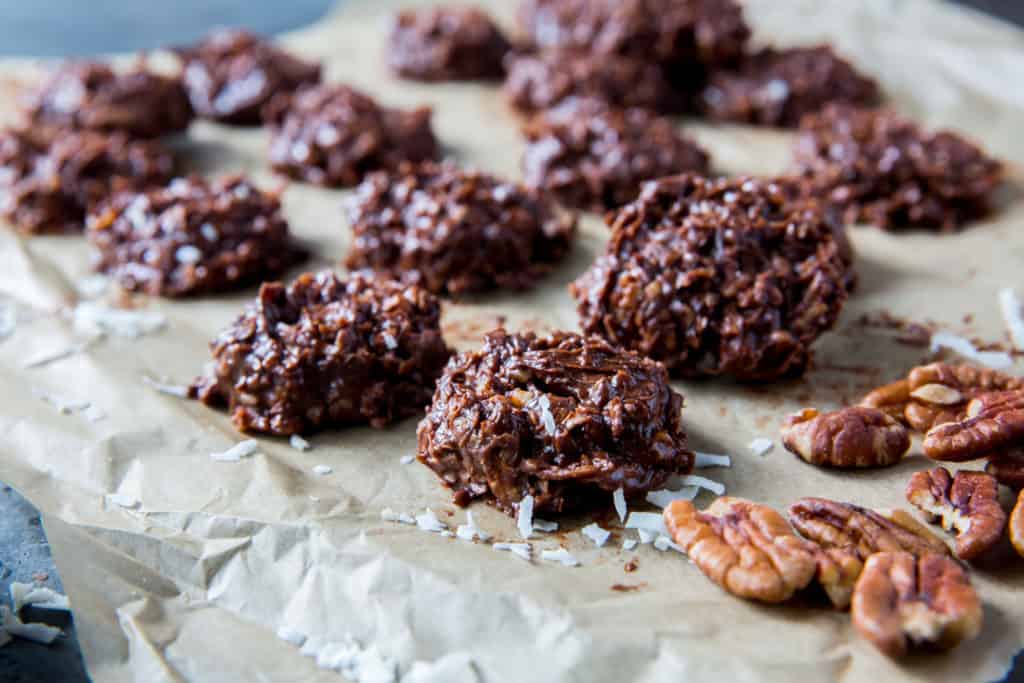 How To Make Keto No Bake Cookies
So why not take out the baking altogether! No bake cookies and cheesecakes are some of our favorite desserts to make. They are quick to make and always turn out delicious because you don't have use a finicky oven that can be too hot sometimes, and other times not hot enough. The best desserts are usually the ones that are the easiest to make with little to no room for error.
What You Need:
Thankfully since they're no bake keto cookies they require very few tools. The few things you'll need will be:
A Baking Sheet
A Microwave Safe Mixing Bowl
A Spoon
Parchment Paper
Ingredients:
This low carb no bake cookies recipe is extra special because it requires no oven, meaning we will need other ingredients to properly bind them.
4 tbsp butter– The butter will help them set and harden in the fridge so definitely don't skip it! Most keto recipes like this one will allow you to sub coconut oil in no problem if you are vegan or dairy free. Now, my fellow cold butter friends rejoice! This butter will be melted so no need to remove it early for room temperature butter.
8 tbsp peanut butter– You can use almond butter, but for this keto friendly recipe natural peanut butter is fine and actually preferred for its Reeces like combo with cocoa powder. If you like crunchy peanut butter you can try that too, however we think the recipe is best with that super creamy peanut butter base.
1/4 cup unsweetened cocoa powder– Cocoa powder is what gives these no bake peanut butter cookies their rich chocolate-y element. Make sure you buy 100% unsweetened cocoa powder
1 tbsp powdered erythritol– Powdered erythritol is a low carb keto friendly sweetener that's not only low in net carbs, but also 100% sugar free. A powdered sweetener also prevents keto recipes like this no bake cookie from being super grainy.
15 drops liquid stevia– Liquid stevia is another keto sweetener that we use in low carb baking. It is much more concentrated in sweetness than sugar, so you only need a little.
1/2 tsp vanilla extract– Vanilla extract is a tasty addition to all keto baked goods. Plus vanilla extract packs a punch so you only need a small amount. The amount we use makes the nutrition information of vanilla practically negligible on a low carb diet.
1 cup unsweetened coconut flakes– Unsweetened coconut flakes are actually great on a keto diet. When you buy them unsweetened (without added sugar) they have tons of fat and fiber. Fat and fiber together is a hunger crushing combination. Coconut also tastes tropical and refreshing in cookie recipes which is why we knew it would be a delicious addition to these low carb cookies.
3/4 cup raw pecans, chopped- Pecans are actually one of the most keto/ low carb nuts out there! Next to walnuts and macadamia nuts, pecans are one of the highest fat nuts. They are also low in total carbs with a bit of fiber to make the net carbs even lower! Feel free to sub the nut choice, just know it will change the overall macros.
No bake keto cookies also always include a nut butter for binding which makes them high in fat and incredibly delicious. Additionally, you can change up the fillings once you have your creamy base. Try adding different things like: nuts, coconut flakes, seeds and chocolate chips! This keto cookie will be the most delicious minimal effort cookie you've ever had.
If you need a few reasons to eat more chocolate & chocolate chips, you'd be happy to know that chocolate contains a high amount of healthy flavanols and antioxidants! So basically keto chocolate = salad.
Instructions:
It's time to get ba- oh well I guess no-baking… To start:
Add your butter and peanut butter to a large microwave safe bowl. Melt them in the microwave for 30-60 seconds. You're looking for the peanut butter to be super runny in this recipe so it coats all the mix-ins evenly.
Fully combine the melted butter into the peanut butter using a large spoon. Now add in the remaining ingredients.
Mix until everything is fully incorporated and well coated.
Form 10 cookies and place on a baking sheet lined with parchment paper: freeze 30-45 minutes until hardened and ready to eat.
Best stored in a zip top bag in the fridge or freezer.
That's it! These cookies are gluten free, sugar free, and super easy to make! Such a quick and easy treat is sure to satisfy that sweet tooth. If you make this recipe let us know below!
Tips for the Best Low Carb no Bake Cookies
No one can deny extra information to make the perfect cookie recipe is always welcomed. Below I've included some of our favorite low carb baking tips so your cookies come out perfect every time.
Roughly Chop The Pecans
Texture is everything in this recipe so you want to be sure to keep the pecans nice and chunky. The same goes for the coconut flakes. We recommend using the largest size coconut flakes you can find to add texture and crunch to these keto no bake cookies.
Use Extra Creamy Peanut Butter
While you may like thick nut butters for toast, in this recipe the thinner the better. Runny nut butter is going to make for a creamy mixture that combines easier. Natural peanut butter lovers assemble!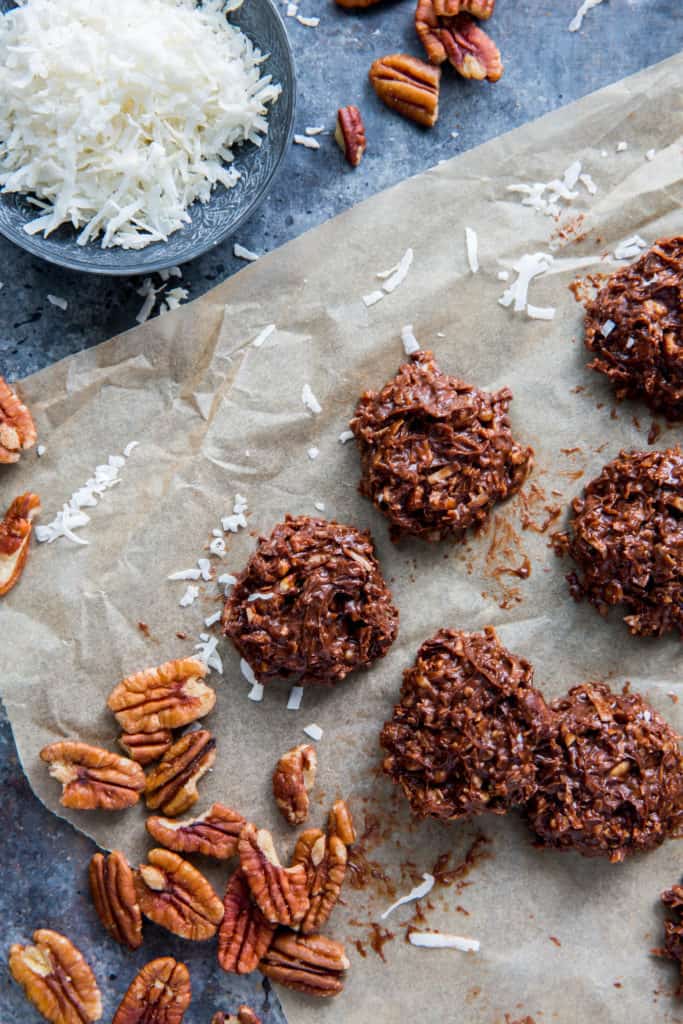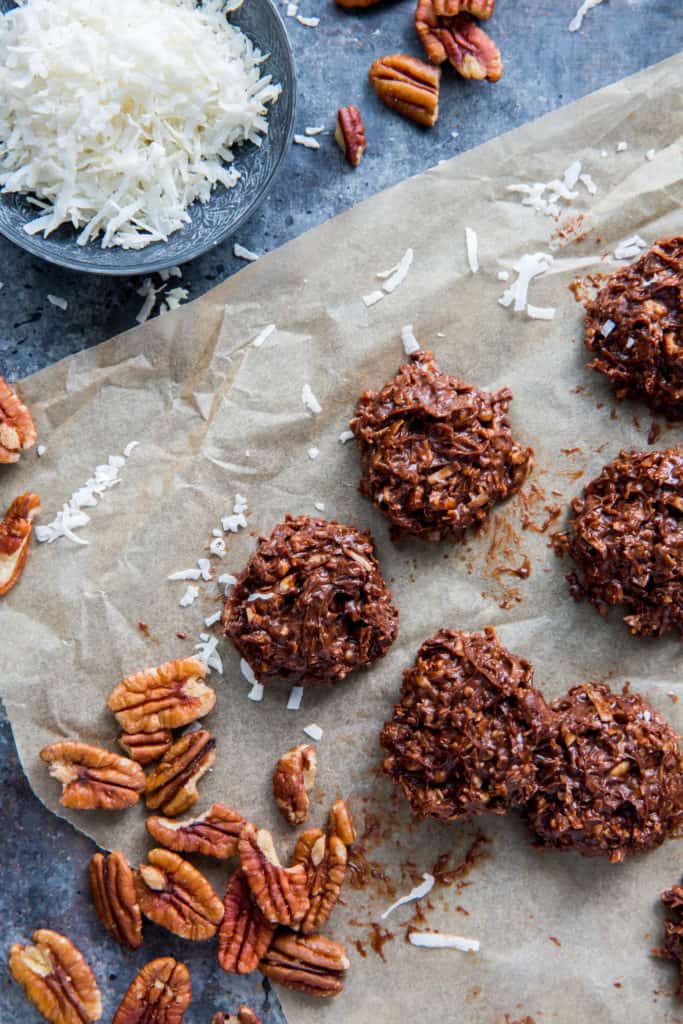 No Bake Cookie FAQ's
If you've found yourself asking some questions about how to make these peanut butter cookies perfect for you, we've broken down the most common questions. Hopefully these help, but if not let us know your question down below! These low carb no bake cookies are meant to be simple and easy.
Vegan Keto No Bake Cookies?
It's pretty easy to turn these no bake cookies vegan. Simply replace the butter with coconut oil and you've done it. Since these need to be stored in the fridge the differences in the melting points between butter and coconut oil won't come into play. Feel free to swap the coconut oil whenever you want a vegan version of low carb/ keto cookies.
Make Nut Free Keto Cookies
We've a nut free version of this recipe and it was quite delicious. Instead of using pecans we went with chopped pumpkin seeds. A few people on instagram have also made this recipe using sunflower seeds. Either way you want to go, a nut free version of these cookies is not only possible, but very tasty!
Use a Cookie Scoop
There might not be any bigger fans of cookie scoops than Matthew and I. We use our cookie scoop at every opportunity and this recipe is no different. You can leave these no bake cookies in a call form, or you can press them out before putting them in the fridge. They are easier to eat if you press them out, so that is what we would recommend.
Peanut Butter is the Way to Go
If you love peanut butter no bake cookies you've got the right idea! We prefer using alternatives such as almond butter to peanut butter whenever possible, but this recipe is one that really needs that peanut buttery taste. It's pretty much the trademark flavor of these chocolate 'peanut butter' cookies. We like to make sure the peanut butter we're using has no sugar added, as well as no bad vegetable oils. Trust us when we say if you skip out on the natural peanut butter and use almond butter instead you may be a bit disappointed.
What are the Best Keto Sweeteners?
If you're new to keto figuring out what sugar free sweeteners to use can be tricky. Read our comprehensive keto sweetener post for more information on why we use erythritol and stevia in most of our recipes. In the article you will see we even tested our blood sugar response to 10 different natural and artificial sweeteners to provide you with more information. Sugar free sweeteners are low in net carbs making them very keto friendly.
Are no Bake Cookies Keto?
These cookies are 100% low carb and keto approved. The nutrition information per cookie is only 7 Carb/ 4 Fiber (3 Net)/ 22g Fat/ 5g Protein/ 229 calories. As you can see these cookies are low carb and the perfect way to supplement fat on a keto diet.
If you're looking for more high fat recipe ideas, check out our post on the best keto fat bomb recipes.
Fridge or Freezer?
These keto no bake cookies will last in either the fridge or the freezer for a very long time. We personally like to store them in the freezer and eat them straight from there as a quick dessert. It's sort of like putting candy bars or Oreo's in the freezer. It helps keep the chocolate made from butter or coconut oil set, while still adding a nice bite to the overall chocolate peanut butter cookie.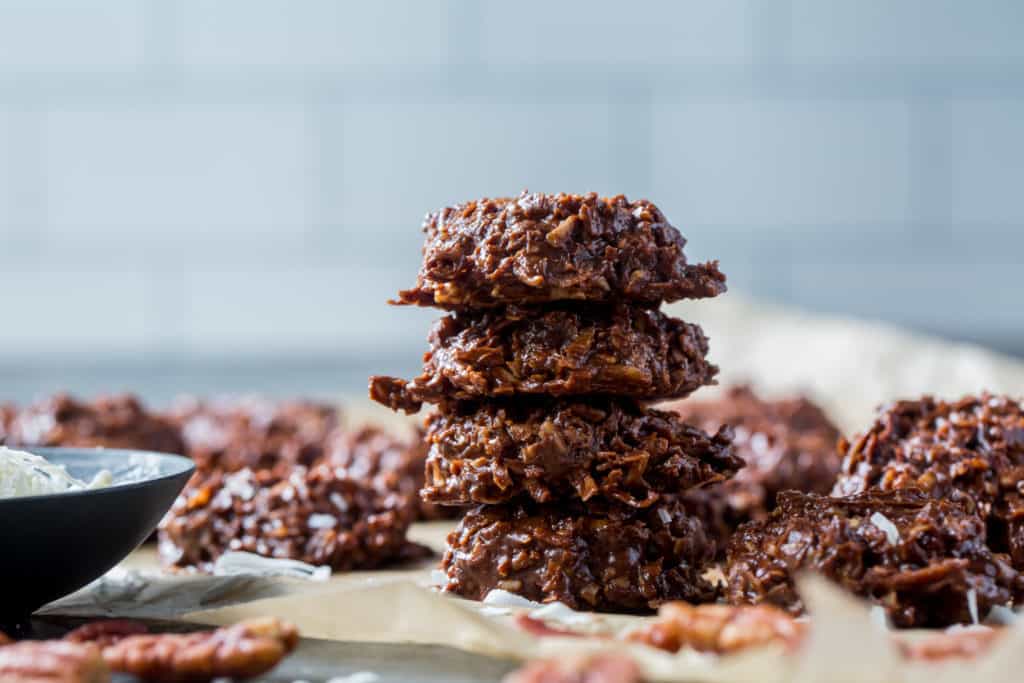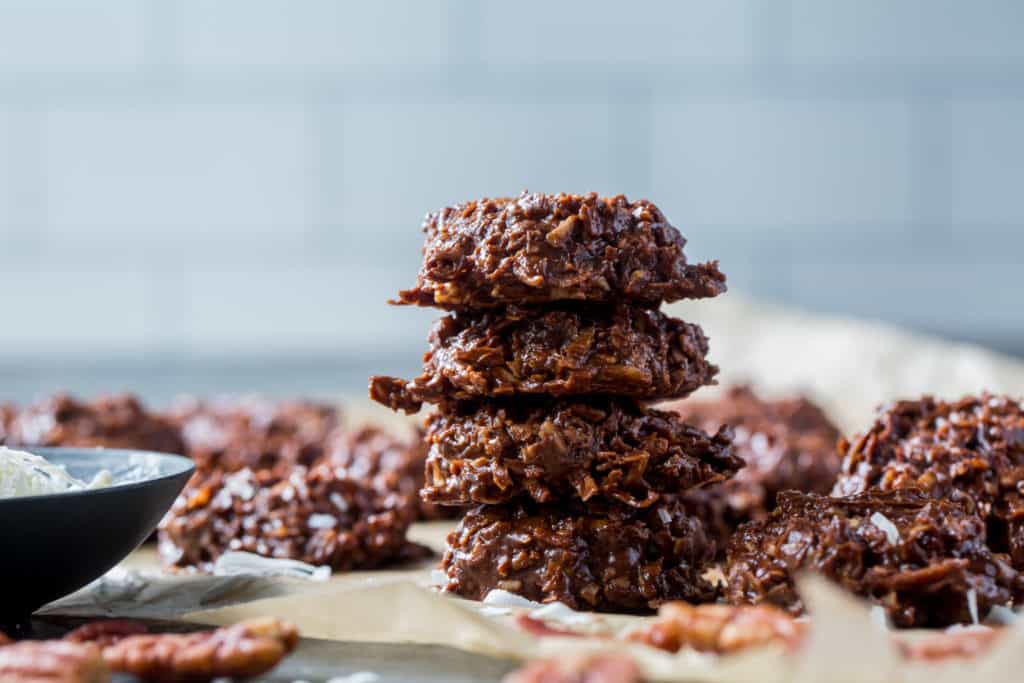 We Love Easy Keto Sweets!
​Want another recipe to cure that sweet tooth? We've got all the easy keto sweets for you, no bake, microwaved and baked! Some of our top keto sweets are:
If four isn't enough definitely check out the desserts section on our food blog and hit the ground running! We've got plenty of breakfast, lunch, dinner and snack recipes, perfect for meal prepping and feeding the kids while on summer break. We love sweets as much as the next guys, but balance is definitely key!
More Cookies!
If you're like us and cookies are one of your favorite desserts, you're in for a treat. We have TONS of cookie recipes on our website. From basics like chocolate chip all the way to lemon cookies with a lemon glaze. We've got it all! Check out some of our favorites: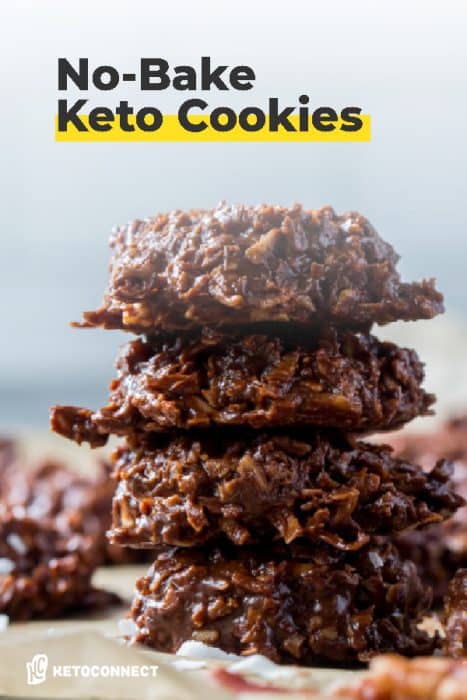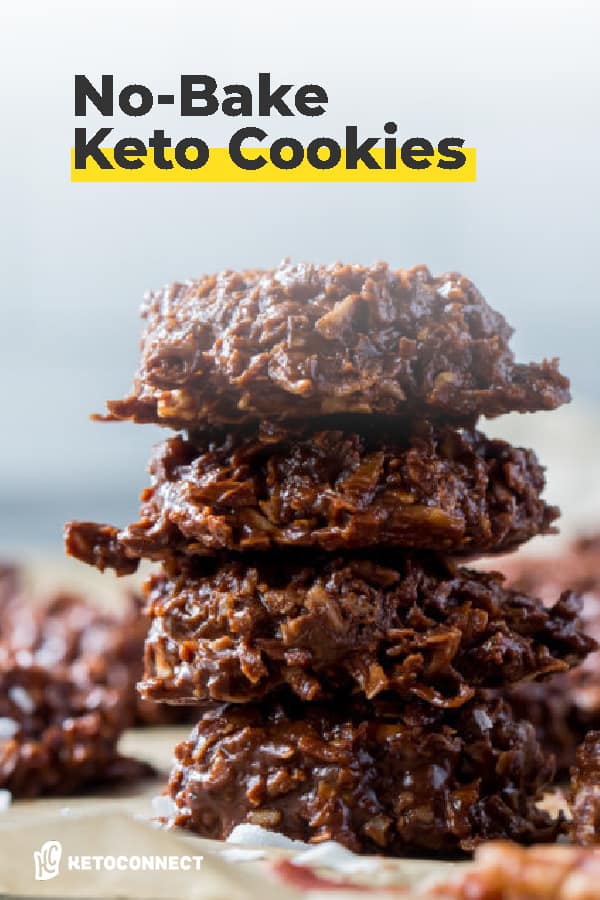 Recipe can be quickly added to MyFitnessPal – Search "KetoConnect – Keto No Bake Cookies"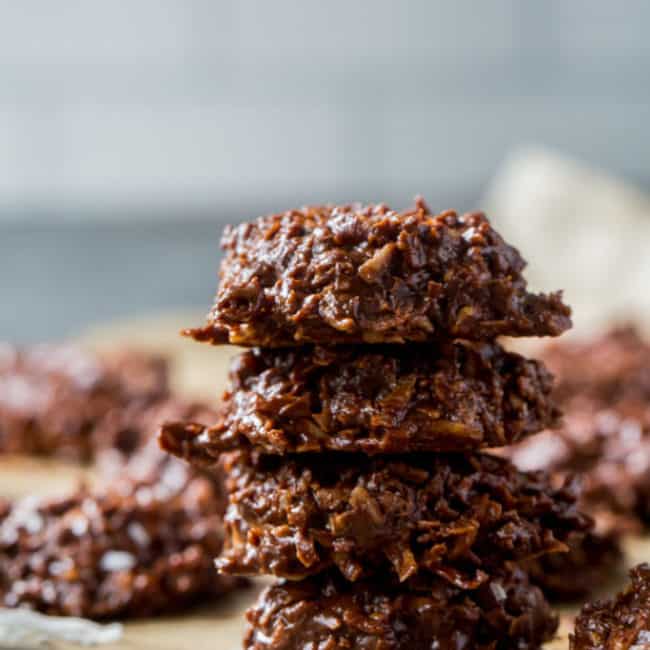 Keto No Bake Cookies
A keto take on "haystacks" made with cocoa, pecans, and coconut.
Total Time 50 minutes
Servings 10 Cookies
Calories per serving 229kcal
Prep Time: 10 minutes
Freeze Time: 30 minutes
Cook Time: 10 minutes
Instructions:
Add the butter and peanut butter to a large microwave safe bowl and melt in the microwave for 30-60 seconds.

Combine the melted butter using a large spoon and then add in the remaining ingredients.

Combine until everything is fully incorporated.

Form 10 cookies and place a baking sheet lined with parchment paper and freeze 30-45 minutes until hardened and ready to eat.

Best stored in a zip top bag in the fridge or freezer.
Notes
Net Carbs: 3g Serving Size: 1 cookie (recipe yields 10 cookies) **Feel free to make them smaller/bite sized and eat like fat bombs!
Nutrition Facts
Keto No Bake Cookies
Amount Per Serving
Calories 229 Calories from Fat 198
% Daily Value*
Fat 22g34%
Carbohydrates 7g2%
Fiber 4g16%
Protein 5g10%
* Percent Daily Values are based on a 2000 calorie diet.
Written By