Chicken is quite possibly one of the most versatile animal proteins you can find. It can be roasted, grilled, braised, or poached and pairs well with all sorts of herbs, spices, and ingredients to work in just about any cuisine you can imagine. And keto? It's fit great since there are virtually no net carbs. Check out our list of the best keto chicken recipes.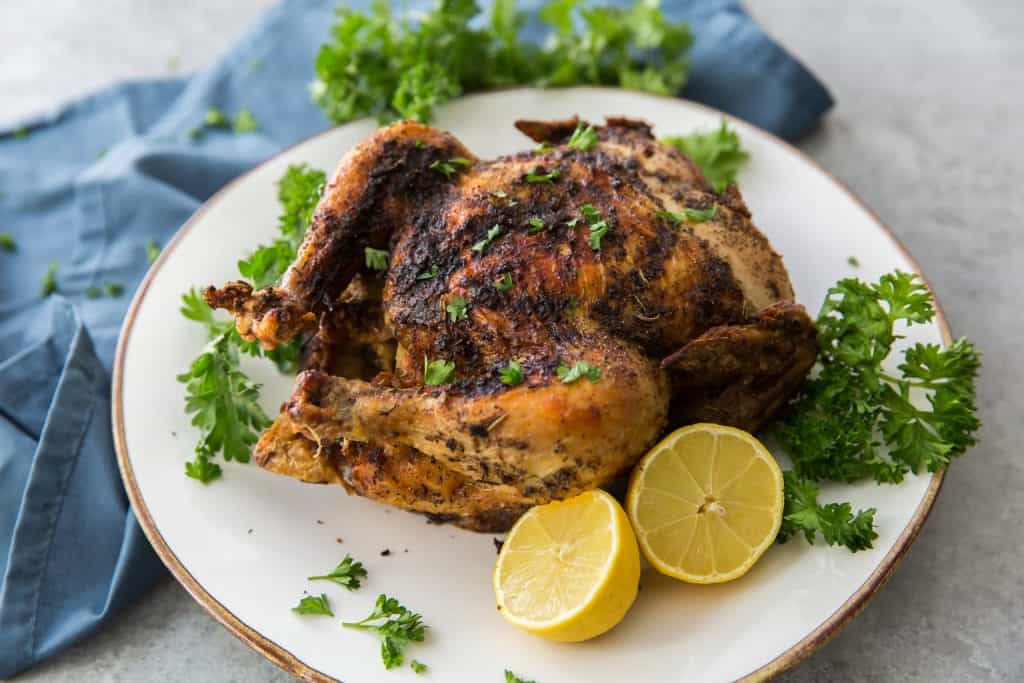 Doing a quick internet search, you'll return thousands and thousands of delicious chicken recipes, but the problem is that while they may be delicious, they're not always low-carb and keto-friendly. When you add in sauces, thickeners, and sugars, the delicious dish you've just created goes out the window in terms of keeping you in ketosis.
And if you've traditionally been a fan of white meat chicken (most people's favorite), you may have to make some minor tweaks to make it acceptable for keto and low-carb eating; chicken breasts are far too lean (especially without the skin) for the keto macro breakdown. But if you're willing to step out of the box, add some veggies, and cover it with fat (olive oil, butter, avocado, or other keto options), you've got yourself a delicious and low-carb keto chicken meal at your fingertips.
Before we get into our favorite keto chicken recipes, let's take a quick look at the different options for cooking and different cuts of chicken available that can elevate your keto chicken dish to the next level.
Options for cooking methods
One of the great things about cooking is that the method you use to actually cook the chicken can totally change the textures and flavor profile of the dish itself and it can elevate the recipe to new levels.
Here are the 7 most popular ways to cook meats:
1. Roasting – Roasting is one of the most basic ways of cooking chicken. It is a dry heat method where hot air (oven, flame, or other heat source) completely surrounds the food, resulting in an even cook on all sides.
2. Baking – The other standard when it comes to cooking, baking is very similar to roasting but is generally used for food items that lack structure prior to cooking (breads, desserts, etc.). You can roast both chicken breasts and chicken legs or thighs.
3. Grilling – If you love the smoky, crispy, charred taste of meat (be mindful that the 'char' is actually carcinogenic), grilling is probably right up your alley. It involves a dry heat source generally applied to the surface of a food to create a crispy outer shell while retaining moisture on the inside. Grilled chicken is a great option for boosting flavour of your favorite keto chicken recipe.
4. Frying – As much as we'd love to tell you that deep frying is okay for keto or low-carb because it is cooked in fat, sadly the oils commonly used to deep fry aren't part of a low-carb diet. However, there is some good news. Shallow frying or pan frying chicken with something like avocado oil or beef/duck fat (both with a high smoke point) are two alternative options that get you a super crispy result, without the drawbacks of traditional deep-frying methods.
5. Broiling – Broiling is another method that achieves a similar cooking style to grilling, but uses an intense, but controlled, direct heat from an oven broiler, usually located on top of the oven. When broiling chicken (or any other meat), be careful you don't overcook it.
6. Braising – Braising is a combination of cooking methods that uses both wet and dry heat. Typically, meat is pan-fried and seared prior to being covered by liquid and slowly cooked. There's no other cooking technique that requires so little and gives so much in return like braising does. It intensifies flavors and provides a rich, delicate, and tender finished product–and it's great for chicken.
7. Poaching – A moist-heat cooking technique that involves submerging a food in liquid at a low heat. It's a great method to preserve the structure of more delicate proteins like chicken, eggs, and fish. You can use water or a fat source like olive oil or butter to add more flavor.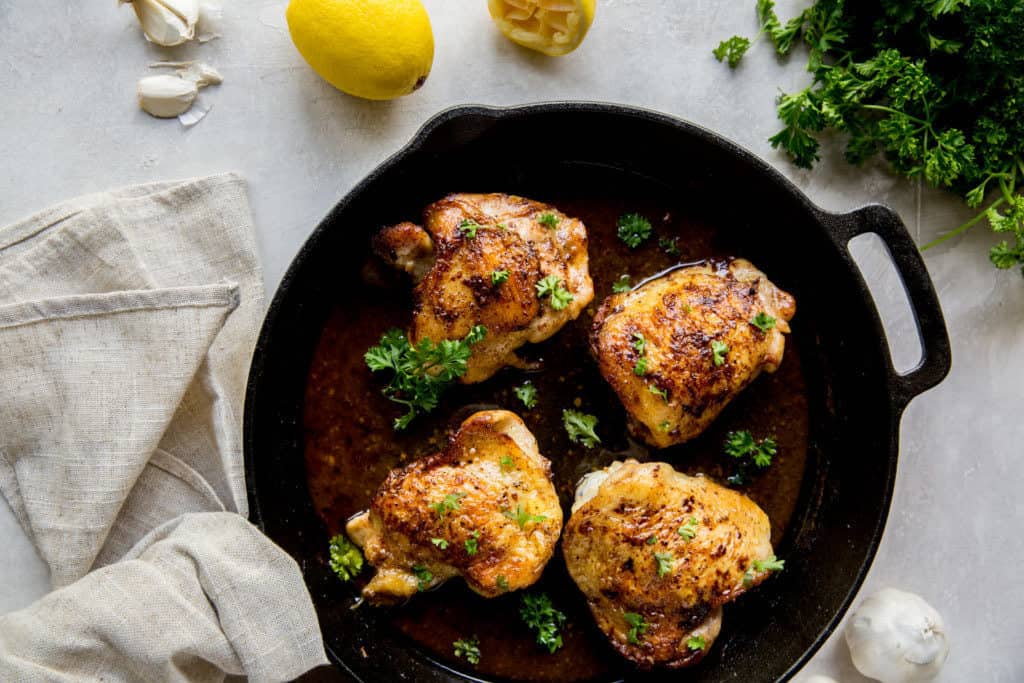 Cuts you can use for keto chicken recipes
Because keto and low-carb rely so heavily on a high fat intake, opting for lean proteins isn't always the best way to go. With chicken, however, you have a few options to explore depending on the fat content you're looking for. Keep in mind that the cut you use may vary between recipes because the reality is that some recipes just taste better with leaner cuts than others.
Chicken breasts (the leanest of the bunch; high protein + less fat)
Thighs
Drumsticks
Wings (less meat but loads of flavor)
As we mentioned, skinless chicken breasts are a little too lean to fit into a low-carb ketogenic style of eating, but if you add other fats to the dish, or you opt for different cuts like legs or thighs, you can increase the fat content to fit seamlessly into a low-carb meal plan.
Here's a quick comparison of macronutrients so you can see what we're talking about. These macros are based on 3.5oz/100g of roasted chicken meat:
Chicken breasts (skinless, boneless): 31.02g protein, 3.57g fat
Chicken thigh (skinless, boneless): 24.76g protein, 8.15g fat
Chicken breasts (skin on, boneless): 29.8g protein, 7.78g fat
Chicken thigh (skin on, boneless): 23.3g protein, 14.7g fat
As you can see, the protein to fat ratio is substantially higher in breast meat, especially without the skin, so adding in extra fat sources becomes essential to remain within your keto or low-carb macronutrient profile.
What to avoid in keto chicken recipes
Let's also talk about what you need to avoid in chicken recipes on a keto or low-carb diet. The teriyaki chicken you've been eyeing may look delicious and keto-friendly (no rice, potatoes, etc.), but what's hiding in that sauce that may not make it so low carb or keto after all?
Good news is that there are plenty of low-carb keto alternatives available that can make even the most non-keto chicken recipes okay for you to eat!
# 1 Nasty: Added sugars
Sauces and dressings are one of the sneakiest places for sugars and carbs to hide. We all know that any sweet sauces are loaded with added sugar, but even ones that don't taste "sweet" can still add up in carb count and make them not so low-carb-friendly.
Condiments like BBQ sauce, ketchup, balsamic vinegar, and sriracha are the most common sources of hidden carbs and sugar, so always make sure you're reading the ingredient list (and nutritional chart) before you buy them.
Be mindful of what's in the sauces you're using, and if you want to guarantee that your sauce is low-carb and sugar-free, make it yourself so you know exactly how much of everything is going in it!
# 2 Nasty: Carb-based flours
Flours or other starch-based products are frequently used in foods to thicken or as a coating to make foods crispy. While in very small amounts they may be okay to consume on a low carb or keto diet, better alternatives exist. Swap out any wheat or carb-based flours for coconut or nut-based alternatives.
Also keep an eye on gluten-free products. The flours they use may not contain gluten, but they still contain carbs!
The best keto chicken recipes
Get your pen and paper out, write these down, and get ready to hit the grocery store, because here's a round of up of our favorite low-carb and easy keto chicken recipes!
Keto chicken appetizers & small bites
In need of a deliciously addicting keto party platter idea? Or maybe you're in the mood for an easy keto snack and don't feel like nuts or other keto snack foods. Check out our favorite and most popular keto chicken small bites and appetizers.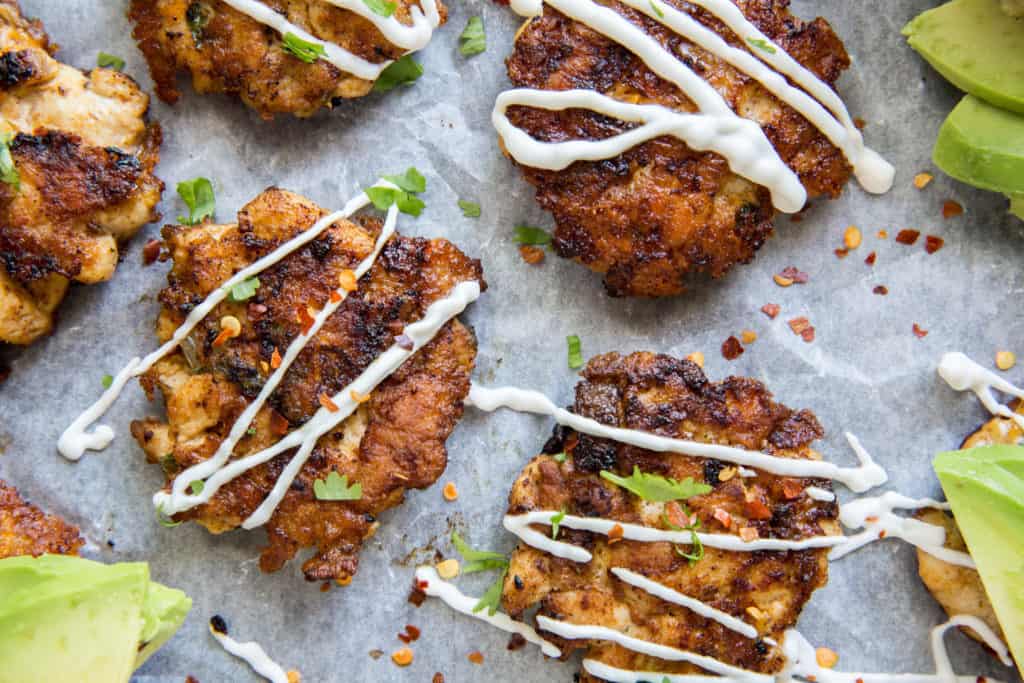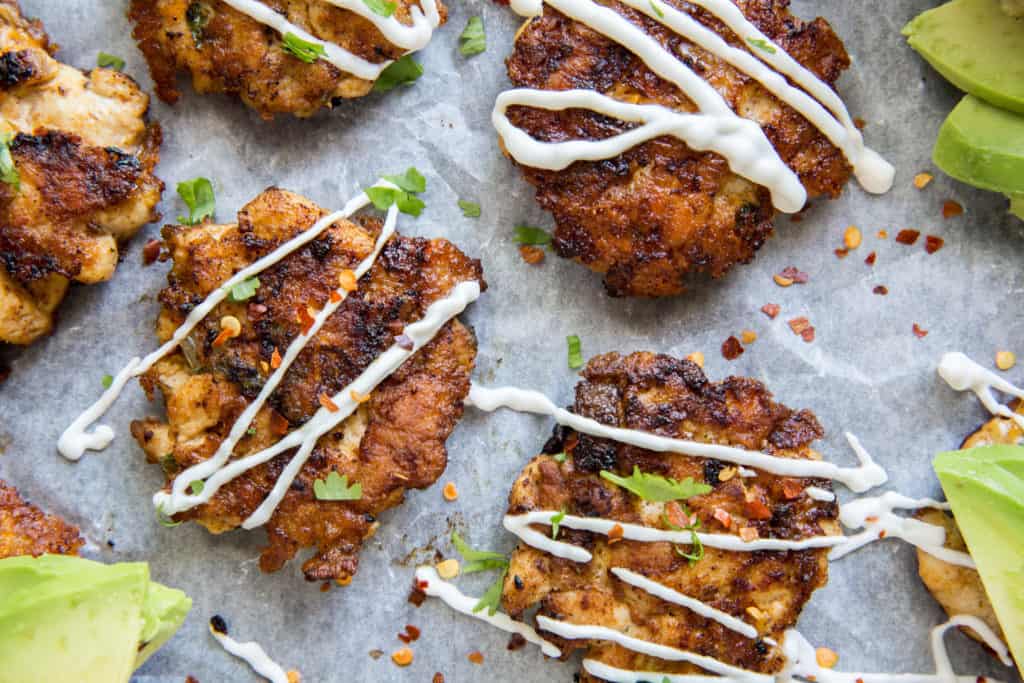 Admit it—you love chicken nuggets. Even if you didn't grow up on them as a kid, transitioning to eating keto probably meant most of your favorite chicken nuggets were totally off-limits. Breaded and deep-fried? Delicious, but not exactly part of a keto diet.
But hold on. We've re-invented the wheel on this and given you a second chance at making these bad boys keto-friendly, so even if you didn't have them as a kid, you now have the chance to indulge in them now without blowing through your net carbs. Trust us, it's going to be one of your favorite keto chicken recipes.
They're crispy bite-sized pieces of chicken breasts packed full of flavor and completely low-carb that are sure to be a hit amongst anyone in your home (even if they're not following keto). Not to mention they're super easy to make.
Say goodbye to McDonald's—there's a new (low-carb) nugget in town.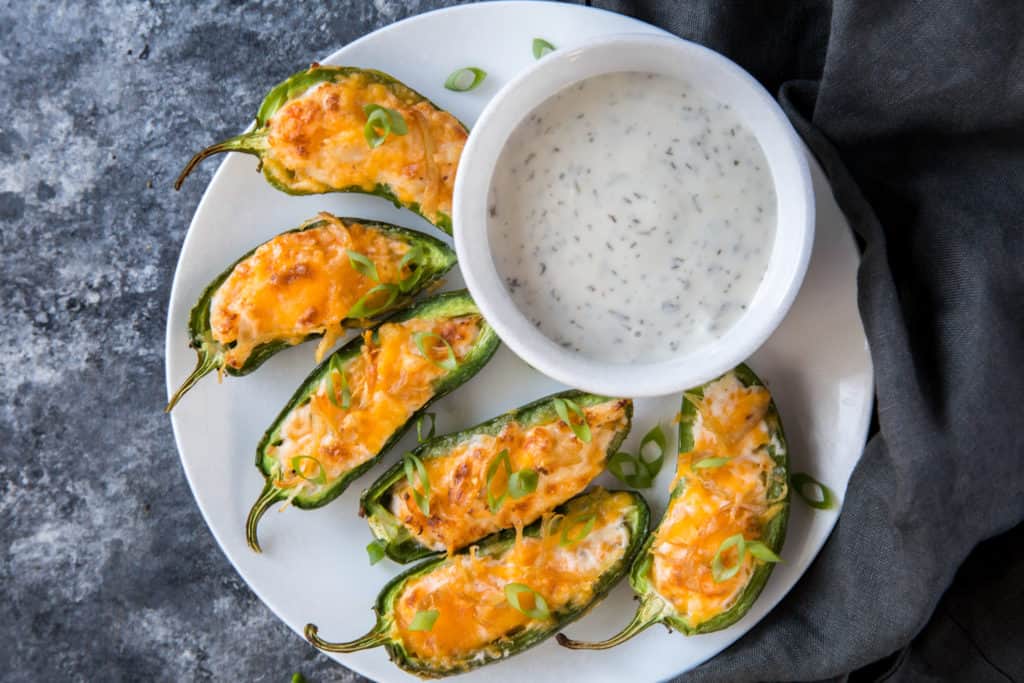 In need of a quick and easy appetizer for your next keto dinner party? Jalapeno poppers are pretty much a staple in any good restaurant or bar. But now is your chance to bring this delicious pub-grub appetizer to your home with a keto-friendly (chicken) twist on a classic recipe.
This version makes use of an air fryer to get them super crispy and they take a fraction of time compared to some other recipes. Basically, you're looking at minimal work and maximum output. Your guests (or even just your family) will be truly blown away by how delicious these poppers are that they won't even know they're missing the bacon and they're low-carb keto.
And the best part? 4 poppers (halves) is just 2g net carbs, so load up!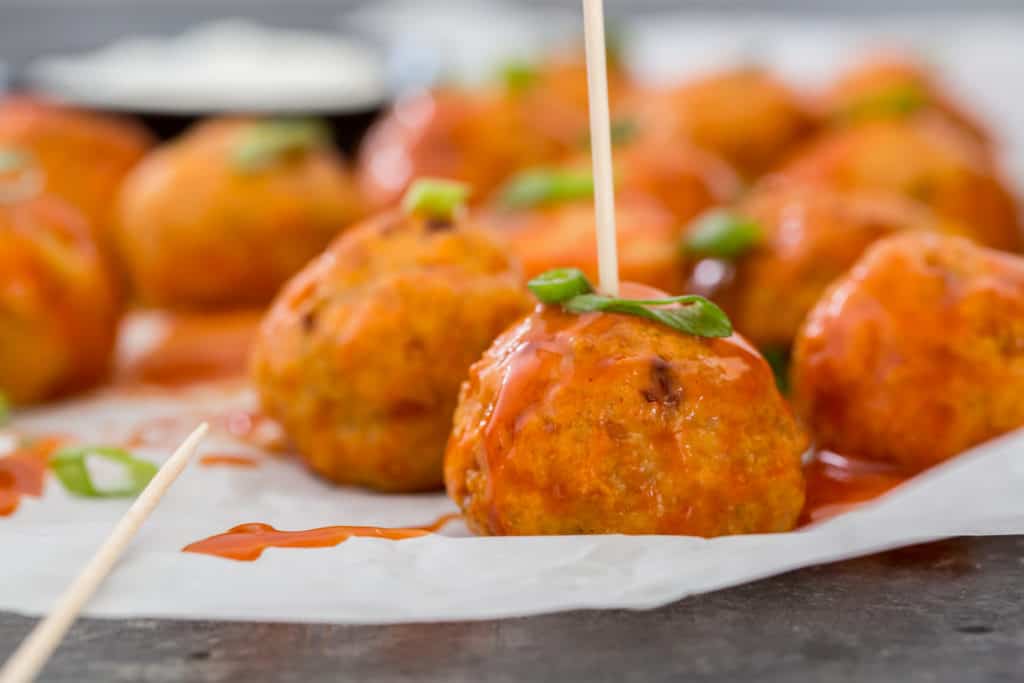 We're huge fans of buffalo sauce and if we're being honest, we can put it on just about anything. In lieu of one of our best and favorite appetizers, buffalo chicken dip, we wanted to put a creative spin on it and make them into a bit more of a keto party appetizer.
We kick up your standard one-textured meatball a notch by adding some sautéed veggies to give it the perfect amount of crunch and bite. That's topped off with a homemade buffalo sauce to create the perfect pairing for these Buffalo Chicken Meatballs.
And what's more, this recipe leaves out the traditional wheat-based binders and swaps it for a blend of coconut flour and almond flour to leave you with a moist and hearty meatball with a zippy kick! You'll definitely be asking for more.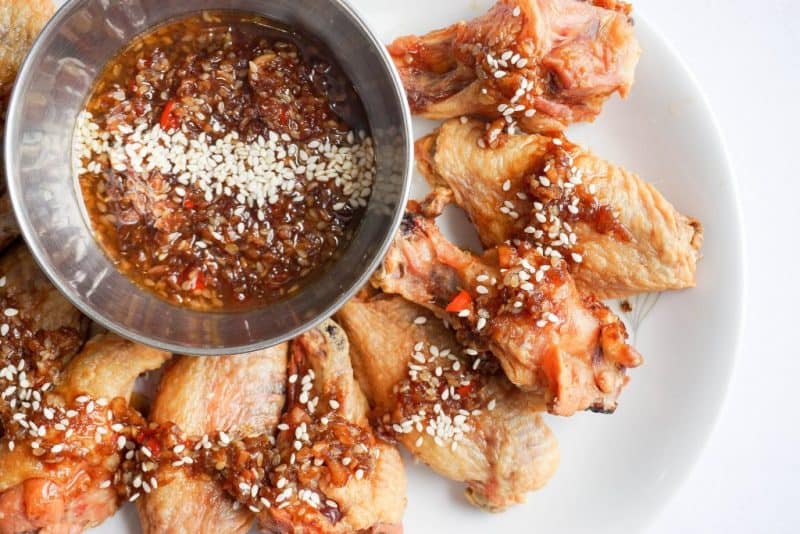 Chicken wings are a classic. Whether it's a Friday night feast, game day, or you're just feeling like some wings, they're a go to favorite that everyone loves. But the problem with most chicken wings you'll find in restaurants or grocery stores is the coating.
Regardless of whether it's 'gluten-free' or not, traditional wings are coated in either rice flour or a wheat-based breading that means they don't comply with your keto net carbs count.
How about something better and completely keto-friendly? These Easy Baked Keto Chicken Wings are equally as delicious (actually, we think more) as your deep-fried pub favorite, but without any of the carbs.
We have a bit of madness to our keto chicken wing method, and it involves a secret ingredient: baking powder. We know, at first glance it seems a bit weird because well, it's baking powder… isn't that used for baking? Turns out that baking powder on wings helps to achieve that super delicious crisp we're looking for with chicken wings—and even better, with no carbs!
But possibly the best (and most delicious) part of making wings is getting to choose your favorite flavor. Whether it's hot sauce, buffalo, simple salt and pepper, or naked, spice em up and dress em to your preference—the possibilities are endless.
P.S. These garlic and parmesan wings with a twist are to die for. This Asian wing sauce is another favorite made completely low-carb keto.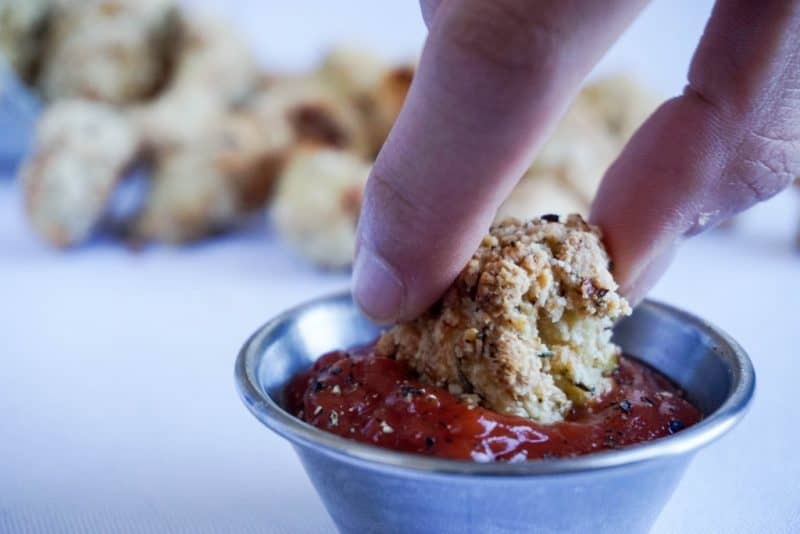 It's a signature of fried chicken joints like KFC, but who says it can't be a keto staple for you? Lose the deep-frying and breading, this gluten-free keto popcorn chicken recipe is a sure-fire replacement to its high-carb fried counterparts.
But let's be honest, popcorn chicken is all about the breading—and we've found the perfect substitution. We replace the traditional flour-based breading with low-carb almond flour and load up the herbs and spices for the perfect flavor in every bite.
You'll pop one, two, and before you know it, the entire plate will be empty and you'll be wondering what happened to them all. Especially if you're pairing it with this low-carb BBQ sauce.
Trust us when we tell you that you'll want to keep this recipe.
Main meals
Now that you've got the first course out of the way, it's time to get rolling on some low-carb chicken recipes for meal time! Despite being delicious, chicken is a relatively 'bland' protein, which also means it also pairs well with loads of different flavors. And because we loooove packing flavor into our recipes, we've compiled a list of our top keto chicken recipes for dinners (or lunches) that are healthy, delicious, and most of them are on the table in under 30 minutes!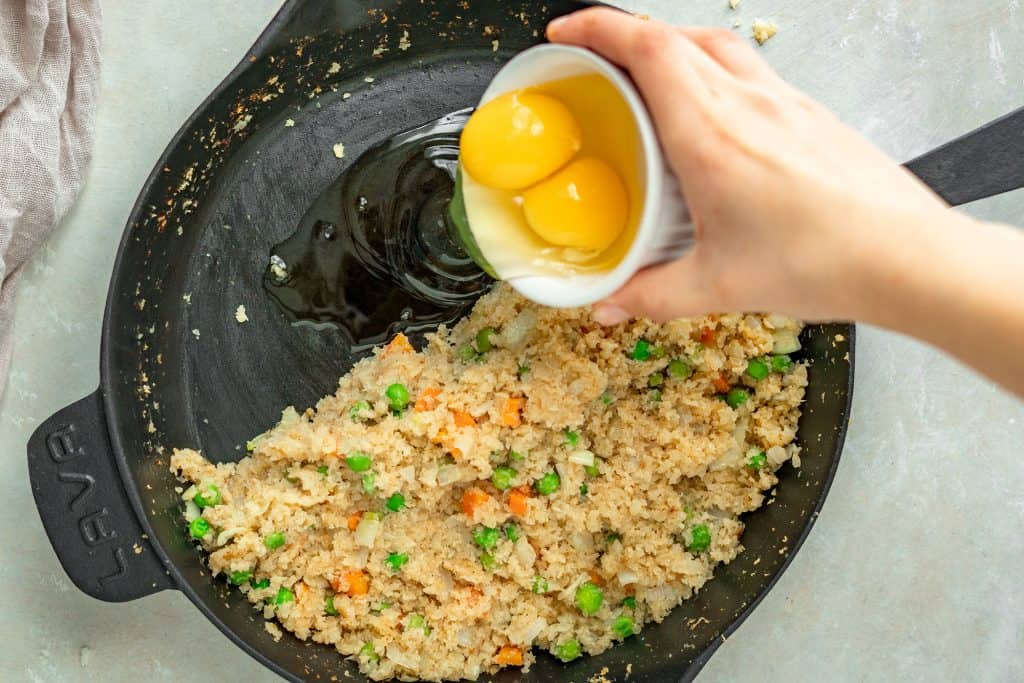 If you're a fan of Asian cuisine, you're going to want to give this recipe a try. It's our keto take on a deconstructed egg roll that just so happens to be insanely delicious—we call it "crack slaw" and you'll understand why when you make it.
Because egg rolls aren't keto—they contain about 4-8g net carbs per roll and the wrappers are usually wheat-based—we came up with something just as yummy. It gives you all of Asian flavors you love with a variety of textures and a fraction of the carbs.
The beautiful thing about this recipe, besides the fact that it goes from meal prep to table in less than 20 minutes, is that it's super versatile. You can use pretty much any ground meat and it will taste amazing. We love ground chicken or pork, but choose what suits your preference and diet.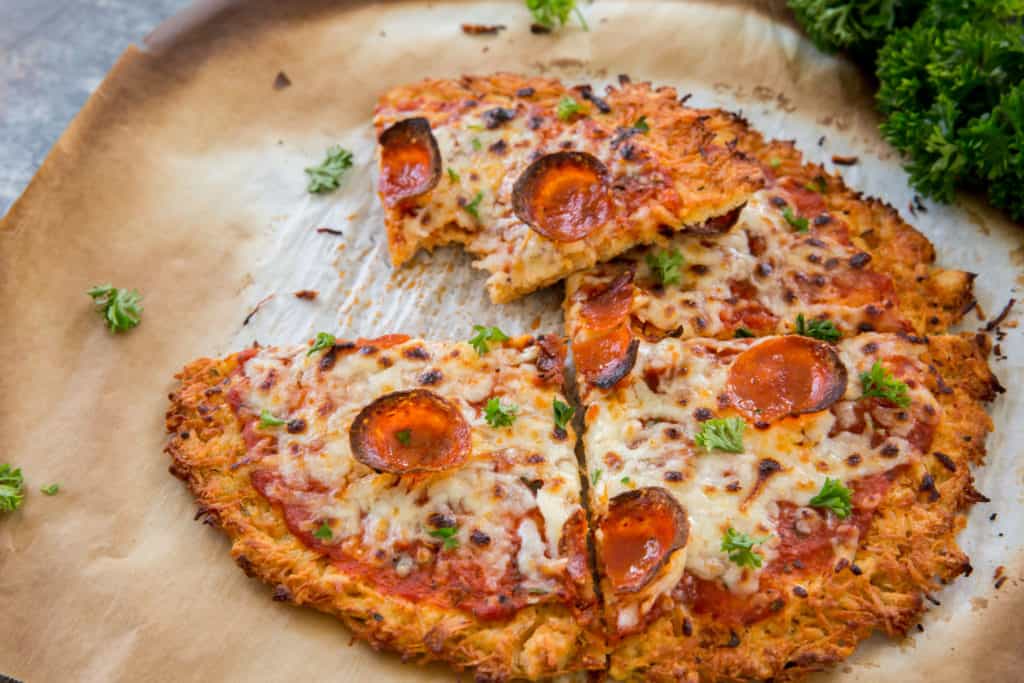 Everyone loves pizza, and what better way than cutting out the carbs than making a delicious pizza crust out of chicken? This crust clocks in that nearly 0g of carbs for the whole crust!
There's a bunch of different keto pizza recipes to try online, and we've tried just about all of them. Without question this recipe is the one we go back to more than all the rest. It's great for topping with a homemade basil pesto and a bunch of your favorite toppings.
While it might seem weird to use canned chicken in a pizza recipe, trust us on this one, it makes a perfect pizza crust. The chicken doesn't overpower the recipe and is a perfect canvas for all of the best toppings.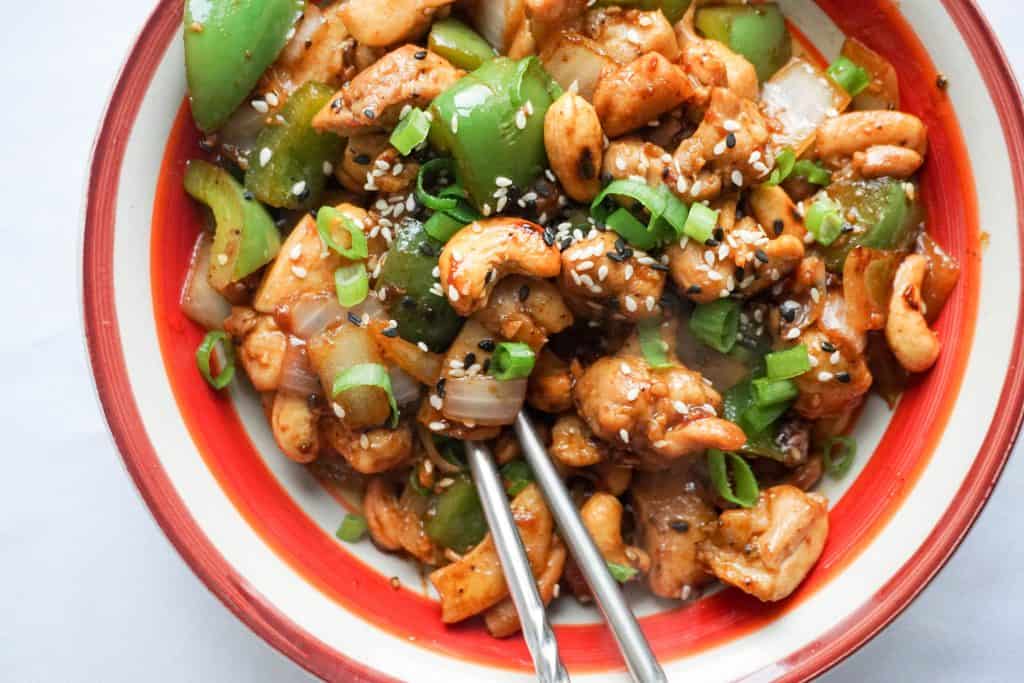 In the mood for Thai? Skip the takeout and try this instead.
Traditional recipes for cashew chicken are super delicious, but they're often loaded with sugar to get that caramelized, sticky, sweet flavor that's so notorious to Asian cuisines. And sugar? Not on the keto diet.
But this dish is different. It gives you all the delicious, sweet, and savory aspects of traditional cashew chicken, but it's completely sugar-free. The sauce coats the chicken, cashews, and veggies just as any sauce in take-out would, and you can even combine it with this better-than-takeout cauliflower fried rice to kick it up a notch.
The other great thing about this recipe is that the flavor profiles are pretty complex, but it's the exact opposite to make; it requires no crazy hard-to-find ingredients and it comes together in less than 30 minutes.
It's a simple and delicious keto chicken dinner for any day of the week.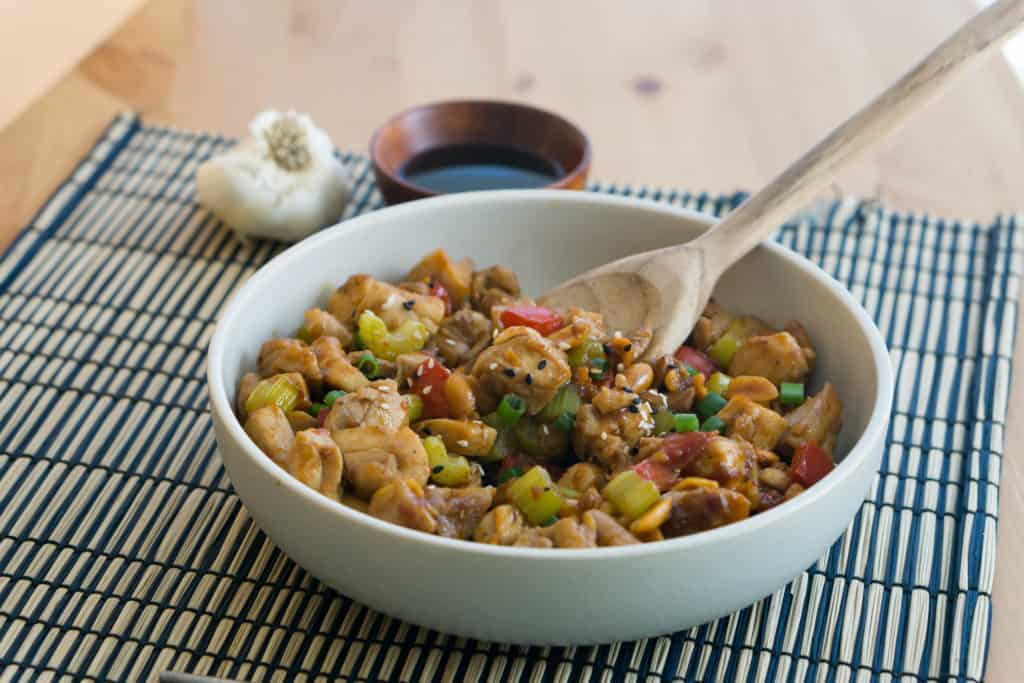 Kung Pao Chicken is usually one of the favorites in Chinese cuisine, but with cornstarch and brown sugar, it doesn't really fit into the keto diet all that well—until now. You can make and enjoy Kung Pao Chicken 100% guilt-free finding peace in the fact that you know exactly what went into it.
The combination of crunchy vegetables, tender and fatty chicken thighs, and the sweet and salty sauce make this the perfect Chinese take-out replacement that's totally keto-friendly.
This recipe keeps things traditional with onions, bell peppers, and peanuts but there are so many other delicious combinations you can experiment with while still remaining keto! Broccoli, cauliflower, carrots, cashews… the options go on forever, and if you use the sauce we've provided, it's guaranteed to be just as delicious.
And if you're looking to round it out, make it a completely Asian-themed keto dinner with these delicious low-carb pot stickers for an appetizer, and pair your main with cauliflower rice!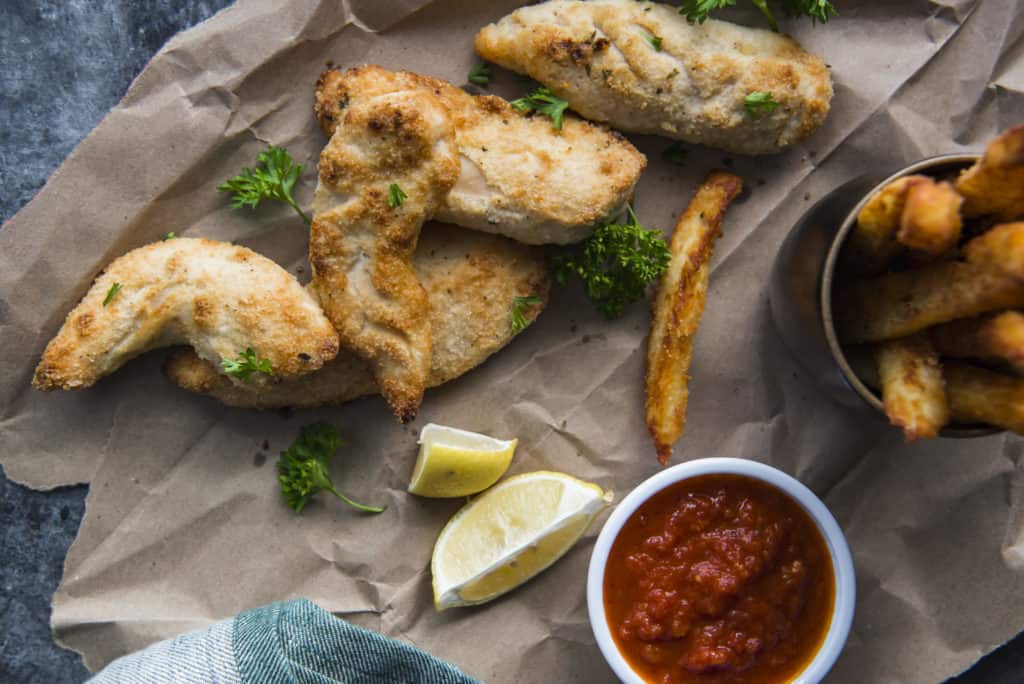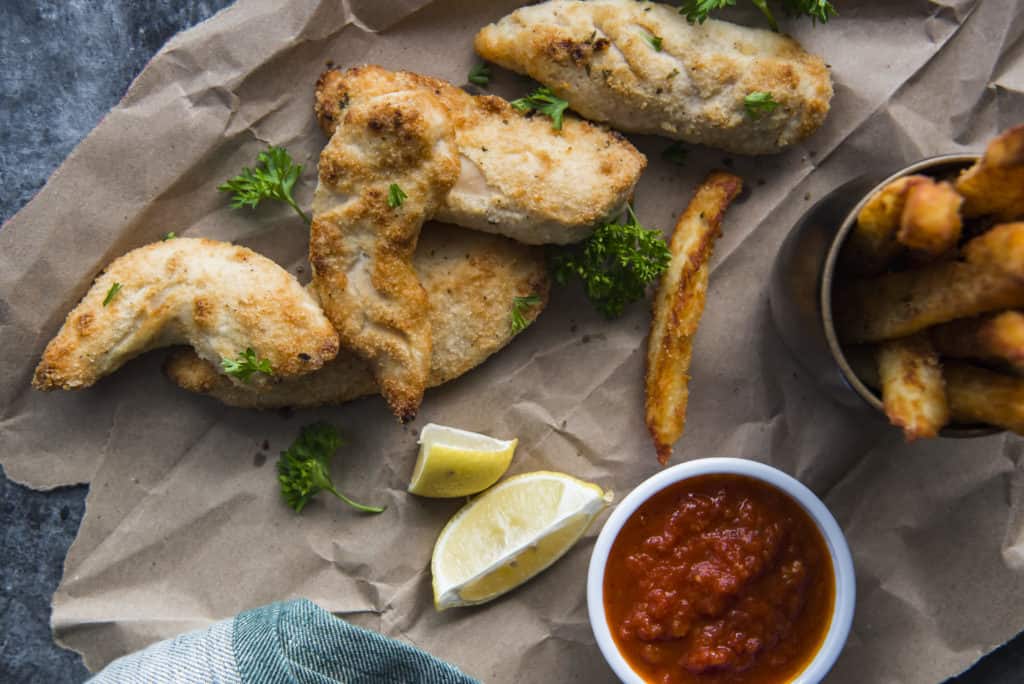 Want all the goodness of chicken parmesan, without all the carbs? We've got you covered.
After testing several options to achieve the crispiest and most delicious breading, we have a winner. It's the perfect combination of juicy and moist chicken with a crispy coating every time. The double cheese breading coats the chicken and it's baked instead of fried, so you get a crispy, cheesy taste in every bite.
If that's not enough, the extra-thick coating of cheese means each piece is packed full of flavour and the chicken stays flavorful and juicy on the inside—exactly as it should be.
For an extra chicken parm kick, pair it with your favorite keto marinara for dipping!
Indian recipes are known for their richness and depth. They're loaded with all sorts of herbs and spices that elevate their dishes to another flavor universe.
Butter chicken, traditionally speaking, is quite a complex dish that requires a substantial amount of effort and a major spice combination. And while the butter chicken itself is generally keto-friendly, pairing it with rice and naan bread throws keto compliancy out the window, and that's not even considering sugar and thickeners commonly added to the sauces.
In an effort to give you all the same flavor and textures as traditional butter chicken recipes in a fraction of the time and still abiding by keto, we give you the easiest keto butter chicken recipe you will ever make. It cuts down on the heavy spices for ease but doesn't compromise on any of the flavor.
It's hand-down the easiest and most delicious keto butter chicken recipe you will ever make. And if you're craving the naan to sop up the sauce but can't afford to splurge on your net carbs, this low-carb naan is simple to make and can be tailored to whatever flavor you're feeling to round out your low carb meal.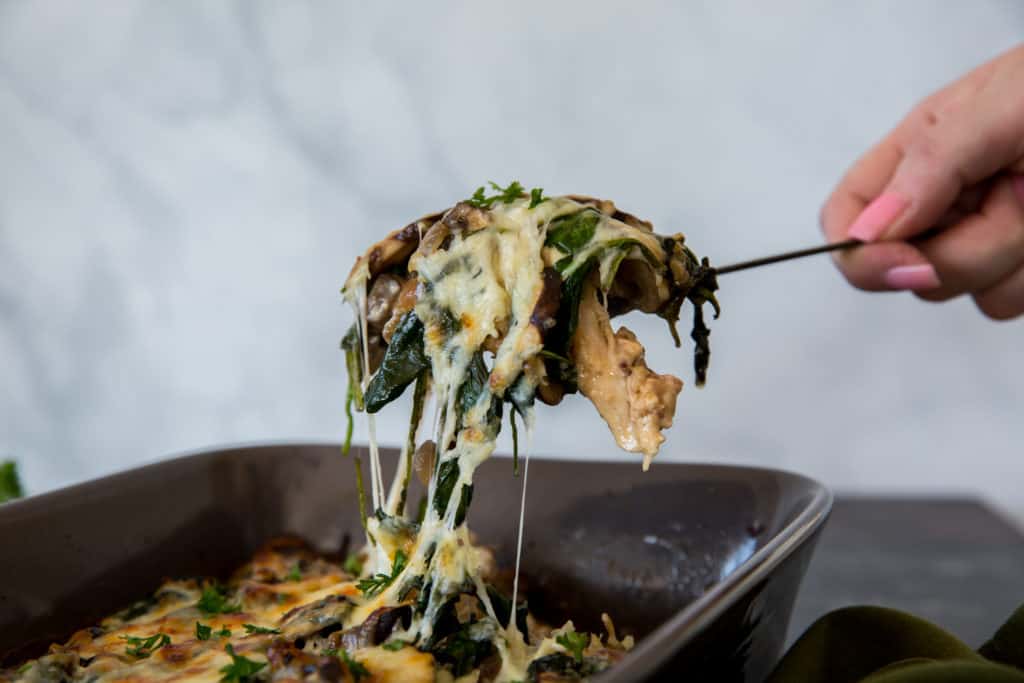 Casseroles are a favorite for anyone who loves to cook once and have leftovers for the following few days. They're a "toss everything together and clean up after" kind of meal, but somehow, they always turn out delicious, regardless of what goes in.
For days that you come home exhausted from work, this keto chicken casserole is the perfect weeknight low carb dinner. It's a cheesy, hearty, and creamy chicken recipe that comes together in less than 10 minutes. Best part is that you can make it ahead because it's equally as great reheated!
If you don't have any of the ingredients, don't worry about subbing in other keto ingredients. The beauty of a casserole is it functions kind of like a "clean out the fridge" meal–whatever you have on hand, feel free to throw it in and we promise it will turn out perfectly delicious.
Which chicken recipe will you try first?
There you have it. We've just given you a roundup of our favorite low carb keto chicken recipes. Whether you're looking for something to snack on or a low carb meal to feed the family, there are loads of options available for you.
Chicken is such a versatile protein and there are so many ways you can cook it and so many flavors you can pair it with.
Now comes the hard part—choosing which delicious keto chicken recipe you want to try first.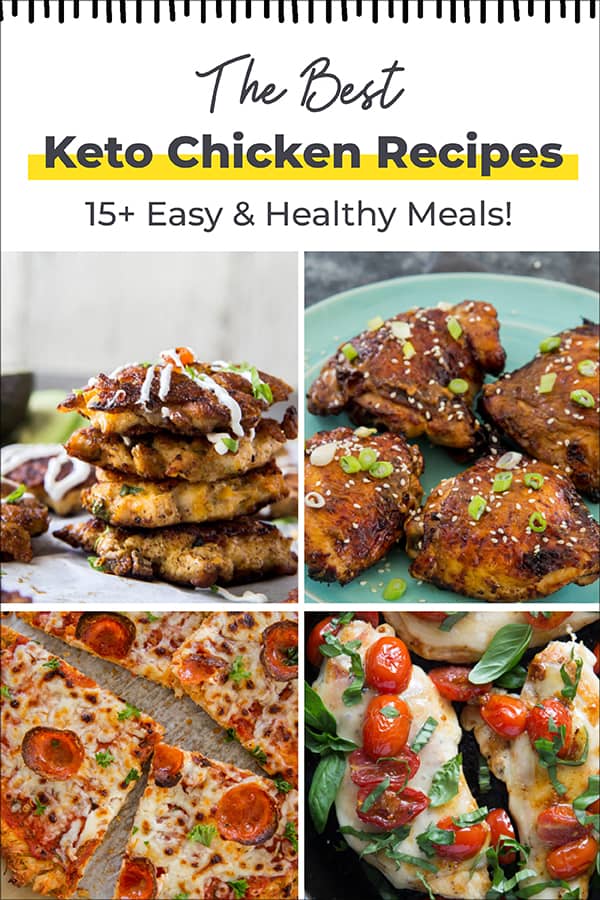 Written By