An Asian Wing Sauce Without the Sugar!
I've always been a huge fan of Asian wing sauce. In all honesty I can do without Buffalo sauce. All I need is a spicy, salty, and subtly sweet Asian style wing sauce and I'm a happy camper. The problem is there are virtually no keto friendly options at the grocery store. Buffalo sauce is easy to find, but every time I search for an asian sauce it is littered with sugar, honey, hoisin, or soy. After multiple trips in which I returned home defeated and empty handed I set out to make my own, homemade Asian wing sauce!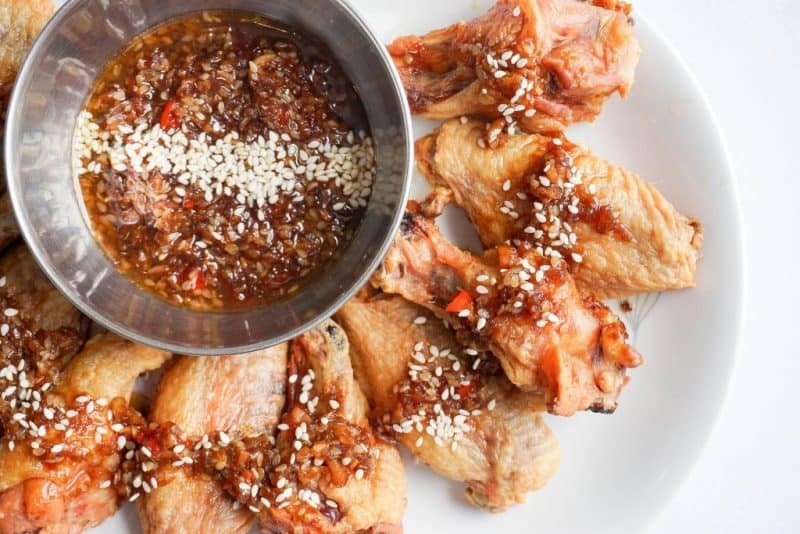 The ingredients
The ingredient list is somewhat lengthy, but just about every ingredient is critical! If you can't take the heat you can leave out the chili's but everything else you're going to want.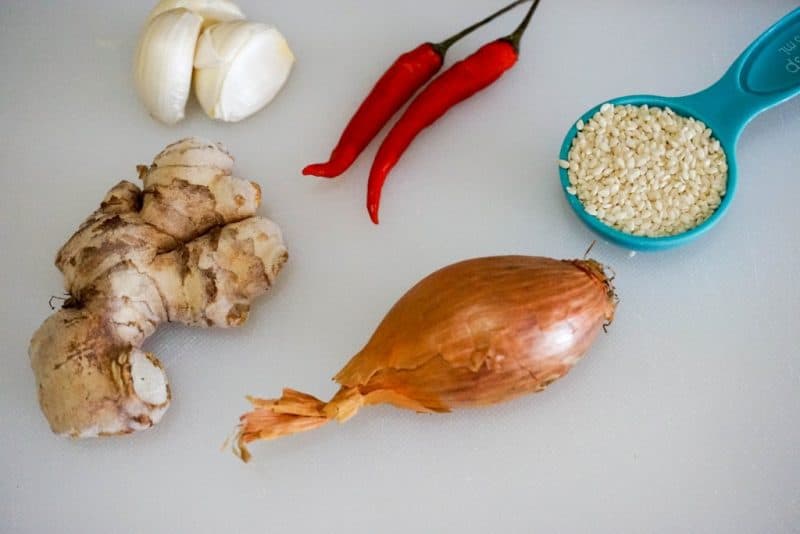 Finely chop all the ingredients pictured above. A trick I use for the ginger is to put it in the freezer and then grate it with a cheese grater. I thought it was weird at first, but it allows you to get the ginger really finely ground. I just store all of my ginger in the fridge now.
Set it and Forget it
The longer the sauce cooks the better, to a point. I like to allow it to cook for a minimum of 15 minutes, but usually closer to a half hour. This allows for the flavors of all the spices to really come out and impart themselves into the sauce. I'll detail the cooking process in the recipe instructions below.
The Wings
If you're still looking for a good wing recipe(I feel your pain) check out our recipe for the crispiest oven baked wings you've ever had! They are a great vessel for this fantastic sauce. I would recommend not applying the sauce until after the wings are done cooking though. That will help to achieve maximum crispiness!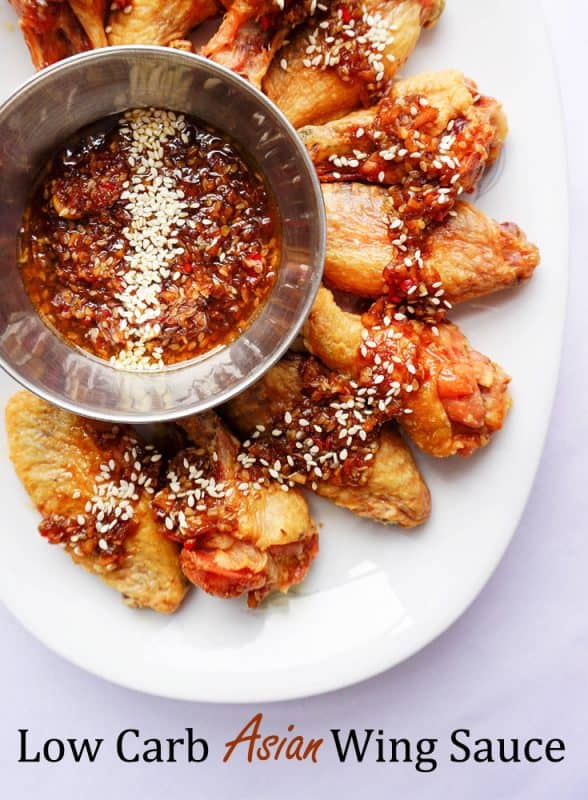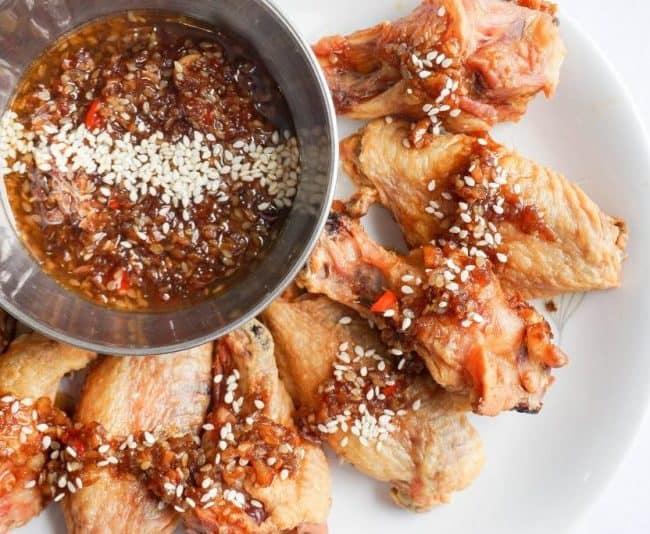 Asian Wing Sauce
All of our favorite Asian flavors like shallot, ginger, and garlic in an irresistible dipping sauce.
Total Time 30 minutes
Servings 1 cup
Calories per serving 258kcal
Prep Time: 10 minutes
Cook Time: 20 minutes
Instructions:
Start by prepping all of the ingredients. Chop the garlic, chili's, shllot and grate the ginger.

Heat ghee in a saucepan over medium-low heat. When ghee is up to temperature add garlic, shallot, ginger, chili's and sesame seeds. Cook for 2-3 minutes or until garlic/onions begin to change color.

Add all of the liquid ingredients to the sauce pan. This includes water, sesame oil, soy sauce, and rice wine vinegar. Turn heat to high and cover. Allow to simmer for 20 minutes.

After 20 minutes check the thickness of the sauce. If it is not thick enough take the lid off and continue to reduce the sauce until it is to your liking. If the sauce is too thick add a bit of water to it.

Toss your favorite wings in this Asian sauce and enjoy!
Nutrition Facts
Asian Wing Sauce
Amount Per Serving
Calories 258 Calories from Fat 216
% Daily Value*
Fat 24g37%
Carbohydrates 10g3%
Fiber 1g4%
Protein 6g12%
* Percent Daily Values are based on a 2000 calorie diet.