Another air fryer recipe in the books and this one is one to write home about. If you aren't a fan of traditional jalapeno poppers our twist using chicken will make these air fryer jalapeno poppers you new go to snack and low carb appetizer to serve at parties!
Yummy Low Carb Appetizers!
There is always a party, gathering or event around the corner that puts a big emphasis on food, but it isn't always good enough reason to go off plan. So, why not have some low carb appetizers you turn to to bring along so you have something delicious to eat?! If you want to bring a couple show stoppers, including these air fryer jalapeno poppers, give these a try!
Tip: Wherever you take them ask the host to reheat them in the oven at 300 for 10 minutes so they are warm when ready to serve!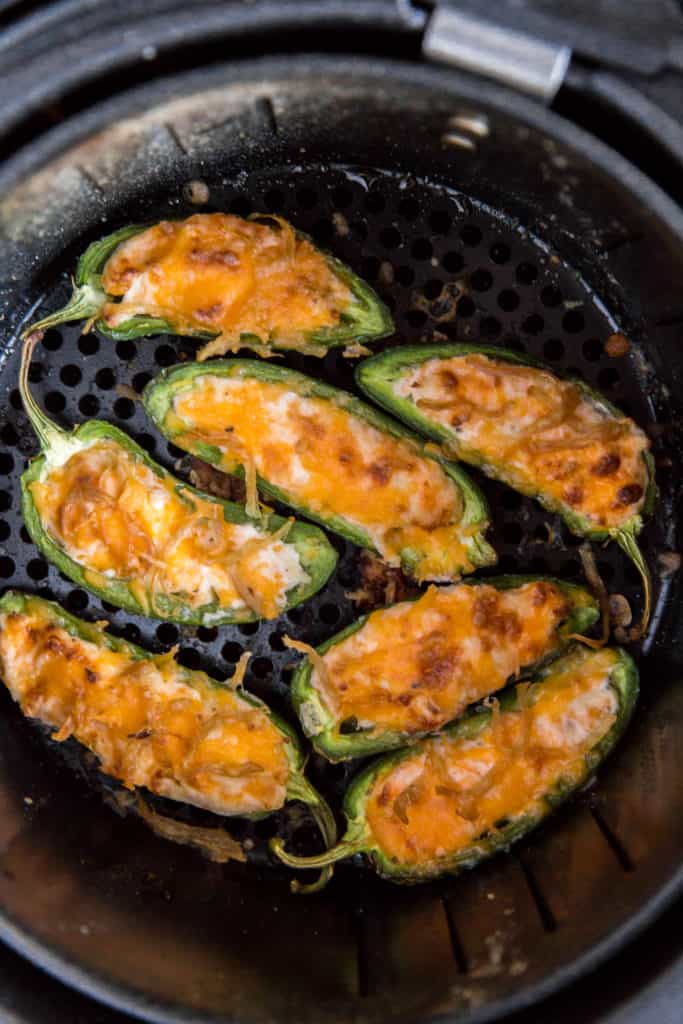 Pre-cook Your Jalapenos
This is a little tip that Mama Gaedke shared with us while filming the video. To make sure your jalapenos are tender with just the right amount of bite, slice them, seed them and pre-cook before stuffing!
Pop them in the preheated air fryer for 2-3 minutes, until they start to blacken on the edges and slightly tender to touch. This will ensure you aren't biting down into a raw, crunchy jalapeno.
Stuff Them While Warm
When the jalapneos get their first go a round in the air fryer they will come out hot, but quickly cool down. At this point your stuffing should be ready to go and you should fill the jalapeno halves as soon as you can hold them. This will give the cheese and chicken a chance to get a little melty.
Since nothing is raw about this low carb appetizer you don't need much cook time on them so getting them back in the air fryer as soon as possible will mean faster devouring for you!
Reheat In The Air Fryer
We use our air fryer at least four times a week. We cook steak, salmon, chicken thighs all raw, but I'll be honest, my favorite way to use an air fryer is to reheat food! We've even reheated an entire rotisserie chicken. These air fryer jalalpeno poppers will get soggy over the course of sitting out and being refrigerated, but if you reheat them in the air fryer at 400 for a couple minutes they will crisp up again and taste like you just made them fresh!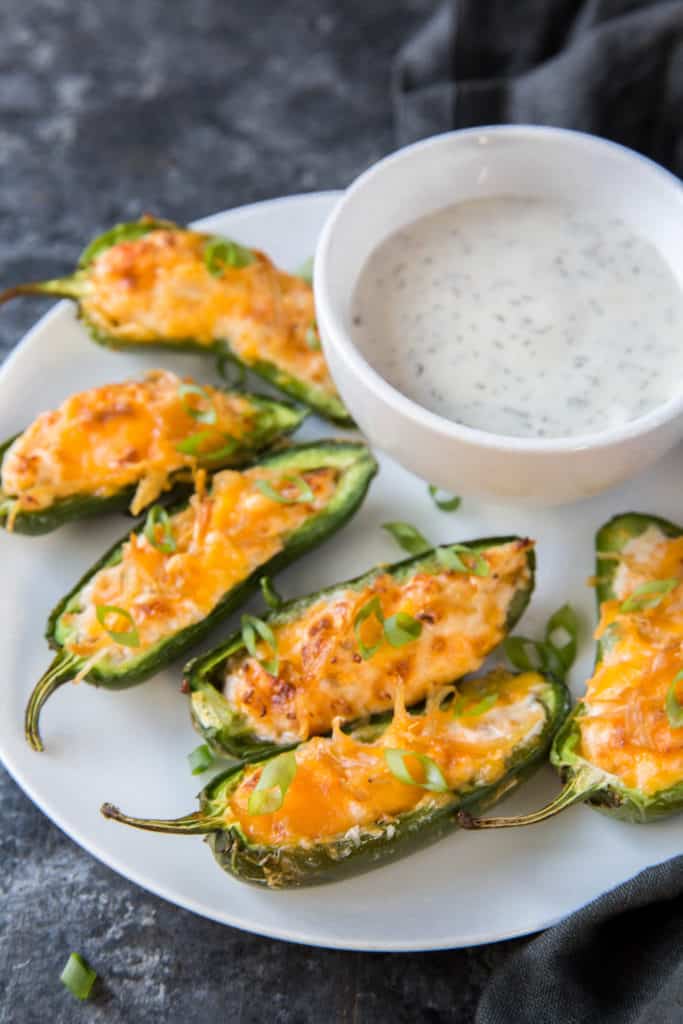 Air Fryer Jalapeno Poppers FTW
In case you're new to planet earth, FTW means for the win – I'm talking to you mom and dad!What makes these a "for the win" kind of food is how easy they are to prep and cook. Minimal work, maximum output. People will truly be impressed and positively love the spin of chicken swapped in for bacon on these delicious poppers!
Party Worth Apps
Not all low carb appetizers you make on a keto diet are party worthy. Non keto people are not going to like mini sandwiches made using cloud bread or flackers as a replacement for chips. You can't deny those truths! However, we do have some real party worth apps that all your friends and family will love:
Let us know what low carb appetizers you bring to your next party!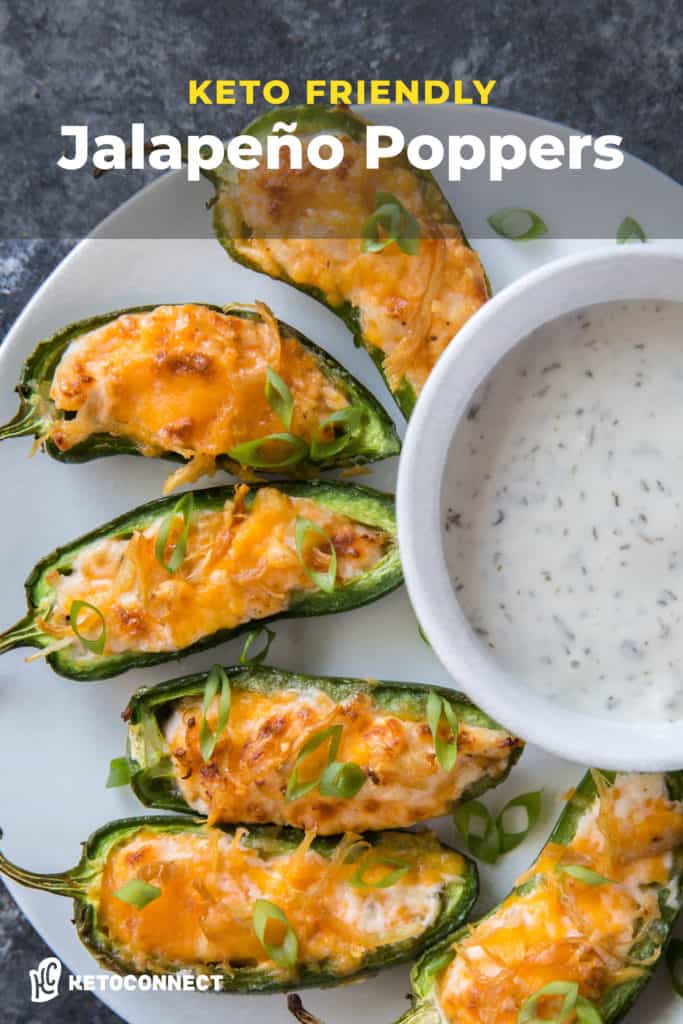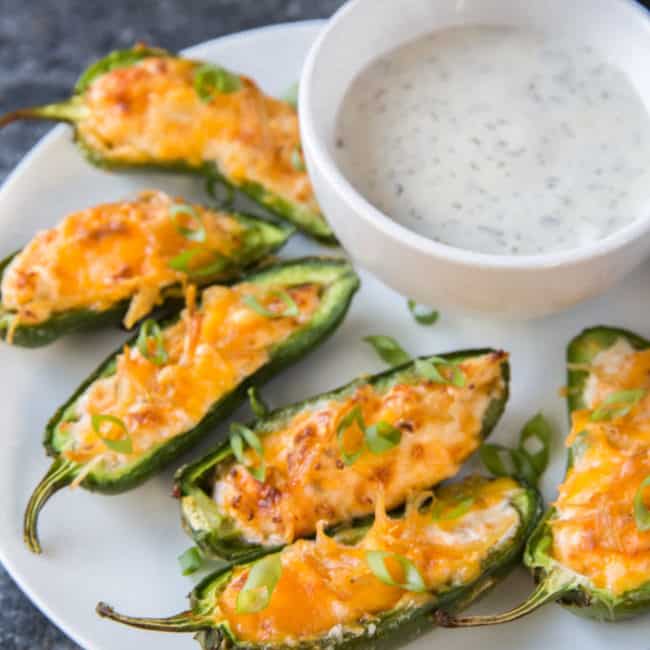 Easy Air Fryer Jalapeno Poppers
Jalapeno peppers stuffed with a cream cheese chicken mixture then cooked in the air fryer until crispy on the outside and melted on the inside.
Servings 8 servings
Calories per serving 148kcal
Prep Time: 10 minutes
Cook Time: 15 minutes
Instructions:
Preheat your air fryer for 2-3 minutes at 375°F.

Slice the jalapenos long ways and remove the seeds.

In a medium bowl combine, cream cheese, 3/4 of the shredded cheese, rotisserie chicken, salt and pepper using a spatula. Set aside.

Add the jalapenos (in batches if necessary) to the air fryer and cook for 1-2 minutes until edges start to brown/blacken and jalapenos are slightly tender.

Transfer jalapenos to a cutting board.

Fill each of the jalapeno haves will filling. Top with remaining shredded cheese.

Place the filled jalapenos halves into the air fryer basket. Shut the basket and cook at 375°F for 4-6 minutes until cheese has melted and slightly crisped (browning in color).

Remove to a plate and repeat the rest of the stuffed poppers until complete.

Serve immediately. Best stored in an air tight container in the fridge up to 5 days and reheated in the air fryer at 400 for 3-4 minutes.

Note: air fryer vary highly in hot quickly they cook food so keep an eye on the jalapenos when pre-cooking as they can burn easily!
Notes
Net Carbs: 2g Serving Size: 4 jalapeno poppers (halves) Yields: 24 jalapeno poppers (halves)
Nutrition Facts
Easy Air Fryer Jalapeno Poppers
Amount Per Serving
Calories 148 Calories from Fat 117
% Daily Value*
Fat 13g20%
Carbohydrates 3g1%
Fiber 1g4%
Protein 7g14%
* Percent Daily Values are based on a 2000 calorie diet.