This is the perfect easy keto custard recipe, because it's creamy, sweet, and still 100% sugar free! Our easy to make recipe requires just 4 ingredients, and 10 minutes prep time. We love this recipe and know you will too, because an easy keto dessert is always one to please!
What is Custard?
Custard is an egg and cream based French dessert. The traditional method for thickening is by heating egg yolks, however some modern techniques now use gums and thickeners instead(1). We chose to go the traditional route and have a 100% natural thickener, eggs. If you want delicious keto egg custard you just have to stick with the classic!
Sugar Free Sweeteners
Our sugar free egg custard uses granulated erythritol for the sweetener, but you do have a few other keto friendly options if erythritol isn't your favorite. The best subs we've found are:
Granulated Monk Fruit– Usually this is cut half monk fruit half erythritol when you buy it online, but it still works just as well. Monk fruit alone is highly concentrated and won't have the same ratios as another keto sweetener; so check for balance if you decide to use the liquid form.
Granulated Allulose- A little more expensive than erythritol. It creates a smooth texture without the cooling effect like erythritol.
Stevia for Baking- This may have a bitter taste and is not always recommended. This would be those big bags of stevia usually bulked with maltodextrin for baking. They can also be purchased at most grocery stores.
If you want to check out even more options and how they substitute in recipes, look at our Best Sugar Substitutes post. It gives a variety of sweetener options as well as their ratios to sugar, so you know how to create the most balanced keto custard recipe possible.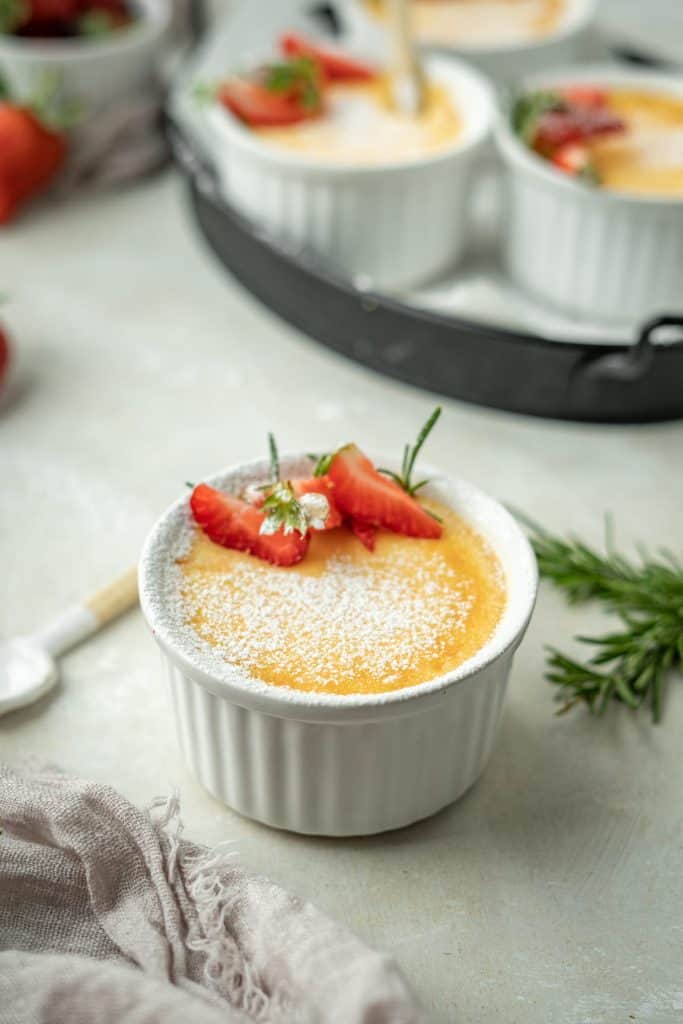 Tips For Making the Best Keto Custard Recipe
So you think you can make the best ever keto egg custard eh? If you're ready to dive in and think you may be in over your head, check out our top tips to make the best possible keto custard.
FREE PRINTABLE: Keto Food List
Join 150,000 others to get a FREE keto food list and new recipes every week!
Don't Overcook it!
I repeat DO NOT overcook your keto egg custard. If you cook this easy keto custard past a slight jiggle you may find it tastes dry and eggy. Avoid the eggy taste by keeping a close eye on your sugar free custard.
Store Low Carb Custard Properly
If there is leftover keto custard recipe (cooked or raw), make sure to use plastic wrap to prevent film from forming on top. The film won't alter the flavor, but it may make for a weird mouth feel. You can also store the baking dish in an air tight container to prevent this easy keto custard recipe from drying out.
Room Temp Ingredients
Room temperature ingredients are essential in even cooking. Make sure to leave out your heavy cream and large eggs ahead of time to ensure a smooth mix and even cook. Pro tip: If you're eggs are too cold fill up a baking dish with warm water. Then, place the eggs into the baking dish water bath for a few minutes to slowly heat them up.
Batter Must be Smooth
Before pouring the low carb custard batter into ramekins, make sure the batter is uniform. If there are unmixed eggs and cream, the eggs will scramble and not set properly. The best way to prevent this is by using a bowl/ whisk combo to whisk together the cream and eggs.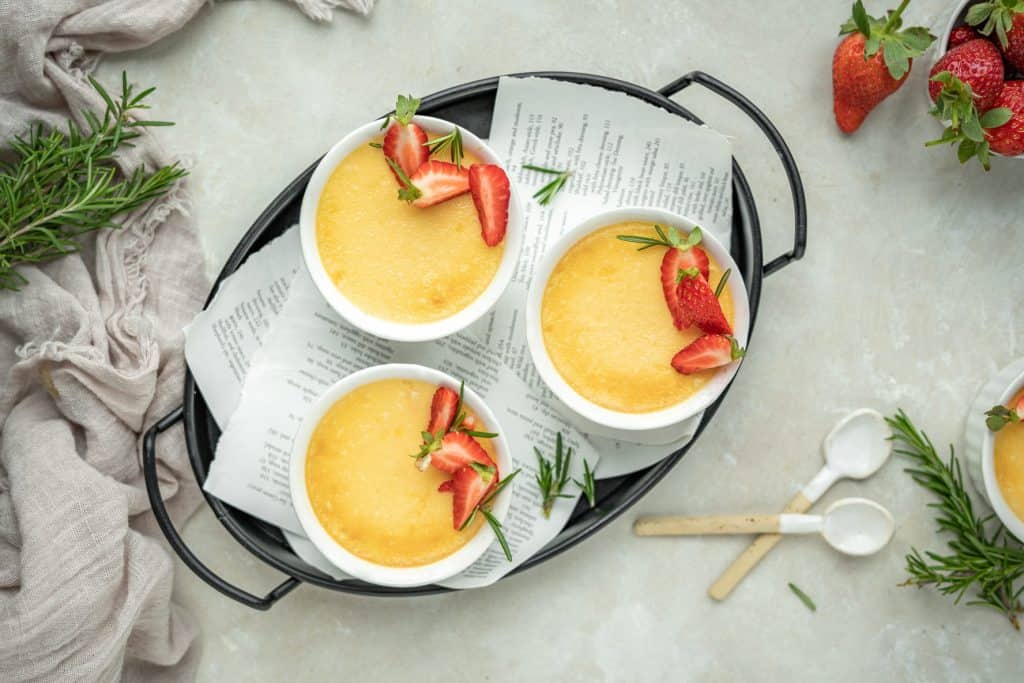 How to Make Sugar Free Keto Custard
Ready to take on the best sugar free keto egg custard ever!? This keto dessert is easy to make, low in net carbs, and has a short prep and go cook time. Fancy desserts will forever be a breeze after trying this keto custard recipe.
Equipment
To make keto egg custard you will need a whisk to whisk together the eggs and cream, as well as a large bowl, a baking dish (for water bath), and four ramekins. If you don't have ramekins you can use another type of small baking dish, or one large baking dish. Just know the oven time will change if you do not use smaller ramekins.
Ingredients
When you make this recipe you will realize it truly is one of the simplest on our blog. To make custard low carb we only really need to swap milk for cream, and sugar for erythritol (0 net carbs). The recipe is easy to make, as well as sugar free and gluten free. The only thing you can't change with this recipe is the cream to be dairy free. We've found coconut milk to be a bit runny so it's not recommended. Finally you will want vanilla extract and eggs. Make sure the vanilla extract is pure and unmixed with corn syrup or caramel coloring.
We have additional toppings below that you can use on top of the keto custard. Just make sure whatever you choose is low carb/ keto and sugar free.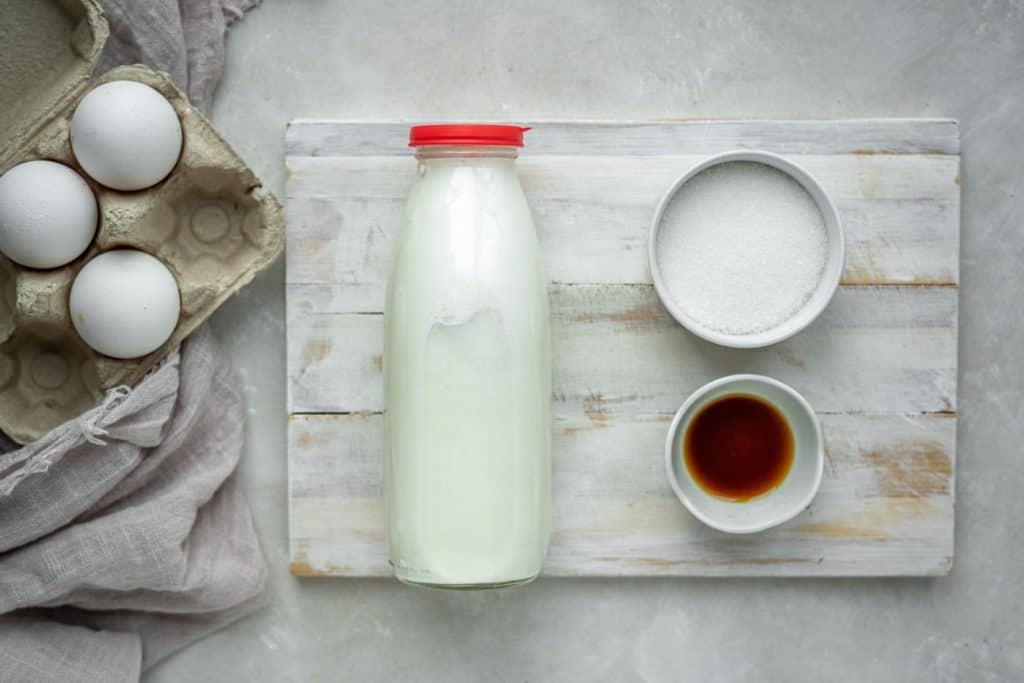 Making Low Carb Keto Custard
To begin making this low carb egg custard recipe preheat the oven to 350 (180 C). Then grease 4 ramekins and place them inside an oven safe dish. Set the baking dish aside for later use.
Now in a large mixing bowl combine the wet ingredients (MINUS the whipping cream). That will be the eggs, sweetener, and vanilla. You can also use fresh vanilla beans if you prefer the flavor to vanilla extract.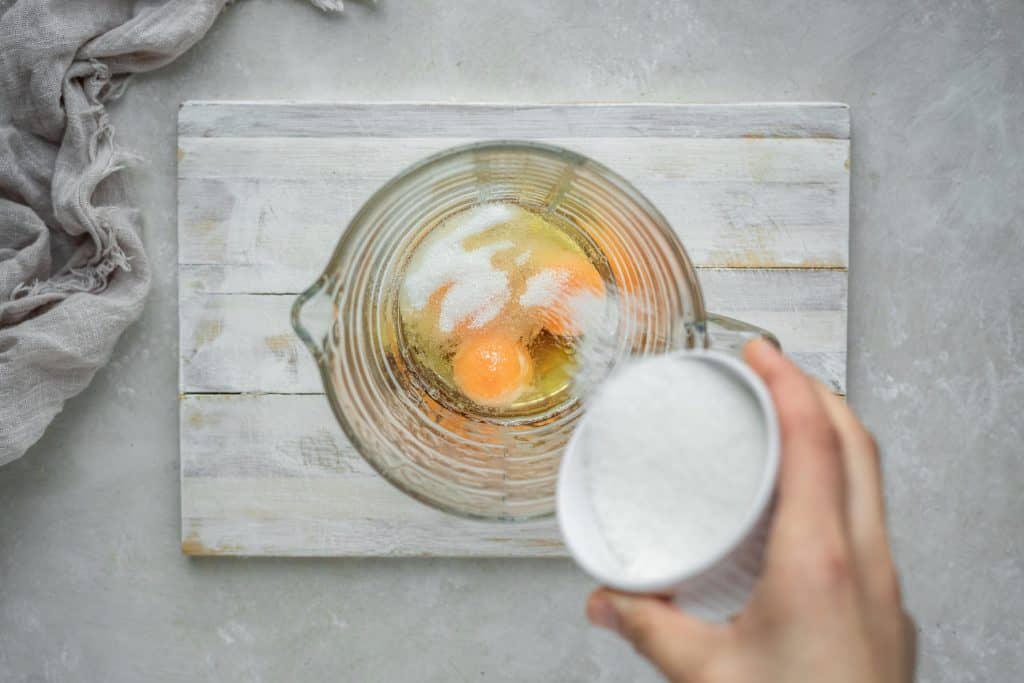 Whisk all of those ingredients together until combined.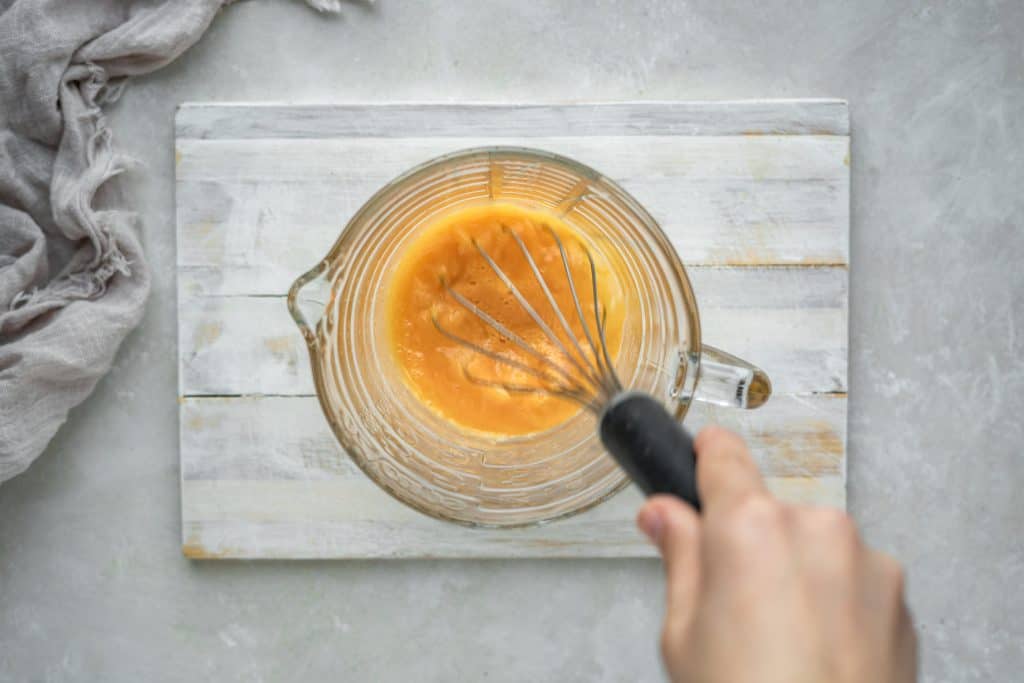 Then add in the cream and mix well until the eggs are evenly incorporated and the sweetener has dissolved.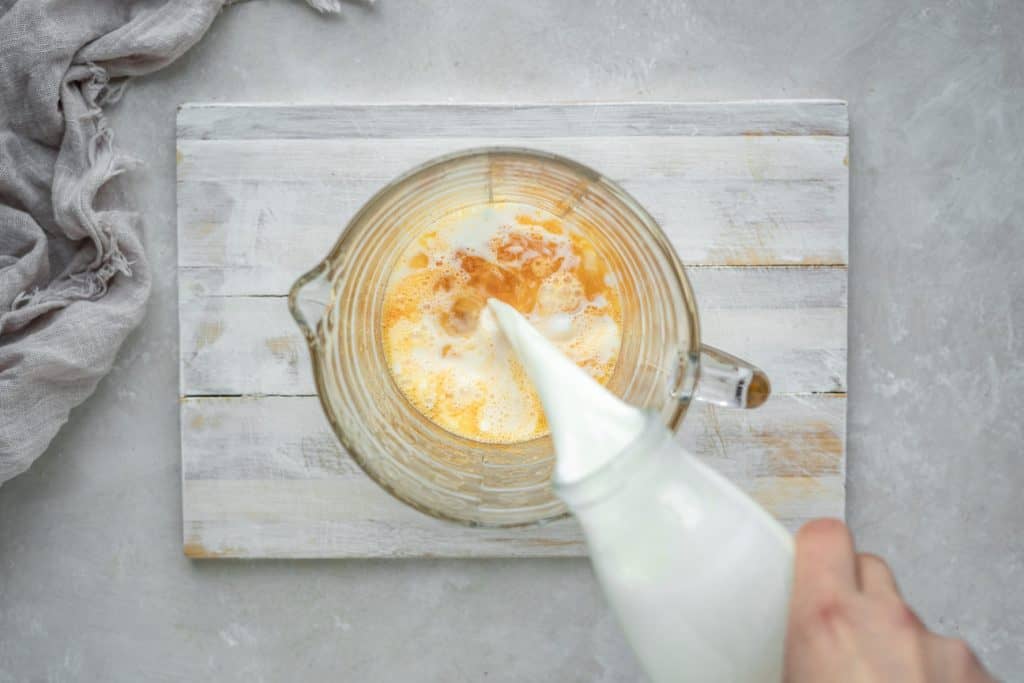 Pour the egg custard mixture into the four ramekins.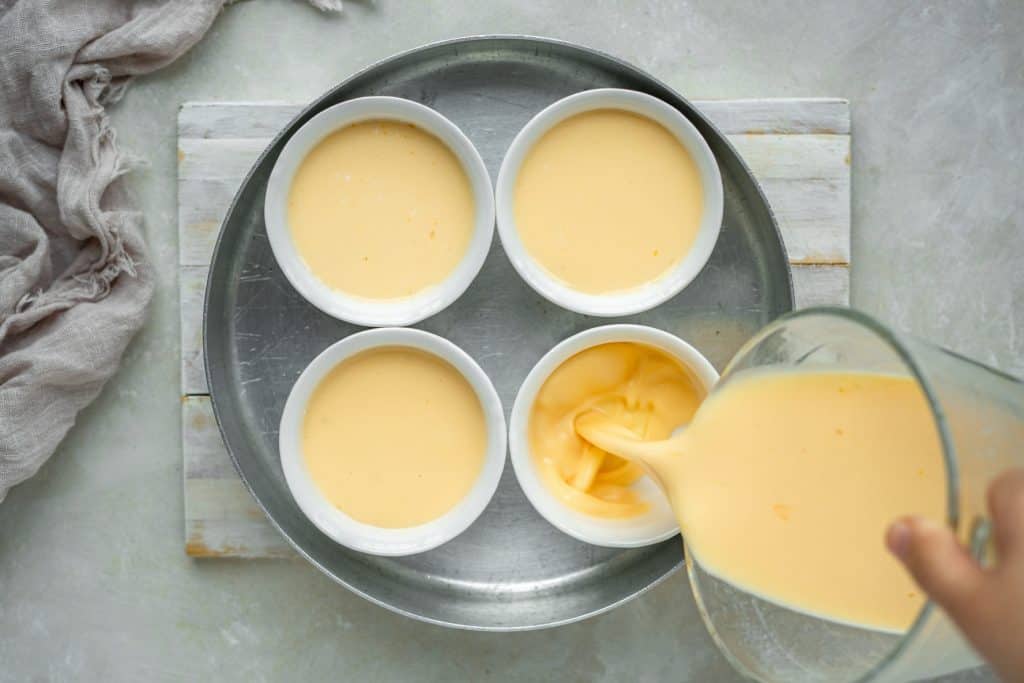 Then fill the oven dish with boiling/ hot water around the ramekins. It should cover up the sides about an inch from the top of the ramekins.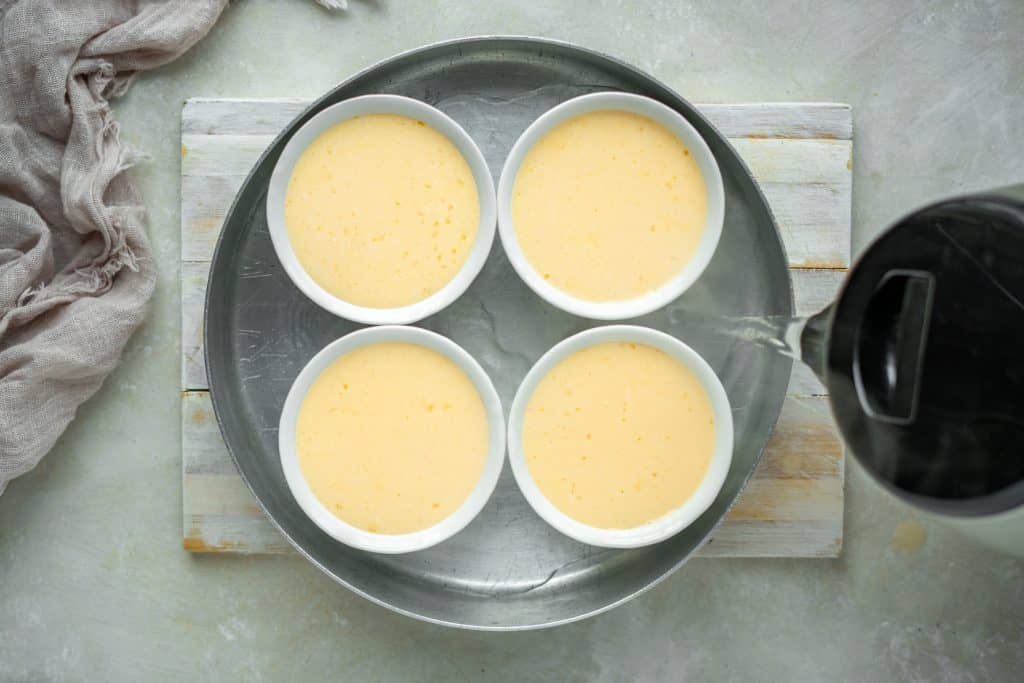 Bake the low carb egg custard recipe for 30 minutes, or until golden and set around the edges. The key here is allowing the edges to set, but having the center a bit wobbly still. If cooked too long, the egg custard may taste too eggy and not as sweet.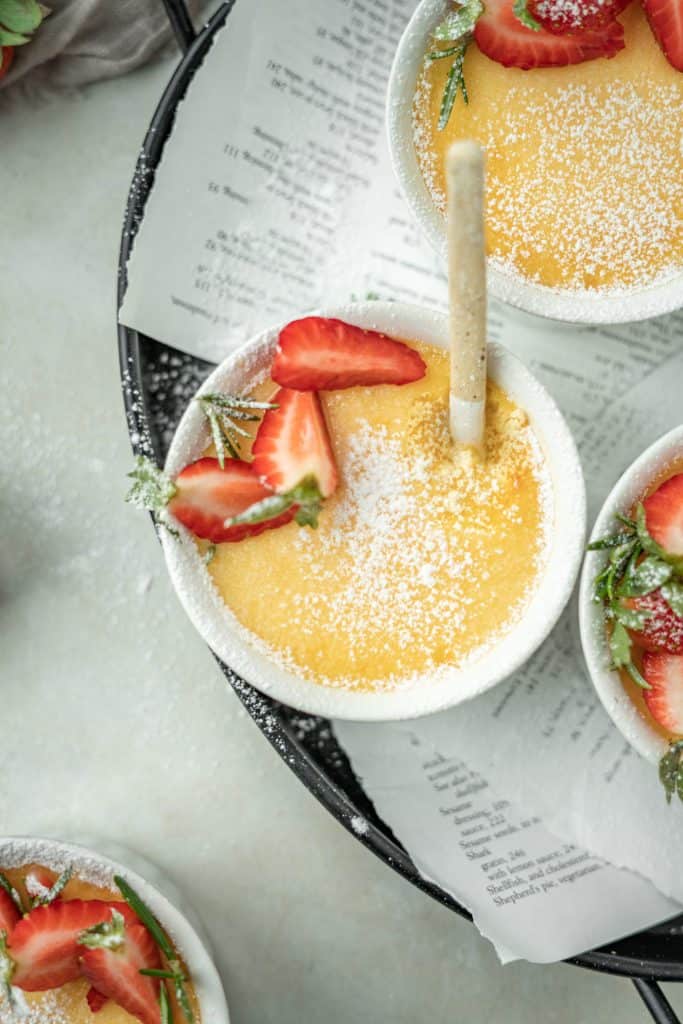 Allow to cool a bit before serving. It serves great warm or cold. Garnish with your choice of fruits and nuts. We put together our favorite topping variations below.
Serving Keto Custard (Warm vs. Cold)
This keto/ low carb dessert custard tastes great warm or cold. The total time for cooking is minimal, but know that even if serving warm you will want to allow a little time to cool. Serving this recipe cold is always the best idea if you're having leftovers. Reheating a custard recipe can overcook it and also cause a film to form overtop. Trust us the flavor of this sugar free keto custard gets even better the longer it sits, so don't be afraid to try it cold!
What to Top Keto Custard With
Looking for the best topping for your low carb dessert? We complied some of our favorite low carb/ keto topping ideas so you can have a tasty yet simple recipe. Our favorite toppings include:
Berries– If you are low carb or want the custard keto; try topping it with berries. They are a light and fresh way to bring in bright summer flavors without a ton of added sugar. Our favorite berries on custard are strawberries, raspberries, and blueberries.
Fruit– If you aren't strict keto there are other fruit options you can put on top of the custard. Some good choices are mango, cherries, and oranges.
Citrus– Some fresh lemon or lime zest makes a great addition to cut the creaminess of this keto custard.
Chocolate– Dark chocolate is delicious shaved overtop of this low carb custard. Pair it with some berries and you have an extra decadent treat!
Whipped Cream– Whipped cream is delicious on any dessert not just custard. Keto whipped cream options can be limited, but we have a full blog post with an included whipped cream recipe just for you!
Options are endless and you can always search online for more variations. Let us know in the comments what your favorite keto custard toppings are.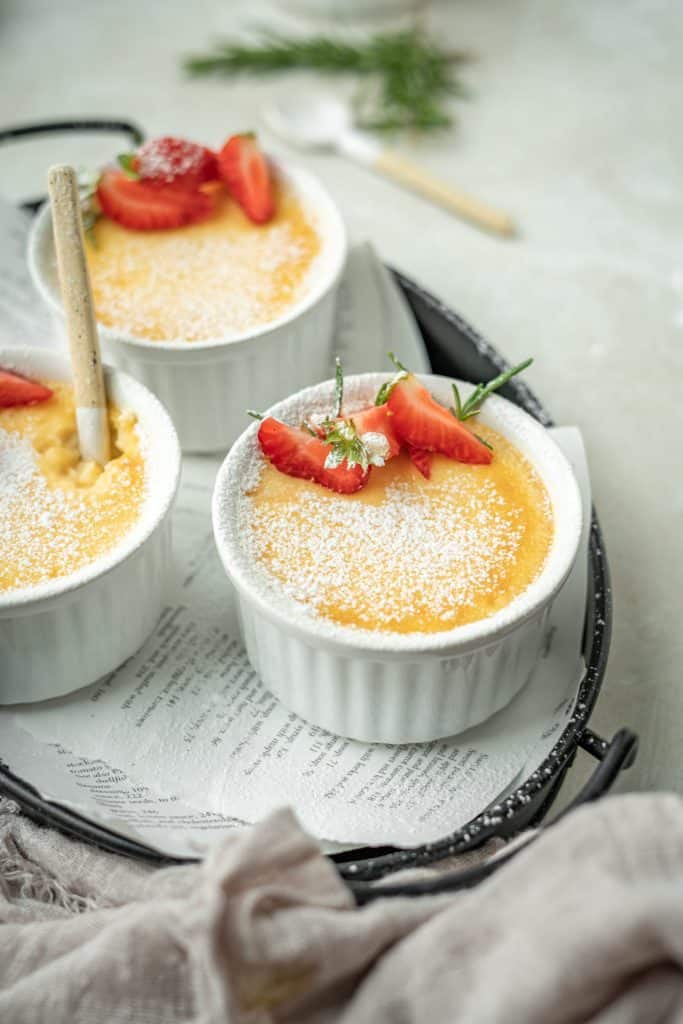 Sugar Free Custard Variations
Keto custard has a simple yet decadent vanilla flavor. If you like recipes with a little more variety, we have you covered. There are a few variations to ingredients that you can do to up the fun factor of this keto custard.
Coconut Chocolate– Use half heavy cream and half coconut cream (not milk) for the custard base. Top with shredded coconut and chocolate, you can even add almonds for an almond joy style custard.
Chocolate– Add two to three tbsp of cocoa powder in the custard batter before baking. This will make a rich chocolat-ey dessert.
Keto Tiramisu– Dip homemade lady fingers from our keto tiramisu recipe into this custard. It makes a quick yet delicious sugar free desert.
Mocha Custard– Add three tablespoons of cocoa powder and 1 tbsp of instant coffee. You may want to add a bit more sweetener into the batter as well depending on taste preference. This coffee chocolate base is extra delicious with freshly whipped heavy cream on top.
All of these variations are super easy and super tasty. Don't be afraid to play around with candied keto nuts, fruits, and spices for an extra interesting treat!
More Keto Desserts
Was this custard so yummy you're back for more!? Try some of our other favorite sugar free keto recipes that have a minimal total time, and are sure to wow your whole family. Check out our:
These are all great recipe options to try when you're craving a delicious keto dessert. Check out our top keto fat bomb recipes for even more inspiration.
Keto Custard
This low carb egg custard recipe is the perfect sweet base for a keto whipped cream and berries. Try it alongside keto vanilla cake; or all on it's own. However you like to dish up this egg custard is fine, because we know that no matter how you serve it; it will always taste delicious!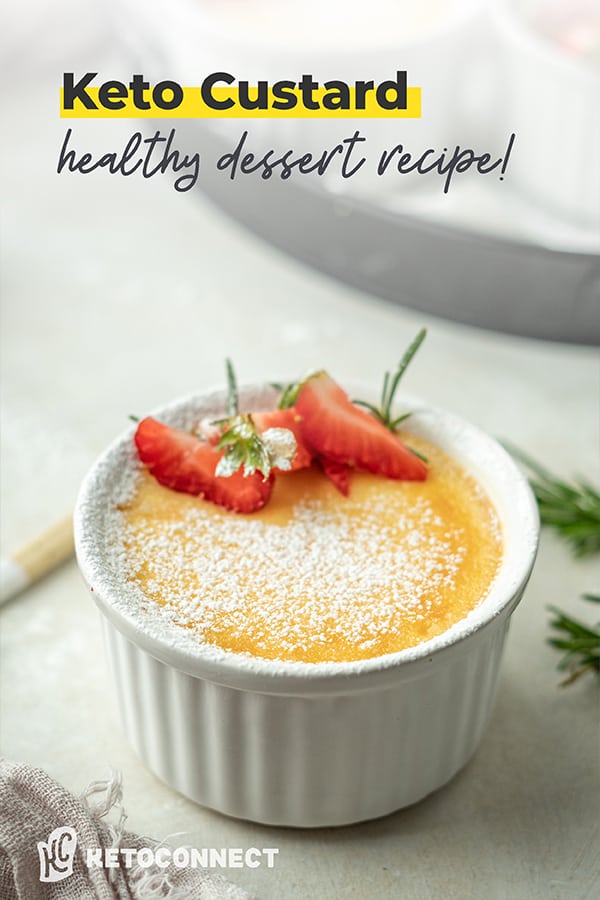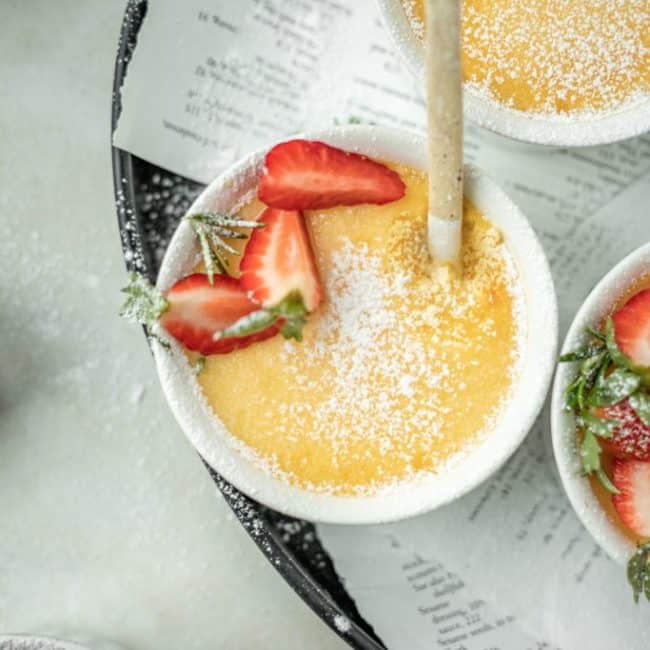 Keto Custard
A smooth and creamy custard base perfect for topping with fresh fruit.
Servings 4
Calories per serving 467kcal
Prep Time: 10 minutes
Cook Time: 30 minutes
Instructions:
Preheat oven to 350 (180 C). Grease 4 ramekins and place them in a oven dish. Set aside.

In a bowl or a large jug, add the eggs, erythritol, vanilla, and stevia if added sweetness is desired. Whisk until combined.

Add the heavy cream, and whisk well until the eggs are dissolved.

Pour the mixture into the four ramekins. Pour boiling water in the oven dish surrounding the ramekins, until it covers about an inch from the top of your ramekins.

Bake for 30 minutes, or until golden and set around the edges, but a little wobbly in the center.

Let it cool. You can serve it warm or cold. Garnish with your choice of fruits and/ or nuts.
Notes
For a creamier custard you can replace 1-2 of the whole eggs with egg yolks. Net Carbs: 4
Nutrition Facts
Keto Custard
Amount Per Serving
Calories 467 Calories from Fat 432
% Daily Value*
Fat 48g74%
Saturated Fat 29g145%
Trans Fat 1g
Cholesterol 303mg101%
Sodium 99mg4%
Potassium 142mg4%
Carbohydrates 4g1%
Sugar 1g1%
Protein 7g14%
Vitamin A 1952IU39%
Vitamin C 1mg1%
Calcium 98mg10%
Iron 1mg6%
* Percent Daily Values are based on a 2000 calorie diet.