An air fryer whole chicken will make the perfect weeknight dinner, because it's healthy and easy. Plus, it takes less than five minutes to season, and less than an hour to cook! Roasted chicken is crispy on the outside yet juicy and moist on the inside. There are not many air fryer chicken recipes that could top this one!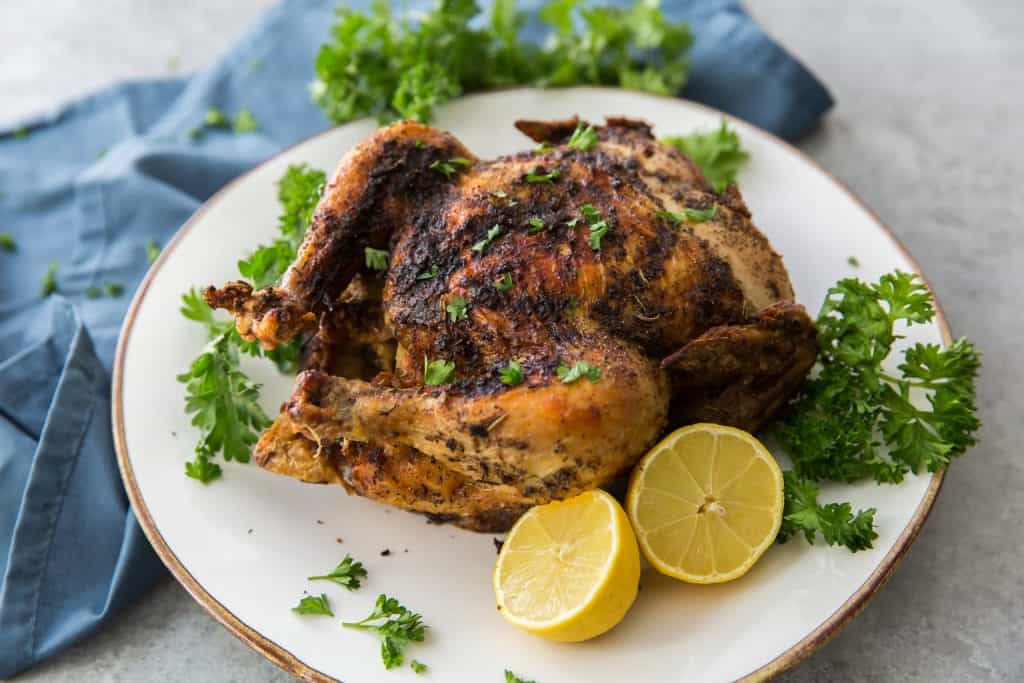 What Size Air Fryer Works Best?
Want to make an air fryer whole chicken that cooks in under an hour? We're here to help! But first, you'll need an air fryer to follow along with our recipe. When making roast chicken, the bigger the air fryer basket the better. We recommend an air fryer between 6 and 10 quarts to ensure there is enough room to fit your chicken. If you have anything smaller you may need to follow along with our oven steps below. We've put together a list of our favorite air fryers below based on size and uses:
6 quart– Not too big making it great for couples and singles alike. This will cook a small chicken and also works great for reheating leftovers and frozen meals.
8 quart– A nice medium size air fryer with plenty of room for an air fryer whole chicken.
10 quart– The largest family sized air fryer we've tried. It works great for meatloafs, whole roast chicken, and other traditional air fryer recipes.
Any of these air fryers should work well for this recipe. Just make sure it is a large enough size for the bird you choose. If you do have a smaller air fryer make sure to purchase a smaller chicken.
Preventing a Dry Whole Roasted Chicken
Air fryer whole roast chicken can become dry if not properly cooked. To prevent dry chicken and make sure your's is the most tender and juicy it could possibly be, follow our chicken cooking tips:
Do Not Overcook– While simple in theory, it is very important you do not overcook the chicken. Don't be afraid to open the air fryer basket and double check with a meat thermometer that it isn't done early.
Place Chicken Breast Side Down– When you place your chicken breast side down, you avoid the chicken breasts becoming too dry. Chicken breast will always cook first before the dark meat, no matter how much olive oil you use. Breast down air fryer chicken also prevents the legs from getting caught in the top of the air fryer basket.
Be Patient– If you try and rush the chicken by bumping it up to 400 degrees you will find the chicken becomes very dry, very quickly. We cook on a lower temperature to prevent this, so don't try to make an air fryer whole chicken in 20 minutes?
We love a good whole chicken air fryer recipe and hope you do too! Make sure to follow our recipe steps so the air fryer cooks your chicken perfectly every time.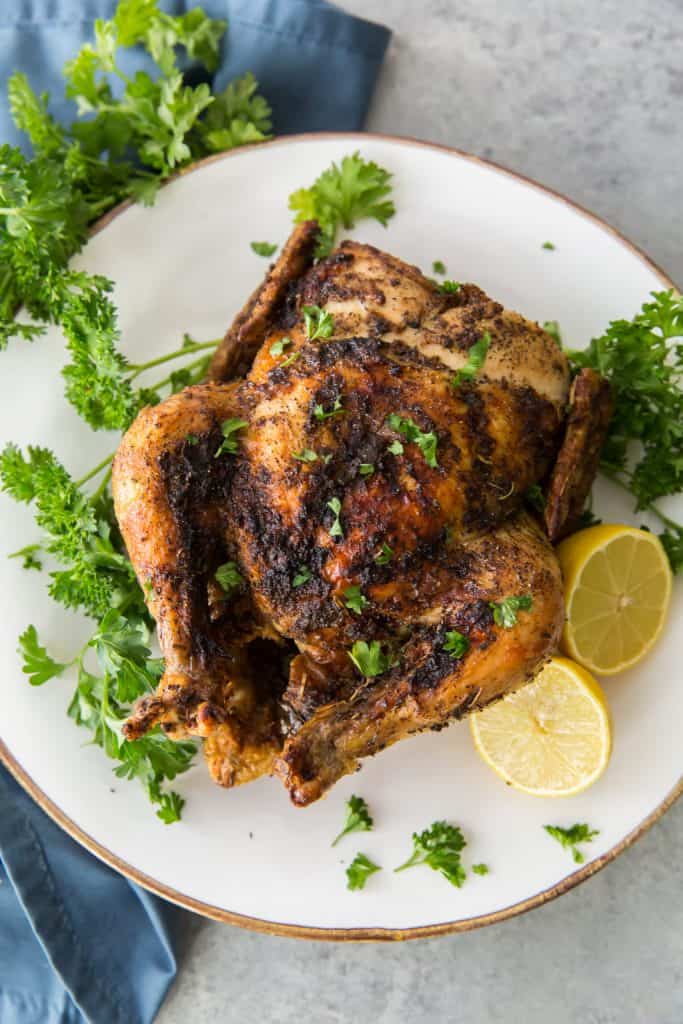 What to Make With an Air Fryer Whole Chicken
Looking for that perfect dish to go alongside your air fryer whole chicken? There are plenty of different low carb and keto side dishes on our website to make the best complete meal for you and your family. Make sure to make extra so you can have the best roasted chicken and sides tomorrow too! Some keto side ideas:
Keto Roasted Butternut Squash– Butternut squash makes the perfect accompaniment to this warm roasted chicken. It's sweet, salty, and roasted with olive oil for a flavorful treat!
Instant Pot Cauliflower Mashed "Potatoes"– Who doesn't love chicken and mashed potatoes? This recipe is a great option for those looking to make a comforting southern style plate.
Sausage and Cauliflower Stuffing– Maybe you picked this whole air fryer chicken recipe for a lower carb, small scale Thanksgiving. Whatever the case, this flavorful stuffing is packed with meat, herbs, and veggies to make the perfect air fryer chicken side.
For even more low carb and keto side dishes check out the sides section of our site.
How to Make an Air Fryer Whole Chicken
This recipe won't disappoint! It's tender, juicy, and coated in spices and flavor. Plus it pairs perfectly with any of your favorite keto and low carb sides.
Equipment
This air fryer recipe requires just that, an air fryer! This will be the one real piece of equipment you need. Then you just need twine to tie your chicken legs together.
Ingredients
Start with a 3-5lb chicken depending on how many people you want to serve, as well as how big your air fryer is. Next you will need avocado oil or olive oil. The oil for air fryer you use is up to preference, but we choose avocado oil in this recipe because of its smoke point. The chicken will be in the air fryer for almost an hour so it may be worth the extra cost. Lastly you will need your spices. Pink Himalayan Salt and black pepper are always a must. We also used a homemade poultry seasoning which is linked in the recipe notes below. If you don't want to make it, you can also purchase poultry seasoning for relatively cheap online.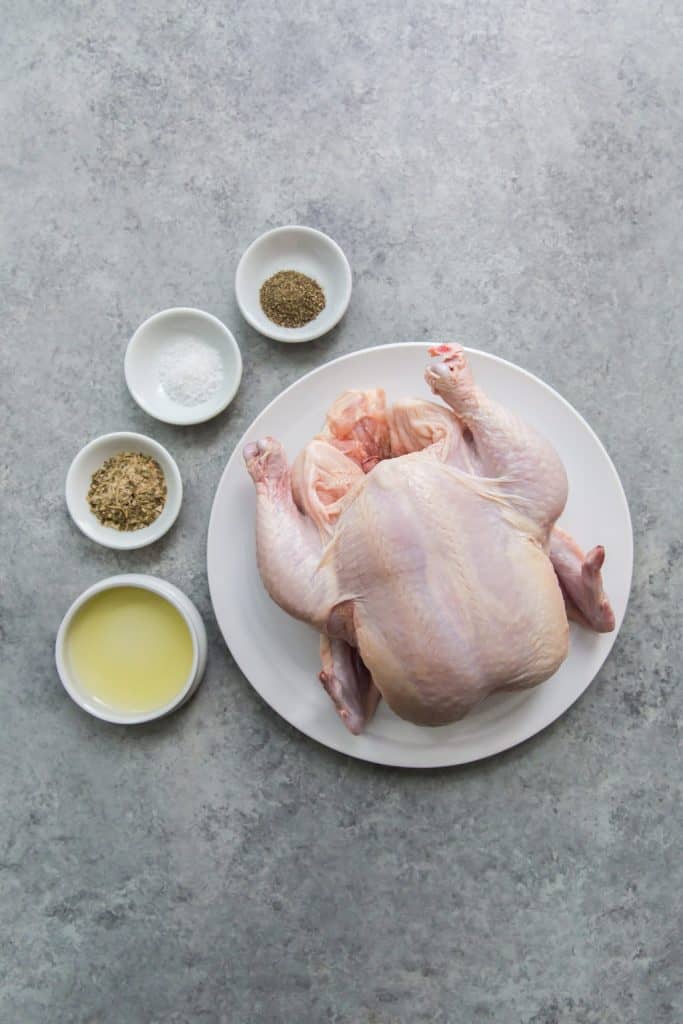 Making Chicken in the Air Fryer
Begin by spraying the air fryer basket with cooking spray. You will then want to preheat the air fryer to 350 degrees F. Preheating allows the skin to crisp when hitting the basket.
Next remove the innards from your chicken and tie the legs together. We used a heavy duty cooking twine.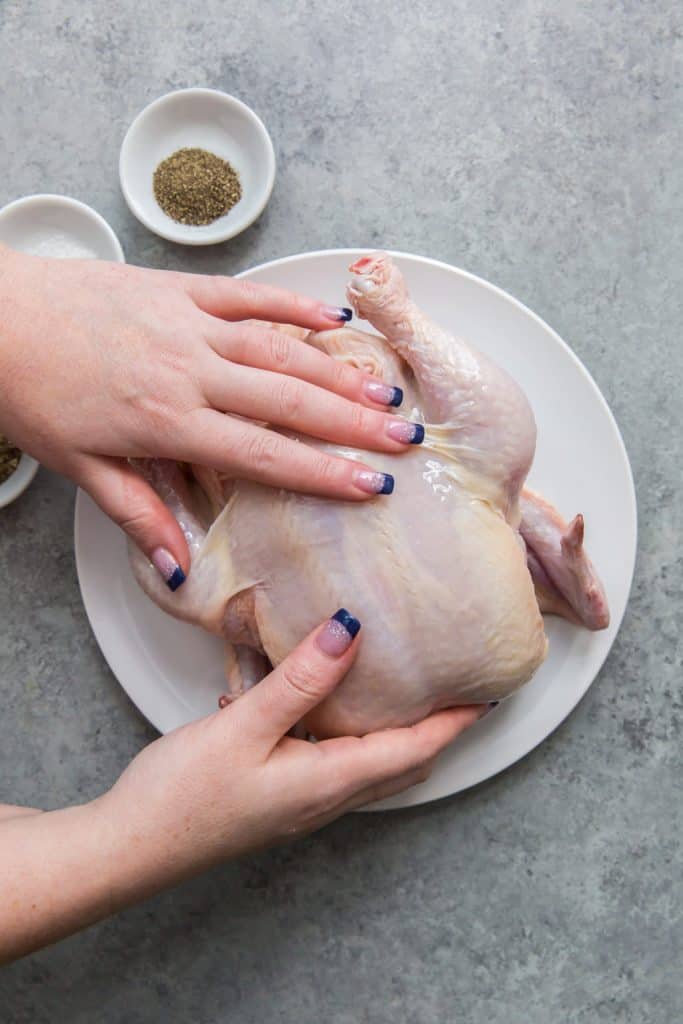 Rub the chicken skin with oil and then sprinkle on your poultry seasoning. Make sure to rub it in well to coat the outside of the chicken. You can also season the inner cavity with salt and pepper if desired.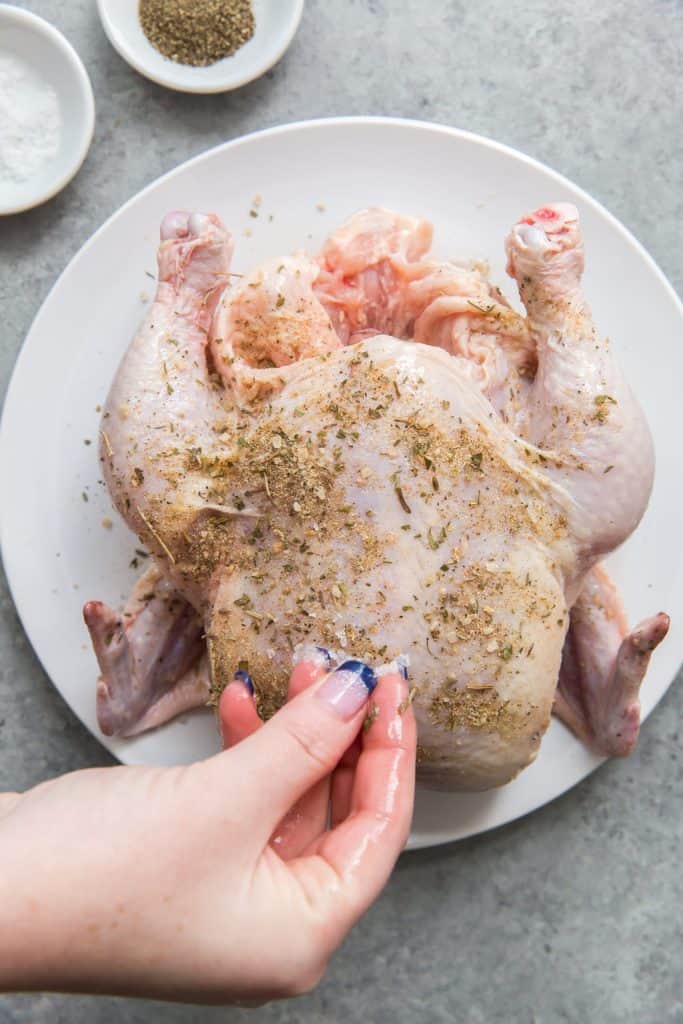 Place the chicken in the basket of your air fryer that it is now preheated and greased. The chicken should be placed breast side down to lock in all moisture. (CHICKEN IS FACE UP TO SHOW DETAIL ONLY)
Cook for 30 minutes. Flip the chicken to breast side up and cook for another 15-20 minutes. Check with a meat thermometer to ensure done-ness.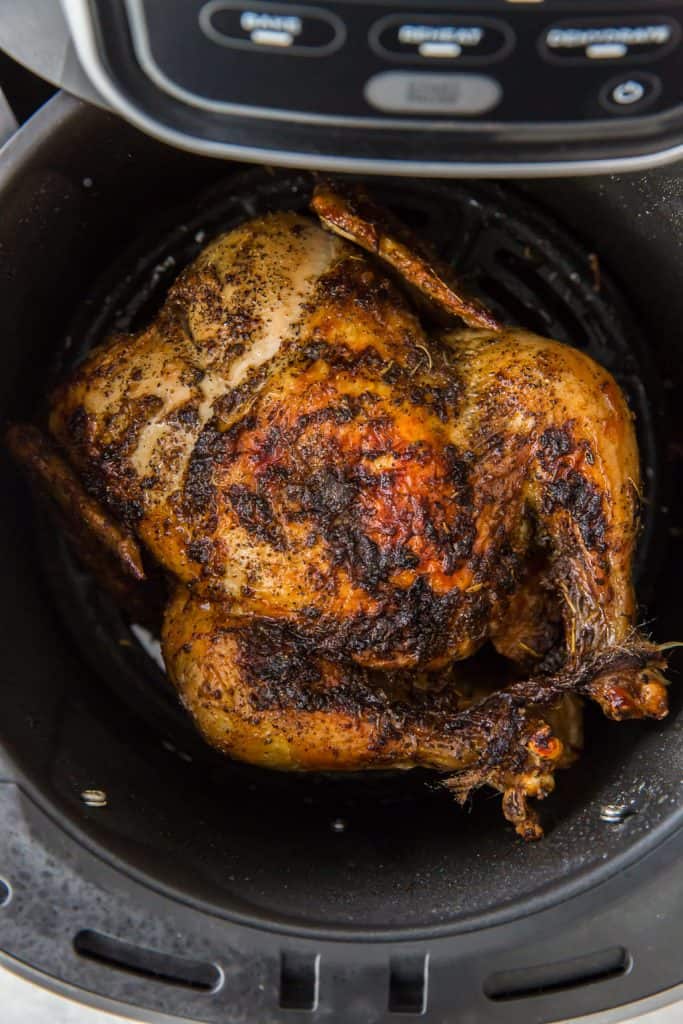 Feel free to wait a few minutes before carving in order to cool.
Storage and Leftovers
To store the whole chicken: Remove all remaining meat from the chicken carcass and place into an air tight container. It stores in the fridge for up to 4 days. We've included even more leftover recipe ideas below!
What to Make With Extra Chicken
Did you pick a chicken that was too big for your family? With a cook time of 1 hour we sure hope so, because leftovers means tons of easy recipes for the rest of the week. Some leftover ideas include:
Keto grilled cheese sandwiches with chicken and avocado- Shred leftover rotisserie style whole chicken and place some inside a keto grilled cheese. Add some avocado inside too and you have a cheesy, extra creamy, loaded grilled cheese.
Chicken Tacos- Use a low carb tortilla and stuff it with shredded chicken, bell peppers, guac, cheese, and sour cream.
Chicken Noodle Soup- Sauté some carrots, onion, and celery with olive oil in a pot. Pour in bone broth and shredded leftover chicken for a quick soup. (Add salt/pepper + herbs).
Check out our rotisserie chicken Blog Post to see even more uses for freshly cooked air fryer rotisserie chicken.
Can I Cook a Whole Chicken in the Oven?
You can cook a whole roasted chicken in the air fryer instead of oven, but if you'd prefer to stick to a more traditional route follow along with our whole chicken cooking guide. Cook as follows
20 minutes for each pound after a base of 15 minutes(1).
For example preheat your oven to 350 degrees and bake a five pound whole chicken uncovered for 115 minutes or 1 hour and 55 minutes. (15 minutes +20 minutes x 5 lbs= 1 hour and 55 minutes)
The chicken thigh should have an internal temp of 165 degrees. It is always best to check the deepest part of the chicken to ensure it has fully cooked.
If an air fryer whole chicken isn't your jam, this oven roasted chicken is sure to please. It may take a little longer, but it is just as tasty!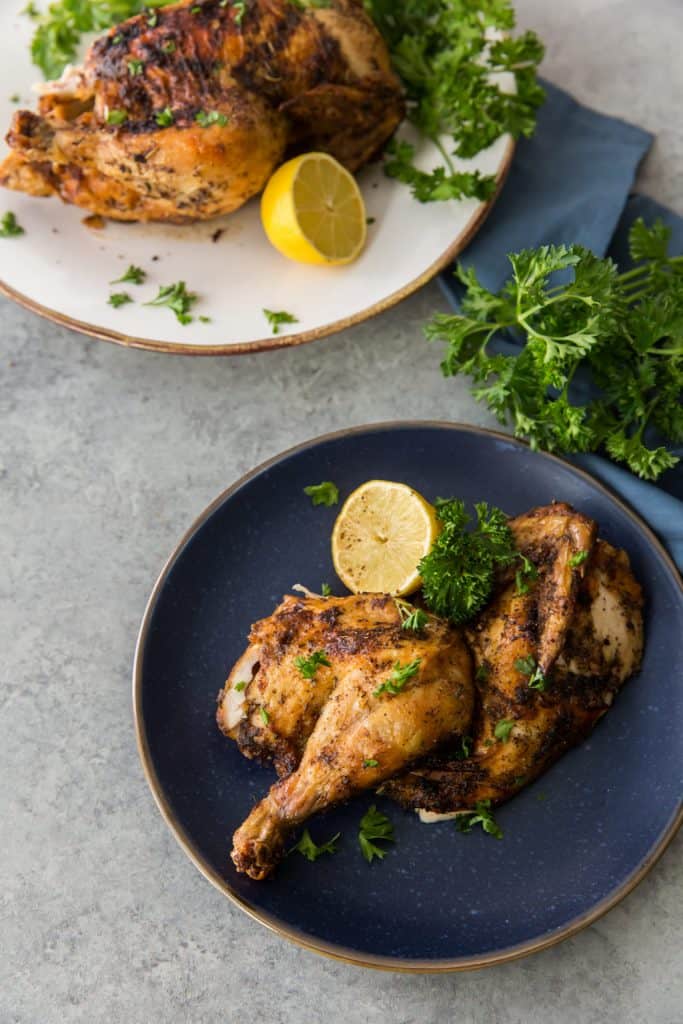 More Keto Chicken Recipes
If cooking a whole chicken in the air fryer wasn't enough, check out a few of our other favorite keto chicken recipes. We have everything from baked chicken breast recipes, to deep fried chicken drumsticks. No matter which recipe you choose we promise it will be juicy and tender.
Crispy Fried Chicken- Our crispy fried chicken has been deep fried in beef tallow and served up hot. It has a blend of garlic powder, onion powder, and many other herbs and spices. This crispy chicken recipe is sure to please even the non keto dieters.
Easy Pesto Chicken– If you're more of a chicken breast eater, try our baked pesto chicken. It's seared and then baked to lock in flavor. All before serving a top fresh basil pesto.
Chicken Crust Pizza– Bet you didn't see that coming! We have a zero carb chicken recipe for pizza crust. There's minimal cooking time and tons of flavor. If you make this recipe try creating fun and delicious new pizza toppings too.
Chicken doesn't have to be boring. Skip the plain salt and pepper and spice up how you choose to make your next chicken based meal. Whether you only have 30 minutes for cooking time or an hour, we have the recipe for you.
Keto Air Fryer Whole Chicken
The air fryer is by far the best way to cook chicken. The total time? 1 hour! The flavor? Warming and comforting. There's really no way to lose with this quick and easy chicken recipe. The recipe even cooks so fast you could serve it on a busy weeknight no problem. Let us know how you serve your chicken, because our's hardly makes it out of the oven before we've gobbled it up!
For more recipes like this, make sure to check out 99+ best keto air fryer recipes you'll definitely love!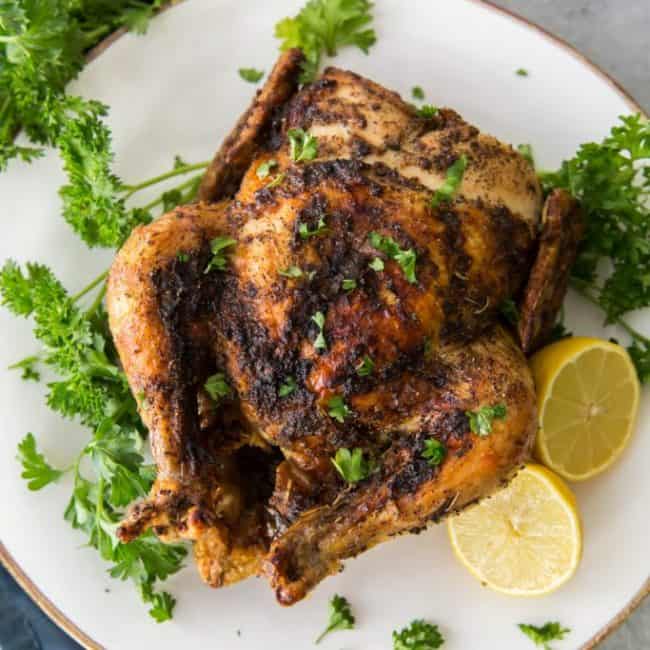 Air Fryer Whole Chicken
A juicy whole chicken with crispy skin done in under an hour.
Servings 6
Calories per serving 356kcal
Prep Time: 5 minutes
Cook Time: 50 minutes
Instructions:
Spray the air fryer basket with cooking spray, then preheat to 350 degrees F. Empty innards of chicken and tie legs together.

Rub chicken skin with oil and sprinkle with seasoning of choice.

Place the chicken in the basket breast side down and cook for 30 minutes.

Flip the chicken to breast side up and cook for an additional 15-20 minutes, until internal temperature is 165 degrees F. Carve and serve.
Notes
Net Carbs: 0
We made our own poultry seasoning by mixing: 
1 teaspoon sea salt
1 teaspoon herbs de provence
1/2 teaspoon garlic powder
1/2 teaspoon onion powder
¼ teaspoon rubbed sage
1/4 teaspoon fresh ground pepper
1/8 teaspoon cayenne pepper
Nutrition Facts
Air Fryer Whole Chicken
Amount Per Serving
Calories 356 Calories from Fat 243
% Daily Value*
Fat 27g42%
Saturated Fat 7g35%
Trans Fat 1g
Cholesterol 109mg36%
Sodium 683mg28%
Potassium 283mg8%
Carbohydrates 1g0%
Fiber 1g4%
Sugar 1g1%
Protein 27g54%
Vitamin A 223IU4%
Vitamin C 2mg2%
Calcium 24mg2%
Iron 2mg11%
* Percent Daily Values are based on a 2000 calorie diet.
Written By