You may have seen the recipe for Keto Egg Roll In A Bowl floating around a lot on the internet. It's one of my favorite meals, so I had to make my own take on it! It's super simple to make, takes less than 30 minutes to prepare, and only uses one pan. Clean up is easy! We gave it an Asian flare since that is our favorite flavor profile, but you are welcome to customize it however you'd like!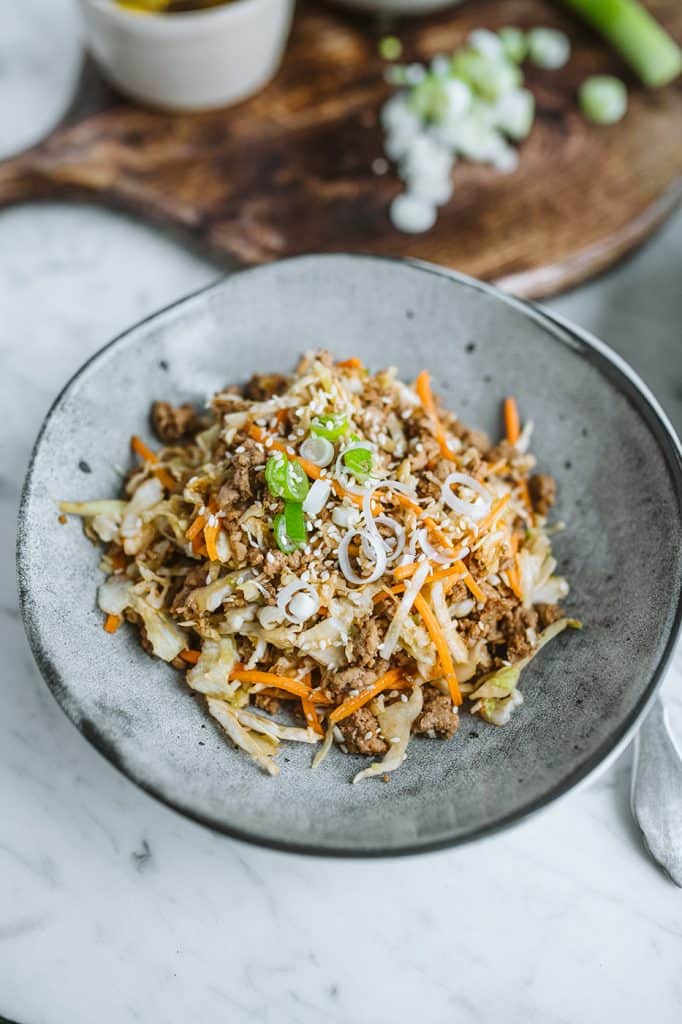 What is Egg Roll in a Bowl
Egg roll in a bowl, also known as "crack slaw" is an Asian dish turned keto. We transformed high carb egg rolls into a low carb extra flavorful dish, dare I say more flavorful than the original?… This recipe has a stir fry like base made of cabbage, ground pork, and sesame oil. It is a super easy recipe that can be done in under 30 minutes.
Stir fry's are also great options for those who meal prep or are cooking for a crowd. They store well, are super filling, and of course, are super fast! Some of our other stir fry based favorites are this chicken stir fry and our easy keto cashew chicken.
Are Egg Roll Wrappers Keto?
This low carb egg roll in a bowl omits the traditional wonton wrappers which are NOT low carb. Per wrapper it is 4-8g of carbs. That is just one wrapper, imagine eating 3 or 4. Before you know it you would have gone over your net carb limit for the day.
Egg roll wrappers are also made of a base of primarily wheat. There is a little bit of egg, but mainly wheat making them not ideal for a low inflammation diet like keto.
That is why we came up with a keto egg roll in a bowl recipe. It gives you tons of Asian flavors and a variety of textures without the carbs. Trust us, with this keto recipe you won't even miss the wrapper.
Are There Eggs in Egg Rolls?
Egg rolls do not actually contain eggs, however the wrapper on egg rolls do. Originally a batter was created with eggs and cooked into very thin crepe like wrappers. These mainly egg based wrappers would wrap the cabbage and meat filling. This is where the egg roll name originally came from.
We do love to put eggs on top of our egg roll in a bowl though because it adds extra flavor and a nice crispy texture. We try to make our keto recipes with a plentiful serving size to keep you fuller for longer. Eggs are super satiating and a great way to bump up the satiety factor of this meal.
Picking a Protein
The protein you use in this easy egg roll bowl is up to you. Some people love ground chicken, and others ground beef. The biggest note is that whichever protein you choose there may be a few additional ingredients required.
Ground beef and ground pork are fattier meats so the dish will stay moist. However lean proteins like ground turkey tend to dry out, so you may want to add a little extra sesame oil or olive oil into the mix. If you aren't worried about the net carbs you can also add a little extra coconut aminos or a splash of rice wine vinegar for moisture.
Protein Options
Again this "keto crack slaw" as some call it, is all up to you. Change up the proteins however you'd like to make your ideal meal. Some options are:
Ground Pork
Ground Beef
Ground Turkey
Ground Chicken
Seasoned and Cooked Salmon Fillet- Make the crack slaw veggies with chili sauce or sriracha like normal. Then just top the shredded cabbage with green onions, cooked salmon, and toasted sesame oil
For this recipe we used ground pork because we felt it gave the best all around texture and flavor. Play around with proteins to find your favorite!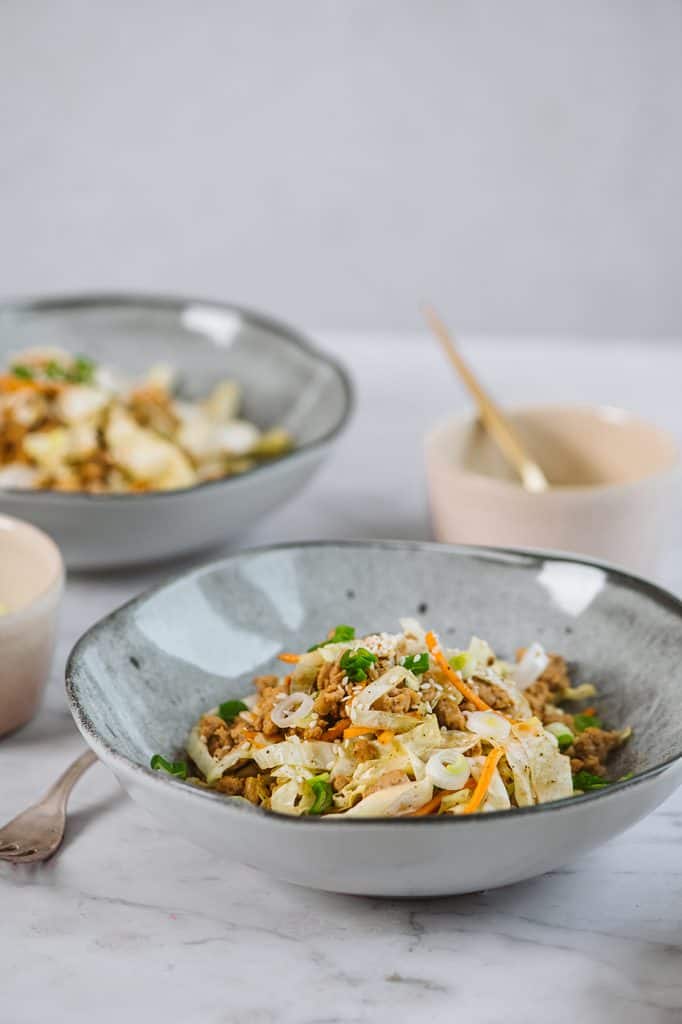 Tips for Making Keto Friendly Egg Roll in a Bowl
With tons of possible keto combinations, this recipe makes the perfect base to add whatever proteins you crave. Follow these tips to make one of our all time favorite keto dinner recipes perfect every time.
Use Garlic and Ginger
Garlic and ginger are the components that give this dish its Asian flavor. If possible we always recommend using fresh garlic and fresh ginger, but powdered versions will work as well.
Pro Tip: Store ginger root in the freezer. That way it lasts for 3-6 months and you can grate it into your dishes straight out of the freezer.
Coleslaw Mix Works Best
Most stores sell pre-made coleslaw mix that is perfect for this dish. These usually have a mix of different types of cabbage as well as a few other vegetables (usually carrots). If you can't find it then just get a full head of cabbage and a couple of carrots instead. It goes without saying but, don't buy cabbage or coleslaw mix that has a dressing on it…
Gluten Free AND Soy Free!?
As you probably already know soy sauce is made from soybeans, which many people on a ketogenic diet try to avoid. Did you know soy sauce also contains gluten?
The perfect way to make this recipe gluten and soy free is to switch out the soy sauce for coconut aminos. Coconut aminos are made by fermenting the sap of the coconut blossom. Coconut aminos do contain some sugar, but the flavor is so strong you only need a few tablespoons worth.
If you prefer traditional soy sauce flavor go ahead and pick up some gluten free soy sauce like tamari to avoid the wheat. Either way coconut aminos and soy sauce will make a delicious keto egg roll in a bowl!
Add Some Spice
Egg roll in a bowl is all about the contrast between spicy and sweet. To add spice to this recipe you can use whatever your preferred hot sauce or spicy seasoning mix is. Some of our favorites are:
Spicy
Sriracha– An Asian classic that makes this dish really taste authentic with minimal work.
Fresh jalapeños- Make sure to cut these with gloves or wash your hands well after. Jalapeños are so spicy they will burn your eyes if you touch them after cutting.
Chili Garlic Sauce– This stuff is spicy! A little chili sauce goes a long way in really flavoring up a low carb egg roll.
Sweet
Coconut Aminos- This sweet coconut sap is sure to pack flavor and that sweet and spicy combo you want
Liquid Stevia- A few drops of liquid stevia is enough to really sweeten up the dish for a good balance.
The next time you make this recipe you'll be able to pick and choose your favorites, making your perfect egg roll in a bowl.
Use a Hot Skillet
It's important to use high heat to get some browning on the meat, otherwise you will not have much texture in the finished dish. Adding the vegetables will make it hard to get any color on the meat, so make sure you get the meat cooked to your liking before adding the vegetables. You also add 2 tbsp of chicken broth to help keep the meat moist so no worries there!
Use Meat With a High Fat Content
Or add extra fat if you are using a leaner type of ground meat like ground turkey. The beauty of this recipe is that the vegetables soak up all the fat and flavor. If you decide to go with ground turkey or ground chicken you may want to add a couple tablespoons of additional fat. I would recommend coconut oil or ghee.
Don't Play By The Rules
Have some fun in the kitchen. This is the perfect recipe to get experimental because you really can't mess it up. Add some of your favorite ingredients and try out new flavors!
Sesame Oil Makes a Difference
If there is a single ingredient in this recipe that you probably shouldn't leave out it is the sesame oil. This is an oil you add at the end which brings the dish together. It has an unmistakable flavor that you've come to expect from classic Asian recipes. Don't forget some sesame seeds too! Sesame seeds add a lovely crunch and texture to the finished product.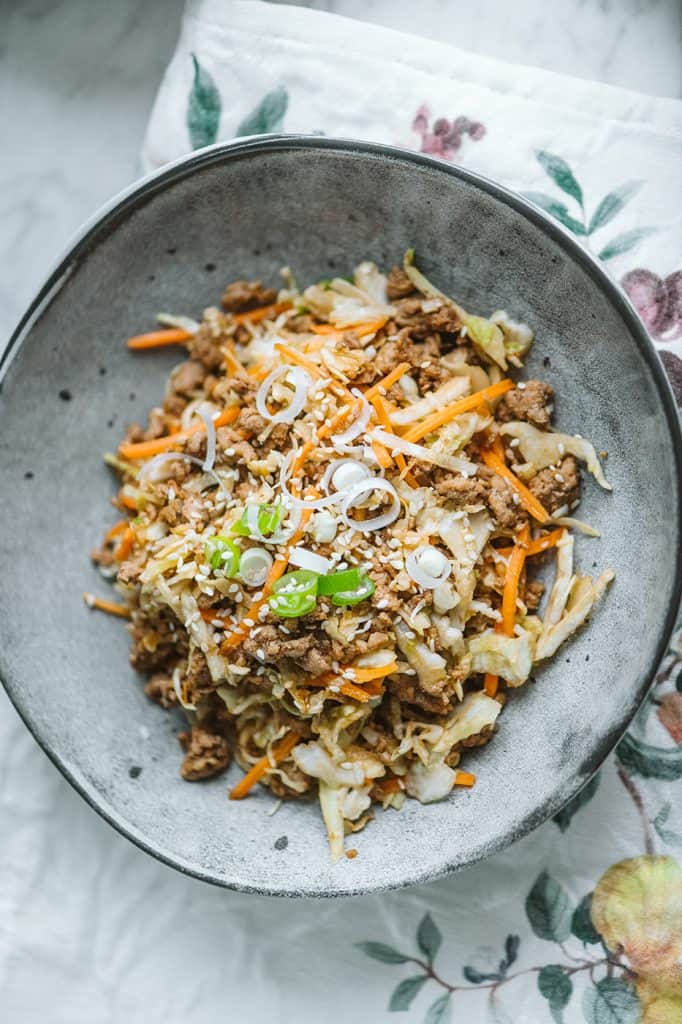 Filling up Egg Roll in a Bowl
We like to keep our recipe fairly traditional with coleslaw mix, meat, and sesame oil. Depending on your allotted carbs and preferences though, egg roll in a bowl can really be customized to you. Keto recipes like this allow for many swaps and additions depending on your goals. Some of our favorite keto egg roll in a bowl mix-ins are:
Sliced bell peppers- Your serving size of bell peppers would need to be smaller for carbs sake, but the next time you make your egg roll in a bowl try tossing in a handful of sliced peppers to the mix. They add crunch, sweetness, and a fresh veggie element
Carrots- If you're using a coleslaw mix this may not be applicable, but if you are working from scratch add in some carrots. We love lots of crunchy carrots, just make sure the serving size fits your unique carb goals.
Onion- Thinly sliced onion adds a nice caramelized sweetness to the recipe. This will definitely up the carbs in your nutrition facts for keto though, so it may be best to only include onions if you're paleo.
There is nothing quite like a full hearty egg roll in a bowl for dinner. It is a low carb option that will keep you full and satisfied for hours. Cabbage and other veggies you add will bump up the fiber content slowing the digestion so you stay fuller for longer(1).
Garnishing Egg Roll in a Bowl
Garnishes make a huge difference in the end product of an egg roll in a bowl. They will add additional texture and freshness to the meal. Some people love green onions for a bright fresh flavor, and others freshly sliced jalapeños. Your toppings are up to you, but some of our favorites are:
Sesame oil- Sesame oil brings an authentic flavor you look for in egg rolls
Green onions- Green onion is a keto way to add a little extra flavor and punch without too many carbs. Green onion is also lower in net carbs than your traditional red onion making it the perfect addition to this bowl
Egg- I know this is egg roll in a bowl, but topping your bowl with a fried egg really adds another great layer of flavor. Plus who doesn't love a runny yolk?
No matter which garnish you choose for your easy to make keto egg roll in a bowl recipe, we know you'll be happy. The next time you make this recipe play around with new toppings to find your favorite!
Can I Eat Egg Rolls on Keto?
Sadly no, egg rolls are NOT keto. Each egg roll has 25g of carbs and 24g of net carbs. Even though they are definitely not keto this egg roll in a bowl is. We've dropped the carb count so low you'll be able to eat two bowls and still be in you carb limit. Per serving of this recipe there are only 4.75 net carbs. So don't wait any longer, get into the kitchen and start making this recipe today!
How to Make Keto Egg Roll in a Bowl
This recipe is easy and delicious requiring only 10 minutes cook time, and 12 minutes total time. It will remind you of those tasty egg rolls you remember without all the carbs.
Ingredients
The base of this recipe is shredded cabbage and meat. We used ground pork along with shredded cabbage/ coleslaw mix. If you can't find coleslaw mix you can use broccoli slaw instead. Broccoli slaw does have a bit more crunch and a bit of a different flavor, but you can use whichever you prefer!
For sauces and seasonings we used liquid aminos, chicken broth or bone broth, garlic, ginger, and sriracha. All of these ingredients work great in low carb recipes, but when combined together make a super tasty keto/paleo egg roll in a bowl.
Finally to top this "crack slaw" you'll need sesame oil, sliced green onions, and sesame seeds. Trust us the whole family will be going up for seconds when they taste all this flavor.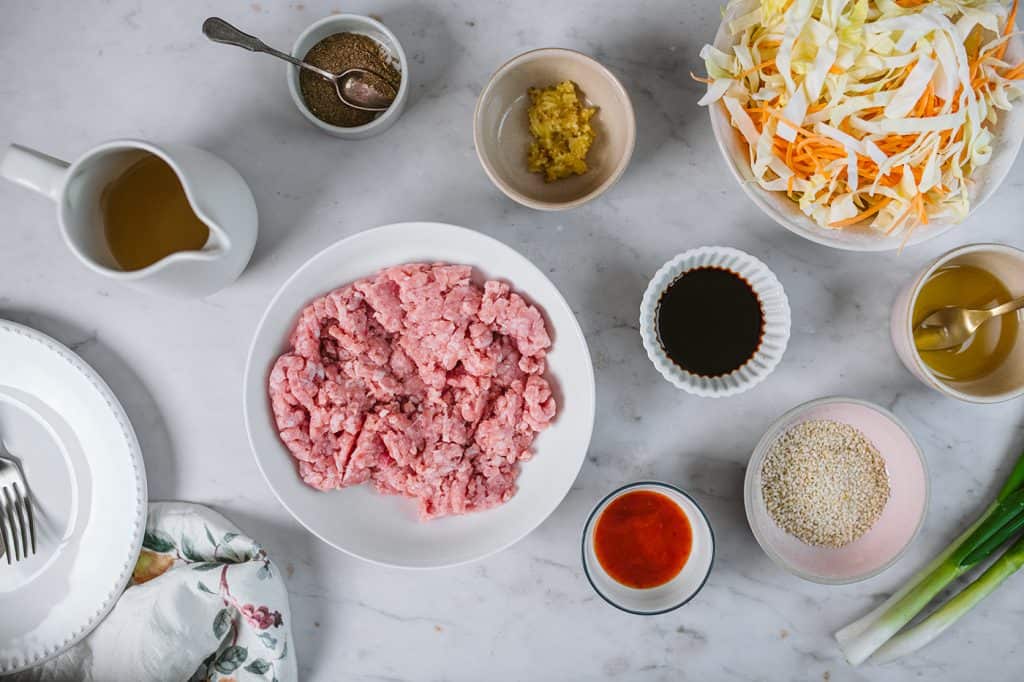 Putting it Together
This easy to make keto crack slaw comes together in 15 minutes and only has a 5 minute prep time. It's a super easy keto recipe to make for your whole family that's packed with flavor. The next time you make your family meal plan, this keto egg roll in a bowl should definitely be on it!
To cook your egg roll in a bowl recipe, begin by heating a large skillet over medium high heat. Cook your ground pork in the pan, breaking it apart as it cooks.
Once the ground meat is cooked, add in the liquid aminos and chicken broth. Now's the time to add your spices like garlic, ginger, and whatever spicy element you prefer.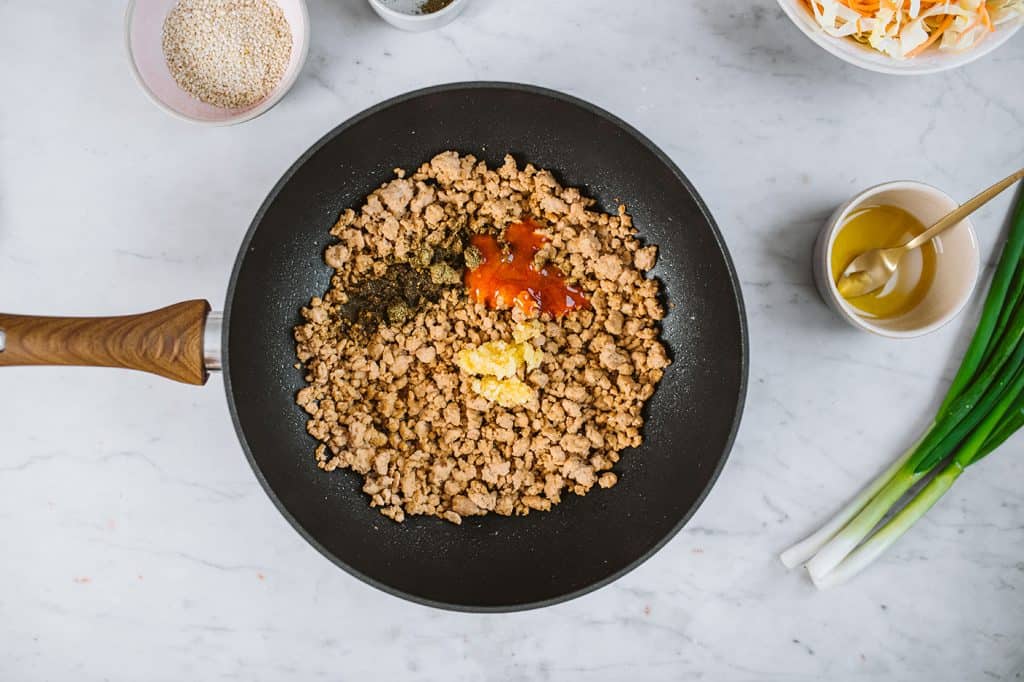 Now add in the low carb/ keto cabbage or coleslaw mix. You want your keto egg roll in a bowl to have a nice base so don't be afraid to add in some extra cabbage or carrots if you want more volume. Cook the cabbage until it has begun to wilt.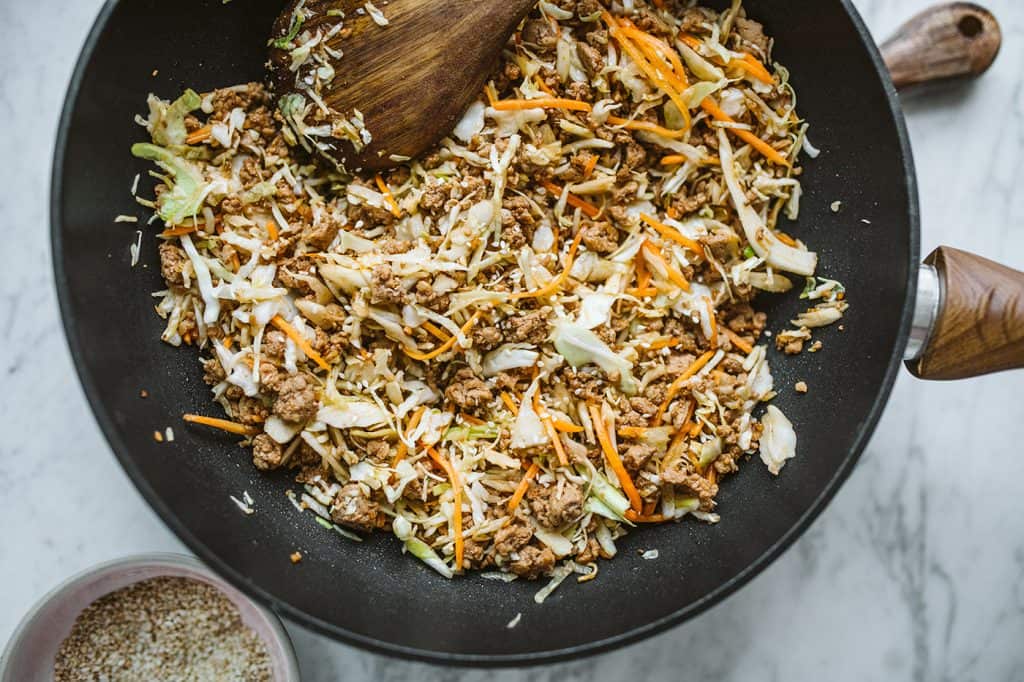 Now add your favorite toppings. We love sesame seeds, fresh green onions, and sesame oil. If you want to make egg roll in a bowl keto you just need a few minutes and quality ingredients!
Storing
This recipe stores and reheats very well. It is one of those recipes that actually taste better the next day too, because the sauce's flavors have time to marinate. If you want to make this recipe ahead of time just make sure to store it in an airtight container inside the fridge. We recommend eating all the leftovers within 5 days, but know they probably won't last that long…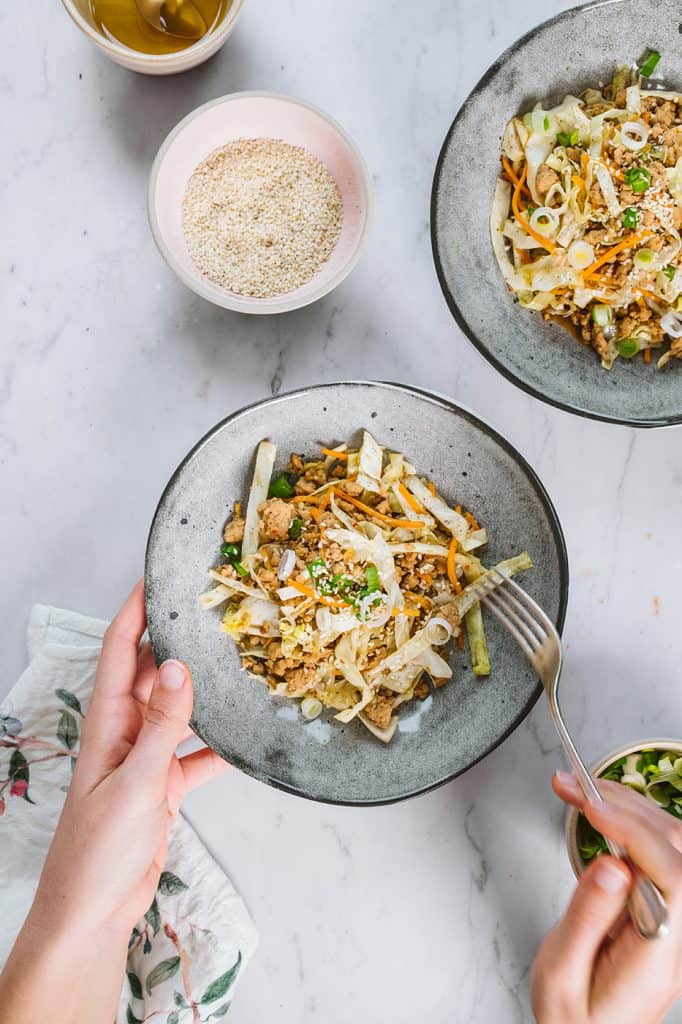 What to Eat With Egg Roll in a Bowl
This bowl is pretty much a meal in itself. There's protein, fat, and fiber a hunger crushing combination. If you're still hungry though try our keto meatloaf with your remaining ground beef. It takes 10 minutes to make and is packed with quality ingredients.
Rounding out the Night
If you're looking for something sweet to round out the night don't worry. We have tons of keto recipes that are perfect to curb that sweet tooth. Try our:
No Bake Keto Cheesecake – Nothing compliments a satisfying dinner like a rich and creamy dessert.
Keto Chocolate Chip Cookies – There's nothing quite like a soft batched chocolate chip cookie to really warm you up. Try this recipe with coffee or tea for a nice balance of sweetness to coffee's bitter flavor.
Keto Peanut Butter Cookies – You won't find a cookie recipe easier than this one. Just 3 ingredients are needed to board the train to peanut butter town!
These are just a few of our many keto dessert recipes. Check out other recipes on the desserts tab of our website!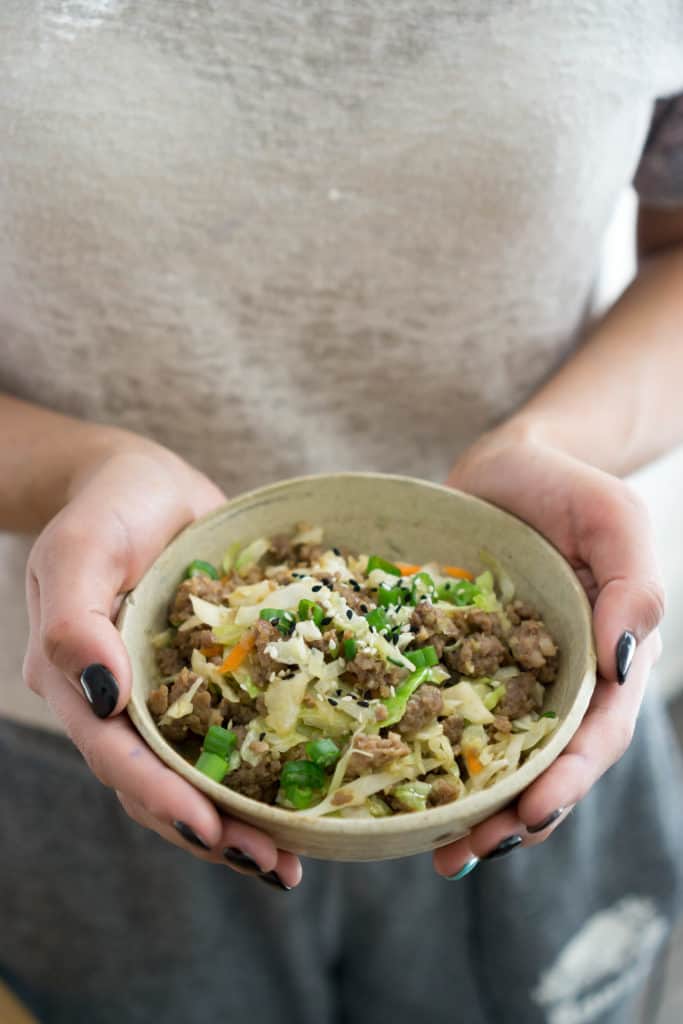 Need Low Carb Asian Recipes?
Since being on a keto diet, the food that we miss the most is Asian foods, from Chinese to Indian. So of course, we had no choice but to create low-carb versions of our favorite dishes. This recipe is the remake of egg rolls, but we also have low carb cashew chicken, chicken saag and keto butter chicken that hits the spot every time we are thinking of take-out!
Easy Egg Roll In A Bowl
If there is any recipe on our site I can guarantee you will love, it has to be this one. It's seriously addicting and will quickly become a staple due to the flavor profiles and convenience of whipping it up in under 15 minutes. Plus when it's all in one pan easy keto recipes couldn't get any better. You can also go wild with flavors and up the spice, ginger or soy sauce levels. I've provided my perfect ratios of all the ingredients below, but honestly any way you make this egg roll in a bowl recipe will be delicious!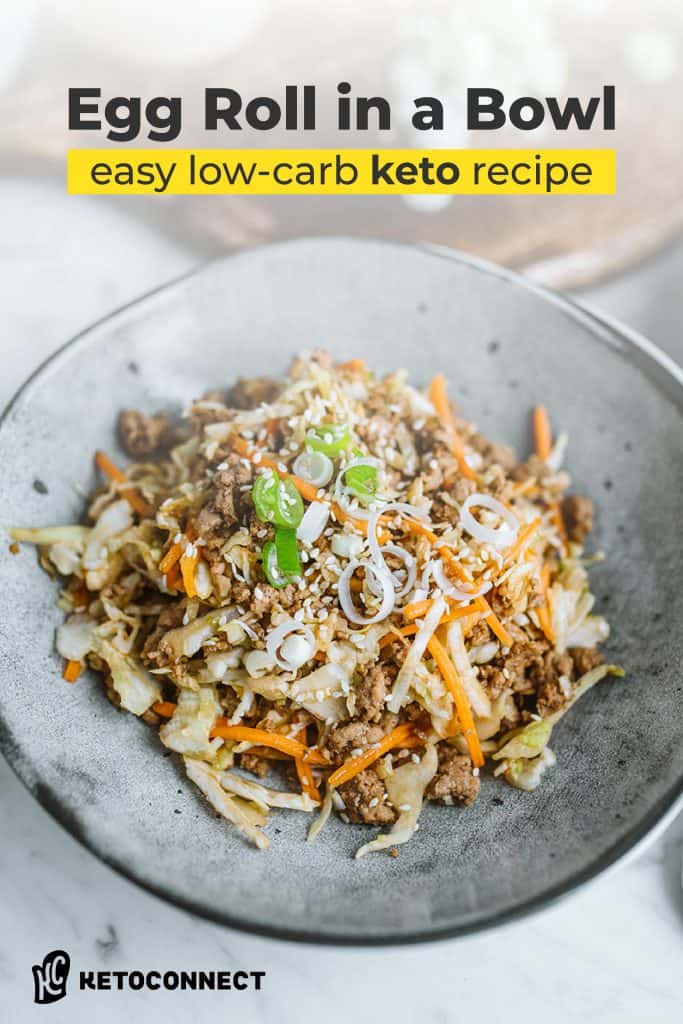 Recipe can be quickly added to MyFitnessPal – Search "KetoConnect – Keto Egg Roll In A Bowl"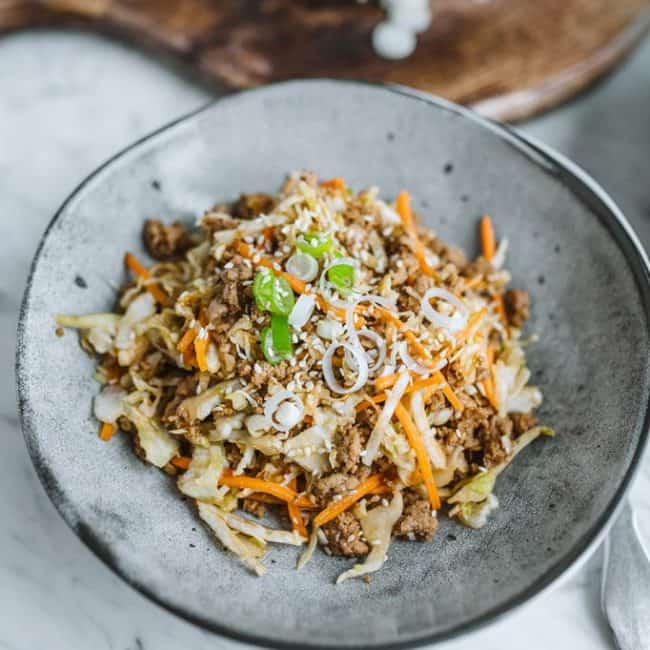 Keto Egg Roll In A Bowl
This delicious bowl is low in carbs, but full of Asian flavor. A little sweet and spicy to bring the perfect balance of flavors.
Total Time 12 minutes
Servings 4 servings
Calories per serving 310kcal
Prep Time: 2 minutes
Cook Time: 10 minutes
Instructions:
Heat a large skillet to medium-high heat. Once hot add in the ground pork. Using a spatula break up the chunks of meat and cook all the way through.

Add in the liquid aminos, and chicken broth and stir to combine.

Add in the minced garlic, ground ginger and sriracha and combine. Allow to cook for 1-2 minutes as the liquid reduces.

Add in 12 ounces of cabbage (we buy plain cole slaw mix) and stir to combine coating all the cabbage in the liquid and seasonings. Once the cabbage has wilted to your liking remove from heat. For more crunch combine and immediately remove from heat, for less crunch cook down for 2-3 minutes.

Drizzle with sesame oil and garnish with minced scallions and sesame seeds, if desired. Enjoy!
Notes
Net Carbs: 4.75g Note: The less cabbage you use, the lower the total and net carbs will be!
Nutrition Facts
Keto Egg Roll In A Bowl
Amount Per Serving
Calories 310 Calories from Fat 185
% Daily Value*
Fat 20.5g32%
Carbohydrates 6.75g2%
Fiber 2g8%
Protein 23g46%
* Percent Daily Values are based on a 2000 calorie diet.
Written By