Is keto even possible in this carb filled Italian restaurant chain? It is, but not without custom modifications. Here is everything you need to know about finding Olive Garden keto options.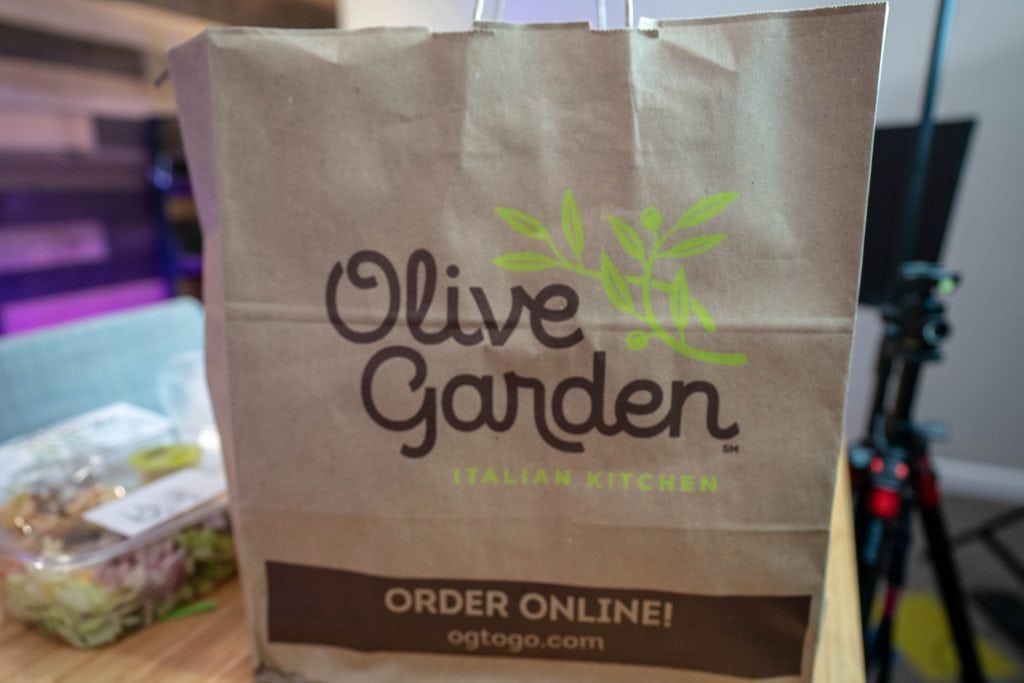 Olive Garden tends to change their menu up sometimes. It oftentimes adds a seasonal menu to the mix. They tried hard to be more keto friendly, so in the past they have introduced a dish called Zoodles Primavera, a zucchini noodle based dish with all the other toppings. But we haven't seen it in a while, and from what we know – it's not coming back.
There also used to be a Chicken Piccata and Salmon Piccata on their seasonal Mediterranean menu, but once we go to the website it says this offer is not available anymore. No brownie points for Olive Garden here, but hey, they tried!
Their current low carb friendly menu options consist of high protein and low fat meals. Not ideal for keto, but fit within the daily net carb limit. Aside from the hearty dinner options, you can choose smaller meals, like a salad or grilled chicken for lunch. Whatever you pick, remember the list of things to stay away from!
If you're craving more keto takeout options then read our list of the top 50 keto takeout options.
Can I eat keto at Olive Garden?
Olive Garden is literally THE place to go to for all things pasta. This doesn't make it a keto friendly place, especially if you're in the beginning of your journey and still get tempted to eat things you really shouldn't. Breaded menu items, pasta, five cheese ziti, high carb sauces – these are most of the dishes Olive Garden has in their repertoire.
But there's hope for all of us who vowed not to touch carbs! There is only a few low carb options you can choose from at this Italian chain restaurant. Below you'll find a list of main menu dishes and a list of ingredients you can mix up to create your own meal. Grab the famous house salad without croutons, grilled chicken, Parmesan crusted zucchini, steamed broccoli, the herb grilled salmon and more.
Again, stay away from pasta, breadsticks, high carb sauces, crusted protein, all the appetizers and salads with croutons.
Here are the best picks for keto at Olive Garden:
Chicken Margherita
No need to omit any ingredients in this dish. Since it's high in protein, it will fill you up for hours. It consists of grilled chicken breasts topped with tomatoes (you can actually omit these if you want to make it extra keto), mozzarella, basil pesto and a lemon garlic sauce. It's also served with really delicious Parmesan garlic broccoli. Some locations serve it with Parmesan crusted zucchini instead, but that depends on where you're dining.
Nutrition info: 540 calories; 27g fat; 65g protein; 14g total carbs; 8g net carbs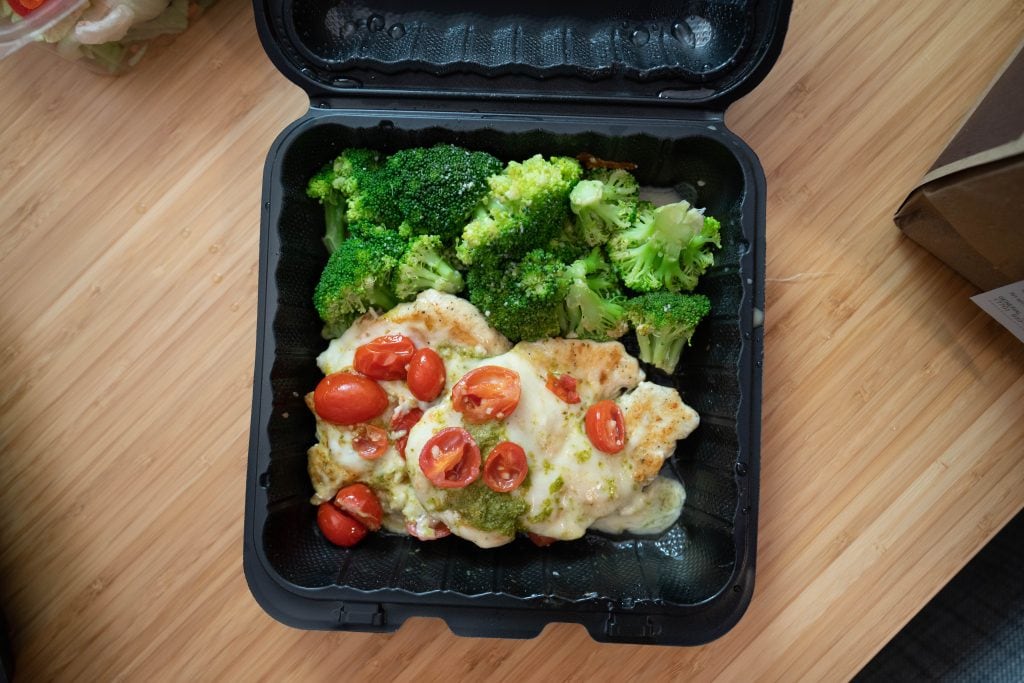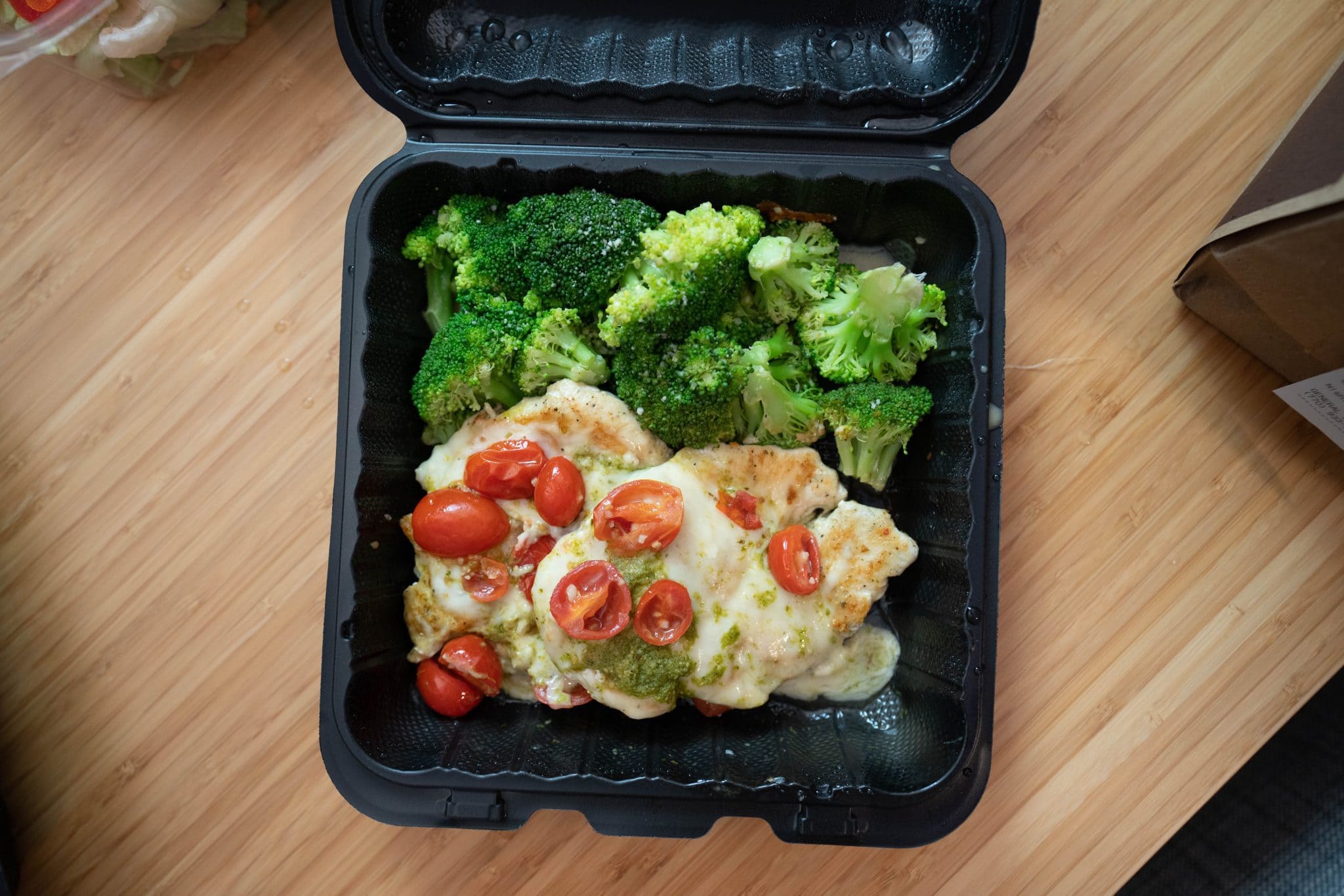 Herb Grilled Salmon
Another dish on the menu you don't need to customize to make it ketogenic. It has a grilled salmon fillet topped with garlic herb butter and it's served with Parmesan garlic broccoli. We definitely recommend it if you're not in the mood for meat or want to get an extra dose of healthy fats in your daily macros.
Nutrition info: 460 calories; 29g fat; 45g protein; 8g total carbs; 3g net carbs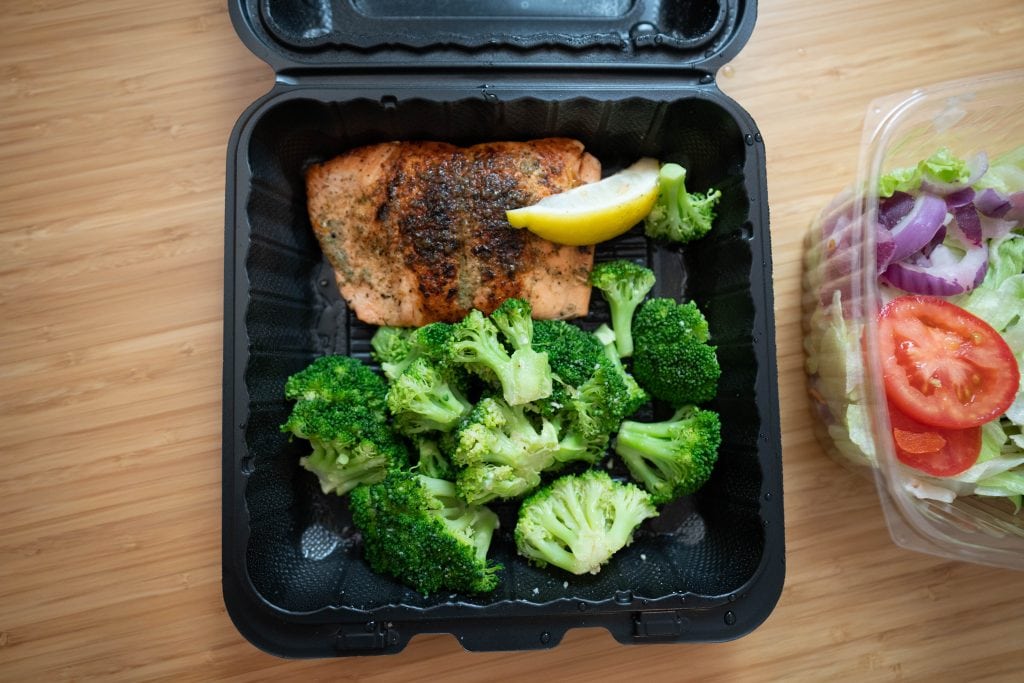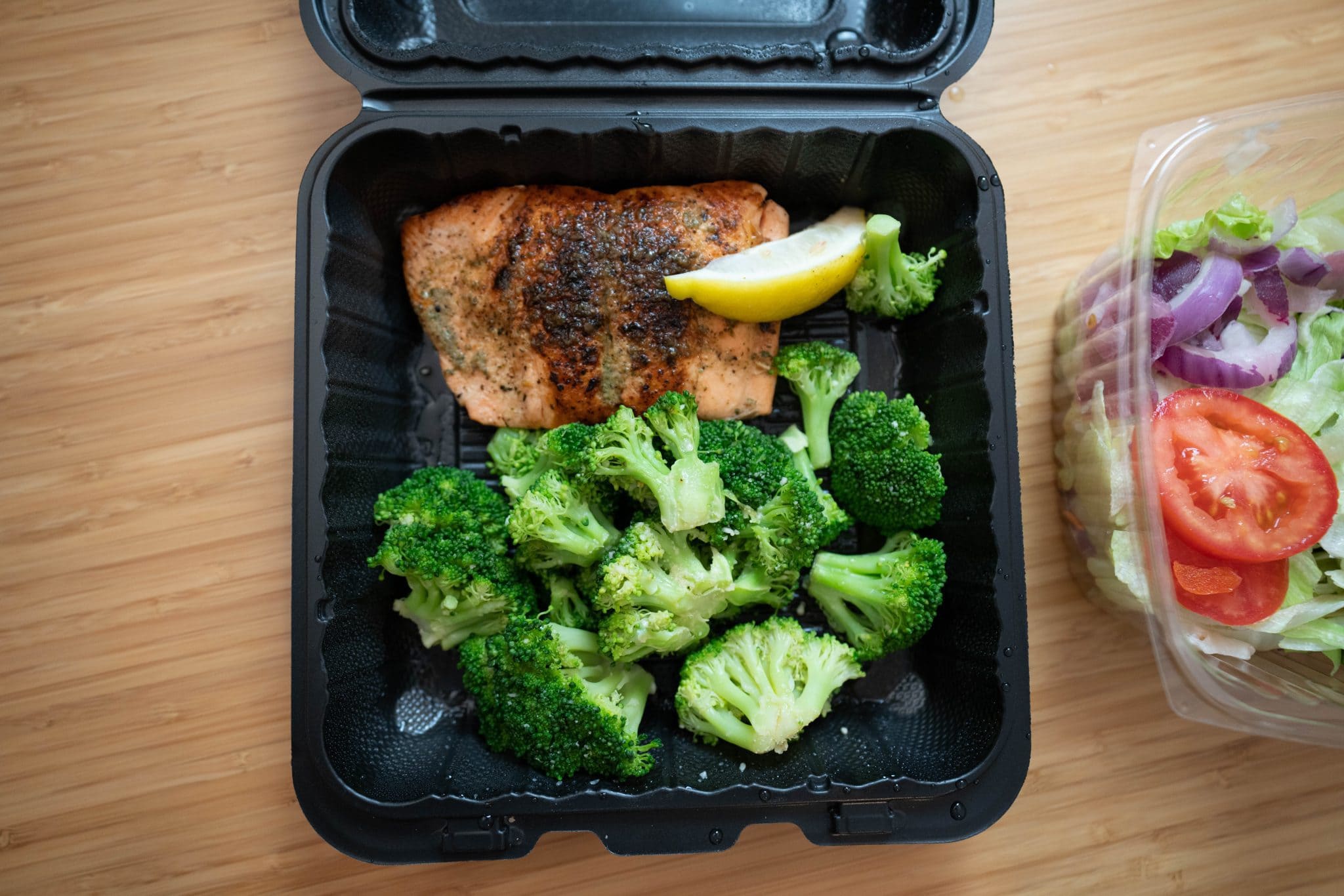 Zuppa Toscana
Even though it's a bit higher in net carbs as we would like it to be, it's still a good choice if you want something warm and comforting. It as the spicy Italian sausage, fresh kale, russet potatoes and a creamy broth. Yes, we know – the potatoes are an issue for the keto diet, but if you do decide to order it – we won't judge you since you can make it work if you limit carbs in your other meals for the rest of the day.
Nutrition info: 220 calories; 15g fat; 7g protein; 15g total carbs; 13g net carbs
Here you can find our tasty Keto Zuppa Toscana recipe!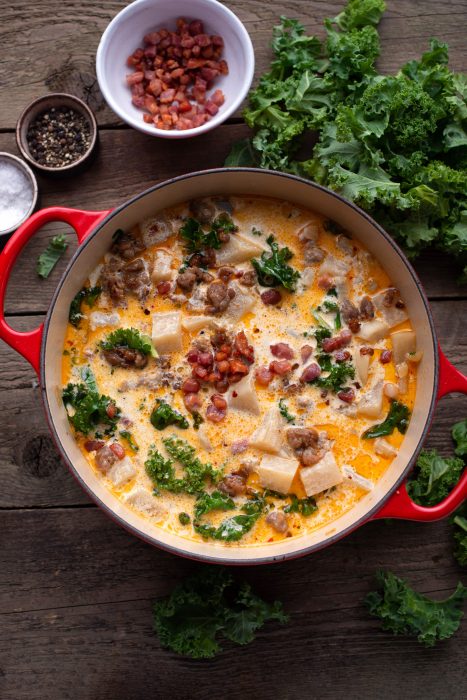 Go To The Recipe
Famous House Salad with Signature Italian Dressing (no croutons)
First things first, skip the croutons! It's usually served with breadsticks, so tell the waiter to remove them or simply toss them as far away from you as you can. It's a mixed greens salad with olives, onions, pepperoncini peppers, tomatoes and Parmesan cheese. Let's give a round of applause to their Signature Italian Dressing as well, since it's low carb and tastes awesome.
Nutrition info: 110 calories; 8g fat; 2g protein; 7g total carbs; 5g net carbs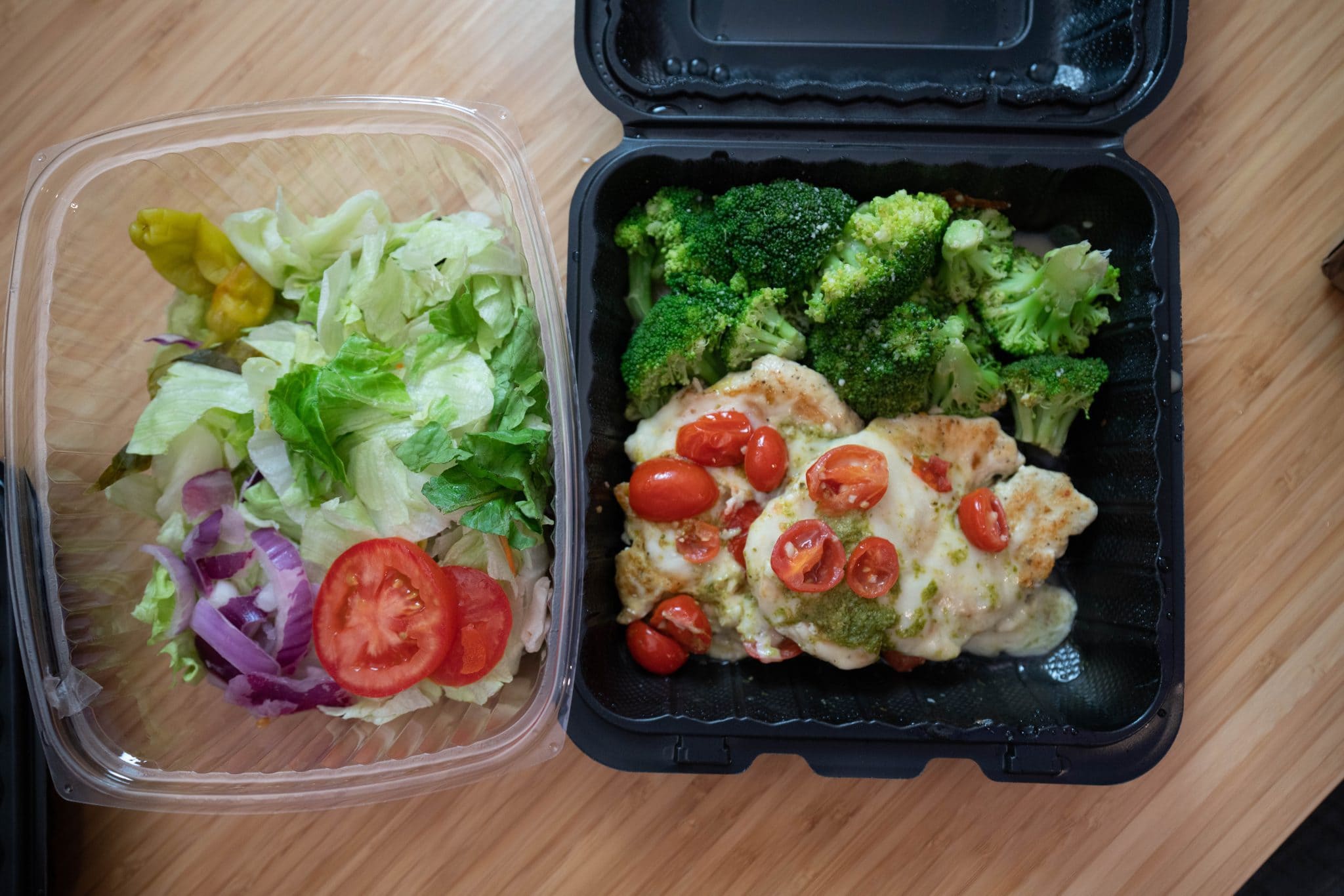 Create your own… keto dish?
Although Olive Garden isn't really keto friendly, they do have bits and pieces of low carb menu items scattered all over their menu. For example, there is a "Create Your Own Pasta" section, and you get to pick and choose your ingredients. Obviously, no pasta, but there's plenty of other items you can choose from and make your own ideal lunch or dinner option.
For example, skip the pasta but get Tuscan sirloin and a side of steamed broccoli. Since both of these are pretty low carb, you can allow yourself to order the Alfredo sauce too. The sauce on its own has 5g of net carbs, which, in that particular meal combination, fits the ketogenic diet quite well.
Italian Sausage, 2 links (470 calories; 39g fat; 27g protein; 2g total carbs; 1g net carbs)
Grilled Chicken (130 calories; 2.5g fat; 26g protein; 0g total carbs; 0g net carbs)
Tuscan Sirloin, 6 oz. (310 calories; 12g fat; 46g protein; 8g total carbs; 4g net carbs)
Meatballs, 3 pieces (480 calories; 40g fat; 23g protein; 7g total carbs; 4g net carbs)
Shrimp (60 calories; 0g fat; 14g protein; 0g total carbs; 0g net carbs)
Steamed Broccoli (35 calories; 0g fat; 4g protein; 7g total carbs; 3g net carbs)
Alfredo Sauce (440 calories; 43g fat; 8g protein; 5g total carbs; 5g net carbs)
Our final opinion
What do we think of keto at Olive Garden? It's definitely doable. Perhaps you won't get as many options as you may at other restaurants, but their "pick and choose" menu will surely help you out if you don't want to try any of the main dishes (Herb Grilled Salmon and Chicken Margherita are our top picks!). Also, here's their nutrition guide if that's something you want to explore on your own.
Eating outside the comfort of your home is never easy, especially when you are trying to limit your carbs. These are around the corner literally everywhere! Viciously hiding in chicken, sauces, and even iced tea (it's filled with sugar, remember that!).
For more ketogenic options when eating out, read our updated post on the Keto at Pizza Hut, McDonald's, Chipotle, The Cheesecake Factory, Subway, Taco Bell and more!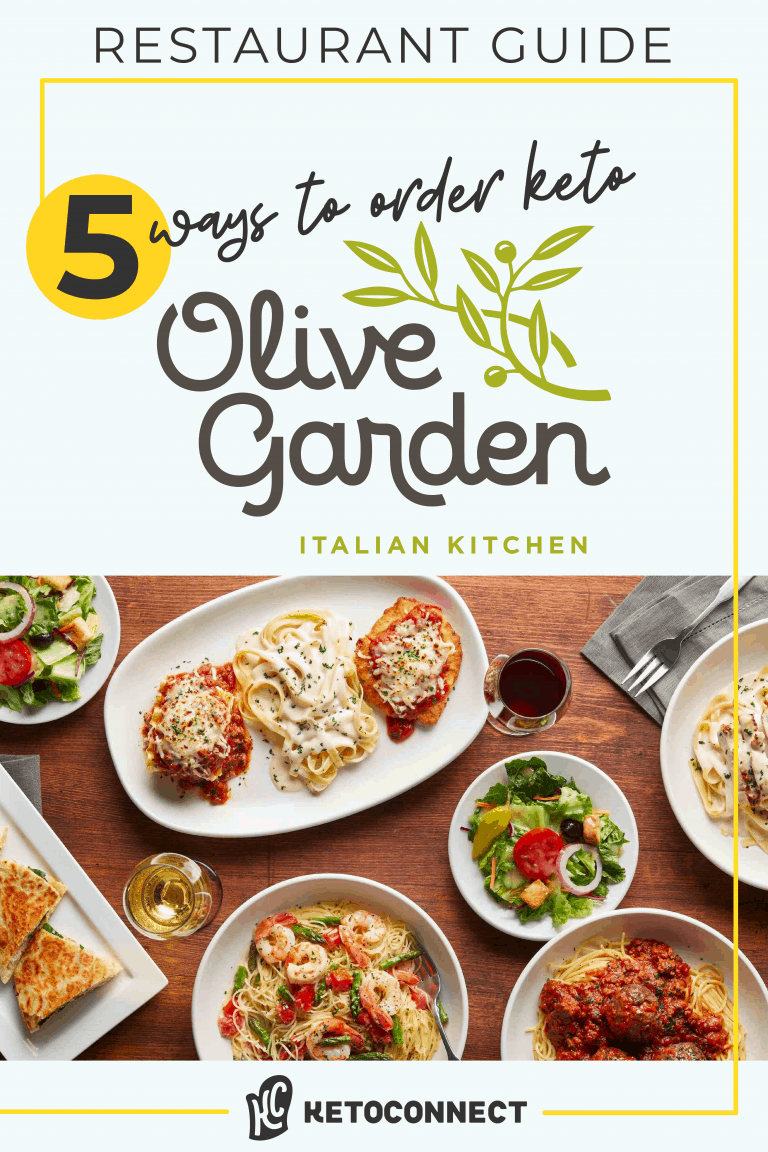 Written By