We did the impossible. We got In N Out delivery in Philadelphia. It might have cost us a pretty penny, but as the video reveals, it was a worthwhile investment. If you're a fan of In N Out burgers like we are or just want to see the hype is about and don't live near one, all you need is a willing friend who does. Ask that friend to get some ice packs, a freezer bag, order the burgers deconstructed and overnight it to your front door.
More than just A Burger Restaurant!
There is something about In N Out that is hard to describe in words. It is definitely something we believe everyone should experience once in their lives. The simplicity of the menu, the quality and taste of the food, and the low prices. What's not to love?? In N Out is more than just a burger restaurant, it's a tourist attraction, a great place for a first or twentieth date. It's family friendly and most important of all, keto friendly.
Read our full keto fast food and takeout guide for more low carb options on the road!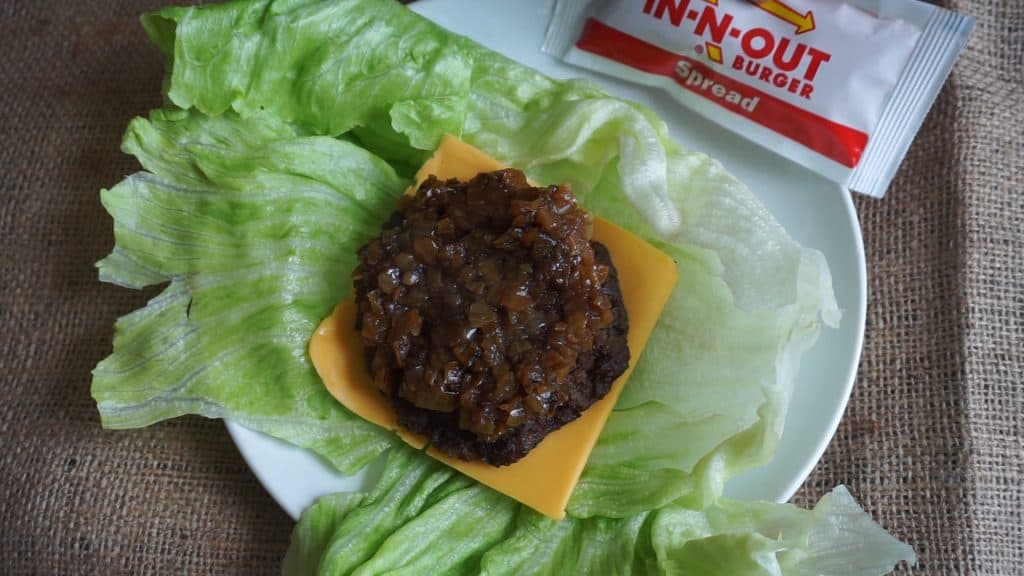 Meghas Burger
In N Out Menu
As some of your may know there is a "secret menu" which allows you to order your burger with double, triple or quadruple patties. You can also make it protein style which is what makes it the ultimate keto burger. They have a cool name for their lettuce wrapped burger – protein style. Additionally, they aren't stingy on the lettuce. It comes perfectly wrapped every single time, where as some places don't even accommodate your bun-less burger with a lettuce wrap. Matthew and I always get the same order and they are the following:
​Matthew: Protein style with three patties and three slices of cheese. He's a simple guy. Nutrition (estimate): 750 calories and 4 net carbs.
Megha: Protein style with two patties, grilled onions, tomato and two slices of cheese. Nutrition (estimate): 500 calories and 6 net carbs.
As far as other options go, there isn't much else. It is a burger place, however, so it's to be expected. If you want to take a look at the menu and nutrition yourself click on this link and plan your next trip!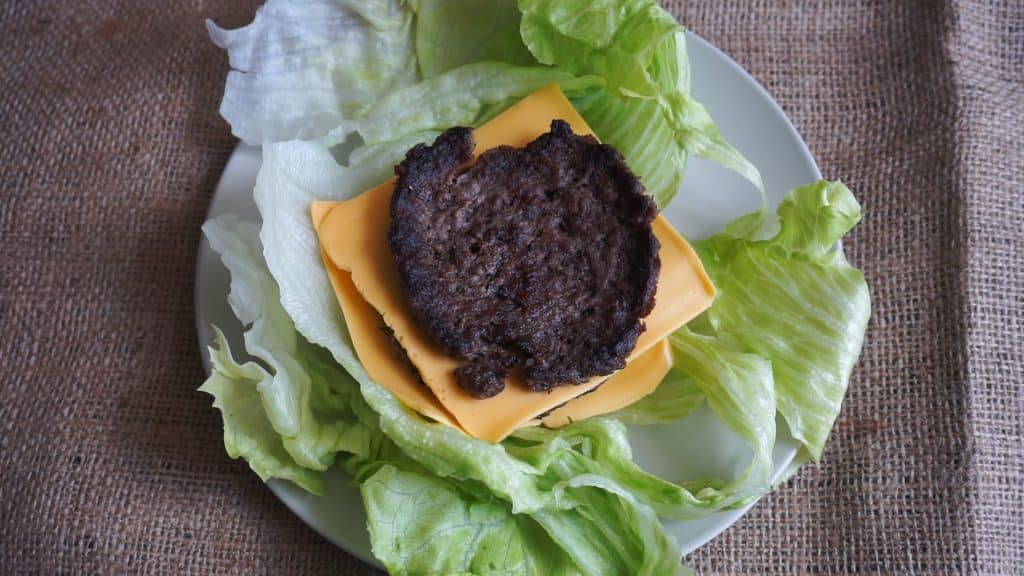 Matthews Burger
In N Out Burgers
Overall, In N Out remains one of our favorite places to get burgers. Not only is the food easily made keto friendly, but it's extremely flavorful and easy on your wallet. Make sure to stop next you drive by an In N Out.