If you love Carl's Jr aka Hardees, then you'll love this list. We've got breakfast, lunch, and dinner, all planned out so you can stay on track with Keto foods at Carl's Jr! Now you'll have no need to worry about a lack of keto options at fast food restaurants.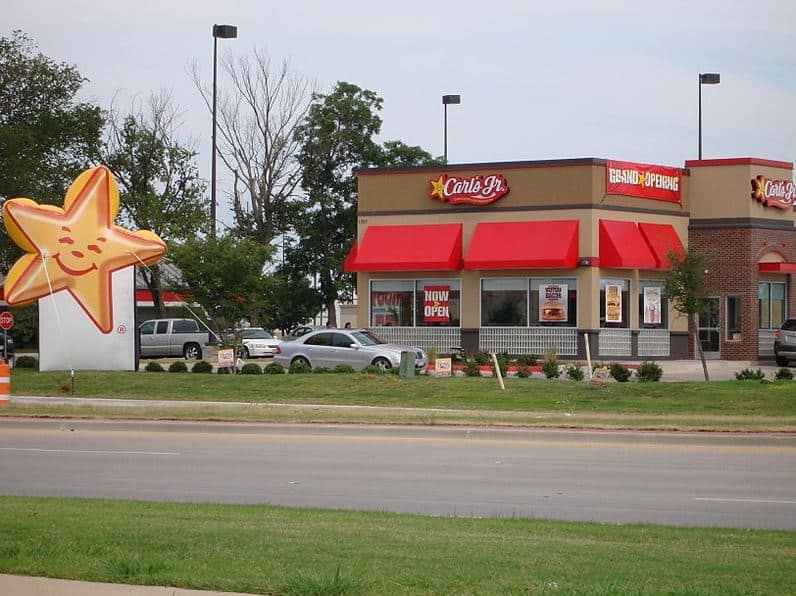 How to Eat Keto at Carl's Jr
Similar to any other fast food restaurant, eating keto can be a breeze so long as you know what to avoid on regular menu items. The key to ordering low carb items is making sure you still get enough calories for your dollar. Here are some tips to transform Carl's Jr items into keto friendly options while still getting a good bang for your buck.
Tell them you want it low carb– First make sure to specify that you don't want a bun. By telling them to make your item "low carb" they push a button telling the kitchen this is a low carb/ keto diet preference.
No bun- Start off your order by asking for no bun or tortilla. Most items come with some kind of main carb that brings up the total carbs. For a burger you can ask to have a lettuce wrap. A burrito or biscuit you can get in a bowl.
Skip the ketchup– Most original style ketchups have high fructose corn syrup or sugar. Per little packet it could be between 3-5g of sugar and carbs each. Instead or original ketchup you can try mustard or bring your own sugar free ketchup.
Sauce on the side– Not only does this help control calories, but also overall carbs. Some burger sauces and salsas can have extra sugar and hidden carbs. Ask for sauces on the side so you still have a dressing, but one you can control the portions of
Skip the fries– I know this one is difficult but most sides like fries, hash browns, onion rings, ect. are breaded and too high in carbs. Instead just ask for a side salad with a keto friendly dressing option like ranch.
Now that you know the basics for ordering fast food you are ready to know what options at Carl's Jr can be made low carb and keto. With that out of the way let's get to breakfast!
Carl's Jr Keto Breakfast Options
The best meal of the day without a doubt. Whether you fast; or just enjoy fast food, everyone will inevitably eat a "break-fast". The Hardees menu has a wide variety of foods you can turn into low carb options. Going off of the information we gave above you should become a pro at ordering in no time. So let's talk options:
Biscuits and Breakfast Sandwiches
Unfortunately freshly made biscuits while delicious, are not keto. Start by asking for no bun/ tortilla and take your pick from there:
The Monster Biscuit– Calling all breakfast sandwich lovers, The monster biscuit is the big breakfast for you: Layers of ham, eggs, bacon, sausage and cheese. This will be the most cost effective bun-less breakfast sandwich. While the monster biscuit is a little more expensive, the amount of food you get is fantastic. There is 2 maybe even 3 eggs worth of scrambled eggs and a whole sausage patty stuffed inside. Without the bun the macros are: 560 calories / 48g fat / 4g carbs / 29g protein
Loaded Omelet Biscuit– If you want a breakfast sandwich but are eating keto try this loaded omelet without the biscuit, a fluffy omelet that's even better without the bread. Crumbled sausage, bacon, ham and cheddar cheese in layers of scrambled egg. Order in a bowl and get all the yummy sausage fillings without the carbs. Per omelet minus the biscuit: 240 calories / 15g fat / 5g carbs / 13g protein
The Breakfast Burger– This menu item has a charbroiled beef patty, crispy bacon, egg, American Cheese, and Hash Rounds®. However to make this keto friendly you will need to ask for no hash rounds, no bun, and no ketchup. Per breakfast burger without sauce, bun, or hash rounds: 550 calories / 40g fat / 8g carbs / 30g protein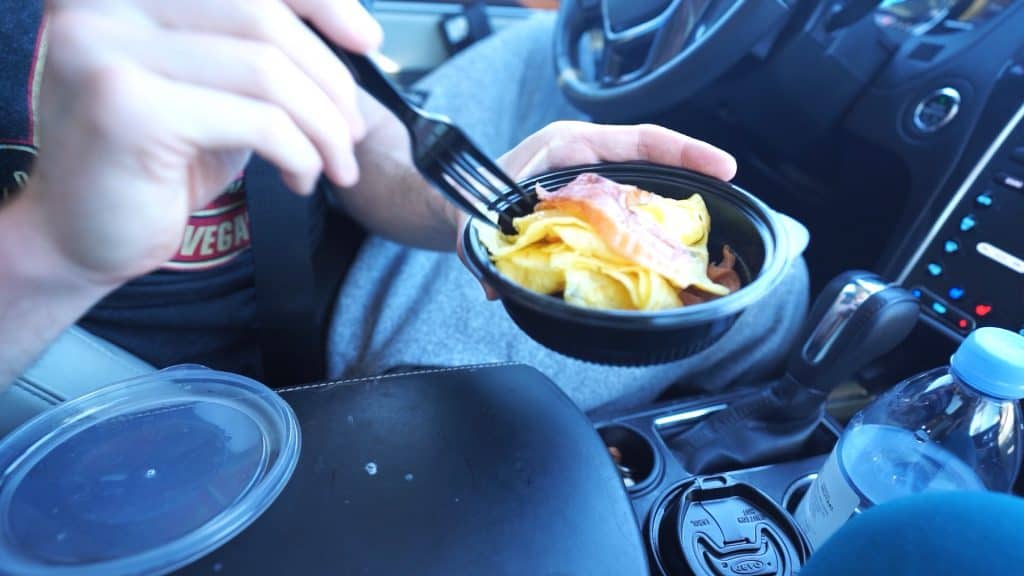 Breakfast Burritos
Prime Rib Egg Burrito– A fluffy egg burrito with tender prime rib all topped with cheddar cheese. Ask for no shell and this breakfast burrito becomes a lot more keto friendly. There is a solid amount of food in this prime rib loaded breakfast burrito bowl. Macros for each burrito BOWL: 470 calories / 36g fat / 4g carbs / 30g protein
Steak and Egg Burrito- Another no shell breakfast burrito that you can get made up in a bowl for easy eating. This egg burrito has steak, two eggs, and cheese, all topped with salsa. At Carl's Jr you can actually get guacamole as well as sour cream to up the fat on this bowl. The steak is tender and salty perfect to pair with a fluffy scrambled egg. If you're feeling bold you can even ask for double steak (there is an extra change though). Per burrito no guac or sour cream: 430 calories / 31g fat / 8g carbs / 30g protein
While the keto diet may not contain the Carl's Jr original biscuit or big breakfast sandwich, there's no doubt that these high fat options will keep you full until lunch. Now that we have this big breakfast prepared we can move on to lunch.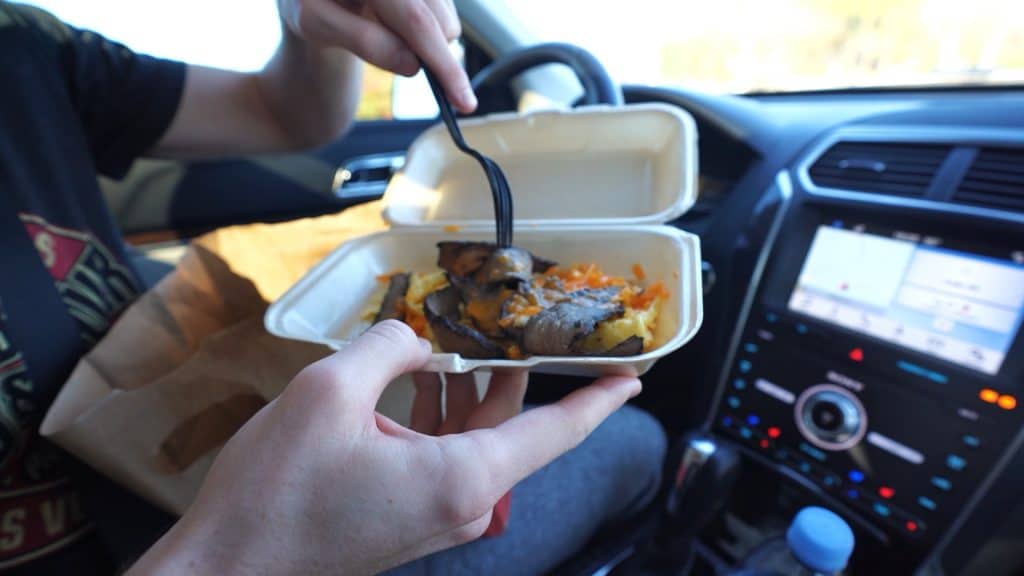 What is Keto at Carl's Jr for Lunch & Dinner?
You're halfway through the day and it's time for lunch! Carl's Jr has quite a few lunch options to satisfy many different keto palates. While lettuce wrapped breakfast sandwiches may not be the best, burgers are still delicious when wrapped! Ask for any sandwich or burger lettuce wrapped and you'll save a ton of carbs AND calories. We're going to breakdown the best burger, sandwich, and salad options, as well as talk about what to avoid. Now the next time you're at Carl's Jr, you'll know the best low carb meal to order.
The Burger Menu
As stated above Carl's Jr does do a lettuce wrap, so don't be afraid to ask! Lettuce wraps are usually made of iceberg lettuce so they hold pretty well. If you don't want your burger lettuce wrapped you can always just ask for no bun, or to put it on a salad. Obviously the original double cheeseburger is a classic so if you love a cheeseburger, just order it without the bun. We did want to give a few more fun options so here are some of the best low carb/ keto burgers at Carl's Jr:
The New Guacamole Bacon Thickburger– This isn't your average burger or even double cheeseburger. This guacamole bacon thickburger is big… packed with bacon, Pepper Jack cheese, lettuce, tomato, red onion, a 1/3 lb. angus beef patty, and Carl's Jr's house made Santa Fe Sauce. Full of healthy keto fats this guacamole bacon thickburger is the way to go. If guacamole bacon burgers aren't screaming your name I don't know what will! And don't forget to ask for the guacamole bacon thickburger lettuce wrapped. Per 1/3 lb. guacamole bacon thickburger lettuce wrap: 740 calories / 44g fat / 9g carbs / 39g protein
Jalapeño Thickburger– For those who like a spicy thickburger, try this jalapeño thickburger lettuce wrap. It's a 1/3 lb. Angus Beef patty that is topped with Pepper Jack cheese, jalapeño coins, and Santa Fe Sauce. Stuffed into an iceberg lettuce wrap this beef patty also has a refreshing crunch. Santa Fe Sauce is a little smokey and a little spicy, the perfect combination on this jalapeño thickburger lettuce wrap. Plus because the jalapeños aren't fried and crispy they are 100% good to go on keto. Each thickburger lettuce wrap burger is: 650 calories / 44g fat / 12g carbs / 43g protein
Monster Angus Thickburger– This is definitely a low carb option with the burger being primarily meat. If you're feeling like some lettuce you can go ahead and try the thickburger lettuce wrap for a little extra veg. Let's be honest though it's just iceberg lettuce so we might as well skip the thickburger lettuce wrap on this one and go in on the meat. It's made of two 1/3 lb. angus beef patties, 4 strips of crispy bacon, 3 slices of American cheese and topped with mayonnaise. Per burger it's 1050 calories / 86 g fat / 2 g carbs / 49g protein.
Like I said, the double cheeseburger is 100% keto and low carb but we wanted to spice up your options. If you do want a double cheeseburger just order it without the bun and you'll be good to go. Make sure to get everything lettuce wrapped or in a bowl to save on carbs. And if you want more fat feel free to order a double patty. Now to sandwiches!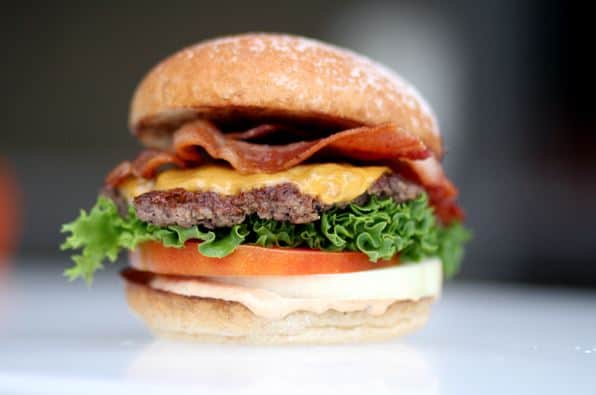 The Sandwich Menu
Sandwiches are a great option to vary your protein sources. If you eat Hardees a lot it makes more sense to eat hamburgers sometimes and chicken other times. Carl's Jr has a variety of low carb sandwiches and all you have to do is ask for no bun. Some sandwiches we love are:
Charbroiled Chicken Club– The Charbroiled chicken club sandwich comes with a grilled chicken breast that's topped with bacon, mayo, tomatoes, and gooey Swiss cheese. By asking for a low carb version or to have an iceberg lettuce wrap for the charbroiled chicken club, you save about 180 calories and 28g of carbs. Per low carb chicken sandwich there are: 340 calories / 22 g fat / 13g carbs / 24g protein.
Charbroiled Santa Fe Chicken Sandwich– This grilled chicken sandwich is packed with charbroiled chicken breast, melted American cheese, mild green chilis, lettuce and Santa Fe Sauce. Plus if you're not on a strict keto diet you can add red onion for a nice crunch. Red onion pairs well with the Santa Fe sauce and gooey American cheese. Just make sure to say no bun and instead lettuce wrapped.
Bacon Swiss Crispy Chicken Fillet Sandwich– At most Carl's Jr's you can change crispy chicken sandwiches for grilled chicken. Just ask the attendant to sub grilled chicken and have it lettuce wrapped.
These sandwiches make great low carb options that are chicken based for extra protein without too much fat for watching overall calories. We recommend looking at the menu to see what sauces are on each sandwich, then order them on the side. This way you can control the amount you consume in order to avoid too many vegetable oils which can be inflammatory. In summary stick to the sandwiches that are heavy in the meat department and order them all without the bun and sauces on the side.
Keto Salads and Sides at Carl's Jr
If the sandwich and burger menu don't have you interested there is one lighter menu option you can try. This menu option is the humble salad. I'm going to give you a breakdown of some ways to customize the salad so your order isn't boring and something you don't want to eat. A menu is a base that's open to build off of in fast food.
Charbroiled Chicken Salad– The charbroiled chicken salad is the main grilled chicken salad at Carl's Jr. It has red onion, tomato, a 4-cheese blend, and croutons on a bed of Iceberg lettuce. You can pick between a House or Balsamic Vinaigrette dressing. We recommend ordering ranch instead as a high fat option and skipping the croutons. Per salad without dressing: 310 calories / 34g fat / 7g carbs / 32g protein
Taco Salad(New) – Here's the salad for all my ground beef lovers. You have your choice between steak, ground beef, or chicken. With that there is a four-cheese blend, hot sauce, guacamole, pico de gallo, crema and cotija cheese in a crispy flour tortilla bowl. Ask for no shell and instead get it in a dish for a delicious taco/burrito bowl. Cheese and guac are perfect high fat options for a keto diet. You can even ask for just a beef patty on top instead of the other meats if you want a burger salad. If you want the highest protein to fat ratio though we recommend the steak or even a double serving of steak
Fast food can have tons of options as long as you know how to customize to your liking. Some great ideas to make your perfect new burger can simply be asking for Pepper Jack cheese instead of American Cheese or trying mayo instead of Santa Fe sauce. The menu is your… Oyster?… So get saucy with it!
Additional Menu Toppings:
Mayonnaise: 50 calories/ 5g fat/ 0g carbs/ 0g protein
American Cheese per slice: 40 calories/ 3.5g fat/ 1g carbs/ 2g protein
Bacon, 2 slices: 150 calories/ 11g fat/ 0g carbs/ 10g protein
Mustard: 5 calories/ 0g fat/ 0g carbs/ 0g protein
Red Onion (2 rings): 5 calories/ 0g fat/ 1g carbs/ 0g protein
Iceberg Lettuce: 0 calories/ 0g fat/ 0g carbs/ 0g protein
Pickles (3): 5 calories/ 0g fat/ 1g carbs/ 0g protein
Tomato (1 slice): 5 calories/ 0g fat/ 1g carb/ 0g protein
Check the Hardee's website for more nutrition information if you are unsure about something.
What to Avoid on Keto Carl's Jr
While there are tons of low carb menu options at Carl's Jr, some things just can't be made low carb. Avoid these fast food menu items to maintain an optimal low carb diet:
Anything on the menu that says crispy, fried, or battered- Normally this means breaded with wheat flour which has too many carbs
Fries and Onion Rings- This one's pretty obvious but potatoes and fried onions are not keto. The onion rings have batter (aka wheat) which has too many carbs. And a serving of just kids fries have 31g of carbs. Or a small box serving of fries has 39g.
Ketchup- Carl's Jr is not the only fast food restaurant to serve ketchup. However you should not be eating conventional ketchup on keto. It can be made with sugar, or worse be made with corn syrup which is more common in chain restaurants. There are new keto and low carb brands that make better sugar free options, but you will have to bring your own ketchup.
Hopefully this helped you break apart the menu to find what makes your perfect meal whether it be breakfast, lunch, or dinner. Carl's Jr, the famous star, or super star as some may call it can be 100% keto!
Looking for More Restaurant Guides?
If you're looking for more keto and low carb options on the road here are some of our favorite fast food restaurant guides.
Leave a comment below if there are other guides you would like to see us create.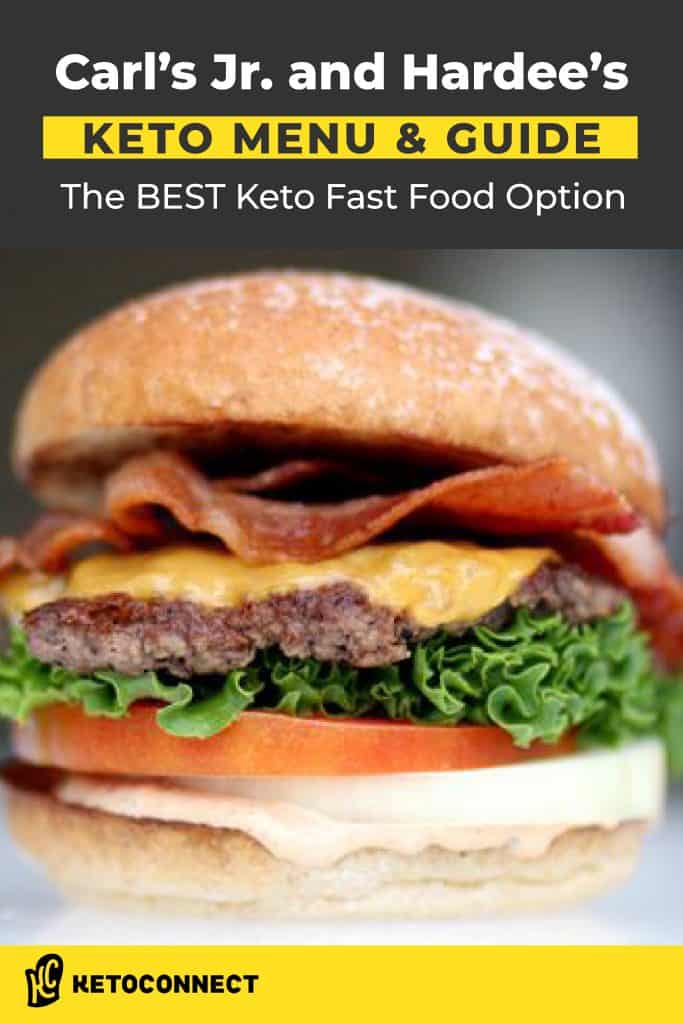 Written By