There are very few people in this world who don't love ranch. We can accept them, but we will never really understand them. So rather than bow down to the non- ranch lovers, we decided to create the best ranch dressing that ever was! We love this fresh and creamy recipe and know you will too!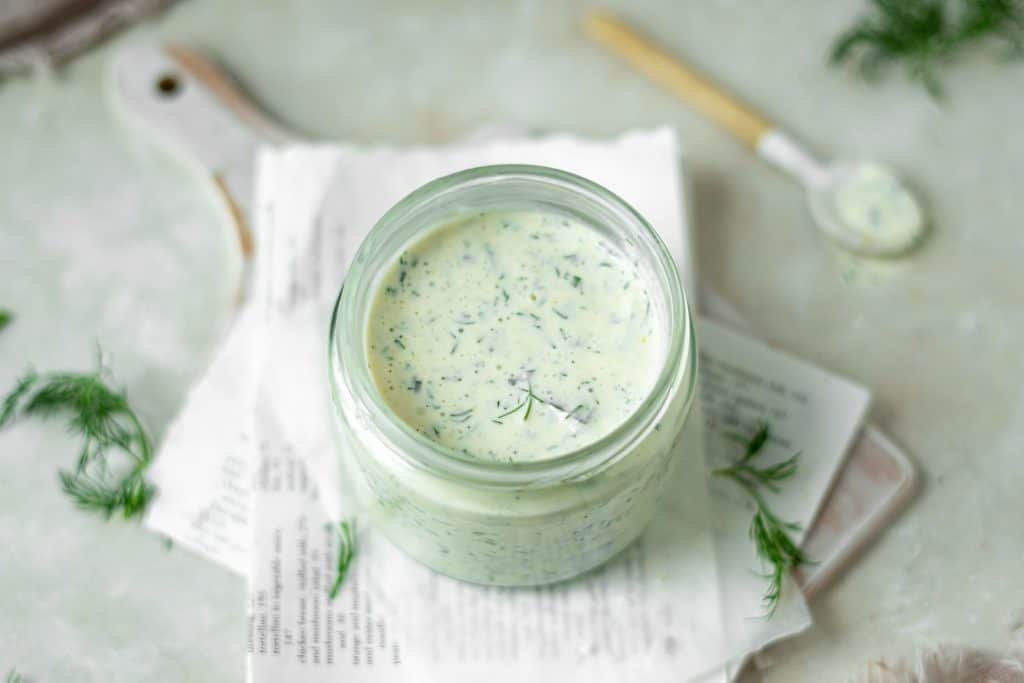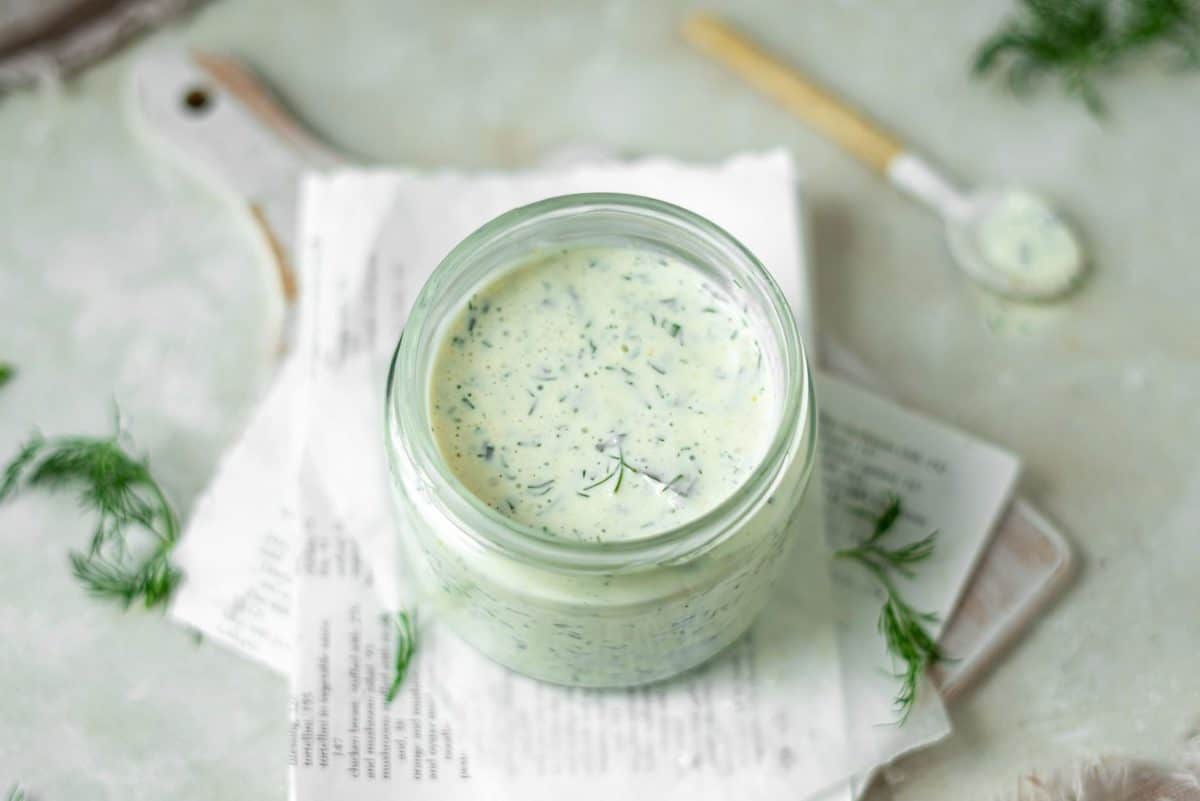 Is Ranch Dressing Keto Friendly?
Your typical store bought salad dressing may make a low carb keto option in a pinch, but it is definitely not the ideal choice. Instead, you'll always want to make a homemade ranch dressing recipe. Per serving of regular ranch dressing you are looking at 2 grams of carbs, whereas our keto ranch dressing recipe is ZERO!
Why we AVOID Regular Ranch Dressing
Store bought ranch dressing options are often packed with low quality ingredients like cheap oils and fillers. This is why we feel it is always better to make your own homemade ranch and know exactly what goes inside it.
Low Quality Oils
So what's the big deal with cheaper oils? Most often these store bought salad dressing bottles will include everything from canola oil to soybean and or cottonseed oil. Hexane is a chemical used to extract many vegetable oils from plants. This chemical can be harmful to people's health and denature the oil causing a decrease in omega 3's, and worse an increase in the possibility of trans fats(1).
The Best Store Bought Keto Ranch Dressing
We know that some people still don't love the idea of having to make their own fresh ranch, especially if it lasts just 5 days. That's why we listed a few of our favorite store bought options below. They are keto low carb choices that use high quality ingredients and herbs. Our favorites include:
Primal Kitchens Ranch– This is the OG healthy low carb ranch dressing. It's made with organic apple cider vinegar and avocado oil. Plus it's dairy free making it a great option for those who are lactose intolerant.
Sir Kensington's Ranch Dressing– This low carb keto ranch dressing is thick just like the homemade ranch dressing in this recipe post. It is made with herbs, avocado oil, and organic egg yolks. (It does have a touch of sunflower oil, but that's so far towards the bottom of the ingredients we don't mind.)
Avocado Oil Vegan Ranch from Primal Kitchen- This vegan ranch dressing is the perfect option for those looking to enjoy a dairy free easy keto grab and go dressing. It's made with 100% real avocado oil and apple cider vinegar for the healthiest base possible.
These are just some of the current best low carb ranch dressing options out there. Don't be afraid to search for even more, or continue perfecting this easy keto ranch recipe.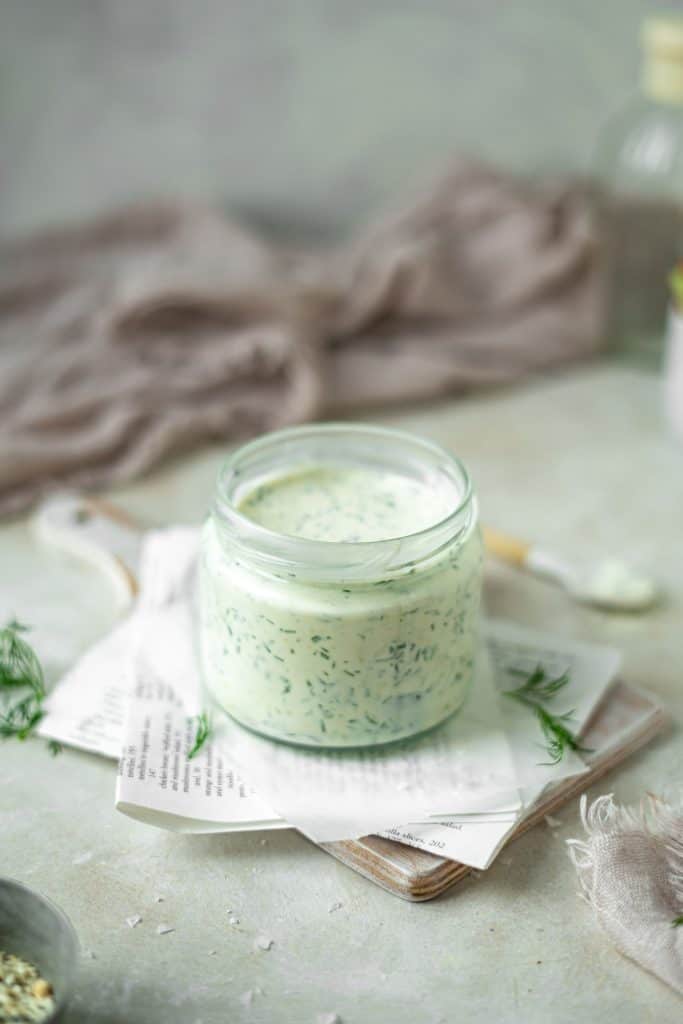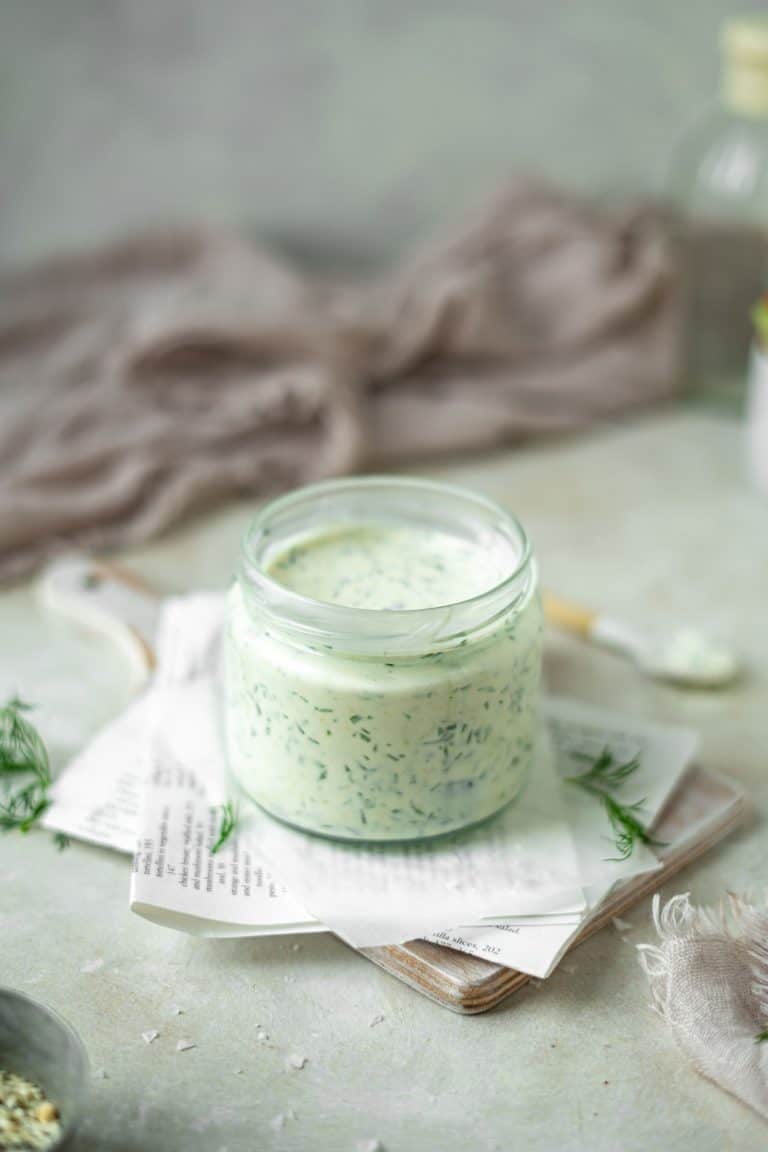 What to Use Ranch For?
Ranch is such a versatile ingredient and condiment! Those from the midwest know it's good on everything from buffalo wings to tater tots. BUT, if you were wondering what the best keto pairings are we have you covered. Some of the best and easy to make ranch buddies are:
Salad– Ranch is by far the most used condiment in salad. This sour cream based ranch makes a super creamy and thick ranch perfect for coating all your cucumbers and lettuce. Ranch also helps up the fat content of your salad so you have a dressing that isn't just fresh herbs and oil.
Wings– Like I said above wings are a great option to use with extra ranch dressing. Buffalo wings can be super hot and spicy so the creaminess from sour cream helps to cool them down.
Baked Chicken Nuggets– Both nuggets and chicken tenders make great ranch dressing dippers. Our keto chicken nuggets are easy to make and low in net carbs so you can enjoy them without any guilt.
Keto Pizza– Our easy keto pizza done in under 30 minutes is a great option to dip in freshly made ranch. The fresh herbs in ranch really enhance the pizza flavor.
There are plenty of other options to enjoy with ranch so don't feel limited to just these four. Sample different vegetables and toppings to figure out which you like best with ranch dressing. We promise this dressing will become a staple for you like it has with us.
How Long Does Homemade Ranch Last?
This homemade ranch is made from fresh ingredients like heavy whipping cream, sour cream, and fresh herbs. That means it tastes extra delicious, but sadly doesn't last as long as the shelf stable kind. If you want to make a big batch we would recommend consuming it within five days, or freezing half the batch for later.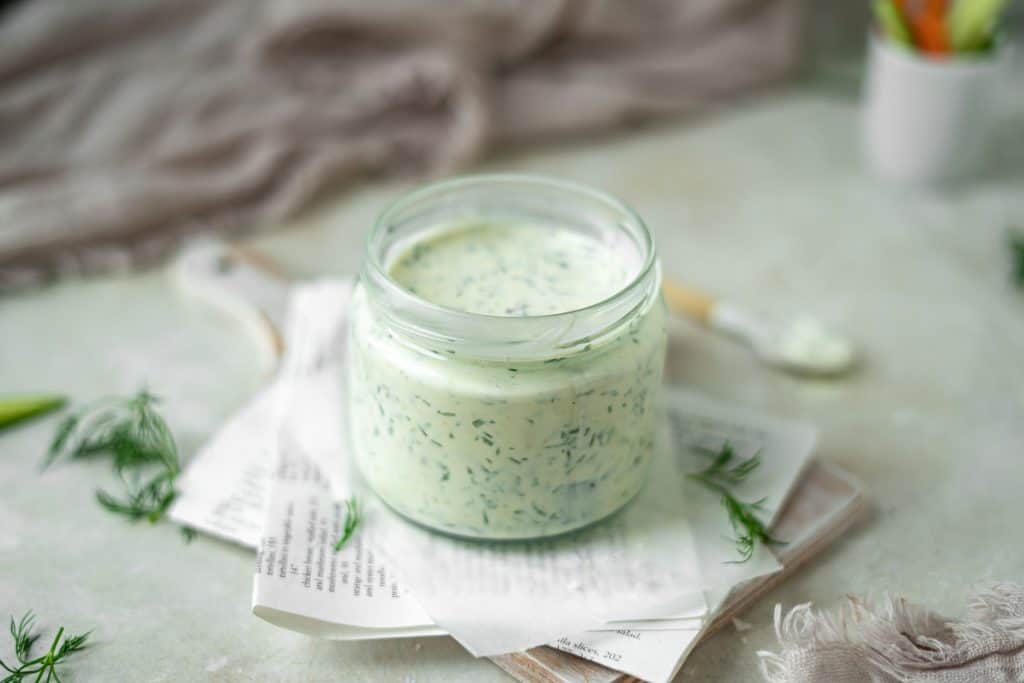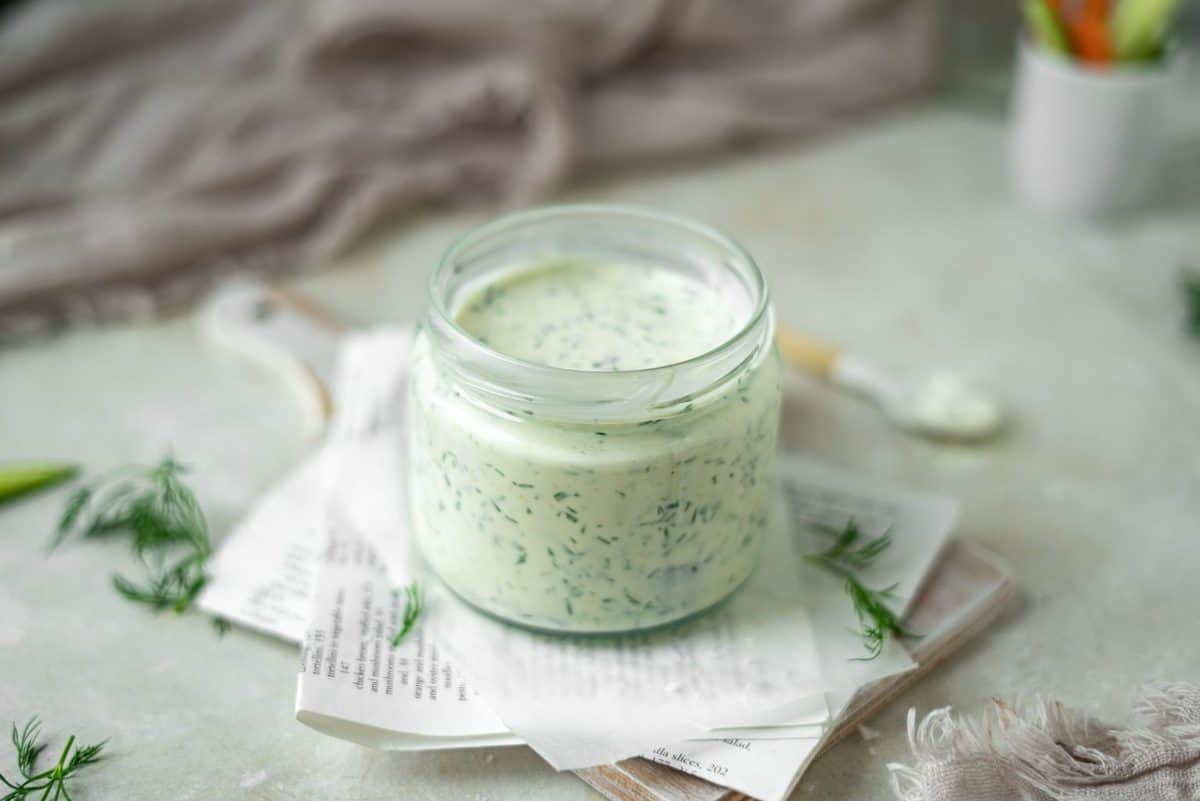 Can I Make Dairy Free Keto Ranch Dressing?
There are ways to make this keto ranch dressing dairy free, but they require more mainstream vegan products that aren't always the healthiest. Mayo is already dairy free which is great, but you would have to substitute the heavy cream and sour cream. Some substitution options include:
Subbing Heavy Cream for Coconut Cream– Coconut cream is the thick part of canned coconut milk and works great as a substitute for cream in both sweet and savory recipes.
Sub Sour Cream for Vegan Sour Cream– This can sometimes be tricky to find, but vegan sour cream or a vegan yoghurt (extra thick) will work in this recipe. Just make sure if you choose to use yoghurt it is plain and unsweetened. Trust us vanilla almond milk yoghurt is not super tasty in ranch!
Both of these swaps are viable options for their non dairy free counterparts. The key is to make this recipe keto with low carb vegan products. Hidden Valley ranch has nothing on this homemade version!
Dried Herbs vs. Fresh
It's no secret the flavor of fresh herbs are unmatched when compared to dried ones. However, if you are hoping to still make a delicious keto ranch dressing without fresh herbs we're here for you. You can use dried herbs like dried dill or chives, but our favorite form aside from fresh is actually lightly dried. Lightly dried herbs are often found in the fridge and produce section of grocery stores. They are partially; but not fully dried, making them easy to quickly rehydrate in a sauce or dressing.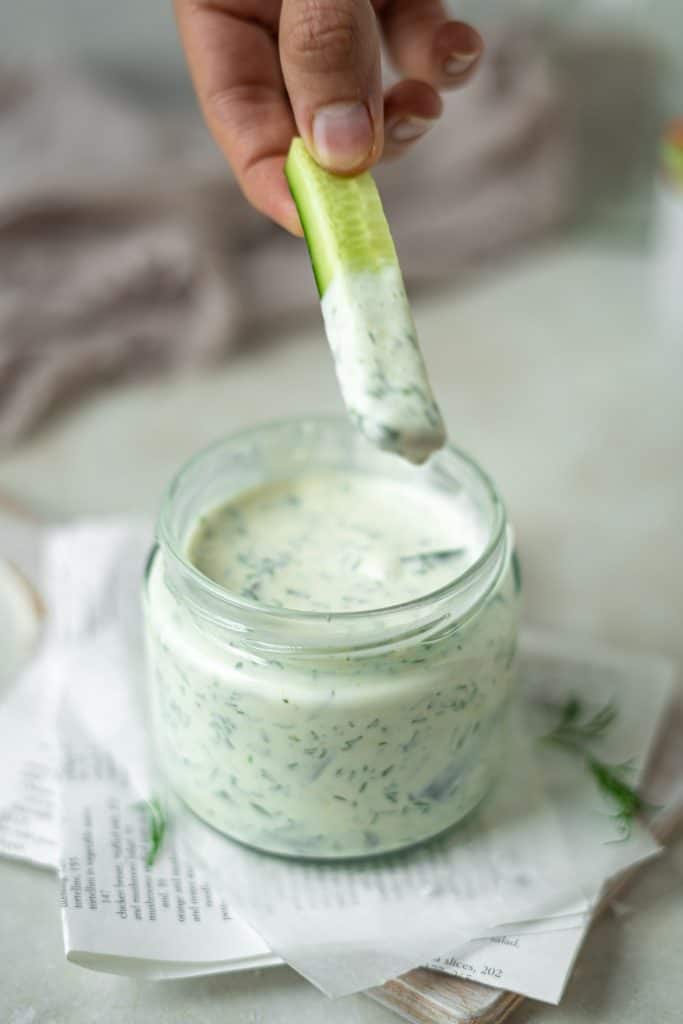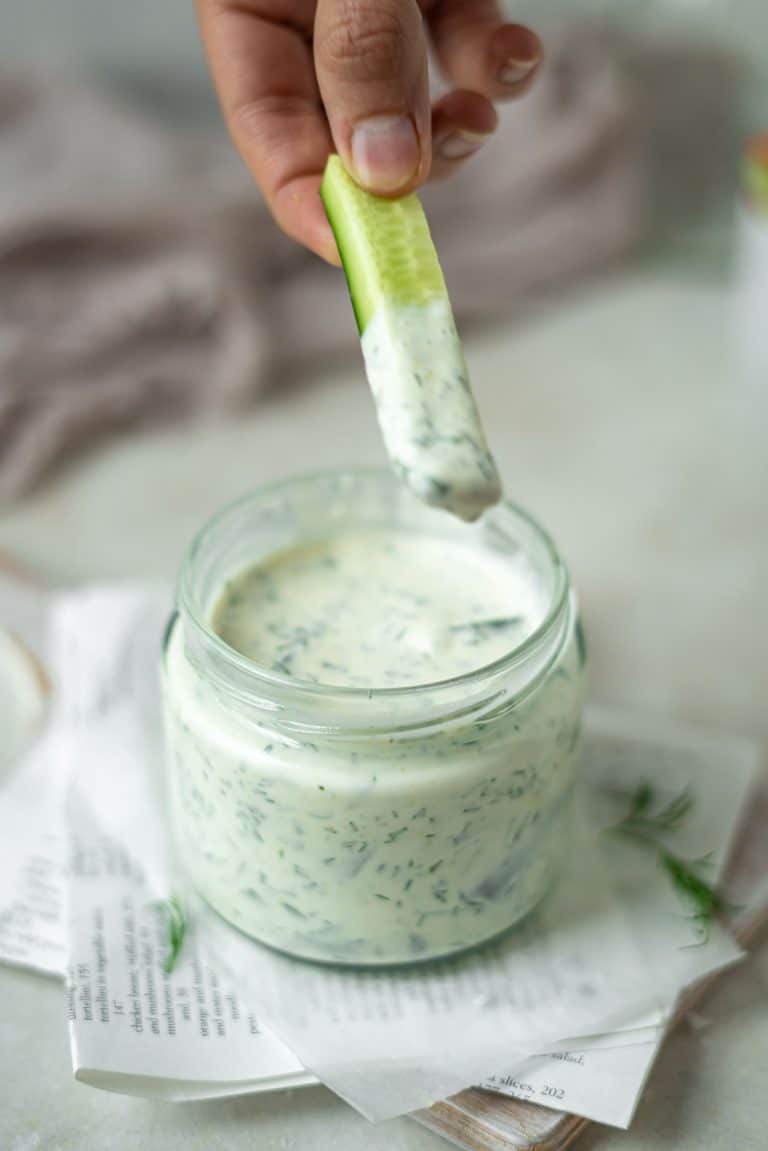 How to Make Keto Ranch Dressing
Our keto ranch dressing is a great option to top salads and dip veggies into. With a quick mix of a few keto friendly herbs and spices, this keto salad dressing will be done in a jif! The best part is that it will all mix together in one simple mason jar. Who knew fresh and flavorful dressings could be this easy on a keto diet!
Ingredients
To make this easy keto mason jar ranch you will need mayo, sour cream, vinegar, and heavy cream as the base. And to that you will need to add all your fresh herbs and spices. We used minced garlic, the whole recipe uses just one clove so no need to worry about the carb count. As well as freshly minced dill, chives, and onion powder. Finally you will need some mustard powder and pink salt. If you only have dried dill you can use that, and you can also use fresh lemon juice instead of vinegar if preferred.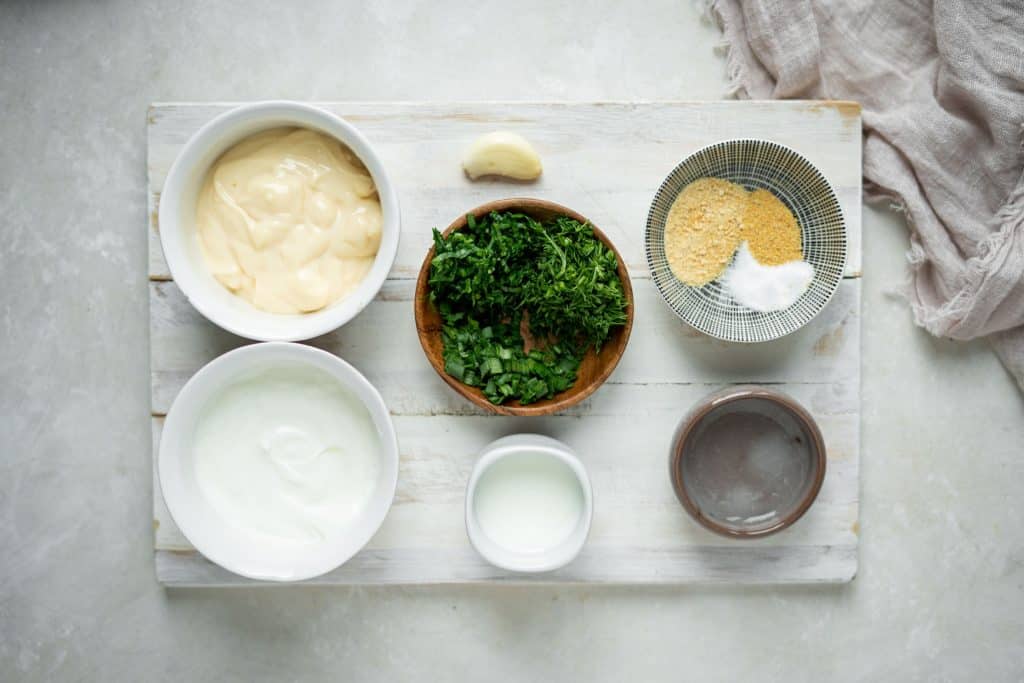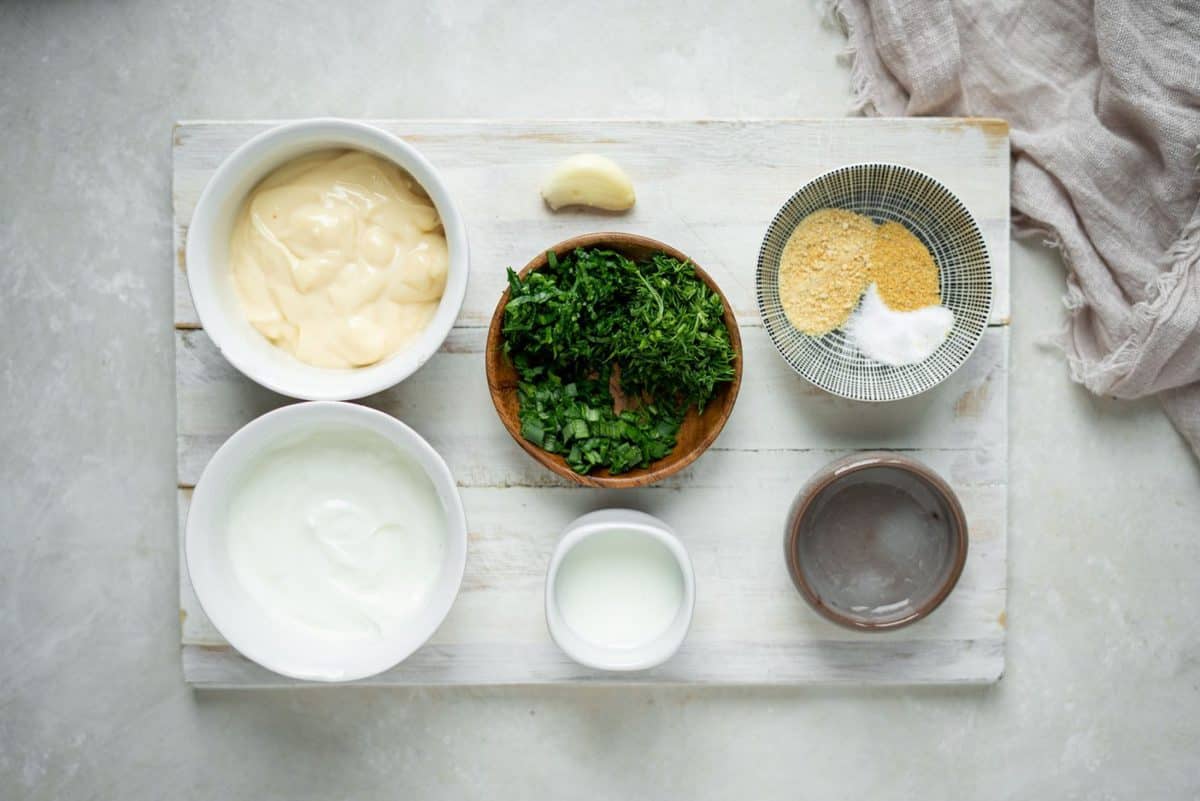 Making Keto Ranch Dressing
Thankfully this recipe is just 2 simple steps! We love this recipe because there is nothing simpler than an easy shake and go dressing. To put this recipe together add all the base ingredients into a mason jar. You can add a crack or two of black pepper if desired.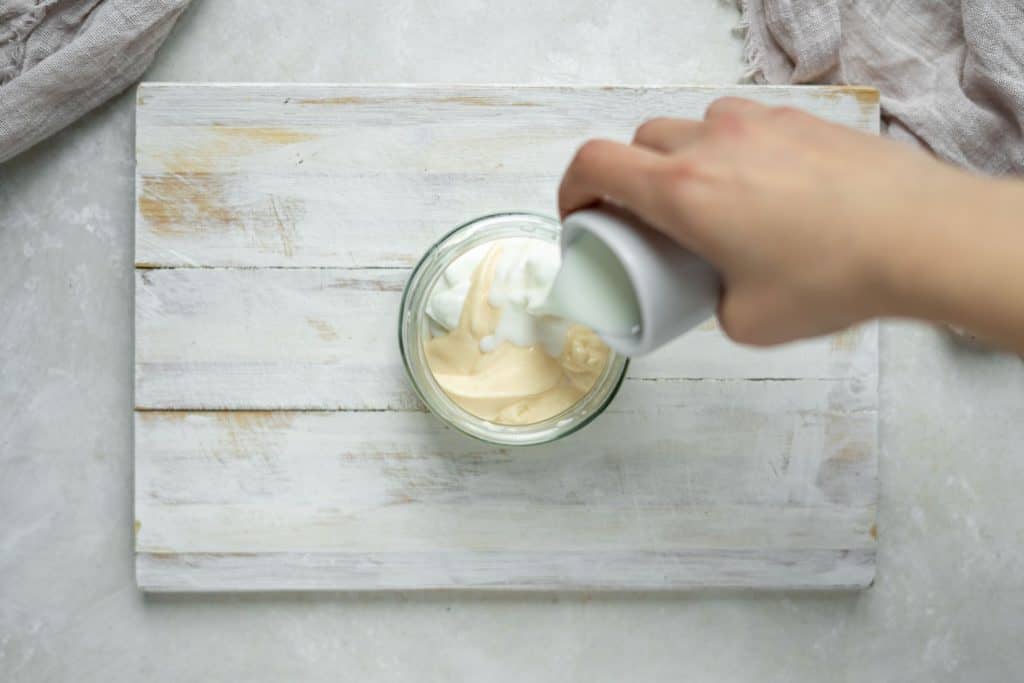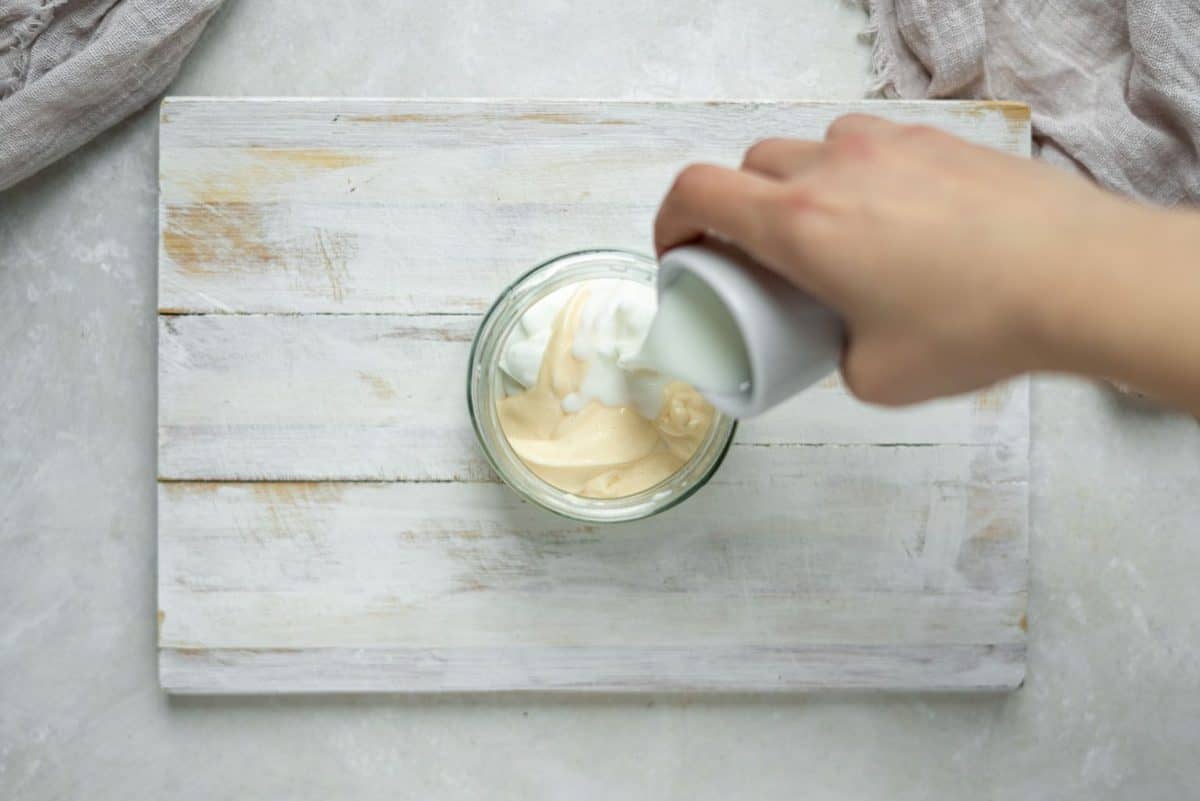 Now add your freshly minced herbs. Then pop the top on your jar and start shaking!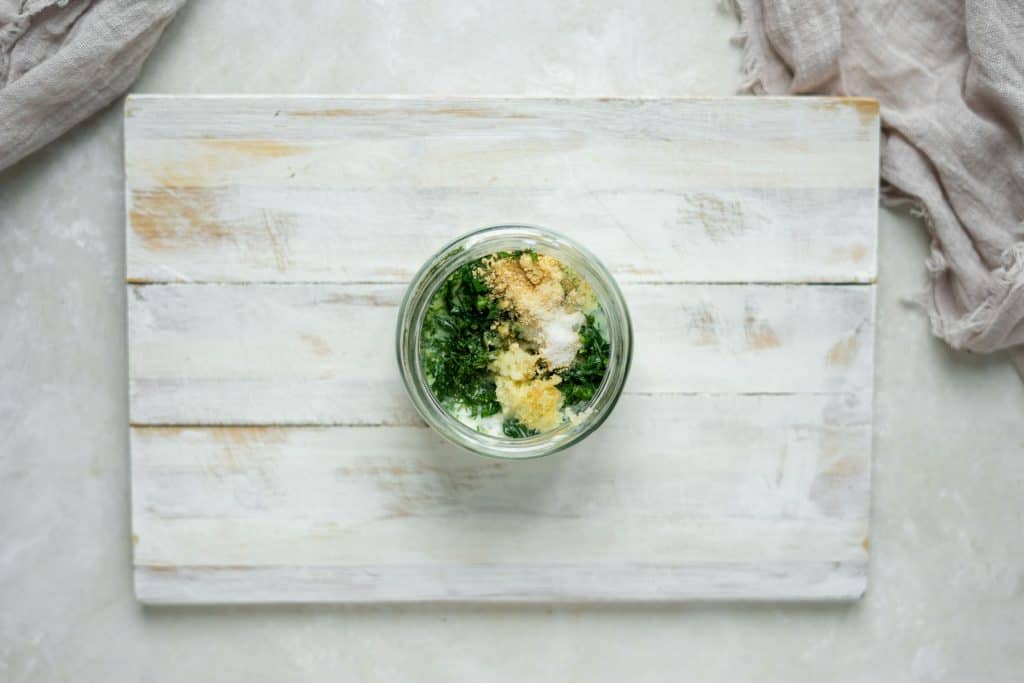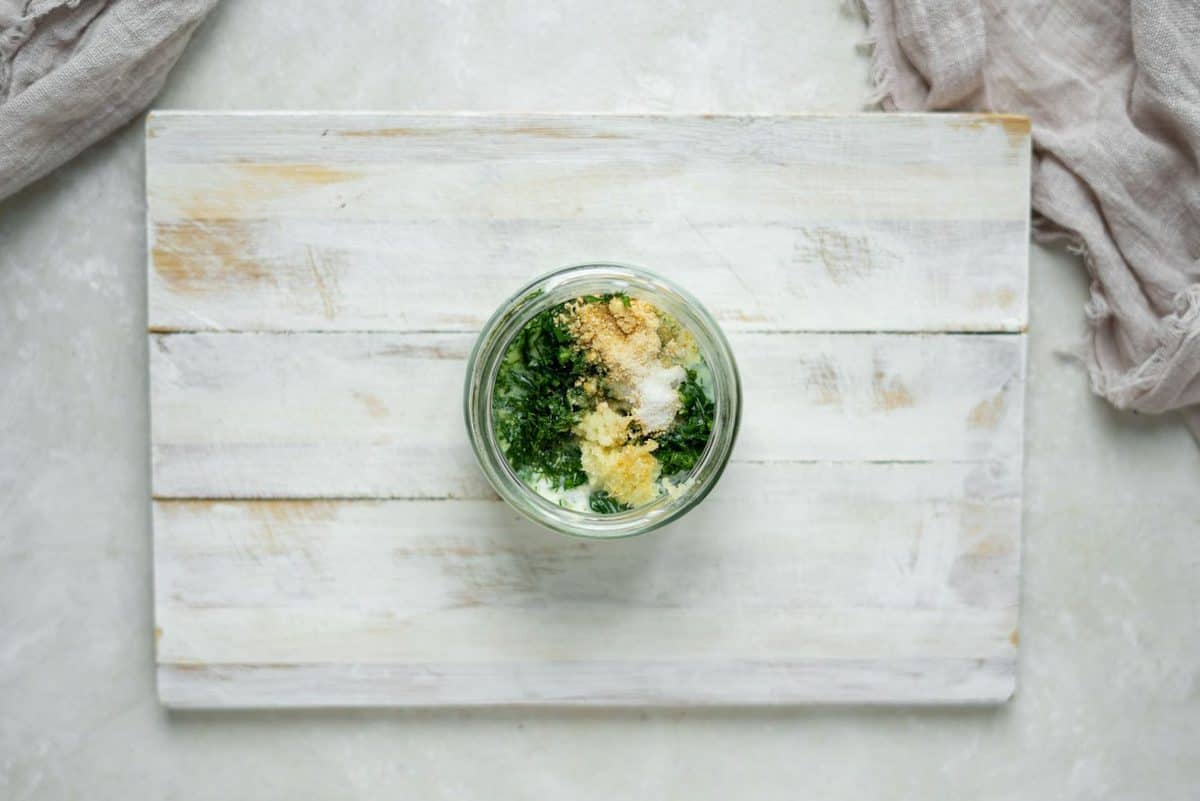 This dressing stores well in the mason jar inside your fridge for up to five days. The serving size nutrition is based on 2 tablespoons, but we like to make our salads with about half the jar ?.
How to Store This Keto Ranch Dressing Recipe
Store this dressing in an airtight mason jar for up to 5 days. If you want to make a large batch you can store half the recipe in your fridge and the other half in a freezer safe airtight container. Just allow the dressing to thaw for a few hours in the fridge before using.
More Keto Condiments
We know our ranch is really good. BUT, we also know our other condiments are top notch too. Check out more of our low sugar low carb keto condiments:
Keto BBQ Sauce– This is the best keto BBQ sauce you'll ever try. It's sugar free, yet sweet and tangy with a bit of smokey flavor. It tastes great on everything from wings to BBQ chicken pizza.
Homemade Cesar Salad Dressing– Another thick and creamy low carb dressing. This keto dressing is made with mayo, fresh parmesan, and cracked black pepper.
Crispy Brussel Sprouts with TWO Dipping Sauces– All the sauce connoisseurs at the party step forward. Our crispy brussel sprout recipe is paired with not one, but two delicious dips for you to enjoy.
There are plenty more sauces and dips on our site just waiting for you to try. Get creative your next party and whip up a ton of dips for all your guests to try. I mean is it even a party without dips!?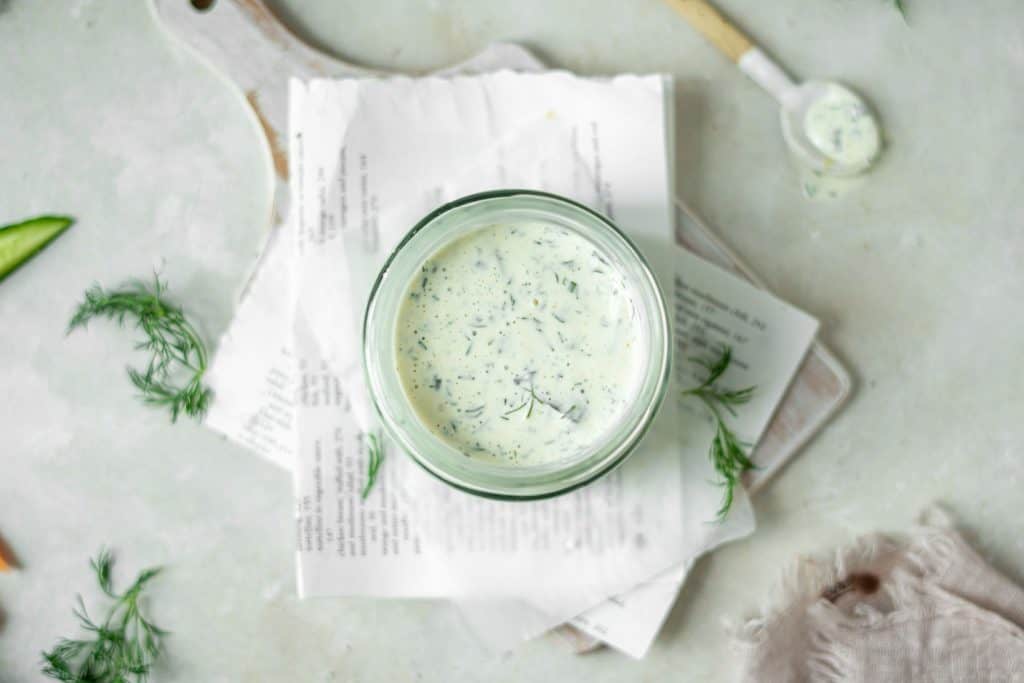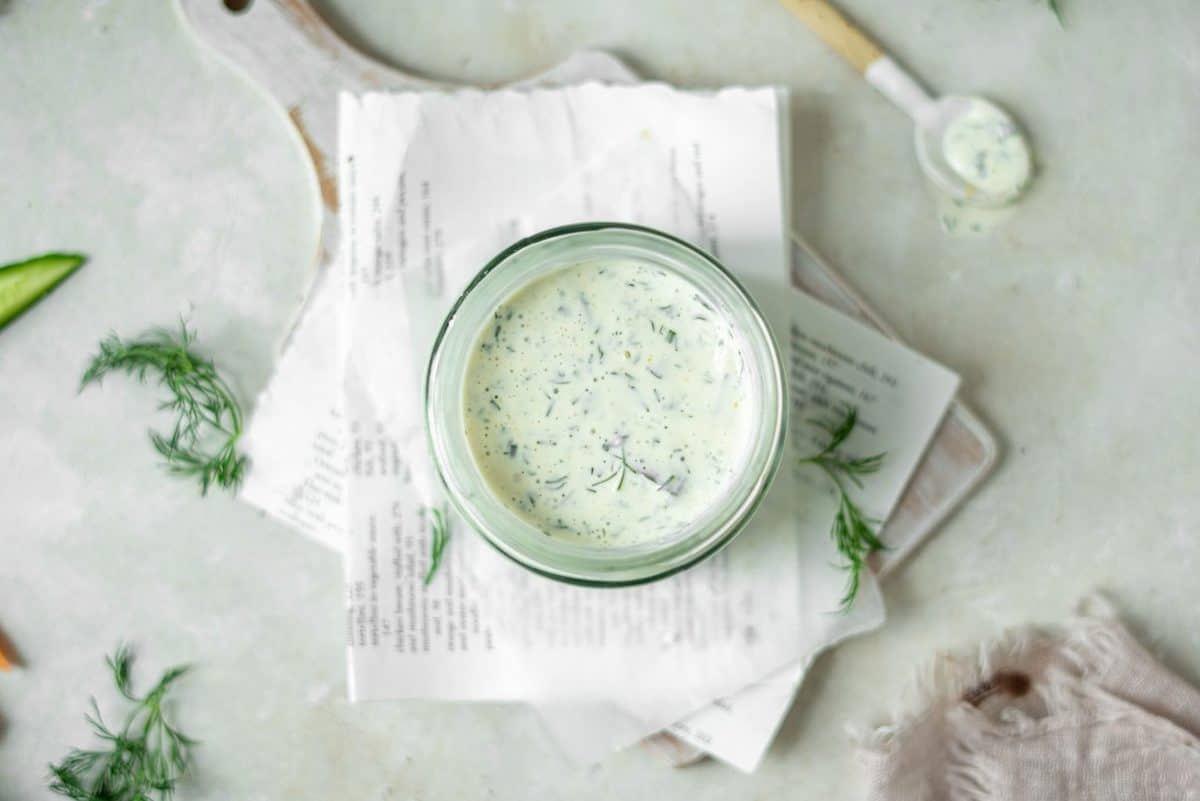 Extra Delicious Keto Recipes
We know our ranch is good, but we also know you can't just live on ranch alone! Our blog is full of so many delicious low carb recipes perfect to enjoy any night of the week. Try our:
Crispy Keto Fried Chicken– This fried chicken recipe is the ideal partner for freshly made ranch dressing. It's crispy, hot, and full of seasoned breading.
Buffalo Chicken Meatballs– Our buffalo chicken meatballs make a super simple and delicious weeknight dinner. They are also the perfect party food because they're juicy, spicy, and easy to serve on skewers. Serve these with some homemade ranch for a hot buffalo with cooling ranch combo.
Apple Pork Chops– These keto apple pork chops are juicy and tender. Plus they come with a savory apple cider vinegar sauce that balances a little sweet base to a little salty bacon. It's delicious with a roasted vegetable, or all on its own!
Each of these recipes are flavorful and unique all on their own. Feel free to mix and match more keto recipes from all over our blog to create the perfect meal and snacks. Make sure to let us know what your favorite recipes are so we can make the most delicious keto version possible!
Keto Ranch Dressing
This keto ranch dressing is the best option for those who want a healthier ranch alternative that doesn't take forever to make. It's quick, it's easy, and it's done in just five minutes. There are few people who don't like ranch, and we sure hope by the end of this recipe we've converted you to become a ranch lover. Because, pretty soon you will be using this fresh and flavorful herb dip on everything from buffalo wings, to grilled cheese!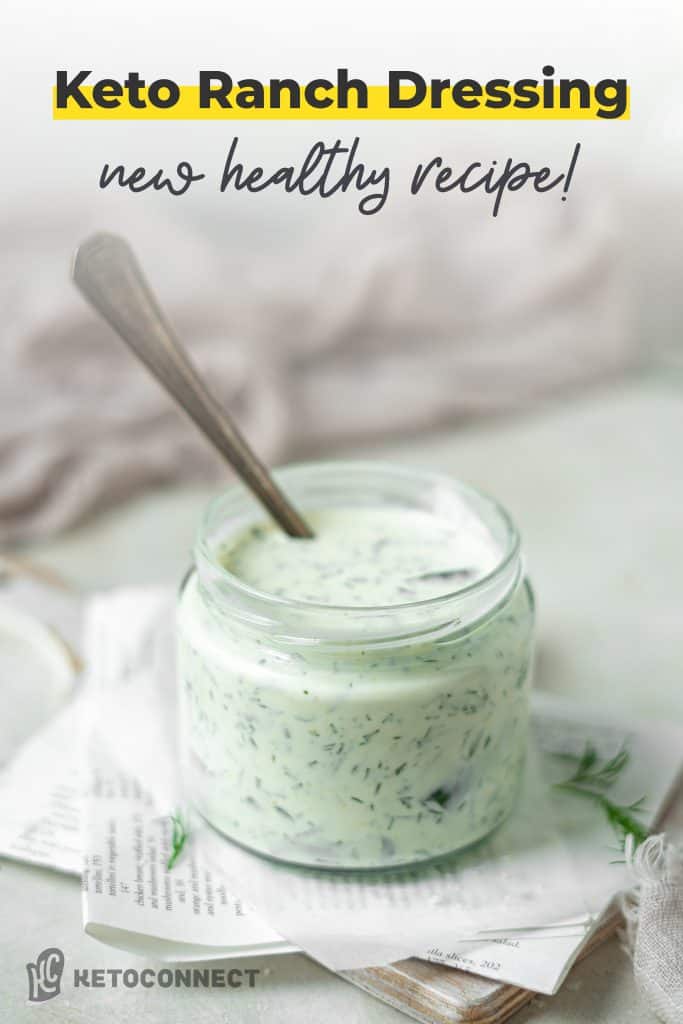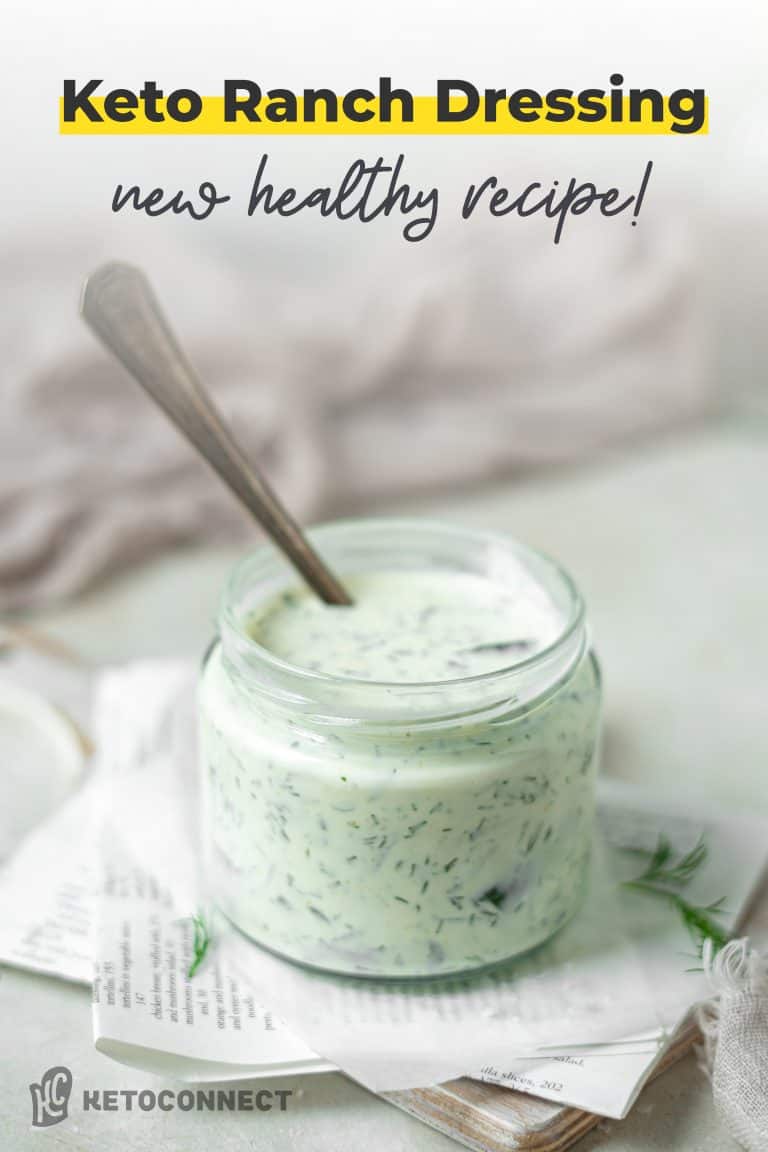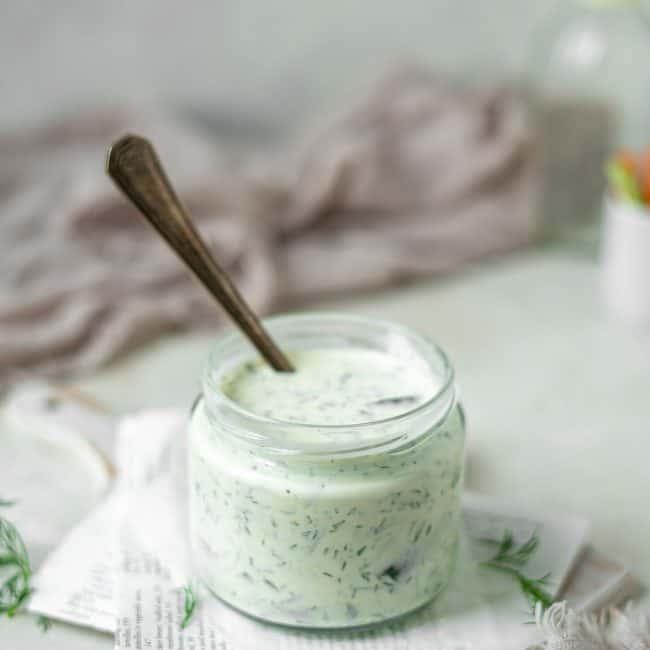 Keto Ranch Dressing
A creamy keto ranch dressing perfect for all your dipping and topping needs
Total Time 5 minutes
Servings 6
Calories per serving 185kcal
Instructions:
Place all the ingredients in a jar, and whisk well.

Cover tightly and store in the refrigerator for up to 5 days.
Nutrition Facts
Keto Ranch Dressing
Amount Per Serving
Calories 185 Calories from Fat 180
% Daily Value*
Fat 20g31%
Saturated Fat 6g30%
Trans Fat 1g
Cholesterol 25mg8%
Sodium 330mg14%
Potassium 42mg1%
Carbohydrates 1g0%
Fiber 1g4%
Sugar 1g1%
Protein 1g2%
Vitamin A 218IU4%
Vitamin C 1mg1%
Calcium 29mg3%
Iron 1mg6%
* Percent Daily Values are based on a 2000 calorie diet.
Written By