Today's guest post is from Ryan Luedecke who shares practical tips for low carb living on his blog → Mr. SkinnyPants. Ryan is currently on a mission to eat low carb keto at the top 30 fast food chains in the United States. His latest stop was at Panda Express. In this post, you'll learn how to order low carb keto at Panda Express and get full for less than $10. You can also get the customized 21 item Panda Express low carb menu that Ryan used to plan his orders for this post. It's a great resource for anyone who wants to know which entrees are the most keto friendly. Howdy! Ryan here. This is stop #23 on my low carb fast food challenge. For each fast food chain I evaluate:
Availability of low carb entrees (less than 20 net carbs).
Satiety of low carb entrees.
Price of low carb entrees.
Taste of low carb entrees.
Ordering experience.
In a hurry? Get my Panda Express Low Carb Menu one-pager if you want to see full macros and nutritional stats for the 9 lowest carb entrees at Panda Express (<16 net carbs each).
Panda Express describes themselves as a fast casual Chinese restaurant. Sounds about right. Since I'm consistently disappointed by buffet-style Chinese food and don't eat rice, I haven't been to Panda Express in over 10 years. Still, I'm excited to go back as this is the first Chinese restaurant I've visited on the fast food challenge thus far.My ingoing expectations are that they'll have too much breading on the stir fried meats, heavily sugared sauces, and entrees fluffed w/ sneaky high carb veggies like carrots, baby corn, & water chestnut. I predict that I'll need to hunt and peck around some high carb ingredients to stay within the bounds of my typical keto macros.Let's see if they can surprise me.
Overall Ratings
Panda Express is low carb challenging because they present several options that look somewhat keto friendly but have hidden carbs which means they need to be eaten in moderation. And I hate moderation.You can't special order because everything is pre-made and served ala carte in a buffet line. They have several different order size options (plate, bowl, and small/med/large ala carte) which further complicates the task of sticking to your macros.You can cobble together a filling meal with less than 20 grams of carbs, but it won't look much like the Chinese feasts you grew accustomed to when you were a mainstream eater.
Low carb friendly – Not really, unfortunately.
Low carb entrees on menu – Yes. The Grilled Teriyaki Chicken and Grilled Asian Chicken are 8 net carbs and 300 calories. They also have 7 more traditional Chinese entrees that are moderately low carb ranging from 10-15 net carbs and 200-300 calories.
Satiety of low carb entrees – Average. This somewhat hard to judge because they offer different size plates, bowls, and entree containers. In general though, you can get full for less than $10.
Taste of low carb entrees – Above Average. Most of the entrees I ordered were tasty, though much of the flavor comes from sugar. A few of the entrees were too bland.
Price / value of low carb entrees – Average. Hard to judge because of varying sizes of entrees.
Ordering experience – Above Average. Both times I went into Panda Express the servers were friendly and did their best to answer my questions. They also helped me structure my orders to achieve the best possible value. For speed, you can't beat their fast moving concierge-style buffet line.
Panda is another restaurant who presents well-meaning "healthy" options on their menu (called Smart Wok) but mistakenly thinks that "healthy" only means low calorie. They aren't hip to the dangers of sugars & carbs…yet. Which means that of the 25+ different foods you'll see in their buffet, only 5-7 will be low carb enough to be considered.Let's not dwell on those things we can't eat, but instead celebrate the few things we can.
What I ordered
Even though I spent three hours doing menu research and arrived with a plan, I still felt myself getting slightly overwhelmed by all the different entree, size, and combo options at Panda Express. It's definitely worth your time to do a little order planning before you go.
#1 Grilled Teriyaki Chicken (Medium Entree – 2 servings)
The Panda Express equivalent of chicken nuggets. At least that's how I ate them. They were bite sized and clean enough to be eaten with your hands.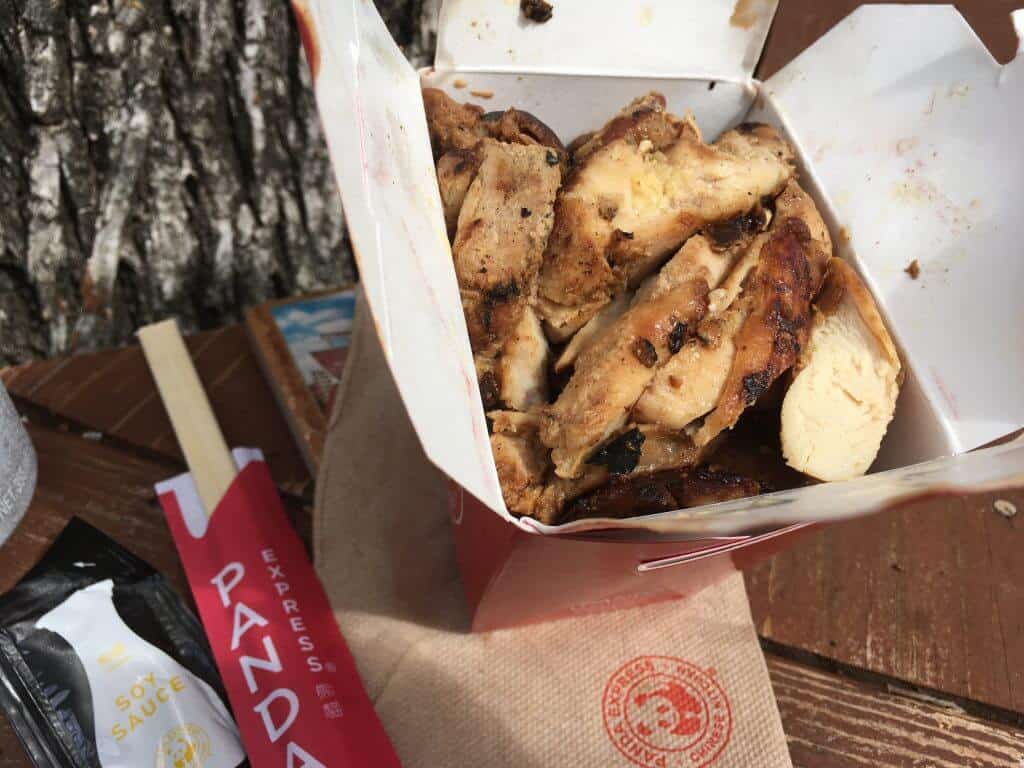 Price – $7.20 for 2 servings.
Nutrition – 300 calories and 8 net carbs per serving.
Taste – Above Average.
Notes – Straight chicken, homie. Not quite as good as the best grilled chicken I've had on the challenge (Popeye's is #1 and KFC is #2 on that list). But close. Clean enough to eat in your car, directly out of the box. Unfortunately, much of the flavor is provided by the teriyaki marinade they grill it in and thus the high carb count.
This Grilled Chicken Teriyaki entree is the most keto friendly item on the menu at 300 calories and 8 net carbs per serving and that makes me sad (as my 2-year-old son says for anything that disappoints him).
#2 String Bean Chicken Breast (Medium Entree – 2 Servings)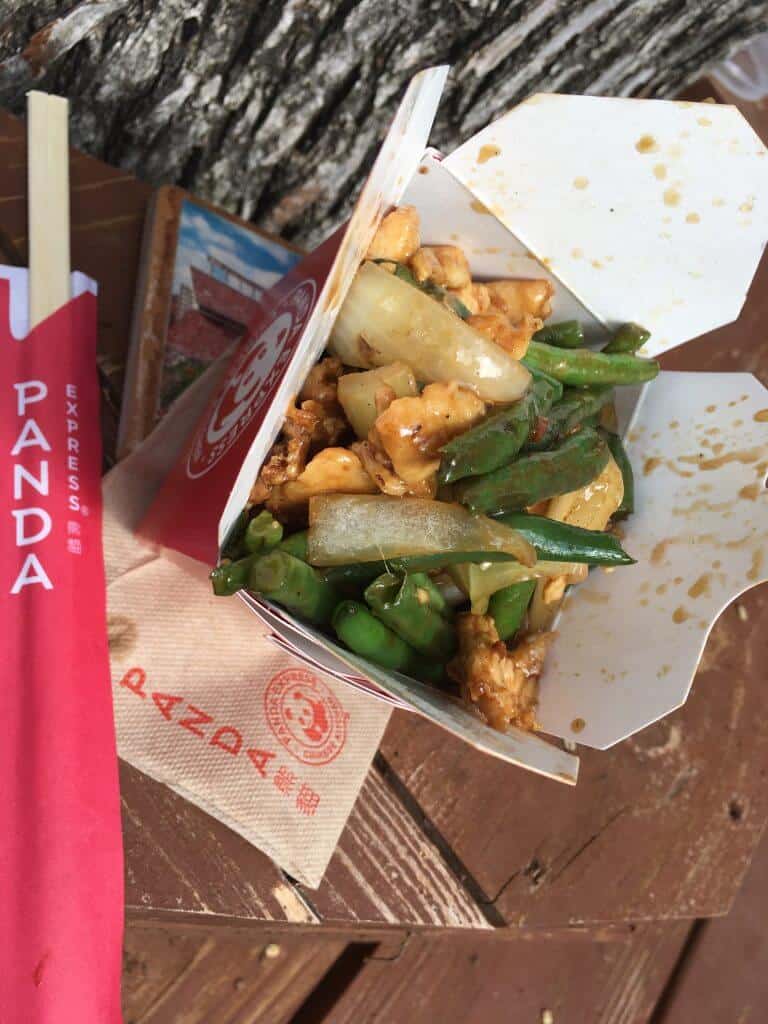 String beans is a fancy name for green beans. Entree has chicken, green beans, and onions sautéed in a mild ginger soy sauce.
Price – $7.20 for 2 servings.
Nutrition – 190 calories and 9 net carbs per serving.
Taste – Above average.
Notes – Too heavy on the green beans from a presentation standpoint. Must be eaten in moderation due to the carbs. Definitely don't drink the sauce left sitting at the bottom of the takeout container (too many carbs). Chicken is flavorful and delicious. I'd order this again. Slight sweet, but mostly savory flavor profile. Low calories make this a good fit for the 1200 Is Plenty crowd.
#3 Mushroom Chicken (Small Entree – 1 Serving)
Chicken, mushrooms and zucchini tossed in ginger soy sauce.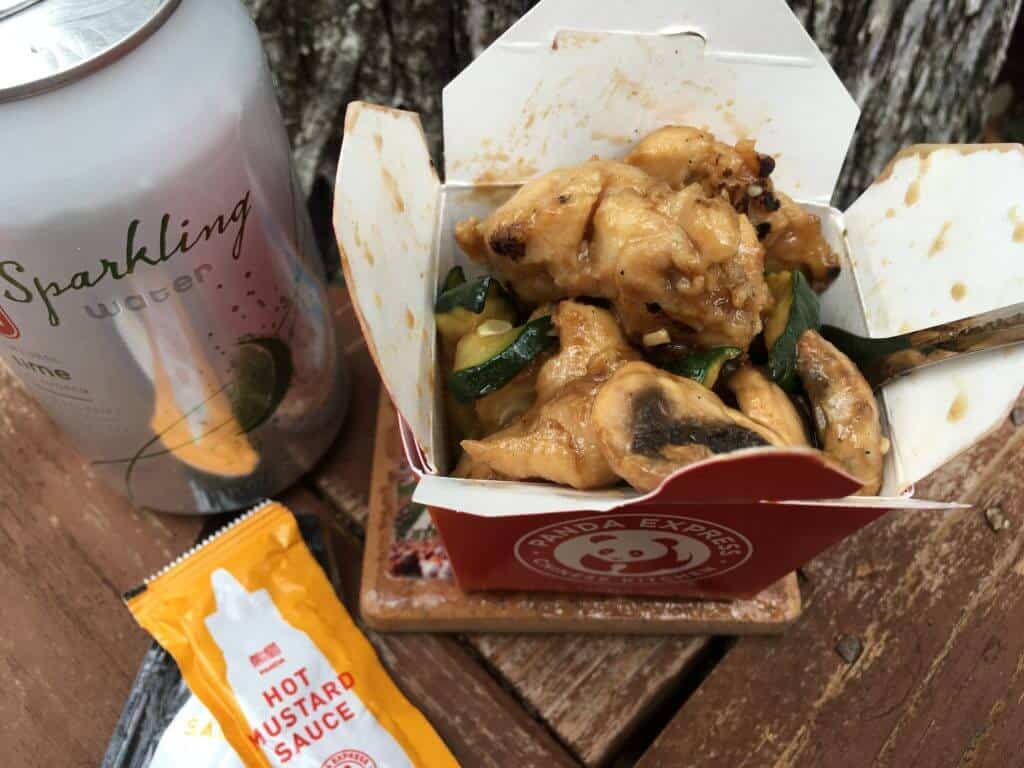 Price – $3.20 for 1 serving.
Nutrition – 220 calories and 10 net carbs.
Taste – Average.
Notes – Good savory mild flavor for the chicken. Chicken and zucchini had good texture. I can't eat mushrooms due to an allergy but the mushrooms seemed to have a good tensile strength when I prodded them w/ a fork for what that's worth.
#4 Broccoli Beef in a Bowl (1 Serving)
Panda gives you the option to order your entrees in a bowl, a takeout container, or a styrofoam container. It's confusing. This is the first entree I ordered in a bowl. It came with beef, broccoli, and ginger soy sauce.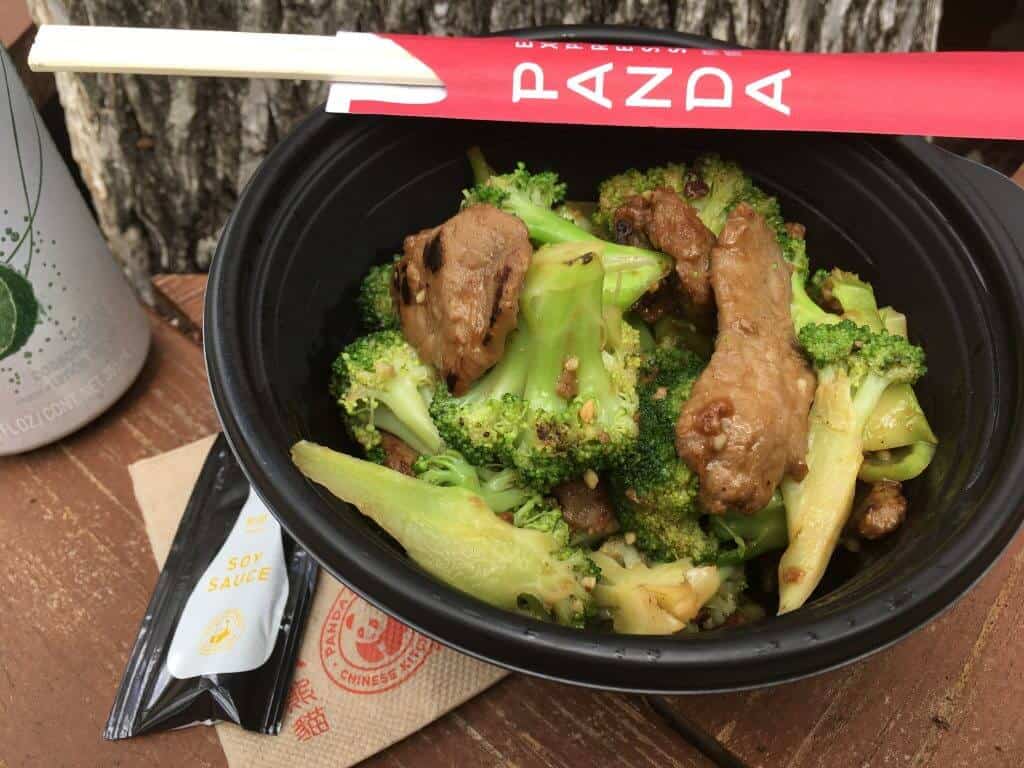 Price – $6.00
Nutrition – 150 calories and 11 net carbs.
Taste – Average.
Notes – Avoid! Sucker's play (high price, not a ton of food). Too low calorie to be satiating. Bowl presents well, though it was a little under filled. Broccoli was crisp, not as tender as I like, but crisp is better than mushy. Dish is a little bland. Paired well with hot mustard sauce.
#5 Kung Pao Chicken (Small Entree – 1 Serving)
Classic Chinese dish. I remember my parents ordering this when I was a kid. Panda's version has chicken, peanuts, zucchinis, onions, red bell peppers, chili peppers, and a medium-spicy Szechwan sauce.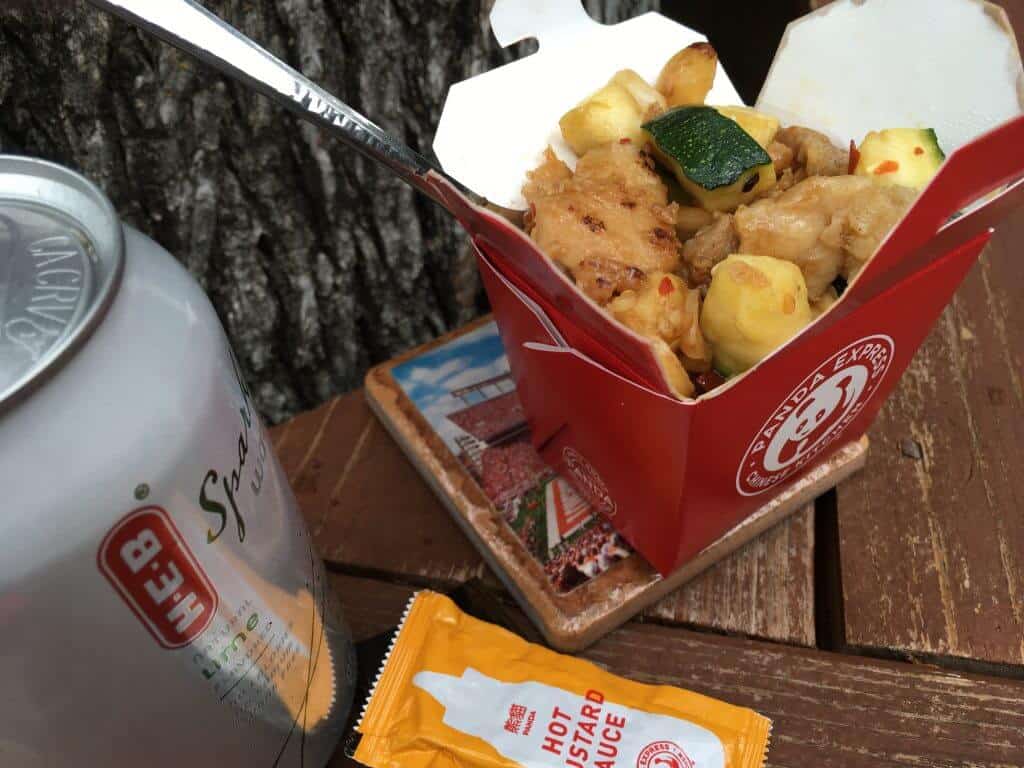 Price – $3.20 for 1 serving.
Nutrition – 290 calories and 12 net carbs.
Taste – Above Average.
Notes – Very good. Good heat. It's a medium spicy on my scale. Good flavor. Good tender chicken. You can eat around the large zucchini chunks to save a carb or two. Pretty filing. Lots of bites. So not necessarily caloric dense, but satiating from a time-to-consume standpoint. I left about ⅓ of the veggies to save carbs.
#6 Black Pepper Chicken (Small Entree – 1 Serving)
This is one of those dishes that I wouldn't have ordered normally because the name & look didn't appeal to me. But I'm glad I did order the Black Pepper Chicken, because it's good. Marinated chicken, celery and onions in a bold black pepper sauce
Price – $3.20
Nutrition – 290 calories and 14 net carbs.
Taste – Above Average.
Notes – We're getting into "can't eat if keto" territory here. Lots of carbs for only 290 calories. Has a signature medium-hot black pepper spice that lingers. Good flavor. Liked it. Ate it all, then looked up and thought whoa, that went fast, I want my carbs back.
#7 Shanghai Angus Steak with String Beans – (Medium Entree – 2 Servings)
This is a dish that I would normally gravitate to. Unfortunately it has too many carbs to be a low carb fast food staple. This is one you nibble on, then chastise the company for adding too many carbs. So here goes: "Dear Panda Express, please try making this dish with fewer carbs. – ryan"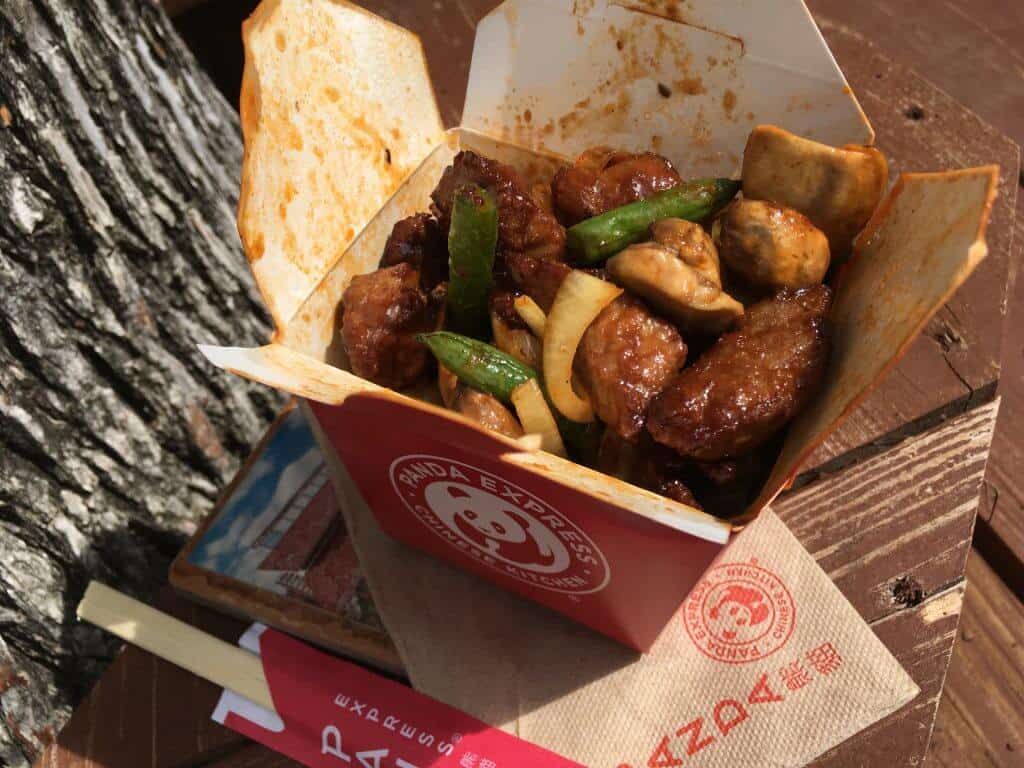 Price – $9.60 for 2 servings.
Nutrition – 320 calories and 16 net carbs per serving.
Taste – Average.
Notes – Too expensive. Steak pieces are thick. Looks premium and indulgent — definitely the most appetizing. This isn't spicy enough. Has some savory flavor with a tinge of spice. Steak needs more flash frying for crispiness, but it's still good. I'm allergic to mushrooms so my wife ate the full dish — she liked it.
#8 Grilled Chicken Teriyaki and Mixed Veggies Bowl
I got a little confused and ordered this even though it was somewhat redundant with some of the other stuff I'd ordered. According to the Panda Express website, the mixed veggies side features "a healthful medley of broccoli, zucchini, carrots, string beans and cabbage," however the scoop I got was mostly broccoli. They top off the mixed veggies with a serving of their Grilled Chicken Teriyaki.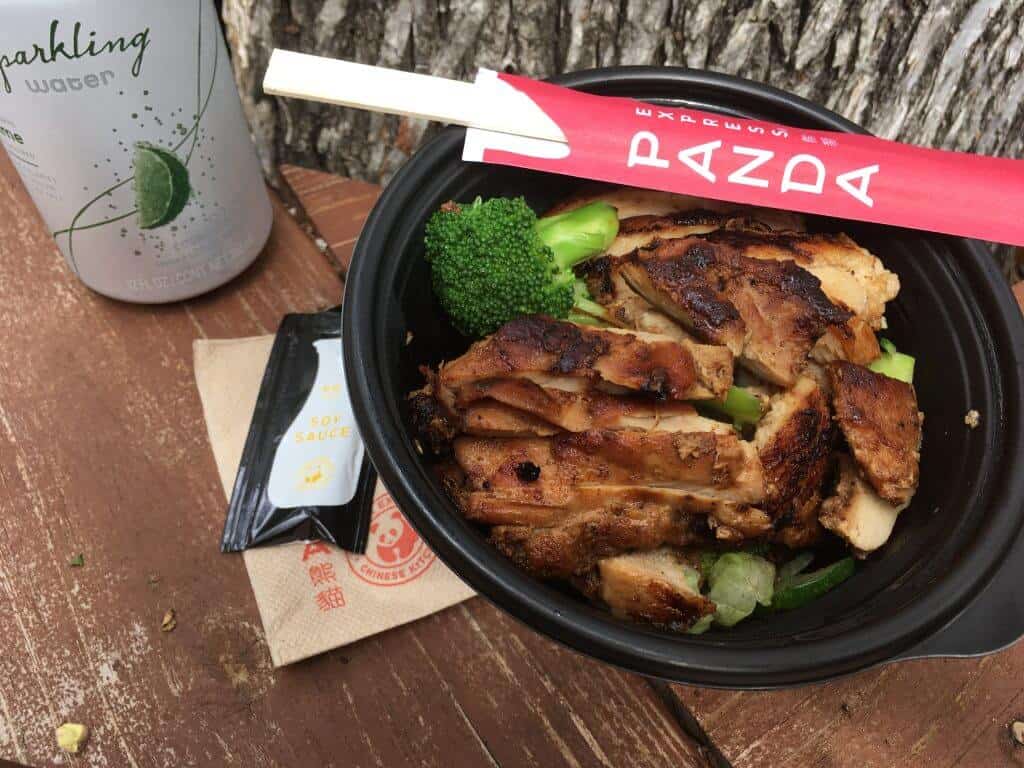 Price – $6.00
Nutrition – 335 calories and 13 net carbs
Taste – Average.
Notes – Very bland and dry. Mixed veggies are mostly broccoli (w/a little bit of cabbage, carrots, and zucchini) which means their carb estimates are overstated in this case which is a good thing. Veggies are too crisp and under-flavored. I was expecting this to be drenched in sauce, but it's not. Needs more spice / flavor.
How to Get Full for Less than $10 at Panda Express
One of the challenges of eating low carb at Panda Express is that their lowest carb dishes are also low calorie so getting full is difficult.To get full for less than $10 order a 2 entree plate like this:
2 scoops Grilled Chicken Teriyaki – 16 net carbs and 600 calories
1/2 scoop of Mixed Veggies – 2 net carbs and 18 calories
2 Packets of Hot Mustard Sauce – 0 net carbs and 20 calories
1 packet of Soy Sauce – 0 net carbs and 5 calories
I went back to Panda Express for a third time to order it myself: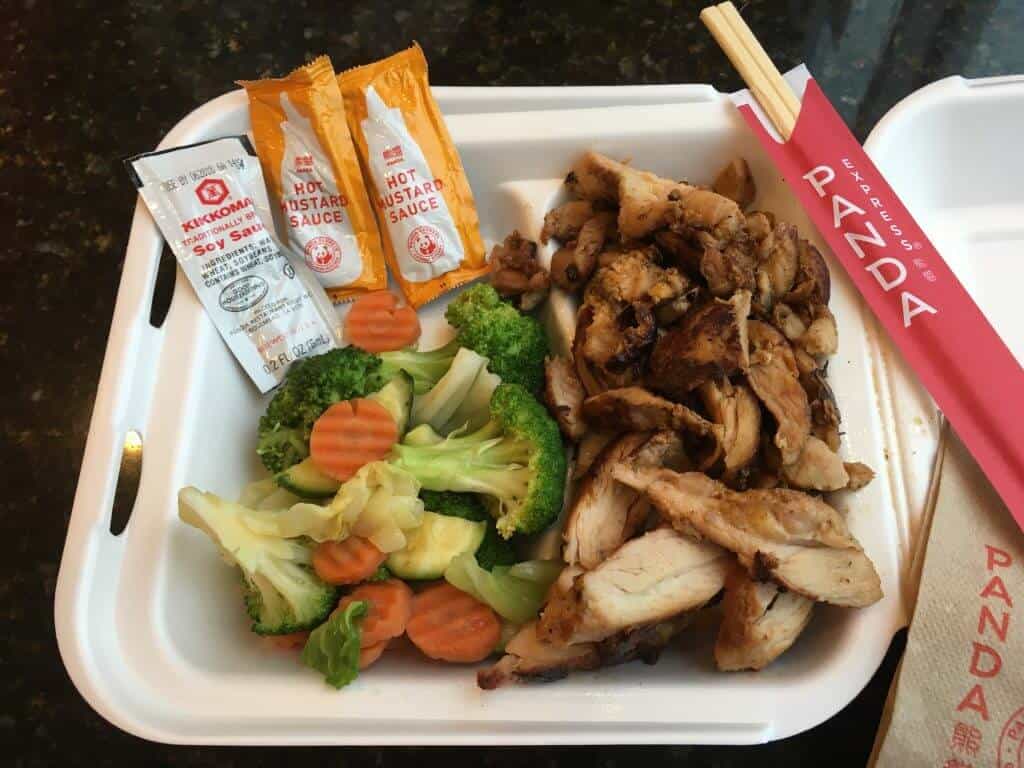 For a total of 643 calories and 18 net carbs at $6.00*, it looks appetizing and tastes delicious. You can shave 1-2 net carbs by not eating the carrots.If 18 net carbs is too many carbs for your daily quota, then forego the mixed veggies, get a single order of Grilled Chicken Teriyaki, and hold out til your next meal when you can eat something that's more keto appropriate.*I think I was undercharged by the cashier. It should have been $7.20.
What else can you order?
I've covered almost every low carb Panda Express order possible, but there were a few low carb / keto options not available at my location:
Grilled Asian Chicken
Steamed Ginger Fish
Shanghai Angus Steak with Asparagus
Review my Panda Express Low Carb Menu one-pager if you want to see full macros for these entrees. It's also great if you're looking for the full Panda Express keto menu.
My personal low carb menu is derived from this much longer and more complicated Panda Express nutrition menu.
What you should avoid
In case you're new to low carb eating, I'll point out that you can't eat any of the Panda Express rices or chow mein noodles.Their entire appetizer menu is off limits as well. The rangoons, egg rolls, spring rolls, crispy shrimp, and pot stickers are all too high carb. No fortune cookies either 🙁 — 5 net carbs.There are some less obvious entrees and sides to avoid that I've listed below. They seem like they might be low carb, but aren't.Tempting entrees to avoid:
Honey Sesame Chicken Breast – 38 net carbs
SweetFire Chicken Breast – 46 net carbs
Sweet & Sour Chicken Breast – 39 net carbs
Beijing Beef – 45 net carbs
Crispy Shrimp – 25 net carbs
Honey Walnut Shrimp – 33 net carbs
Golden Treasure Shrimp – 33 net carbs
Tempting sauces to avoid:
Teriyaki Sauce – 16 net carbs
Sweet & Sour Sauce – 21 net carbs
Tempting soups to avoid:
Hot and Sour Soup – 13 net carbs
More Keto Fast Food Options
We have created guides for over a dozen of the most popular fast food restaurants in America now, and every one of them details all of the great keto options available. While ordering keto friendly fast food can be intimidating at first, once you get the hang of it road trips become a breeze. Check out our guides below:
Summary
If you're driving around town or Googling for a low carb fast food option, Panda Express probably shouldn't be your first stop unless you're Jones-ing for some grilled teriyaki chicken. Unfortunately, their entrees and underlying nutritional belief system still cater to mainstream eaters who either don't care about carbs or mistakenly think that low calorie / low fat foods are healthy. The few moderately low carb entrees on their menu are decent, but not good enough to warrant a special visit. You also need to eat them in moderation lest you risk blowing up your macros. Definitely not a great option for someone who is fastidiously monitoring his or her daily carb intake. While I'm sorry to report that Panda Express isn't a mecca for affordable low carb Chinese, I do hope this article has given you some ideas on how to order low carb should you choose to go. Cheers, Ryan aka "Mr. SkinnyPants"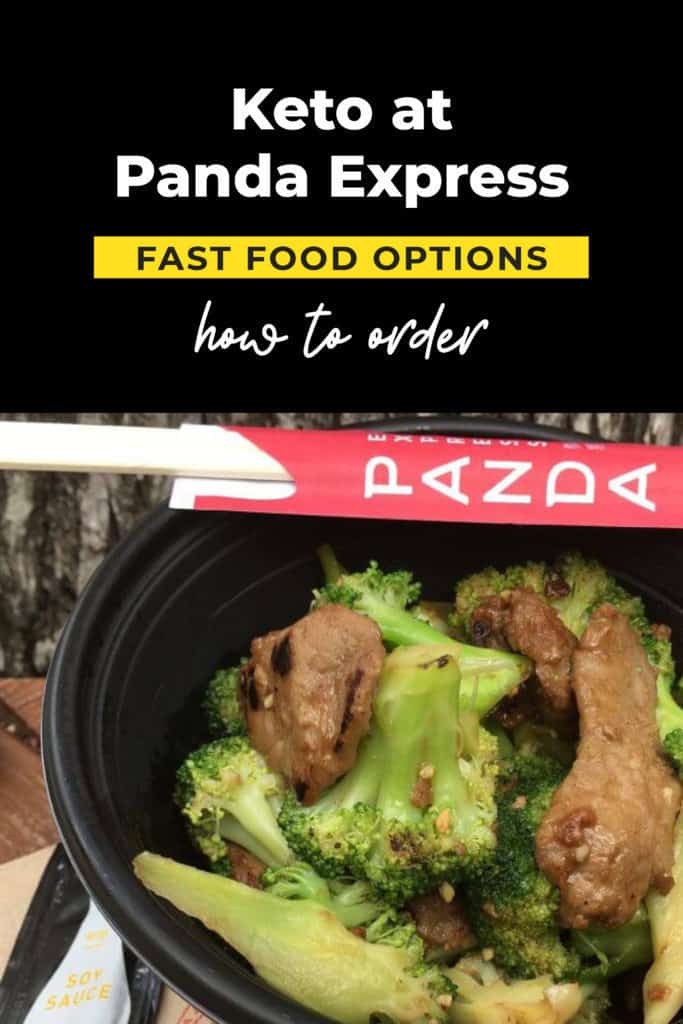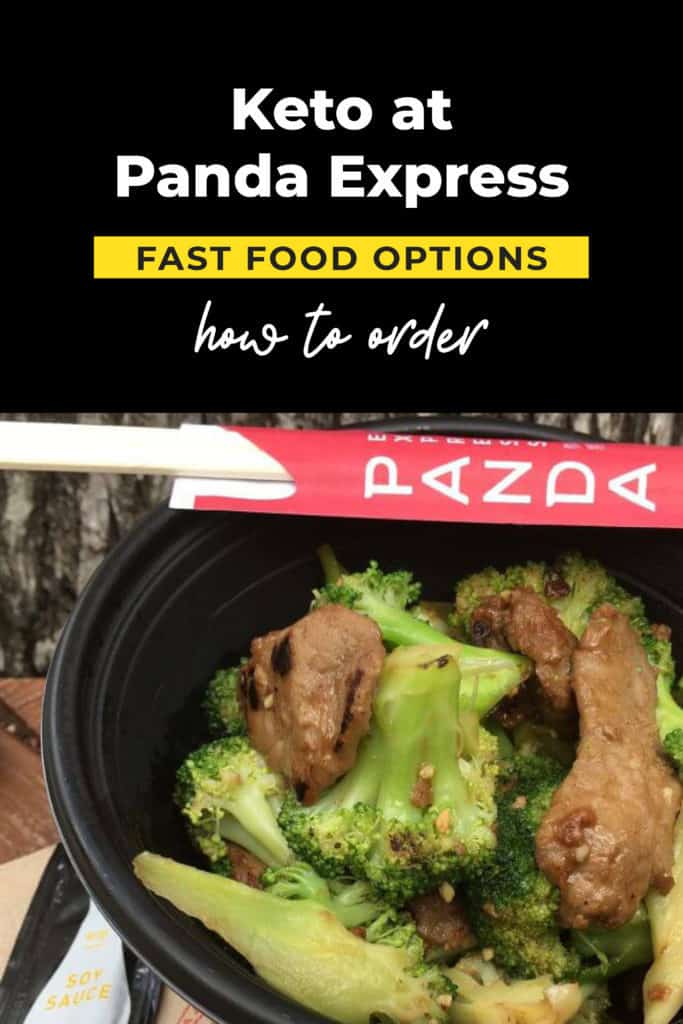 Written By