Embarking on a keto diet these days isn't as hard as it used to be thanks to more chain restaurants offering low-carb options on their menus. As the diet becomes more popular, it's no wonder Blaze Pizza launched a new keto crust for everyone who counts their carbs.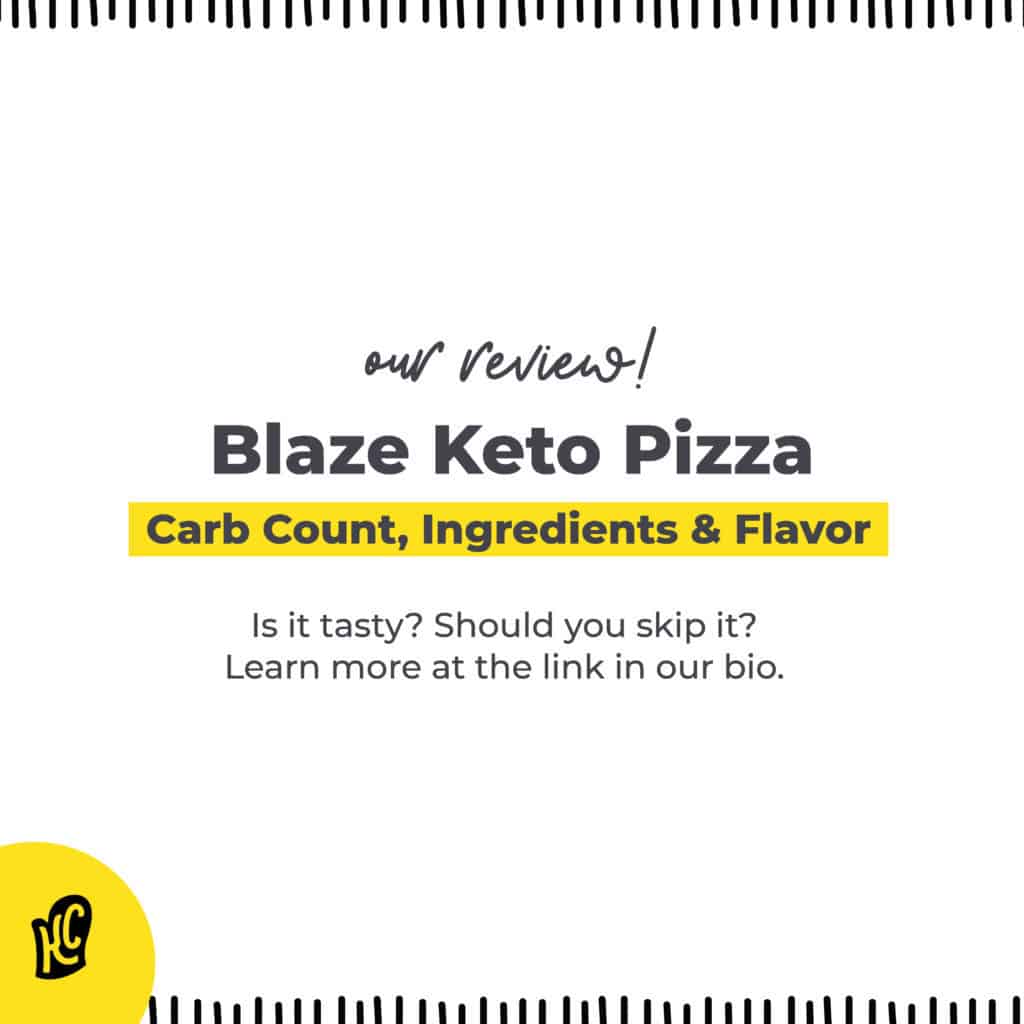 Before you head for the door with your car keys and wallet, you might want to know exactly what goes into the Blaze keto crust. Read our keto fast food and takeout guide for more low carb options on the road.
Here, we review the ingredients to make sure there aren't any sneaky carbs lurking in the dough, and do a taste test in the video below so you know if it's worth your money.

Need to Know Before You Go
This isn't your typical cheese crust or fathead dough that are high in fat and contain almost no carbs at all.

The keto crust at Blaze is made with Cauliflower Rice, Low-Moisture Mozzarella Cheese, Casein Protein, Flaxseed, Eggs, Whey Protein, Yeast, Spices, and Cultured Brown Rice. You might have most of these ingredients in your kitchen right now, which is always something to look for when ordering takeout.

Things are off to a good start, but let's clear up a few things and prepare you for your pizza.
Cultured Brown Rice? Is That Keto Friendly?
Many keto dieters ran the other way when they read the words "rice flour" or "brown rice" in ingredient lists, but you don't necessarily have to. Sure, rice isn't very keto-friendly, but let's not forget – ketosis is a metabolic state that requires you to eat below 20-50g of carbohydrates a day.

It doesn't matter whether your carbs come from spinach or brown rice, they all affect ketosis the same way. Count the carbs from the Blaze keto crust the same way you would any other meal. The cultured brown rice helps extends the shelf life in some dairy products.
Pro Tip: You can use clues to figure out how much of an ingredient is actually used in the crust. For example, brown rice is listed after yeast and spices on the ingredients list. This means there is less brown rice than there is yeast, which is likely not very much at all.
Watch Out for High-Carb Toppings
The keto crust is only available in 11- inch size and comes in at 5g of net carbs per pizza crust, but that's before you've added sauce, meat, and veggies.

The Keto Pizza automatically comes with Spicy Red Sauce, Mozzarella, Bacon, Cherry Tomatoes, Mushrooms, and Spinach. With toppings included, you're looking at 15g of net carbs, so if you're looking to cut the carbs even more, ask for no tomatoes or no veggies all-together.
Carbs in Toppings
If you plan on getting creative with your order, customization is always an option. Here are the carb counts for all the Blaze toppings for an 11- inch pizza.

Red Sauce: >1g carb
White Sauce: 0g carb
Various cheeses: 0-1g carb
Artichoke: 0g carbs
Kalamata Olives: 0g carbs
Red Onion: 0g carb
Spinach: 0g carb
Roasted Butternut Squash: 1g carbs
Mushrooms: 0g carbs
Chopped Garlic: 1g carbs
Arugula: 0g carbs
Green Bell Peppers: 0g carbs
Grilled Chicken: 0g carbs
Banana Peppers: 0g carbs
BBQ Drizzle: 1g carb
Pesto Drizzle: 0g carbs
Gluten-Friendly
The crust is gluten-friendly which isn't always a given with keto products. We repeat, gluten-free does not mean carb-free! You and your gut can rest assured knowing a few slices on a Friday isn't going to ruin your night.

Only Available in 11- Inch Size
Unfortunately, the keto Blaze pizza only comes in the personal size and if you plan on feeding the whole family, you'll have to buy several pizzas or consider making homemade. Here are a few of our favorite homemade keto pizza recipes you and your family need to try.

Macros for Blaze Keto Pizza
For an entire 11-inch Keto Pizza you're looking at 910 calories, 50g fat, 83g protein, 25g total carbs, and 10g fiber. So go ahead, eat the entire pie on your own or save the other half as leftovers. Do what works for you and your macros (or your appetite).
What We Ordered
The Standard Keto Pizza: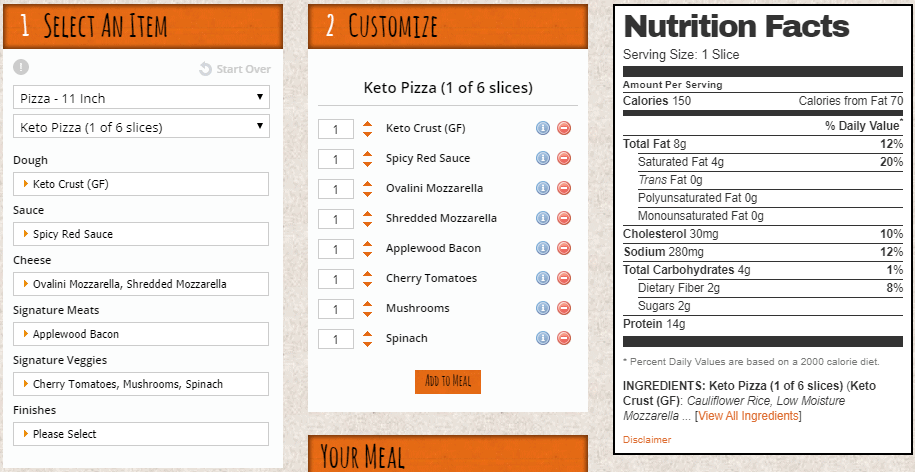 When you start your online order and select the keto pizza it automatically populates with these options. Don't think that these are the only options available to you though. Feel free to add and remove toppings to your liking. Just stick with the more keto friendly pizza toppings that we listed earlier in this blog post.

Our Blaze Keto Pizza Order: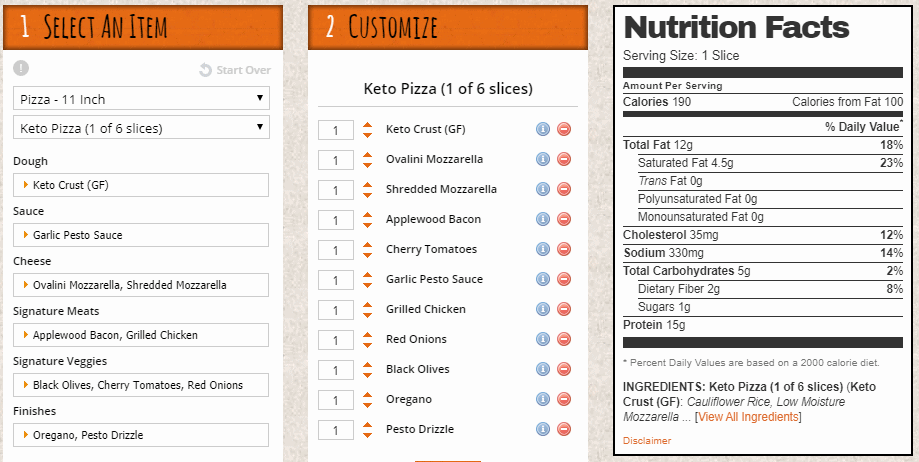 We made a few simple modifications to the standard keto pizza for our order. We changed out the tomato sauce in favor of Garlic Pesto. We also added grilled chicken and changed up the veggies to our liking. We went with black olives, red onion and cherry tomatoes.
How did it taste?
Was it the perfect substitution for a high carb pizza? No, not quite. It was a really good alternative though. Overall the flavors were not as strong as a normal pizza. I think this was due to the blandness of the crust. If I had to give it a rating I would say 7 out of 10. I would happily go back and get it again, but I prefer the taste of a homemade keto pizza to the Blaze Keto Pizza.
Some modifications we would make for the next time we order would be to change up the cheeses. With the crust not delivering much flavor we would opt for a stronger tasting cheese. The garlic pesto was great, we would get it again. We would also load it up with a few more toppings like pepperoni and arugula!
More Keto Takeout Options
We have been hard at work creating dozens of keto friendly fast food and takeout guides. These will help you order with confidence and make sticking to your keto diet a whole lot easier. Check out our guides for Chipotle, Starbucks, Taco Bell, McDonald's, Buffalo Wild Wings, Dairy Queen and Smoothie King.
More Keto Product Reviews
If you liked this full review, you are in luck because we have in depth reviews of the most popular keto products on the market today.
Best Keto Cereal Review
Ultimate Keto Meal Delivery Options
Greatest Keto Subscription Box
50 Best Keto Fast Food Options
Best Keto Protein Powder
Our Final Opinion
Blaze Pizza is one of the first nationwide food chains to offer a new menu item specifically for keto dieters. It is the absolute best pizza option you're going to find when ordering out. It's not quite as flavorful as out homemade keto pizza options, but it is definitely a place we will be going every few weeks for a fun pizza night!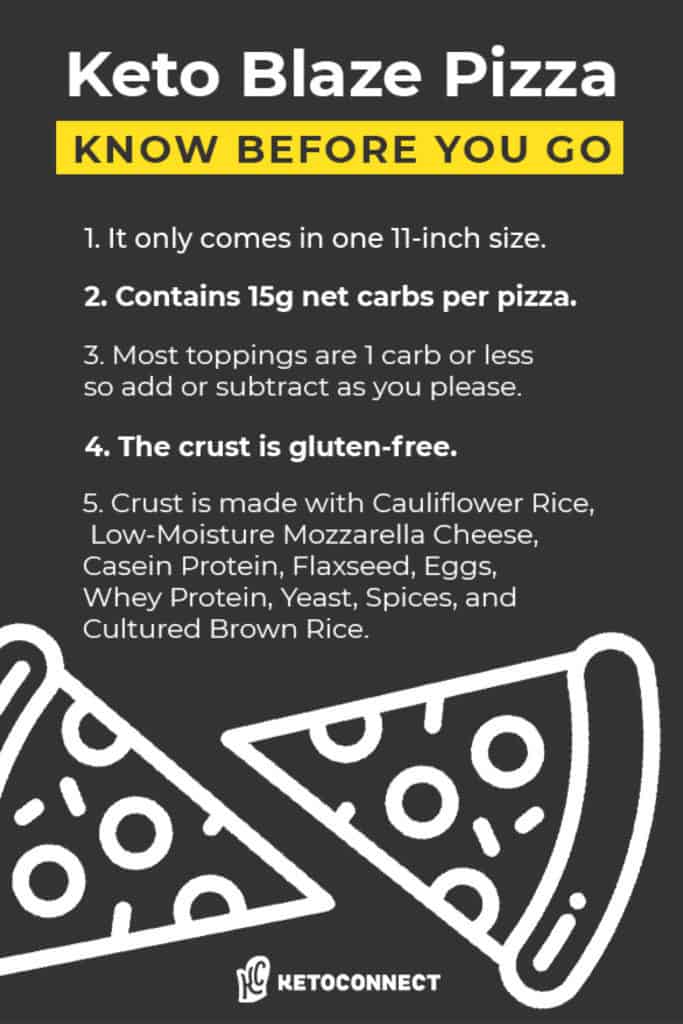 Written By