We've got some good news for you – there is a long list of keto and low carb options at the Cheesecake Factory! From customized breakfast (yes, you can make your own omelet!) to keto friendly salad and protein options, everyone can find something to suit their tastes.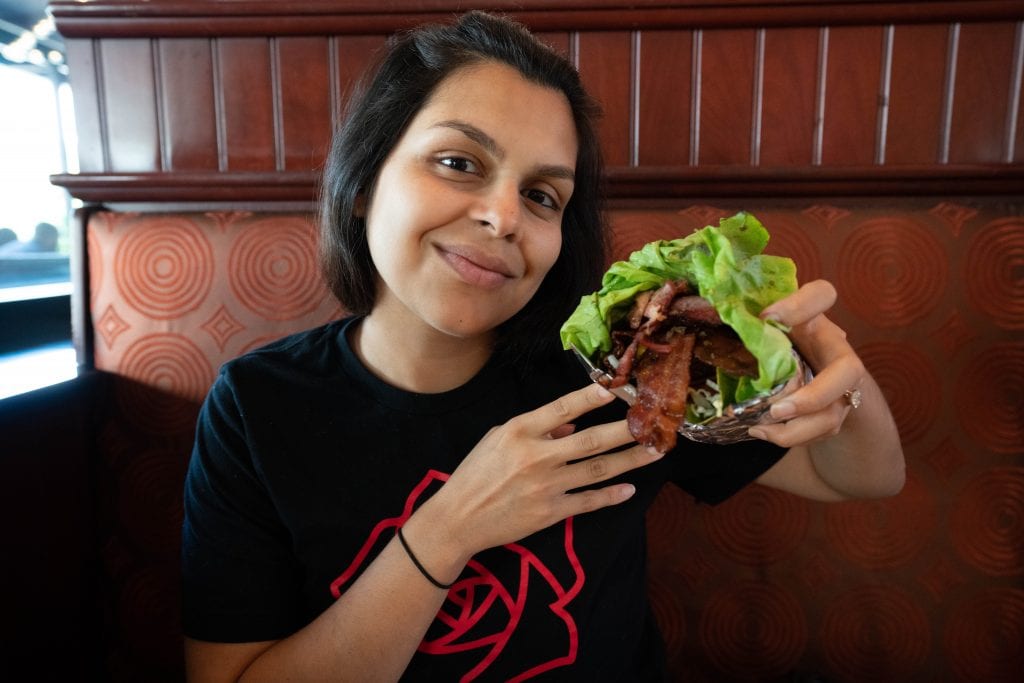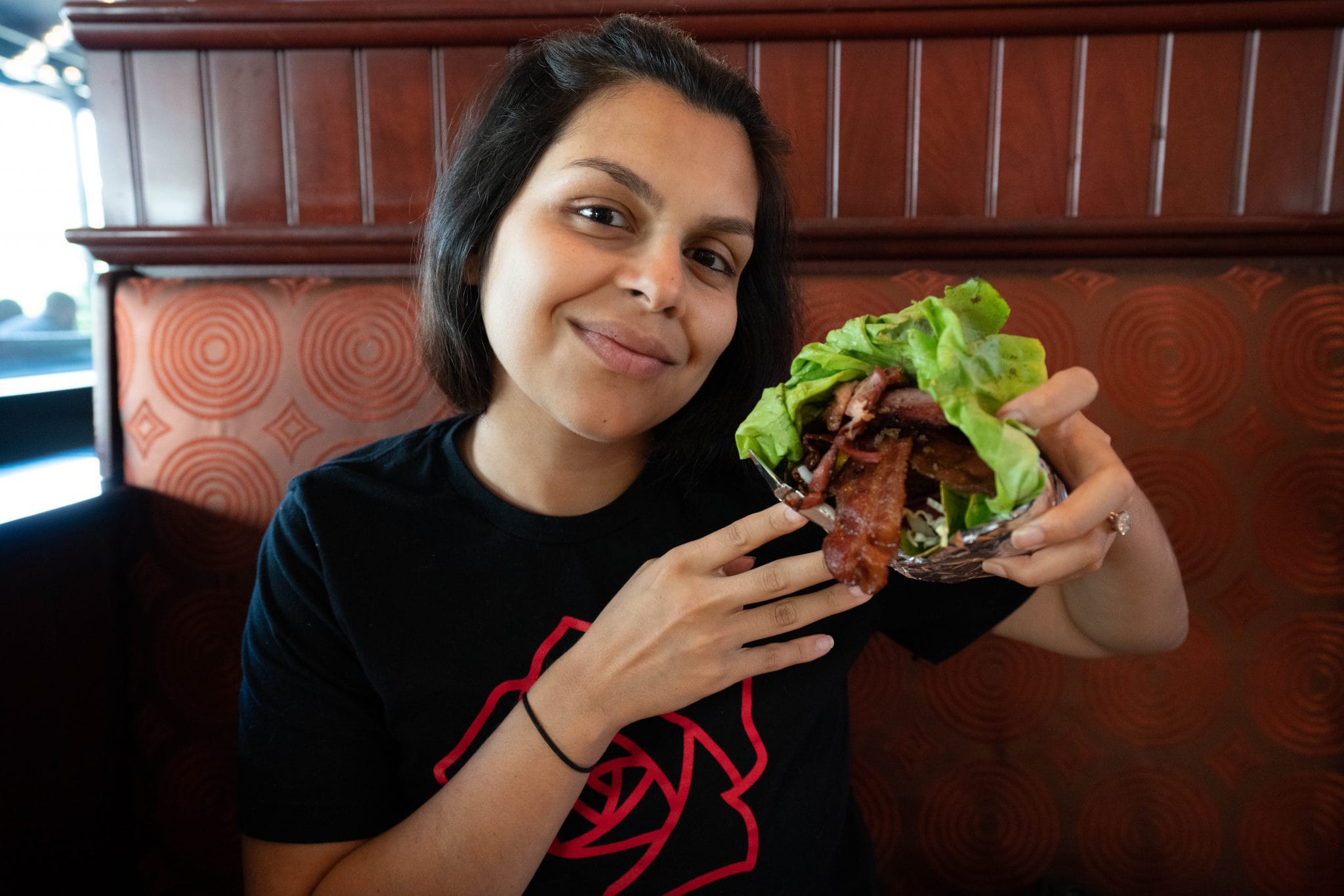 The bad news is though, you can't get actual… cheesecake. Cheesecake Factory keto options are limited to breakfast, salads, side dishes and dinners, but all kinds of desserts are off the chart. Cheesecake Factory's menu has over 250 items to choose from, but most are high in carbs and sugars. Below you can find a comprehensive, long list of low carb options you can eat without guilt.
In the meantime, choose from meals like the Pan Seared Branzino with Lemon Butter, Searned Tuna Tataki Salad, or get the Spinach, Mushroom and Bacon Omelet.
How can I watch my net carbs at Cheesecake Factory?
We'll go with the "omit the obvious" approach here – no pasta, no grains, no mashed potatoes, no desserts, no crispy foods, no fried chicken and no sugary drinks. These are all high in carbs and not allowed on the ketogenic diet.
You may find yourself looking over the menu and think that Cheesecake Factory's cauliflower pizza is keto. Don't be fooled! Even a regular, no extra toppings cauliflower flatbread pizza has 62g of carbs!
Your safest options are listed below. Try to stick to the meats and seafood section, and enjoy meals like the herb crusted salmon, Tuscan chicken or just go straight for a steak and ask your server to swap the potatoes with vegetables.
Keto Cheesecake Factory Breakfast
Farm Fresh Eggs
You can order these alone, with Old Smokehouse Bacon or Grilled Ham. Need more veggies? Just add some fresh mushrooms, avocado, asparagus or even roasted red peppers (scroll down for the whole list).
Nutrition info (eggs only): 260 calories; 20g fat; 17g protein; 3g total carbs; 3g net carbs
California Omelet
Pretty awesome meal if you ask us. Avocado, mushrooms, green onion, tomato, garlic and shallots, sour cream, jack cheddar and Swiss. Want more? Add extras!
Nutrition info: 1140 calories; 96g fat; 57g protein; 11g total carbs; 8g net carbs
Spinach, Mushroom, Bacon, and Cheese Omelet
This one has lots of fat and lots of protein. Can't forget about the veggies though! It contains fresh spinach, sauteed mushrooms, smoked bacon, green onions and melted cheese.
Nutrition info: 700 calories; 57g fat; 41g protein; 7g total carbs; 6g net carbs
Create Your Own Omelet
Cheesecake Factory gives you a lot of freedom when it comes to omelettes. You can order the above mentioned menu items, you can ask your server for a plain omelet with no extras, or you can make your own low carb keto breakfast combination!
You can choose up to four additions, and to be quite honest with you, this is one of our favorite keto menu options at Cheesecake Factory.
Here is a list of items you can add to your omelet:
bacon
ham
cheddar cheese
jack cheese
Swiss cheese
fontina cheese
goat cheese
avocado
roasted peppers
fresh mushrooms
asparagus
spinach
bell peppers
fresh tomato
red onions
green onions
Nutrition info (plain omelet only): 610 calories; 13g fat; 22g protein; 2g total carbs; 2g net carbs
Small plates and snacks, appetizers
Stuffed Mushrooms
They're stuffed with Fontina and Parmesan, then baked with herbs and garlic in a wine sauce. We haven't tried them ourselves, but they do have 15g of net carbs and that's quite hefty for an appetizer if you want to stay in ketosis. Nonetheless, it's still a doable low carb option.
Nutrition info: 510 calories; 42g fat; 15g protein; 19g total carbs; 15g net carbs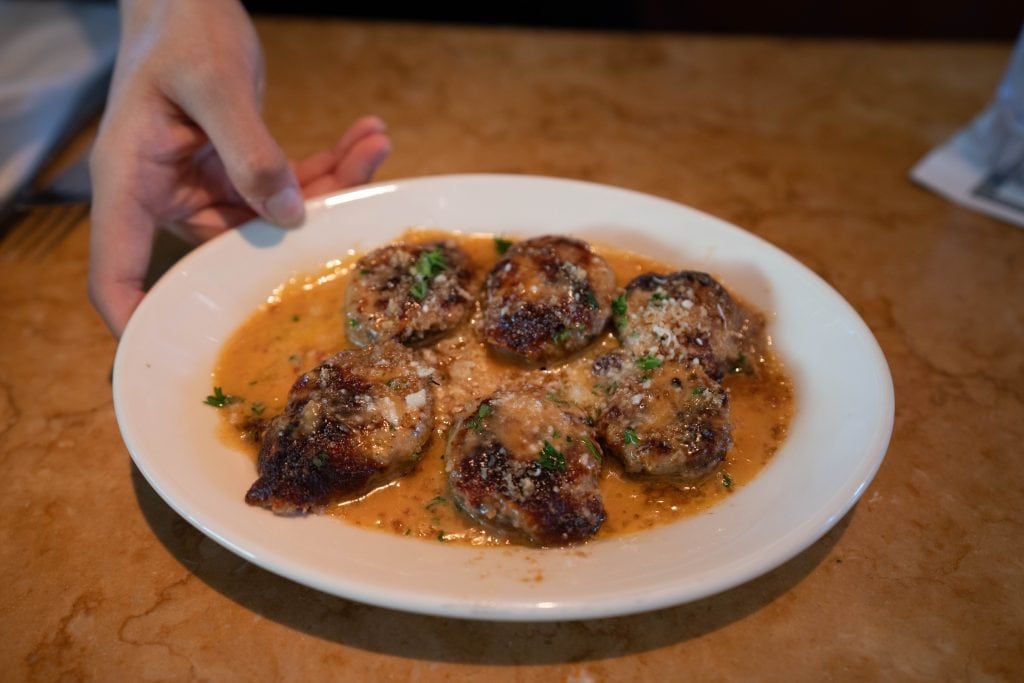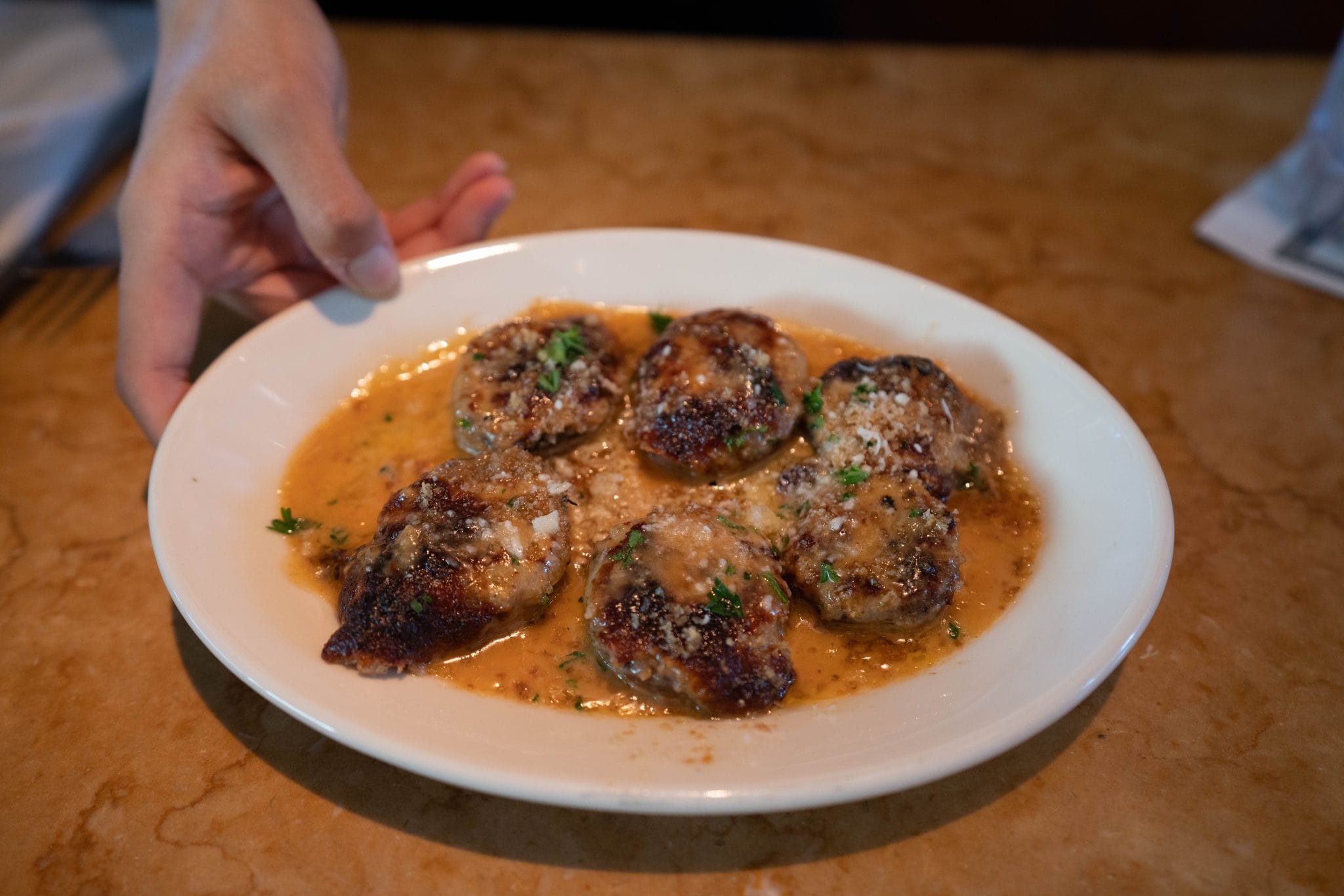 Edamame
The real question here is – is edamame keto? Well, technically they're legumes, which are excluded from the keto diet. However, since they're high in fiber that sort of compensates for it all. A 100g serving of edamame is only 3.6g net carbs, so if you're asking us for a green light… you got it!
Nutrition info: 100 calories; 3g fat; 8g protein; 11g total carbs; 8g net carbs
Crispy Crab Bites
I know we said "no crispy things" before, but if you're not a strict keto dieter, you can give this one a pass. One plate has 17g of carbs without the fiber, so remember – count wisely!
Nutritional info: 410 calories; 31g fat; 15g protein; 19g total carbs; 17g net carbs
Buffalo Wings
This appetizer serves 2-4 people, but if you're in the mood you could order it as the main dish. Grab a side salad or ask your server for extra veggies on the side and you're good to go. Did we mention you can eat blue cheese dressing with it as well? It's low carb!
Nutrition info: 620 calories; 69g fat; 109g protein; 16g total carbs; 14g net carbs
Keto Cheesecake Factory Salads
Cobb Salad
It's really difficult to finish this giant salad in one sitting, so make sure to take your leftovers home! It has chicken breast, avocado, blue cheese, bacon, tomato and a hard boiled egg, all on a bed of mixed greens tossed in their signature vinaigrette.
Nutrition info: 1050 calories; 87g fat; 45g protein; 26g total carbs; 19g net carbs
Caesar Salad with Chicken (no croutons)
Another giant salad portion, just don't forget to nix the croutons! Enjoy it with chicken, Parmesan cheese and low carb Caesar dressing.
Nutrition info: 950 calories; 73g fat; 52g protein; 19g total carbs; 12g net carbs
Greek Salad
Mediterranean inspired salad, full of healthy fats! It has feta cheese, tomatoes, cucumbers, kalamata olives, red onions and vinaigrette. Need to make it more filling? Add steak or chicken!
Nutrition info: 670 calories; 62g fat; 10g protein; 18g total carbs; 12g net carbs
Seared Tuna Tataki Salad
Yesss, this is one of our favorite meals on the menu! It's a lightly seared tuna and comes with a mixed greens side salad, tomatoes, avocado and a wasabi vinaigrette. I don't really know what is there not to like about it, but just know that we came (and stayed) for the wasabi!
Nutrition info: 490 calories; 29g fat; 42g protein; 17g total carbs; 12g net carbs
You can also add low carb extras to your salad:
avocado
grilled chicken
grilled shrimp
grilled salmon
char-grilled steak
Keto Cheesecake Factory Glamburgers
We're not really sure if these are called "Glamburgers" because they're glamorous, but they're surely a good and most of the time, safe keto option. Remember to toss the bun to make it into a low carb meal and skip the sauce. Instead, you can order a keto friendly low carb dip from the list we came up with a few paragraphs down.
Old Fashioned Burger (no bun, no mayo)
Stuffed Cheddar Burger (no bun, no special sauce)
Classic Burger (no bun)
Mushroom Burger (no mayo)
Americana Cheeseburger (no bun, no sauce)
Bacon Bacon Cheeseburger (no bun, no sauce)
Factory Turkey Burger (no bun, no mayo)
Smokehouse BBQ Burger (no bun, no BBQ ranch, no crispy onions)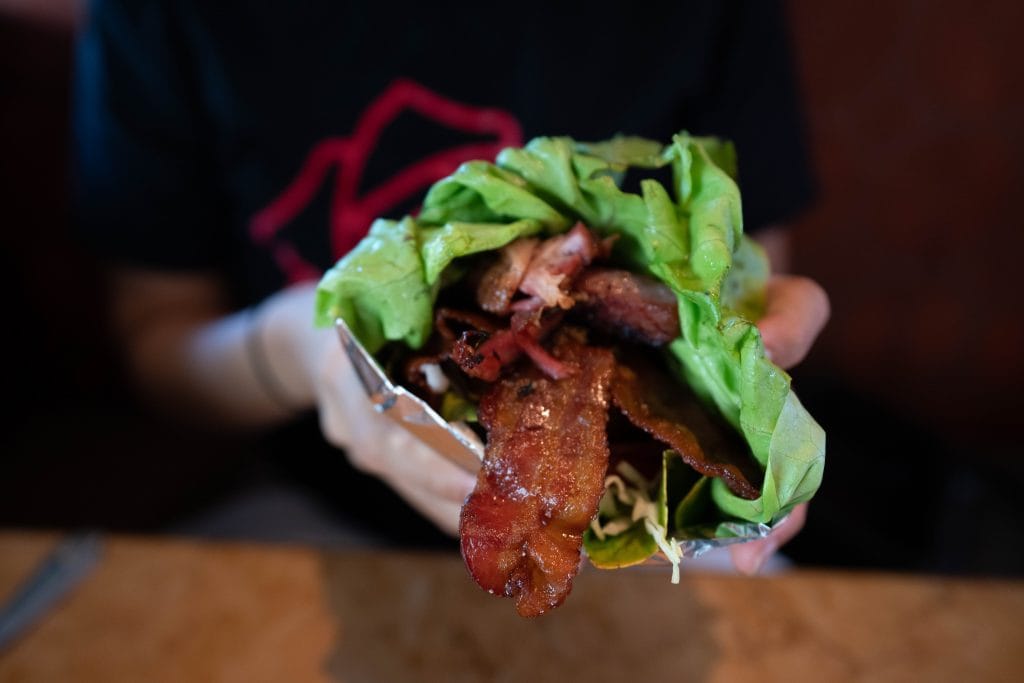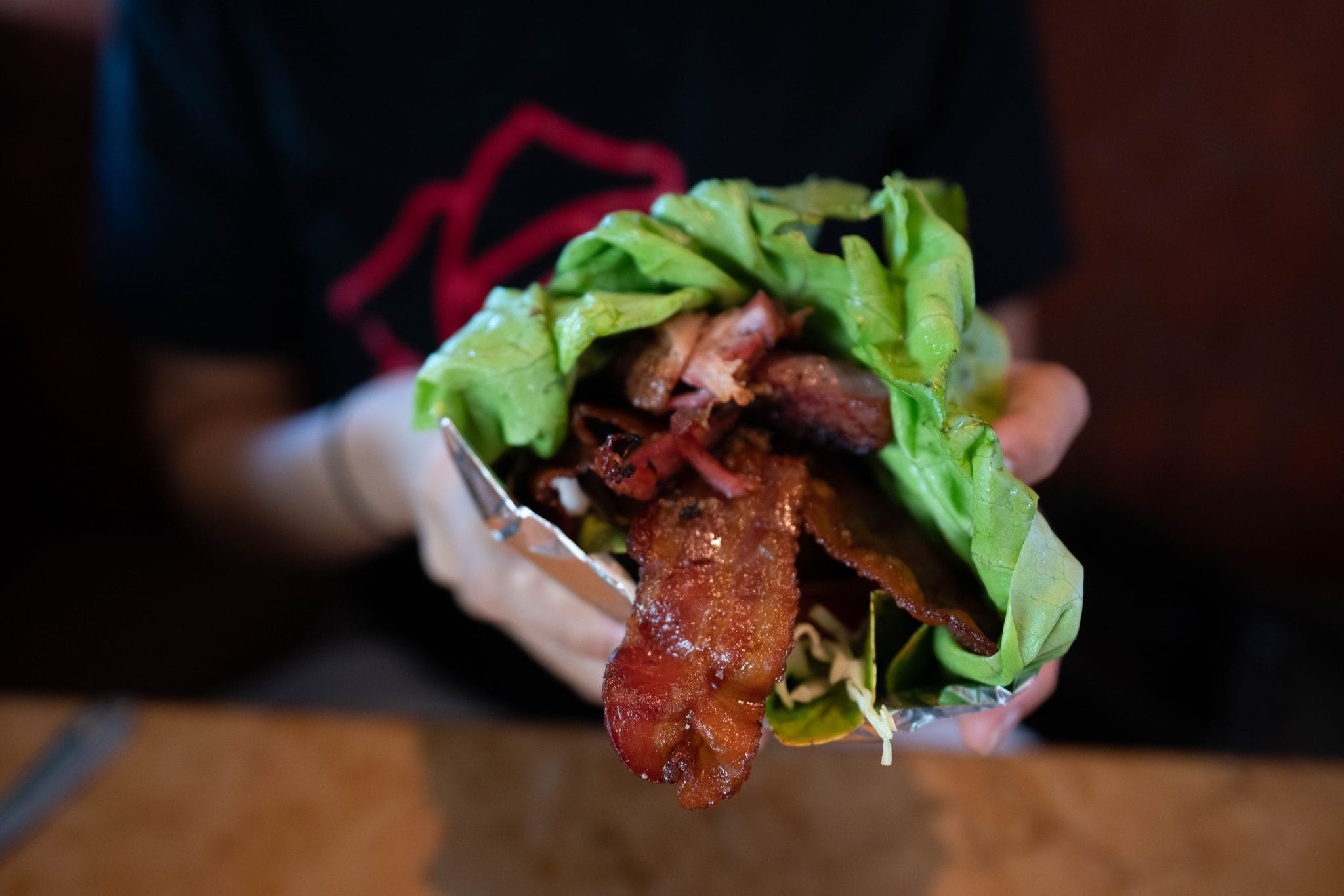 Keto Cheesecake Factory Dinner
Pan Seared Branzino with Lemon Butter
It's a delicate sauteed fish, served together with lemon and vegetables like asparagus and broccoli. 10g net carbs isn't a small number, but if you're considering the size of this dish (and the amount of protein it has!) it surely makes our list for one of the best keto diet options.
Nutrition info: 880 calories; 71g fat; 47g protein; 14g total carbs; 10g net carbs
Grilled Branzino with Mediterranean Salsa
If you're counting calories, this menu option is a really good pick. This dish contains of a mild, delicate white fish which has been charbroiled and then topped with tomatoes, garlic, herbs and olive oil. It's also served over fresh vegetables like broccoli and asparagus.
Nutrition info: 540 calories; 28g fat; 56g protein; 14g total carbs; 9g net carbs
SkinnyLicious Grilled Salmon
Make sure to order it just like that! Cheesecake Factory has a special SkinnyLicious menu which is usually lower in calories and carbs, but don't trust the advertising. Some items are very high carb! However, this option consists of grilled salmon and low carb veggies only.
Nutrition info: 570 calories; 34g fat; 44g protein; 21g total carbs; 14g net carbs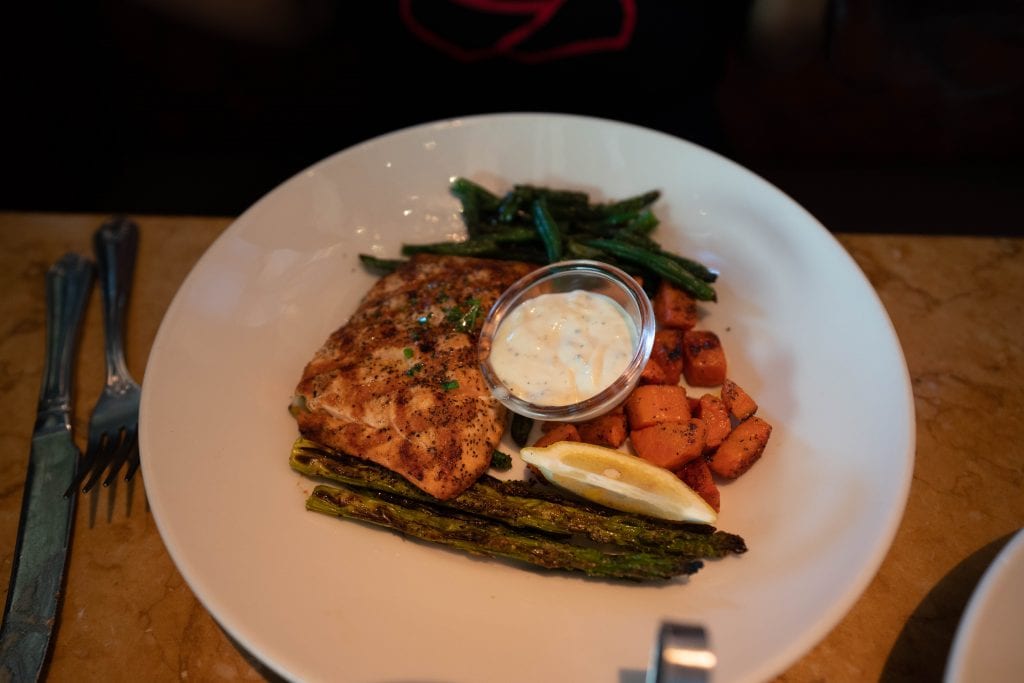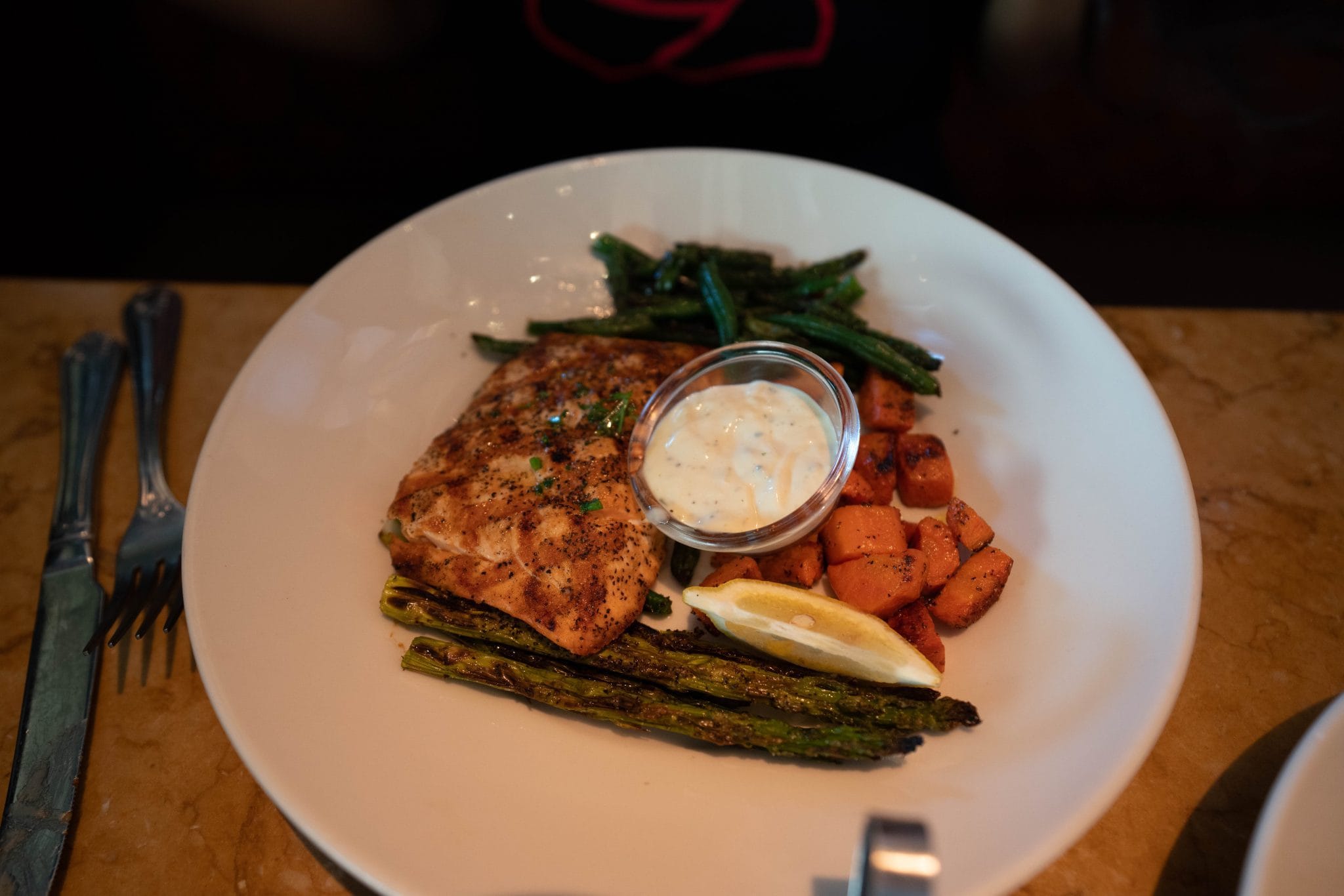 Other dinner options:
There are also other options available to order, but we weren't able to get the nutritional information for each. Cheesecake Factory doesn't divide their nutrition guide into separate ingredients and with so many options, we would only make a very rough estimate.
However, these are fine once you order them with a side of vegetables or a small salad.
Herb Crusted Fillet of Salmon
Carne Asada Steak
Steak Diane
Hibachi Steak
Char-grilled New York Steak
Grilled Rib-Eye Steak
Filet Mignon
Tuscan Chicken
Grilled Steak Medallions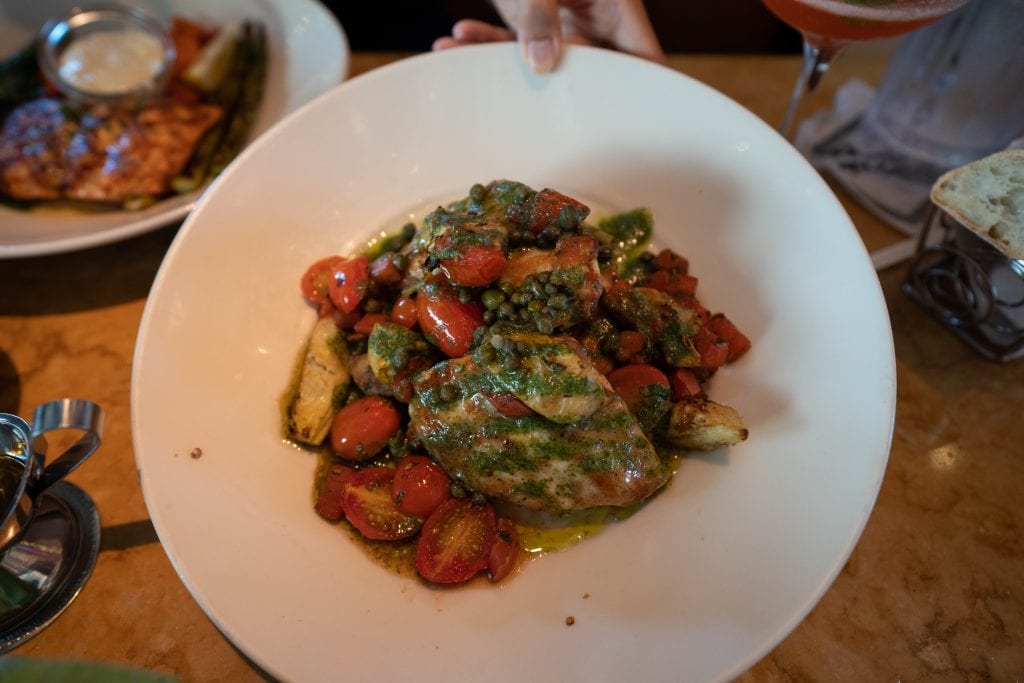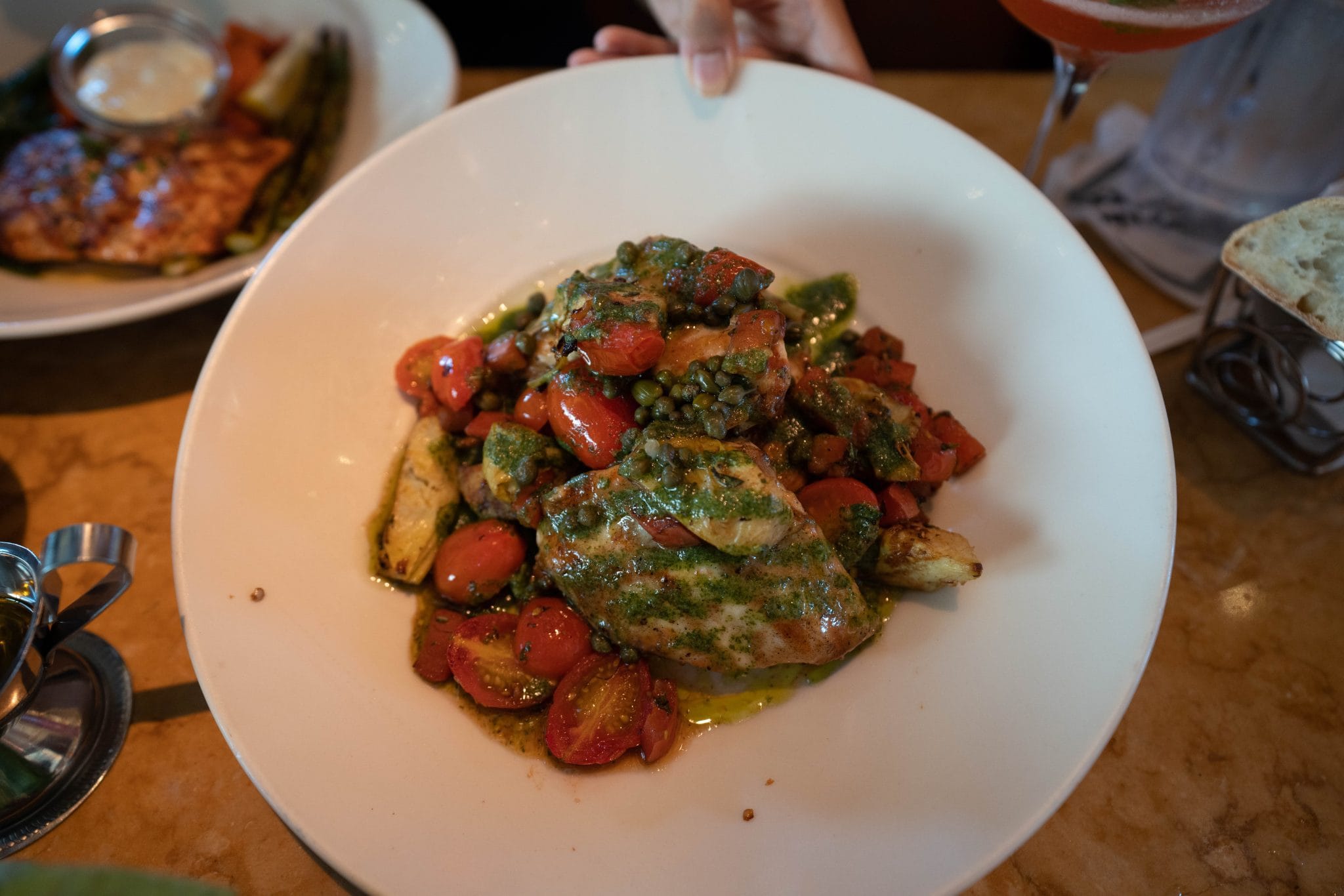 Keto Cheesecake Factory Sides
Know what meat or fish you want, but struggling with side dishes? Here are some of your options!
Green Beans
Sauteed Spinach
Broccoli
Grilled Asparagus
Dressings and Condiments (per tbsp)
Balsamic Vinaigrette (2g carbs)
Blue Cheese (1g carbs)
Caesar (1g carbs)
Cilantro (1g carbs)
Ranch (1g carbs)
Shallot Vinaigrette (1g carbs)
SkinnyLicious Mustard Vinaigrette (1g carbs)
Can I order low carb cheesecake?
Unfortunately, no.
Even though the "low-licious" cheesecake menu option has considerably less carbs than other ones, it's still not okay to eat on the keto diet. Is it low carb? Probably, but with a whooping 37 grams of total carbs we don't recommend it. At all.
Our final thoughts
We're big advocates of eating at home. That way, you know what you're eating, how fresh the ingredients are and how many net carbs they have. If you're eating out, you really have no way of knowing these things, especially if a restaurant doesn't have a user friendly nutrition guide (Cheesecake Factory's is not the best, check it out here).
Bottom line, if you're following a low carb, keto diet stick to the items we've lined out for you above. Fortunately, several low carb versions are available without making any swaps. Stick to these options and you won't fall out of ketosis!
For more comprehensive guides on how to eat low carb and keto at fast food restaurants, check out our article on the 50 Best Keto Fast Food Options.
Want more options? Check out these guides: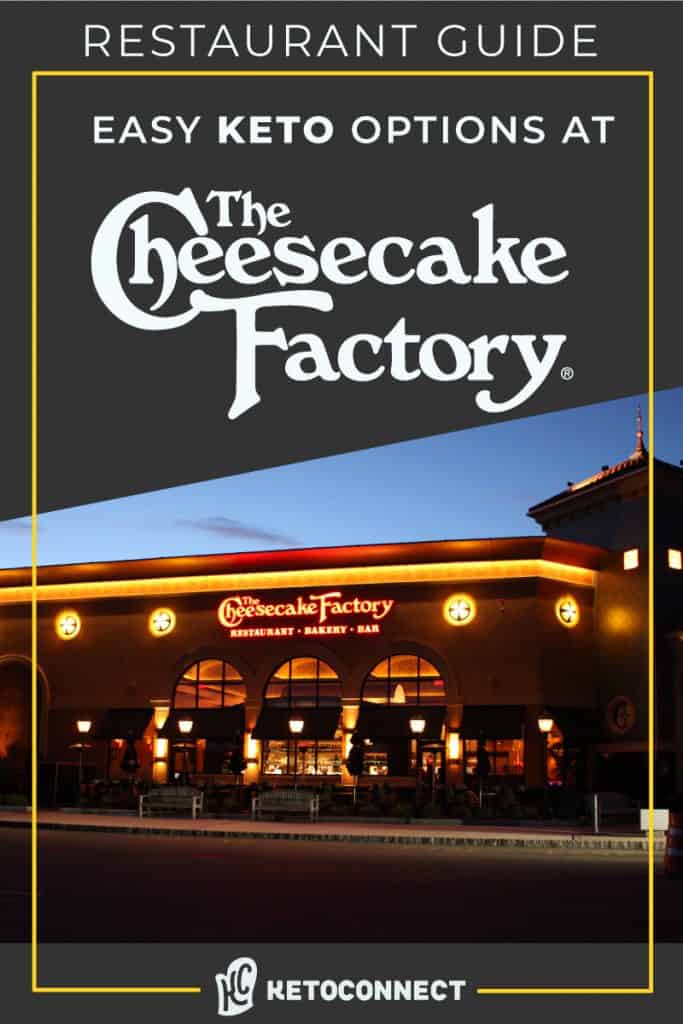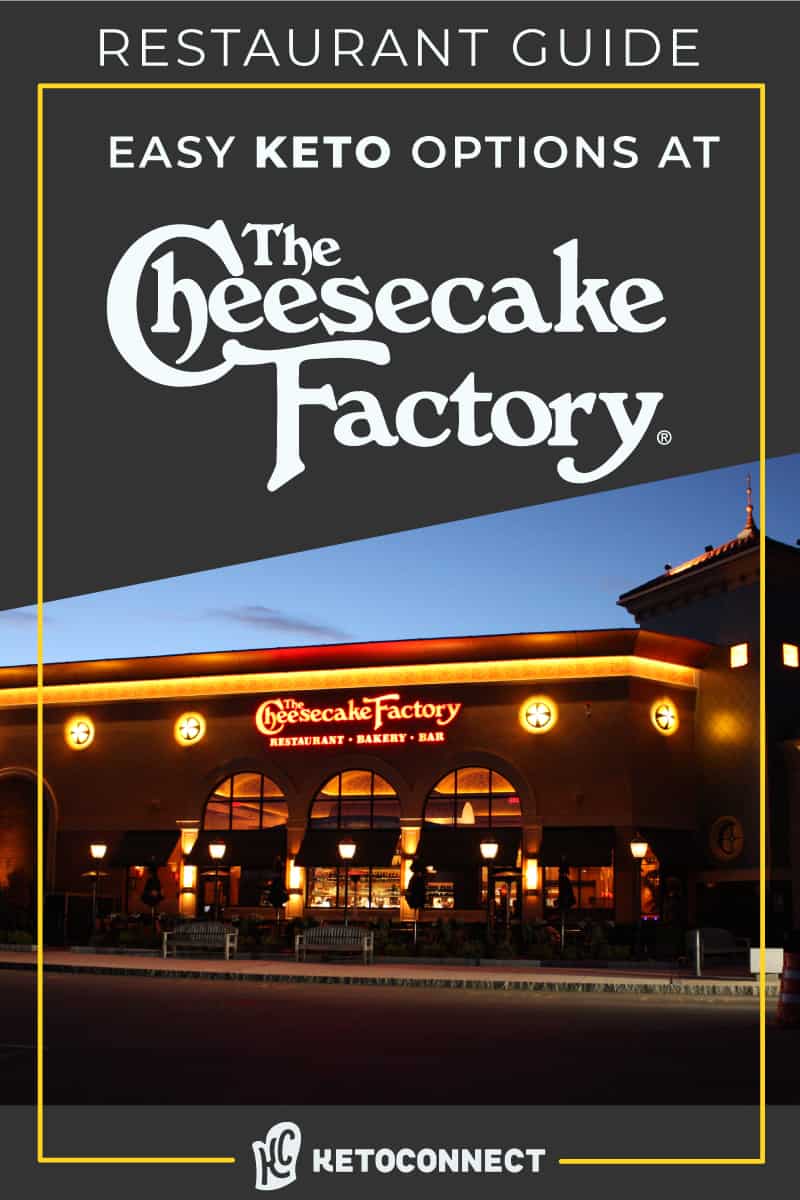 Written By