Finding Keto options on the go can be a challenge, but new items seem to be popping up all the time. We were pumped to learn that Smoothie King has two new Keto friendly choices on the menu and couldn't wait to give them a try.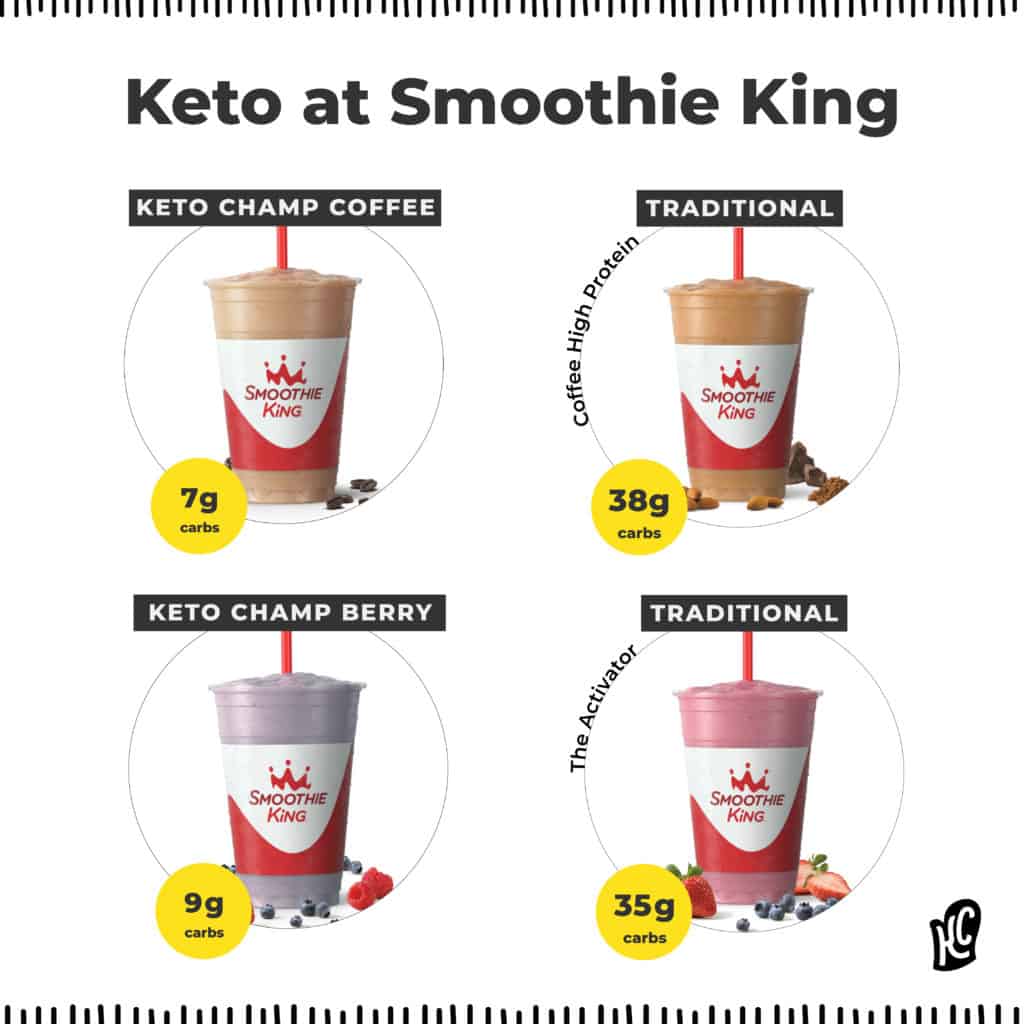 Previously, any low carb menu items at Smoothie King seemed to require a build it yourself type order, which is intimidating if you're new to Keto. It's great to be able to walk in the door, place your order like a pro and move on with your day. No clarifying, no repeating and no explanations necessary!
Read our full keto fast food guide for even more options.
Smoothie King Keto Champ Smoothies
Typically smoothies are low in fat and heavy on fruits like mango and bananas making them difficult to fit into a keto diet.
In case you've never heard of Smoothie King, they are a smoothie making franchise with over 1000 locations across three continents. An entire page on the website outlines their dedication to better ingredients, including their "No-No List", which is a list of ingredients you'll never find in any of their smoothies. Right off the bat, we were impressed by the simplicity of the Keto Champ Smoothies.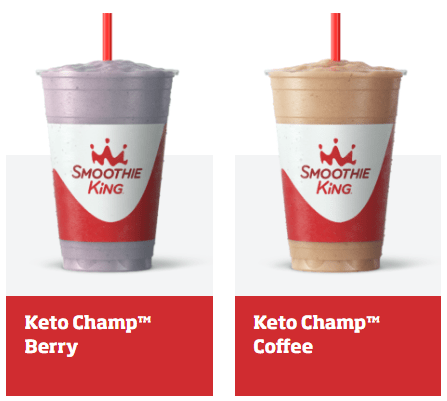 It took a little digging to find out exactly what was in the Keto Protein Blend but we did find it: A proprietary blend consisting of collagen peptides, cinnamon, medium-chain triglycerides (coconut), natural flavors, oat fiber, sea salt, stevia leaf extract, sunflower lecithin, whey protein isolate, whey protein concentrate, and other ingredients.

So, if you've been craving a thick and creamy smoothie will these smoothies do the trick? Check out the video to get our genuine reactions to both flavors and find out if we would buy them again. And read on for more information!
Smoothie King offers two standard menu options that fit specifically into Keto macros. While they have several low carb protein powder blends, you get the benefit of the high fat content in the Keto Champ options.
Option 1: Keto Champ Coffee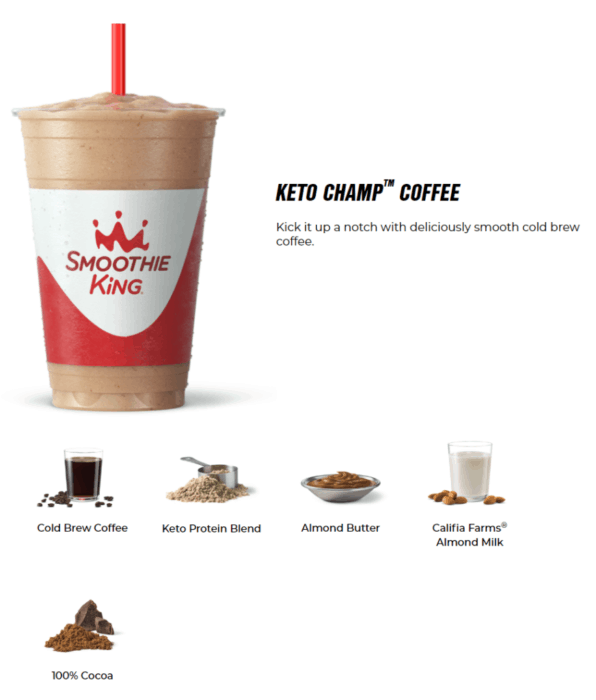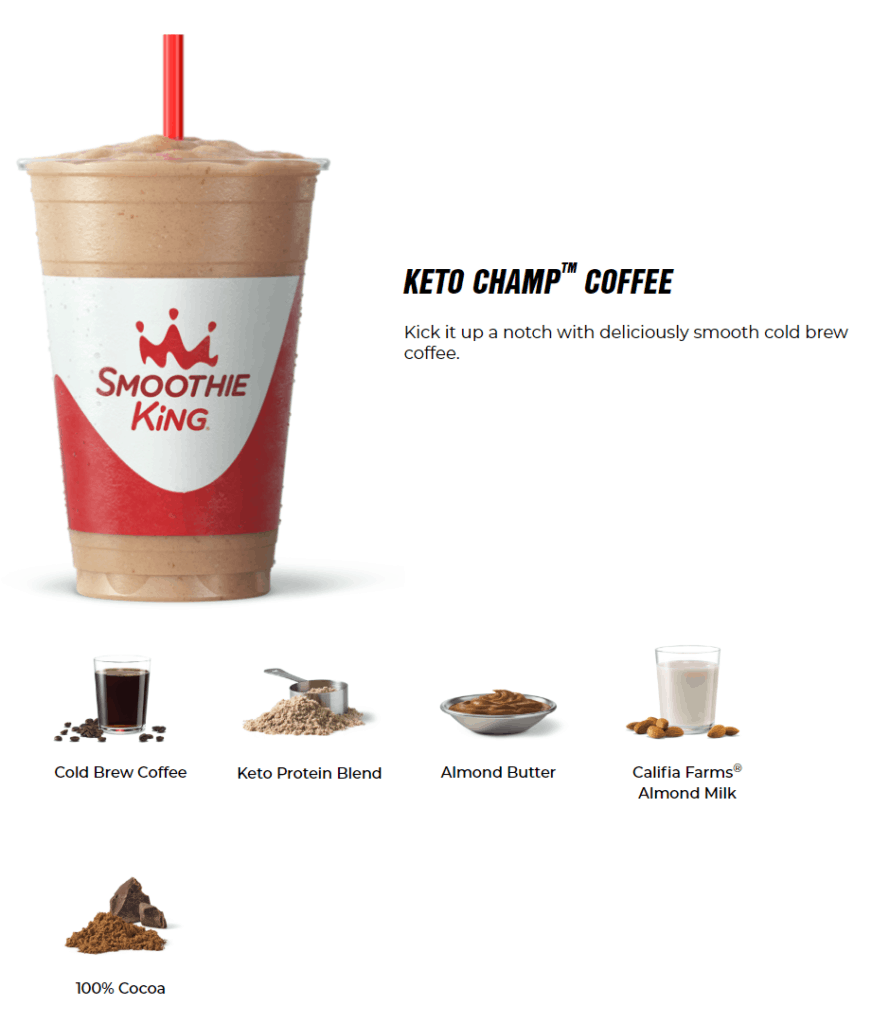 Macros for 20oz: Calories: 420 | Fat: 31g | Protein: 24g | Carbs: 14g | Fiber: 7g
Subtle sweetness
Filling
7g of net carbs make it a great meal replacement
Ask to add Stevia (or bring your own!) if you are new to Keto or want a sweeter option
Option 2: Keto Champ Berry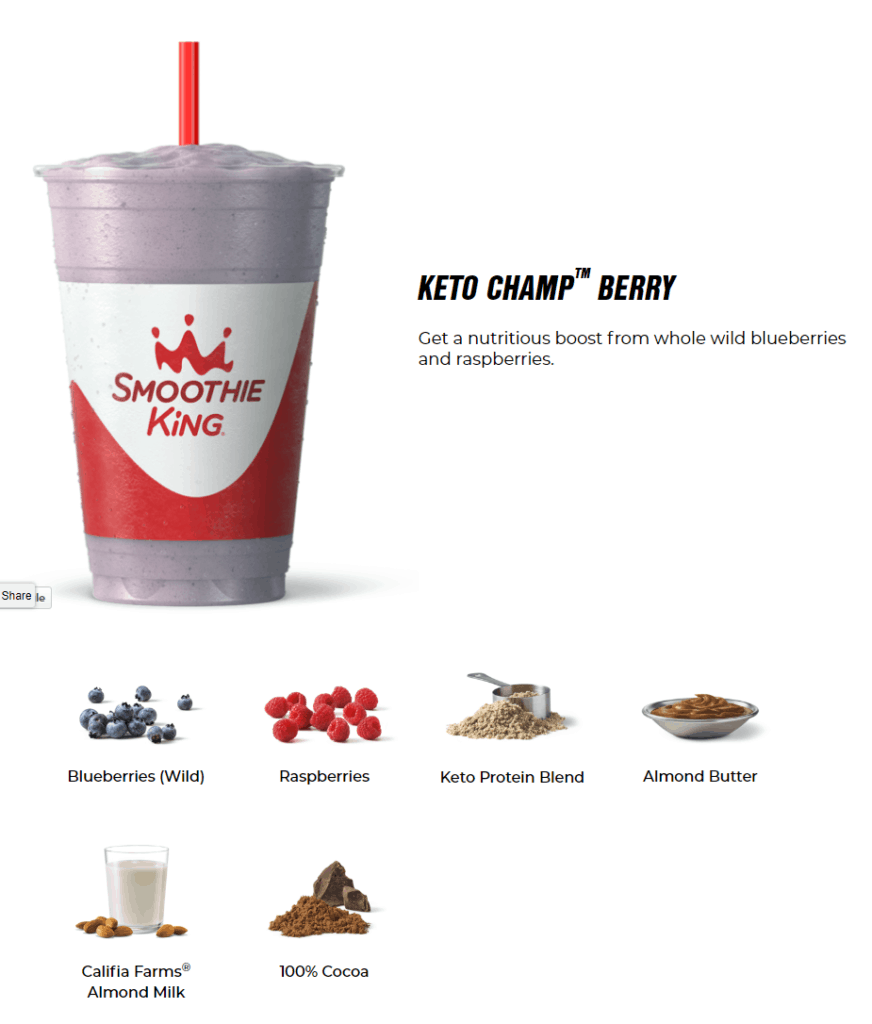 Macros for 20oz: Calories: 430 | Fat: 31g | Protein: 23g | Carbs: 19g | Fiber: 10g
Berries give this one more natural sweetness
Thick and creamy texture is on point
More of a traditional smoothie experience
Prefer to be the master of your own smoothie creation? Smoothie King also shares keto friendly hacks to their current line up that will keep your drink under 10g of net carbs.
Want even more options? The website lets you customize and play around with ingredients to help you find your best flavor.

How about Peanut Butter and Jelly? Try a 20oz. Gladiator Strawberry smoothie and add in peanut butter.
Macros Calories: 480 | Fat: 25g | Protein: 55g | Carbs: 13g | Fiber: 6g | Net Carbs: 7g

Or maybe a Chocolate Nut Butter combination! Order a 20oz. Gladiator Chocolate smoothie and add in Almond Butter and Califia Farms Almond Milk.
Macros Calories: 380 | Fat: 17g | Protein: 50g | Carbs: 11g | Fiber: 6g | Net Carbs: 5g

*Note: the Gladiator smoothies use a protein powder blend containing a small amount of sucralose
What to Watch Out For:
Smoothie King has an entire category devoted to "Fitness Blends" that may sound like they'd fit into a Keto diet, but beware. If in doubt, it's always best to read labels! Here are a few tricky sounding smoothies to steer clear of.
High Protein Lemon Smoothie – this contains around 46g of total carbs in 20 ounces. It may be high in protein, but the main ingredient in this smoothie is a fruit juice blend.
Peanut Power Plus Chocolate Smoothie – containing 77g of carbs, it gets its flavor from dates, bananas, and nonfat milk. Just say no.
Hulk Chocolate Smoothie – coming in at a whopping 101g of carbs in just 20 ounces, you'll want to stay far, far away. One of the ingredients in this smoothie is butter pecan ice cream. Sounds decadent, but not for keto!
Shelling out almost $7 on a smoothie not your thing? We've got you covered with some of our favorite make at home recipe posts:
Keto Blueberry Cheesecake Smoothie, the 5 Ingredient Keto Smoothie, and Chocolate Peanut Butter Shake.
More Keto On The Go
Smoothie King is a solid keto option, but if you're in the mood for a full meal you may want to check out our keto fast food guides. We've put together over a dozen guides so you can order with confidence at all of your favorite fast food restaurants. Check out our guides for Starbucks, McDonald's, Taco Bell, Chipotle, KFC, Buffalo Wild Wings, Chick-Fil-A, Popeye's and more.
Our Final Opinion
Overall, we rate these around a 7/10 and would totally come back and purchase them again! We were honestly not expecting to like these as much as we did, but they definitely exceeded our expectations.
It did cost us a little over $12 for both smoothies, but when you factor in that these smoothies are filling and are more of a meal replacement, it isn't a terrible price for a quick and convenient option on the go. Have you tried a Keto Champ Smoothie yet? What were your thoughts?
More Keto Product Reviews
If you liked this full review, you are in luck because we have in depth reviews of the most popular keto products on the market today.
Best Keto Cereal Review
Ultimate Keto Meal Delivery Options
Greatest Keto Subscription Box
50 Best Keto Fast Food Options
Best Keto Protein Powder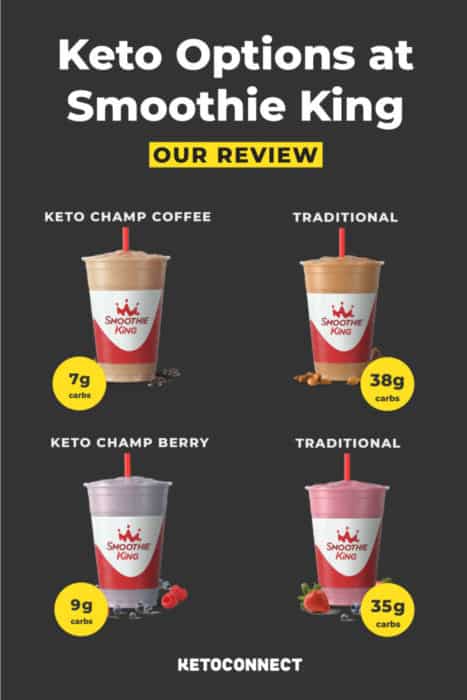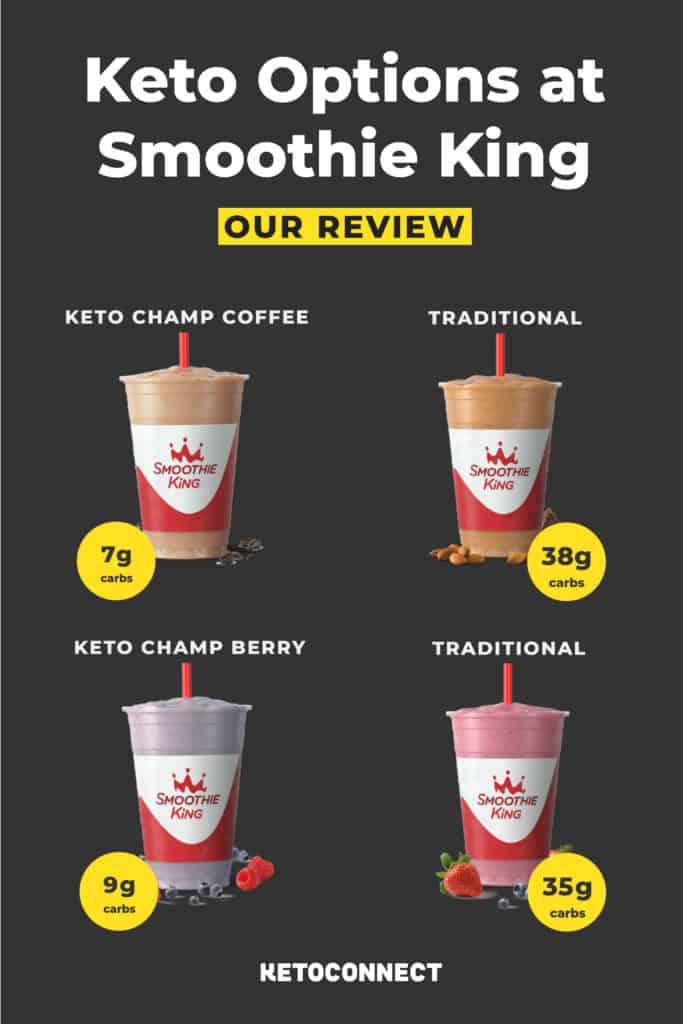 Written By