I remember when air fryers first came out and I was a little skeptical about it (as I am with all the new kitchen appliances). While I love using new things when I cook, I'm so used to the old ways that any new appliance seems redundant to me.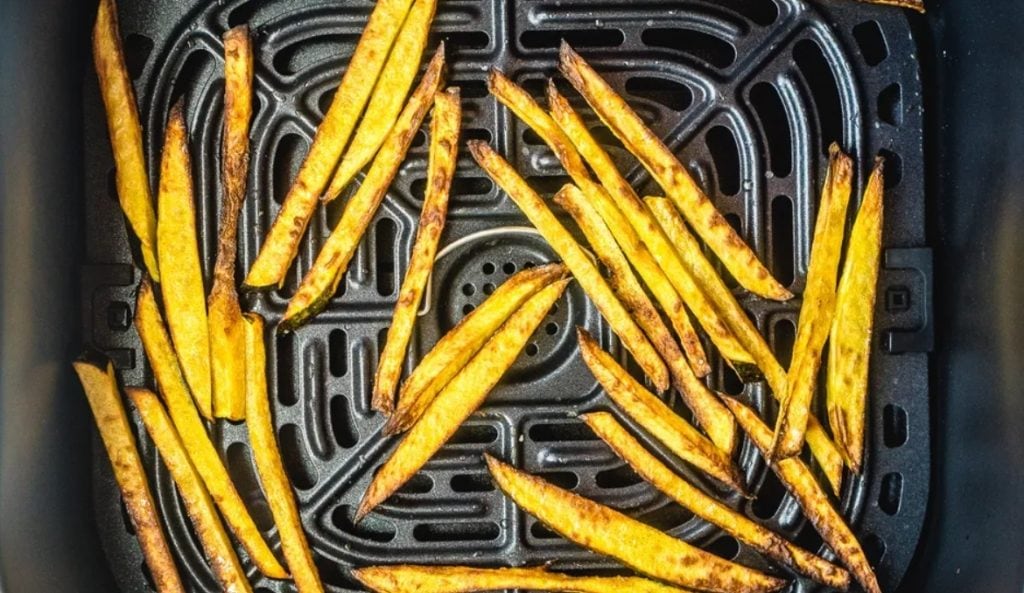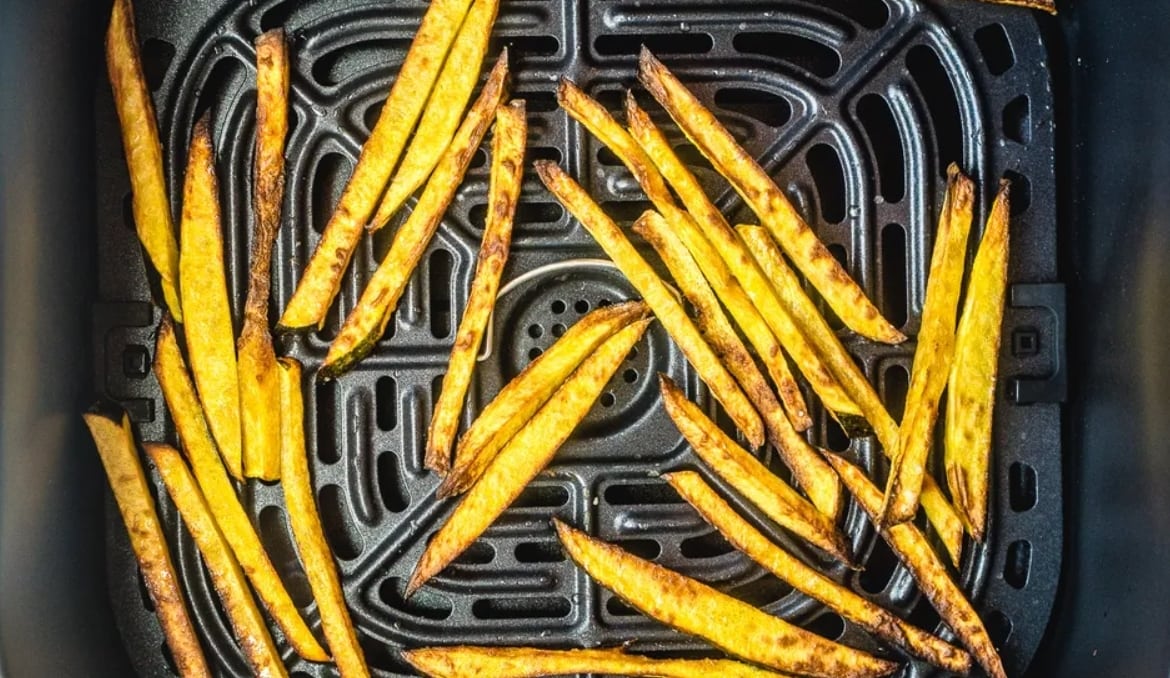 However, air fryers exceeded all of my expectations and we now use one at our house all the time. Nice, crispy food without all the unhealthy batter? You got it. When I was looking for the best air fryer for family of 4, there was hardly anything online so I'd thought I write one out.
How to choose the right air fryer?
Everyone's preferences are different, but there are a few things you should keep in mind when choosing the best air fryer for a family of 4.
Size
Air fryers can be quite bulky and take up a lot of space. They're not all created equally, so keep the dimensions and overall look in mind. Also, most air fryers and meant to be kept on top of the countertop so you want something that looks nice as well.
As per the size when it comes to the amount of food you want to cook, it depends. Some air fryers have two baskets, some are smaller but more powerful and so on. It really depends on your preference.
Temperature
Small air fryers usually can't reach very high temperatures, so if you want to cook, let's say, frozen chicken wings or other meats you need to get an air fryer that heats up to at least 390-400F.
Sometimes you'll also want to air fry food at a lower temperature, so look for air fryers with a wide temperature range like 100-450F.
Price
I know the popular consensus is "the more expensive, the better" but that's absolutely not true when it comes to air fryers. Expensive air fryers and nearly the same quality as more affordable ones.
Anything over $160 is, in my opinion, not worth looking at. There are plenty of cheaper options that won't break the bank and work just fine. The only time price should make a difference is when you're getting a small air fryer vs. a larger air fryer.
Reviews
Amazon is amazing when it comes to reviews. The best air fryers will have tons of good recommendations, tips and explain all the features in its entirety. The COSORI air fryer max has one of the best reviews we've seen, along with the Ninja air fryer. And let me tell you, I can't disagree with that.
COSORI Air Fryer Oven Combo (5.8QT)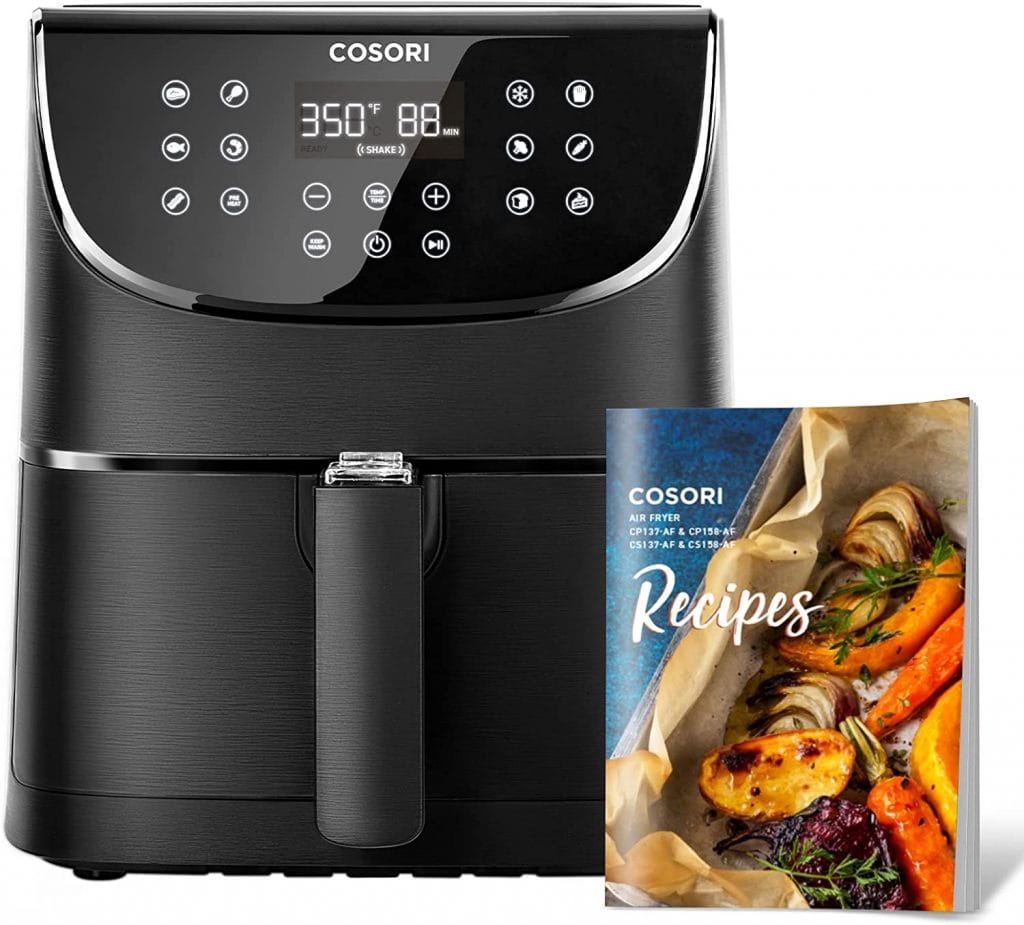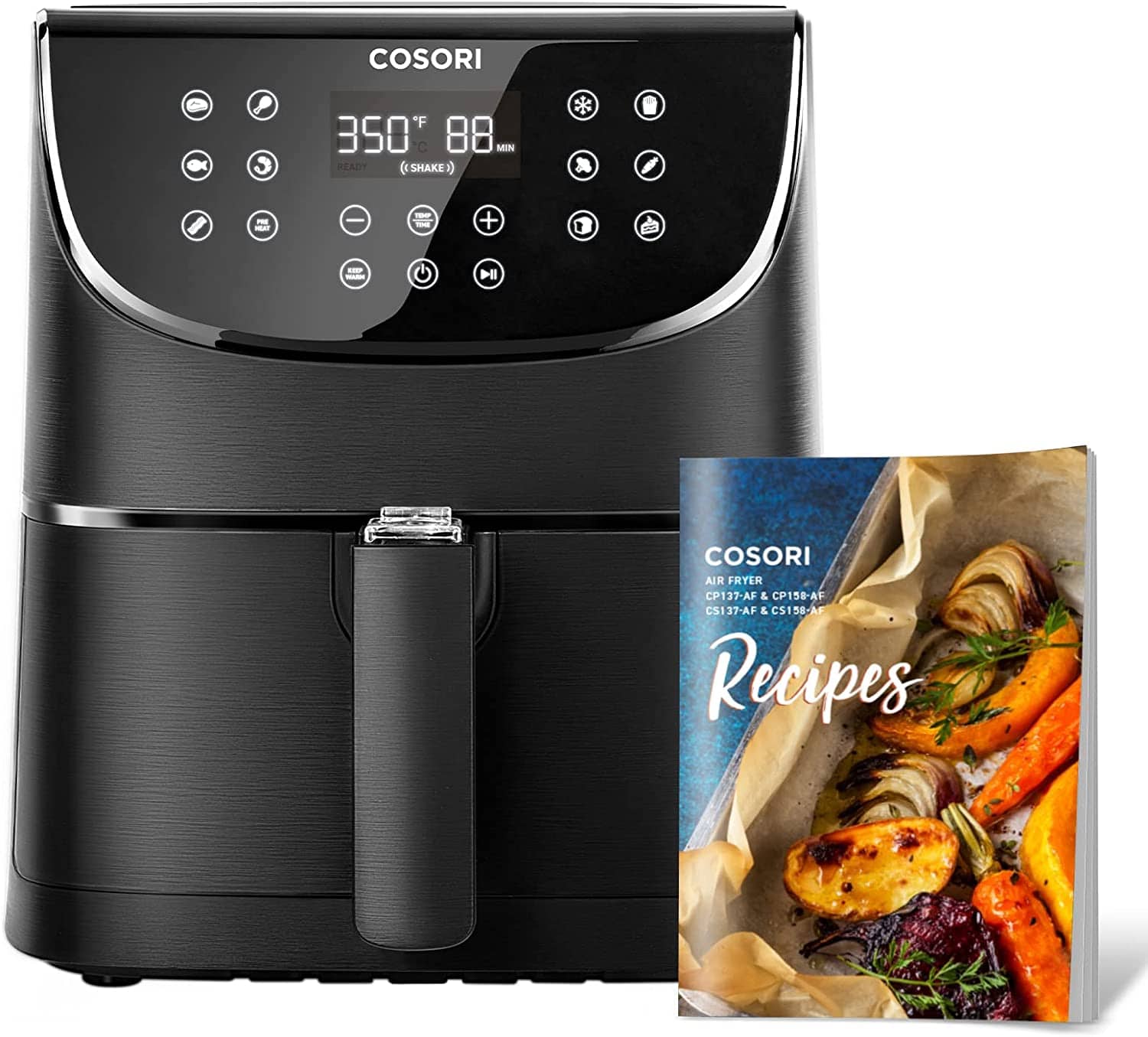 The COSORI air fryer is probably the most popular one, especially when you look at Amazon reviews. Honestly, I 100% agree with all these reviews as well. This air fryer has 13 cooking modes, so you can make anything from frozen foods to raw meats and veggies.
It might be a bit small for a family of 4, but that depends on the amount of food you're using it for. It does have other benefits though – the 13 preset modes are absolutely golden. All you need to do is press a button to make steak, chicken, seafood, shrimp, frozen foods, bacon, veggies, root vegetables and even bread or desserts.
This air fryer comes with a recipe book. Since there are so many of these available online I don't find it entirely necessary, but nonetheless it's a nice touch. The more inspo the better.
Pros
It's really lightweight but sturdy at the same time
It has 13 cooking functions
Dishwasher safe components
Really easy to learn and navigate
The frozen mode and "keep warm" mode is great
Cons
It has no other features other than air frying
You'll probably never use all the cooking modes
Smaller than other air fryers
Get the COSORI Air Fryer for $100 on Amazon
Ninja Foodi 6-in-1 (8QT, 2 baskets) Air Fryer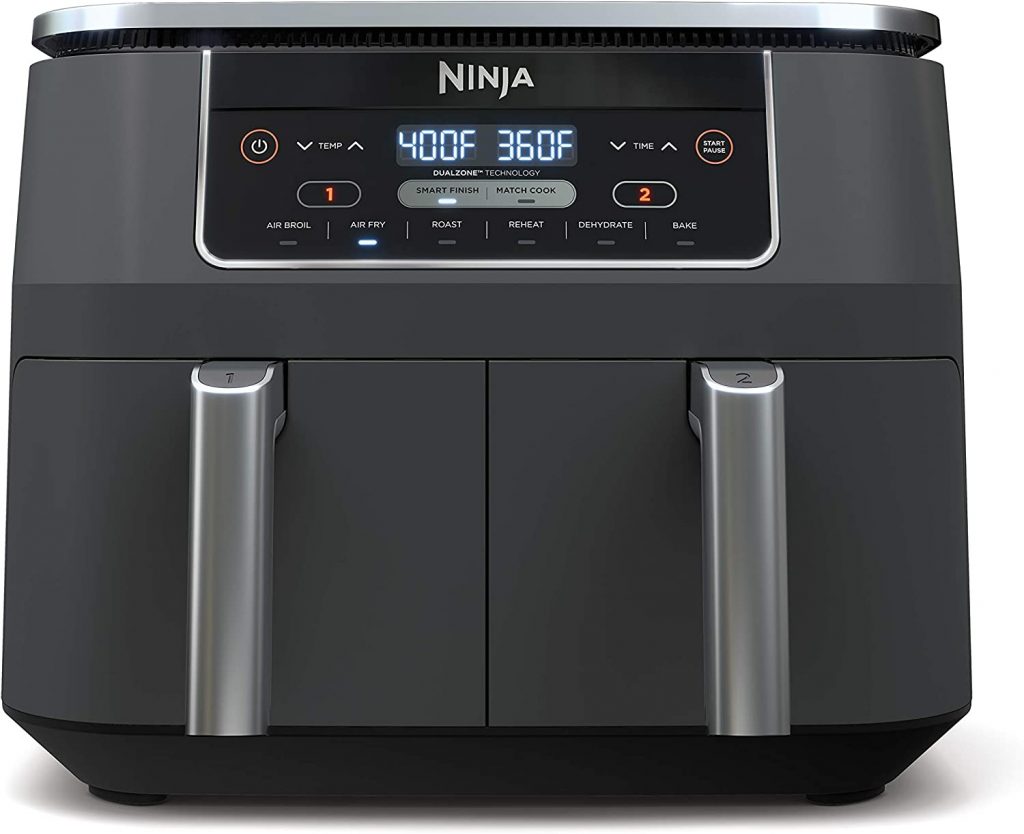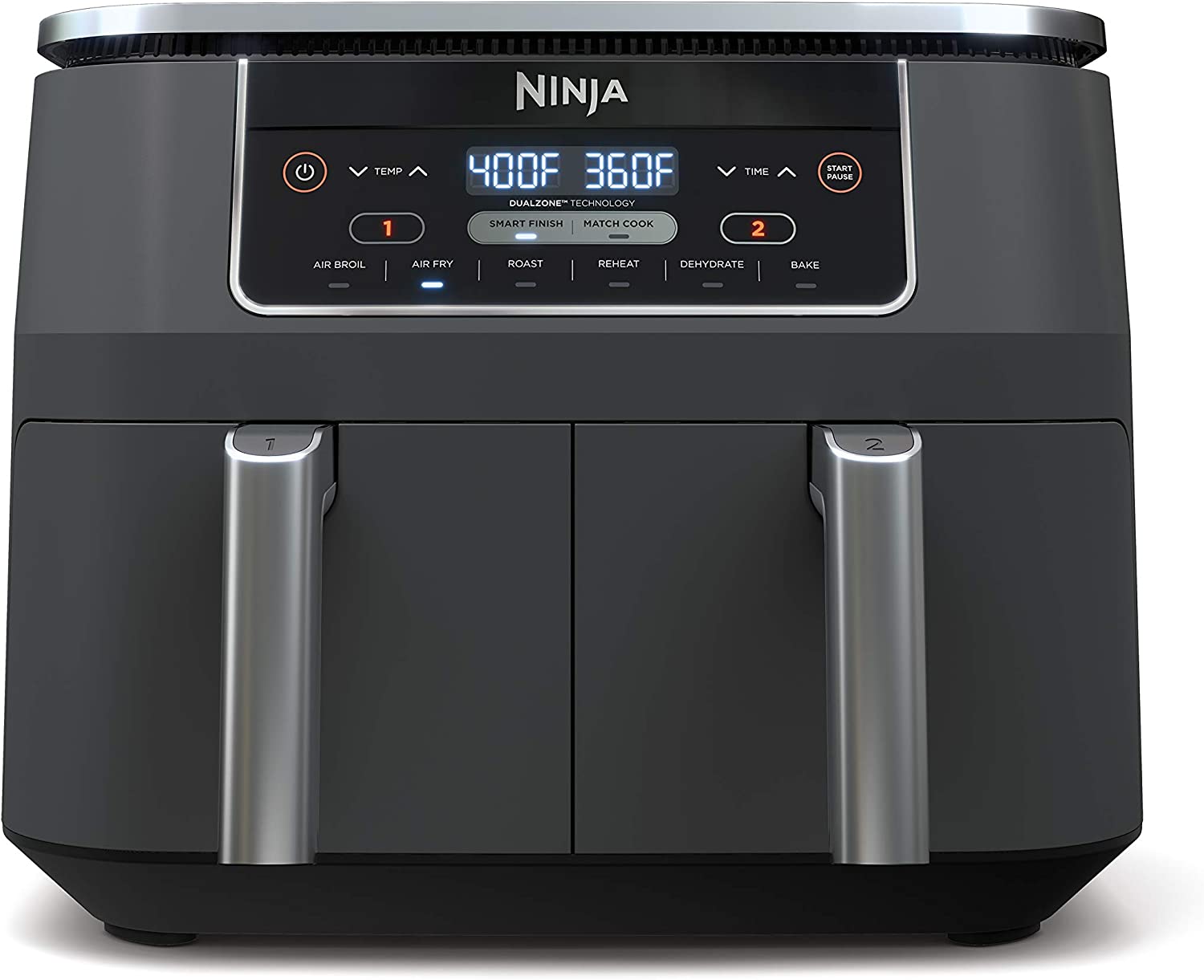 This Ninja air fryer is probably the second best air fryer for family of 4. It's one of those basket style air fryers where you can air fry two different foods at once without mixing up the flavors. I wouldn't call it a compact air fryer at all because it's quite huge, but if you've got a big family it's an awesome option.
It does have a little bit of a weird smell once you get it, but in comparison to other air fryers it goes away rather quickly. It's really easy to clean so that shouldn't be an issue at all. Also, this is probably the best basket style air fryer if you're trying to cut down on cooking time. I found it to be much quicker than other air fryers.
To me, this is the best overall air fryer. I don't mind that some batches take a little longer to cook as long as I get delicious food at the end, which I always do.
Pros
Lots of space for food
Coordinated cooking options for both baskets
"Smart Finish" option for separate cooking times
Cons
Large batches take longer to cook
It's actually huge and takes up a lot of space
More expensive than most air fryers
Get the Ninja Foodi 6-in-1 for $160 on Amazon
Dreo Air Fryer Pro Max (6.8QT)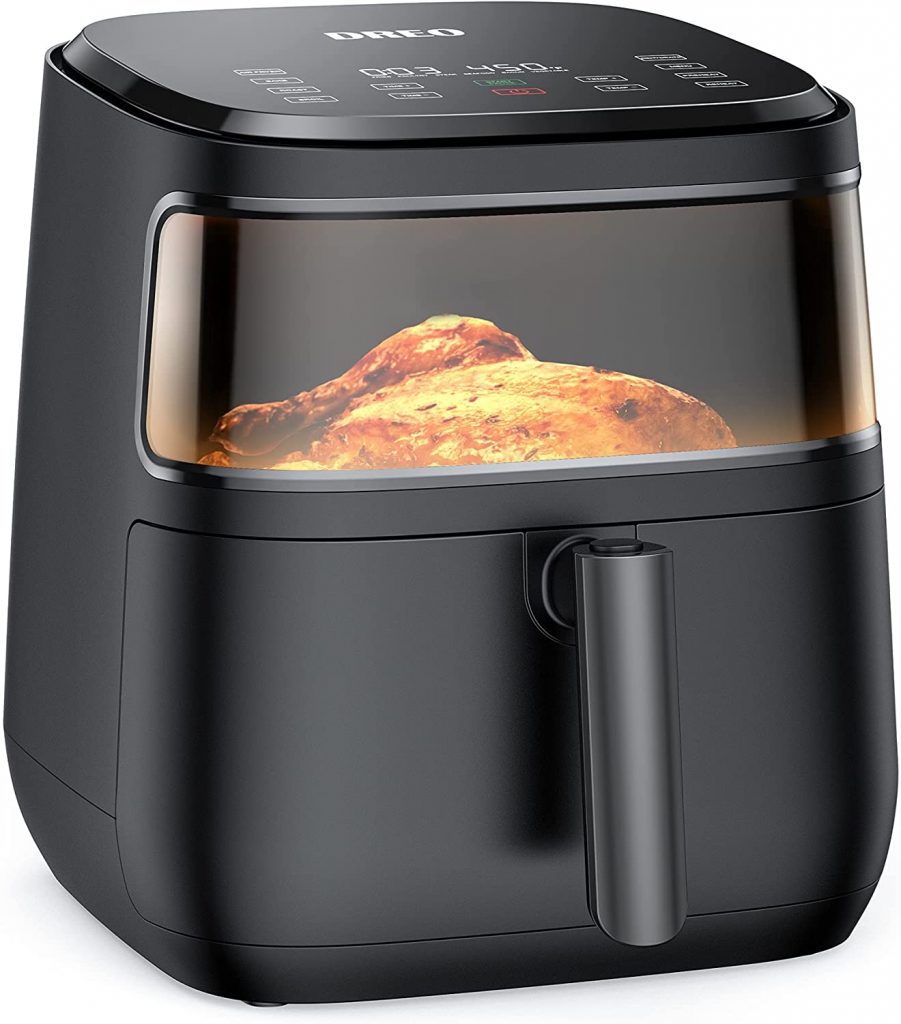 This digital air fryer is very easy to use and makes cooking food an absolute joy. Out of all the other air fryers we've tested, this one cooks all the food evenly without any cool spots. Plus, it has a window so you can check the progress of your air fryer and see if your food is ready.
Something I was not too happy about was the cooking basket. If you're deep frying, all of the air fryer oil will stay in the basket so you will most likely need to use tongs to take some things out. It's not really convenient, but I forget about it and smile when I see their temperature range (100-450F). Not even the best air fryers have that.
It's worth noting that it also has a built-in sensor that automatically pauses and resumes to avoid any kind of overheating.
Pros
Wide temperature range
Portable and small considering the capacity
Really easy touch screen and 8 presets
Some parts are dishwasher safe
Cons
The outside is made out of plastic
Grease stays in the removable basket
Get the Dreo Air Fryer for $108 on Amazon
Nouno Air Fryer (7.4QT)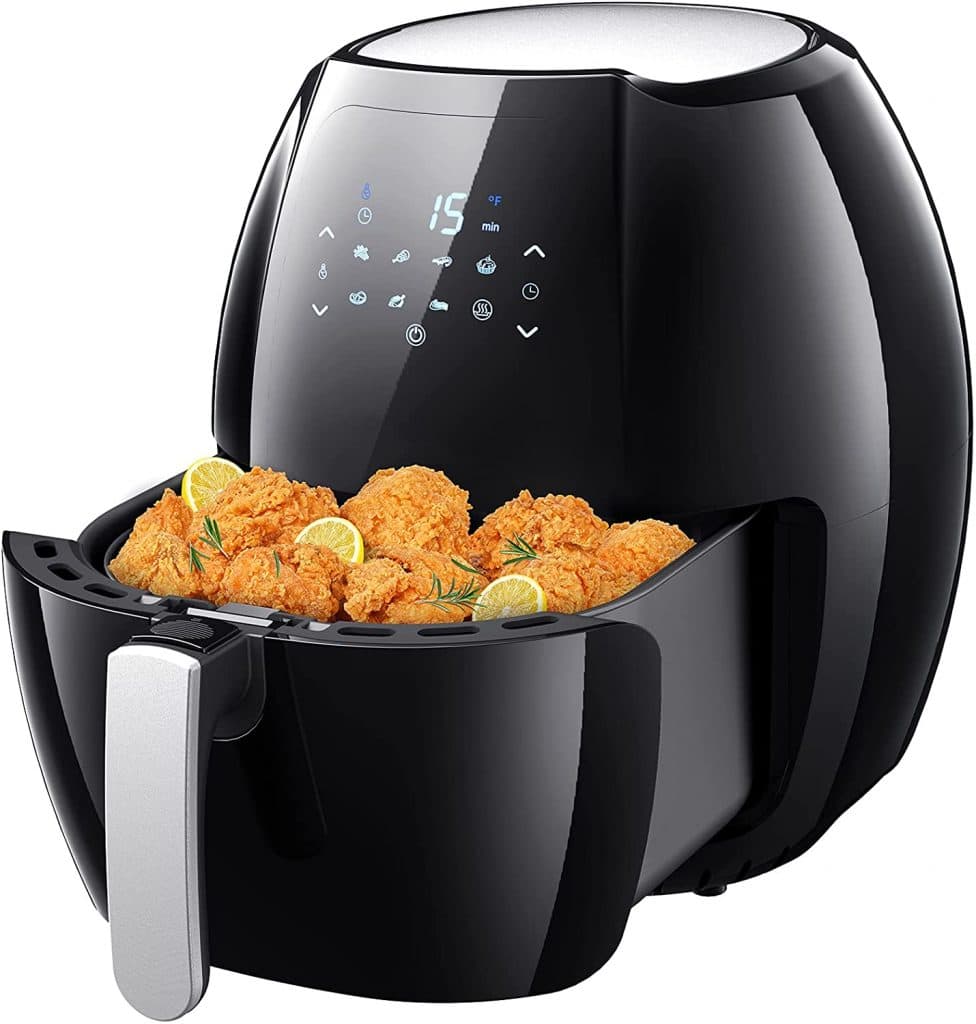 With this air fryer you can get delicious meals in no time. It heats up quickly and cooks all the food really fast as well, which makes it an awesome air fryer for a family. Plus, it's really a large size air fryer with 7 different presets for cooking.
It's also equipped with rapid air technology, which is the best feature to be on the look out for if you want to get all of your food cooked evenly. Although the description states that both the basket and frying pan and made out of non-stick material, my food got stuck to it a few times but I never really thought of it as big deal.
Another thing I like about it is that it's really quiet. Some of these air fryers are kind of… loud? I can't really explain it, but if you've had a loud air fryer before you definitely know what I'm talking about.
Pros
Affordable
Awesome preset temperatures
Easy wiping and cleaning
Cons
Looks and feels a bit cheap
Sometimes food sticks to the basket
Get the Nouno Air Fryer for $90 on Amazon
Instant Vortex Air Fryer (8QT)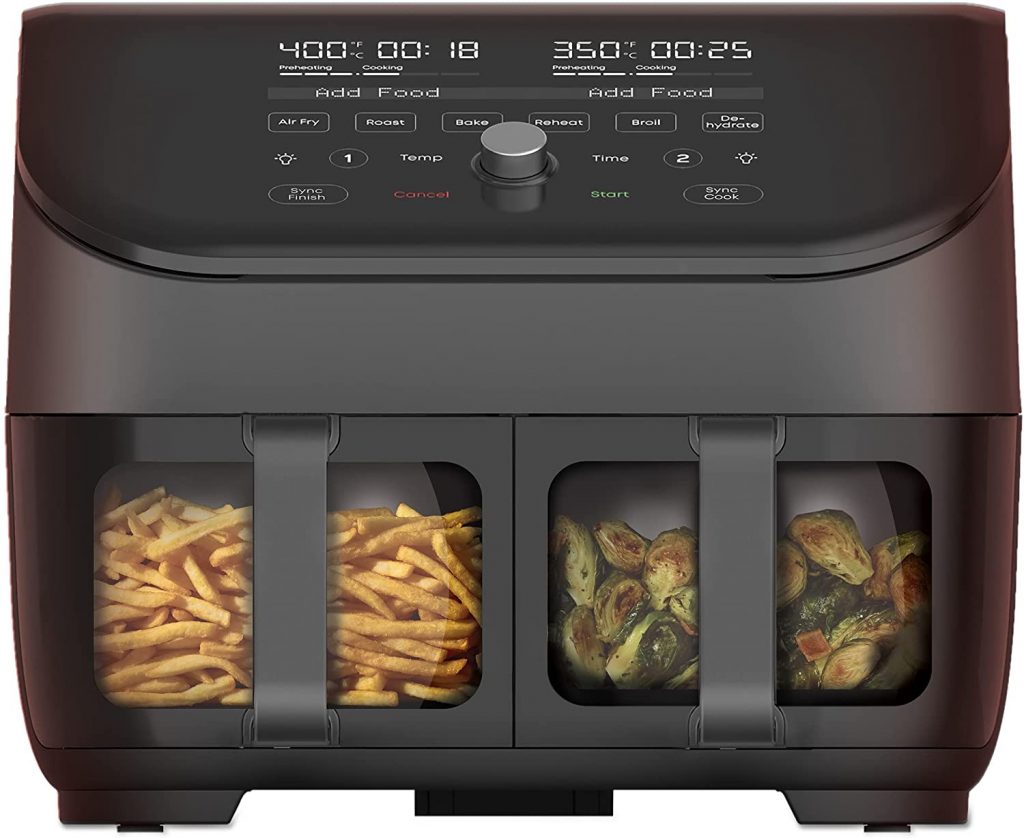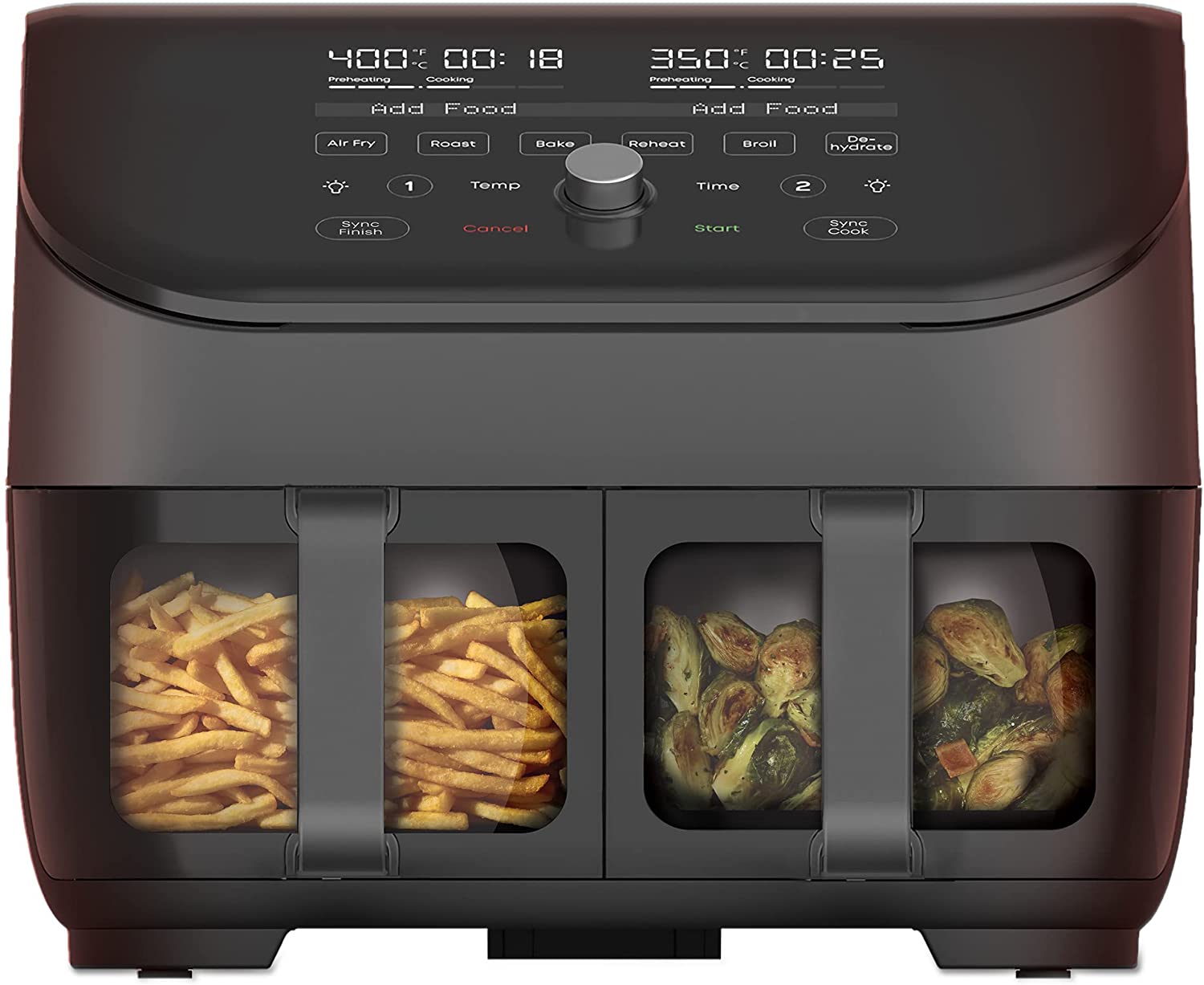 If you want something pretty on your kitchen counter, this air fryer is one of the sleekest designs I've seen. At first glance it doesn't seem like this air fryer has any windows, but there's an internal light option and suddenly you can see everything that does on inside.
You can use it to air fry, roast, broil, bake, reheat, dehydrate, SyncCook and SyncFinish. The last two options simply mean both baskets can cook at a different temperature range so they're done at the same time. It's perfect for chicken wings on one side and green beans on the other.
This air fryer has also 8 one-touch smart programs for cooking things like chicken wings, roasted veggies and many more. When it comes to the temperature, it ranges from 95-400F which I find to be quite alright.
Pros
Easy to use
Double air fryer basket
It's big, but made in a way that doesn't take up a lot of space
Cons
Beeps too much sometimes
Odd smell when you first buy it
Get the Instant Vortex Air Fryer for $160
CHEFMAN Air Fryer (8QT)
What I adore about this air fryer is that you can layer your food because it has trays so if you want to cook different foods they won't touch. Some air fryers don't have trays, so the hot air doesn't have enough space to fry the food evenly on all sides.
I remember the first meal I made in this one were drumsticks and the result gave me that comforting, deep fried food taste without all the calories and unhealthy oils. So if you're looking for the Southern feel, I can definitely say this air fryer will give you perfectly crispy food.
Pros
You can see how things are air frying through the window
Very easy to use
Easily removable trays
Cons
No removable basket
The door sometimes keeps popping up
Get the CHEFMAN Air Fryer for $97 on Amazon
8 Keto and Low Carb Air Fryer Recipes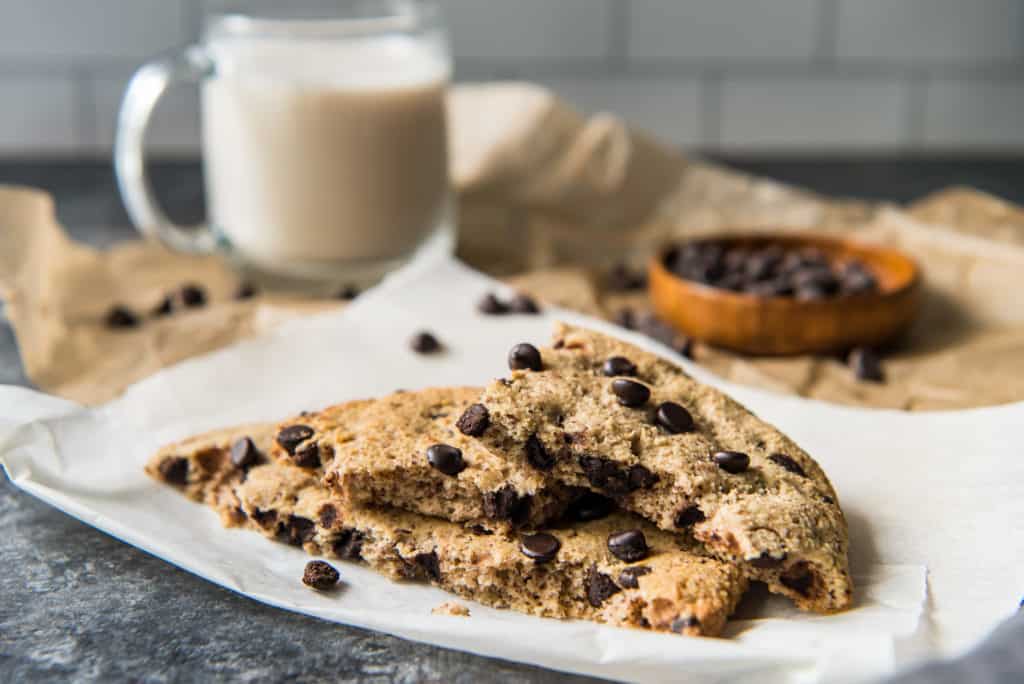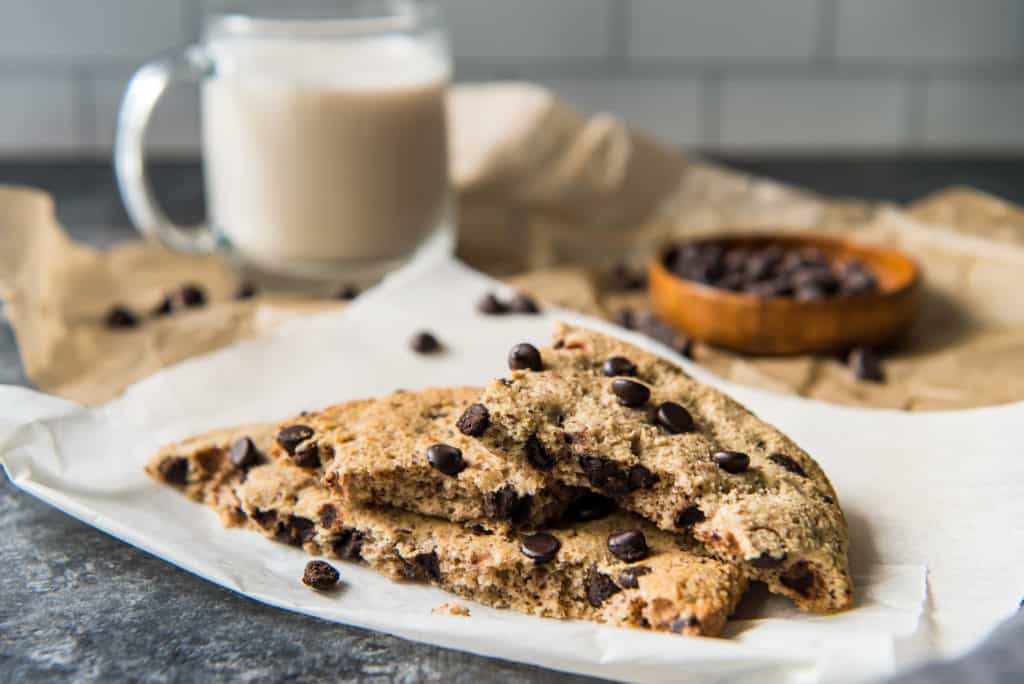 Our final opinion
Getting an air fryer is one of the best cooking methods when it comes to eating healthier fried food. The hot air will give you perfectly fried food without all the unhealthy processed oils and high carb batters.
When picking an air fryer for family, make sure you're choosing something that will hold enough food for everyone and cut down the cooking process as much as possible. For all the other settings, it's up to your preference entirely what you're willing to sacrifice on and what's more of a "must have" for you.
In my opinion, the best air fryer should have dishwasher safe components with a sleek design that doesn't overpower any counter space. Since we use it a lot, I'd hate to take it in and out of the kitchen cabinets, so any bigger air fryer for me must look nice and be functional.