Sometimes we want something sweet and healthy, so we've created the perfect meal for you! This Sweet Healthy Omelette can be eaten for any meal of the day and you can fill it with your favorite dessert toppings from sugar free syrup to berries and cream! Check out the video below to see how Matt makes it and don't hesitate to jump in the kitchen and follow along!
The Best Omelette Fillings…
don't have to be savory. While we all love a good meat and cheese filled omelette for breakfast, sometimes we want a change up and that is exactly what we've given you here – a sweet omelette! You can fill this delicious sweet omelette with:
Berries and Cream
Cinnamon and Erythritol
Sugar free syrup and Nuts
The possibilities are endless and you can have dessert for breakfast completely guilt free! If you make this healthy omelette be sure to tag us on Instagram with your delicious fillings!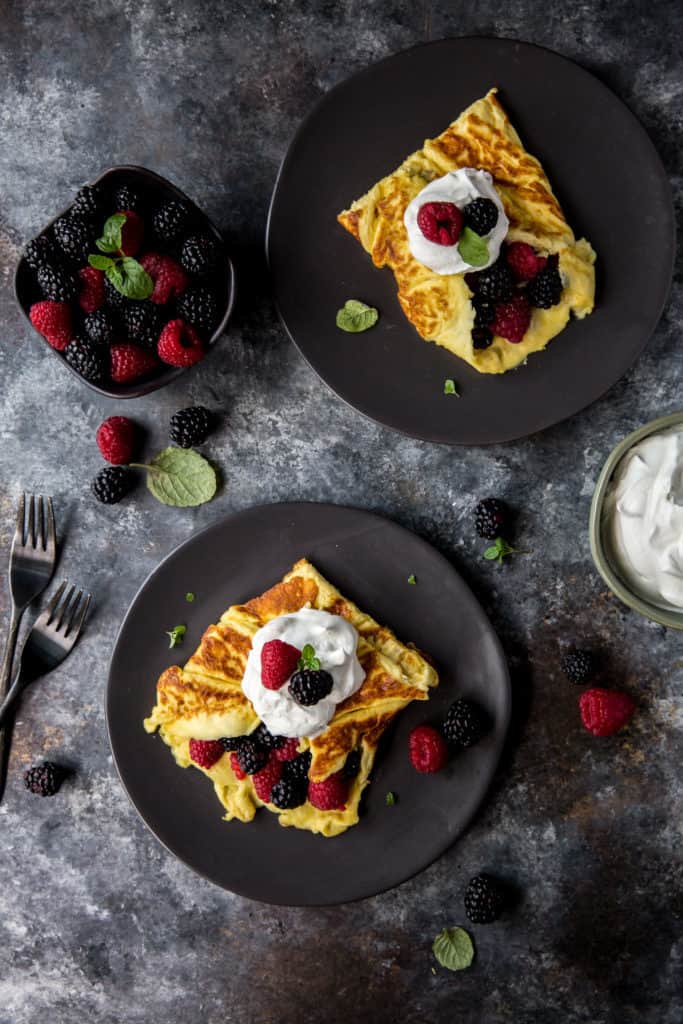 Our New Favorite Low Carb Breakfast
In case you guys aren't aware – I am 15 weeks pregnant as I write this post, and while I normally don't wake up hungry for a big breakfast, lately I have been! And, I'm always in the mood for something healthy, but sweet. That's where this recipe comes in clutch for me! If i'm not in the mood for eggs altogether, some of my favorite low carb breakfasts are:
Keto Bagels (topped with butter or cream cheese)
Protein Waffles (filled with sugar free chocolate chips and nuts – yum!)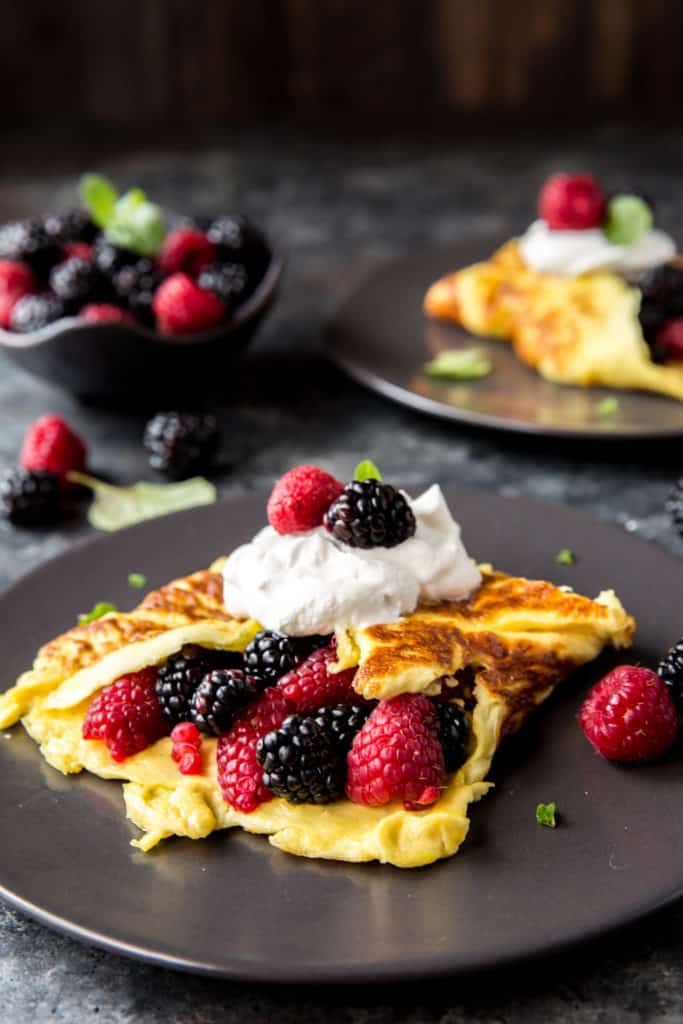 Healthy Omelette For Two!
Weekends are the best time to get experimental in the kitchen and whip up something delicious and filling. You're not on the go and you have time to spend with love ones. Don't forget to give this healthy omelette a try this weekend and split it with your loved one for the perfect start to your Saturday!

Recipe can be quickly added to MyFitnessPal – Search "KetoConnect – Sweet Healthy Omelette"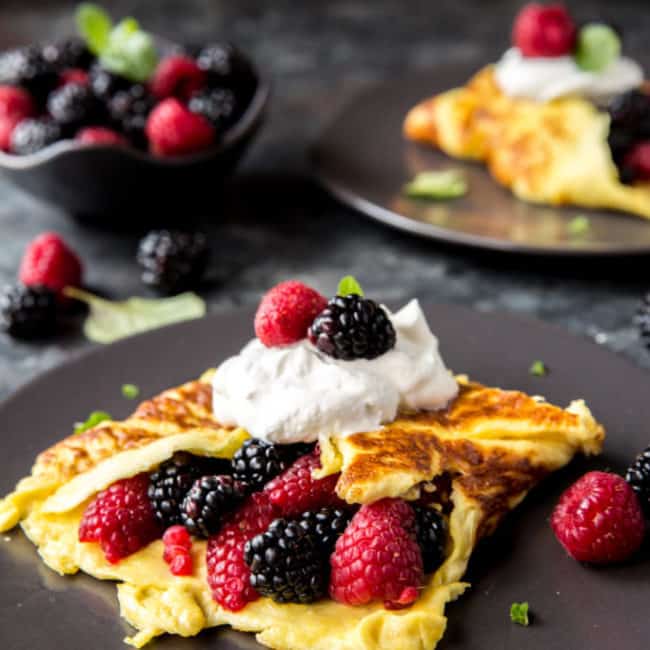 Sweet Healthy Omelette
A sweet egg omelette flavored with vanilla and topped with whipped cream and berries.
Servings 2 People
Calories per serving 395kcal
Prep Time: 5 minutes
Cook Time: 5 minutes
Instructions:
In a medium bowl, whisk the eggs together until smooth. Add cream, stevia drops, and coconut flour, whisking until well combined.

Heat a 9-inch non-stick metal skillet over medium heat. Melt butter, swirling evenly so the whole pan is coated.

Pour the egg mixture into the center of the pan and stir it vigorously with a rubber spatula until a semi-solid mass (similar to very wet soft scrambled eggs) begins to form, 5-10 seconds.

Lift the pan and swirl it around, allowing the excess egg mixture to reach the outside of the omelet. Scrape the spatula around the edge of the egg mixture, loosening it and helping it form a circle.

Sprinkle chopped berries over ⅔ of the omelet. Allow it to sit in the pan for 10 seconds undisturbed, then shake it again to loosen it from the pan.

Use the spatula to fold the third of the omelet that has no berries over toward the middle. Slide the omelet onto a plate and fold it over to create a tri-fold, if desired.

Serve immediately with some whipped cream and additional fresh berries.
Notes
Net Carbs: 4g Serving Size: 1/2 Omelette
Nutrition Facts
Sweet Healthy Omelette
Amount Per Serving
Calories 395 Calories from Fat 324
% Daily Value*
Fat 36g55%
Carbohydrates 5g2%
Fiber 1g4%
Protein 12g24%
* Percent Daily Values are based on a 2000 calorie diet.