You can't go wrong with eggs for breakfast, but we know it can get boring from time to time. If that's you today, then make this Baked Cheesy Eggs recipe to kick things up a couple notches and never feel bored of eggs again! We use three cheeses and a crispy pork rind topping to lure you in and dazzle your taste buds. Check out the video below!
Perfect Oven Baked Eggs
Honestly, anything is perfect when it is nestled in between caramelized onions and three different cheeses. This recipe in particular has the extra perk of a crispy toppings and bakes up in under five minutes. You can adjust the time for a more over easy or over hard egg.I'm a personal fan of a perfectly cooked through egg white, a slightly runny yolk. It's hard to achieve that every time when you're cooking your eggs on a stove top. However, if you give your eggs a nice little cheesy nest and use the oven to cook them, you'll always have the perfect oven baked eggs!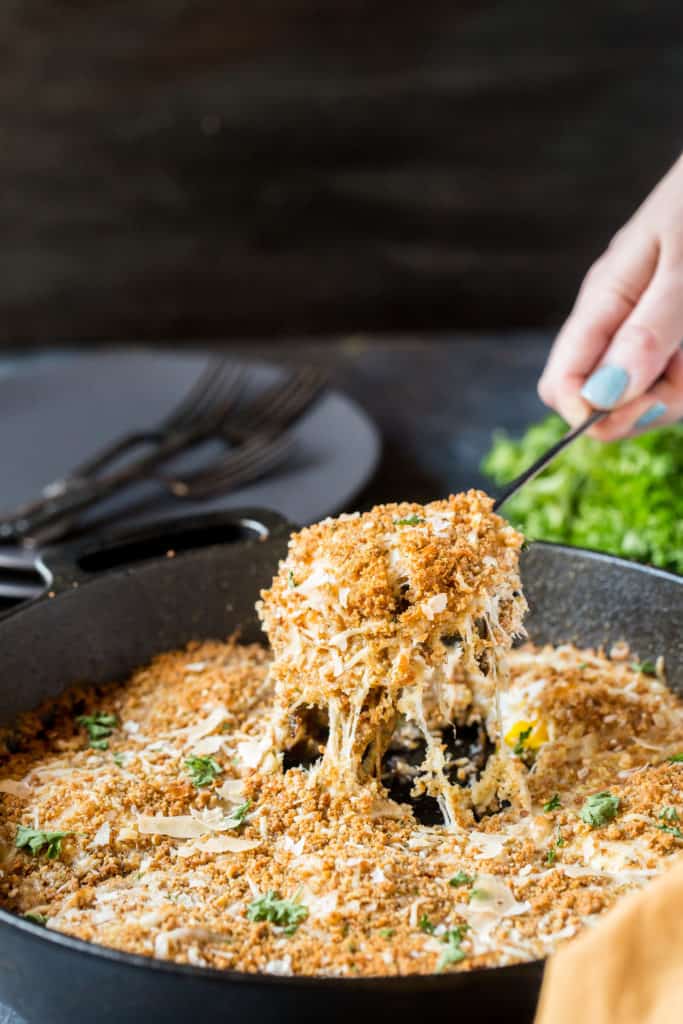 FREE PRINTABLE: Keto Food List
Join 150,000 others to get a FREE keto food list and new recipes every week!
All The Glorious Things To Make With Eggs
If this recipe is your jam, we totally get it. Maybe you hate eggs, maybe you hate onions – either way, we've got plenty of other recipes you can make using eggs and you won't even know they are there.We've got breads, like our low carb cheddar biscuit, and coconut flour loaf, and of course we've got desserts, like our keto butter cake, and low carb brownies! You need recipes and we've got your back.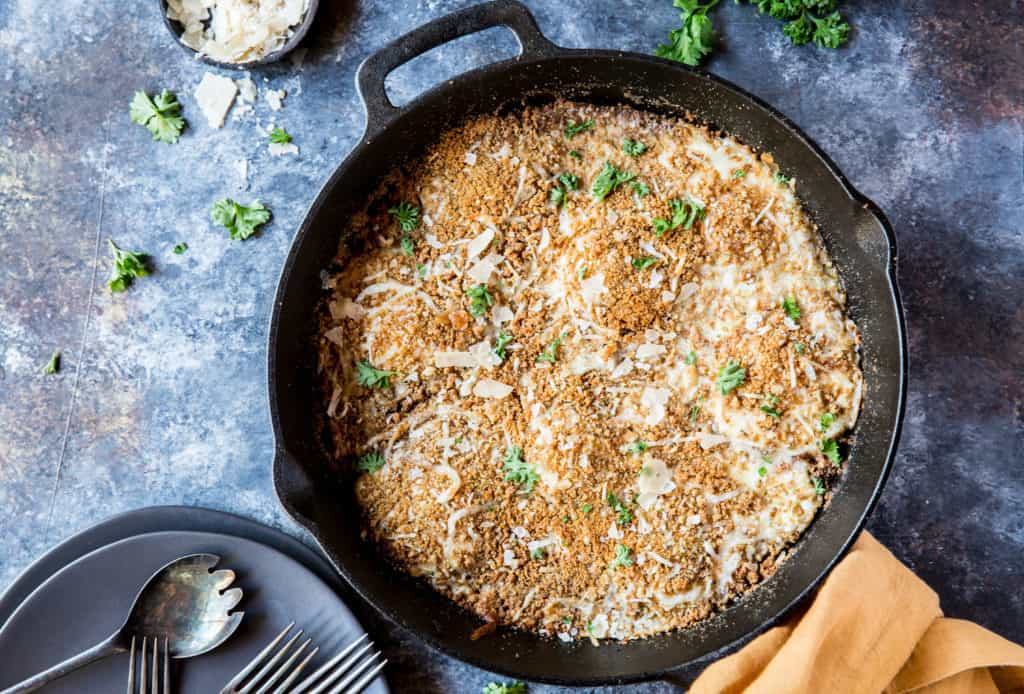 Cast Iron Baked Cheesy Eggs!
If this recipe doesn't win the entire family over, we don't know what will. It's crispy, delicious and extra cheesy! Who can say no to such a delight? We encourage you to give these baked cheesy eggs a go and let us know what you think – it doesn't have to look pretty, it just has to taste good!

Recipe can be quickly added to MyFitnessPal – Search "KetoConnect – Baked Cheesy Eggs"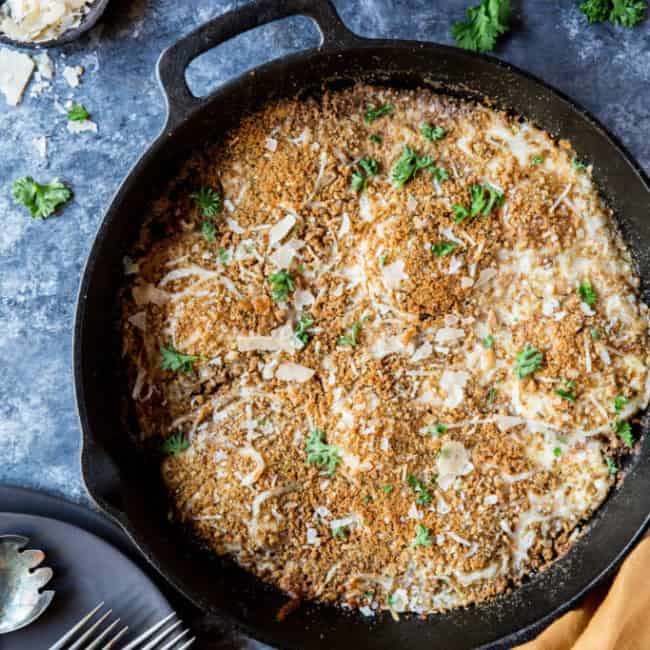 Baked Cheesy Eggs
Eggs baked in the oven with a crispy Asiago cheese topping.
Total Time 32 minutes
Servings 3 servings
Calories per serving 607kcal
Prep Time: 10 minutes
Cook Time: 22 minutes
Ingredients:
1/4 cup butter
1/2 medium white onion, sliced
salt and pepper
1 cup ground pork rinds
1 cup shredded mozzarella
1/2 cup grated parmesan
1/2 cup asiago cheese
6 large eggs
Instructions:
Preheat oven to 450 degrees. Melt butter or oil in large cast iron skillet set over medium-high heat.

Reduce heat to medium-low and add onions. Season liberally with salt and pepper, then cover the skillet. Cook, stirring occasionally, until onions are very soft and beginning to caramelize, 10-15 minutes.


Combine pork rindss and cheeses, and sprinkle half of this mixture over onions. Use back of spoon to make 6 little nests in the mixture, and crack 1 egg into each.

Season with salt and pepper, and distribute remaining bread crumbs and cheese mixture over top.

Bake for 5 minutes, or until eggs are barely set. Turn broiler to high and brown top for about 1 minute. Sprinkle with additional cheese, if desired, then serve hot.
Notes
Net Carbs: 4g Serving Size: 1/3 recipe
Nutrition Facts
Baked Cheesy Eggs
Amount Per Serving
Calories 607 Calories from Fat 414
% Daily Value*
Fat 46g71%
Carbohydrates 4g1%
Protein 39g78%
* Percent Daily Values are based on a 2000 calorie diet.