Donut holes are our weakness. They are dense, sweet, and easy to flavor however you like. Try covering them in keto powdered sweetener or dipping them in chocolate. No matter how you take em' you're sure to love these keto donuts.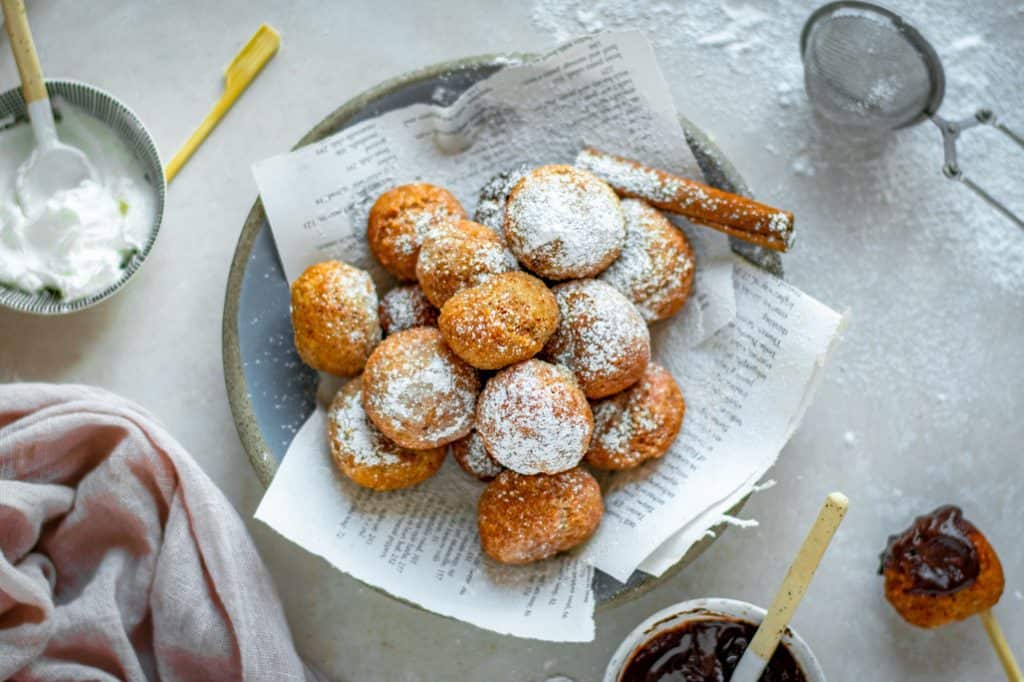 Gluten Free Keto Donuts
We knew for our next recipe we just had to make keto donuts. What better way to make keto donuts than 100% sugar and gluten free? Using a blend of flours and ingredients we came up with the perfect mixture to make gluten free donuts that aren't dry and sandy.
Is Almond Flour Keto?
The base flour of these sugar free keto donuts is almond flour. Almond flour is a low carb keto baking ingredient that has minimal carbs and is packed with fiber. 1/4 cup serving of almond flour has 3 grams of fiber and only 5 carbs (aka 2 net carbs). Almond flour donuts stay moist and fluffy unlike gluten free flours which aren't low carb and often taste dry. The best type of flour to use is blanched almond flour without any of the skins for a uniform texture.
Almond or Coconut Flour?
Almond flour is key in this keto donut recipe. Coconut flour is highly absorbent and tends to make drier baked goods. Almond flour on it's own can be too dense which is why we blended it with psyllium husk and xanthan gum for a more bread like dough texture. Coconut flour can not be subbed for the almond flour in this recipe because it will absorb too much liquid and create a dry keto donuts recipe.
Xanthan Gum in Keto Donuts
Xanthan gum, or the X- factor as we like to call it is a common thickener in keto cooking. This keto friendly "corn starch" also does a great job at creating a delicious bread like fluffy texture in these keto donuts. While optional, it is HIGHLY recommended for the best finished product.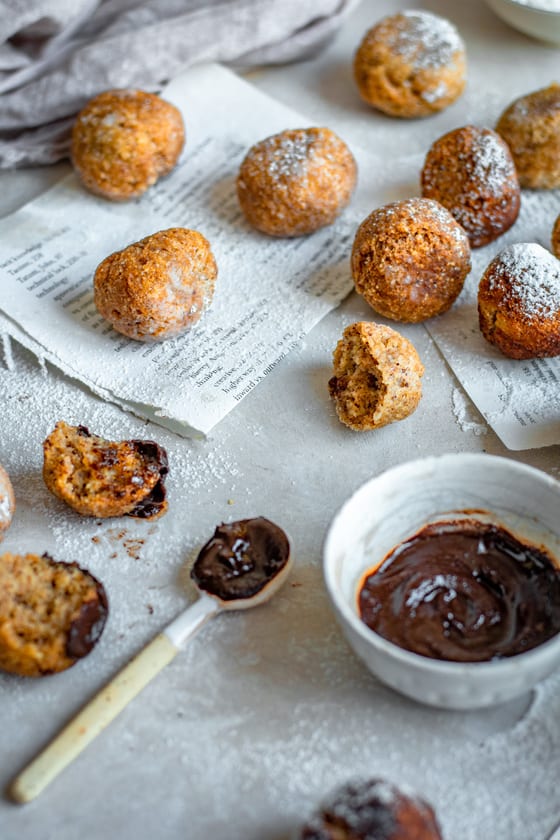 Dairy Free Keto Donuts
These low carb donuts can easily be made keto by switching one ingredient. All you have to do is change the butter for coconut oil. It may alter the flavor slightly, but not enough that you'll probably even notice a difference.
Paleo Donut Holes
This donuts recipe can also be made Paleo by switching the monk fruit or erythritol for coconut sugar. They are already grain free so the most important thing would be switching a monk fruit sweetener for a paleo one.
Baked or Fried?
These low carb donuts are made by mixing, cooling, and then frying the dough. If you don't love fried donuts or are looking to save on calories you can bake these in a mini donut pan or regular donut pan. Time will vary based on oven, but we recommend 350 degrees for 20-30 minutes if you make this recipe in the oven. Make sure to keep an eye on the low carb donuts and especially a mini donut (15-20 minutes) if chosen, so they don't burn. The texture and taste won't be the exact same as fried donuts, but they will still taste delicious!
The Best Frying Oil For Delicious Keto Donuts
If you do choose to fry them, and we certainly do, you'll want to use the best high quality cooking oil. We love avocado oil and coconut oil because they have higher smoke points. For keto recipes that heat oil you'll want to use high quality ingredients so the oils don't oxidize and cause carcinogens(1) to form.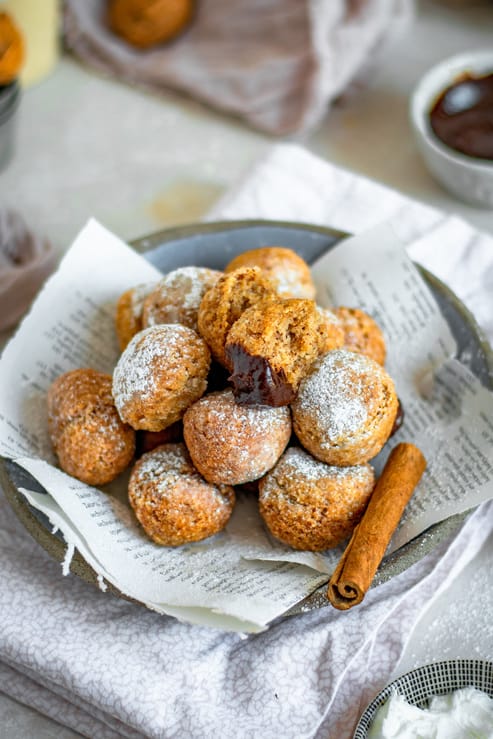 How to Make Keto Donut Holes
Desserts always make the best keto recipes because who doesn't love something sweet after a meal!? This easy keto donut hole recipe is sure to become your new mid day "pick me- up" alongside our bulletproof keto coffee.
Equipment
This recipe only requires two pieces of real equipment, a large mixing bowl and a frying pan. The frying pan you use really depends on what you have. If you want to use a wide heavy bottom pot that should work, prefer a frying pan? Go ahead and use a high quality skillet. The most important thing about frying this keto donut recipe is that the sides of whatever pan you use are not too short. If the pan is shallow you won't be able to put enough oil inside for frying.
If you are choosing to bake these low carb donuts, know you will need a donut pan. They make both a mini donut pan and a standard size so pick whichever you prefer. You can also use a silicone donut pan if you have one on hand. Note: If using a donut pan your baking times will change. Refer to the baking section above in this post for more details.
Ingredients
What really sets these low carb donuts apart from their other low carb/ keto counterparts is that they are lighter and have a more bread- like donut texture. So often keto donuts are super eggy or crumbly rather than that perfect in-between. To do this, we use a blend of blanched almond flour and psyllium husk. Psyllium husk is a soluble fiber (3) that works to make a chewy and fluffy donut like the original.
Next you will need baking powder, NOT baking soda (baking powder and baking soda cause different types of reactions). Finally you will need xanthan gum, a pinch of salt, and erythritol or another keto sweetener.
Wet Ingredients
For the wet ingredients you only need three easily accessible keto foods. You'll want 2 large eggs, one tablespoon of grass fed melted butter, and vanilla extract. Even if you cover these donuts with cinnamon sugar, you'll still want vanilla extract to really make the base flavor come through.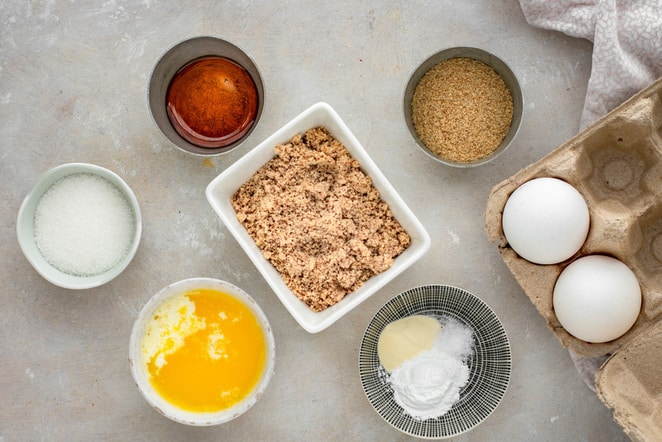 Making Keto Donuts
Now it's time to make the best keto donuts ever! Begin by whisking together the wet ingredients.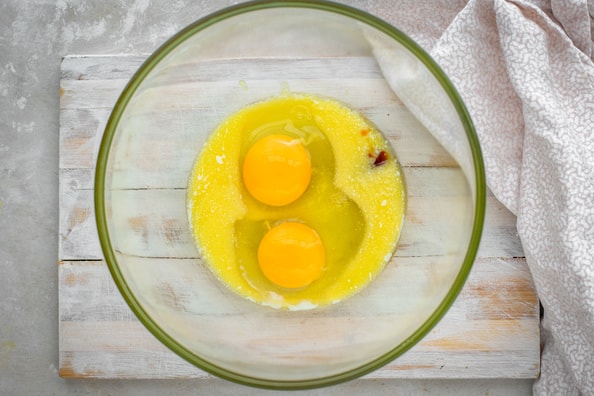 In another bowl add and combine the dry ingredients.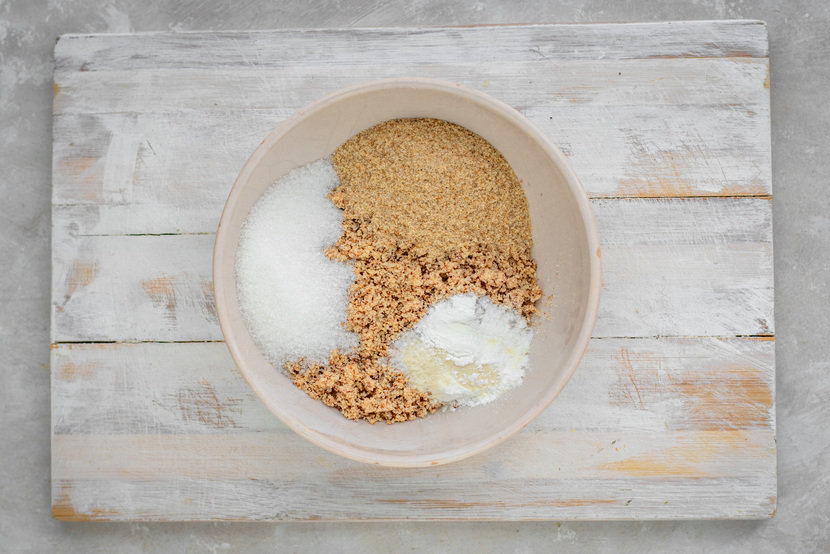 Now you can mix together the wet and dry ingredients in one bowl, stirring well to avoid clumps. Allow the mixture 5-10 minutes in the fridge to firm up. While the dough is chilling heat the frying pan with a few inches of oil.
Remove the bowl from the fridge and scoop it into 12 donut holes. Each piece should be about 15-17 grams or a tablespoon full. Roll them into uniform balls and set aside on a plate for frying.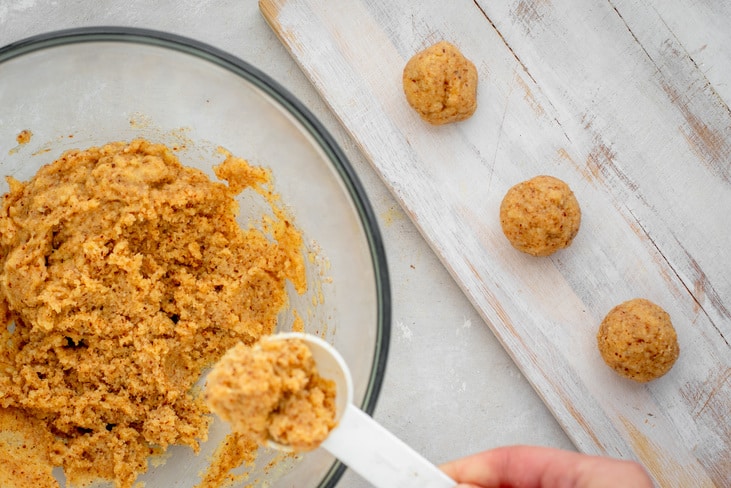 Check the temperature of the oil before frying. Once between 270F -290 F, you are good to begin frying.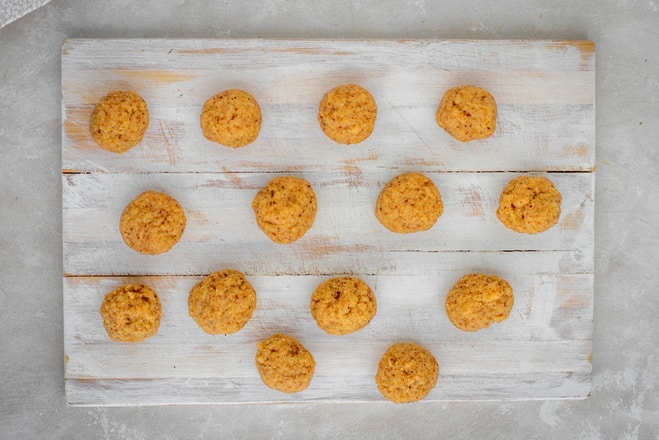 Carefully place the donut holes into the hot oil and fry them in 2- 3 batches making sure to maintain the oil temperature by checking it frequently. They should be fried for 2 minutes on each side, or until golden. Flip after 2 minutes so they cook about 5 minutes total. Remove them from the oil after cooking and place them on kitchen towels to drain the excess oil. Repeat in batches until all the donut holes are fried.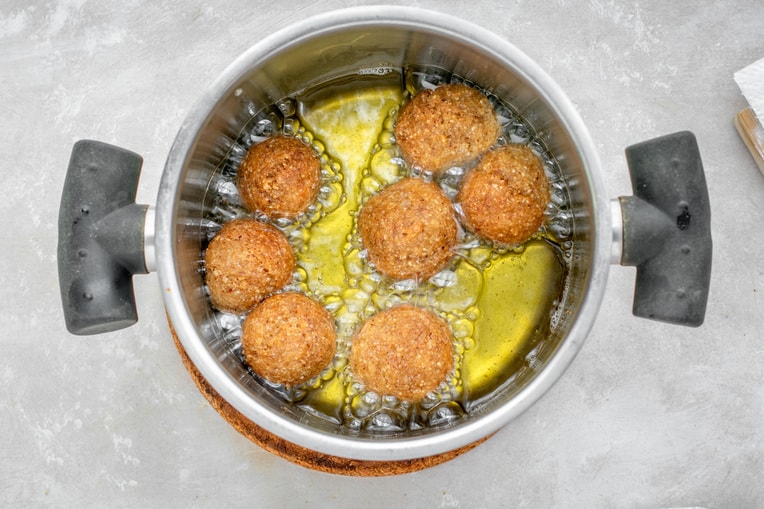 Make your topping of choice or simply roll in keto cinnamon sugar. See our keto cinnamon sugar topping and others below.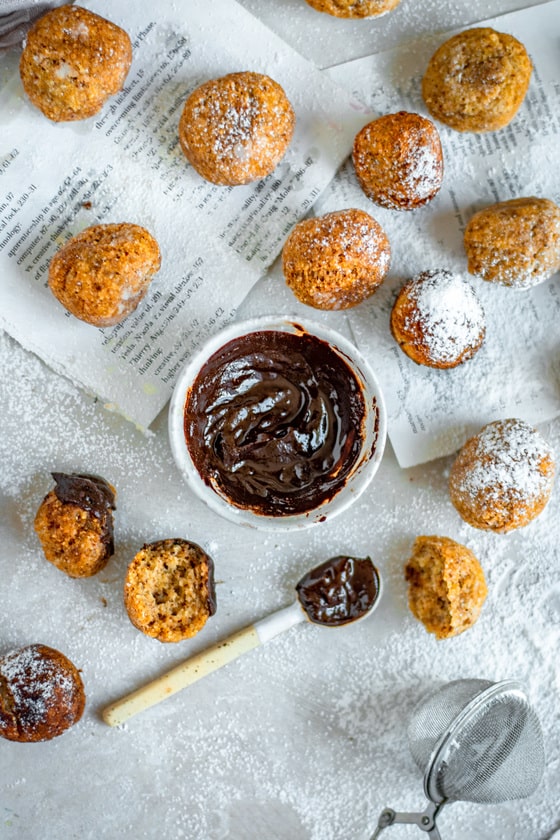 Safety Tips While Frying
Hot oil is always dangerous no matter what you are making in it. Please follow proper safety guidelines while frying. To avoid injury or fires:
Maintain your oil temperature. Oil that is too hot can smoke as well as start fires.
Always keep baking soda near by. If a grease fire is to start, DO NOT PUT WATER ON IT! Evenly spread baking soda or salt overtop to smoother the flames.
In cases of fires that are larger, cover the pot with a lid to prevent the flames from taking in oxygen and turn off the heat source.
As delicious as donuts are, they are not worth burning down your house. Please be safe and use caution when frying these donuts with hot oil.
Storing
These donuts last well in a Tupperware container on the counter for up to 3 days, or the fridge for a week. If they start to get soggy try reheating them in the airfryer at 370 for a few minutes and they should be good as new!
Donut Topping Options
Are you a plain Jane or an over the top Terry? No matter how you take your donuts we've got you covered, literally! Some of our favorite low carb easy to make toppings are:
Keto Cinnamon Sugar– Cinnamon sugar is pretty self explanatory considering it's just cinnamon + sugar! Use a tsp or so of cinnamon mixed with 1/4 cup of erythritol for the perfect keto cinnamon sugar topping.
Chocolate Glaze– A good easy keto chocolate glaze can be made by melting dark chocolate with a little stevia and butter or heavy cream. Try dipping cinnamon sugar donuts into chocolate glaze for an extra decadent churro like treat!
Sugar Free Vanilla Glaze– A vanilla glaze might even be easier than its chocolate counterpart! Start by mixing a keto confectioners style sweetener with a little water and vanilla extract until it is a thin glaze consistency. Dip the donuts and place them on a drying rack to set.
The next time you make this recipe try a couple of these topping recipes to find your favorite! We love keto cinnamon donuts with the cinnamon sugar topping, but who knows maybe you'll find something you like even more!
More Keto Desserts
Donuts, Cupcakes, Cookies or pretty much anything else that's a dessert gets my attention. Check out some of our other delicious keto dessert recipes:
We have plenty of keto desserts on our blog for even the most adventurous eaters. Be sure to take a look at all our keto treats to find one for your dessert this week!
Keto Donut Holes
Now that you know how to make almond flour keto donuts, you can impress all your friends at your next get together. Make a keto donut bar and fill it with all your favorites from sugar free sweeteners and cinnamon, to chocolate, and keto icing. These keto donut holes are so good no one will even mind that they're healthy too!
Leave us a comment below with your favorite donut toppings so we can make more delicious keto donut recipes!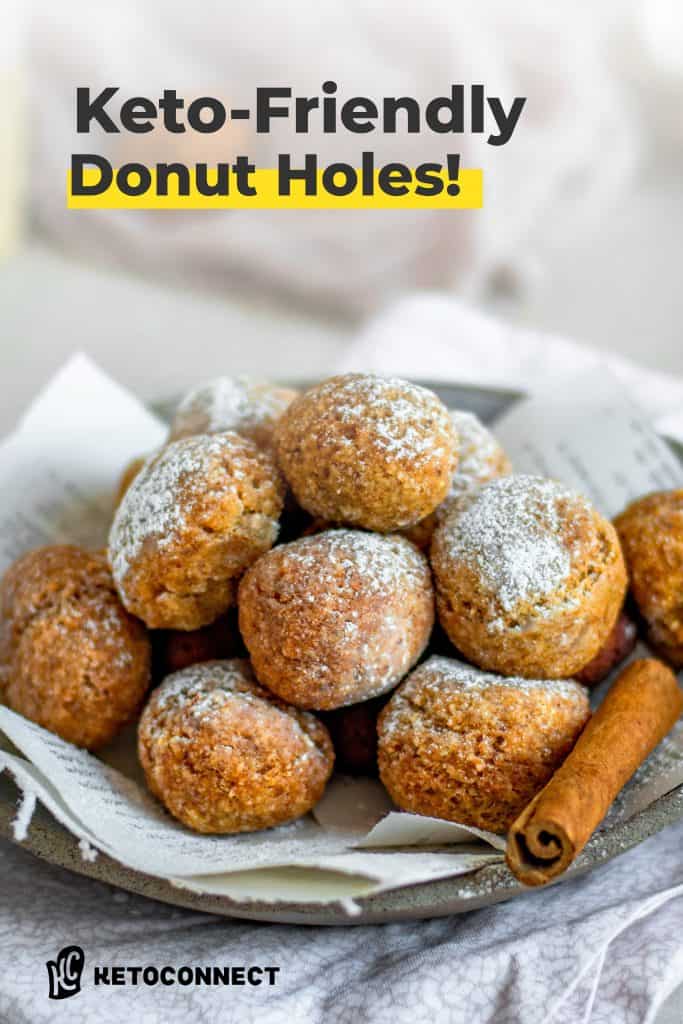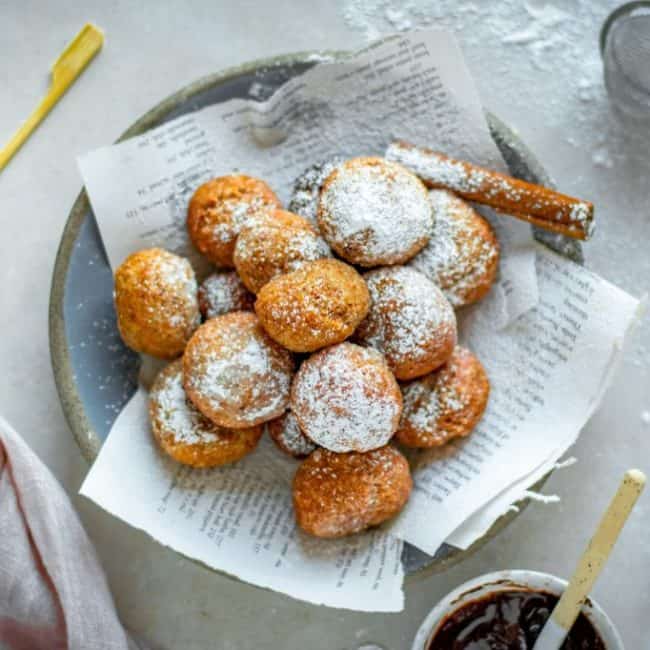 Keto Donut Holes
Sweet and flavorful donut holes, perfect for replicating the classic you know and love
Total Time 40 minutes
Servings 12 Donut Holes
Calories per serving 67kcal
Prep Time: 20 minutes
Cook Time: 20 minutes
Instructions:
In a bowl, whisk together the wet ingredients well. Using another bowl, mix together all the dry ingredients.

Add the dry ingredients to the wet ingredients. Whisk together until combined. Place the mixture in the fridge for 5-10 minutes to allow the mixture to firm up.

Meanwhile, heat the frying oil on medium low. Take the bowl out of the fridge, and use a mini scoop or a tablespoon to divide the dough into around 12 donut holes. You can divide the dough by weighing the balls. Each ball should be 15-17 grams.

Wet your hands, and roll out each piece into a uniform ball. Check the oil's temperature before frying. Try to maintain a temperature between 270F -290 F.

Gently place the donut holes into the oil. Fry them in 2- 3 batches to maintain the oil temperature. They should be fried for 2 minutes on each side, or until golden. Around 5 minutes in total. Take them out and place them on kitchen towels to drain the excess oil. Repeat until all the donut holes are fried.

Sprinkle powdered erythritol as a garnish. You can serve It with sugar free ganache, or roll the donuts in a mixture of granulated erythritol and cinnamon.
Notes
Net Carbs: 1g
I don't recommend skipping the psyllium husk, as it helps bind and thicken the dough. It also gives the donuts a "bread" texture on the inside.
Make sure to maintain a low temperature when frying the donuts, the almond flour browns really fast. Give the donuts enough time to cook on the inside as well.
Nutrition Facts
Keto Donut Holes
Amount Per Serving
Calories 67 Calories from Fat 45
% Daily Value*
Fat 5g8%
Saturated Fat 1g5%
Trans Fat 1g
Cholesterol 34mg11%
Sodium 24mg1%
Potassium 46mg1%
Carbohydrates 3g1%
Fiber 2g8%
Sugar 1g1%
Protein 3g6%
Vitamin A 74IU1%
Calcium 34mg3%
Iron 1mg6%
* Percent Daily Values are based on a 2000 calorie diet.
Written By