You guys love air fryer recipes more than we expected so we are bringing you another great one. The easy air fryer cookie. Matt said it best in the video that this recipe is on the same level of easiness and quickness of a mug cake. If you love a something a little sweet after dinner, but don't want to work too hard for it or make an entire batch of something that could tempt you all night this recipe was made for you!
Delicious Air Fryer Recipes
We use our air fryer 2-3 times a week. We cook all sorts of meats and veggies in it, and now desserts! If you love using the air fryer as much as we do here are some of our favorites:
Air Fryer Pork Chops (this is a must try!)
Not enough? Leave a comment down below with some recipes you want to see remade in the air fryer and we can make it happen.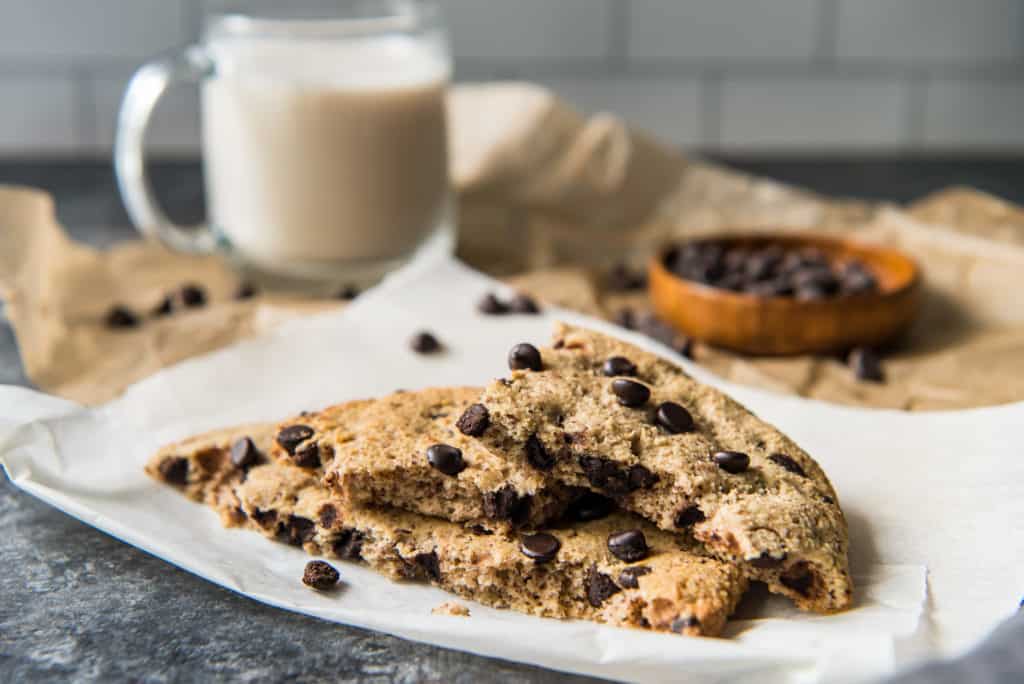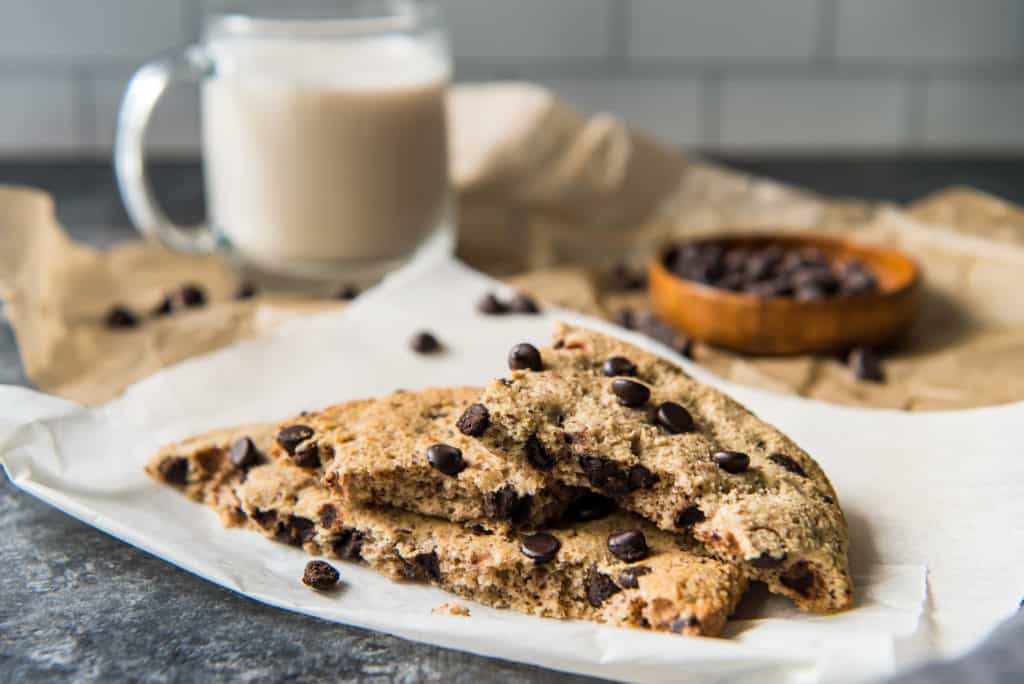 Air Fryer Temperature
This might seem like an unnecessary section, but one thing I have learned from running a food blog and using the oven every single day is that all ovens very in how hot they get and quickly they cook something. The air fryer is no different.
We have the Ninja Air Fryer and we absolutely love it. However, I will say that the basket is a little on the small side, but works for two people. If you have a bigger family or prefer to batch cook things for meal prep I would splurge for a bigger basket. Our Ninja also runs really hot compared to others so this air fryer cookie took only 4 minutes where it could take up to ten minutes for you!
The more you use your air fryer the better in tune with it you'll become to understanding if you need to cook something longer or shorter.
Baking In The Air Fryer
We cook tons of different meals in the air fryer. Steaks, chicken thighs, wings, salmon and all sorts of veggies tossed in animal fat. However we are pretty new to baking in the air fryer, and I must say, it's going really well! I never would have imagined biscuits and desserts were possible. You can get by without an oven and a microwave if you the air fryer.
Some tips I have for baking (and general use) in the air fryer are:
Preheat the air fryer for 2-3 minutes
Line the bottom with parchment paper or grease
Don't over crowd
If cooking meat or veggies flip half way through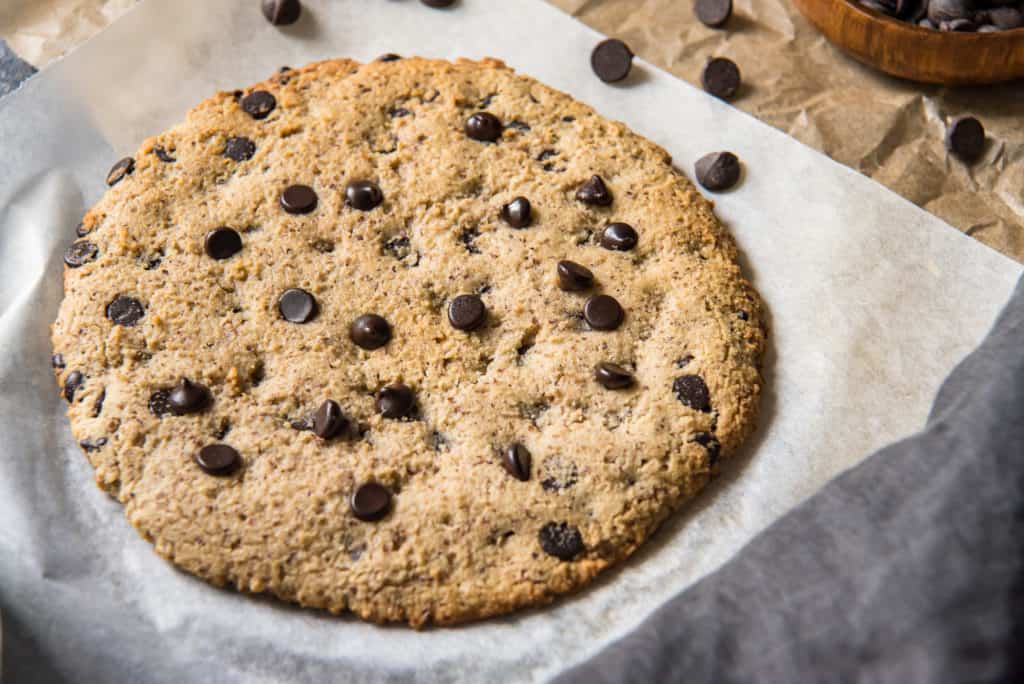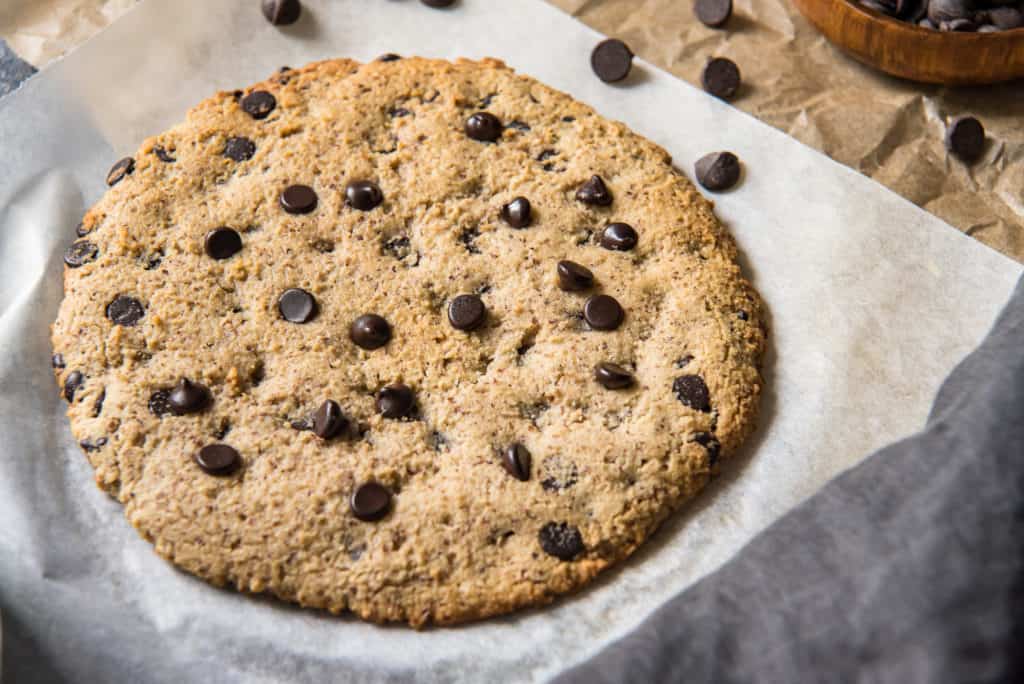 Guilt Free Air Fryer Cookie
Any dessert that allows you to stay on your diet and makes your diet more sustainable is worth making and consuming regularly. Sure, we have some amazing keto desserts that you may want to eat everyday, like our dark chocolate pecan tart or soft and doughy cinnamon rolls, but it may not be realistic if you really want to lose weight.
That being said, this air fryer cookie is a great option for regular consumption without tanking the day! The macros are a perfectly portioned snack and it's not too sweet where you'll be hankering for more.
Want More Guilt Free Desserts?
Here's a quick hit list that we highly recommend you try out before hitting up Ben and Jerry's or cheesecake factory!
You don't have to give up the pleasures of food just because you are on a diet. Eating delicious foods while getting healthy is totally possible and will be with the desserts on our food blog! Check back weekly for new recipes.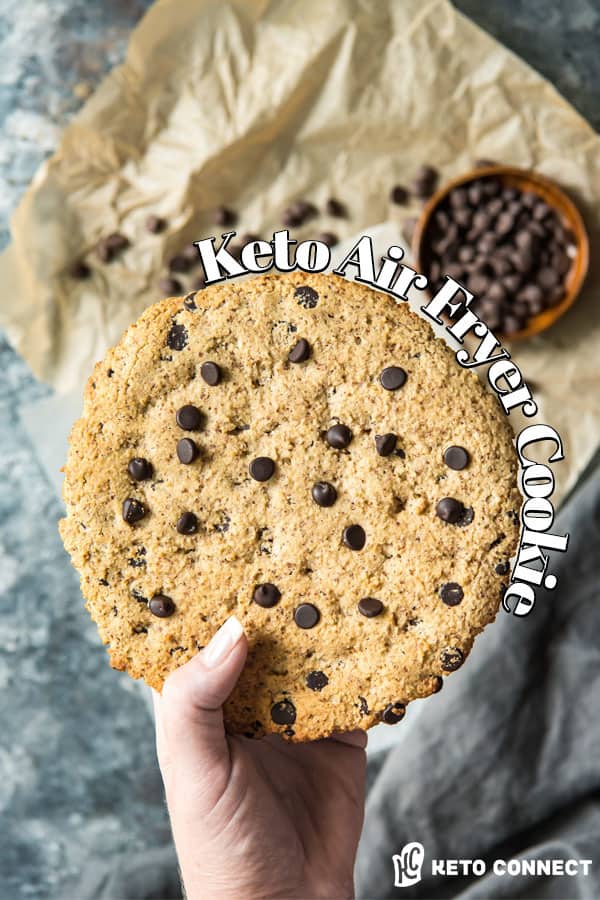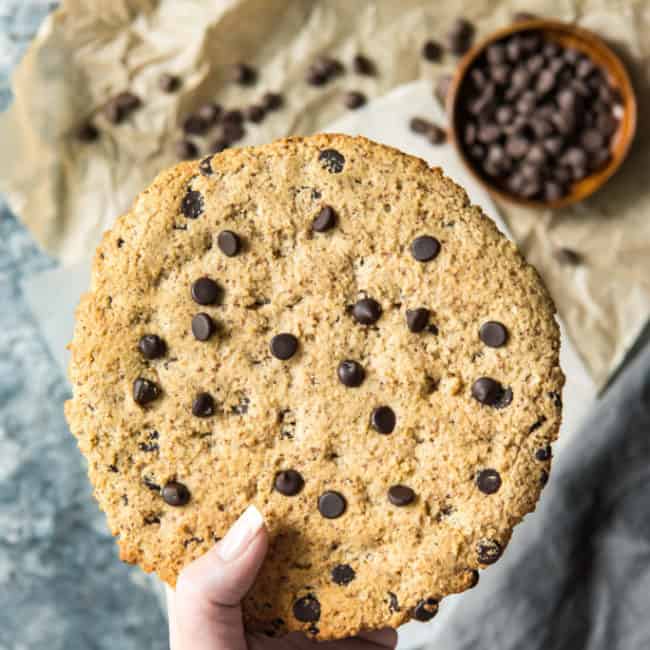 Easy Air Fryer Cookie
A fresh baked chocolate chip keto cookie ready in 10 minutes thanks to the air fryer.
Servings 2 servings
Calories per serving 273kcal
Prep Time: 5 minutes
Cook Time: 7 minutes
Instructions:
Combine all the ingredients, except the chocolate chips, in a medium sized mixing bowl until fully incorporated and allow to sit for 2-3 minutes.

Cut out a piece of parchment paper to line the bottom of the air fryer and then fold the chocolate chips into the dough.

Pre-heat your air fryer to 350°F for 2 minutes (without the parchment paper).

Place the dough onto the parchment paper and spread using a spatula to 1/4 inch thickness or place another sheet of parchment paper on top and roll out.

Remove the air fryer basket and place the parchment paper in the preheated air fryer.

Cook for 5-10 minutes. Air fryer cooking times vary highly so it's safe to keep an eye on it starting at 4 minutes. It will be browned and cooked through.

Remove parchment paper from air fryer to a plate and serve immediately.
Notes
Net Carbs: 6 net carbs Serving Size: 1/2 cookie
Nutrition Facts
Easy Air Fryer Cookie
Amount Per Serving
Calories 273 Calories from Fat 252
% Daily Value*
Fat 28g43%
Carbohydrates 15g5%
Fiber 9g36%
Protein 11g22%
* Percent Daily Values are based on a 2000 calorie diet.
Written By