Today's delicious keto breakfast sandwich recipe features and is sponsored by Birch Benders. They recently came out with their newest line of toaster waffles, which include plain and chocolate chip. YUM! And, trust me, it feels good to feel like a child again eating these convenient yet clean ingredient toaster waffles.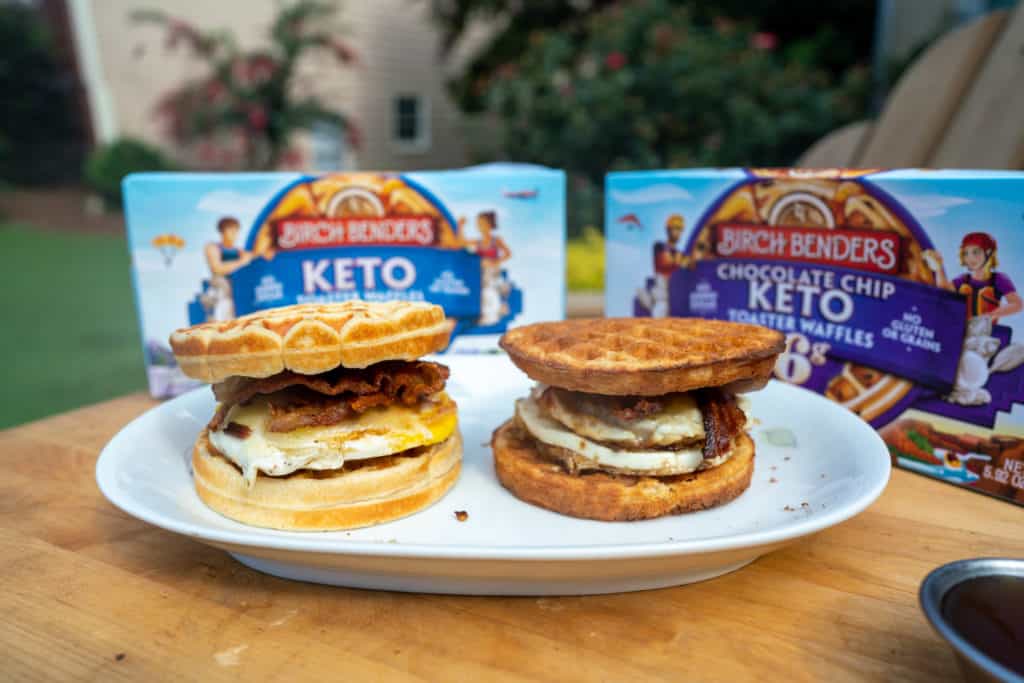 Our Favorite Store Bought Snacks!
The keto toaster waffles from Birch Benders makes the top of the list as of late, and I'll tell you why! My brother just moved to Atlanta from Philadelphia and he has been staying with us for the past three weeks (and now comes over on the weekends), so we've been going hard on the Sunday breakfast spread, which includes toasting up box or two of the waffles!
We also use their pancake mix often because Matt's more of a pancakes mine and I'm more of a waffler girl. Some of other top store bought snacks are:
Keto Bars (great ingredients and tasty!)
Quest Chips (great chip replacement and very low carb)
Marigold Bars (use coupon code: KETOCONNECT)
And, you can check out the rest of our favorite snacks and products here! And don't forget to check out the best keto pancake mix!
What Can I Eat For Breakfast On The Keto Diet?
Well, we've got you covered with several different options in this one keto breakfast sandwich recipe. You can keep it simple and toast up a couple of keto toaster waffles and spread on some butter and low carb maple syrup.
You can also make the homemade protein waffles we show you in the video and down below in the recipe if you have a low carb protein powder that you love on hand, and serve it up with some scrambled eggs on the side.
Or, you can do what we love to do and make some keto breakfast sandwiches (always make 2) and stay low carb, but be satisfied all day long!
If you're looking for additional breakfast recipes you can check out that section on our food blog for some inspiration!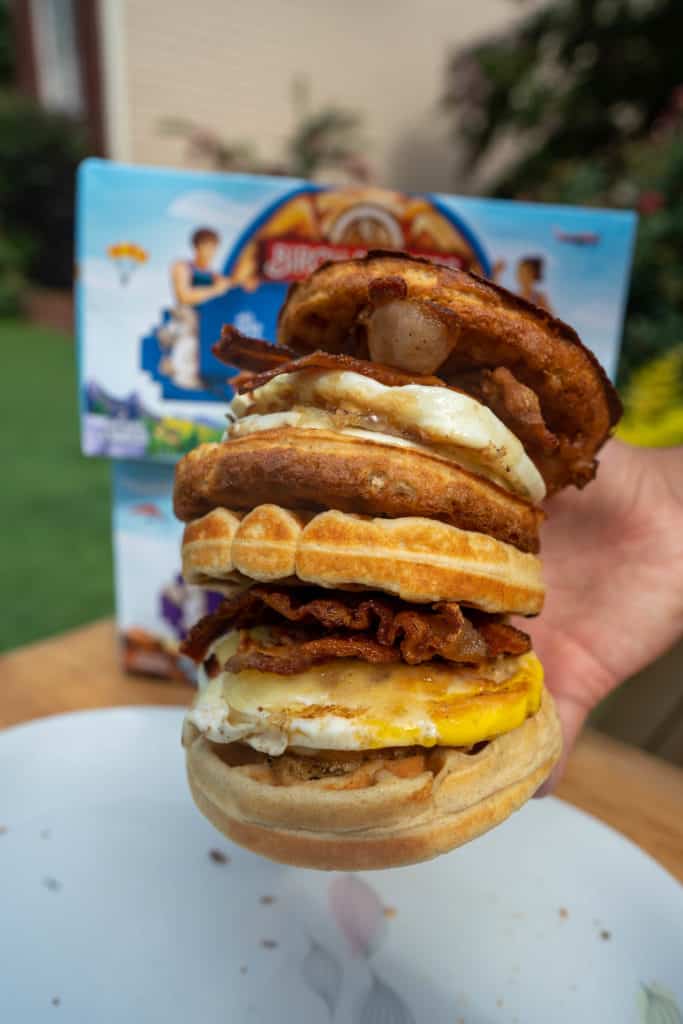 Dressing Up Your Keto Waffles
It's a pretty well known fact that waffles are one of America's favorite foods, but with more and more people converting a lot carb diet, waffles are cut from the list of foods. I grew up going to Blue Fountain Dinner with my family and always ordering a giant stack of waffles and never failed to drench them in butter and syrup, so waffles sit very close to my heart!
Now, I can relive my childhood days and so can you. The birch benders toaster waffles come in two flavors so you can make a breakfast, lunch or dinner sandwiches with the plain ones, or whip up a quick snack with the chocolate chip ones!
You can even turn them into brunch appetizers when you're hosting friends and cut them into small squares and serve them with fun toothpicks, low carb maple syrup and some home made whip cream.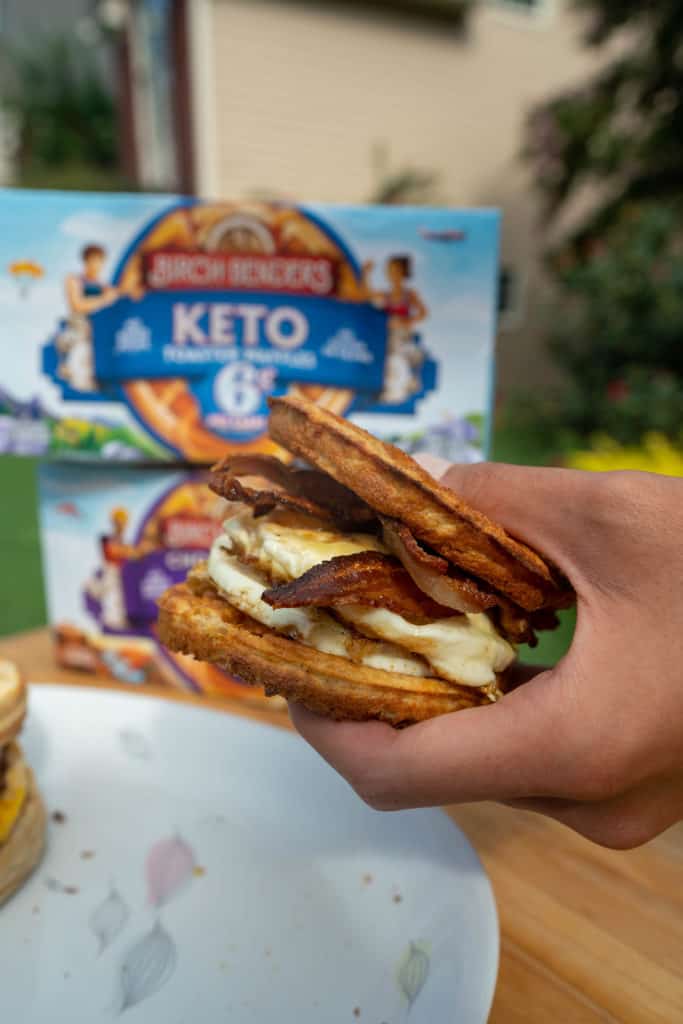 Finally, comes my favorite which is a waffle bar for the entire family. Toast up a large serving of these waffles (and make some of your own with different flavored protein powders) and set out some low carb toppings, including maple syrup, whipped cream, chocolate chips, nuts, and sprinkles! Sounds like the perfect Sunday to me.
Keto Breakfast Sandwich Two Ways
We're not saying you must make keto breakfast sandwiches out of the toaster waffles, but you'll be making a huge mistake if you don't! It's savory, slightly sweet, all types of filling and gives you the perfect mouth feel combination of flavors and textures. We won't steer you wrong, we promise. If you decide to give the toaster waffles or keto breakfast sandwich a try let us know what you think below!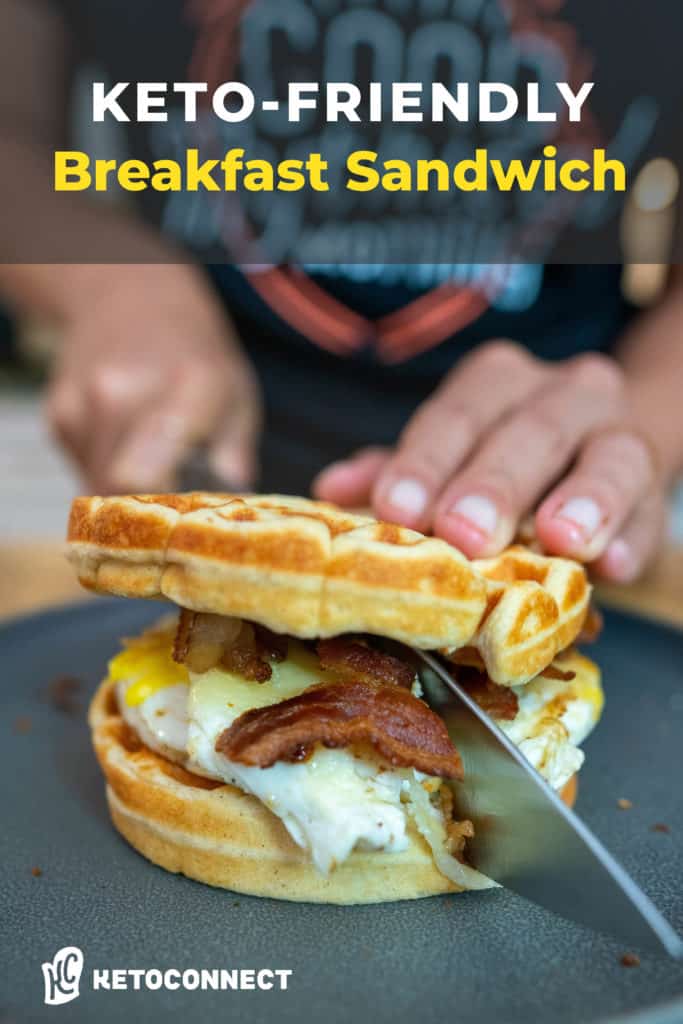 This recipe post is sponsored by Birch Benders.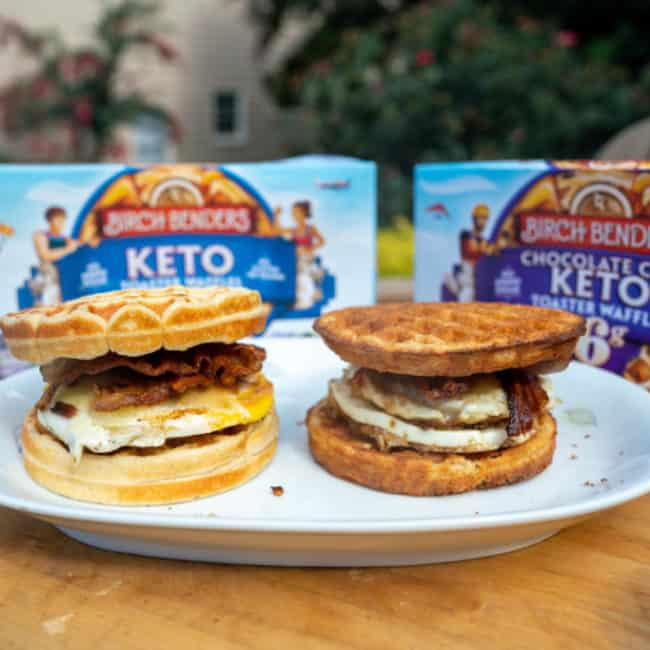 Keto Breakfast Sandwiches
Our Keto Breakfast Sandwich uses clean ingredients, sugar and gluetn free waffles stacked with bacon, eggs and cheese for the perfect morning start!
Total Time 25 minutes
Servings 2 Sandwiches
Calories per serving 504kcal
Prep Time: 5 minutes
Cook Time: 20 minutes
Instructions:
Homemade Waffles
Combine all the ingredients in a small bowl using a whisk. Whisk until no clumps and full incorporated.

Heat your waffle iron until ready. Open and spray with coconut oil spray and add half the batter. Close and allow to cook through 2-3 minutes, until the waffle iron stops steaming.

Repeat with remaining batter to make 2 mini waffles. You can also make one large waffle with the same batter!
Keto Breakfast Sandwiches
Fry up the bacon until crispy and cooked through and set aside on a paper towel lined plate.

Crack four eggs into the hot bacon grease (optionally use mason jar rings for the round shape as shown in the video below) and cook through flipping once crisp on the bottom. Break the yolk before flipping and cook for an additional 2 minutes if you prefer over medium or hard eggs.

Add 1/2 oz cheddar to each egg and cover with a baking try or lid to allow the cheese to melt onto the eggs. Set aside on a plate.

Place a birch bender toaster waffle and homemade waffle on a plate. Stack 2 eggs and cheese on each waffle, top each sandwich with two pieces of bacon and finally place the remaining waffles on top.

Serve immediately! Best eaten right away – will not store well.
Notes
Net Carbs: 8g (Birch Benders waffle sandwich) Homemade Waffle Breakfast Sandwich Nutrition –
Calories: 623
Fat: 44g
Protein: 51g
Carbs: 8g
Fiber: 2g
Net Carbs: 6g
Nutrition Facts
Keto Breakfast Sandwiches
Amount Per Serving
Calories 504 Calories from Fat 342
% Daily Value*
Fat 38g58%
Carbohydrates 11g4%
Fiber 3g12%
Protein 29g58%
* Percent Daily Values are based on a 2000 calorie diet.
Written By