If you love philly cheesesteak sandwiches you are going to love our Keto Philly Cheesesteak Casserole. This ground beef based casserole is peppery, meaty, and super cheesy!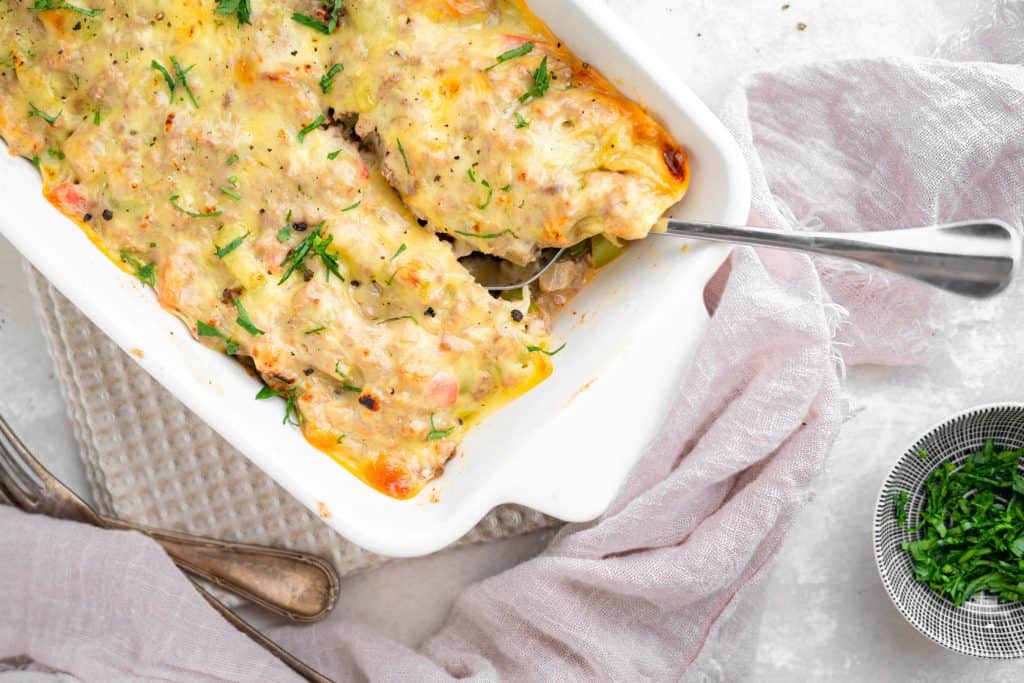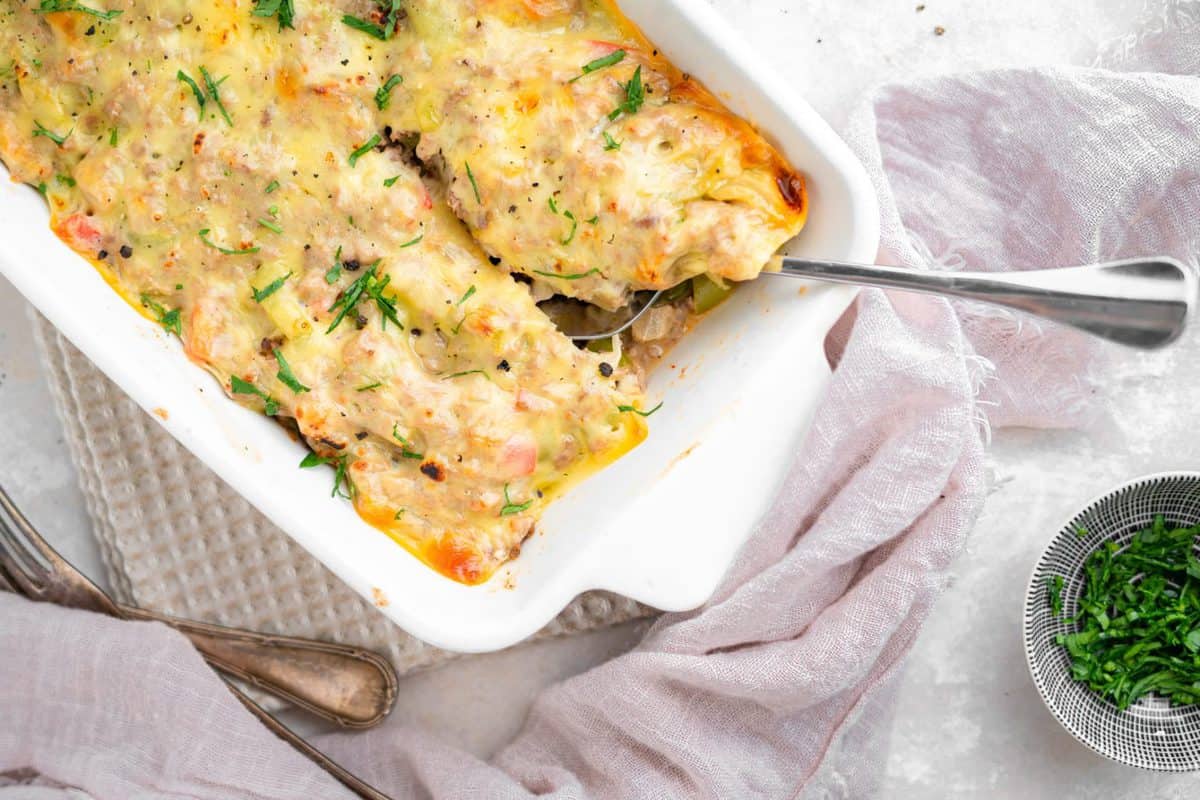 Why Beef Instead of Steak?
If you're a lover of the traditional philly cheesesteak sandwich you probably know it uses thinly sliced steak, not beef. However, when making this recipe we decided it would be best to use ground beef for it's quick cook time and juicy texture.
Steak can tend to dry out, especially if you are cooking it and then baking it afterwards. Ground beef on the other hand cooks really well, and stores well because it will reheat and be just as juicy.
Can I Use Steak?
If you don't want to use ground beef in this philly cheesesteak casserole recipe you can use steak slices. Be aware that it can dry out though, so do not overcook it ahead of time.
The steps are virtually the same for steak or beef just make sure the steak is browned but not cooked fully. When you steak and bell peppers go into the oven they will continue to cook and then be perfect once pulled out.
Finally if you are reheating this recipe you are best off reheating on low in a skillet, or slowly in the microwave to prevent overcooking the steak and making it tough.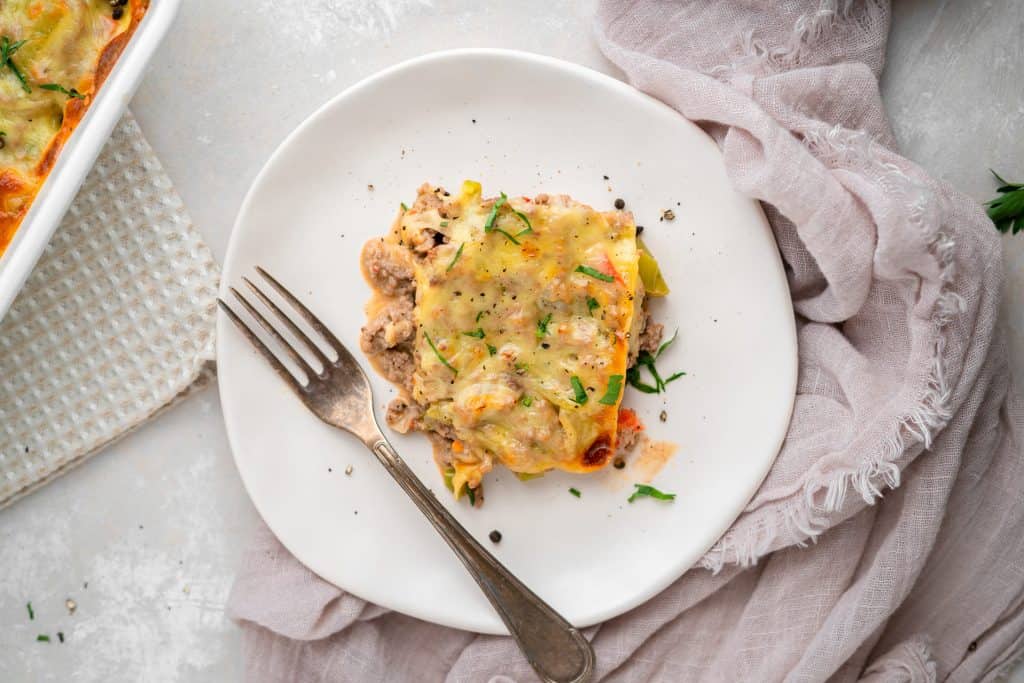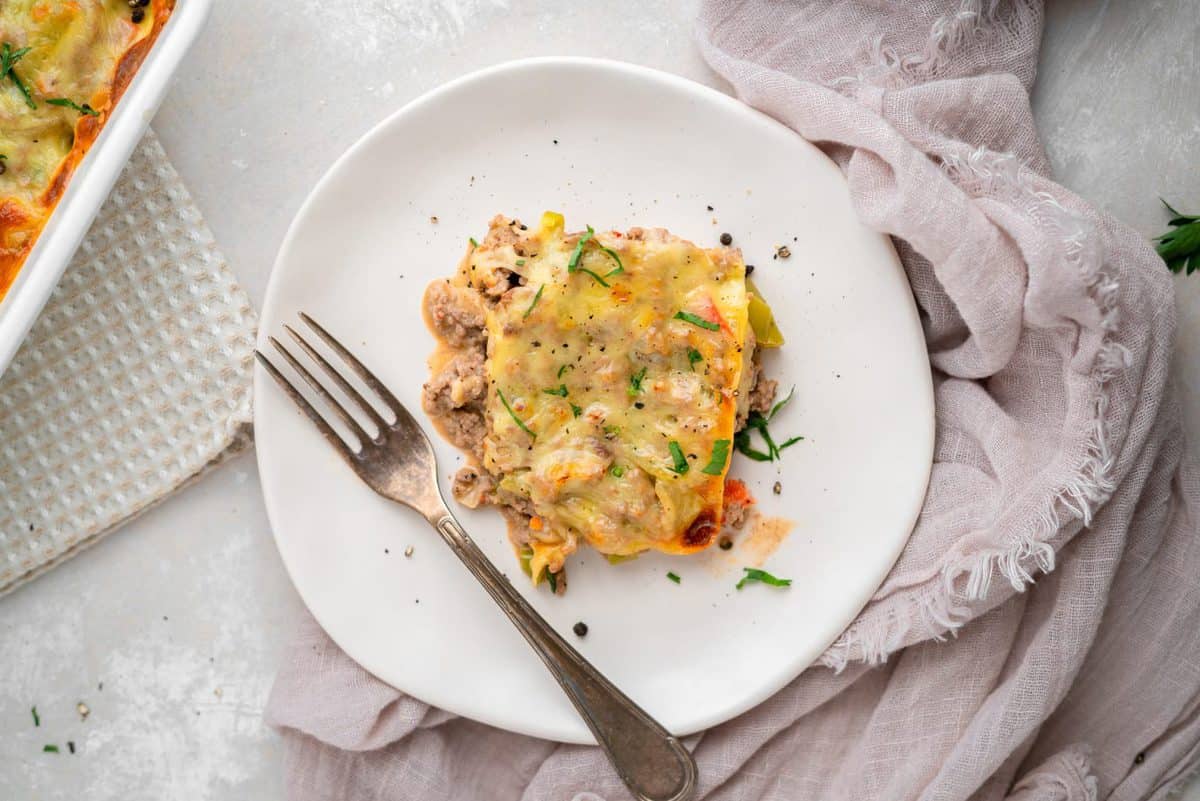 Carb Counts for Bells Peppers and Onions
This philly cheesesteak casserole recipe only has 6 net carbs per serving, mainly coming from the peppers and onions.
Onions and red bell peppers have natural sugars which caramelize and sweeten when cooking. This increases your meal's carb count while making it taste extra delicious.
Red bell peppers (4 net carbs per 100g) are sweeter than low carb green peppers (3 net carbs per 100g). So, if you are trying to limit carbs you may want to fill the casserole dish with more green than red peppers.
We also went heavy on the onions because we love the caramelized flavor they bring, but they do have 8 net carbs per 100 grams so you may want to limit them if you are eating low carb.
How to Serve Philly Cheesesteak Casserole
Our philly cheese steak casserole is loaded with delicious low carb fillings and flavors. Since it was originally a sandwich this philly cheesesteak casserole is basically a deconstructed meal.
If you want to reconstruct a sandwich you can do that too! Some keto friendly serving options are:
Lettuce Cups– The most traditional low carb route is a lettuce wrap. It's high in fiber, low carb, and 100% keto friendly.
Keto Bread– Below we have even more keto bread options, but for now you can never go wrong with a couple toasted slices.
In a Bowl– Grab out a spoon and dish up your ground beef and bell pepper casserole as is!
In Crispy Provolone Cheese Cups– Crisp slices of provolone cheese in a greased silicone muffin pan at 350 for delicious philly cheesesteak casserole cups.
These are just some of our favorite options to make with philly cheesesteak casserole, but feel free to get creative and try new options to broaden your palate.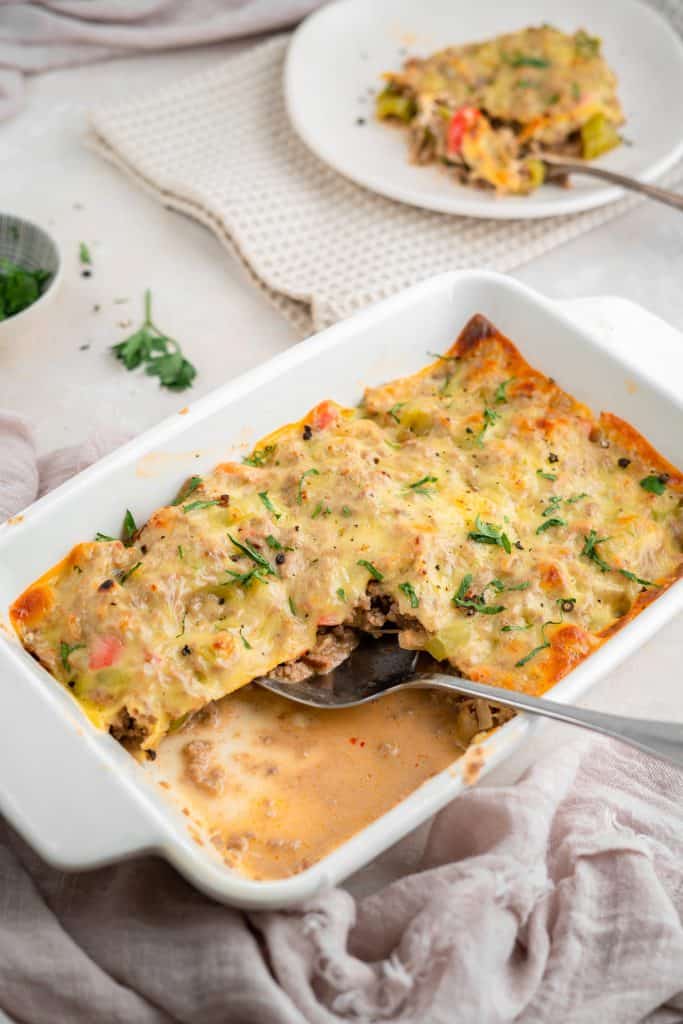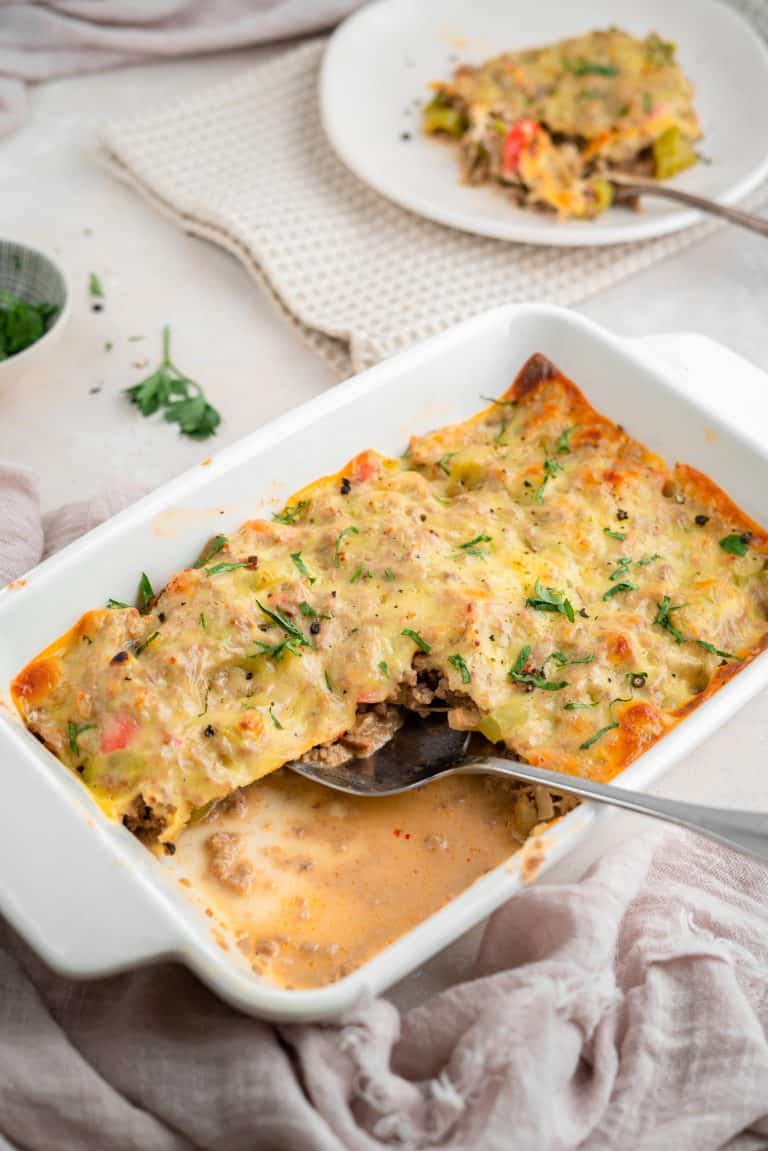 Keto Bread Options
Like we said above just because your keto doesn't mean you can't have bread! Our website has tons of low carb bread recipes that make the perfect serving vessels for this philly cheesesteak casserole.
If you make this recipe try serving a cheesesteak sandwich made of:
We have tons of bread recipes on our site and any will taste delicious with this philly cheesesteak casserole. So why wait? Make this recipe and enjoy all the flavor it has to offer!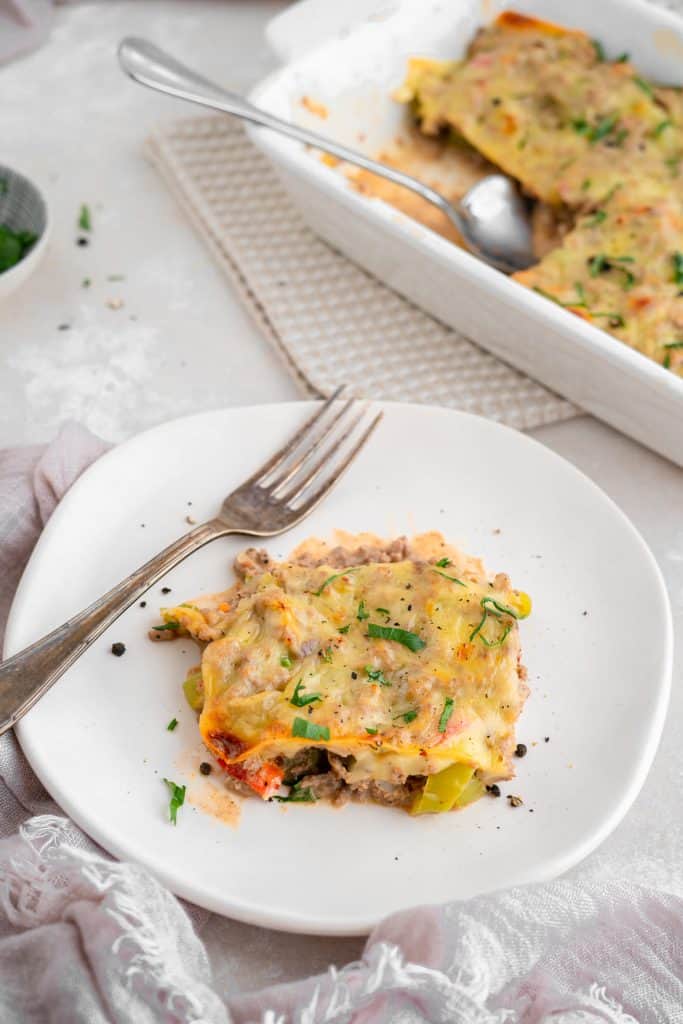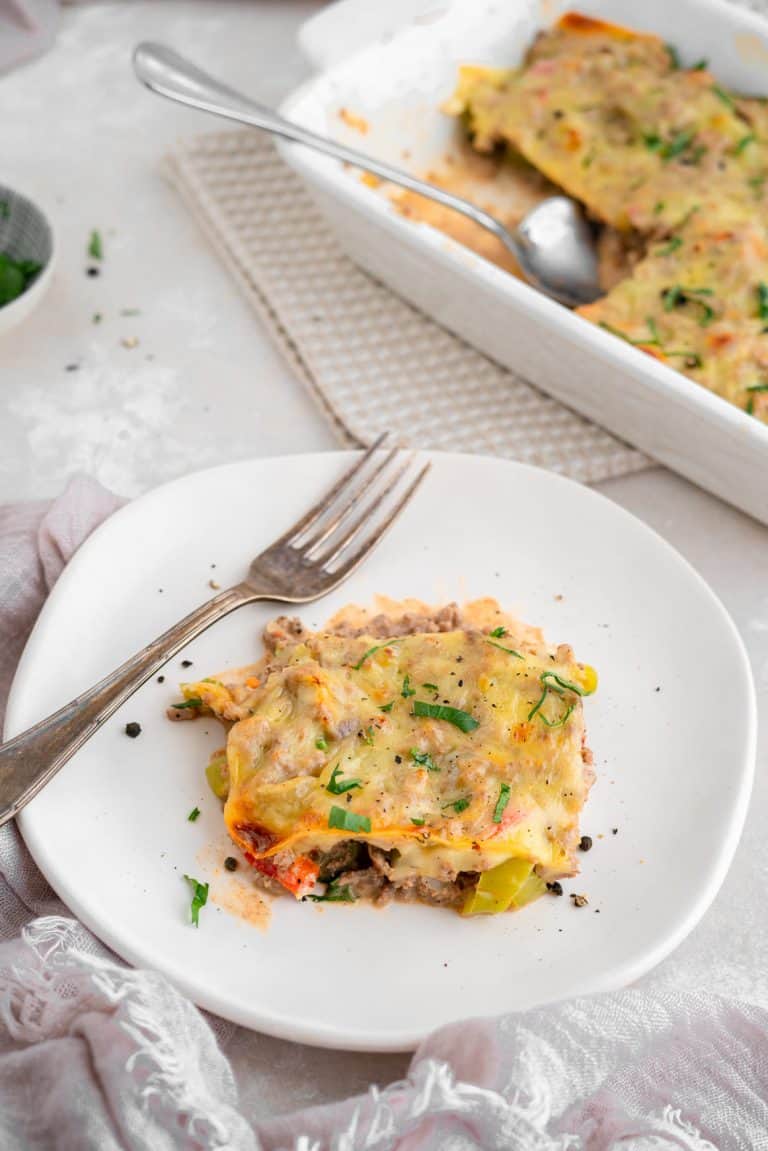 Can I Pre-Make This Philly Cheesesteak Casserole Recipe?
We all love a good casserole! This philly cheesesteak casserole is packed with flavor, but is also so easy to make and prep ahead of time.
If you want to prep this recipe ahead of time go ahead. It saves you a ton of time in the future and the regular casserole prep time is only 10 minutes. There are a few options to go about prepping our cheesesteak casserole recipe.
Prep and Store
To simply prep and store the recipe in your fridge follow all the steps as per the instructions. You can choose to bake the cheese on top, or just top with cheese and wait to reheat on the day you plan to eat it.
Simply allow the cooked ground beef inside the casserole to cool, then top with aluminum and store in the fridge.
Freezing and Storing
To freeze the casserole bake as normal with the topped provolone cheese and allow to fully cool. Leave it in the casserole dish and then wrap it with plastic wrap then aluminum foil.
Place it into the freezer and then freeze until solid. Before reheating allow the casserole to fully defrost in the fridge then bake for 20-30 minutes, or until the center is hot.
Reheating Your Casserole
The best way to reheat any casserole is to cook it in the oven. It bakes more evenly and leaves a moist ground beef casserole unlike the microwave which can dry out meat.
Simply turn the oven to 350 and allow the defrosted casserole to bake for 20-30 minutes, or until it is throughly heated throughout.
If you choose to freeze the casserole you can slice it into pre portioned pieces and then freeze in zip lock bags for easy microwave reheating.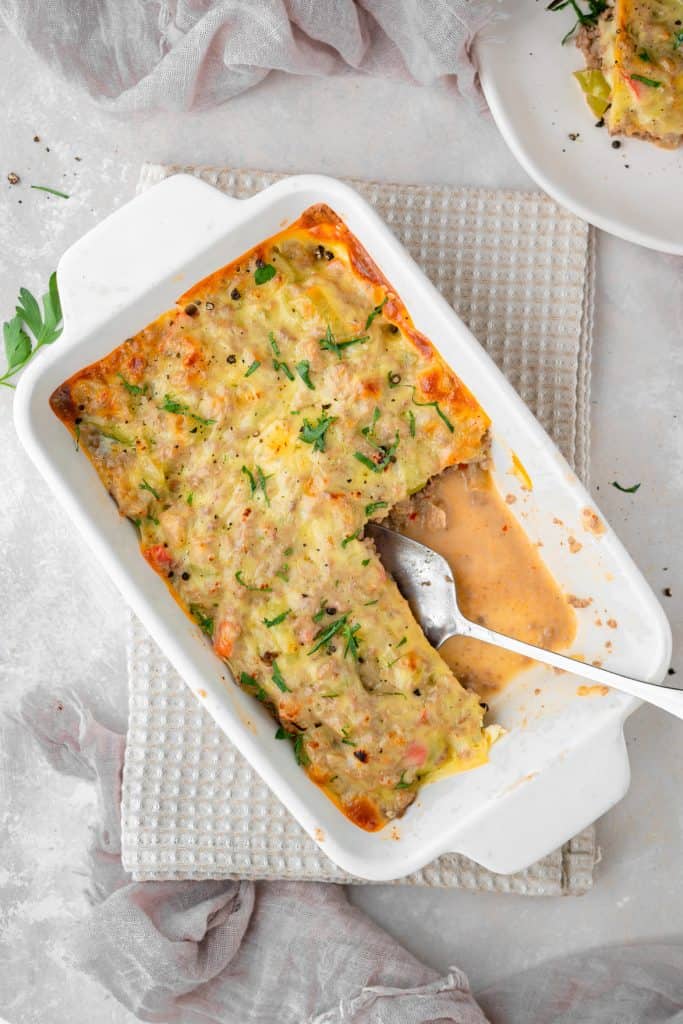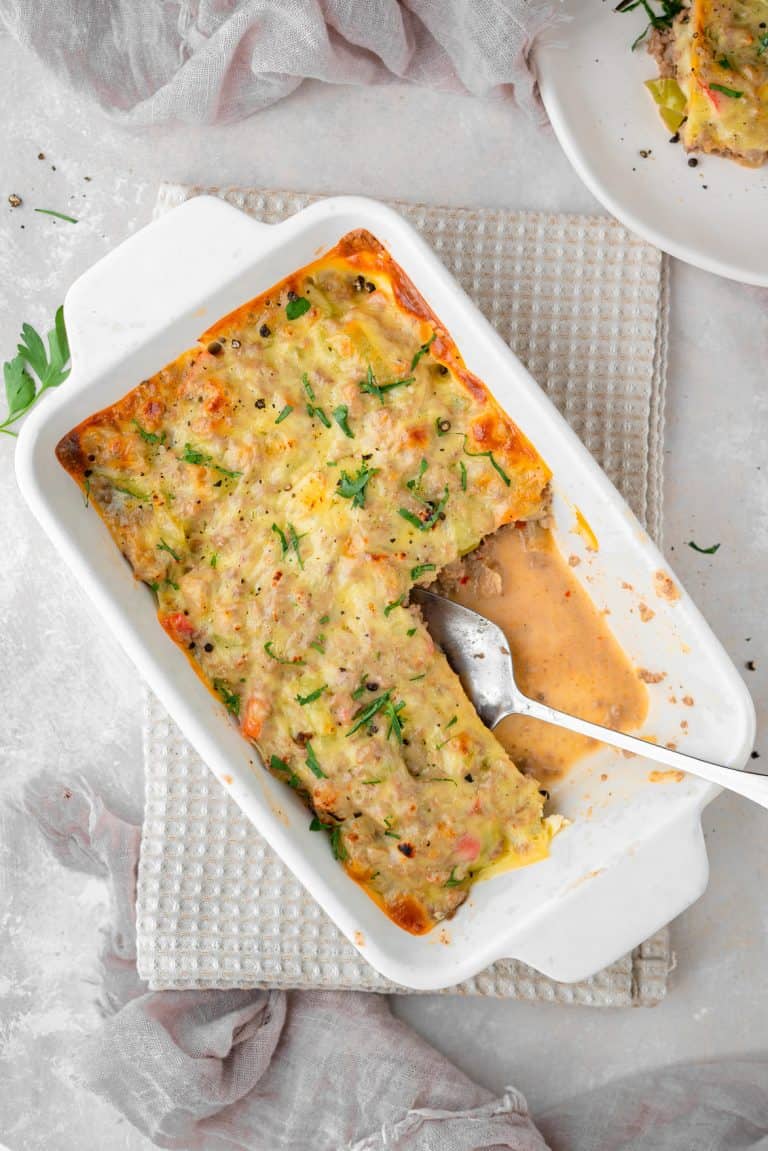 How to Make Philly Cheesesteak Casserole
Are you ready to make a delicious and creamy cheesesteak casserole? Then let's get started!
Ingredients
This casserole is creamy and delicious making it the perfect weeknight dinner. To make it you will need ground beef or sliced steak for the base. For the vegetables you will need thinly sliced onion (chopped) and 2 bell peppers, we used one red and one green pepper.
You will also need the cream cheese because cream cheese binds together the base and makes it nice and creamy. Finally for spices you will need salt and pepper for your onions and peppers, as well as chili flakes, garlic powder, and sliced cheese to top the baking dish.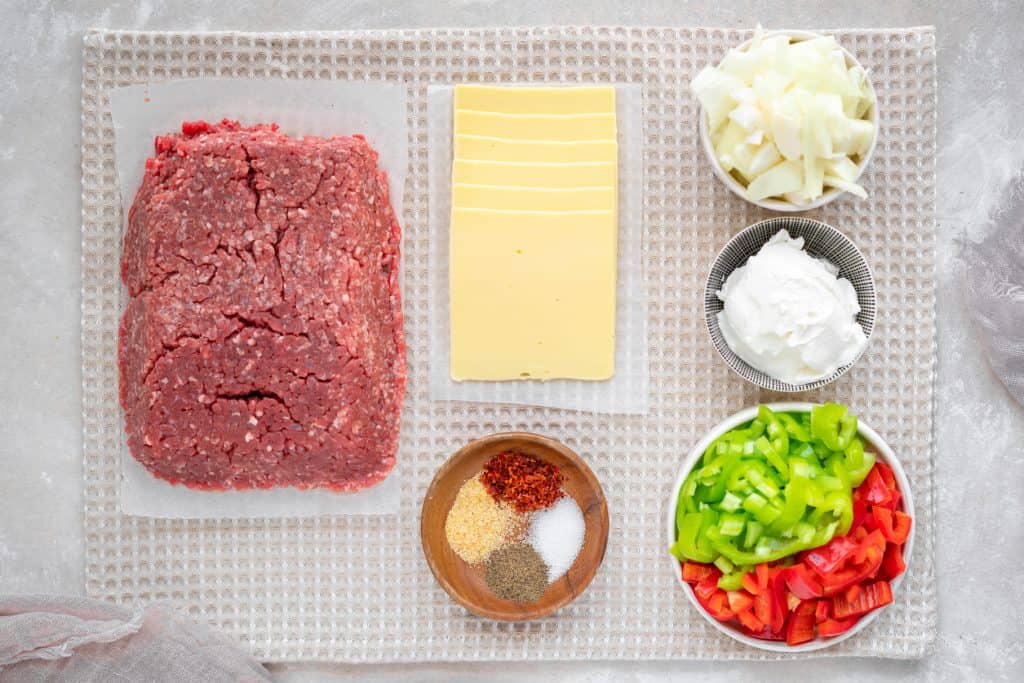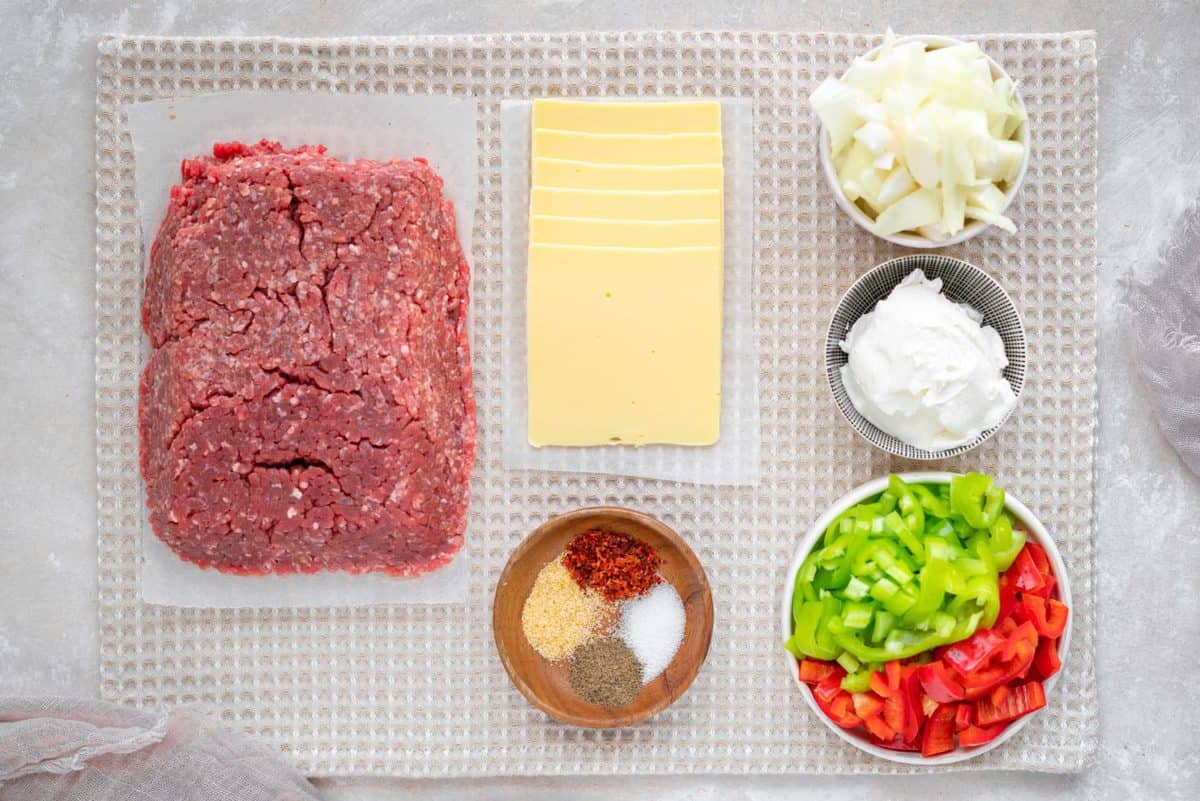 Making Philly Cheesesteak Casserole
To make the philly cheesesteaks base casserole begin by heating a pan to medium high heat and adding in the beef.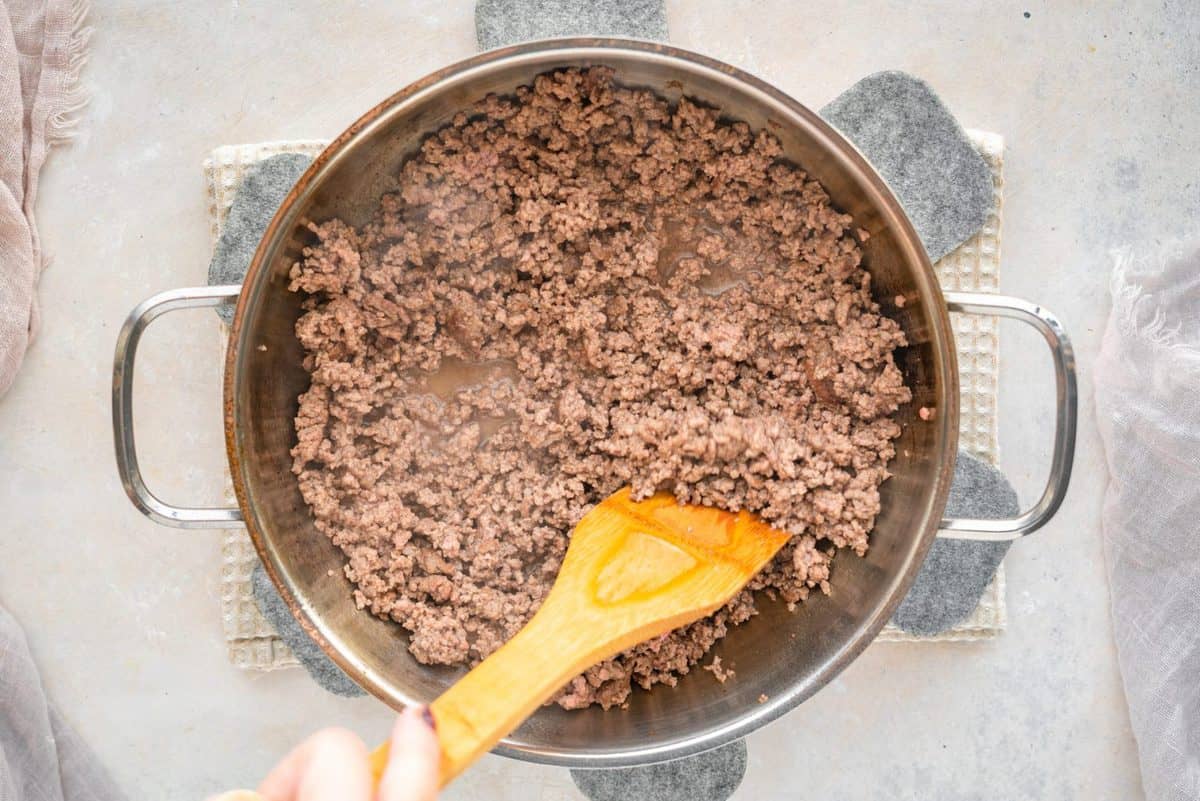 Brown the ground beef and then add in your onions and red/ green bell peppers. Cook another 5-8 minutes until the vegetables have cooked and the liquid has evaporated.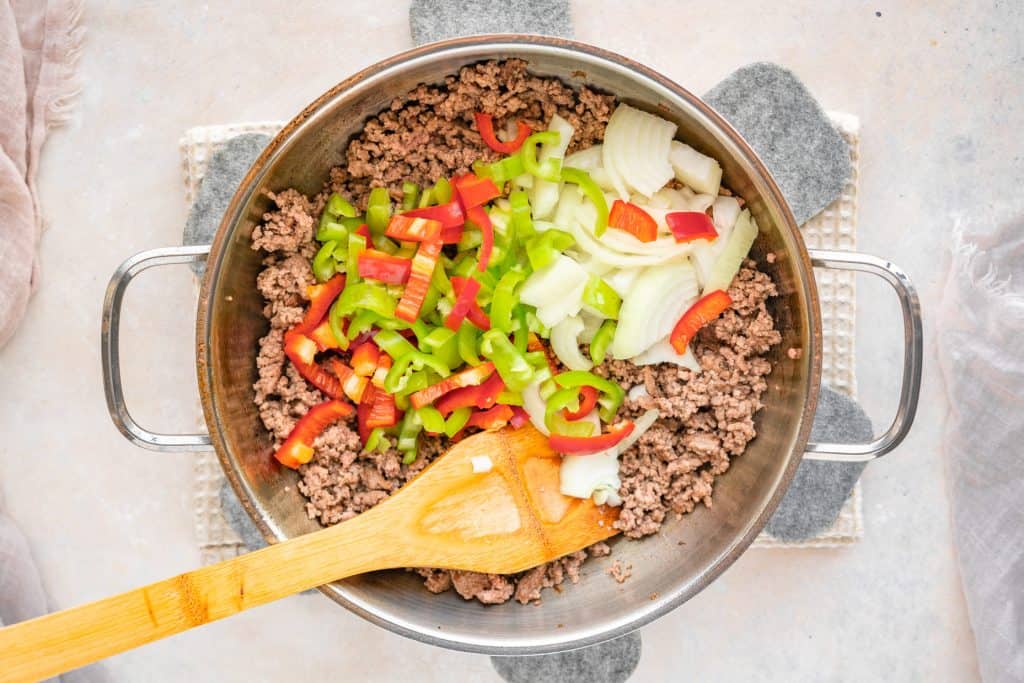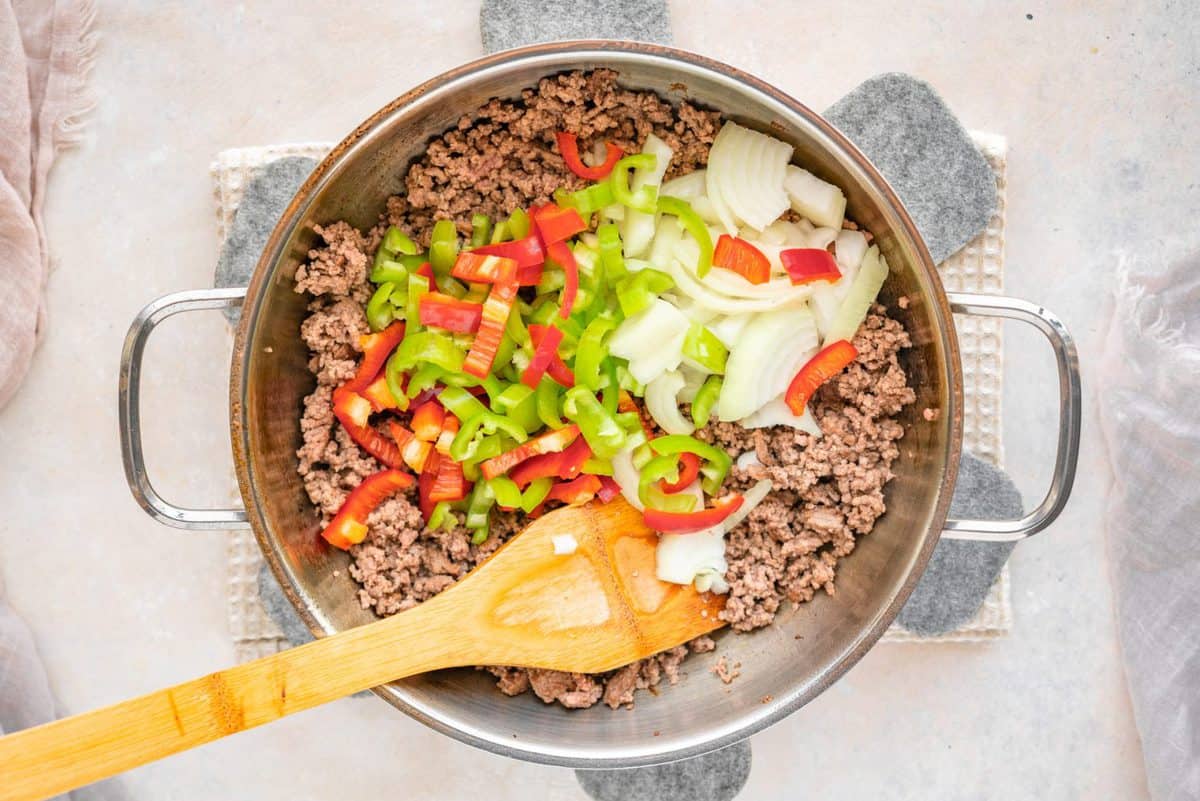 Now add the seasonings as well as cream cheese and stir until everything is incorporated.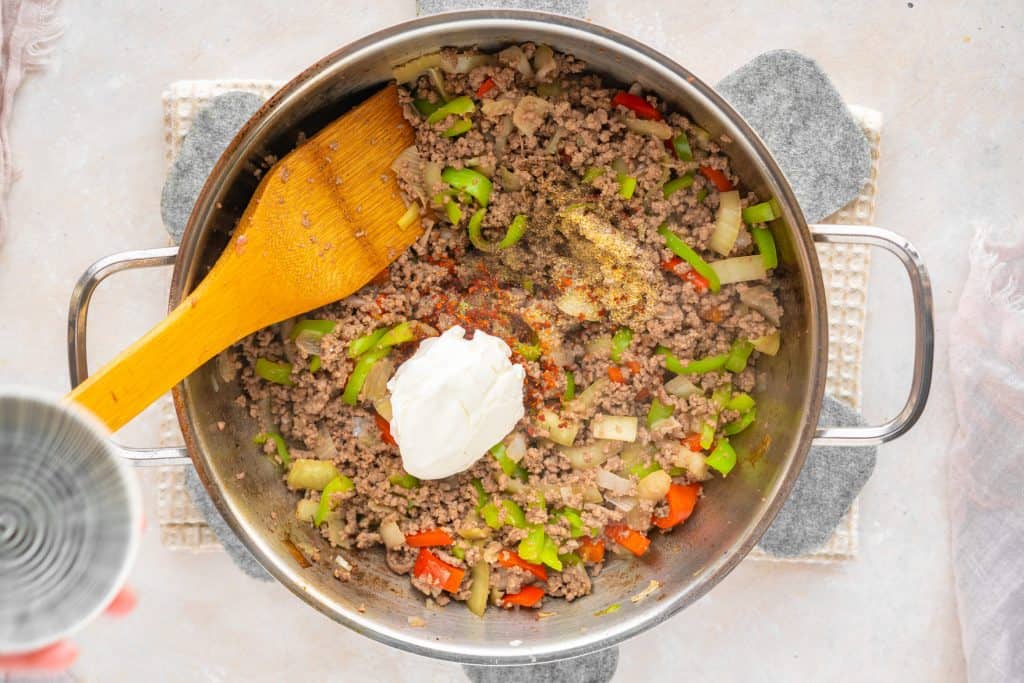 Transfer the philly cheesesteaks mixture into a baking dish (we used 12.5" x9.5 ") .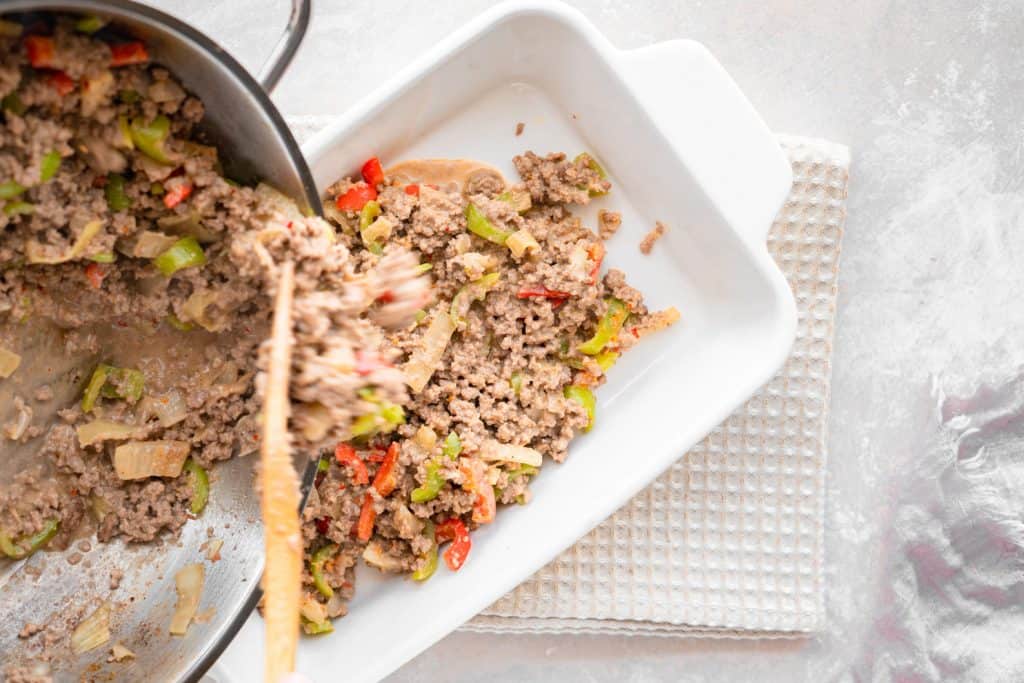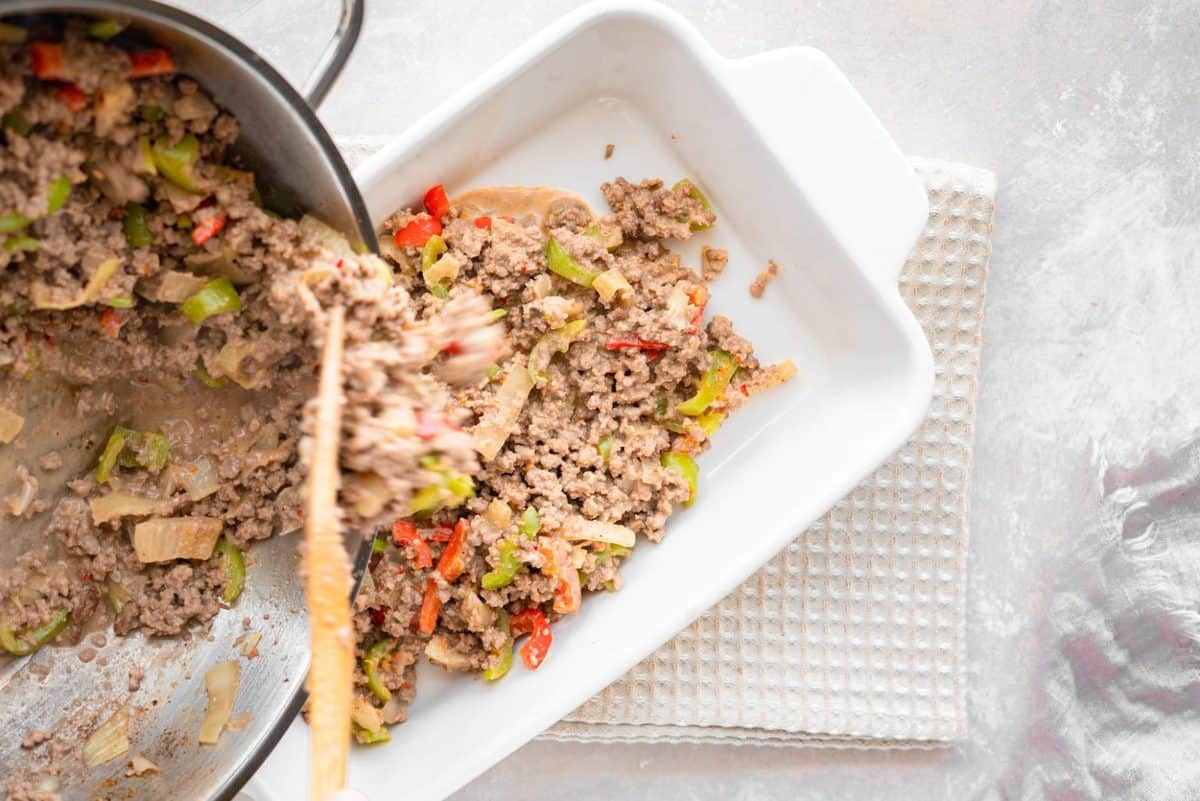 Place your cheese slices on top and bake for 10-15 minutes so the cheese can melt and become golden on the edges.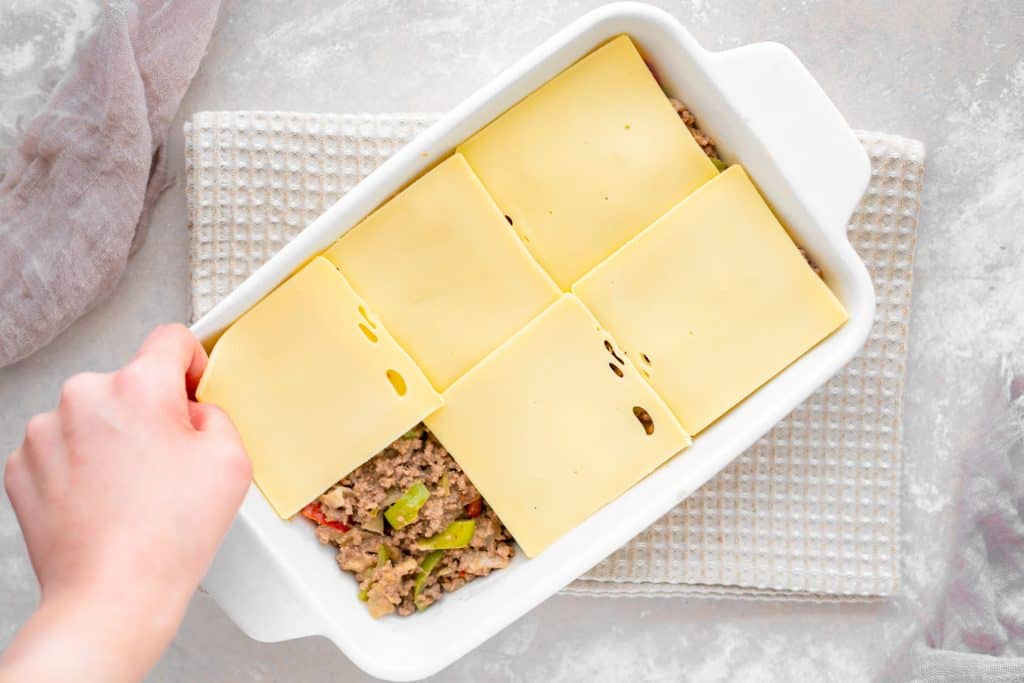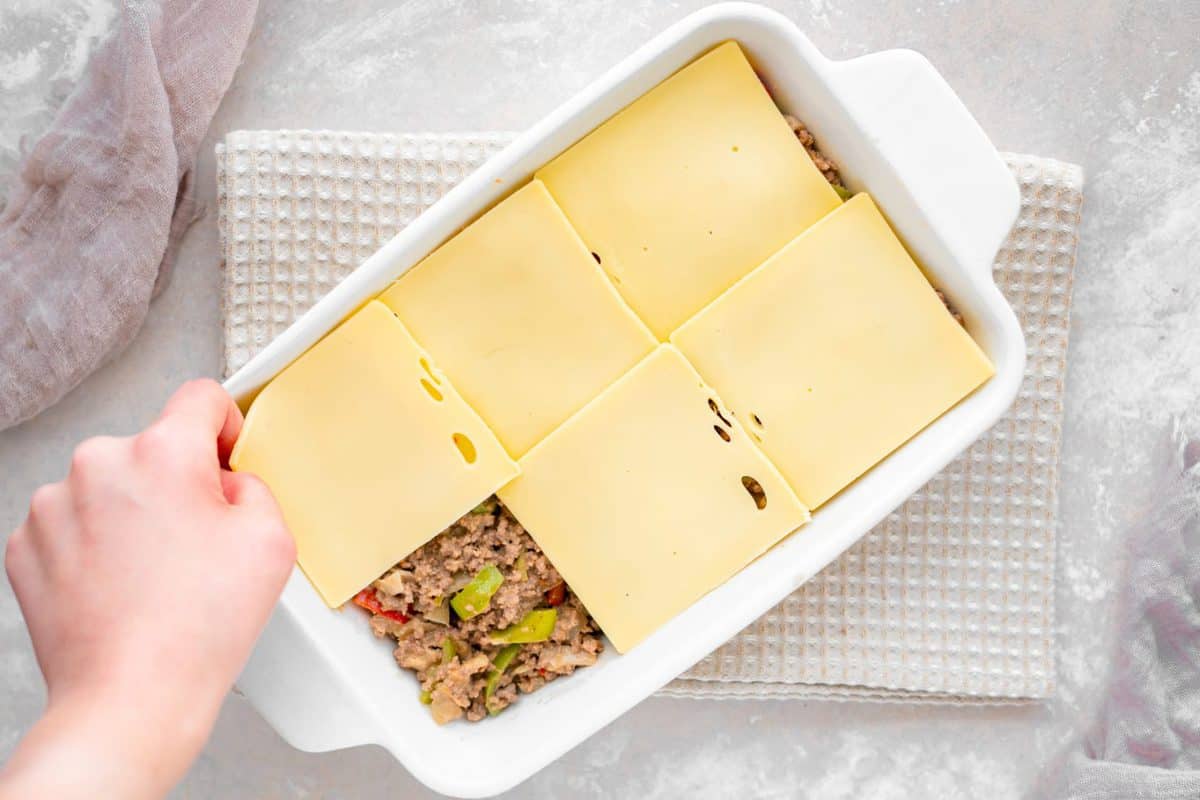 Let the casserole cool for 10 minutes before cutting into it and serving your philly cheesesteaks.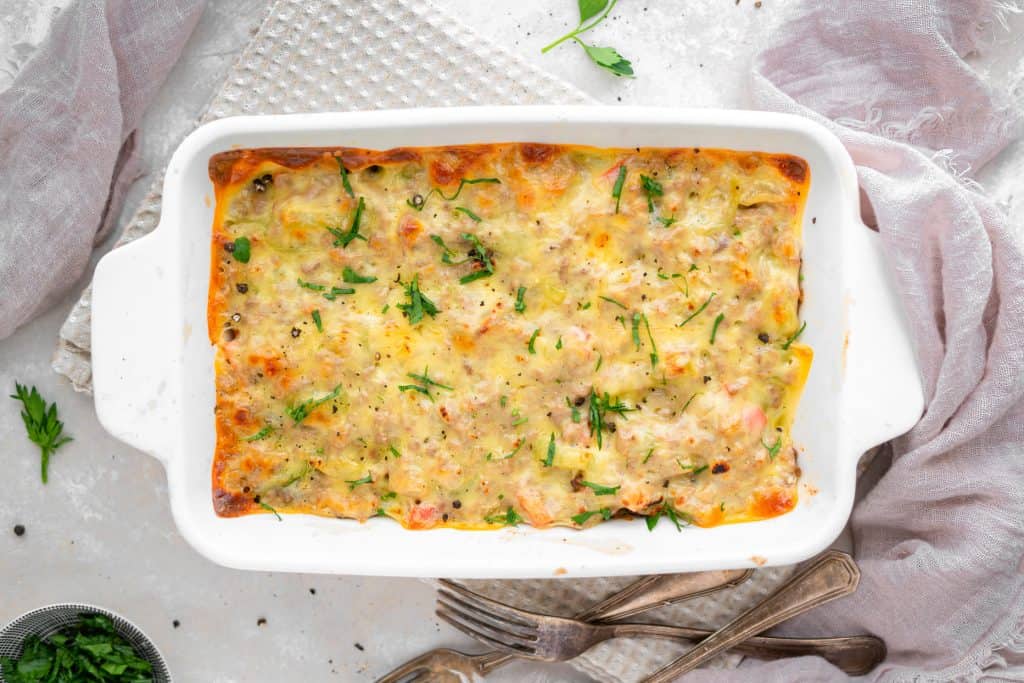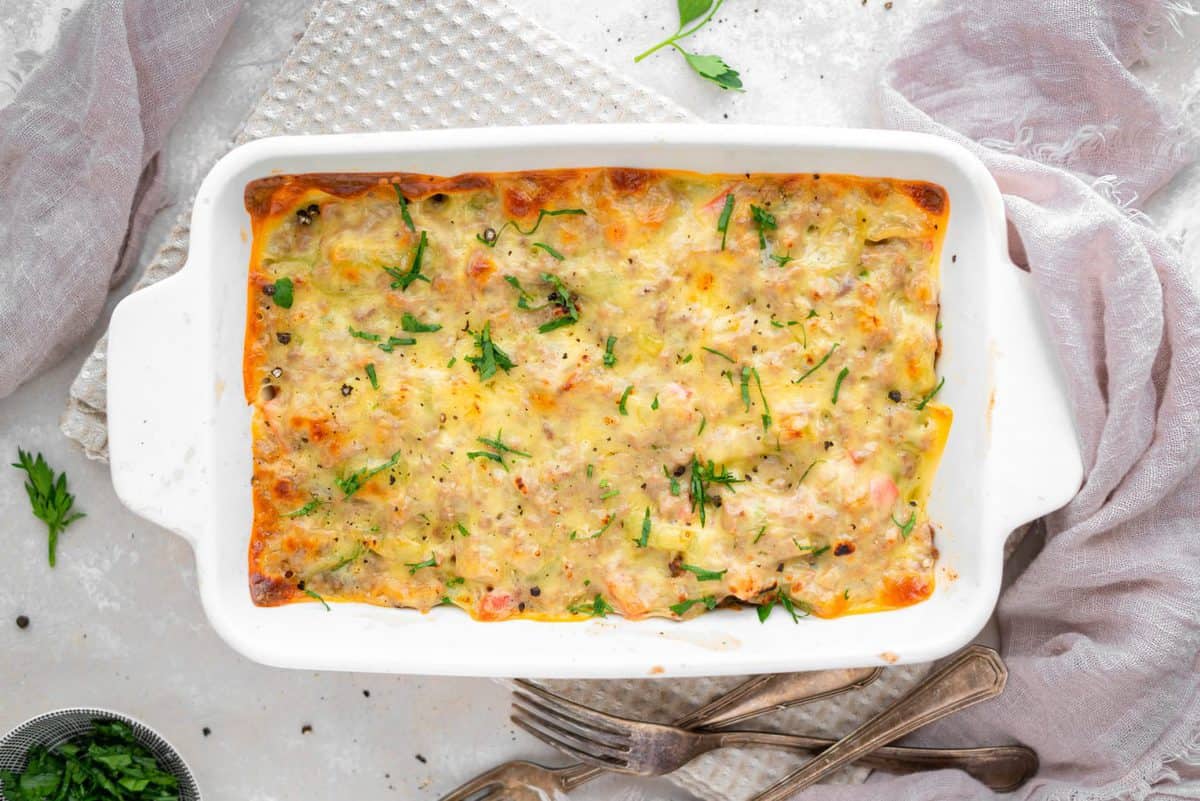 Leftover Recipe Ideas
Have leftover philly cheesesteak casserole? Try some of these delicious leftover ideas:
Cheesesteak Nachos– Take bell pepper slices or pork rinds and top them with your leftover meat and extra provolone cheese.
Philly Cheesesteak Stuffed Peppers– Remove the seeds from bell pepper halves and fill them with cheesesteak casserole. Top with extra cheese and bake again.
Cold Cheesesteak Sandwiches– Top our keto bread with cold cheesesteak meat. It will have just as much flavor, but a whole new experience!
Get creative with your leftovers and enjoy a delicious and flavorful meal with the ingredients you already have in your home!
More Keto Casserole Ideas
We love casseroles and we know most families do too. Casseroles are quick, easy, and perfect to make ahead and freeze for a busy week. Try some of our other fast and tasty casserole recipes this week for dinner!
Keto Pizza Casserole– Oooey Gooey Cheesy casserole! With layers of meat, cheese, pepperonis, and olives this casserole really takes the cake, or pie, or well… Pizza pie?
Loaded Keto Cauliflower Casserole– This recipe is absolutely delicious! There is tons of cheddar cheese, bacon, and cauliflower packed into a baking dish and cooked in the oven to tender yet crispy perfection.
Low Carb Breakfast Casserole– This one's for all the breakfast lovers out there. The recipe is for an egg based casserole with heavy cream, sausage, broccoli, and cheddar cheese. It's a quick and easy to make breakfast recipe you can have all week. It works great for those on meal plans or living an on the go lifestyle.
Casseroles are a go to in so many busy families houses. Try a new casserole every week and see just how simple eating healthy can be! For more low carb casseroles check out the casserole page on our blog
Keto Philly Cheesesteak Casserole
This keto philly cheesesteak casserole is by far one of our best new recipes. It's delicious, filling, and can easily be ready to bake ahead of time.
Plus the nutrition information of this dish is fantastic giving you 35 grams of fat and 29 grams of protein to keep you full and satisfied.
Enjoy even more of the ground beef recipes on our blog to have easy and delicious dinners for days!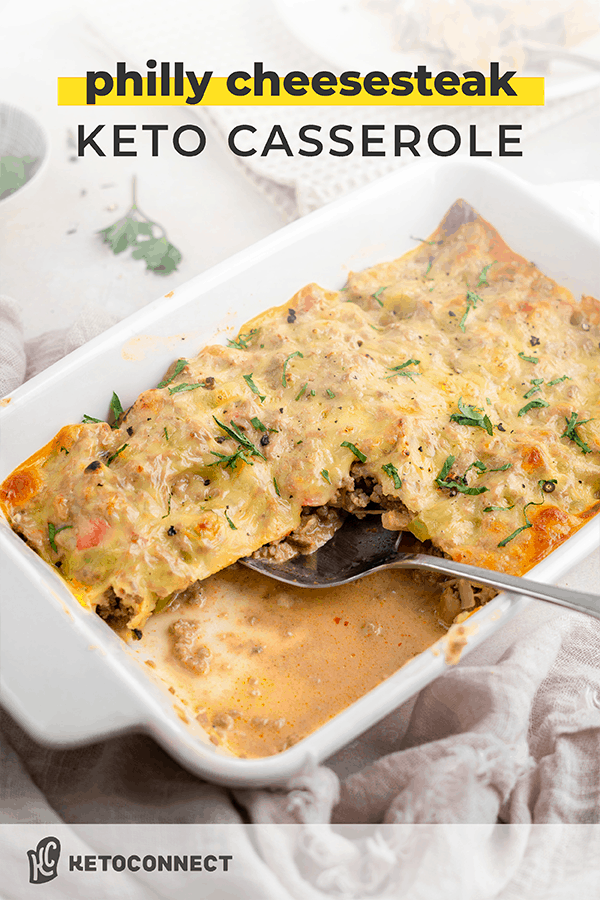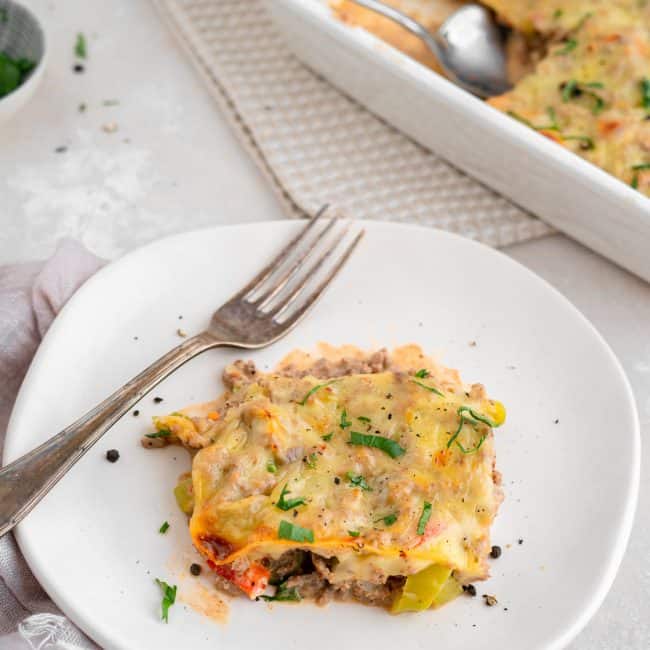 Keto Philly Cheesesteak Casserole
Tender steak and gooey melted cheese work together in harmony to make the perfect Philly Casserole
Total Time 45 minutes
Servings 4
Calories per serving 466kcal
Prep Time: 10 minutes
Cook Time: 35 minutes
What You Need:
12.5 x 9.5 Casserole Dish
Instructions:
Preheat the oven to 350F.

Heat a pan over medium high heat, and add the beef.

Cook for 8-10 minutes, stirring occasionally and breaking it up with a spatula or wooden spoon.

Drop the heat to medium, add the onions and bell peppers,and cook for another 5-8 minutes until the vegetables are cooked, and the liquid has evaporated.

Add the seasonings and cream cheese, and stir until combined.

Transfer the mixture to a stoneware baking dish ( we used 12.5" x9.5 ") .

Arrange the cheese slices on top, and bake for 10-15 minutes until the cheese is melted and golden around the edges.

Let it cool for 10 minutes before cutting into and serving .

Serve on its own, or on lettuce cups.
Nutrition Facts
Keto Philly Cheesesteak Casserole
Amount Per Serving
Calories 466 Calories from Fat 315
% Daily Value*
Fat 35g54%
Saturated Fat 16g80%
Trans Fat 1g
Cholesterol 116mg39%
Sodium 964mg40%
Potassium 538mg15%
Carbohydrates 8g3%
Fiber 2g8%
Sugar 4g4%
Protein 29g58%
Vitamin A 1633IU33%
Vitamin C 64mg78%
Calcium 265mg27%
Iron 3mg17%
* Percent Daily Values are based on a 2000 calorie diet.
Written By