This bread recipe is my personal favorite. Not only is a great alternative for people with nut allergies, but it's is rich with rosemary and garlic flavors. The best way to eat any bread, in my opinion, is as toast, and this recipe is no exception. Toast it up on the stove or in the oven and top it with some butter! We promise you this bread recipe will change the way you enjoy keto bread.
How To Make Bread With Coconut Flour
When baking bread on a keto diet you have two options of flours. Coconut flour and almond flour. If you want to try a keto bread recipe using almond flour then give our other recipe a try. Using coconut flour results in a lower calorie, flakier bread, which is definitely a favorite around our house.
Add Lots of Fat
Fat is always your friend on a ketogenic diet and this bread recipe is no exception. This recipe calls for a stick of butter, which can be substituted for other fat sources like coconut oil, but the bet results will come with using butter.
FREE PRINTABLE: Keto Food List
Join 150,000 others to get a FREE keto food list and new recipes every week!
Use Herbs and Spices
We use rosemary and garlic in this recipe, but use whatever herbs and spices you'd like. You can leave out the seasonings but keto breads tend to need a bit of added flavor to improve the taste. Regular bread has the enjoyable yeast flavor which will be missing from low carb breads.
No Eggy Taste
This coconut flour bread does not have the strong egg taste that many keto breads have. It has a mild coconut taste, with some garlic and rosemary coming through. If you still want less of an egg taste, a surefire way to achieve that is by adding a tiny splash of vinegar. About 1 teaspoon will do.
Allow to Cool Before Slicing
This is very important! If you try slicing into this coconut flour loaf before it has cooled completely you're going to end up with a crumbly mess. Coconut flour is notoriously crumbly, so you're also going to want to slice this with a bread knife if you've got one lying around.. It will take about 60 minutes for this loaf to cool completely.
Store in the Fridge
This coconut flour bread, and just about all low carb breads need to be stored in the fridge. They will go bad in a matter of days if stored on the counter-top due to their high moisture content. Pop this in the fridge for about a week or in the freezer it will last 1-2 months. I prefer to slice the bread before freezing it.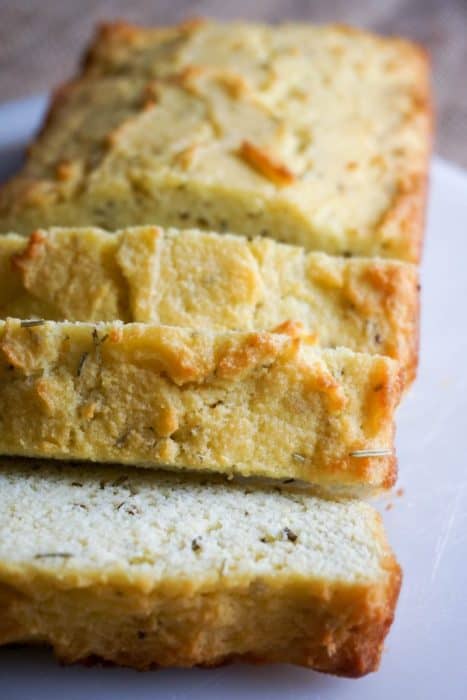 Baking With Coconut Flour
Coconut flour is our preferred flour for a number of reasons:
Low cost
Gluten free
Good flavor
You use less per recipe
Our preferred brands to look for are Anthony's or Bob's Red Mill.
Coconut Flour vs Almond Flour
A few things to keep in mind when baking with coconut flour is that it is very difficult to substitute with almond flour. You're much better off looking up a coconut flour recipe than trying to convert one that uses almond flour. The reason for this is coconut flour is much more absorbent to liquids. So where you would need a few cups of almond flour, you may only need half a cup of coconut flour.
How to Make Coconut Flour Bread Rise
The sad truth is that coconut flour bread will not rise. I know it's unfortunate, but two things are required to make bread rise. Gluten and yeast. You can make a good low carb bread recipe that will rise, but it wouldn't be gluten free. We primarily like to stick to gluten free bread around the house.
More Coconut Flour Recipes
This bread recipe is not our only coconut flour recipe. In fact, two of our most popular recipes are coconut flour based, our 3 Minute Low Carb Biscuits and Low Carb Fudgy Brownies! How could you even say no to attempting those recipes – one takes less than five minutes to make and the other is the best dessert ever, brownies!
If you are using coconut flour for the first time, however, I recommend making our rosemary and garlic coconut flour bread to get a full understanding of how amazing of an alternative flour it truly is!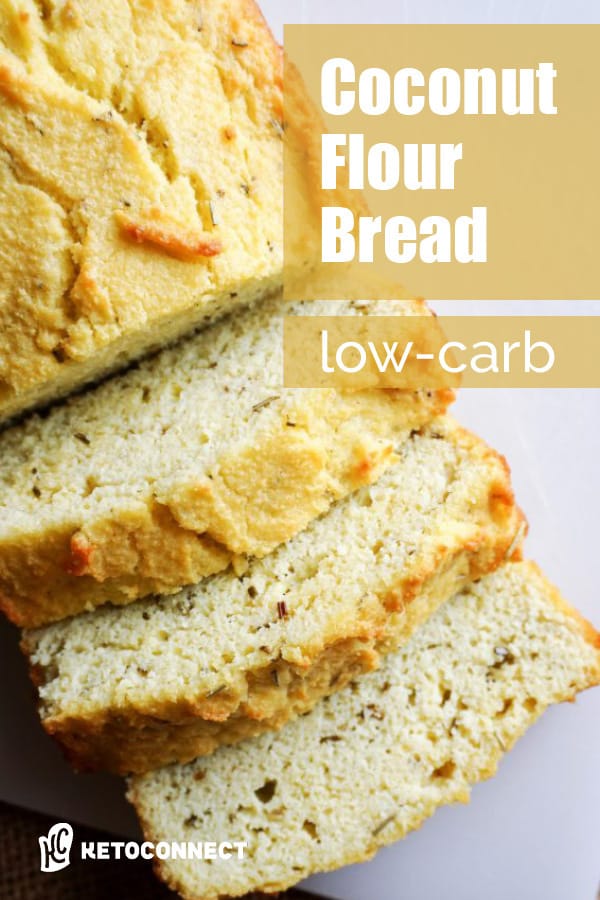 Recipe can be quickly added to MyFitnessPal – Search "KetoConnect – Coconut Flour Bread"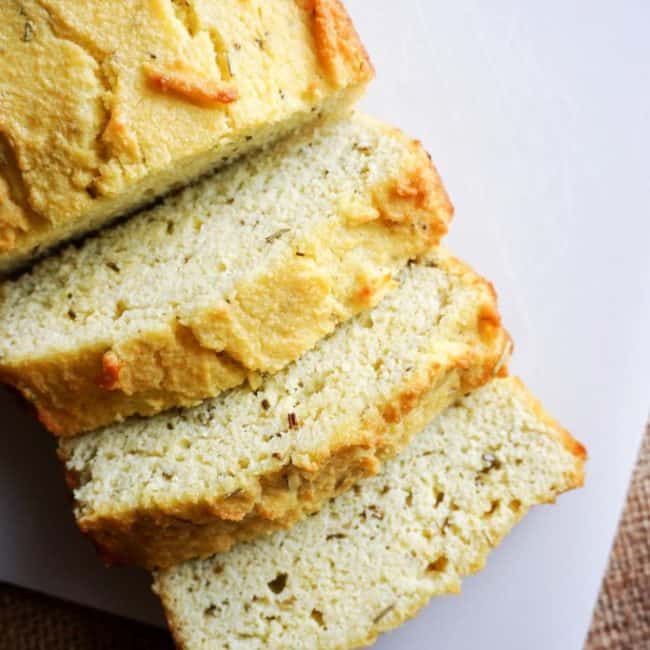 Rosemary and Garlic Coconut Flour Bread
A nut-free low-carb bread made with coconut flour and flavored with herbs.
Total Time 55 minutes
Servings 10 Slices
Calories per serving 147kcal
Prep Time: 10 minutes
Cook Time: 45 minutes
Instructions:
Combine dry ingredients (coconut flour, baking powder, onion, garlic, rosemary and salt) in a bowl and set aside.

Add 6 eggs to a separate bowl and beat with a hand mixer until you get see bubbles at the top.

Melt the stick of butter in the microwave and slowly add it to the eggs as you beat with the hand mixer.

Once wet and dry ingredients are fully combined in separate bowls, slowly add the dry ingredients to the wet ingredients as you mix with the hand mixture.

Grease an 8x4 loaf pan and pour the mixture into it evenly.

Bake at 350 for 40-50 minutes (time will vary depending on your oven).

Let it rest for 10 minutes before removing from the pan. Slice up and enjoy with butter or toasted!
Nutrition Facts
Rosemary and Garlic Coconut Flour Bread
Amount Per Serving
Calories 147 Calories from Fat 113
% Daily Value*
Fat 12.5g19%
Carbohydrates 3.5g1%
Fiber 2g8%
Protein 4.6g9%
* Percent Daily Values are based on a 2000 calorie diet.