There's nothing like a fresh loaf of homemade keto coconut flour bread with hints of rosemary and garlic. It will warm your house and fill your nose with scents of a bakery.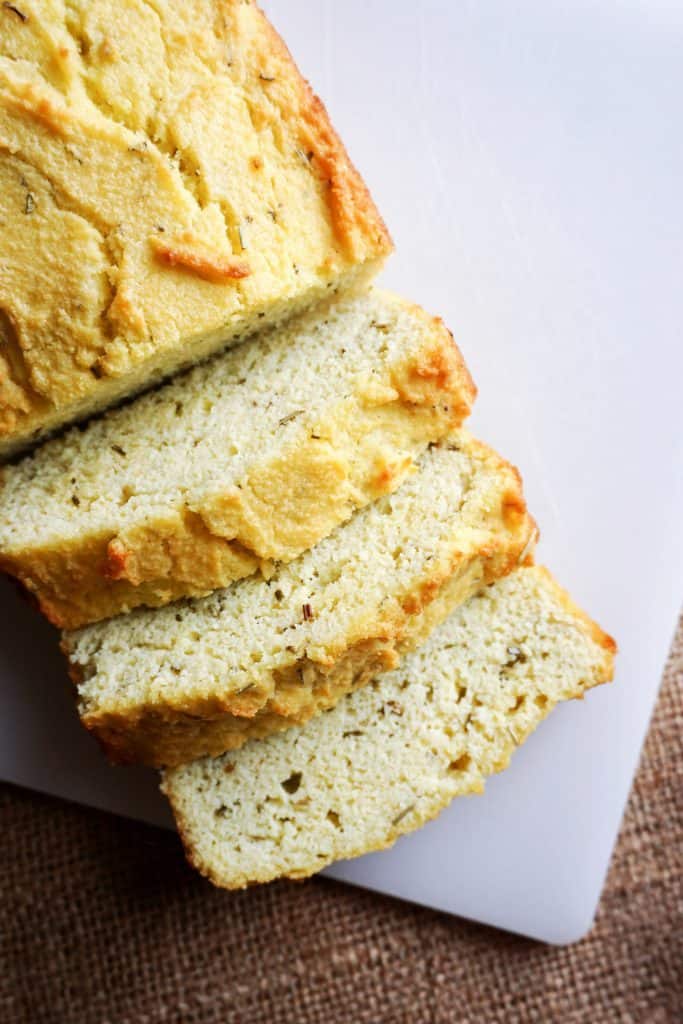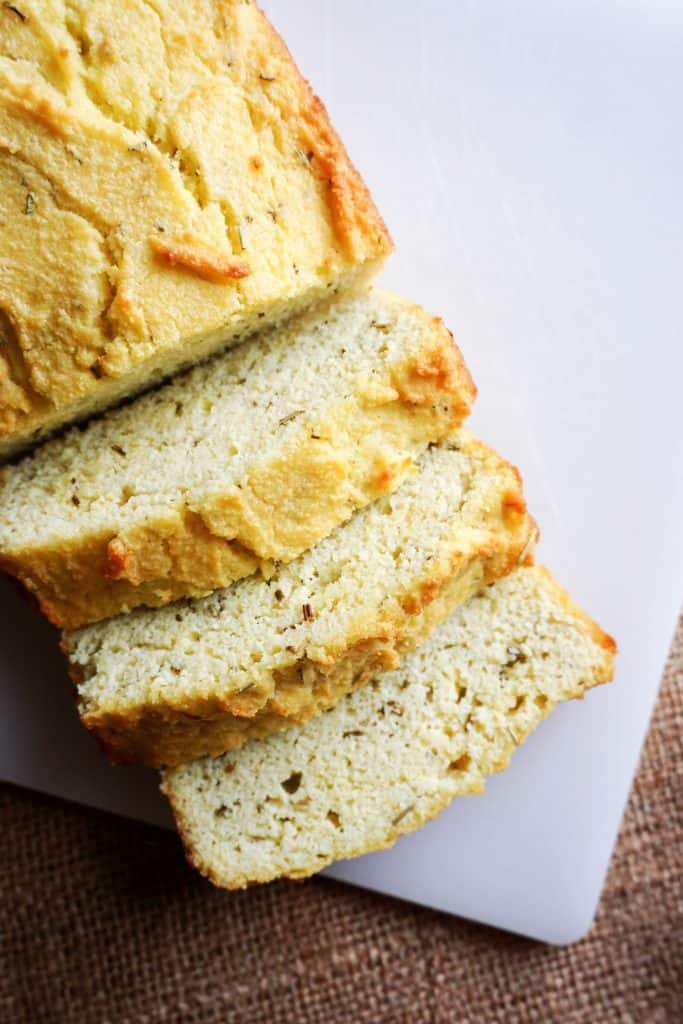 This bread recipe is my personal favorite. Not only is it a great alternative for people with nut allergies, but it's is rich with rosemary and garlic. The best way to eat any bread, in my opinion, is as toast, and this recipe is no exception.
Toast it up on the stove or in the oven and top it with some butter! We promise you this bread recipe will change the way you enjoy keto bread.
How To Make Bread With Coconut Flour
When baking bread on a keto diet you have two options for flours. Coconut flour and almond flour. If you want to try a keto bread recipe using almond flour then give our other recipe a try.
While the almond flour bread is delicious, bread made with coconut flour results in a lower calorie, flakier bread, which is definitely a favorite around our house.
Coconut Flour vs Almond Flour
A few things to keep in mind when baking with coconut flour is that it is very difficult to substitute with almond flour.
You're much better off looking up a coconut flour recipe than trying to convert one that uses almond flour. The reason for this is that coconut flour is much more absorbent to liquids.
Recipes where you needed a few cups of almond flour, may only require half a cup of coconut flour to get the same result.
Coconut Flour Macros
Keto coconut flour bread is a great item to have on hand to help build healthy and filling meals. The reason we love coconut flour so much it because of its fantastic keto macros.
Coconut flour is gluten free keto friendly, and per serving has just 60 calories, 2 grams of fat, 8 grams of carbs, 6 grams of fiber, 2 grams of protein, and 2 net carbs!
Baking With Coconut Flour
Coconut flour is our preferred flour for a number of reasons:
Low cost– In comparison to almond flour (0.34 cents an oz) coconut flour is about half the price (0.16 cents an oz).
Gluten free– Like all other ingredients on a keto diet coconut flour is praised for it's gluten free base with a high fiber content.
Good flavor– It has a light and subtle coconut flavor that works really well in a variety of keto treats and baked goods.
You use less per recipe– Coconut flour is 3x more absorbent than almond flour. That means when bread is made with coconut flour you have to use 3x less the amount of flour compared to most keto recipes, AND it's cheaper than almond flour. You save money twice every time you use coconut flour in a recipe.
Our preferred brands to look for are Anthony's or Bob's Red Mill. We recommend buying a big bag so whenever you want to make coconut flour bread you have a stash of flour on hand.
More Coconut Flour Recipes
This bread recipe is not our only coconut flour recipe. In fact, two of our most popular recipes are coconut flour based, our 3 Minute Low Carb Biscuits and Low Carb Fudgy Brownies!
How could you even say no to attempting those recipes – one takes less than five minutes to make and the other is the best dessert ever, brownies!
If you are using coconut flour for the first time, however, I recommend making our rosemary and garlic coconut flour bread to get a full understanding of how amazing a flour it truly is!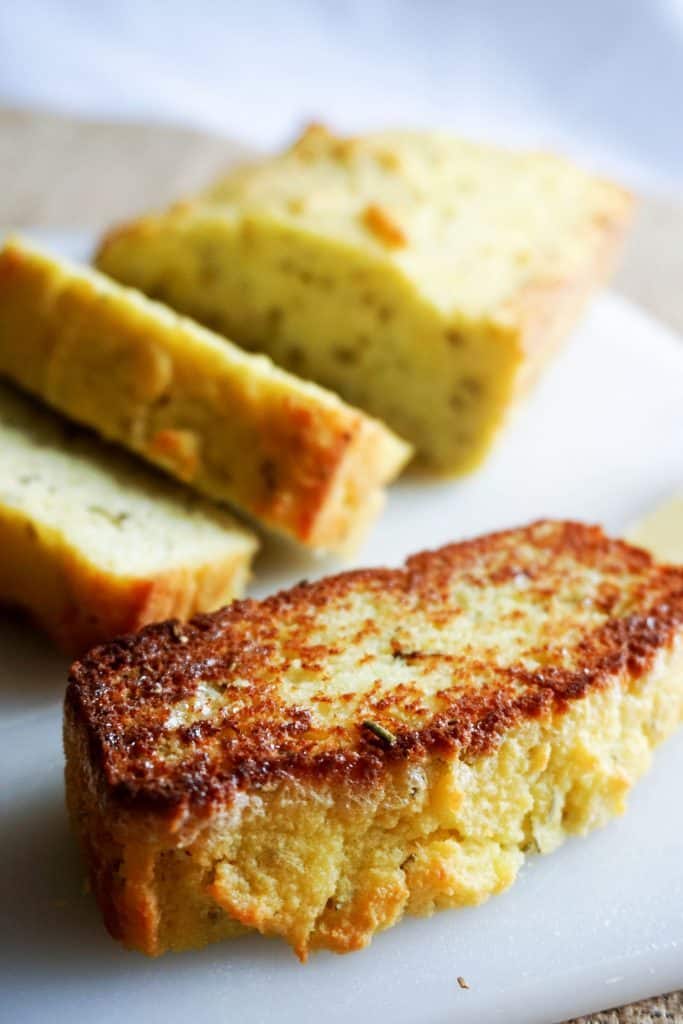 Can I Make Low Carb Coconut Flour Bread Dairy Free?
Most recipes that call for butter can be easily subbed for coconut oil. Thankfully that is still the case for this recipe, but coconut flour can alter the taste a bit.
Another good option for those who want a buttery taste without the dairy is ghee. Ghee or clarified butter is lactose free and easier for most people to digest that can't normally have dairy.
If all you have is coconut oil, that will still work. Just know the bread will taste a bit more coco-nutty and less like traditional bread.
Tips for Making the Best Keto Coconut Flour Bread
If you're new to working with coconut flour you'll quickly learn it behaves very different to almond flour. This coconut flour bread recipe is fairly simple, but there are a few tips and tricks that make the bread come out better.
Add Lots of Fat
Fat is always your friend on a ketogenic diet and this bread recipe is no exception.
This recipe calls for a stick of butter, which can be substituted for other fat sources like coconut oil, but the bet results will come with using butter.
Use Herbs and Spices
We use rosemary and garlic in this recipe, but use whatever herbs and spices you'd like. You can leave out the seasonings but keto breads tend to need a bit of added flavor to improve the taste.
Regular bread has the enjoyable yeast flavor which will be missing from low carb breads. This is also a great tip if you find the bread to be too eggy for your liking.
Avoid an Eggy Taste
This coconut flour bread does not have the strong egg taste that many keto breads have. It has a mild coconut taste, with some garlic and rosemary coming through.
If you still want less of an egg taste, a surefire way to achieve that is by adding a tiny splash of vinegar. About 1 teaspoon will do.
Allow to Cool Before Slicing
This is very important! If you try slicing into this coconut flour loaf before it has cooled completely you're going to end up with a crumbly mess.
Coconut flour is notoriously crumbly, so you're also going to want to slice this with a bread knife, that is if you've got one lying around… It will take about 60 minutes for this loaf to cool completely.
Store in the Fridge
This coconut flour bread, and just about all low carb breads need to be stored in the fridge. They will go bad in a matter of days if stored on the counter due to their high moisture content.
Pop this in the fridge for about a week, or into the freezer if you want it to last 1-2 months. I prefer to slice the bread before freezing it to prevent a rock hard loaf.
My Coconut Flour Bread Didn't Rise?
The sad truth is that coconut flour bread will not rise. I know it's unfortunate, but two things are required to make bread rise. Gluten and yeast.
You can make a good low carb bread recipe that will rise, but it wouldn't be gluten free. We primarily like to stick to gluten free bread around the house.
How to Make Keto Coconut Flour Bread
Now that we have done our research and know just how well coconut flour absorbs liquid it's time to make the best keto coconut flour bread recipe out there.
Ingredients
To make this coconut flour bread recipe you will need dry ingredients and wet ingredients. For the dry you will need low carb coconut flour, baking powder (not baking soda), salt, and your spices of choice. We used garlic powder and rosemary.
For the wet ingredients in this recipe you will need eggs and butter. We used a lot of butter in this recipe, but if you are dairy free you can sub the butter for coconut oil. Just know that coconut oil has a different flavor profile so we recommend butter first unless you have to make your low carb coconut flour bread dairy free.
Making Keto Coconut Flour Bread
Now that we have the ingredients out we are ready to make this recipe.
Preheat the oven to 350 degrees and then begin by mixing all the dry ingredients including the baking powder together in a medium sized bowl.
Then in a large bowl beat the eggs with a hand mixer until bubbles start to form on the surface from air.
Melt the stick of butter in the microwave and slowly add the melted butter into the eggs. Make sure to mix quickly so your eggs don't cook and taste like scrambled egg bread!
Now mix the dry ingredients into the wet with a hand mixer until all the eggs and dry ingredients have combined.
Grease an 8×4 loaf pan and pour the low carb coconut flour batter in. Bake for 40-50 minutes or until the top is set and a toothpick comes out clean.
Make sure the low carb coconut flour bread cools completely before cutting bread slices. Like most keto recipes our coconut flour bread recipe will crumble and break apart if cut while hot.
Storing a Keto Loaf of Bread
Like we said above, gluten free keto recipes such as low carb bread have a lot more moisture that will cause them to spoil quicker.
If you make this recipe and know you won't be able to finish it in two days we recommend fridge storage. Any longer than two days on the counter and this recipe will start molding.
Do yourself a favor and pop it into the fridge pre sliced, or freeze it pre sliced to make it last a month instead of just a week in the fridge.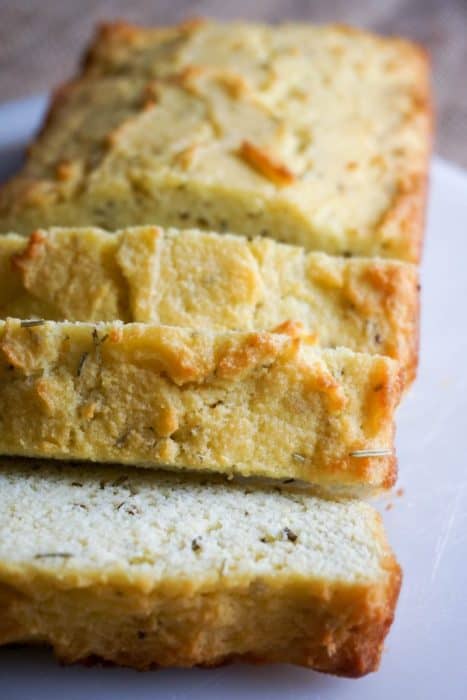 More Keto Bread Recipes
Bread is one of our all time favorite foods, and i'm sure it's yours too! To make a good bread keto you'll need a bit more practice and experience with low carb baking.
Some other delicious keto friendly bread options include:
Making low carb keto bread shouldn't be super difficult. While the ingredients might take a bit more getting used to, the payoff is well worth the effort.
Rosemary and Garlic Coconut Flour Bread
This is one of our favorite keto recipes using coconut flour because it mimics the original while still having it's own flavor and personality.
Bread recipes, especially when you make bread keto can be tricky to perfect. We're happy to say we think we've mastered the keto coconut flour bread recipe!
You may also like our review on Hero Bread!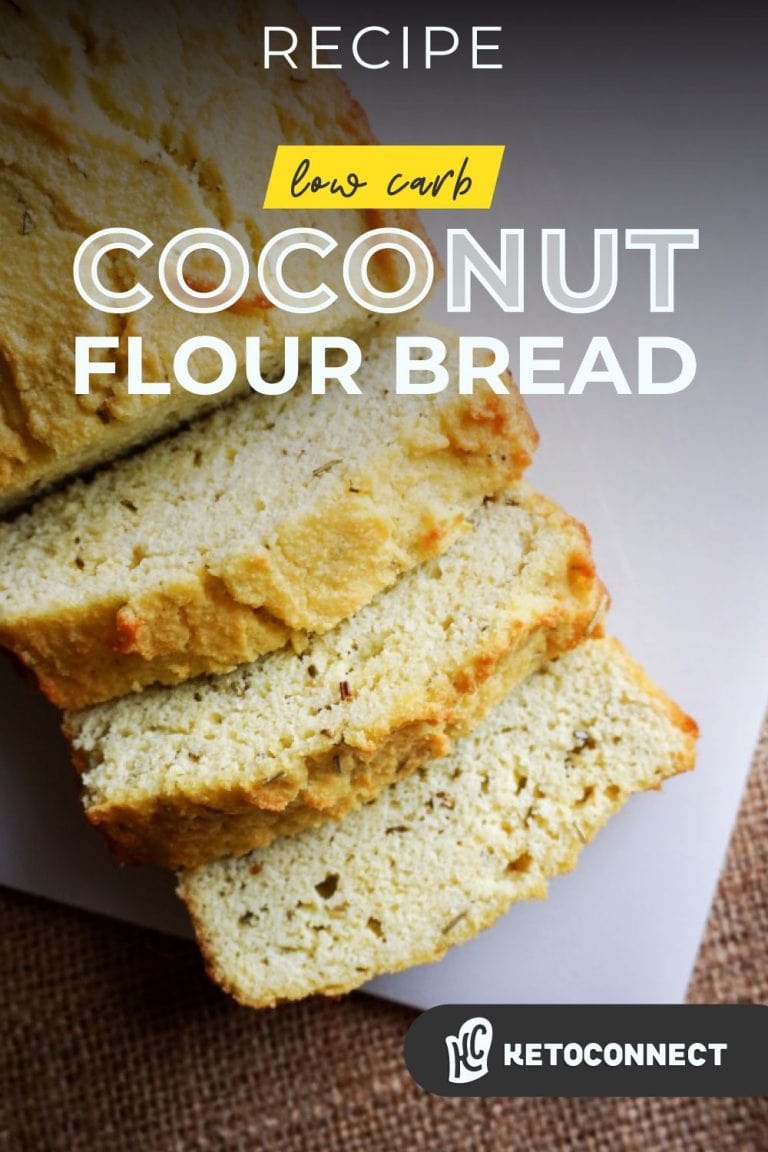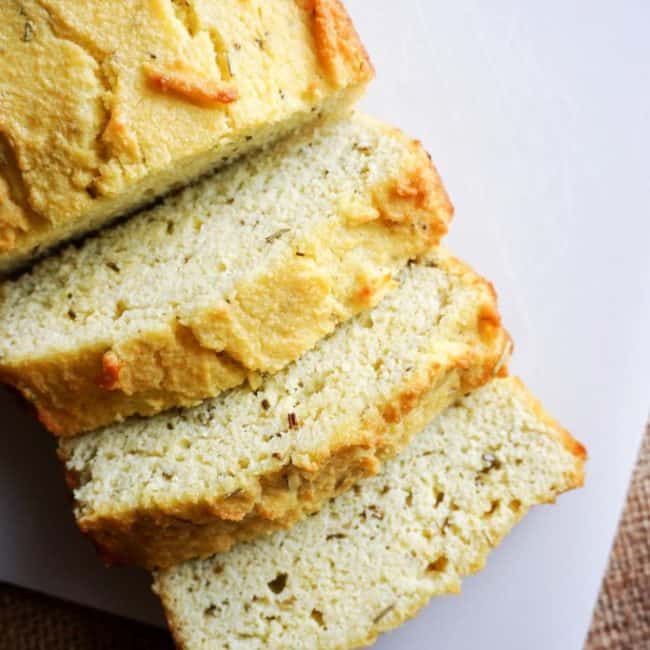 Coconut Flour Bread Bread Recipe with Rosemary
A nut-free low-carb bread made with coconut flour and flavored with herbs.
Total Time 55 minutes
Servings 10 Slices
Calories per serving 147kcal
Prep Time: 10 minutes
Cook Time: 45 minutes
Instructions:
Combine dry ingredients (coconut flour, baking powder, onion, garlic, rosemary and salt) in a bowl and set aside.

Add 6 eggs to a separate bowl and beat with a hand mixer until you get see bubbles at the top.

Melt the stick of butter in the microwave and slowly add it to the eggs as you beat with the hand mixer.

Once wet and dry ingredients are fully combined in separate bowls, slowly add the dry ingredients to the wet ingredients as you mix with the hand mixture.

Grease an 8×4 loaf pan and pour the mixture into it evenly.

Bake at 350 for 40-50 minutes (time will vary depending on your oven).

Let it rest for 10 minutes before removing from the pan. Slice up and enjoy with butter or toasted!
Nutrition Facts
Coconut Flour Bread Bread Recipe with Rosemary
Amount Per Serving
Calories 147 Calories from Fat 113
% Daily Value*
Fat 12.5g19%
Carbohydrates 3.5g1%
Fiber 2g8%
Protein 4.6g9%
* Percent Daily Values are based on a 2000 calorie diet.
Written By