Our keto hamburger buns are fluffy and bread-y, just how they should be. Plus these low carb hamburger buns actually hold up to all your delicious keto toppings. No more soggy keto cloud bread or overly crunchy cheese wraps, because these almond flour hamburger buns are sure to knock your socks off!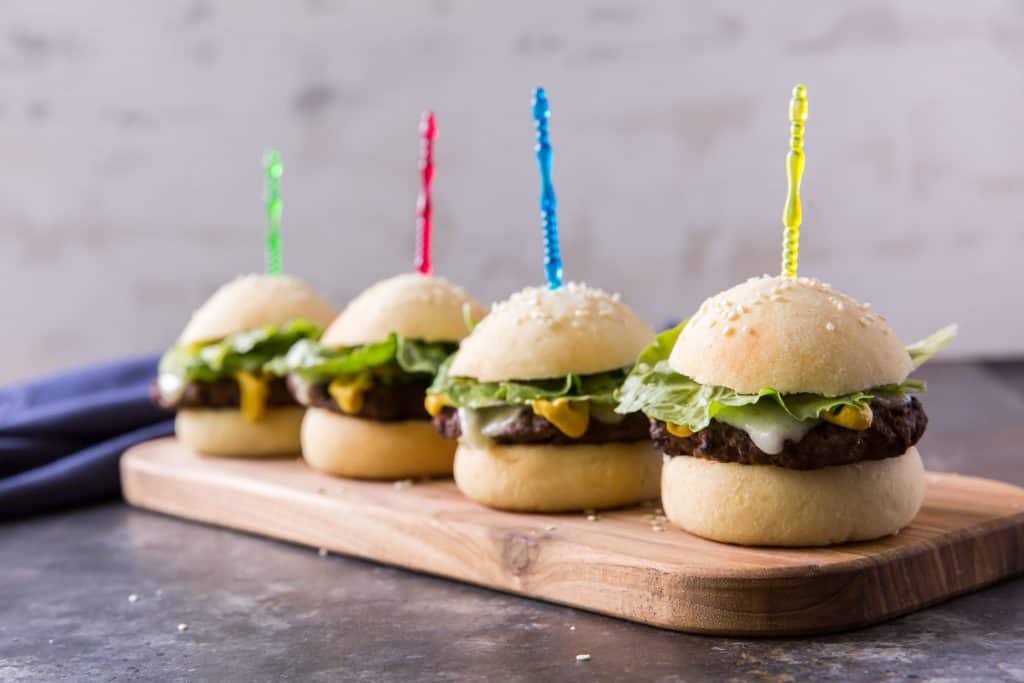 Are Hamburger Buns Keto?
As delicious as bread is unfortunately standard hamburger buns are NOT keto. For one standard sesame seed crusted hamburger bun there are 28 grams of carbs; and less than 1 gram of fiber(1). No need to fear, our keto hamburger buns are only TWO net carbs each!
No More Bun- less Keto Burgers
While you can have bun- less burgers on keto, what's the fun in that! Instead of settling for a boring old lettuce wrap we brought the best keto hamburger buns to the table. They are made with a blend of almond flour and coconut flour making them the perfect low carb hamburger bun to enjoy at any occasion.
Fathead Keto Hamburger Buns
If you want to make keto friendly hamburger buns you have to try a fathead dough recipe. It makes soft pliable and sturdy buns when warmed. So what is fathead dough? Fathead dough is a keto friendly dough based from mozzarella cheese, almond flour, and eggs. It's rich in fat and protein, while still being super low in carbs. It is a great recipe for all your keto baking needs, and not only do we make this recipe with it, but also recipes like pizza, naan, and even bagels!
Why Avoid Fiber
As you can see this recipe includes no oat fiber or psyllium husk. We've found that too much fiber in our diets can actually upset our stomaches and cause gas and bloating(2). Overall we felt there was no better keto friendly bun route to go than one without any added fiber. These buns are still light, fluffy, and delicious, perfect for all your recipe needs.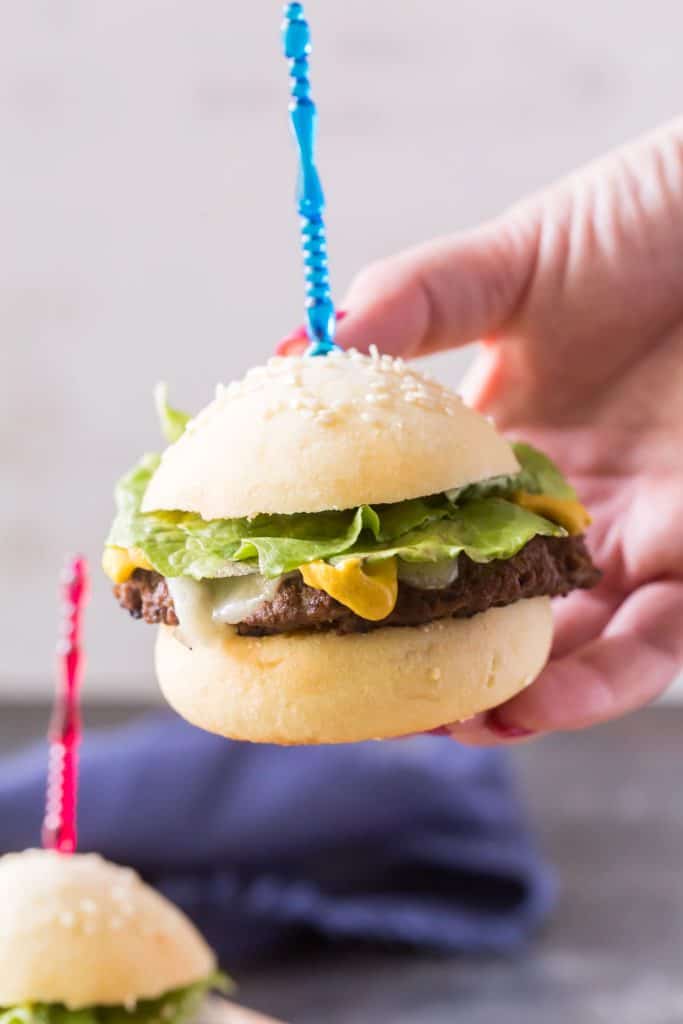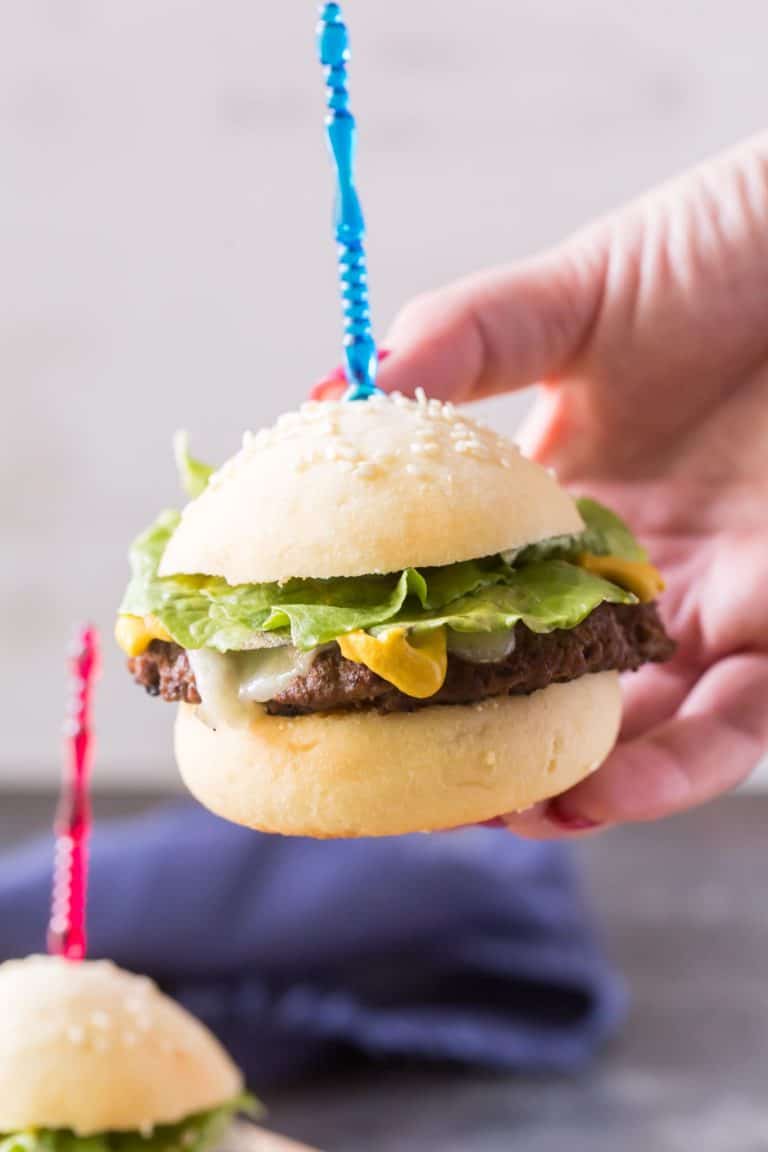 Gluten Free Keto Hamburger Buns
If you are gluten free these keto hamburger buns are going to be the best recipe for you. They are made with a blend of coconut and almond flour, two high quality low carb flours. Now there's no need to pick up overpriced "gluten free" marketed products that are packed with rice starch and fillers.
Coconut & Almond Flour
Typical keto bread and low carb burger buns are made with fibers to lower the carbs. Our keto burger buns on the other hand use high quality ingredients like cream cheese, coconut flour, and almond flour. This keto bread/ bun recipe uses both coconut and almond flour because it provides the best bread like texture without any added fibers to make it chewy. We don't recommend removing either of the two flours because both have an important role in taste and texture.
Other Bun Free Options
If you are so strapped for time making keto burger buns sounds like a chore, there are other options. Some additional vegetable options include:
Lettuce– This one's an obvious classic, but pretty much any restaurant will give you a bun-less burger if you ask.
Roasted Eggplant Slices– Crisp up some eggplant in an air fryer or oven. Then sandwich a burger patty between two slices and fill it with all the fix- ins.
Portobello Mushrooms– Portobello mushrooms make great meaty buns when cooked on a hot grill. Drizzle with some olive oil and a sprinkle of salt for extra flavor.
Bell Peppers– Bell pepper halves make crisp and refreshing burger buns. We leave them raw but they are also great with a light char from the grill.
These are all delicious veggie keto burger buns, but don't be afraid to go in with the meat. No one ever said no to a bun- less burger made of burger patties and extra cheese!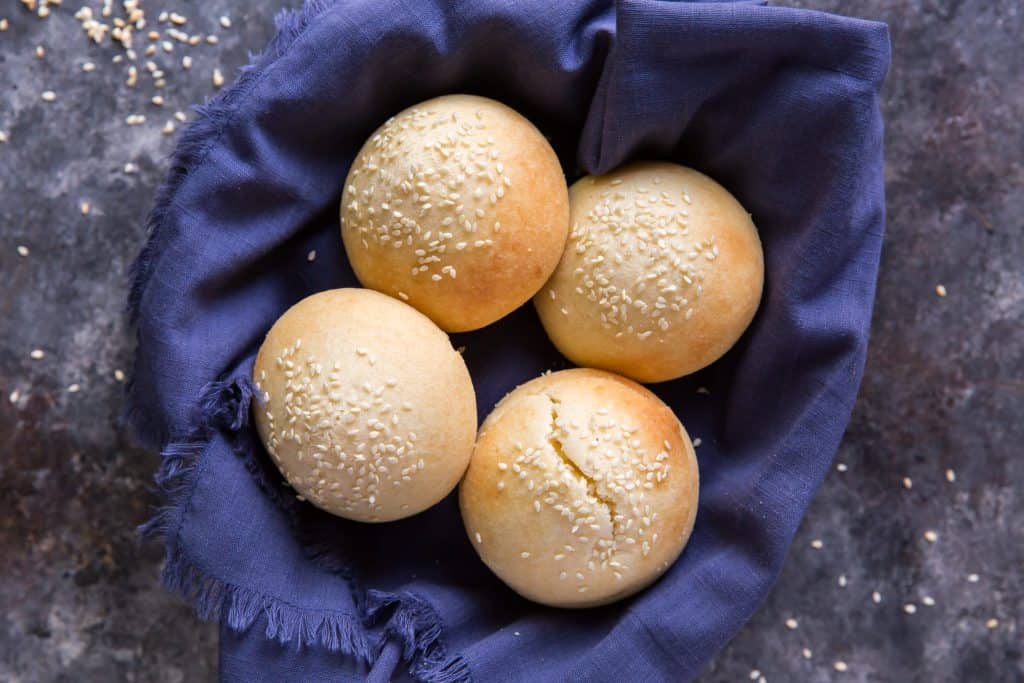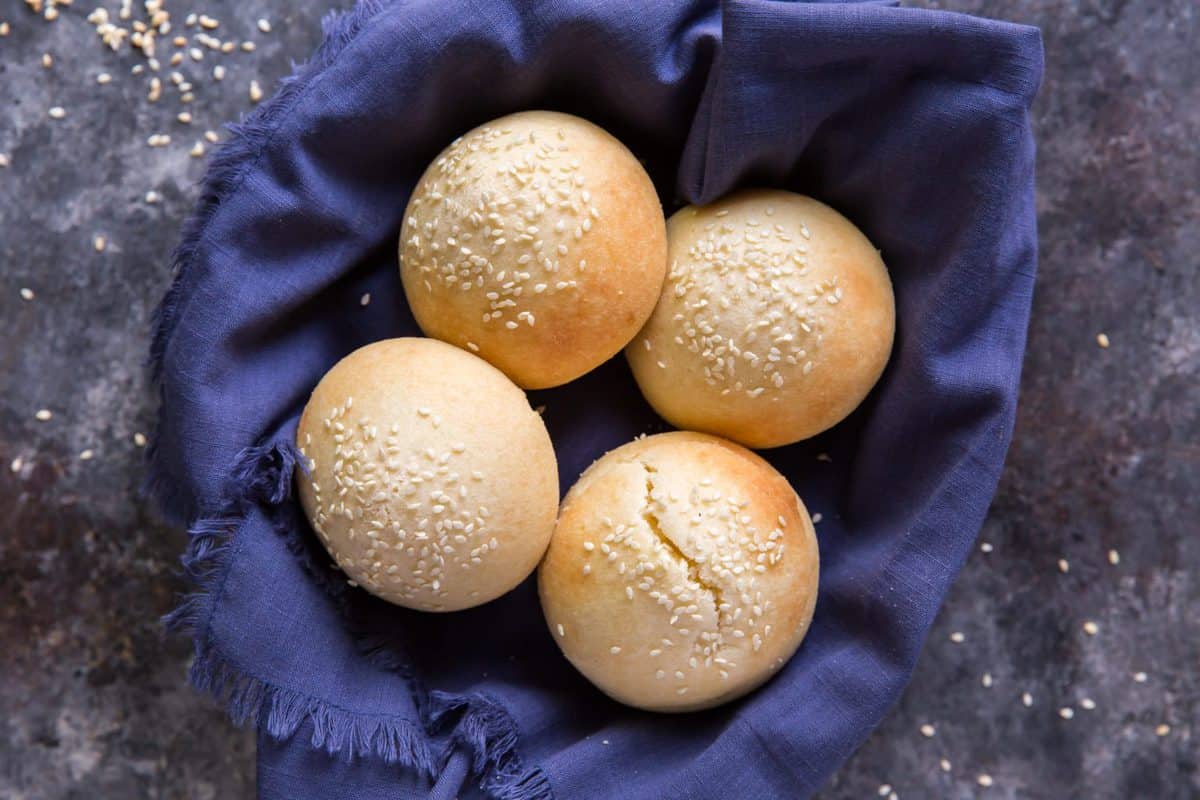 What to Put in the Best Keto Hamburger Buns
There are endless recipe options to put inside these delicious keto hamburger buns. Some of our favorite easy to make recipe options to put in this low carb bread are:
Buffalo Chicken Burger– These buffalo chicken burgers are the perfect burger for your low carb diet. They are packed with flavor and spice making them a great patty to go alongside our buns recipe.
Our Loaded Jalapeño Burger– When we say loaded, we mean it. This easy to make burger has bacon, cheese, and even grilled jalapeños.
Low Carb Chicken Salad– Our chicken salad is creamy from high quality mayo and crisp from fresh crunchy celery. It's the perfect blend of flavor and texture to go inside your fluffy keto hamburger buns. The best part is that it's easy to make and 100% gluten and sugar free!
Don't let being on a keto diet stop you from enjoying all your favorite bake goods and burger recipes. Just bake smarter not harder and enjoy all your favorites!
Can I Make Dairy Free Hamburger Buns?
In order to make hamburger buns keto we had to swap ingredients to make a fathead dough (a dough based of cheese and eggs). That being said, this dough will not work without the cheese and cream cheese. They make the dough chewy and bread- like while still being low in net carbs. We also would not recommend trying vegan cheese and cream cheese as it can make the dough too wet.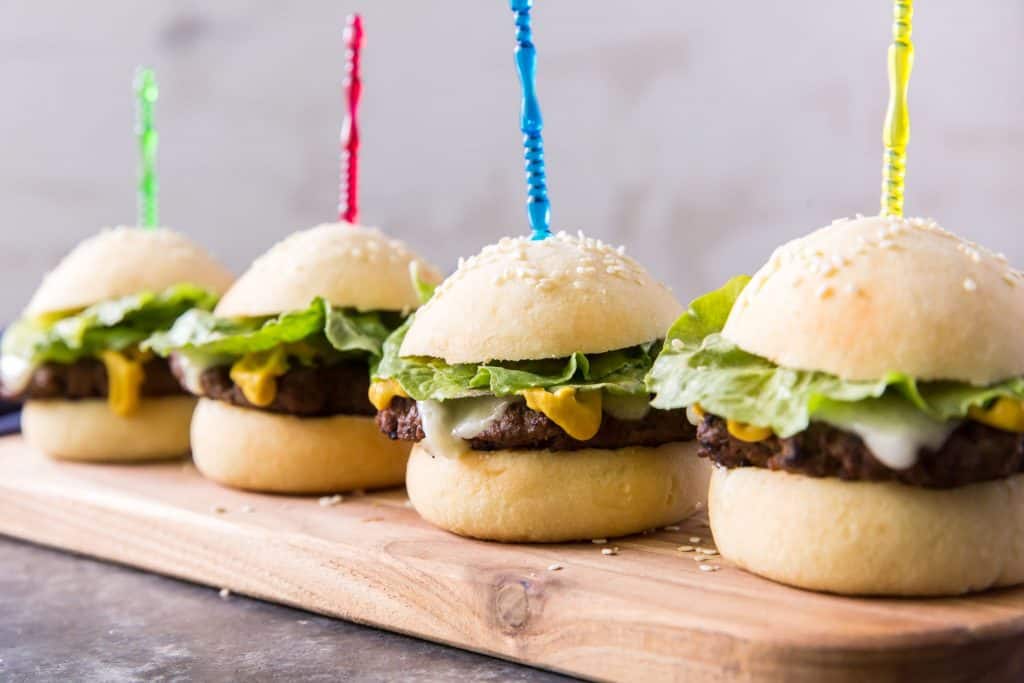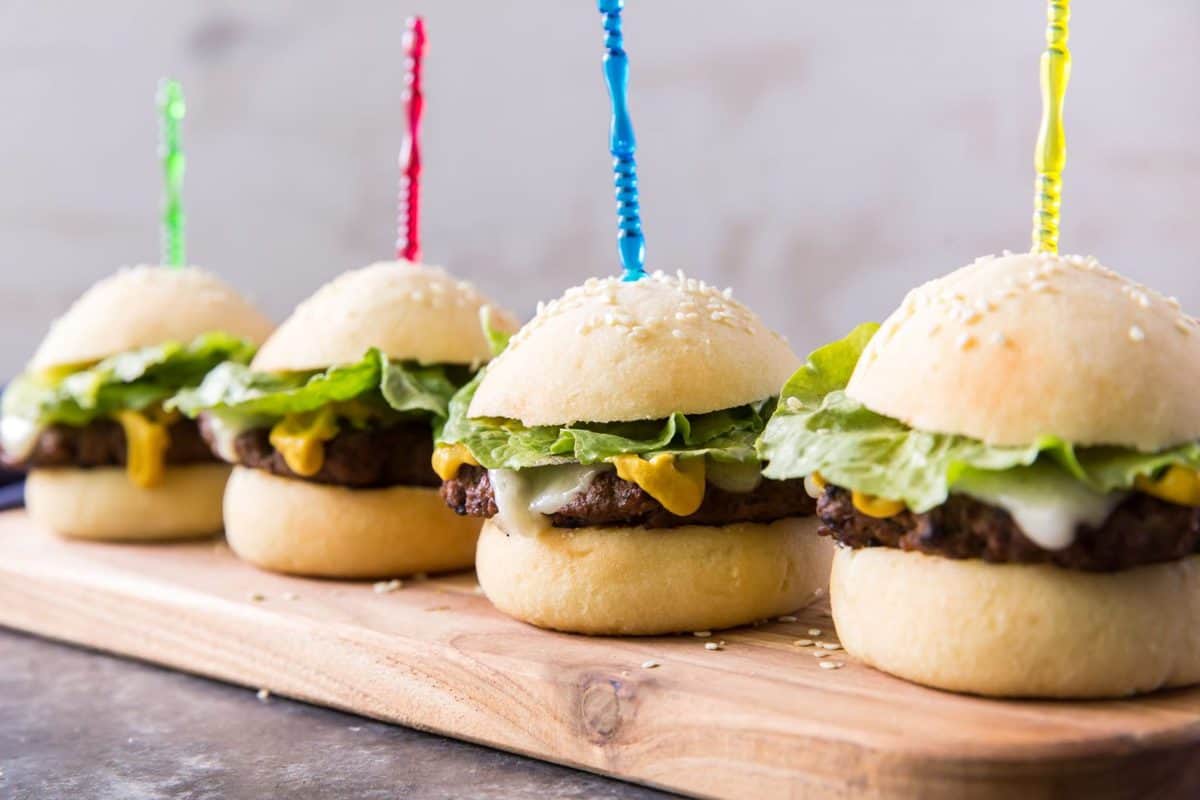 How to Make Keto Hamburger Buns
It's grilling season and that means it's time to perfect both your hamburger recipe and burger bun recipe. So let's get started making the best almond flour burger bun you've ever had!
Equipment
These almond flour keto buns are pretty simple to make and don't require many tools. All you will need is a large baking sheet, a silpat mat or parchment paper, and an ice cream scoop. If you don't have an ice cream scoop that's no problem, you can just divide the dough into four pieces yourself.
Ingredients
For these keto buns you will need shredded mozzarella, eggs, and cream cheese. Make sure the mozzarella is pre- shredded and not the big fresh ball type. If it is fresh it will have too much water and make a soupy mess when microwaved. When you buy cream cheese make sure to look for the lowest one in net carbs. Often times cream cheese can have fillers that up the carb count if you aren't checking the nutrition facts.
For the dry ingredients you will need almond flour and coconut flour. We use plain blanched almond flour without the skins for the best overall texture. Then you will need baking powder for rise and sesame seeds for topping the buns. Make sure you use baking powder NOT baking soda. The Sesame Seeds are optional, but highly recommended as they give our keto low carb buns their authentic hamburger bun flavor.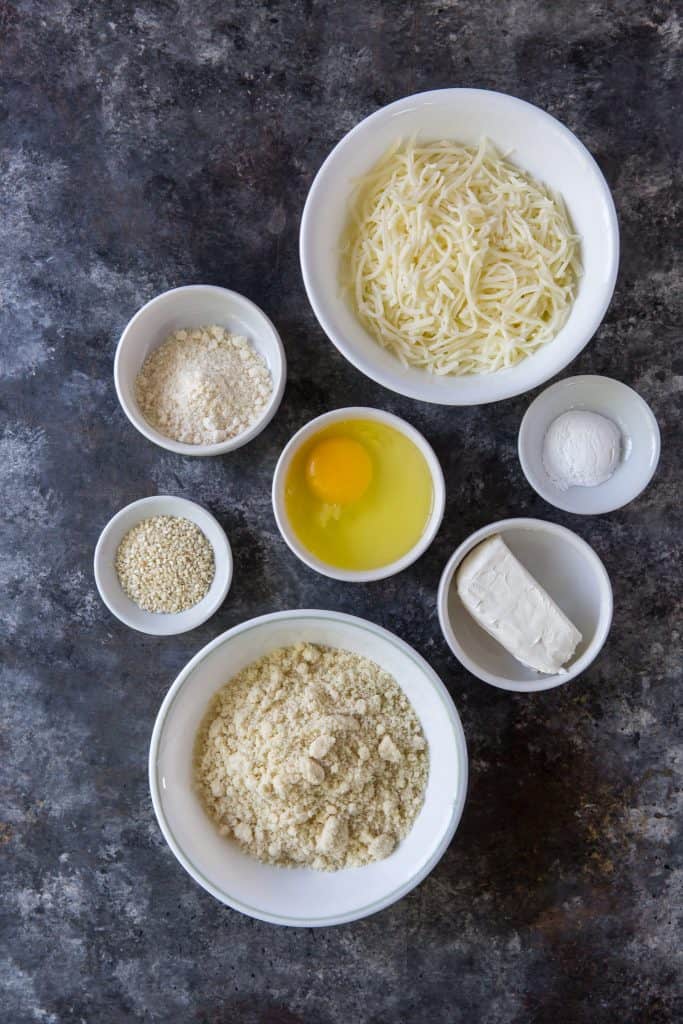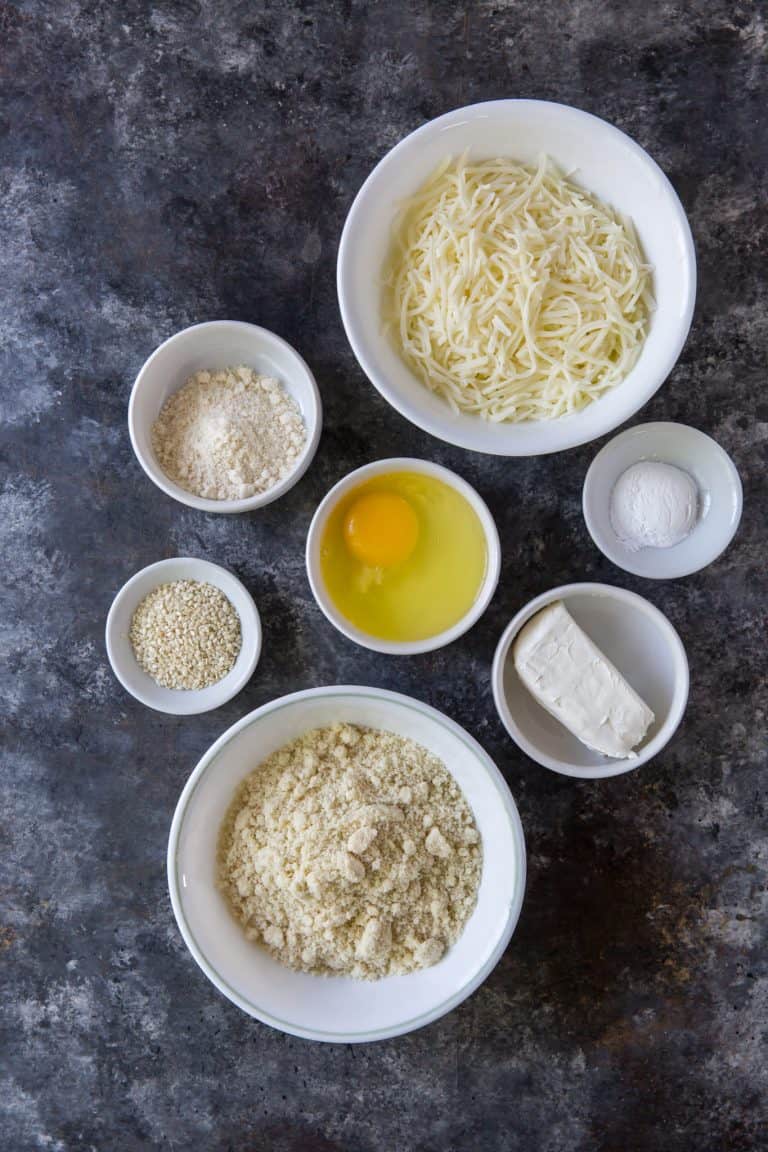 Preparing Low Carb Hamburger Buns
To make hamburger buns keto begin by preheating the oven to 375 degrees F. Then in a bowl microwave the shredded mozzarella and cream cheese. Work in 45 second intervals stirring in- between. If you let it cook too long the cheese may burn in the bowl. You just want the two ingredients melted and coming together in the bowl.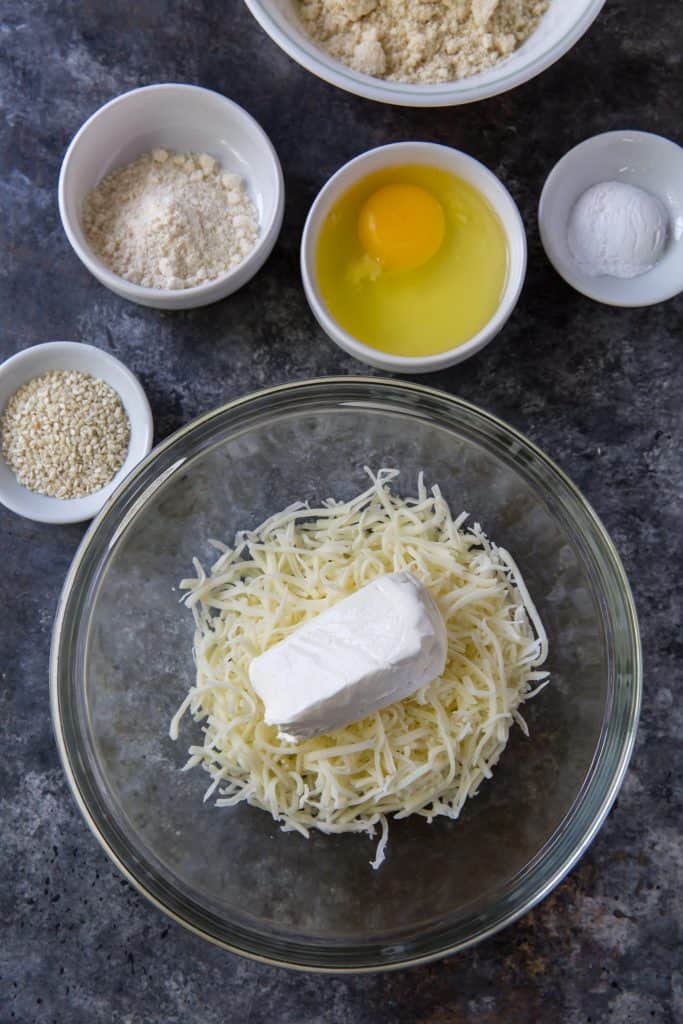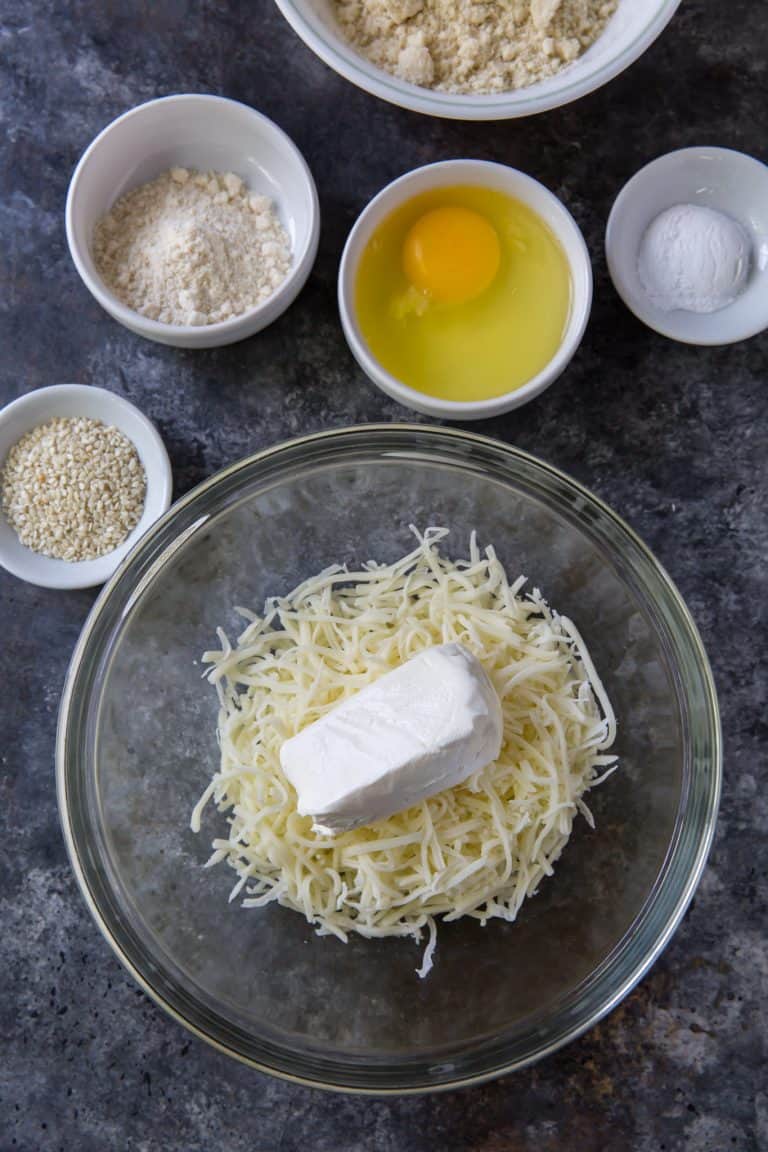 Now add in the egg and egg white.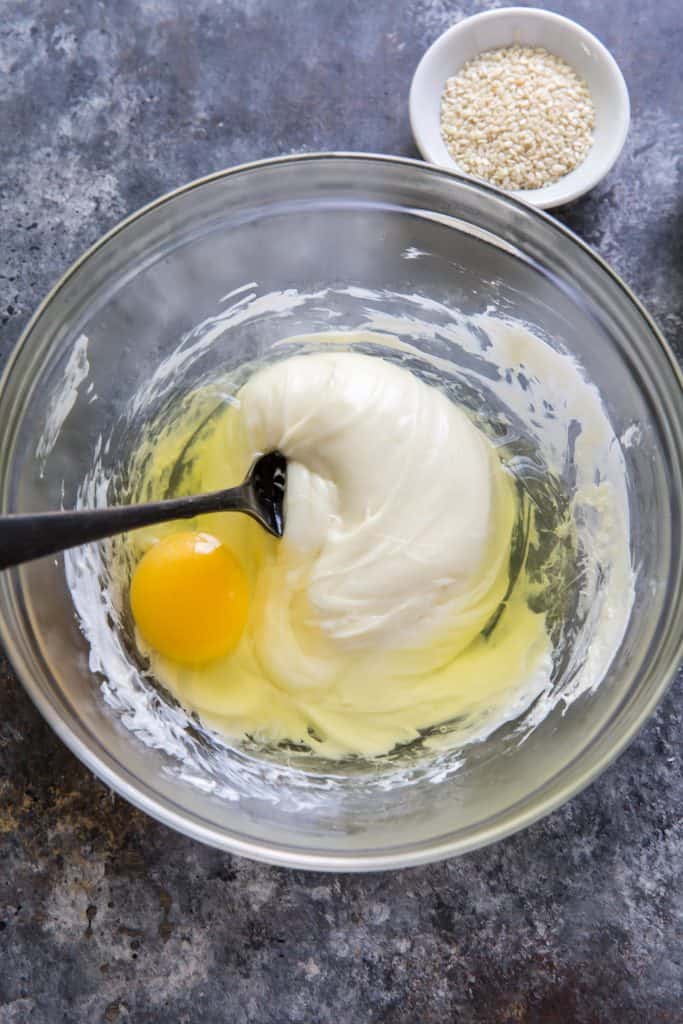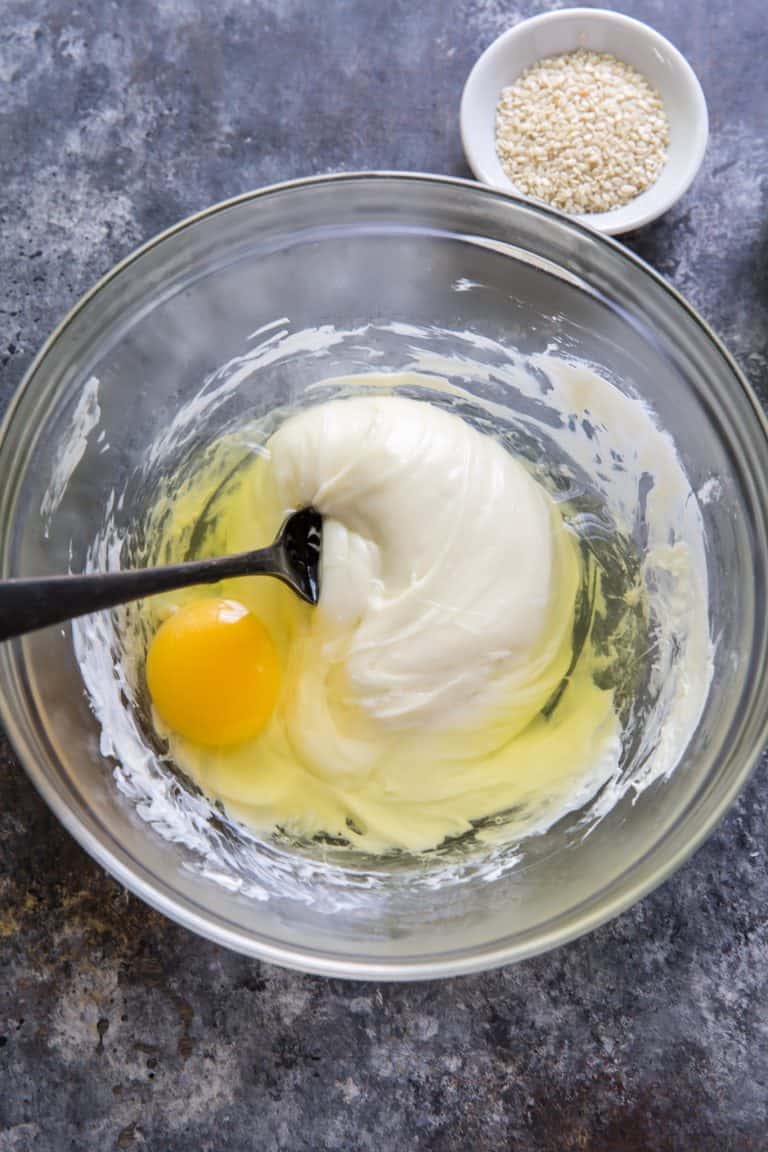 Stir well and incorporate in the eggs with a fork. It may be difficult to mix but do your best to combine the two. A little separation is okay, but you don't want too much.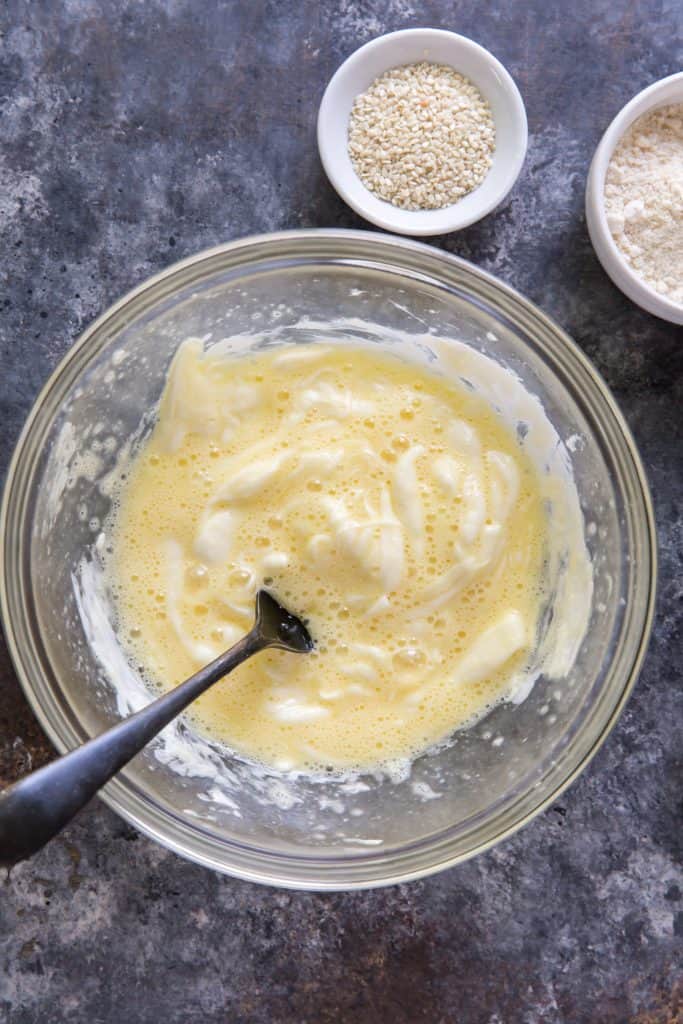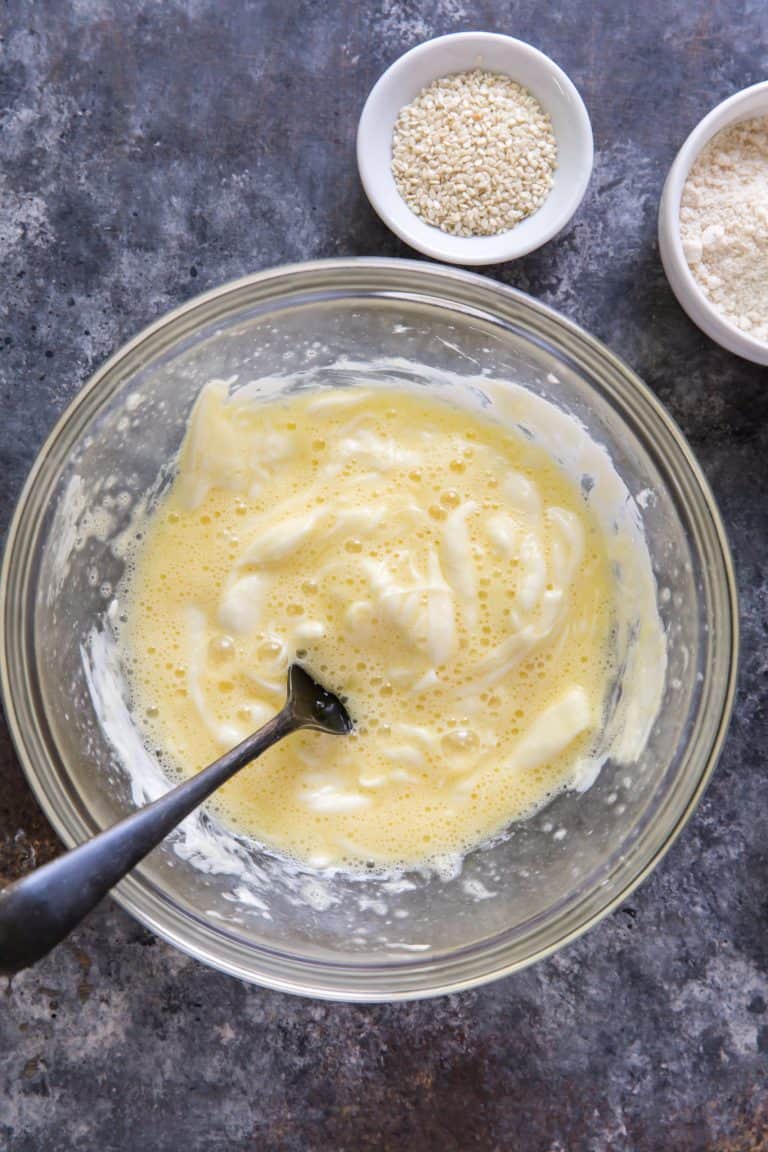 Once the eggs have combined add in your keto flours (Almond flour and coconut flour) as well as the baking powder. A rubber baking spatula may help with combining in the flours.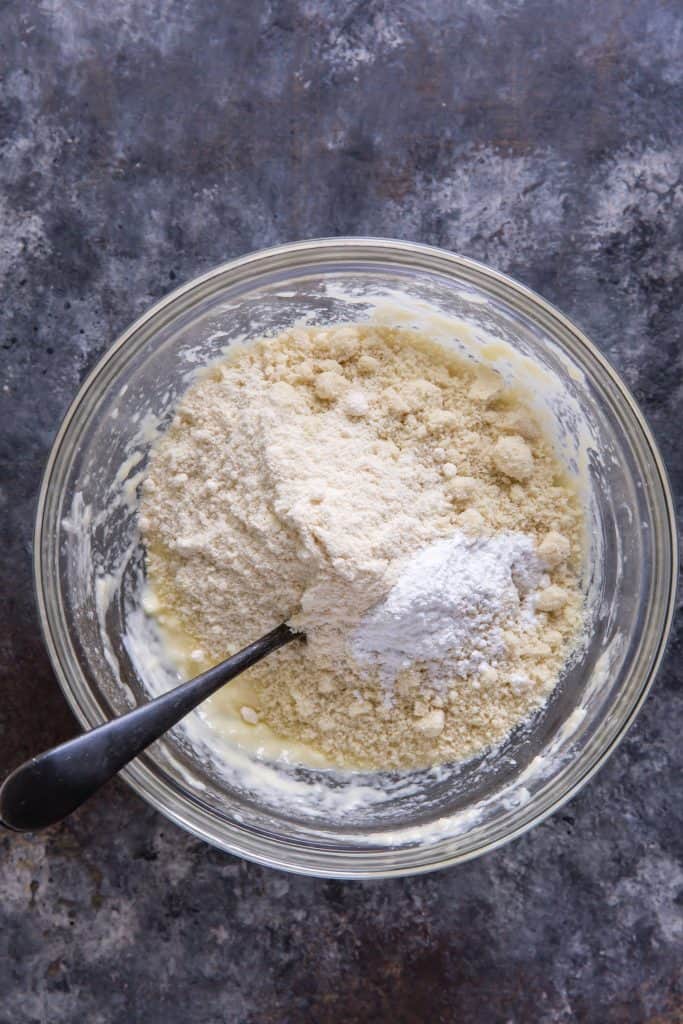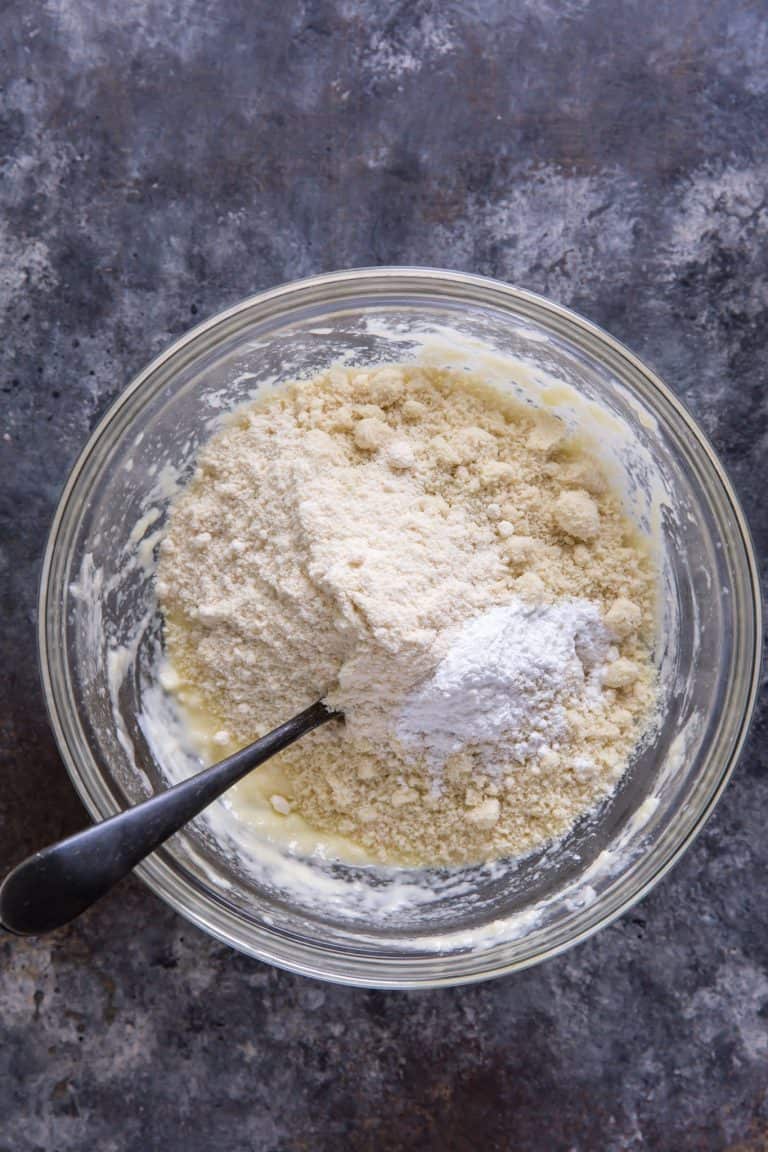 Now line your baking sheet with a slipmat or parchment paper. Divide the hamburger bun dough into four portions using an ice cream scoop, or your hands. Roll the portions into four even balls and then place them on the silicone mat.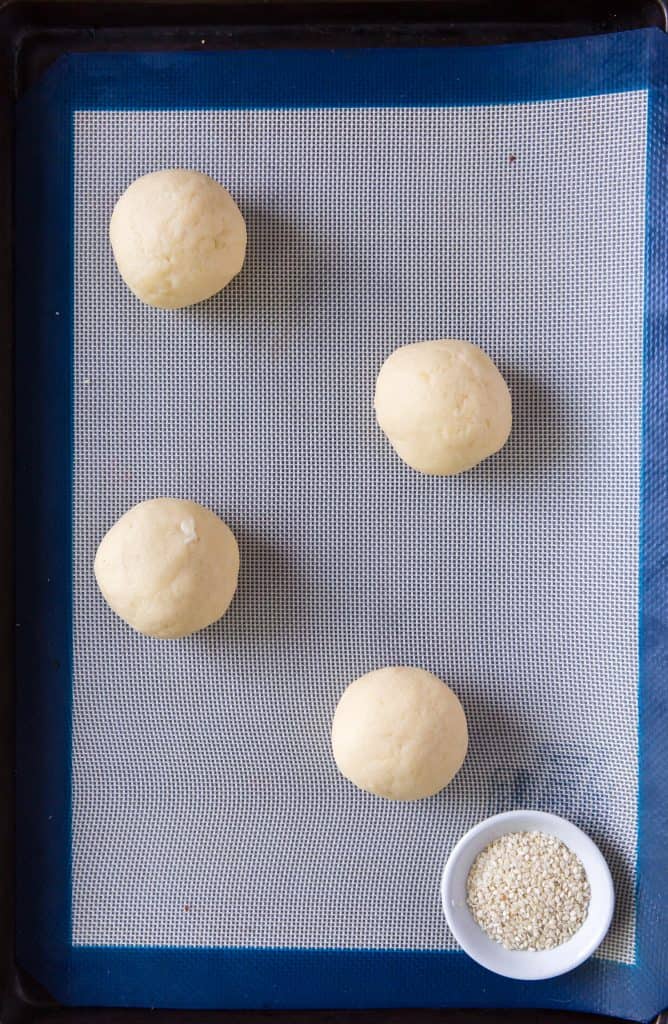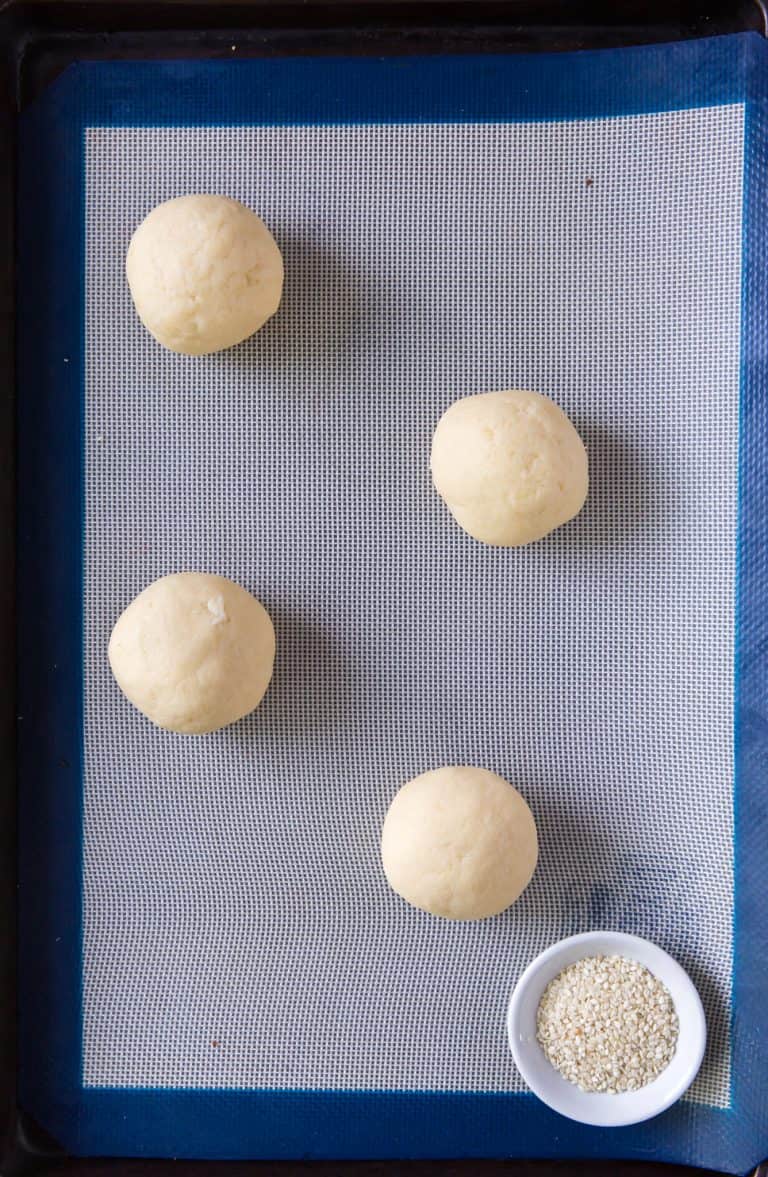 Lightly press down on the dough and then brush the tops with water. Sprinkle on the sesame seeds evenly between the four dough balls and place in the oven to bake.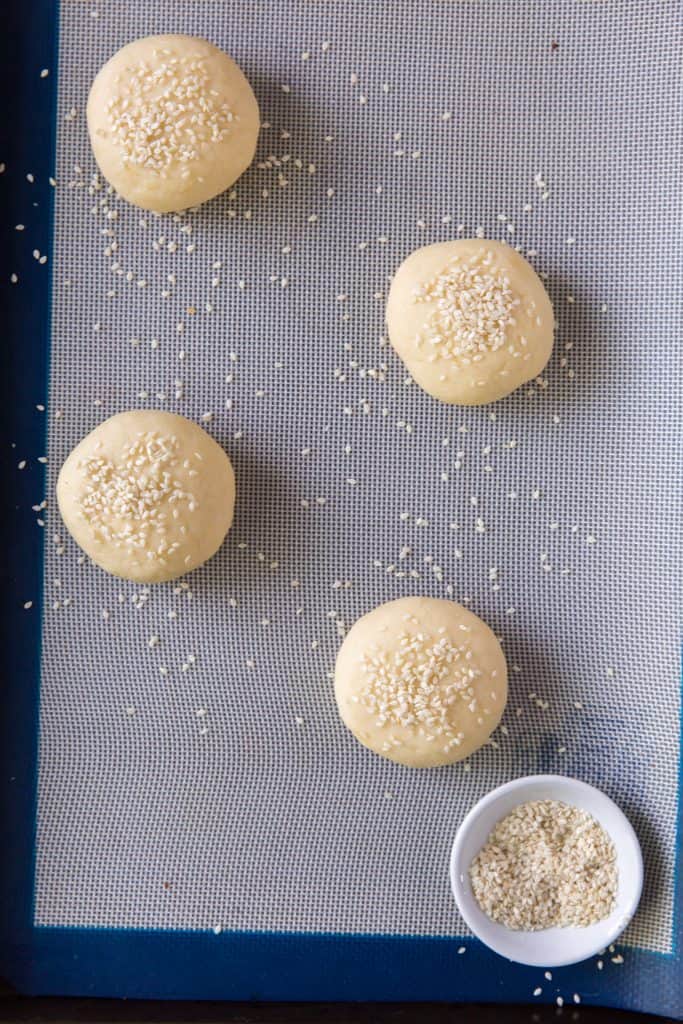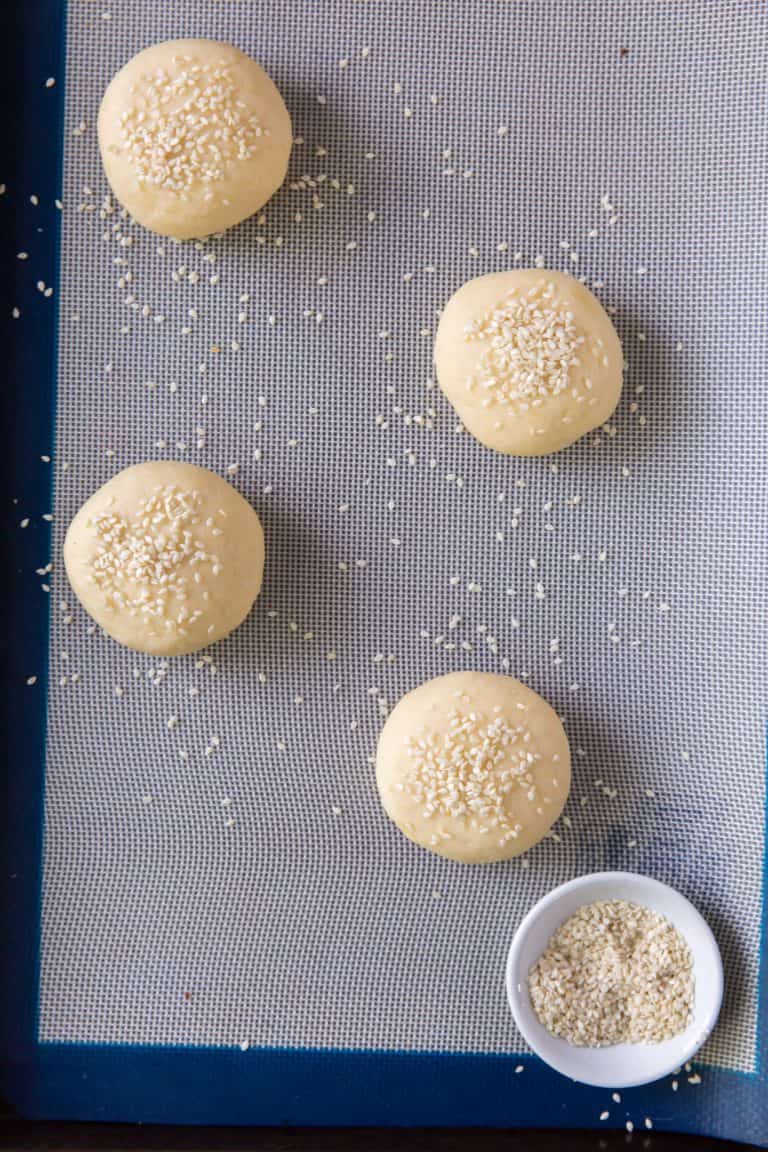 Bake for 12-15 minutes or until a light brown/ golden color. Allow to cool a few minutes before slicing in half or the centers will be too hot.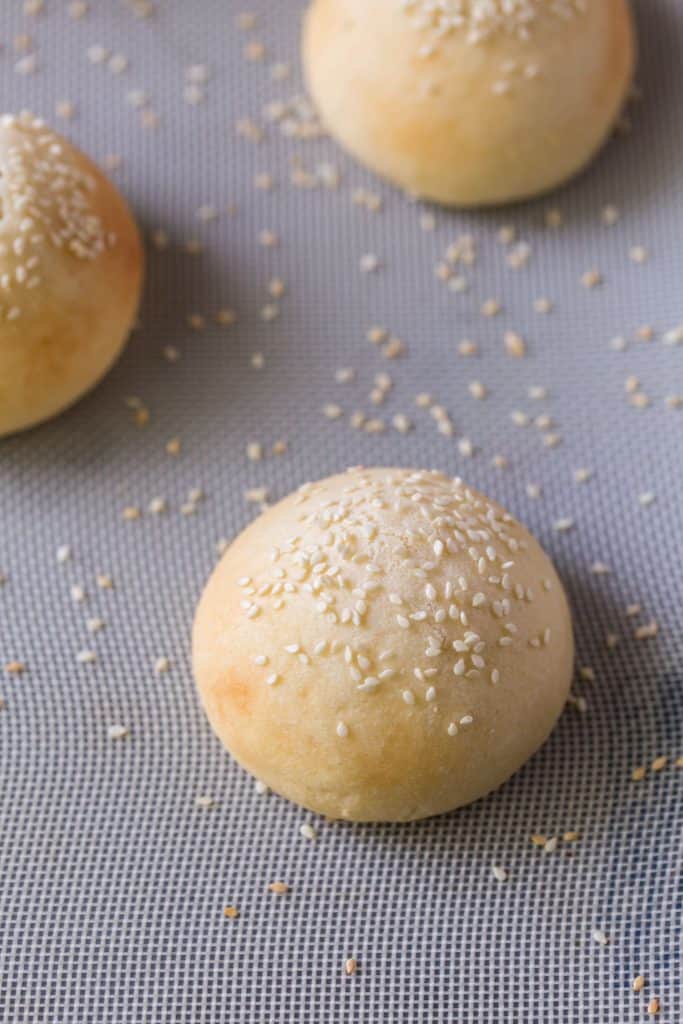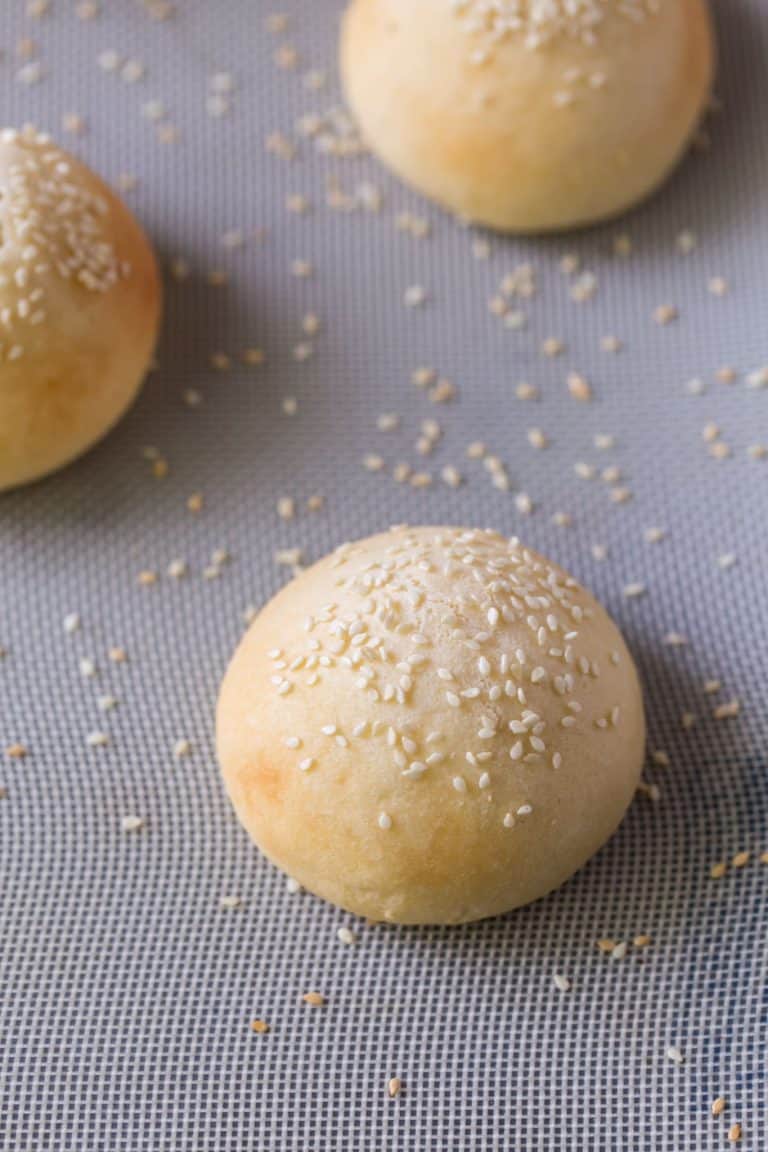 Storing Burger Buns
Our hamburger bun recipe stores well in the fridge for 7-10 days. We do not recommend storing the low carb buns on the counter as they do have a lot of cheese and dairy meaning they will mold if left out. See notes below on how to freeze.
Can I Freeze Hamburger Buns?
You will be happy to know these keto buns can be frozen! We often like to make a big batch and then freeze a few for later use. To freeze the buns simply place them into an airtight container and store them in the freezer for up to 2 months.
In order to defrost your keto buns place them in the fridge or on the counter for a few hours. Once defrosted you can re crisp them in the oven at 350 for a few minutes as they may lose some of their sturdiness with extra moisture.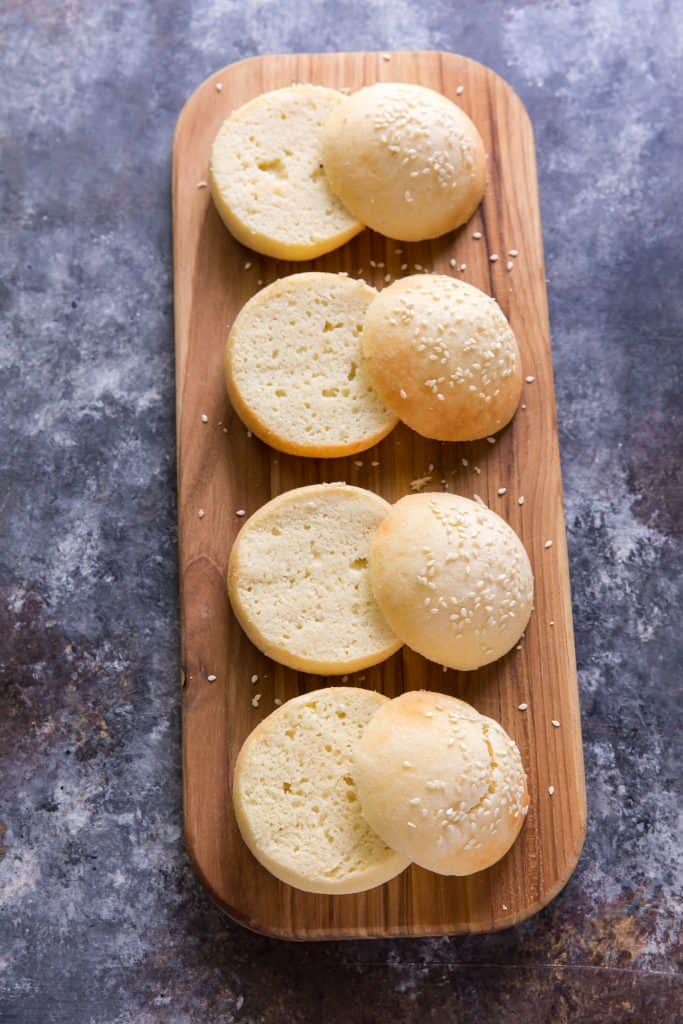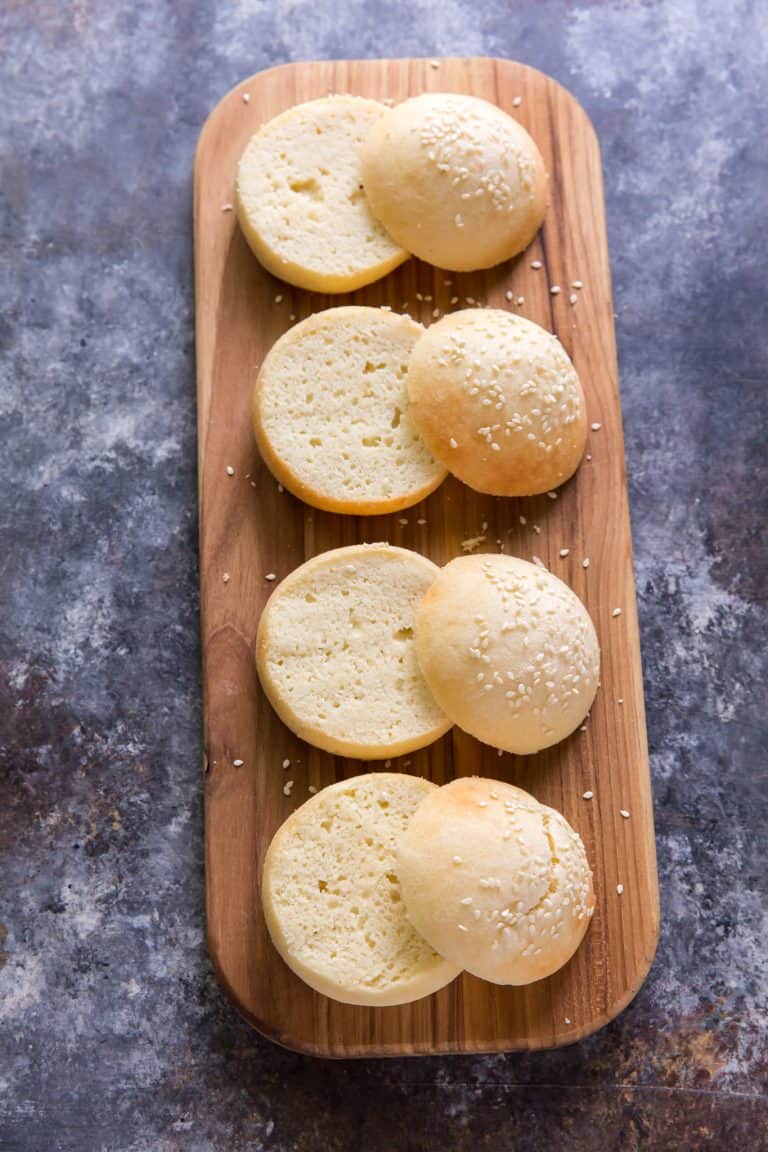 Tips for the Best Keto Low Carb Bun
If you're ready to make the best keto friendly hamburger bun ever, you'll want to look at these helpful tips:
Don't Overfill the Baking Sheet– This shouldn't be an issue as the recipe makes 4 buns (with just 2 net carbs per bun!) in each batch. However, if you do double the recipe make sure to space out the buns evenly. When you sprinkle with sesame seeds you want even top coverage, as well as no expansion that makes the buns hit one another.
Don't Skip the Sesame– Sesame seeds really are what set these buns apart and make them feel like an authentic hamburger bun over a roll. If you don't have sesame seeds you can skip them, but we wouldn't recommend it!
Warm Before Serving– This recipe uses egg whites to make a fluffy dough and cheese to make them bread- y without psyllium husk. That being said the egg whites won't keep them as pliable when cooled so we recommend heating them up for a few seconds before serving.
Make Low Carb Dough not Scrambled Eggs!– When heating and melting cheese with eggs you may find if the cheese is too hot it will cook the eggs. To avoid scrambled eggs make this recipe by only heating the cheese slightly until melted. If you need to reheat the cheese because it hardens, work in 10 second intervals to not cook the eggs too much with it.
Not make keto hamburger buns, and make them the best buns you've ever eaten. You have the recipe knowledge and are ready to take it on!
Carb Recipes Gone Keto
Let's be honest there's nothing better than freshly baked bread, it really could be it's own food group. However, as good as it is, it's definitely not keto friendly! So when the carb cravings hit, stick to your guns and try out these delicious keto bread recipes:
Keto Banana Bread– Who doesn't love dense and sweet banana bread? We used a secret ingredient to give it the best possible banana flavor without the carbs.
Keto Tortillas– A recipe made in just under 10 minutes, these tortillas are soft, fluffy, and pliable. They are the perfect low carb option for when you're craving tacos or burritos.
Low Carb Naan– Another classic bread staple in Indian food. It's pillowy and perfect for scooping up meat and sauces.
Now the next time you're craving bread and want to cheat on your diet make these keto recipes so you can indulge without the crash. And when in doubt, make our keto hamburger buns recipe and just eat them with butter!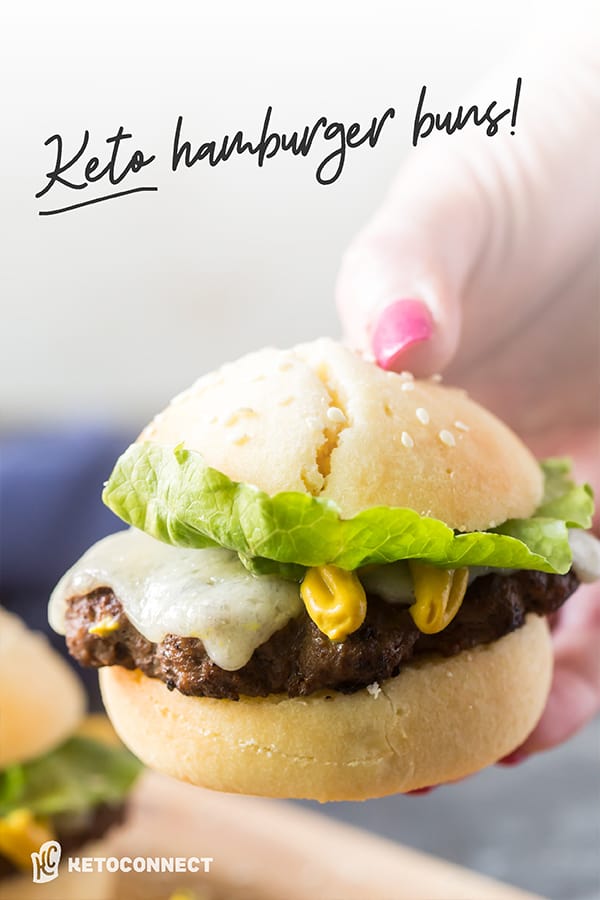 More Keto Recipes for a Grill Out
Have a grill out coming up this summer? Our keto hamburger buns make the perfect delivery service for all your grilled up meats. Try some of the best low carb keto grill out recipes from our website like:
Low Carb BBQ Sauce– Everyone knows BBQ Sauce is the best sauce option for grill outs. It works on brisket, smoked pork, turkey, and even on cowboy bacon burgers.
Keto Mac and Cheese– Mac and Cheese is another grill out staple. This keto mac and cheese is full of bacon, homemade cheese sauce, and cauliflower, then topped with crispy pork rinds. It tastes just like the real deal and is sure to satisfy and carb cravings you may have.
Easy Pulled Pork– You will definitely need a meat recipe to go with the BBQ sauce listed above. Try out this easy keto pulled pork recipe for when you're craving midwestern cook out vibes. It's even better inside our low carb hamburger buns.
There are tons more delicious low carb keto recipes on our blog for you to check out. Get creative and try recipes from all over our website enjoying the variety in flavors and textures.
Keto Hamburger Buns
These low carb keto hamburger buns are the best burger bun option out there. They are fluffy and bread like while still staying moist and soft. We promise if you make this keto buns recipe you'll be in for a treat! Just because they're low carb hamburger buns doesn't mean they can't be enjoyed with other types of burgers too. Try buffalo chicken burgers or salmon patties with our keto buns and prepare to be impressed.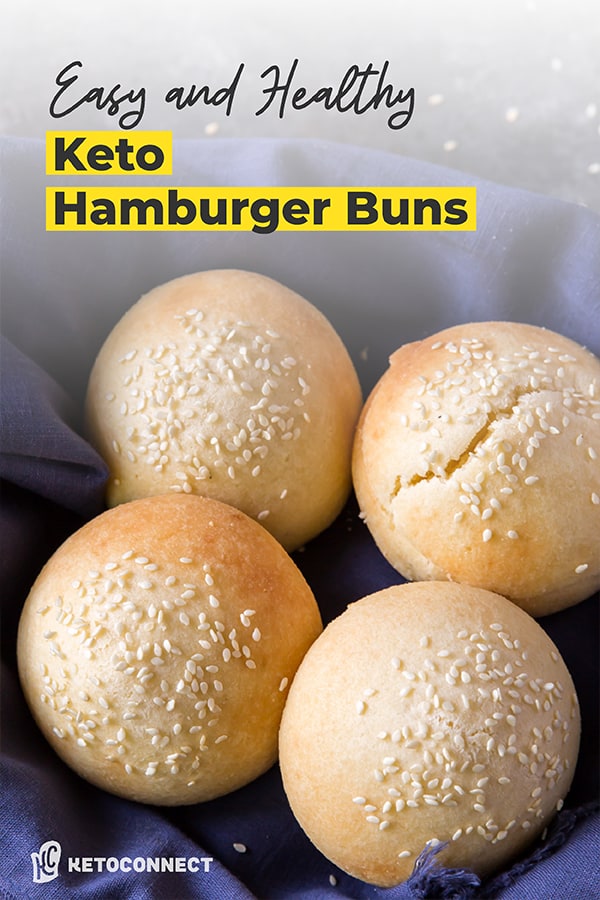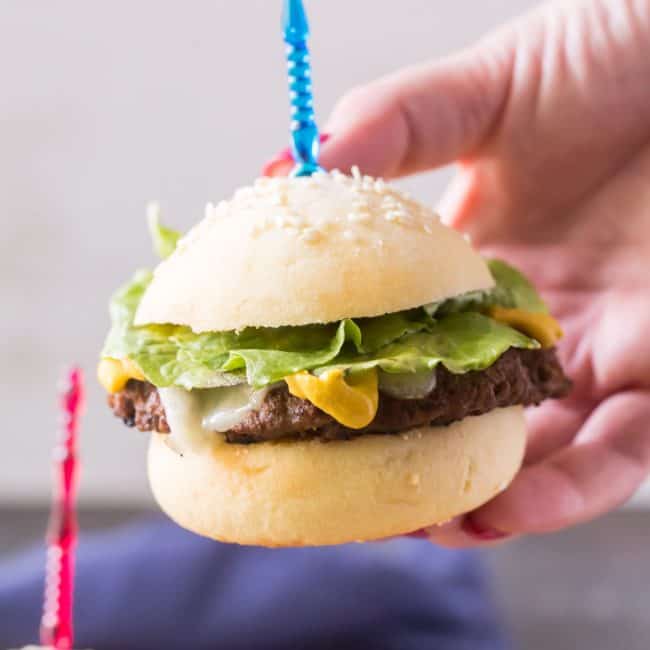 Keto Hamburger Buns
The best keto fluffy and bread-y hamburger buns out there! A nice sesame flavor that actually holds up to all your keto fillings.
Total Time 25 minutes
Servings 4
Calories per serving 353kcal
Prep Time: 10 minutes
Cook Time: 15 minutes
Instructions:
Preheat the oven to 375 degrees F.

In a large, microwave safe bowl add the cream cheese and mozzarella cheese. Microwave for 45 seconds and then stir. Microwave for another 30-45 seconds until smooth.

Next add in egg and egg white and mix with a fork until well combined.

After that combine the almond flour, coconut flour and baking powder into the dough. Then line a baking sheet with parchment or a slipmat.

Use an ice cream scoop to divide the batter into 4 buns, the roll then into balls with your hands. Place them on the silicone mat and press down gently. Brush the dough with water and sprinkle with sesame seeds.

Bake for 12-15 minutes or until light golden brown.
Nutrition Facts
Keto Hamburger Buns
Amount Per Serving
Calories 353 Calories from Fat 261
% Daily Value*
Fat 29g45%
Saturated Fat 9g45%
Trans Fat 1g
Cholesterol 84mg28%
Sodium 302mg13%
Potassium 230mg7%
Carbohydrates 6g2%
Fiber 4g16%
Sugar 2g2%
Protein 17g34%
Vitamin A 486IU10%
Calcium 331mg33%
Iron 2mg11%
* Percent Daily Values are based on a 2000 calorie diet.
Written By